Burrata Appetizer with Mediterranean Honey Herb Oil — this restaurant-worthy burrata appetizer couldn't be simpler: creamy burrata, juicy nectarines and roasted red peppers swimming in honey and olive oil with salty olives and fresh herbs. Served with crisp miso crostini for smearing. A summer entertaining essential.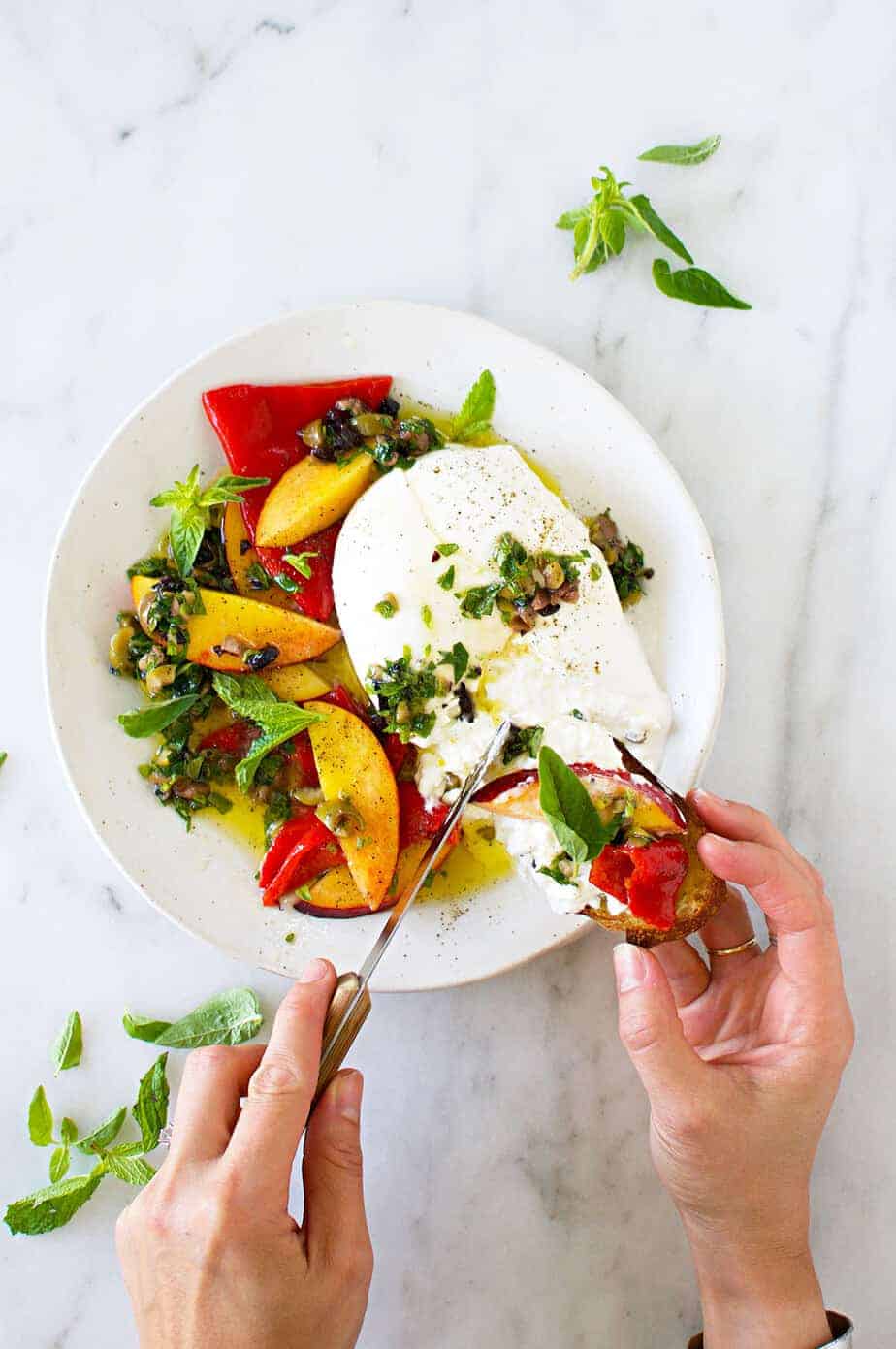 Hey friends! It's been a busy few weeks over here. We celebrated my birthday with an epic dinner at Birdsong in SF. And, true to character, we preceded our 13-course meal with desserts and spicy cocoa at Dandelion Chocolate. Aaaand maybe french fries at Souvla. I mean, what fun is celebrating if your jumpsuit can still button at the end of the night?
Then, for Father's Day weekend, we took a little family bike ride along the coast on Saturday — Lana has been fully on two wheels for a few months now, and she completed the whole 8.5 miles without breaking a sweat. Pretty sure Chris would have counted that as his father's day gift right there, but we still threw in the softest Taylor Stitch hoodie, a wear-anywhere pair of Chelsea boots and a few dozen of his favorite sugar cookies for good measure. On Sunday, we slapped a tri-tip on the Traeger and invited over our friends from down the street. It was casual and easy, and a good reminder of just how good we have it here on the coast.
Which brings us to this part of summer — late June, to be exact — where I begin my annual tradition of realizing we have no plans for an official Summer Vacation and desperately begin planning elaborate getaways that almost never actually pan out. I'm the kind of person (and even more so since working from home) that craves a change of scenery, despite the fact that we live in the most breathtaking of places. Our cool, gray summer has me craving a getaway that involves truly warm waters. We have friends that just returned from a week in Hawaii as golden and refreshed as the pineapple wedges that topped their evening cocktails, and it just seems so wildly relaxing and sunstreaked and ideal. Hell, if it weren't for this Hawaiian Shrimp Scampi recipe, I'd nearly pay the airfare for the shrimp trucks, alone. Ah well, at least my taste buds get the chance to travel.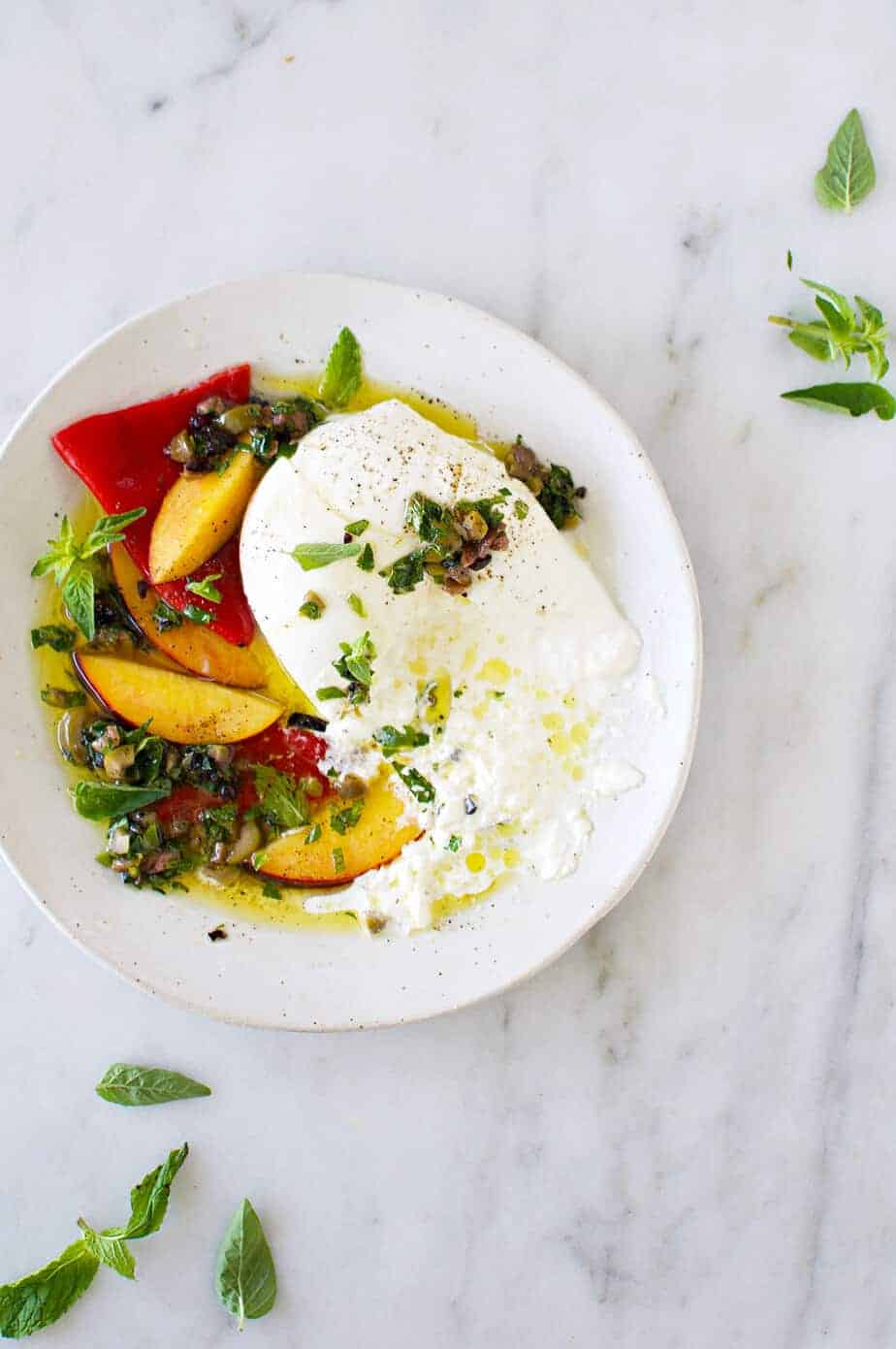 And, in a super roundabout way (what other way is there?), that's kinda how we got to this easy burrata appetizer I'm sharing today. We've sorrrta hit the brakes on dairy around here (or at least I have — Lana would still eat pepper jack for breakfast lunch and dinner) — so when I indulge, it's gotta be worth it. Like that Smoked Gouda Mac and Cheese I touted a few weeks ago? Totally worth the splurge. Or a scoop of real ice cream on a seasonal fruit dessert (I can't stop thinking about Sarah's Gluten-Free Blueberry Cobbler) — you betcha. Or creamy, mild burrata drenched in olive oil studded with salty olives and fresh herbs and smeared across a crisp slice of toasted baguette, juicy stone fruit and smoky peppers along for the ride. This is the type of burrata appetizer that I would never hesitate to order if on vacation — in fact, it's almost a given I would gravitate toward it if spotted on a restaurant menu — but it's just not something I'd think to serve at home. Until now. Because now, there's a 92% chance that if you joined us for a meal during stone fruit season, this would be the first platter to grace the table.
What is Burrata Cheese?
If you've never had burrata, it's a fresh, super mild, milk-y cheese that most closely resembles (and is, sort of) fresh mozzarella, though it's even silkier and less springy due to the fact that it's quite literally formed into a delicate pouch before being stuffed with strings of actual mozzarella and cream. It appears on the plate (as it does in these pictures) as a wobbly orb, not unlike a (rather large) poached egg. Upon cutting it open, its silky interior spills out, becoming the ideal topping for crusty bread and the perfect creamy complement to grassy olive oil, lemony herbs, piquant peppercorns, salty olives or fresh fruit. In this dish, we've combined them all, but fresh burrata can thrive among only one or two of the suggested accompaniments, so don't feel daunted if you haven't got the full complement on hand.
How to Serve Burrata Cheese
While burrata is excellent in cooked dishes — we love adding it to pizza for the last minute or two in the oven, and this Three Cheese Butternut Squash Pasta Bake stars burrata in the gooey, golden topping — serving it relatively unfussed with will get you the best mileage, especially if you've ponied up for a pricey local variety. (Fear not, guys: Trader Joe's also offers a version that is totally passable and at a really exceptional price.) Offered alongside plenty of good, crusty bread or crackers and juicy summer produce, you'll easily serve 4 as an appetizer with one 8-ish ounce ball. Obviously nectarines, jarred peppers (which we have on hand pretty regularly) and a flavorful oil spoke to me in this burrata appetizer, but thickly sliced heirloom tomatoes + basil or fresh figs, honey + black pepper would be show-stealing, too.
You really can't go wrong when the star ingredient is near perfection on its own — and when you've been pretty conservative with dairy consumption for the past few weeks? Well, this is seriously the next best thing to an indulgent vacay in my mind.
Hope your summer has allowed for a little escape, guys — even if only gastronomically. 🙂
xo!
Em
Like the sound of this Burrata Appetizer with Mediterranean Honey Herb Oil?
Be sure to check out: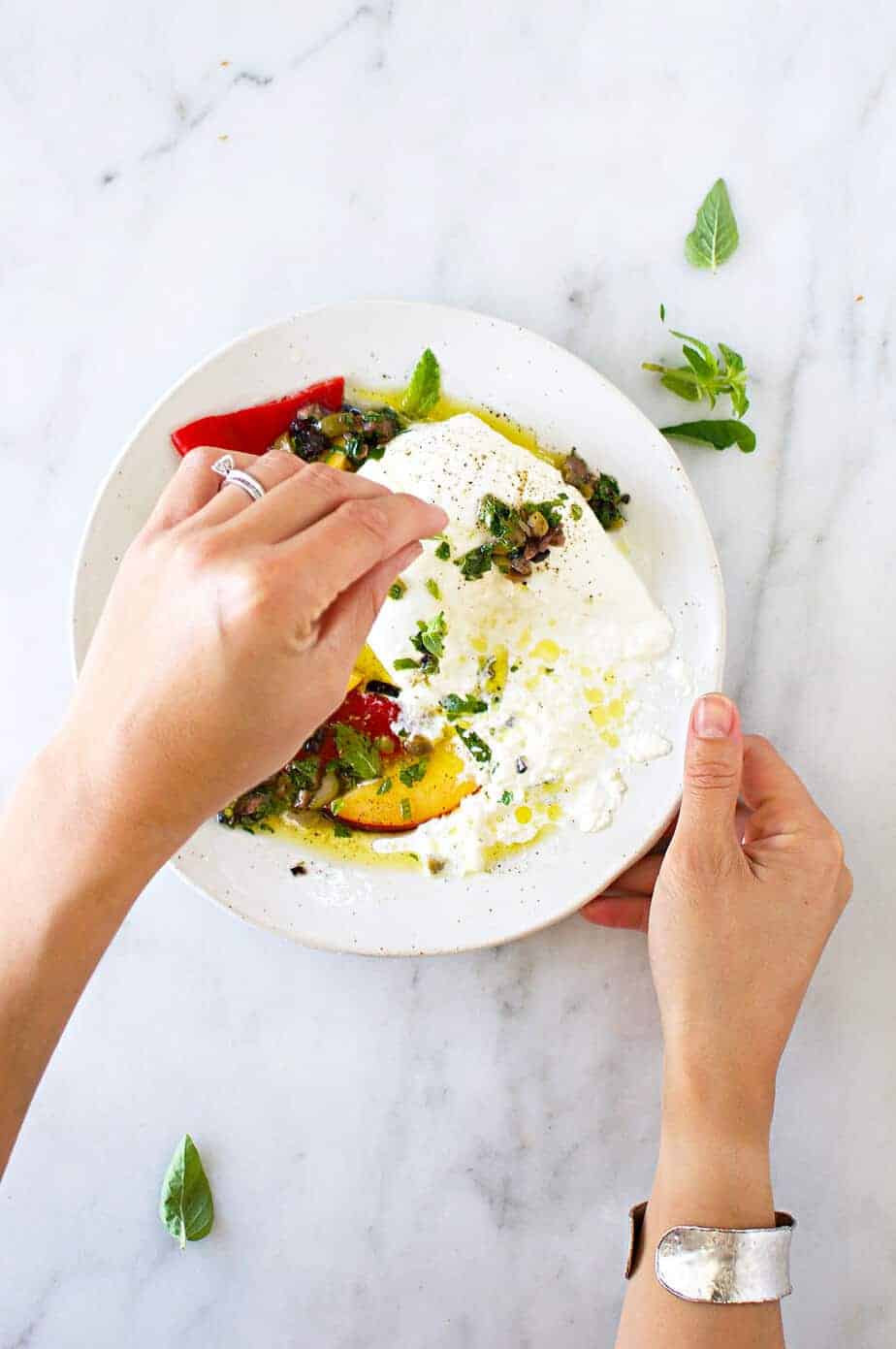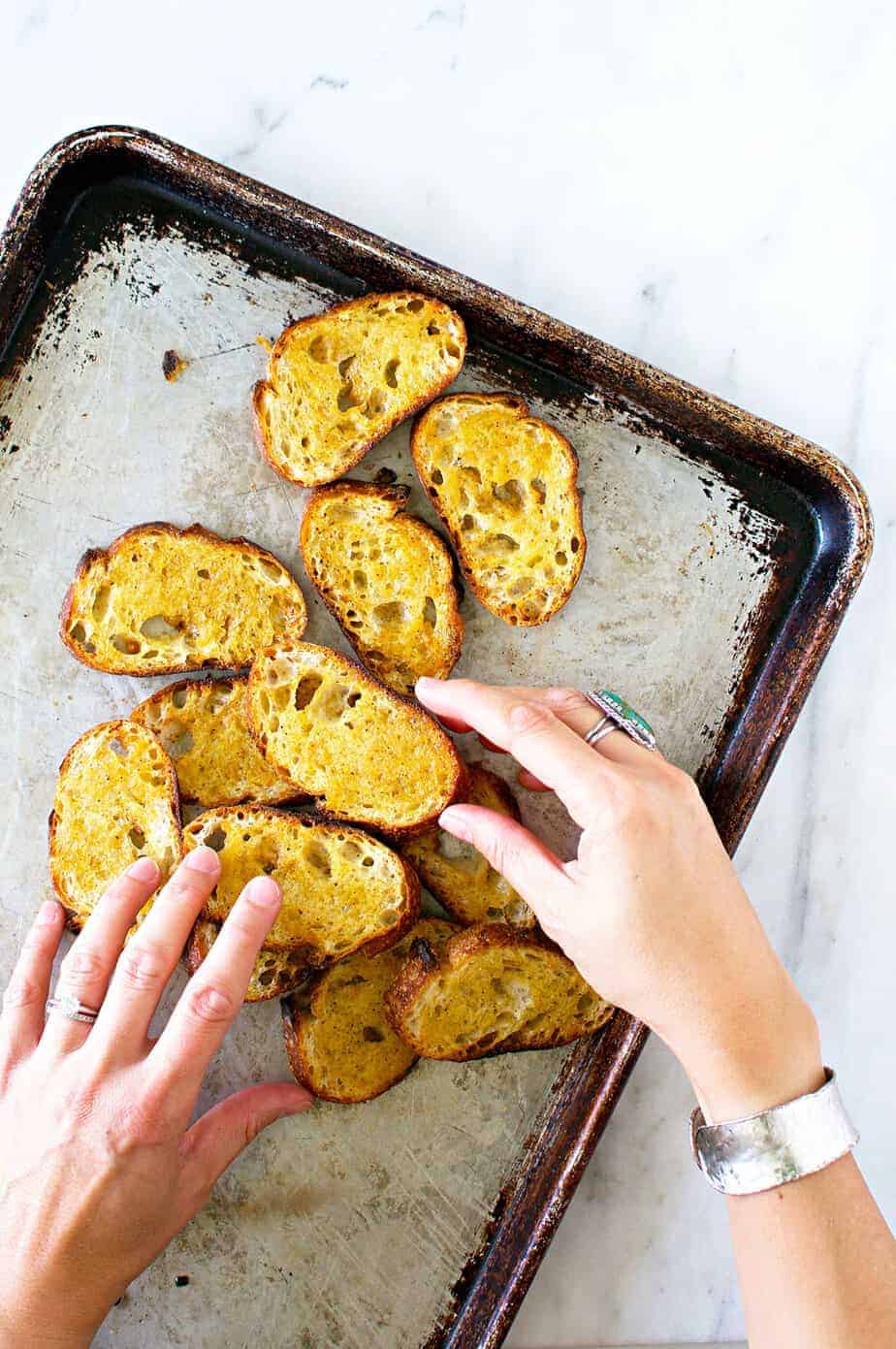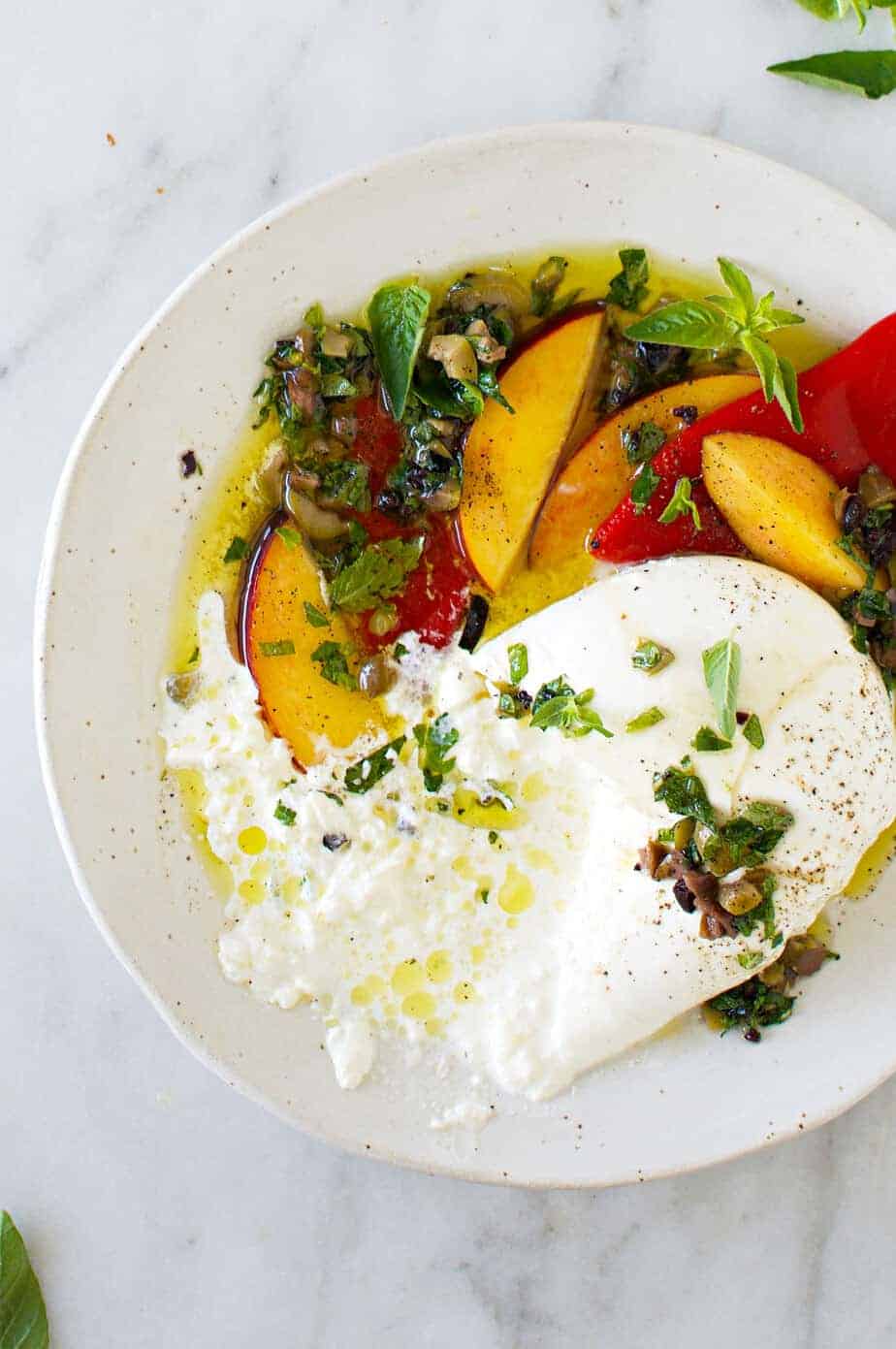 Burrata Appetizer with Mediterranean Honey Herb Oil
Burrata Appetizer with Mediterranean Honey Herb Oil -- this restaurant-worthy burrata appetizer couldn't be simpler: creamy burrata, juicy nectarines and roasted red peppers swimming in honey and olive oil with salty olives and fresh herbs. Served with crisp miso crostini for smearing. A summer entertaining essential.
Makes:
4 servings (as an app)
Ingredients
For the Crostini
½ slender baguette (about 12 slices)
3 T olive oil
1 T mellow white miso
black pepper
For the Burrata
1 ball burrata cheese, about 8 oz
2 small nectarines, sliced
2-3 roasted red peppers, torn into bite sized pieces or strips
2 T olive oil
1 T honey
2 T chopped pitted green or kalamata olives (I used a few of each)
1 T chopped fresh oregano
1 T chopped fresh mint
black pepper
Instructions
Preheat an oven to 375F. Mix together the olive oil and miso paste until smooth. Brush mixture evenly over sliced baguette, crack pepper over the top and arrange in a single layer on a rimmed baking sheet. Bake for 8-10 mins or until crisp and golden. Allow to cool slightly before serving.
While the crostini bake, Arrange burrata on a platter surrounded with sliced nectarines and roasted peppers. In a small bowl, combine 2 T olive oil, honey, olives, oregano, mint + freshly ground black pepper, to taste. Drizzle over burrata + nectarines/roasted peppers and serve with crostini. Enjoy!
————————————————–
OH! before you go…
Like whatcha see here — or have a question, feedback, or recipe hack to share? Join The Pig & Quill convo by commenting below and hanging out with me on Facebook, Twitter, Instagram and Pinterest. And don't forget to subscribe to P&Q emails or add me to your RSS reader with Feedly or Bloglovin' so you never miss a post. x's & o's!