Vegan Grits Bowls with Roasted Sweet Potatoes and Tomatoes — Creamy, buttery vegan grits topped with a sweetly caramelized blend of tomatoes and sweet potatoes — all roasted together with bright hits of briny saltiness from olives and capers. Simultaneously light and comforting — the perfect gluten-free, vegan sheet pan meal.
Ok folks, I'm jumping on the bandwagon. Ok, no, I'm more like…riding alongside the bandwagon. In a caravan with the bandwagon? Drag racing the bandwagon, perhaps.
And the bandwagon in this case? TikTok's viral baked feta pasta.
I had every intention of making the baked feta pasta in all its original glory — and credit should be given here to MacKenzie of Grilled Cheese Social, who lifted it to Instagram and then TikTok fame after being inspired by Finnish blogger Jenni of Liemessä — but I was facing one big obstacle:
I'm the only one in this house who likes feta.
And given the rave reviews this pasta has received and my distinct lack of portion control, that means I'd be sorely tempted to gulp down an entire pan's worth of creamy, cheesy pasta in a single sitting. Also, there's that whole attempting to be plant-based thing I've been doing for the past few months.
And so, I took the second most intriguing part of the viral feta pasta (after the feta, of course) — the hands-off roasting of jammy tomatoes — and married it with hearty sweet potatoes and a similar hit of mediterranean brininess: green olives and capers. Not so many that you're like WHOA BRINE. Just enough to impart a little salty tang.
How To Make Vegan Grits – And My Favorite Grits To Cook
And because I have recently discovered and cannot get enough of these Professor Torberts Orange Corn Grits (affiliate link), I made those the base of this simple, vegan sheet pan meal. This isn't a sponsored post, by the way. I just really love grits, and these happen to be some of the creamiest, most full-flavored grits I've tried. They cook up quickly, too, which is perfect for a weeknight meal. For this meal, we're keeping them vegan by just cooking them with a bit of salt, maaaaybe a knob of plant butter, if you so desire — but honestly, taste the grits first: they're genuinely flavorful all on their own, and they'll soon be doused in plenty of tart, salty, olive oily goodness.
You could, of course, use whatever grits you might have on on hand here, or perhaps a little quick cooking polenta, but if your cupboard is bare of grits, I can't recommend these enough. Bonus that the non-GMO orange corn was selectively grown to be high in carotenoids and was originally developed (by Professor Torbert, no less) as part of an effort to help alleviate vitamin A deficiencies in Sub-Saharan Africa, where Professor Torberts still works to alleviate hidden hunger today. Such a cool initiative, and the resulting product is so very tasty. More about all of that on their website.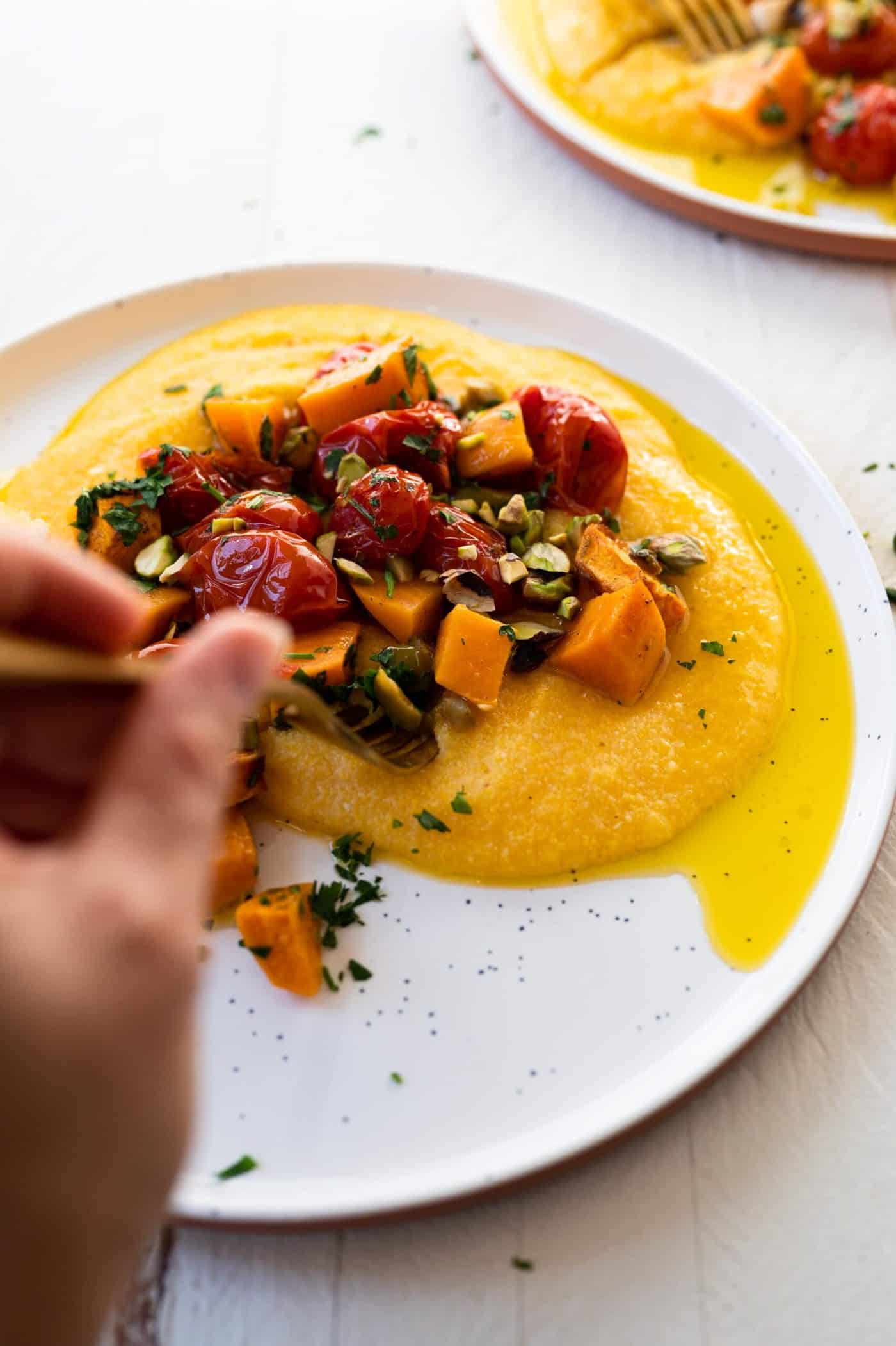 Weeknight Meal Idea: Easy Vegan Sheet Pan Grits Bowls
So. How do these Vegan Grits Bowls come together, you ask? Simply! I say.
Into a baking dish go the tomatoes, sweet potatoes (peel them, or don't — they're more nutrient-dense if you don't), lots of olive oil, chopped green olives — more power to you if you can find the kind stuffed with garlic — capers and some good ol' salt. Despite the fact that we're calling this a "vegan sheet pan meal," let's actually use a dish with higher sides than your average jelly roll pan — you want to crowd the pan just a little so the tomatoes blister and get a bit saucy but they don't turn into candy on the pan while the potatoes cook through. Let those go for an hour while you check your email, do bathtime, listen to a murder podcast, go down the hole of someday vacation properties on Redfin, fold the laundry, deny the kiddo a show (then consent to a show, but only because it's Bluey) — whatever. In the last 15 minutes, get your vegan grits on, finely chop a handful of parsley, crush some pistachios, and wedge up an orange. We're in the home stretch, and you've spent hardly 20 minutes, hands-on, making dinner.
Taste the grits for salt and adjust the texture to your liking. I like mine just a little on the thin side so they pool nicely on the plate now; they'll set up a bit as they sit, too. Spoon them onto the plate, squeeze the orange right over the veggies and pile them up over the top. Scatter the whole lot with the fresh parsley, the nuts, and — if you're feeling fancy — Microplane a little of that orange's zest over the top, too.
There you have it, folks. Vegan Grits Bowls with Roasted Sweet Potatoes and Tomatoes that, it turns out, are actually quite a departure from the viral feta pasta thing — but no less delicious.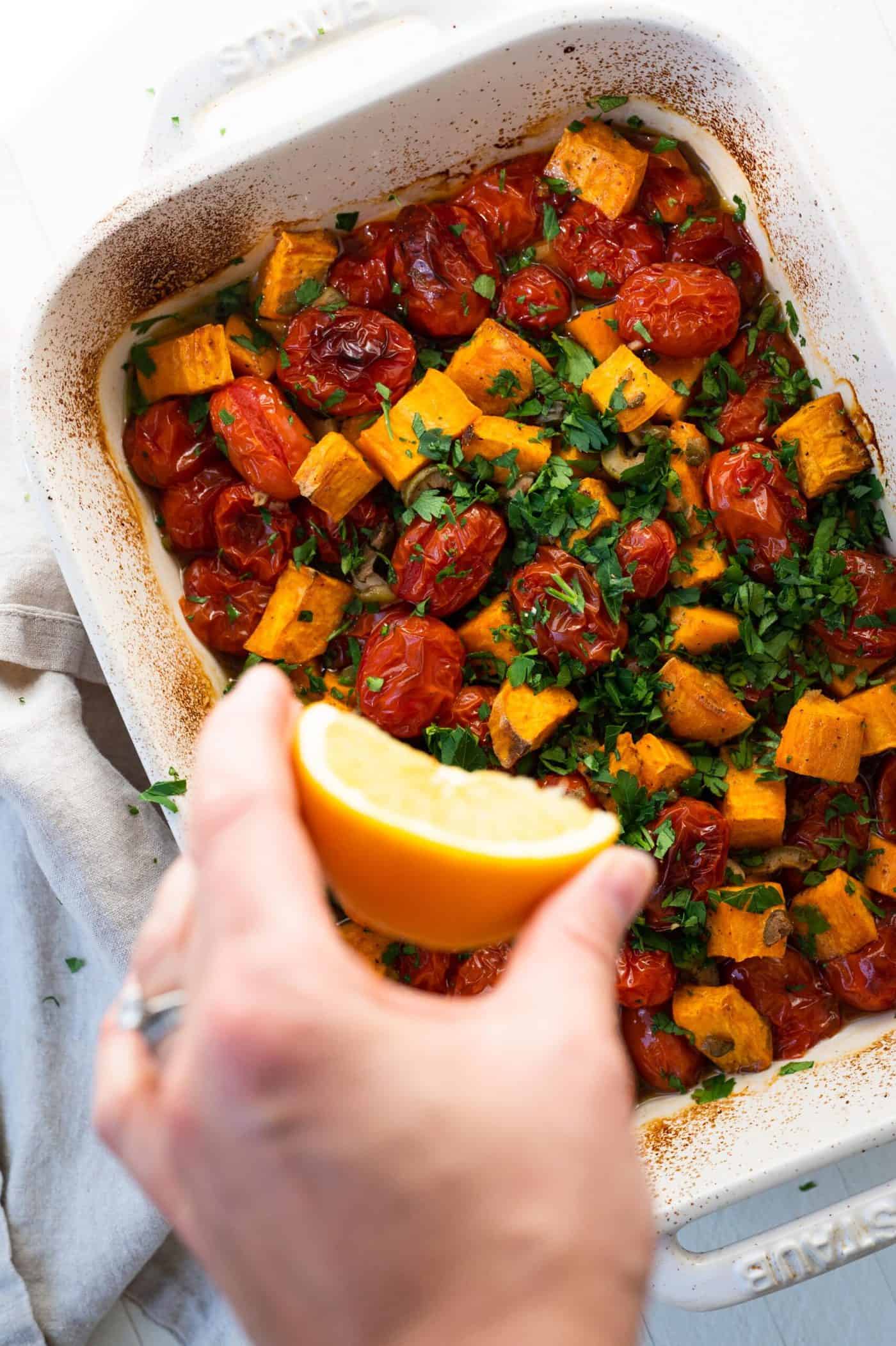 Grits and Roasted Veggie Bowls — Tips & FAQs:
Trying to make these Vegan Grits Bowls TONIGHT but don't have everything for the recipe? Picky kiddos? Food allergies? I got you.
Substitute for grits? I love grits because of both the texture and the flavor in this dish — and they're naturally gluten-free. But you could absolutely use this as a topping for savory oatmeal or even pasta, instead (I'd choose a shorter cut, like penne, or something ruffly, like farfalle or capanelle).
Can I make this nut-free? Of course. Roasted sunflower seeds or pepitas would be tasty, or even a little toasted panko (gluten-free or regular). I'd toss it with a light drizzle of olive oil on a small baking pan and throw it in the oven with the tomatoes for the last few minutes, until golden-brown and toasty. I also love hacking a "toasted bread crumb vibe" by crushing store-bought croutons into rustic crumbs. Something garlicky would be super tasty.
What can I substitute for sweet potatoes? Cauliflower would be awesome here. In that case, I would use a larger sheet pan so there's more room to groove between the veggies (you'll want the cauli to crisp up a bit, and it can't do that without a little breathing room) and I'd start checking them at 30 mins to see where you're at with browning.
What about kiddos? Lana ate everything in this recipe, but she preferred hers served separately: grits, roasted veggies, and a little pile of whole pistachios. We still served her a little finely chopped parsley and a orange slice on the side — sometimes, when she gets to plate and garnish her food herself, she's more likely to combine the courses in creative ways. She actually did end up doing that for a few bites with this meal, too!
Ok, I bought the grits. Now what else can I do with them? I thought you'd never ask! In addition to these (and similar) grits bowls, we use them anywhere we'd use polenta — and also as an easy side dish for beans (these Garlicky White Beans are some of my very favorite meals ever — just swap in the grits for the couscous). They're also a classic side for eggs and bacon. Or stir in a little butter, brown sugar and toasted pecans at breakfast, maybe a dribble of cream, and whew! we are talking breakfast of the orange corn gods.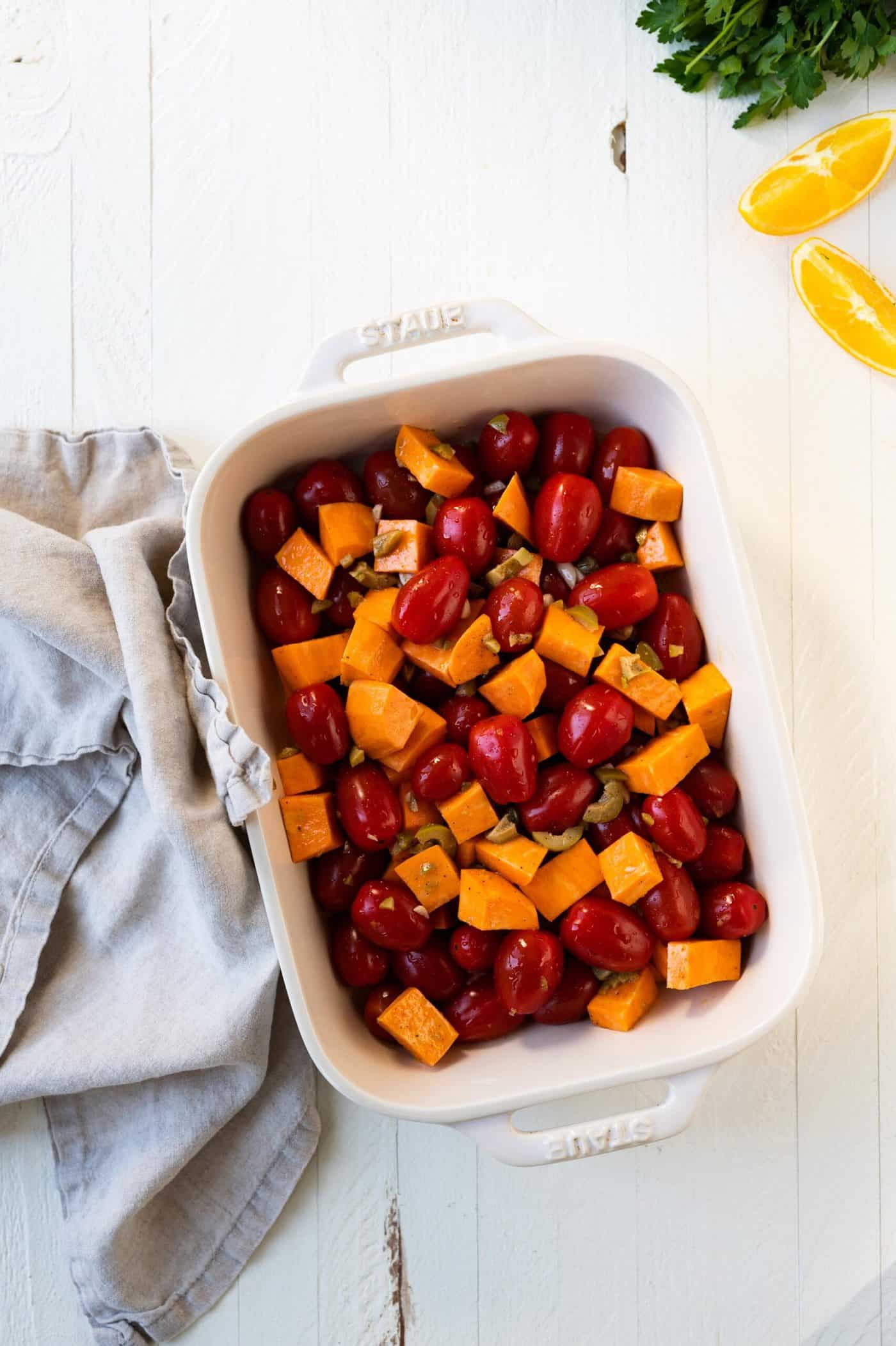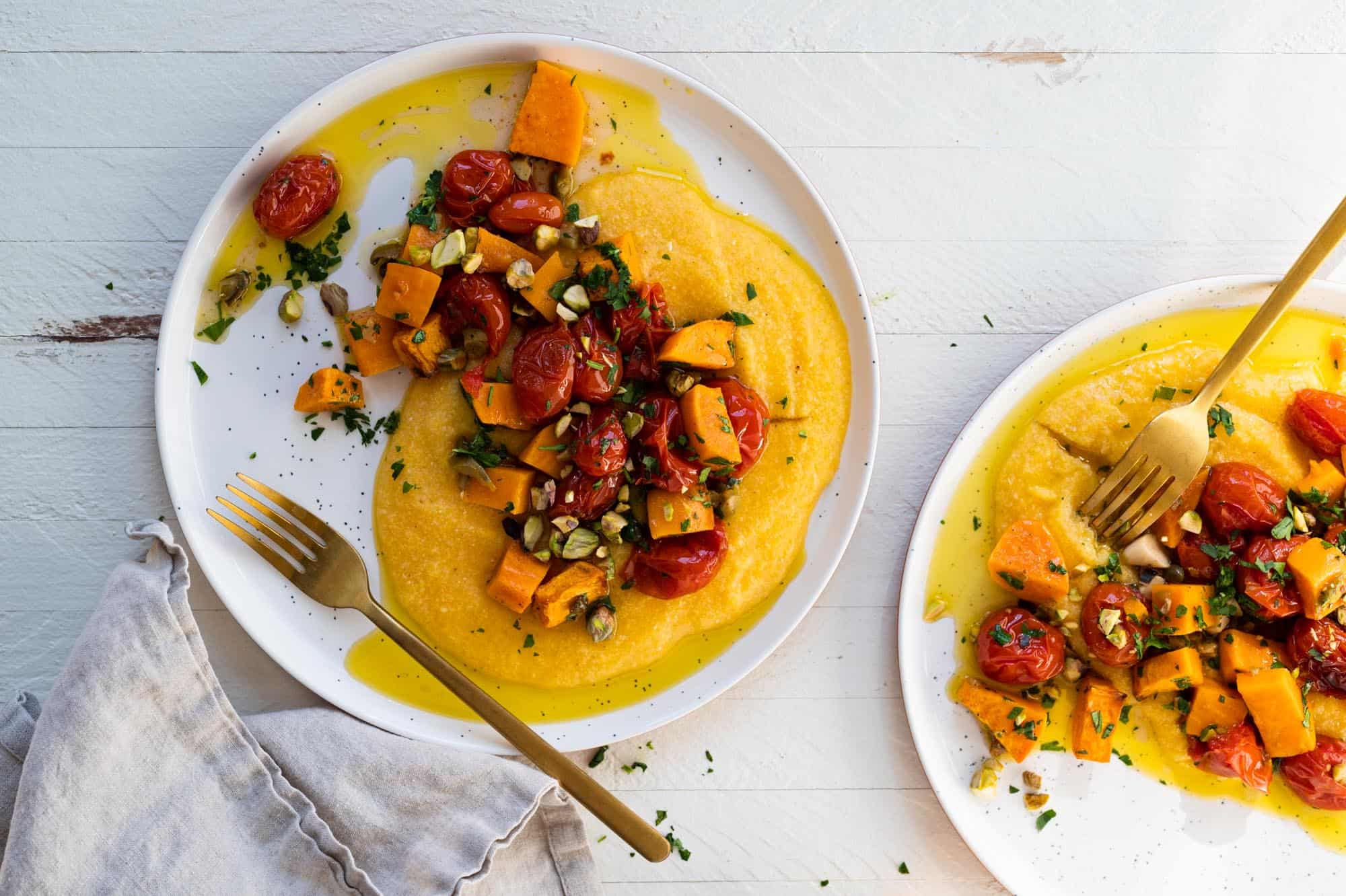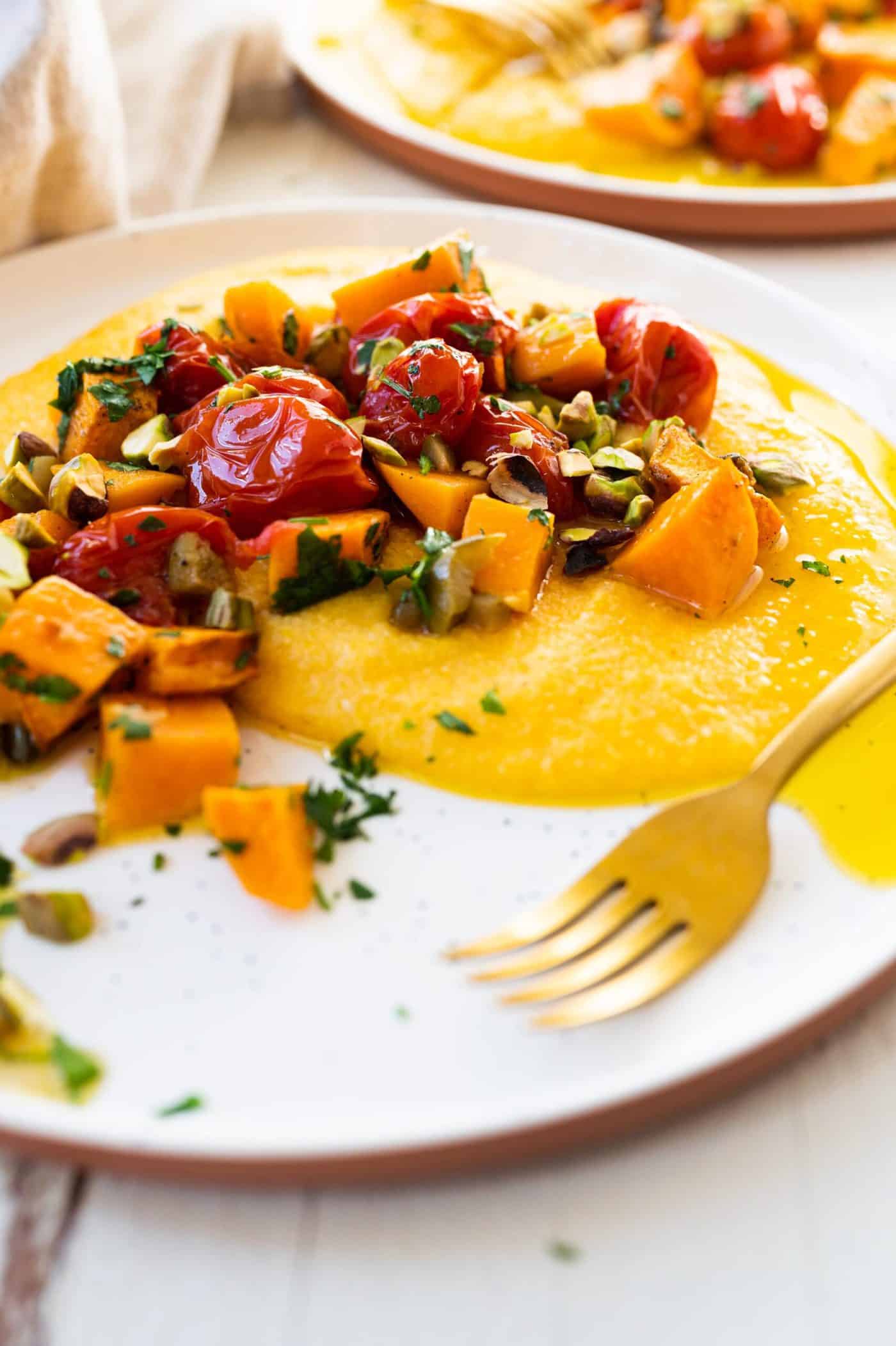 Like the sound of these Vegan Grits Bowls with Roasted Sweet Potatoes and Tomatoes?
Be sure to check out:
I legitimately can't get enough of these bowls, pals — or these grits. Give 'em a whirl and let me know what you think, eh? They might not be the next TikTok sensation, but I can tell you they make some seriously tasty eats.
xo,
Em

Vegan Grits Bowls with Roasted Sweet Potatoes and Tomatoes
Vegan Grits Bowls with Roasted Sweet Potatoes and Tomatoes — Creamy, buttery vegan grits topped with a sweetly caramelized blend of tomatoes and sweet potatoes — all roasted together with bright hits of briny saltiness from olives and capers. Simultaneously light and comforting — the perfect gluten-free, vegan sheet pan meal.
Ingredients
20 oz small tomatoes
1 large (about 12 oz) sweet potato, diced
½ cup olive oil
1 T capers
½ cup pitted green olives (garlic stuffed, if you can find them), roughly chopped
½ tsp salt
4 servings quick cooking grits, prepared according to package directions
fresh orange wedges, for serving
finely chopped parsley, for serving
handful crushed pistachios (or toasted slivered almonds), for serving
chile flakes, for serving (optional)
Instructions
Preheat oven to 400F.
In a baking dish just large enough to contain all ingredients, combine tomatoes, sweet potatoes, olive oil, capers, olives and salt. Bake 60 mins.
When you've got about 15 or 20 mins left on the timer, get your grits going and cook according to package instructions. (This is assuming you're using quick-cooking grits -- if not, adjust your timing accordingly.)
Taste grits for seasoning and add a pinch more salt if necessary. Spoon grits onto plates or into bowls. Squeeze the juice of ¼ orange over the tomatoes and sweet potatoes, then pile them generously over the grits, drizzling a little of the collected olive oil over everything. Top with fresh parsley, crushed pistachios and chile flakes, if desired. Enjoy!
————————————————–
OH! before you go…
Like whatcha see here — or have a question, feedback, or recipe hack to share? Join The Pig & Quill convo by commenting below and hanging out with me on Facebook, Twitter, Instagram and Pinterest. And don't forget to subscribe to P&Q emails or add me to your RSS reader with Feedly or Bloglovin' so you never miss a post. x's & o's!