about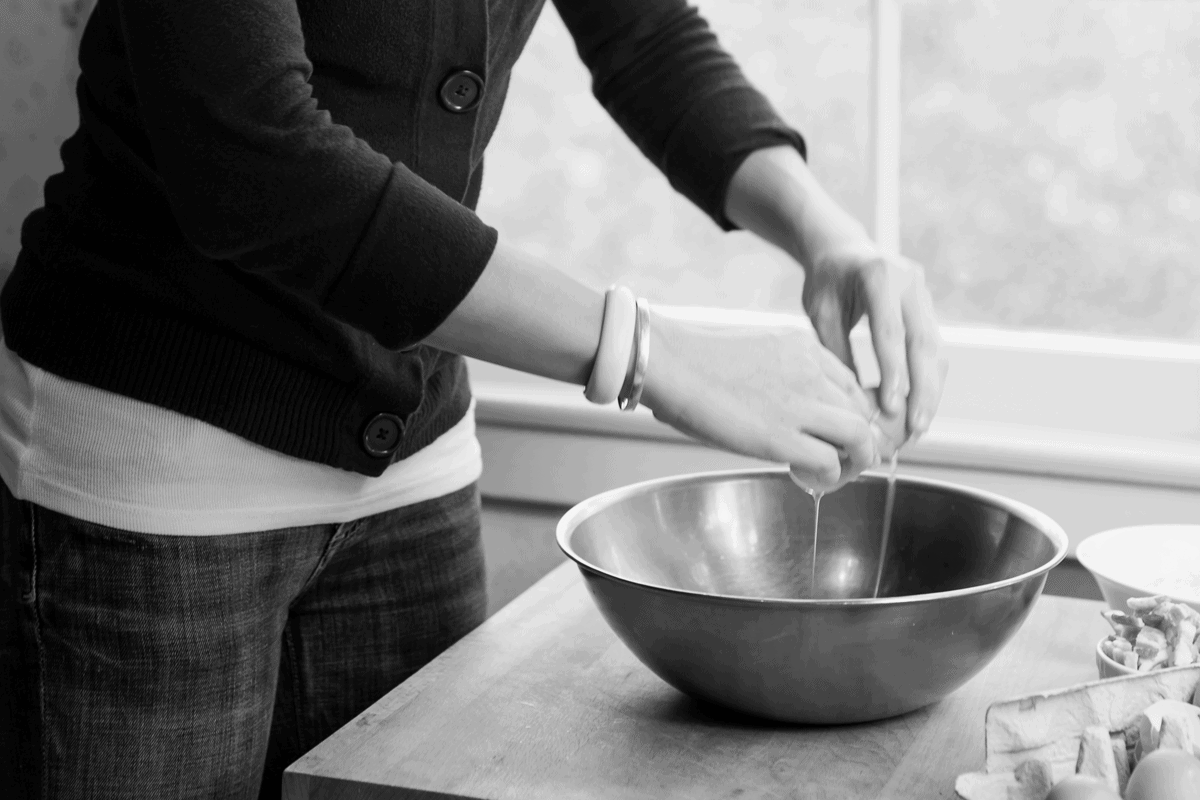 Hey guys, I'm Em – the voice behind The Pig & Quill. Or more appropriately, I guess I'm kind of the Pig behind The Pig & Quill, although it's never very clear if I'm being the Pig or eating the Pig or walking that dangerously cannibalistic line somewhere in between. (Update: I'm eating less pig, in general, these days, but I always intended the name to be more of an homage to my appetite than my adoration of bacon — and that, sure as heck, has not changed.)
I started writing this blog in late 2012 in part because documenting my obsession with cooking and eating seemed rather handy and in part because I had already reserved the domain name and the $13 bucks I spent doing so were mocking me in my sleep. Today, it's grown into a catchall for some of the things I adore most: dated pop culture references, seasonal recipes inspired by my California upbringing (and the whims of our toddler) and snippets from my life as a momma and humble homemaker on the beautiful Northern California Coast.
Happily, it's also provided me with countless opportunities to meet and mingle with peeps like you. It's phenomenal how the internet has made the world so delightfully small, isn't it? I'm constantly touched by the many folks I've connected with through this space — it's truly the most rewarding part of the job.
Wanna learn more about me and/or The Pig & Quill? Skim the FAQs below, leave me a comment, drop me a note, or follow along with P&Q shenanigans on Instagram, Twitter, Facebook and Pinterest. You can also sign up to receive posts via email, or you can add me to your RSS reader with Feedly or Bloglovin'. It's a jolly good time!
Thanks for visiting my little nook and hope to see you around,
Em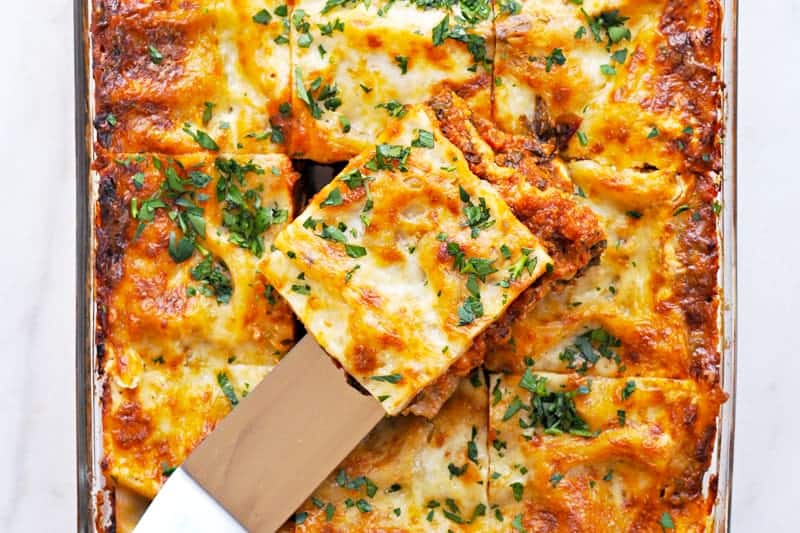 (overnight miso-braised sausage + chard lasagne)
media // work with me
Occasionally I'll work with brands whose products are closely aligned with The Pig & Quill's mindful living/eating philosophy. If you've got a sponsored content opportunity that you think would be a good fit, please feel free to contact me for more information.
For examples of recent press, click here.
Blog courtesy:
All content found on this site (including recipes and imagery) is original and created by yours truly unless otherwise stated. In the community-driven spirit of blogging, please feel free to borrow an image or link to a recipe so long as it is credited and linked back to The Pig & Quill accordingly. In that same spirit, please don't give away the punchline by publishing both an image and the full recipe. Questions about using content from The Pig & Quill more specifically? Give me a shout. Thanks!
FAQs
What's your cooking/food philosophy?
While our household is strictly specialty-diet agnostic, we do our best to eat mindfully and choose whole and humane foods that are more nourishing to our bodies and the environment than they are toxic. Simple. Most of the recipes you'll find here are heavy on the plants and (somewhat) low on refined sugars and starches, though you can dig up plenty of exceptions if you go looking. I'm not gonna lie and tell you that some crispy pig tastes better with quinoa than it does over a steaming bowl of white rice, but, you know, moderation. I also get it on with pudding mix every now and again.
Yeah, also, I can't bake for shit and rarely try. Sorry.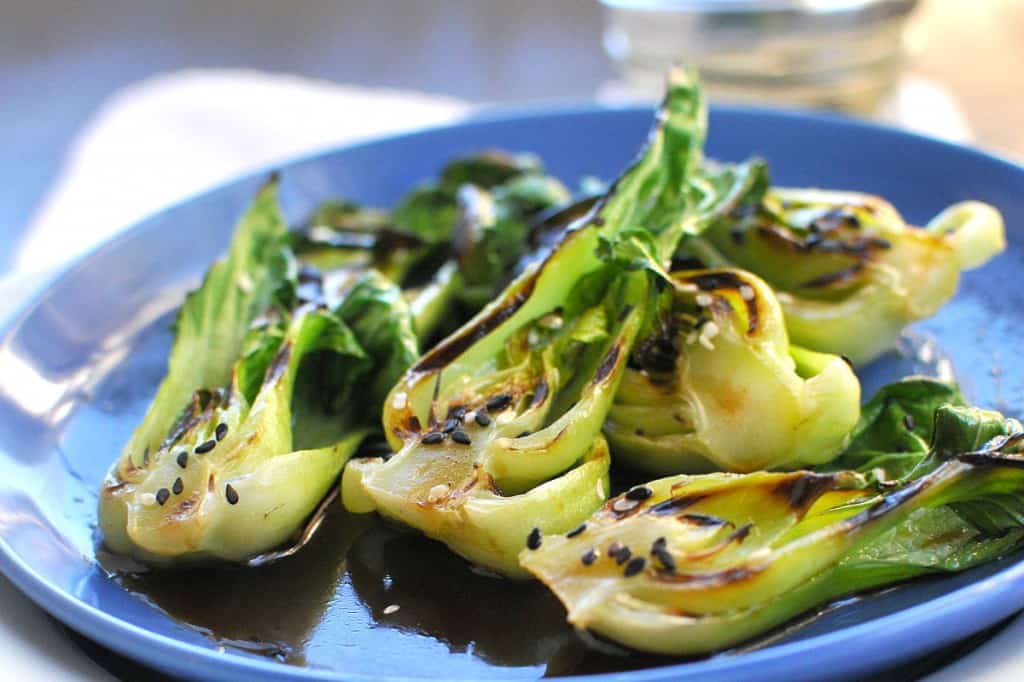 (steam-grilled baby bok choy with sesame soy vinaigrette)
Are you classically trained?
Nyyyope. I earned my BS in Journalism from Cal Poly San Luis Obispo and my culinary degree from the University of Hey, My Husband Kinda/Sorta Likes It! And, of course, my momma's kitchen. I had the great fortune of growing up surrounded by parents and grandparents highly proficient in getting their feed on and it kinda just…soaked in. Having a tremendous desire to maintain that level of fooding in my college years helped, too. I can wield a contraband toaster oven with serious aplomb!
Who's Chris?
Awww, he'll be so flattered you asked. Chris is my hubs. He's endlessly patient, stupid smart in that for-realsies-engineery way and trim as can be despite all his taste-testing, which is kind of kick in the pants. (He likes to ride him a bicycle, so maybe that helps.) I also think he's rather foxy. One time we made out in a fridge right before getting hitched.
Who's dat baby?
Oh, you mean this baby? That's our Lana, the sweetest bug that ever was and hands-down the snackiest little morsel I've ever had a hand in making. She popped into our lives (or rather, I grunted her into our lives) in April 2015 and has rocked our world in the most beautifully tumultuous, all-consuming way.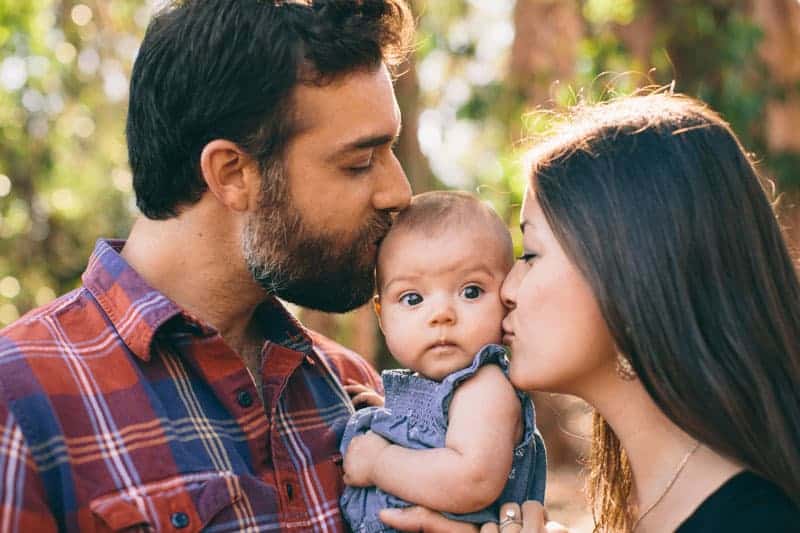 What's your favorite food?
Asian-and-tacos-and-ice cream-and-fries! The skinny, crispy ones, please. Beyond that, don't make me chooooose.
What's your least favorite food?
Fancy ranch dressing (yes, Hidden Valley counts in this category). Only the salty, runny white stuff with few discernible herbs and a bulk size, pump-top spout for me, please and thanks.
What do you shoot?
Ok, seriously, I feel like that's a tooly question (pun intended, wh0mp wh0000mp), but it seems kinda de rigueur, so lets do it. I shoot with an old (and getting older) Nikon D300, typically outfitted with a snug little 35mm lens, and I do most of my crops and edits in Photoshop. But even after a couple of years, I'm a total ammy at talking le fotos, you guys, so seek out the big guns for real tips. (I love love love Ashley's super extensive and easy-to-follow Food Photography Tips series.)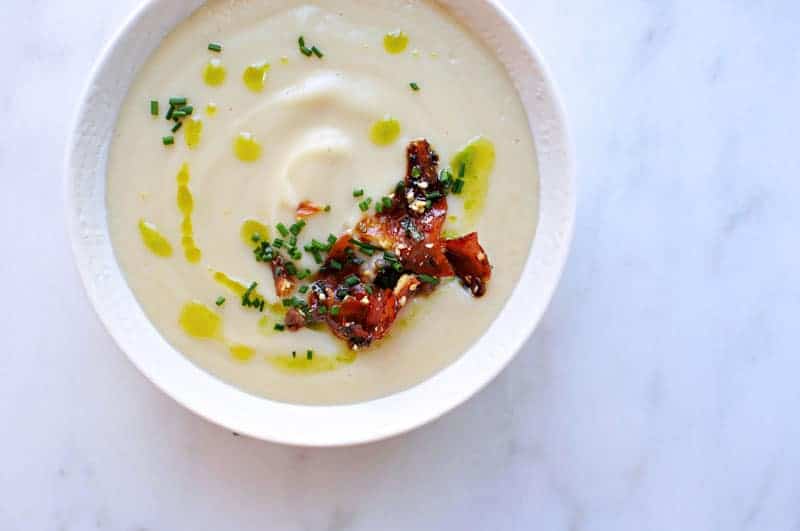 (creamy white miso + cauliflower soup with candied furikake prosciutto)
Tell me some other random stuff!
K! I use simile like the cool kids use body spray (mistakenly and in abundance are both acceptable here); I believe in umami; and I'm an Only Child. I maybe threw in that last part as an attempt to explain away instances of misplaced judgment or blatant (Veruca) saltiness, but I also like to think Only Children developed a special bond in the cabbage patch that forged a connection beyond being referred to as "capital-O-capital-C" Only Children, which is sounding even eerier and more post-apocalyptic by the second. Chris is a solo kid, too, which means that little Lana kiddo of ours has exactly zero biological aunts, uncles or cousins. Crazy!