Hummus, Feta + Broccoli Fritters — Light, cheesy, gluten-free broccoli fritters loaded with tender broccoli, creamy hummus and salty feta, served with parsley, lemon and a tangy tzatziki dip. Serving them at room temperature makes them perfect for game day snacking or a light vegetarian lunch or dinner any time.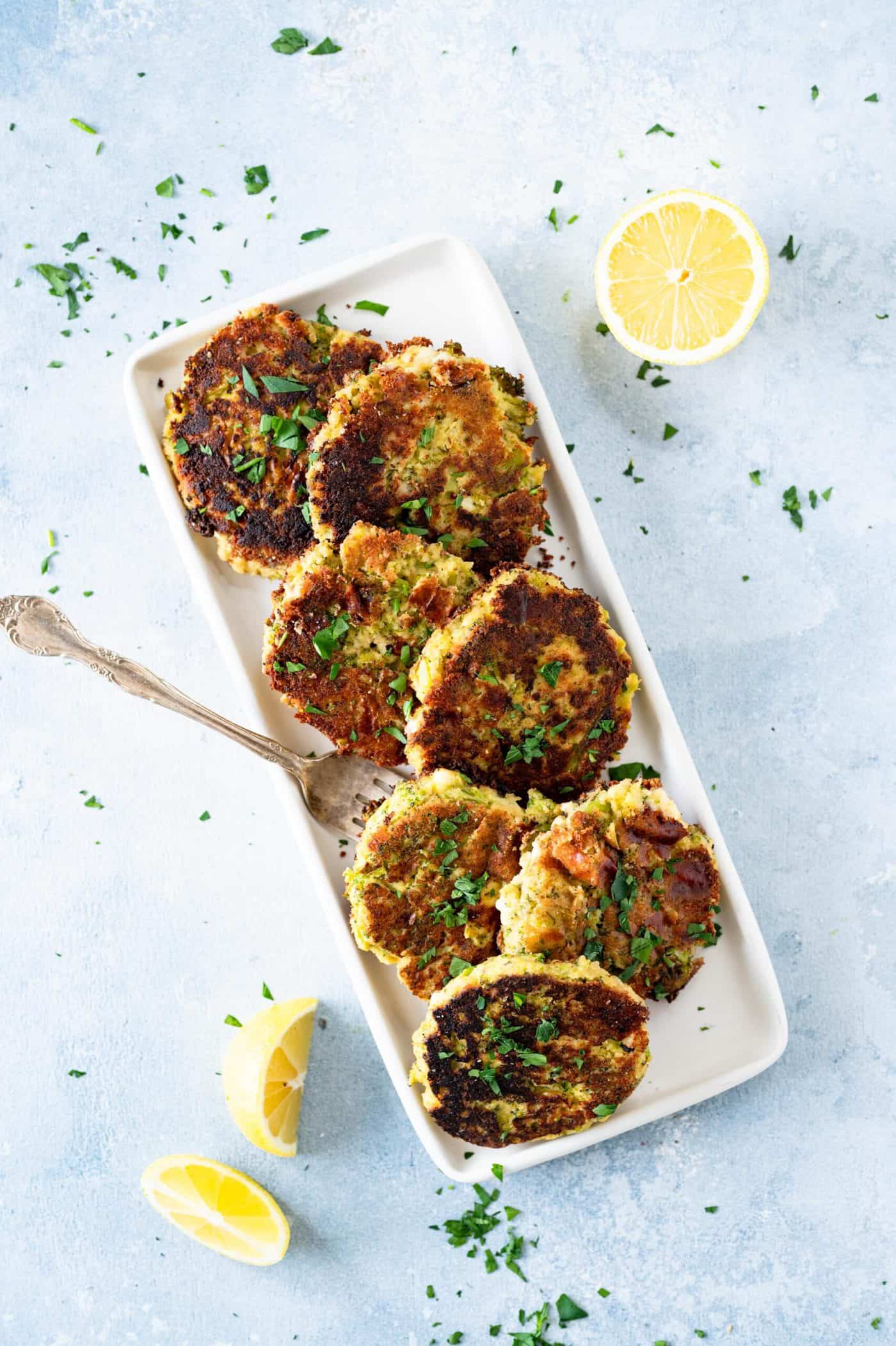 This post has been sponsored by Safeway. All thoughts and opinions are my own.
Hey friends! I'm back with another post made in partnership with Safeway today, and this time around we're talking Game Day snacking. I'll be the first to admit that I'm not a huge team sports fan — but I am a huge fan of snacky foods (which should be abundantly clear by now), and Game Day is nothing if not the perfect excuse to assemble all my faves. This year, of course, Game Day might still look a little different — at least in terms of how and where we gather — so when Safeway sent along a box loaded with Boar's Head and Safeway store-brand ingredients ripe for recipe developing, I knew that I wanted to make a snack that would also eat a bit more like a meal if you're serving a smaller group. Enter: these Gluten-Free Hummus, Feta + Broccoli Fritters.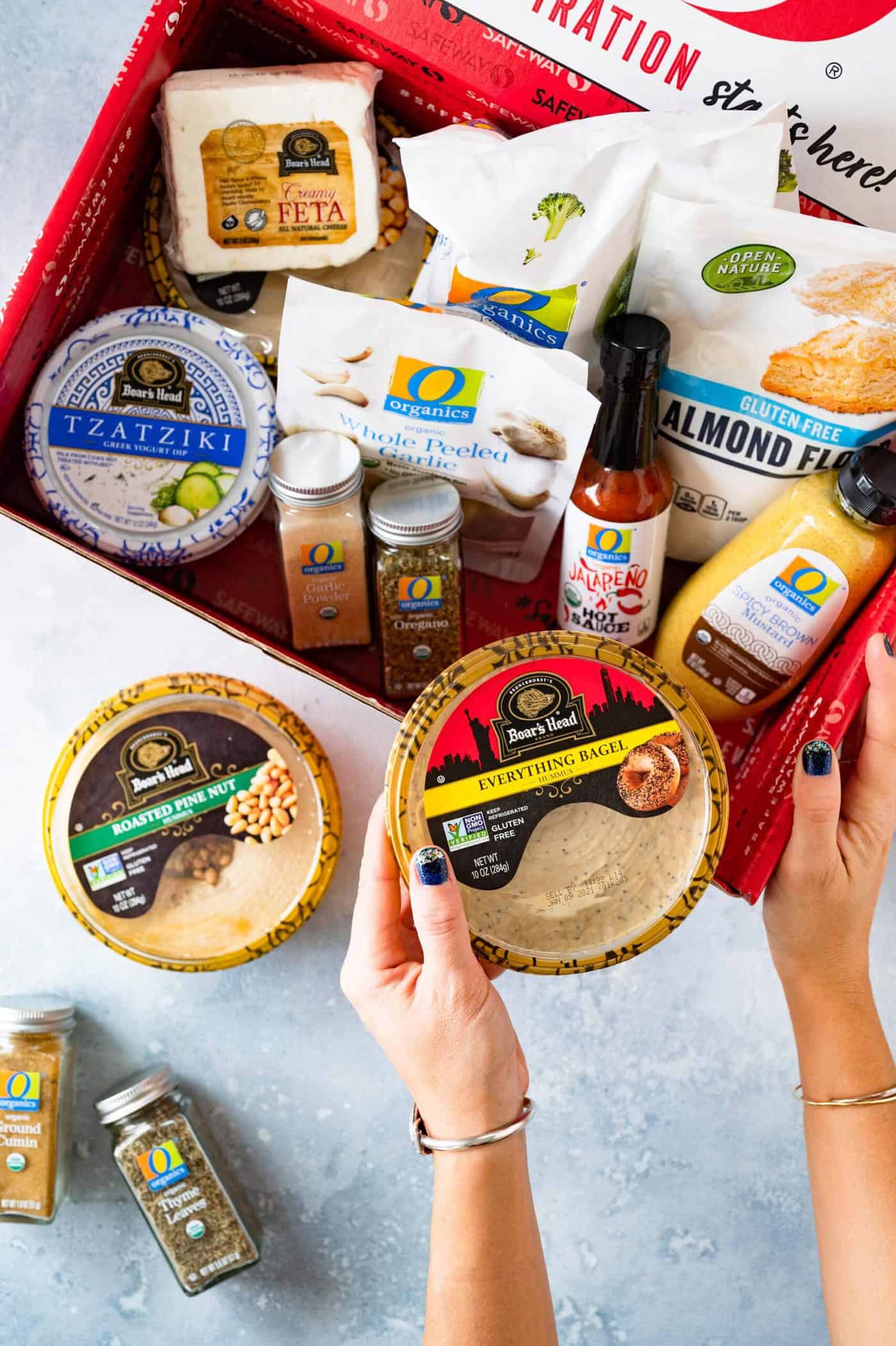 When it comes to the pandemic, we've been erring on the conservative side (for almost a year now…how can that be??), so we've been relying heavily on grocery delivery and curbside pickup services, and Safeway's program is one of the most user-friendly options out there. The Safeway site is super easy to navigate, and to keep myself from aimlessly browsing for literally hours, I make a grocery list first (as I normally would for in-person shopping), and then search for each ingredient and add them to my cart. It's the most efficient grocery shopping I've ever done, and the just4u section of the website and Safeway mobile app often offers promotional pricing for the items I buy most frequently, which is handy as can be. (Finally, an online algorithm I can appreciate!) Like the eggs I purchased to round out these broccoli fritters? More than $2 off the retail price thanks to a targeted just4u coupon. I'll take it.
How to Make Gluten-Free Broccoli Fritters
Speaking of fritters: let's get into it the details. They couldn't be simpler to pull together, and they hold up exceptionally well at room temp. Just combine a bag of frozen broccoli florets, one 10-ounce container of Boar's Head hummus, crumbled feta, almond flour, eggs and lots of flavoring agents in a single bowl; drop 1/4 cup scoops of the mixture into a cast iron skillet or fry pan preheated with a little avocado oil, and cook them until deeply browned — about 3-4 minutes a side. The combination of hummus and feta makes the fritters exceptionally creamy and flavorful, while the broccoli, almond flour and eggs add just enough structure to bind everything together. The end result is a gluten-free broccoli fritter that's more akin to a crab cake than a floury biscuit (a very good thing, in my opinion). With a squeeze of fresh lemon and sides of Boar's Head Tzatziki and O Organics Jalapeno Hot Sauce, they're just about perfect.
Tips for Perfect Gluten-Free Broccoli Fritters
Granted, these are exceptionally simple to make, but here are a few tips to really get the most out of your broccoli fritter experience:
For the broccoli: I usually defrost the broccoli in the fridge overnight, or I zap it from frozen for 2-3 minutes in the microwave in a large bowl. Then I transfer the defrosted broccoli to a colander and press it with the back of a ladle to extract as much water as possible. Wipe out any moisture from the bowl you used to heat the broccoli; then return the broccoli to the bowl and add the rest of the ingredients. (Yay for fewer dishes!)
Shaping the broccoli fritters: I use a 1/4 cup measure to scoop the fritter mixture, and then turn it out into the pan with a tablespoon. Use the tablespoon to lightly pat the scoop into a patty.
Browning the broccoli fritters: I preheat my cast iron skillet to medium before adding the oil, and then I let the oil just begin to shimmer before adding the fritter mixture. The key is to allow the fritters to cook slowly enough that the egg has a chance to set, but not so slow that they absorb the oil before browning. (Conversely, too high of a flame will burn the delicate feta and almond flour.) On my stove, that means keeping the dial just shy of medium. To be on the safe side, just keep an eye on the first batch, and lift the edge of the fritters every now and then to check the color. If your pan becomes littered with little brown bits, just wipe it out with a paper towel before returning it to the heat with another drizzle of oil.
Flavored hummus broccoli fritters: This recipe uses Boar's Head Traditional hummus, but they offer loads of different flavors that would be such an easy way to mix things up in this recipe: Everything Bagel Hummus, Sweet Chili Garlic Hummus, Roasted Red Pepper Hummus, Garlic Hummus, Spinach Artichoke Hummus — just to name a few. Since these products are more seasoned, I'd probably take a small taste of the mixture (before adding the eggs and spices) to see if you need to scale back any of the seasonings before proceeding. Of relevant note: Boar's Head also makes a Dark Chocolate Hummus, which I'm not suggesting for this recipe (ha!), but it's darn intriguing.
Broccoli fritter tweaks: Since we're making these for Game Day, you could easily make each fritter much smaller (a heaping tablespoon or two) for more of a bite-size snack. They're also better served at room temp, when they have a chance to firm up just a bit, so they're excellent as leftovers. I'd serve one over an English muffin with a poached egg on top, much like I would a crab cake. And they'd be perfect in a bento lunch box.
Whether you make these gluten-free Hummus, Feta + Broccoli Fritters for Game Day or just a light(er) lunch or dinner, you can't go wrong. And the mileage that you'll get out of this recipe for lunchboxes, brunches and (eventually…sigh) entertaining makes this a great one to keep on hand year-round.
Cheers, friends!
xo,
Em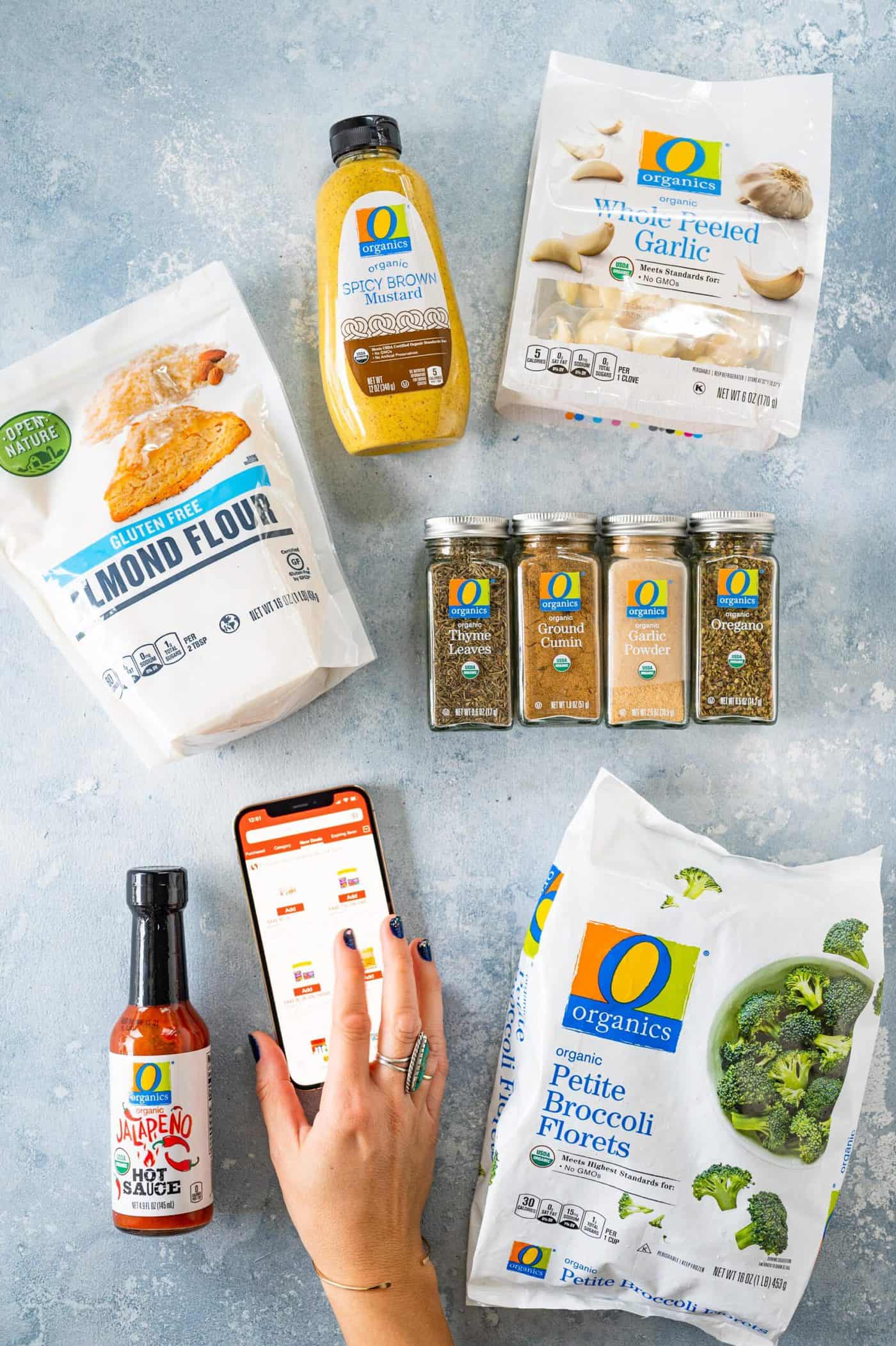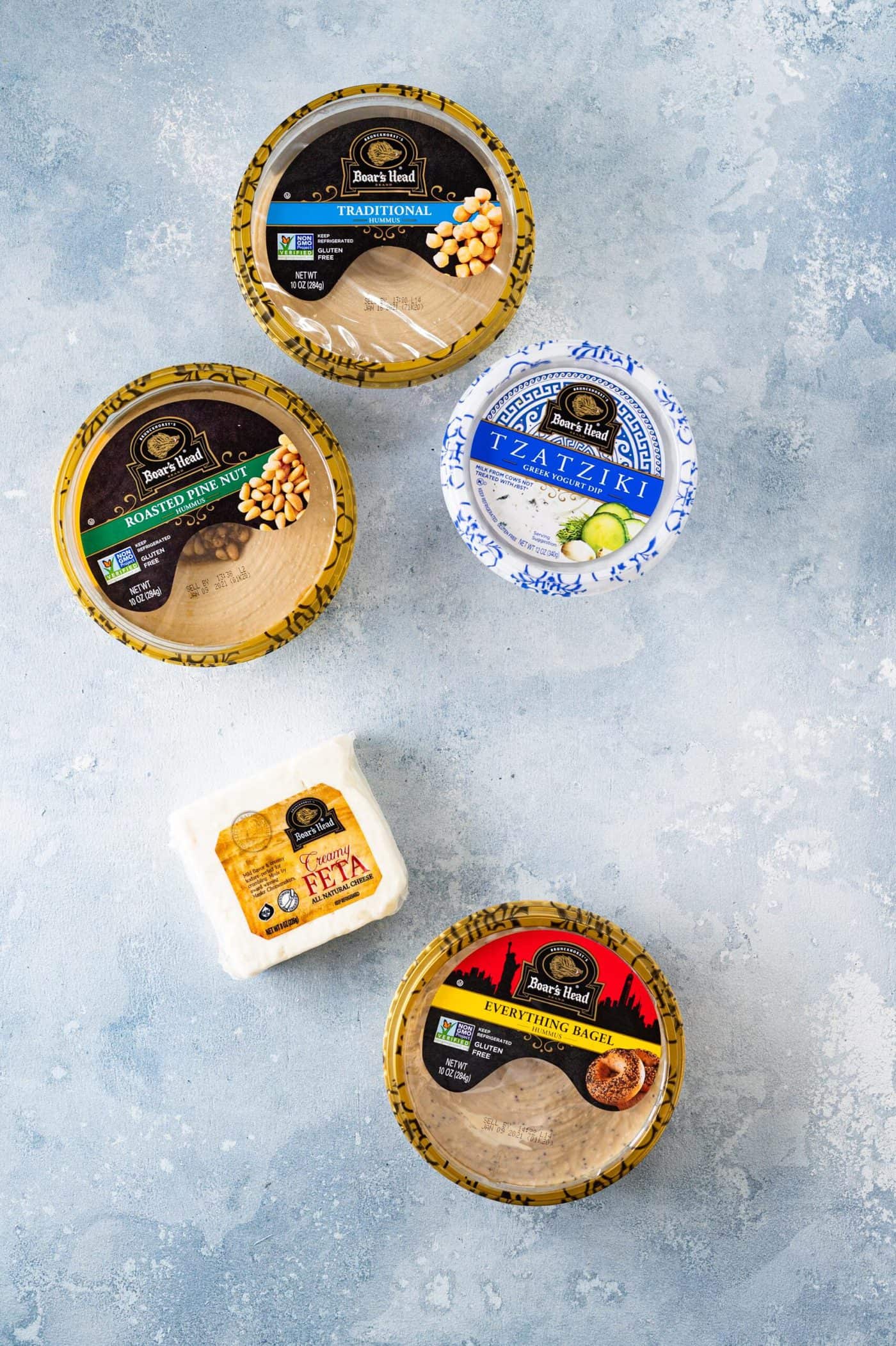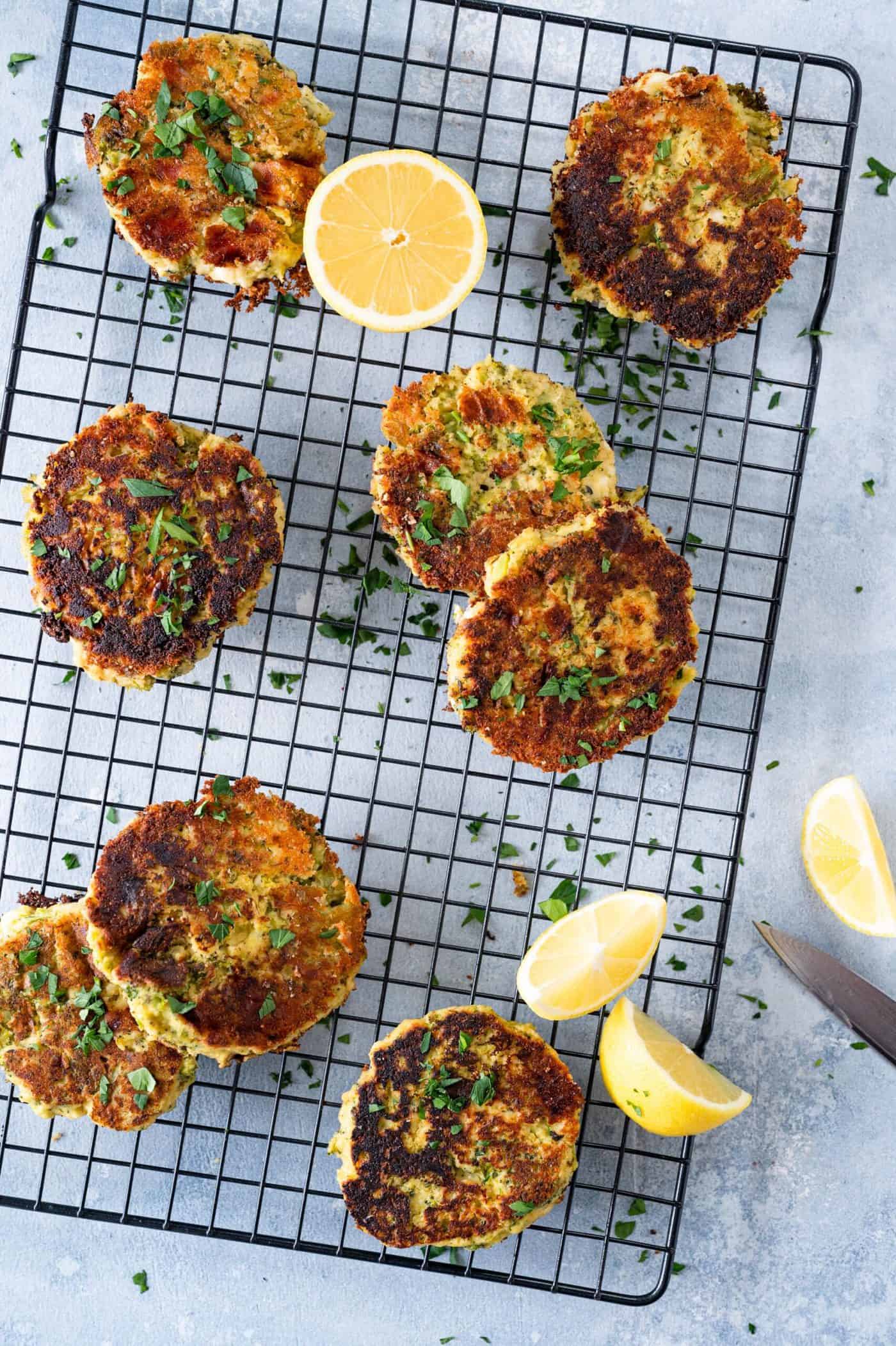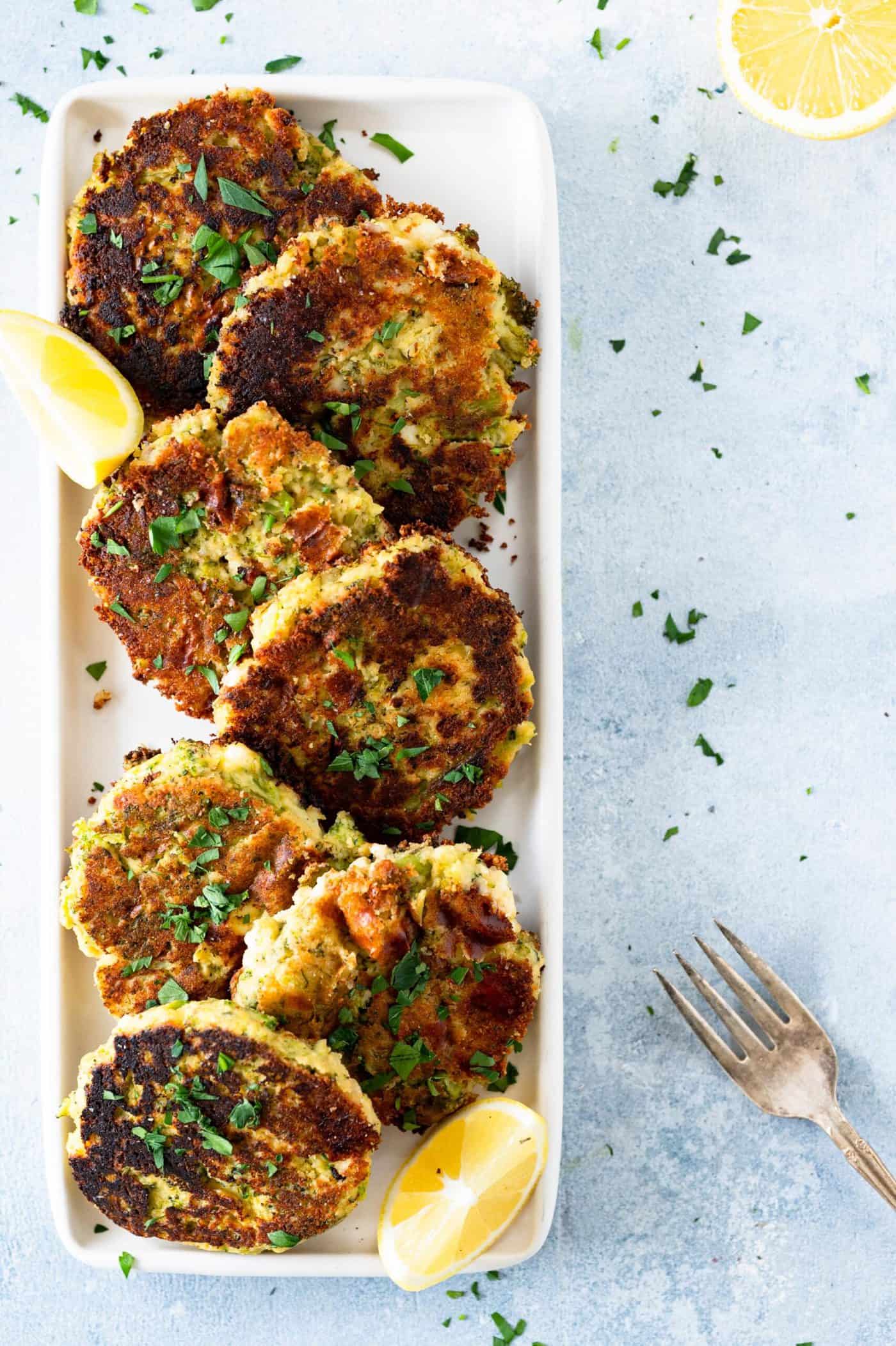 Gluten-Free Hummus, Feta + Broccoli Fritters
Hummus, Feta + Broccoli Fritters -- Light, cheesy, gluten-free broccoli fritters loaded with tender broccoli and salty feta, served with parsley, lemon and a tangy tzatziki dip. Serving them at room temperature makes them perfect for game day snacking or a light vegetarian lunch or dinner any time.
Ingredients
FOR THE FRITTERS
2 packed cups frozen broccoli, thawed, wrung out and roughly chopped (about 1 16-oz bag)
1 10-oz container Boar's Head Traditional Hummus
2 cloves garlic, grated or finely chopped
8 oz feta, crumbled
1 cup almond flour
1 T spicy mustard
½ teaspoon salt
½ teaspoon oregano
½ teaspoon thyme
½ teaspoon garlic powder
½ teaspoon cumin
fresh black pepper (to taste)
2 eggs
avocado oil, for frying
FOR SERVING:
fresh lemon wedges
finely chopped parsley
Boar's Head Tzatziki
O Organics Jalapeno Hot Sauce
Instructions
In a large, microwave safe bowl, defrost broccoli in the microwave, about 2-3 mins. Transfer broccoli to a colander and drain, pressing with the back of a spoon or a large ladle to extract as much water as possible. Roughly chop broccoli. Wipe out large bowl and return broccoli to bowl.
To broccoli, add all remaining ingredients except avocado oil. (If using a flavor of hummus other than Traditional, taste mixture before adding spices and egg in case you need to scale back seasonings accordingly.) Combine mixture well.
Heat a large cast-iron or nonstick skillet over medium heat and add 1 tablespoon of avocado oil, swirling to coat. Which oil is just shimmer, drop fritter mixture by ¼ cup measure into the pan, lightly pressing each scoop down into a patty. (I can cook 4 at a time in my pan.) Allow fritters to cook, undisturbed, for 3-4 minutes or until deeply browned, checking frequently to make sure they're not burning and adjusting your heat accordingly, if needed. Gently flip (fritters will be delicate!) and cook another 3-4 mins.
Remove fritters to a cooling rack, and repeat with remaining fritter mixture, wiping out any brown bits from the skillet and adding another tablespoon of oil between batches, if needed.
Scatter fritters with fresh parsley. Serve fritters at room temperature with a squeeze of lemon and tzatziki sauce and hot sauce on the side. Enjoy!
Notes
See "Tips" section in post above for perfect fritters. Leftovers can be enjoyed a myriad of ways -- I love making them into a Benedict, of sorts, or adding them to a lunchbox.
Like these Gluten-Free Hummus, Feta + Broccoli Fritters?
Be sure to check out:
————————————————–
OH! before you go…
Like whatcha see here — or have a question, feedback, or recipe hack to share? Join The Pig & Quill convo by commenting below and hanging out with me on Facebook, Twitter, Instagram and Pinterest. And don't forget to subscribe to P&Q emails or add me to your RSS reader with Feedly or Bloglovin' so you never miss a post. x's & o's!