Gluten-Free Fattoush Salad with Za'atar Chickpea Crisps — a hearty, vegetarian salad featuring crunchy gluten-free chickpea crackers and a lemon oregano dressing.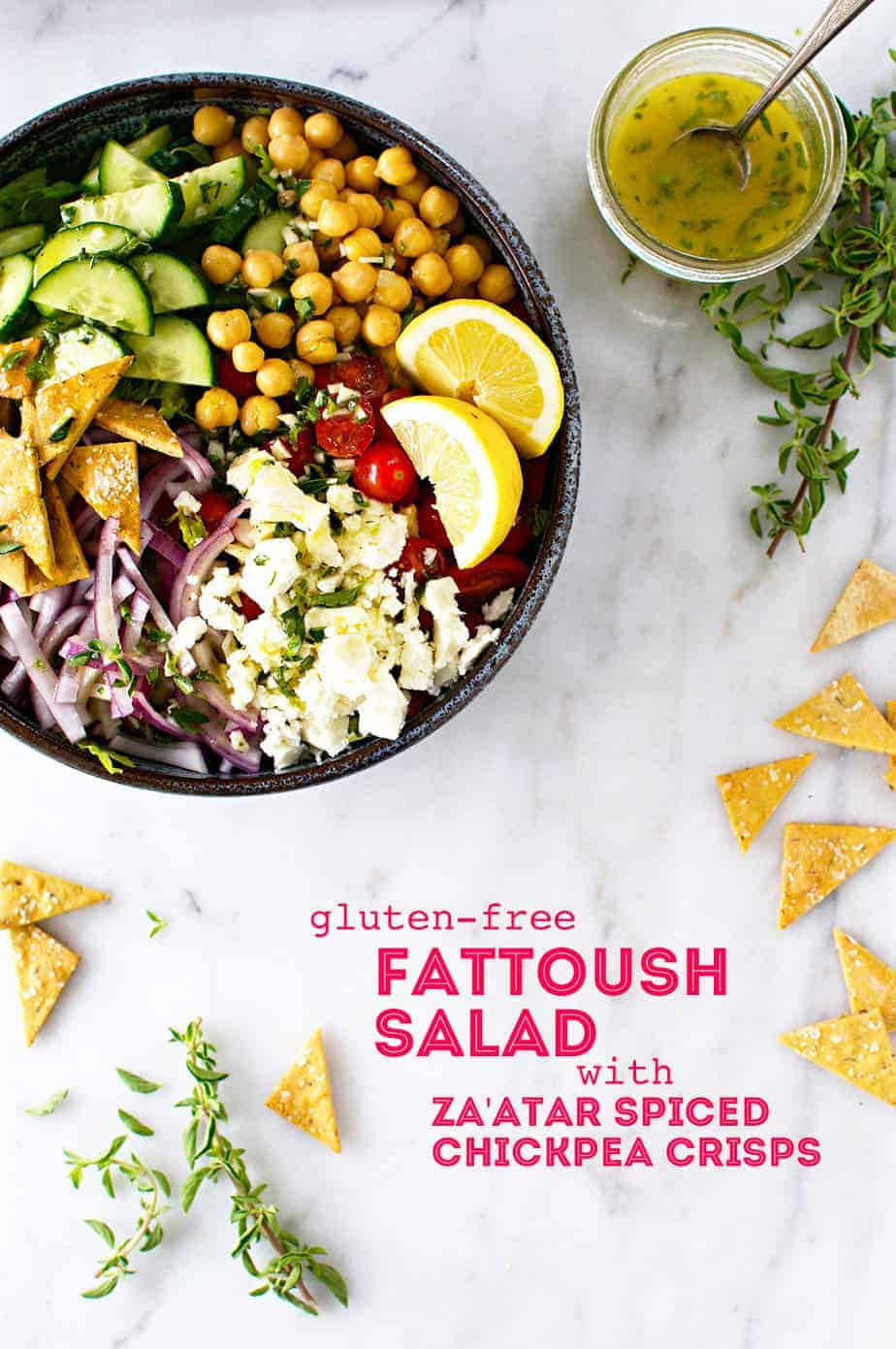 Hi guys! We took a bit of a belated spring break last week to spend a few days skiing in the 70-degree sunshine, hot tubbing to our pruney toes' content and bingeing reruns of Sex and the City (and, if we're being honest, Naked and Afraid) like one can only do in the dim, guiltless light of a hotel room. The first two nights of our trip, Lana stayed with our parents, so we also embarked on a last-minute date night in Reno (my, has the Biggest Little City changed since I lived there as a peewee!), long afternoon beers on sunny patios and leisurely window shopping through many a "breakable" boutique in downtown Truckee. It was easygoing, to say the least.
By the time my mom brought Lana up to join us, we were practically giddy to be snuggling our newly 4-year-old little squish bug. We took her on the slopes for the first time and logged hours in the pool. Rented true blue DVDs from the front desk and revelled in the magic that is very mediocre trendy resort gelato (and actually very good trendy resort coffee). Bookended by a whirlwind birthday weekend celebrating our babe, visits from my bestie and loads of family time, it's been a super soul-satisfying couple of weeks.
Speaking of satisfying.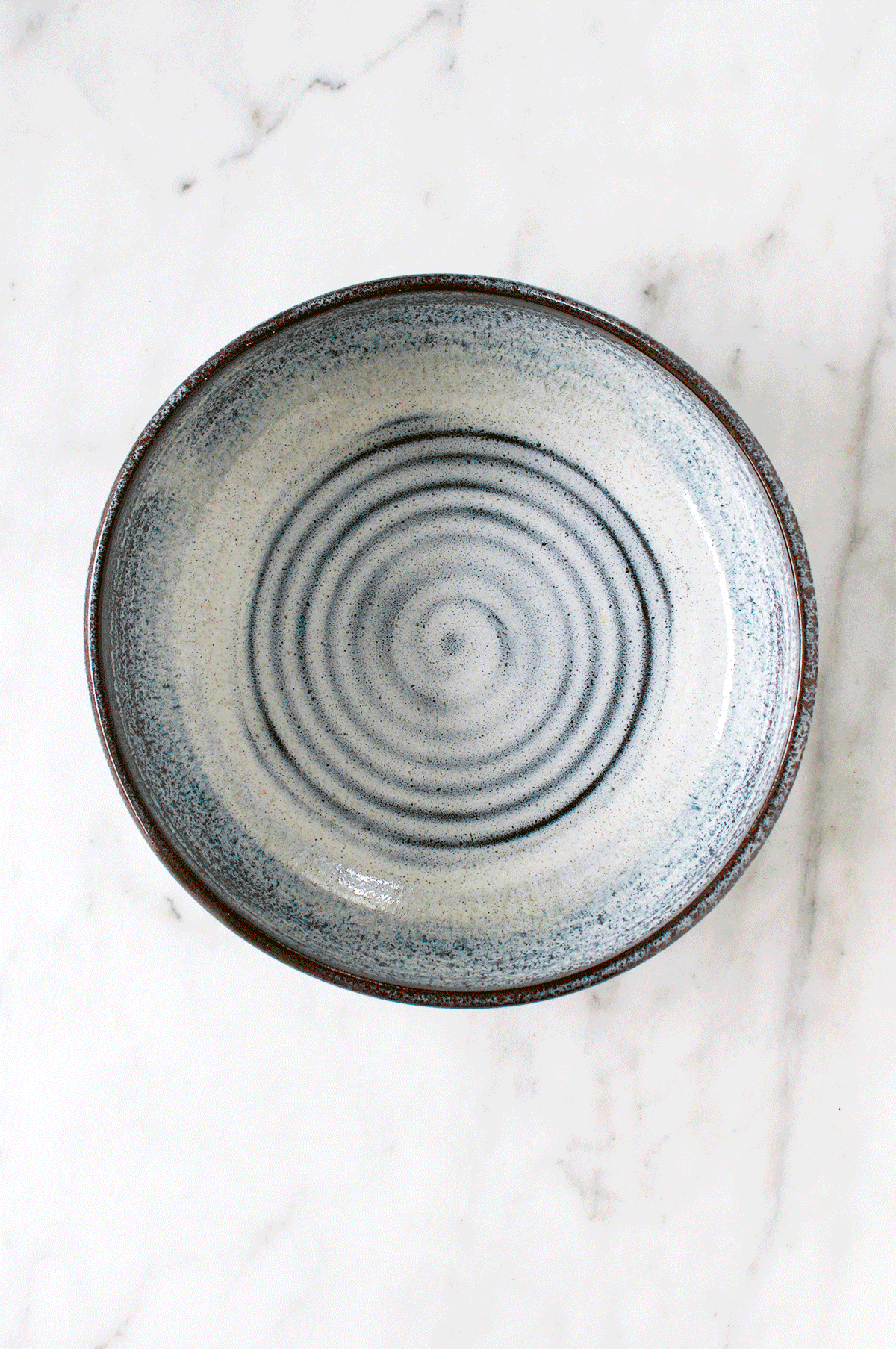 This Gluten-Free Fattoush Salad with Za'atar Spiced Chickpea Crisps has been on my to-make list for the better part of five years, inspired both by the first fattoush salad I truly fell in love with (at Oren's Hummus in Palo Alto) and the homemade gluten-free chickpea crackers I turned to for very occasional snacking the first time Chris and I embarked on the Clean Program. (The Clean Program is  21-Day detoxifying cleanse that I would highly recommend if you're truly ready to commit to a digestive reset — more on our Clean Program experience here.) I remember being two weeks into the three-week cleanse and thinking, as soon as I allowed myself that first blissful bite of crisp, crunchy chickpea cracker (specific snacks are allowed in great moderation): this would be an excellent replacement for a pita chip. 
And here we are.
How to Make Gluten-Free Chickpea Crackers
These crackers are most definitely something you should make regardless of whether or not you follow through on the salad. If you're avoiding gluten purposefully, they're a seriously satisfying alternative to a thick, crispy pita chip — flecked with za'atar spice and big flakes of sea salt, they're ideal for dipping (and straight hand-to-facing, of course). And even if you can tolerate gluten, these chickpea crisps are an excellent reminder of the flavor advantages of alternative flours. While these crisps do taste, first and foremost, like chickpeas, they're also toasty and nutty, protein-packed and deeply satisfying.
These robust za'atar chickpea crisps also add an element of heft to this refreshing gluten-free fattoush salad, which is simple and (nearly) classic in its components: crisp romaine, cool cucumbers, the sweetest tiny tomatoes, salty feta, zesty red onions and plump chickpeas, all bathed in a lemony vinaigrette perfumed with fresh oregano and just a little honey. It's a salad that presents beautifully whether composed and served family-style or tossed and plated individually, and yet it's made of such simple, affordable ingredients you could easily swap it in for your go-to dinner salad and make it part of the weekly routine.
Hot on the heels of a rather indulgent vacation, this salad is more or less all I want on my plate this week. Topped with a little crispy-skinned salmon for a full-blown meal, if you're seeking more protein. Or even a runny-yolked egg, if you're a fan of even greater simplicity. And who's not?
Happy almost-May, friends. (Can you believe it!?)
xo,
Em
Like this Gluten-Free Fattoush with Za'atar Chickpea Crisps?
Be sure to check out: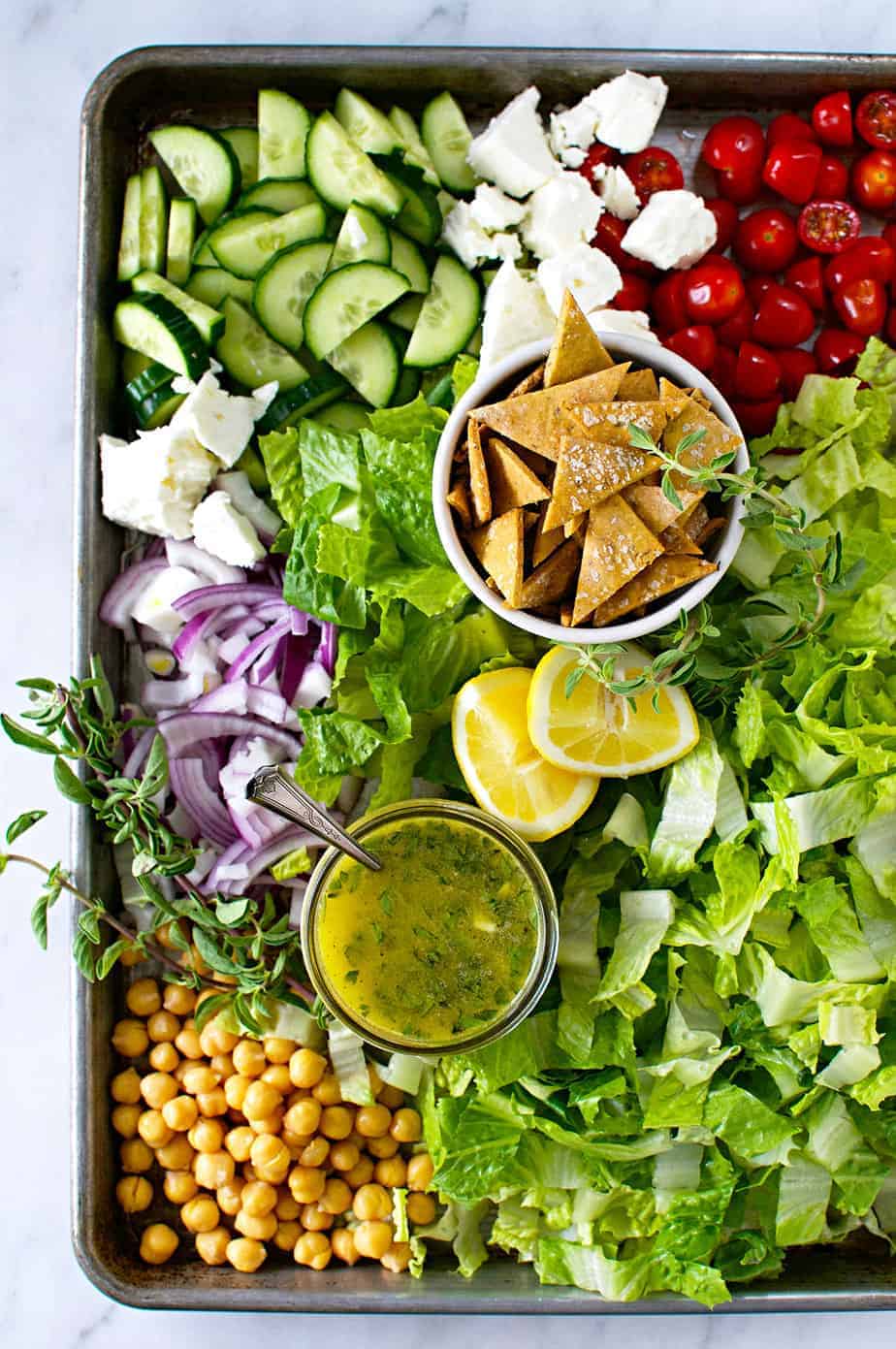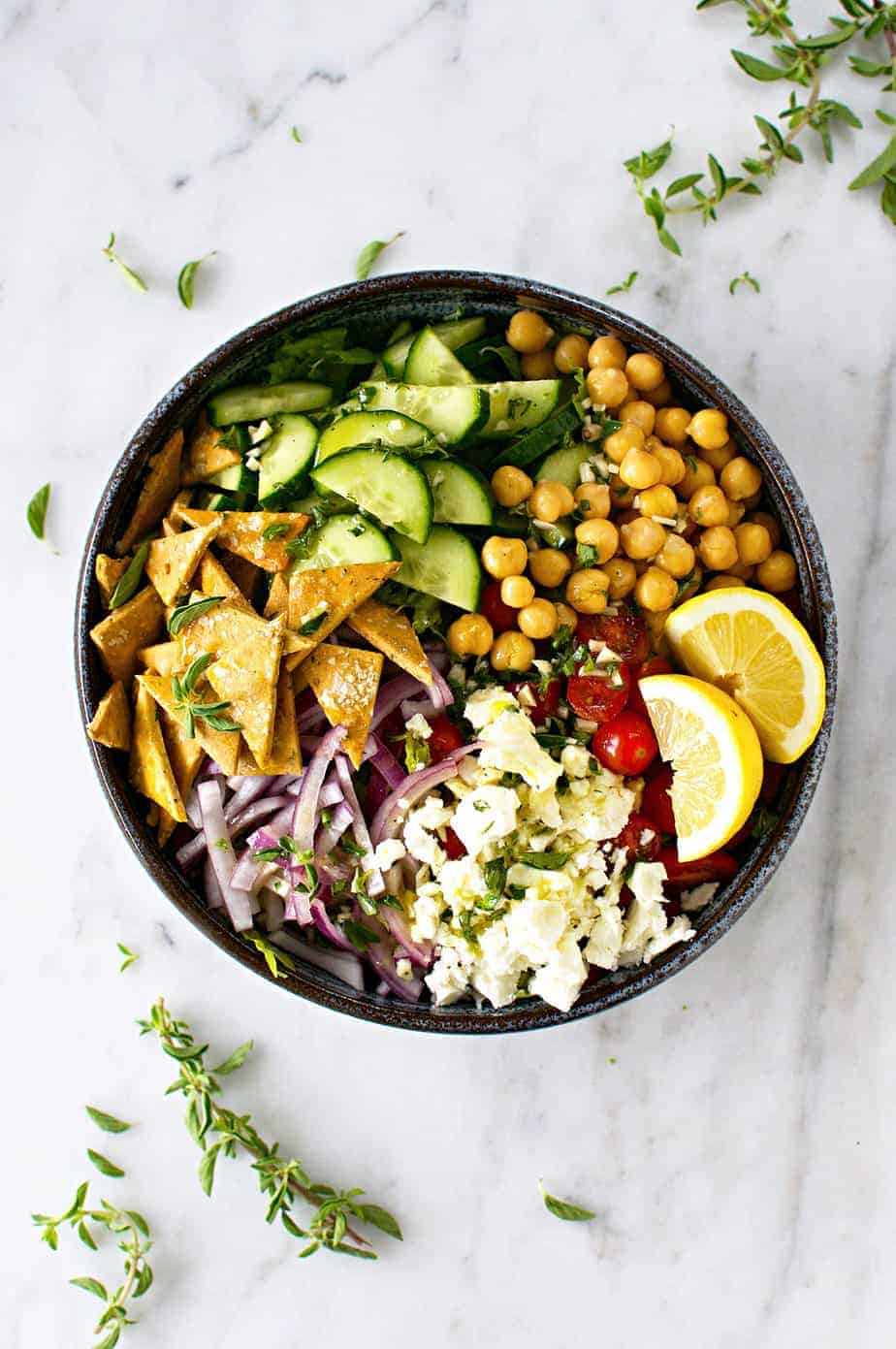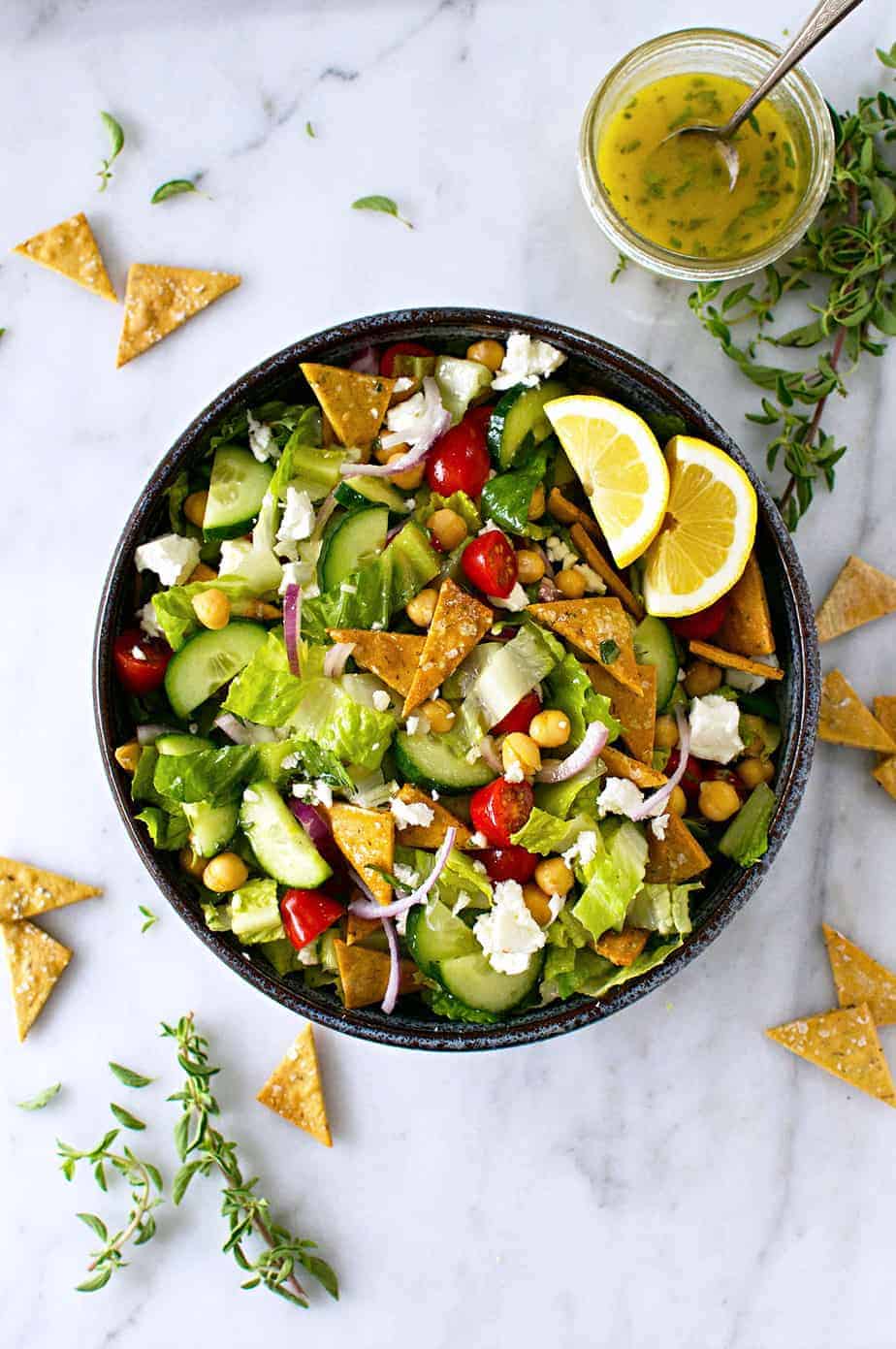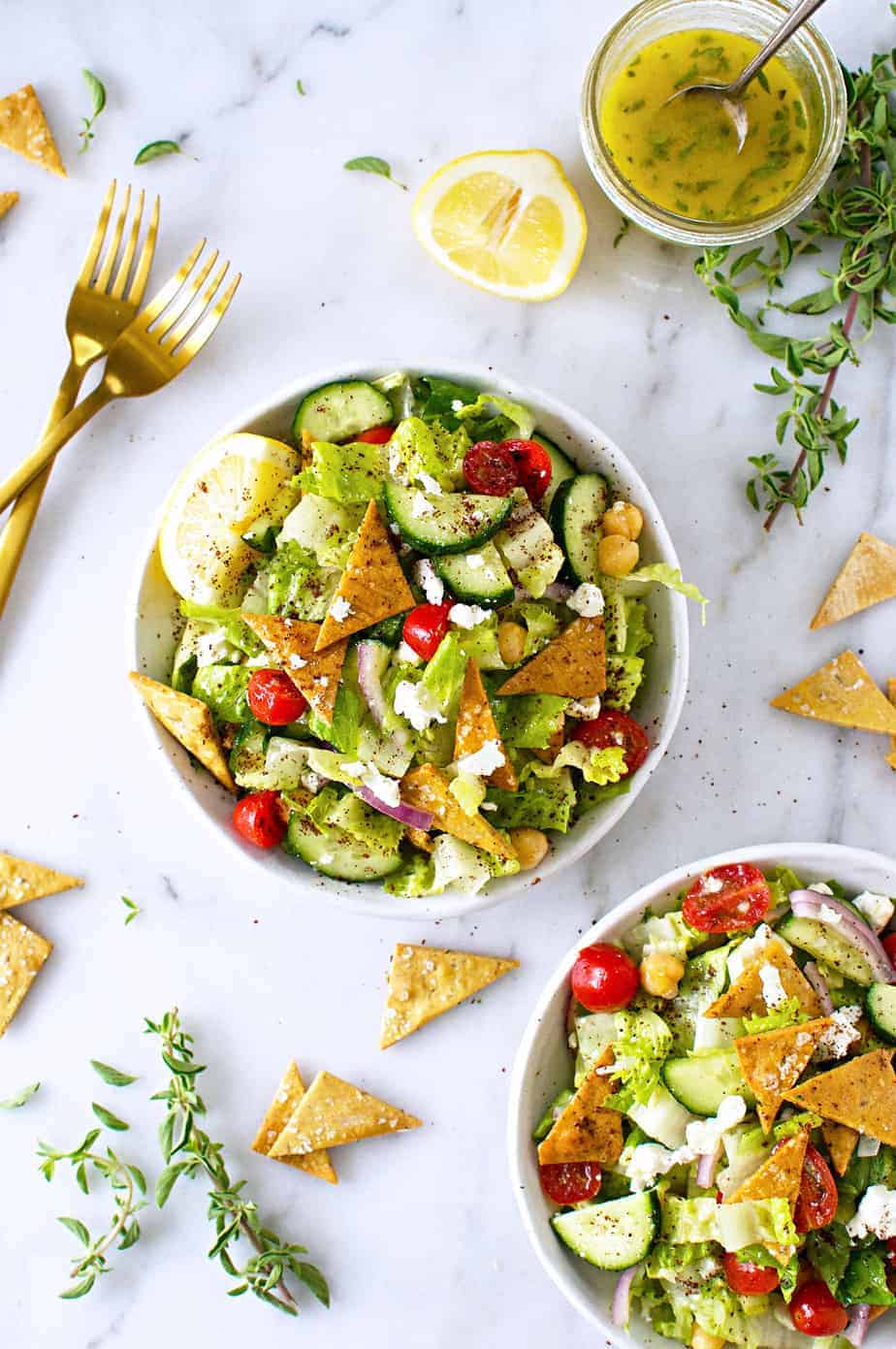 Gluten-Free Fattoush Salad with Za'atar Chickpea Crisps
Gluten-Free Fattoush Salad with Za'atar Chickpea Crisps -- a hearty, vegetarian salad featuring crunchy gluten-free chickpea crackers and a lemon oregano dressing. The perfect meal-sized salad.
Ingredients
2 heads romaine lettuce, chopped into bite-sized pieces
1 pint cherry tomatoes, halved
1 English cucumber, halved and thinly sliced
½ red onion, halved and thinly sliced
4 oz feta cheese, crumbled
1 15 oz can chickpeas, drained and rinsed
Gluten-Free Za'atar Chickpea Crisps (recipe below)
Lemon Oregano Dressing (recipe below)
fresh lemon slices, for serving
sumac, for serving
Instructions
In a large bowl, combine romaine, tomatoes, cucumber, red onion, feta + chickpeas. Toss with Lemon Oregano Dressing and Chickpea Crisps. Divide among bowls and serve with additional dressing, sliced lemons and a sprinkle of sumac. Enjoy!
Gluten-Free Za'atar Chickpea Crisps
Gluten-Free Za'atar Chickpea Crisps -- super crunchy, satisfying and protein-packed chickpea flour crackers that are perfect for snacking or as a soup or salad topping.
Ingredients
1 heaping cup chickpea flour
¼ tsp pink salt
2 T olive oil
3-5 T warm water
1 T za'atar spice
1 tsp sugar
Instructions
Preheat oven to 350F. In a large bowl, combine chickpea flour, salt, olive oil, 3 T warm water, za'atar spice and sugar. Stir together until combined, then pour out onto a surface lightly dusted with more chickpea flour and knead, adding more water as necessary to form a smooth but not-too-sticky dough. (If dough becomes too sticky, just knead in a little more chickpea four — it's a pretty forgiving dough.)
Generously chickpea flour a piece of parchment and a rolling pin and roll out dough to between ¼" and ⅛" thick. Sprinkle liberally with sea salt (if dough is becoming too dry, you can lightly brush with water to encourage salt to stick); then slice into squares or, my preference, triangles with a sharp knife or pizza cutter.
Transfer entire parchment paper with sliced dough directly onto a baking sheet and bake for 20-25 mins, or until light to medium golden brown (the edges will be a bit darker).
Let cool slightly before breaking into pieces. Cool completely before enjoying.
Lemon-Oregano Dressing
Ingredients
juice of 2 lemons
½ cup extra-virgin olive oil
2 T fresh oregano
2 T honey
½ tsp salt
freshly ground black pepper
Instructions
Combine all ingredients in a medium-sized jar, cover securely with a lid and shake until combined. (Alternatively, combine everything but olive oil in a medium bowl; whisk to combine, then continue whisking while streaming in olive oil until thoroughly emulsified.)
————————————————–
OH! before you go…
Like whatcha see here — or have a question, feedback, or recipe hack to share? Join The Pig & Quill convo by commenting below and hanging out with me on Facebook, Twitter, Instagram and Pinterest. And don't forget to subscribe to P&Q emails or add me to your RSS reader with Feedly or Bloglovin' so you never miss a post. x's & o's!