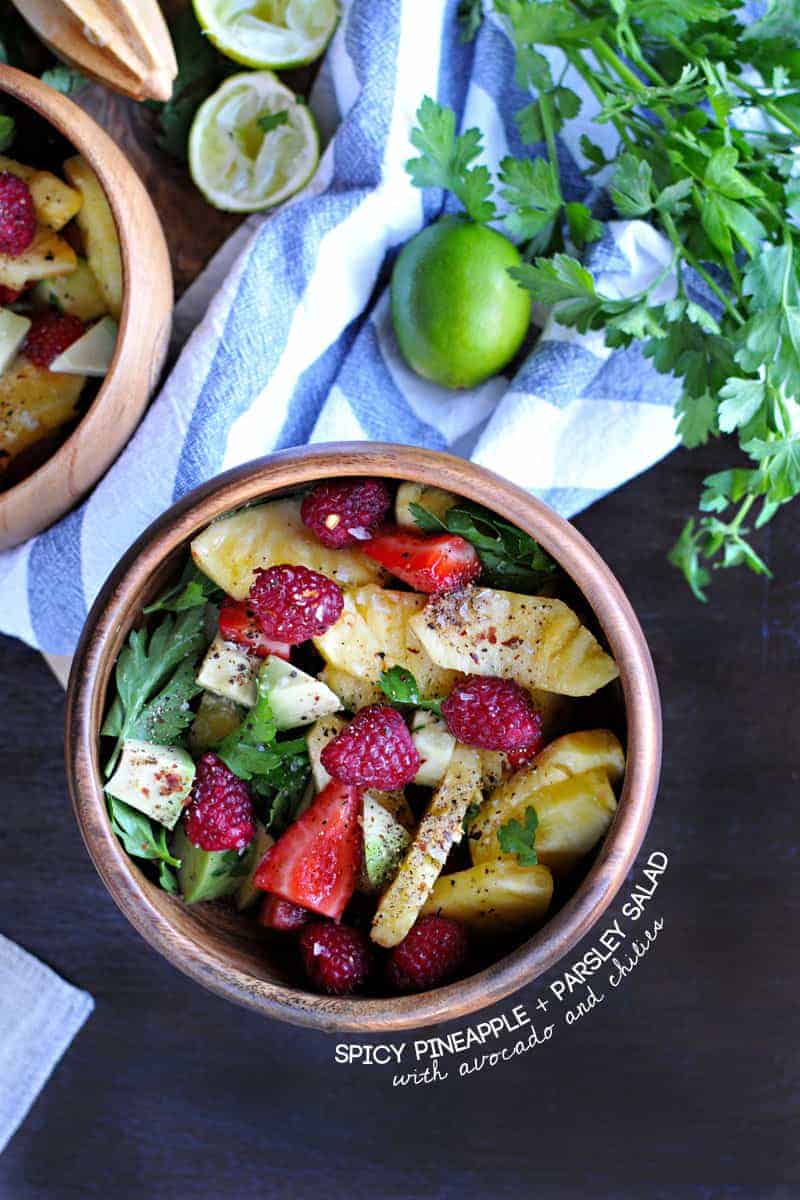 Greetings from Boston, friends! I just flew in from California and BOY are my arms tired.
Is that still a thing?
Seriously though, I'm but five hours off the plane and I can already admit to suffering from some serious jetlag. Except, it's the kind of jetlag that hits you before you swap time zones. Before you boarded the plane. Alrite alrite, before you even checked for the third time that, yes, you packed your charger and yes, the garage door is closed – and wait, should I bring a scarf for the plane? you know how cold I get — aaaaand it's time to get to the airport already.
So basically not at all jetlag and all the way a case of chronic distraction that somehow allowed me to completely space the fact that the internet is abuzz with witches' brews and finger-shaped treats (sidebar: ew) and peeled grapey things that can only mean it's Halloween week.
So while I should probably be posting Halloweeny (heh, weenie) treats to quell those sweet teeth of yours, instead I give you salad. Cue the violins… 
But thassokaaayyyouguyssssss! I have a feeling you'll forgive me.
Because pretty.
*eyelash-batting emoji*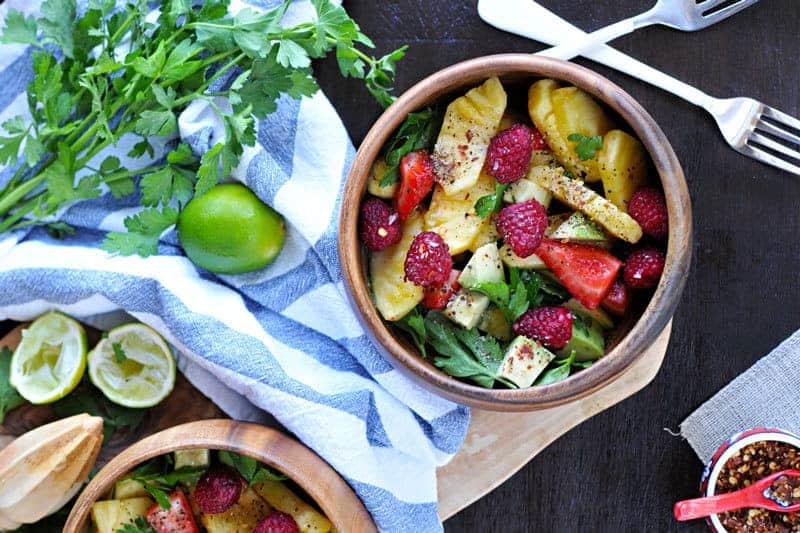 See see see????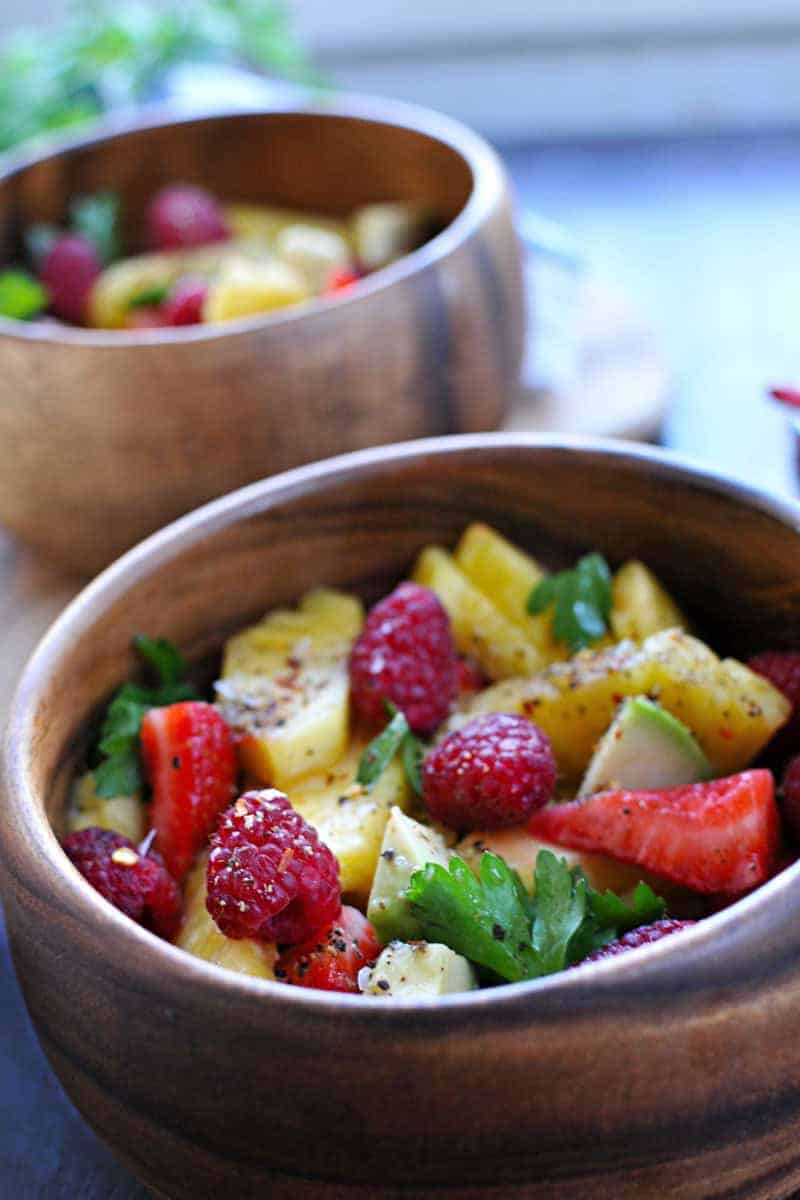 See how prettaay??
I knew we'd be friends again.
Just when you thought everything was coming up squash (oh, just you wait — have I got squash for you), here I am with a salad that'll have you convinced it's Christmas in July. Or July in Christmas. Or July in Halloween.
Can you even be in Christmas and/or Halloween?
Cue the stripper name joke.
Oh shit, wait, we already cued the violins. Does someone have to tell those guys to stop?
(Seriously, it's cool here now, dudes. We're not sad anymore. Off you go to join the rest of your kind on Renee Zellweger's eyelids' doorstep.)
(They've had a rough go of it lately.)
Where were we? Ah, yes, July in the middle of whenever-this-is, because while at first this salad screams summah-summah-summahtime (summahtime), it's actually chock full of lots of groovy goodies that are still popping up at my farmer's market! Like basket upon basket of super sweet berries, buttery avos and big leafy herbs.
And can we talk about how festive this little lady would look on one of your holiday tables?
Suuuuuuurrrrr fuuuuurrrrrrsttttiiive.
So, see – it's deceiving. A summer-esque salad that's as seasonally appropriate now as it was then. I know, I'm pretty much a maker of magic. Unless, of course, you live in the brrrrrrrrr states. Then you should read the note in the recipe where I offer some tipsies for cold-weather swaps.
Ok, so I'ma go have myself a wicked good time exploring The Town (do you see what I'm doing here?) while you go off and make merry with this recipe.
Oh yes, and just in case my lack of 'Ween spirit is bringing you down, here are some frands who clearly have their isht together:
I fink that's it for now, doodsies. Happy Salad-ween, everyone!
xo,
Em
p.s. If you're reading this as an email subscriber, there's a good chance you missed last week's recipe for these Parmesan-Ricotta Spaghetti Squash Fritters (technical difficulties, sorry!). Check 'em out!
p.p.s. I'd love any last-minute foodie recs for Boston, if you've got them!
Ok, bye for real now…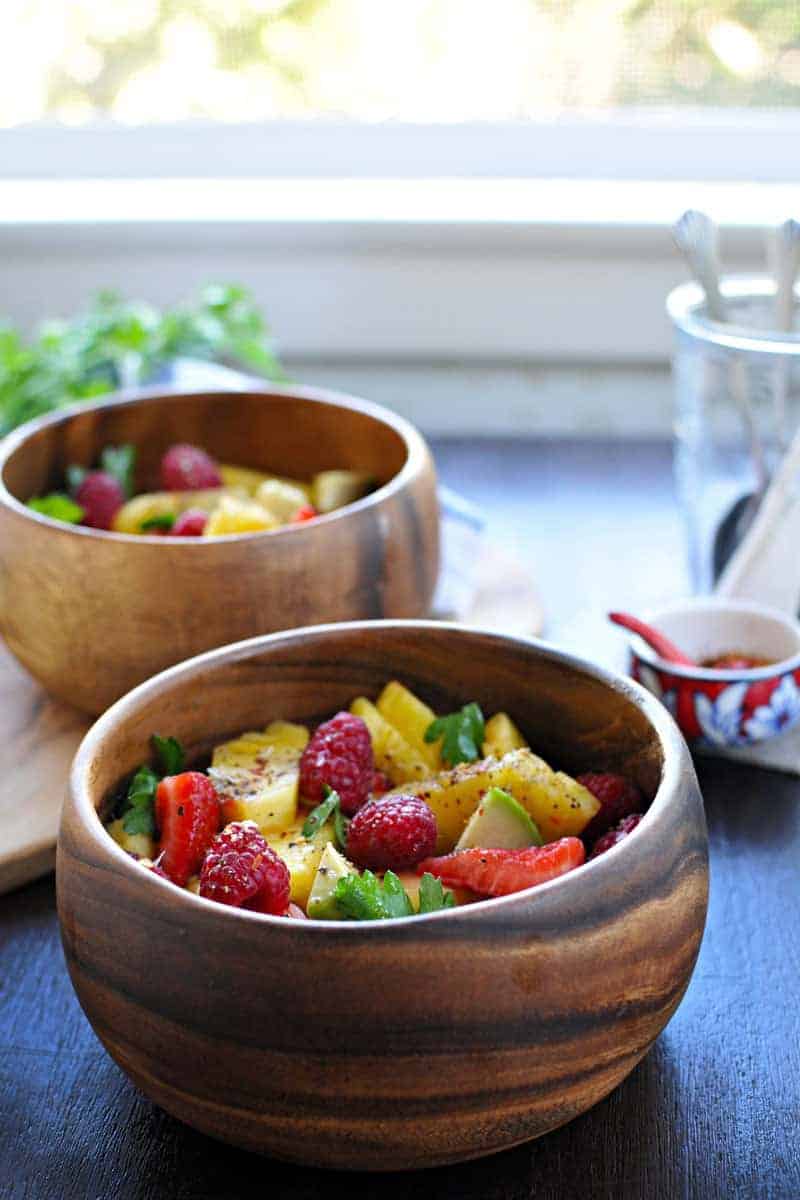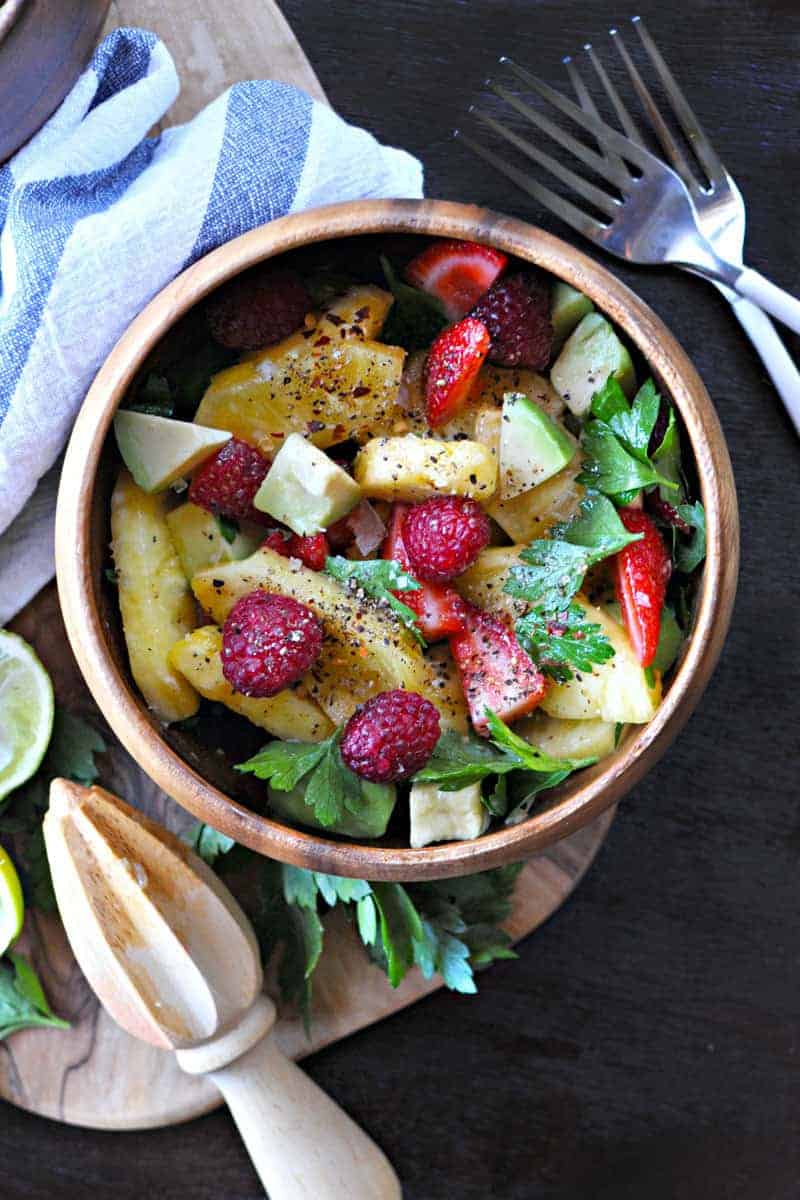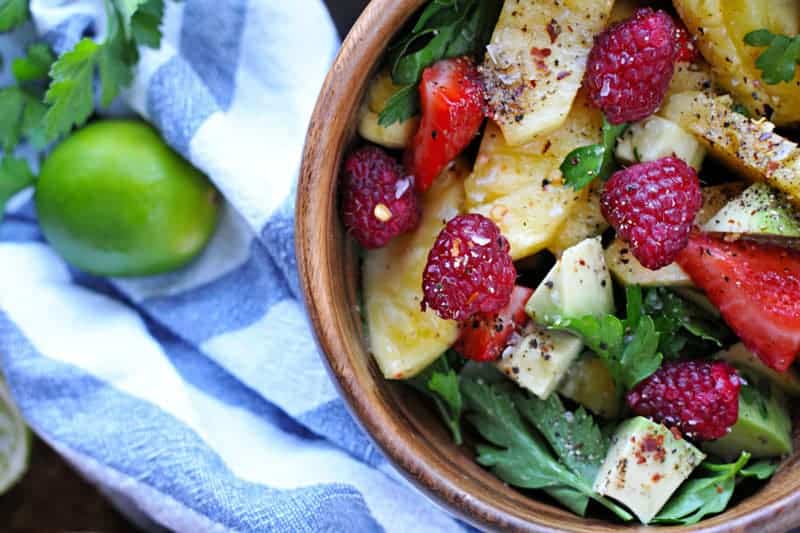 spicy pineapple + parsley salad with avocado + chilies
Ingredients
1 pineapple (peeled, quartered, cored and thinly sliced)
small bunch flat-leaf parsley, stems removed, leaves roughly torn (several handfuls)
1 pint (or so) strawberries, hulled and quartered
1 pint (or so) raspberries
2 avocados, cut into about ½" chunks
¼ cup (4 T) good extra virgin olive oil
juice of 2 limes
crushed red chili flakes, to taste
coarse or flaked sea salt, to taste
freshly cracked black pepper, to taste
Instructions
Combine pineapple, strawberries, parsley, crushed red chili flakes (to taste — I begin with about ¼ tsp), olive oil and lime juice in a large bowl and toss thoroughly.
Gently add in avocado and raspberries.
Plate to shallow bowls. Just before serving, top with coarse or flaked sea salt, black pepper and additional chilies to taste. Enjoy!
Notes
This salad is a year-round stunner. Here in California, we're spoiled by luscious avocados and fresh berries all 52 weeks — but in cooler climates, you can swap in more readily available citrus segments (navel oranges!), pomegranate seeds and chunks of English cucumber for a wintry treat that's decidedly more mediterranean but equally eye-catching. Just consider scaling back the lime juice accordingly to account for the added citrus.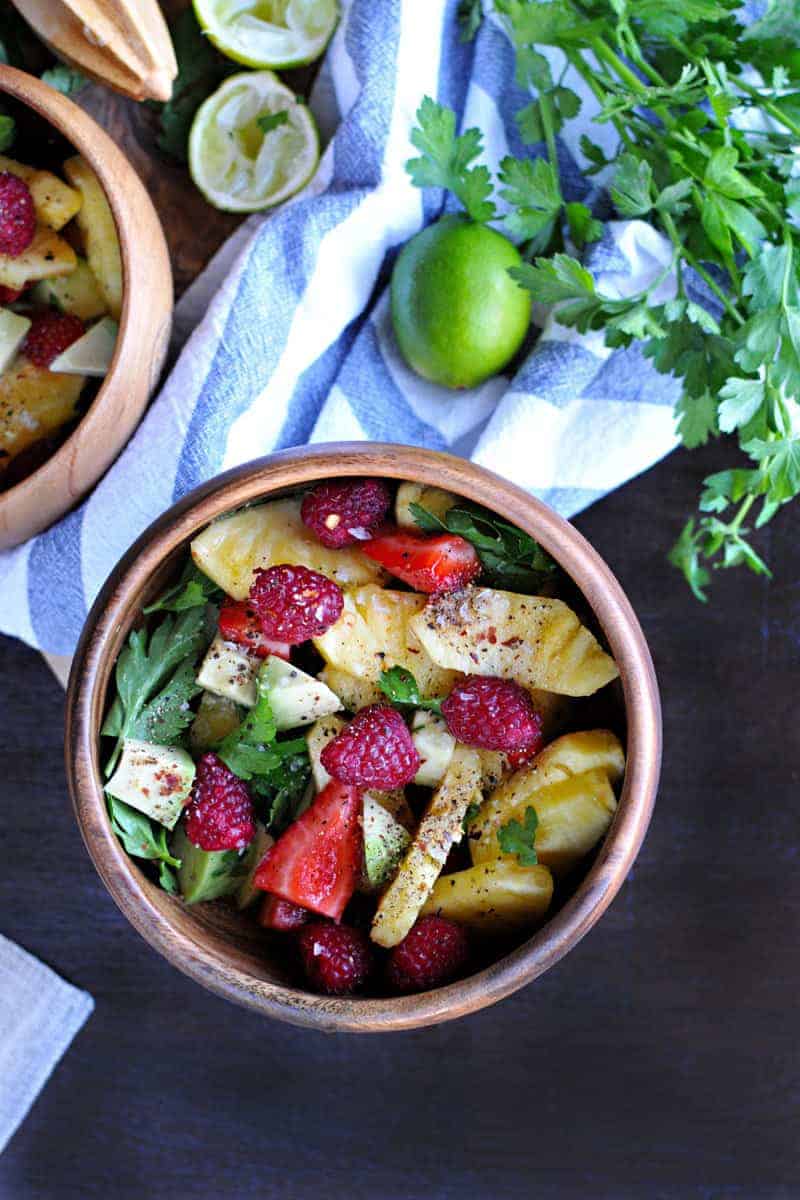 ————————————————–
 Oh hey, before you go…
Like whatcha see here — or have a question, feedback, or recipe hack to share? Join The Pig & Quill convo by commenting below (I love, luv, lurve comments) and hang out with me on Facebook, Twitter, Instagram and Pinterest. And don't forget to subscribe to P&Q emails or add me to your RSS reader with Feedly or Bloglovin' so you never miss a post. x's & o's!