spicy pineapple + parsley salad with avocado + chilies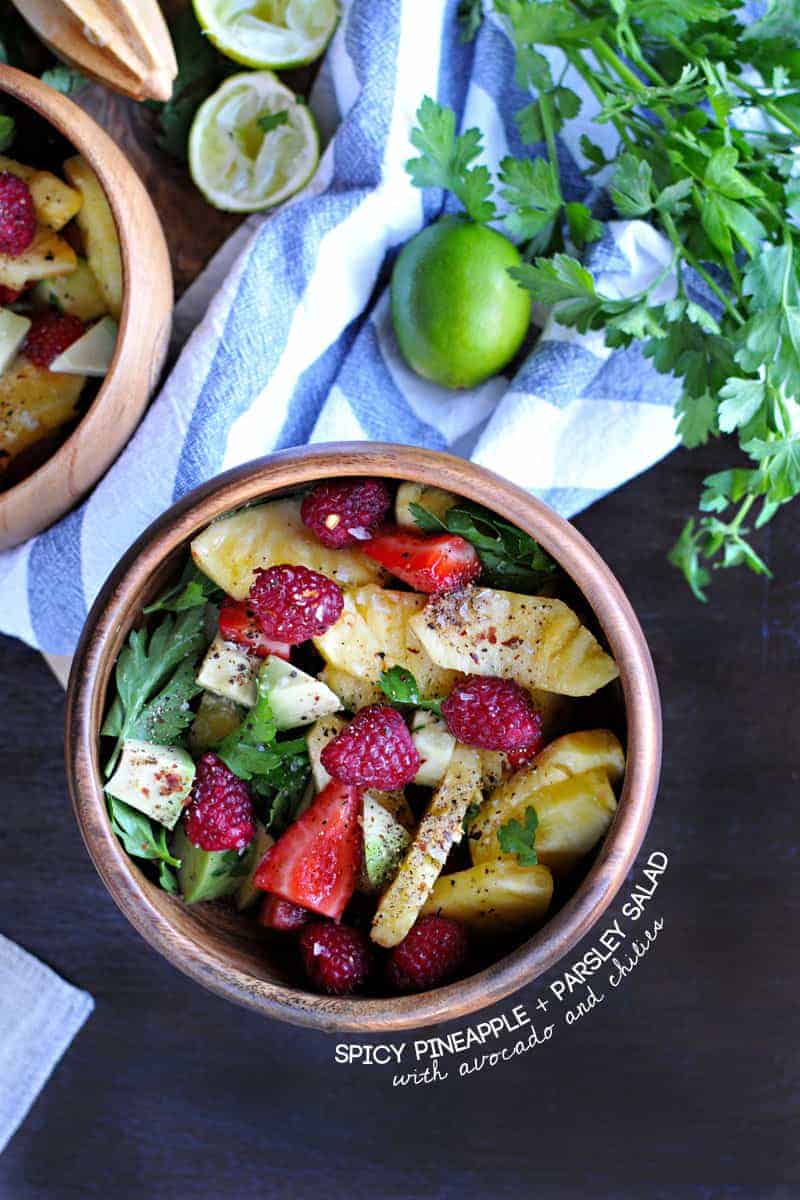 1 pineapple (peeled, quartered, cored and thinly sliced)
small bunch flat-leaf parsley, stems removed, leaves roughly torn (several handfuls)
1 pint (or so) strawberries, hulled and quartered
1 pint (or so) raspberries
2 avocados, cut into about ½" chunks
¼ cup (4 T) good extra virgin olive oil
juice of 2 limes
crushed red chili flakes, to taste
coarse or flaked sea salt, to taste
freshly cracked black pepper, to taste
Combine pineapple, strawberries, parsley, crushed red chili flakes (to taste — I begin with about ¼ tsp), olive oil and lime juice in a large bowl and toss thoroughly.
Gently add in avocado and raspberries.
Plate to shallow bowls. Just before serving, top with coarse or flaked sea salt, black pepper and additional chilies to taste. Enjoy!
This salad is a year-round stunner. Here in California, we're spoiled by luscious avocados and fresh berries all 52 weeks — but in cooler climates, you can swap in more readily available citrus segments (navel oranges!), pomegranate seeds and chunks of English cucumber for a wintry treat that's decidedly more mediterranean but equally eye-catching. Just consider scaling back the lime juice accordingly to account for the added citrus.
Recipe by
the pig & quill
at https://thepigandquill.com/spicy-pineapple-salad-with-avocado-and-chilies/