Parmesan-Ricotta Spaghetti Squash Fritters with Crispy Fried Sage – the ideal pairing of creamy and crispy cheese, sweet spaghetti squash and nutty, toasted sage. Autumnal bliss.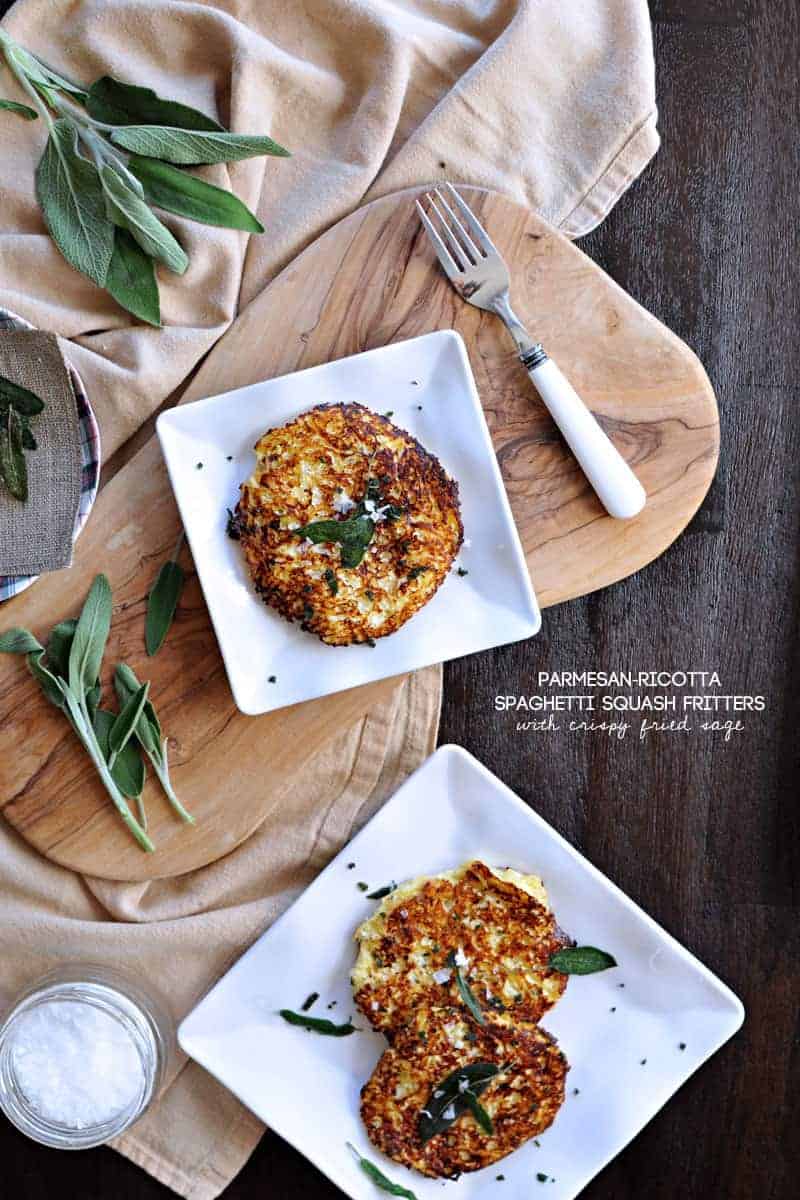 When we lived in San Luis Obispo — that is, a near lifetime ago, full of workdays ending at 4pm, leisurely evening bike rides and long morning strolls through the quaintest of downtowns (remind me why we left again?) — one of our favorite lazy Saturdays was a drive through the hills of south county, taking the seemingly less-traveled backroads past horse farms and vineyards, through sun-shattered corridors of black oaks, all the way to Pismo Beach.
Ok, full disclosure: it's maybe a 20-minute drive, but as the saying goes, distance — or maybe just time — makes the heart grow fonder, and the nostalgic poet within is apparently wholly smitten with every detail of those carefree jaunts, efficient as they may have been.
We'd pass the time at Pismo with a nap on the sand, bread bowls of briny chowder thicker than sausage gravy — and too many instances of me charging down the pier, attempting to sneak up on seagulls and instead reeling with fear when they'd boldly stand their ground. Because apparently I was (um, am?) a hyperactive 9-year-old.
At dinner, we'd forego the trendier Pismo dining scene for the comfort of Rosa's, a homey enclave of heirloom Italian recipes, silver-haired clientele and one Ravioli di Zucca that sang of pure comfort. At once savory and sweet, this was winter squash at its best: tucked into tender pasta and swathed in a velvety emulsion of cream and nutty cheese. And the sage. Crisp, earthy and utterly fall.

On How to Enjoy Spaghetti Squash Fritters
While I cannot with any amount of certainty promise that these fritters can duplicate the nirvana that I associate with those leisurely days at the coast, I do find the merging of fresh, wintry squash with salty cheese and toasty sage to be…comfortably autumnal. I'm also particularly taken with the fritter format and its many snacky charms. Tender on the inside with a faintly crisped exterior and a richly frico'd aroma, I'd endorse pairing these with a creamy fall soup or allowing them to top a bed of leafy winter greens (→ jaded Californian, right here). Of course, they're also quite lovely on their own, enjoyed straight from the pan with little more than a fork, a glass of wine, and a hurried glance at the clock to be sure one's not caught in the act at the exact moment her husband walks through the door.
No, not that act. But I mean, it is an awfully intimate experience.
For anyone out there who's tried a more traditional iteration of spaghetti squash and was left wanting (insert my husband's betrayingly transparent poker face here) I encourage you to turn to these spaghetti squash fritters — if not for the hopelessly romantic notions I attempted to capture above (read: reliving an ethereally carefree youth) then for the fact that fried, cheesy squash makes for some unapologetically fantastic falltime eats.
xo,
Em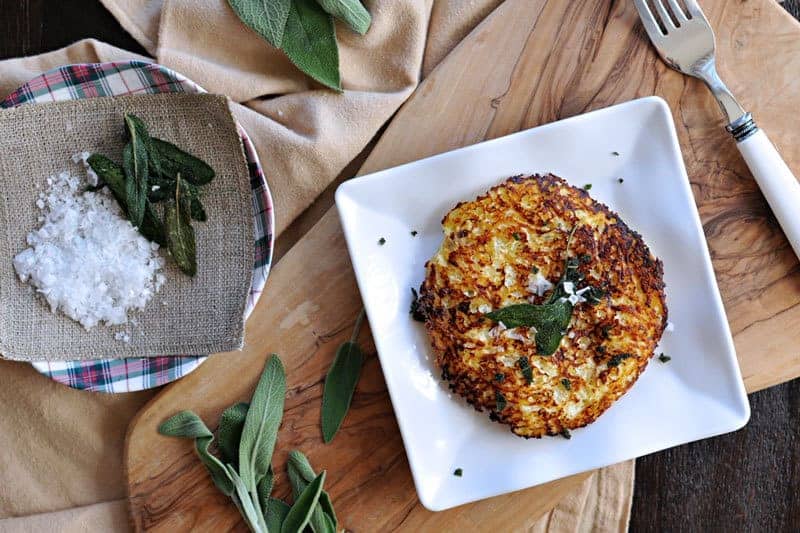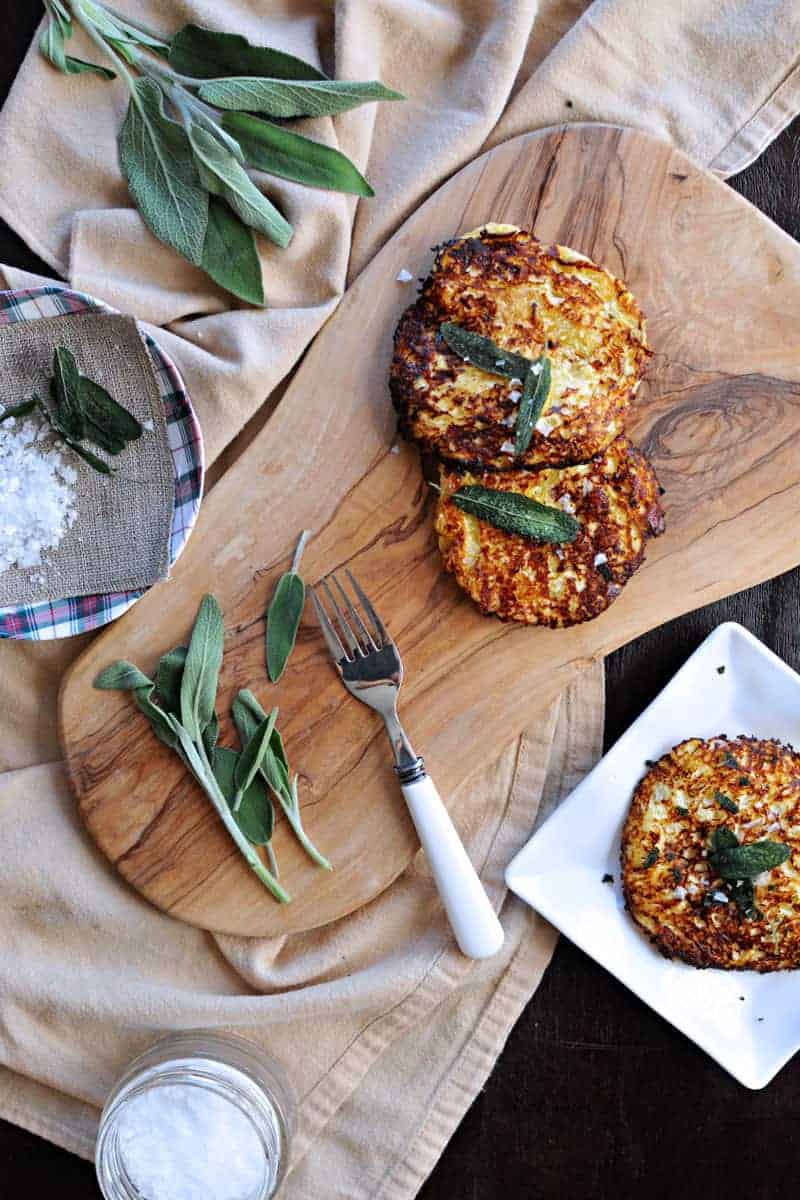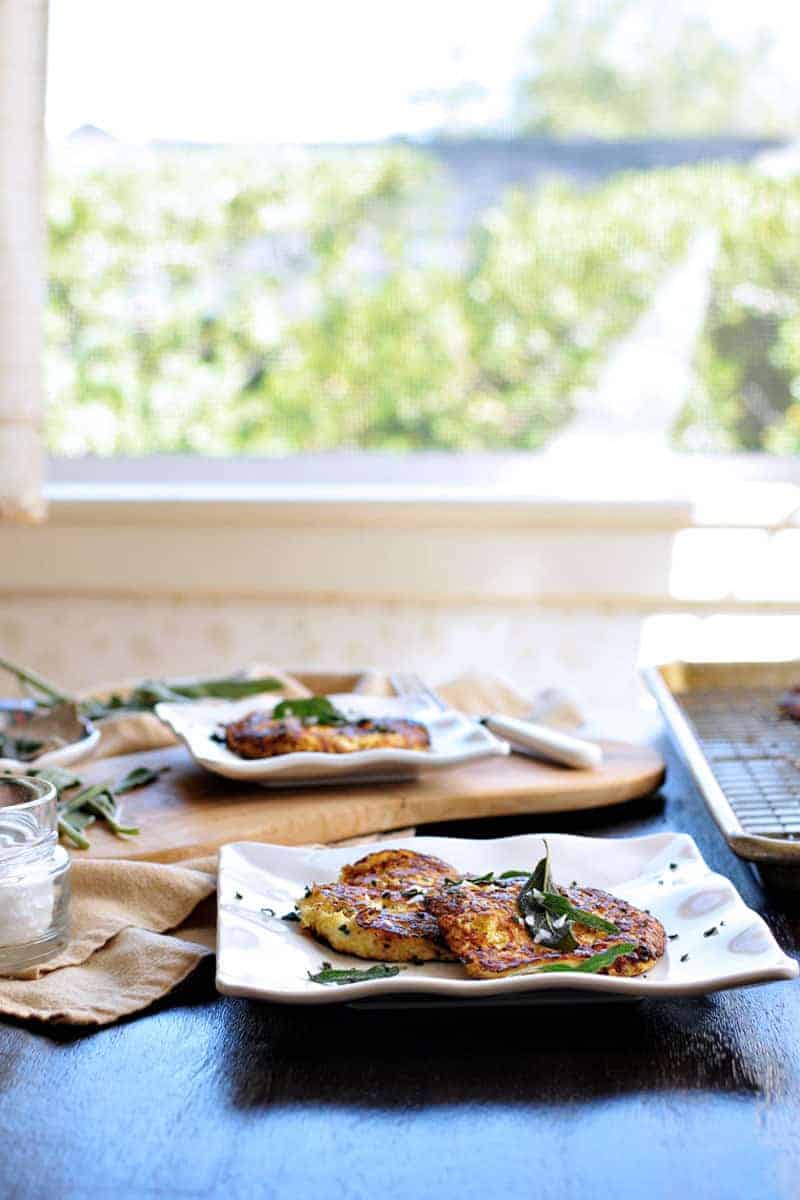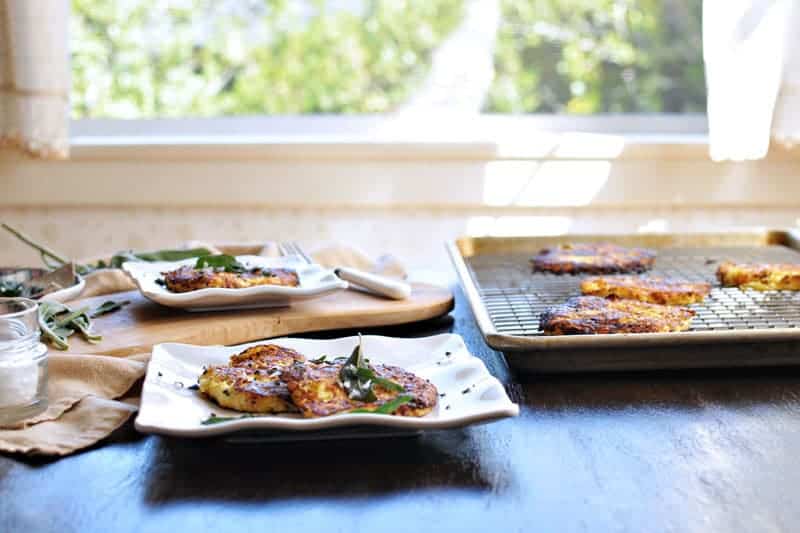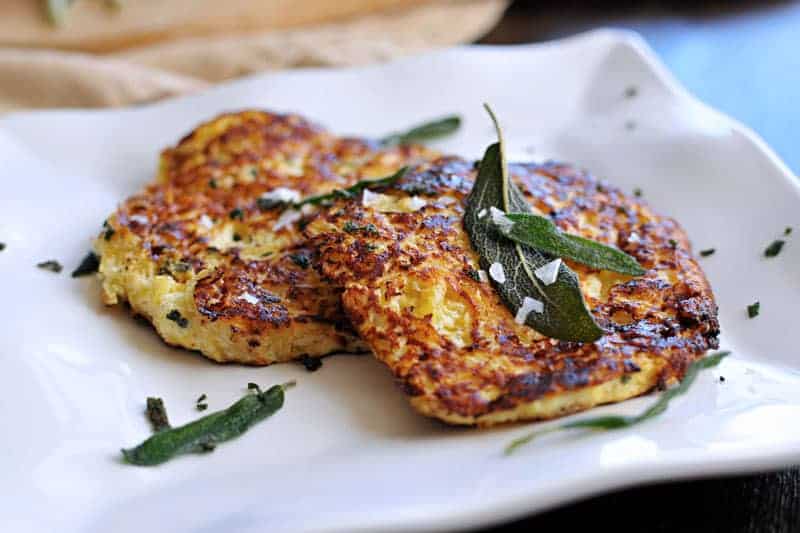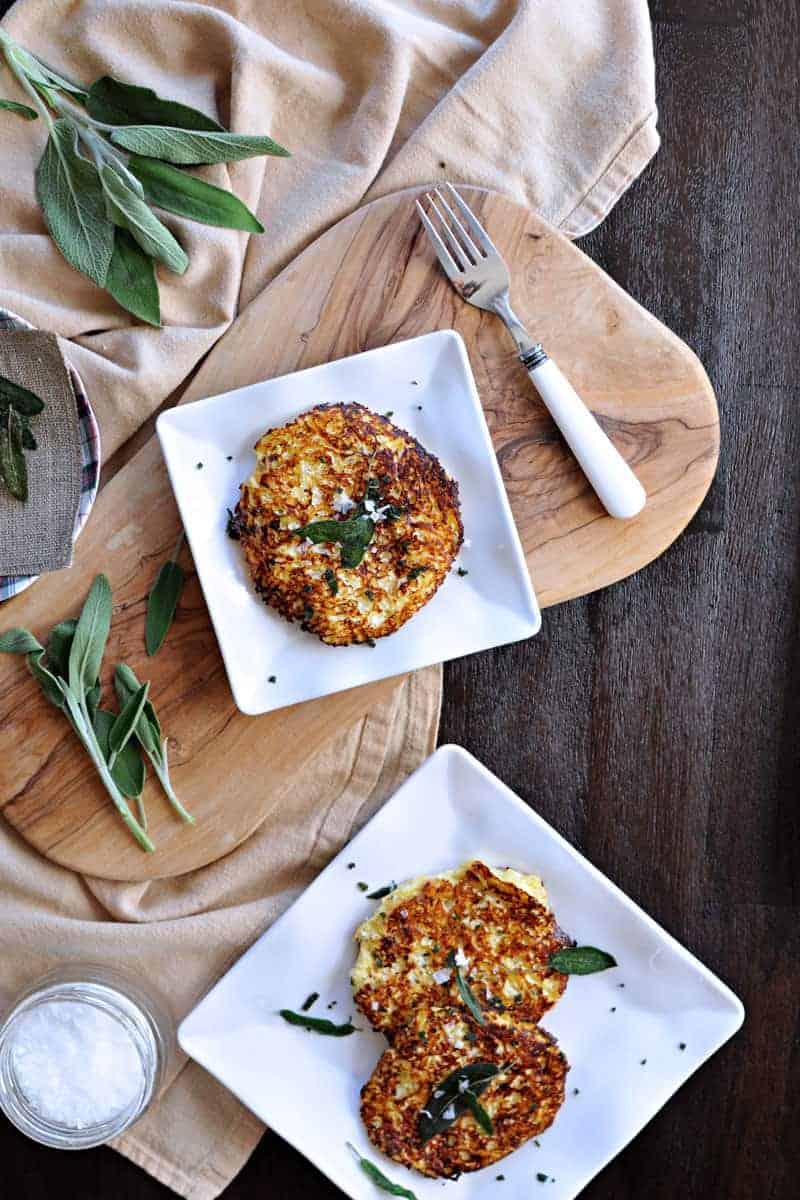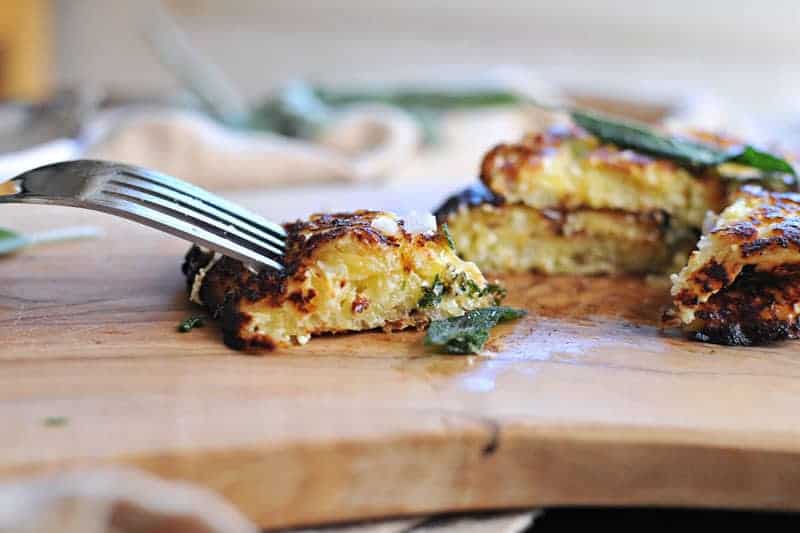 parmesan-ricotta spaghetti squash fritters with crispy fried sage
Parmesan-Ricotta Spaghetti Squash Fritters with Crispy Fried Sage - the ideal pairing of creamy and crispy cheese, sweet spaghetti squash and nutty, toasted sage. Autumnal bliss.
Ingredients
3.5 - 4 cups cooked spaghetti squash, cooled (about half of one large squash, see note)
1 cup whole milk ricotta
½ cup grated parmesan
2 eggs, beaten
½ tsp salt
¼ tsp pepper
15-20 leaves fresh sage
light cooking oil for frying, such as avocado oil
large flake sea salt for serving
Instructions
In a large bowl, combine cooked squash, cheeses, beaten eggs and spices and mix well to combine. Let stand for 15-20 minutes to give salt time to draw water out of squash and ricotta. Lightly drain mixture.
Meanwhile, in a large nonstick frypan or skillet, heat a drizzle of oil over high heat until shimmery. Add sage leaves and fry until bright green and crisp, about 30 seconds. Remove sage leaves to a paper towel to drain. Turn off heat. Reserve oil in skillet.
Finely chop about half the sage leaves; reserve the remainder.
When squash mixture has set and drained, stir in chopped sage.
Add another drizzle of oil (to equal about a tablespoon total) to the sage oil in the fry pan and heat on med-high until just shimmering.
Using a fork and spoon or two spoons, dollop generous golfball-sized portions of squash mixture into the hot oil, lightly spreading them out to about ½" thickness with a spoon. (I can get 3-4 to my pan at a time.) Cook for about 6-7 minutes, until edges are deeply browned and little steam holes appear in the fritter (as with pancakes). Using a spatula, very gently flip fritter — it will seem loose and floppy but will hold its shape if handled correctly — and cook for an additional 3 mins.
Remove fritters to a baking sheet fitted with a cooling rack. If frying several batches (it takes me about three, total), you can set the sheet pan in a low oven to keep warm while you continue frying.
Allow fritters to cool slightly (they'll firm up a bit) before serving them with reserved sage leaves and a generous sprinkle of flaky salt. Enjoy!
Notes
In our sans-microwave household, I've found
this method
pretty handy for cooking a spaghetti squash in about 30 minutes. I'll use half of the squash in a traditional preparation the first day (with fresh tomatoes, basil and salt/pepper or a simple butter-and-cheese thing) and wrap the second half in foil for the following day. After a night in the fridge, the squash is super easy to handle.
————————————————–
 Oh hey, before you go…
Like whatcha see here — or have a question, feedback, or recipe hack to share? Join The Pig & Quill convo by commenting below (I love, luv, 
lurve 
comments) and hang out with me on
Facebook, Twitter, Instagram
and
Pinterest
. And don't forget to
subscribe to P&Q emails
 or add me to your RSS reader with 
Feedly
 or 
Bloglovin'
so you never miss a post. x's & o's!