Baked Cheddar, Apple & Smoked Turkey Sliders — these easy baked sliders come together quickly and are perfect for a spring brunch or lunch. Pair them with a bistro-inspired Springy Herb Salad dressed with a sweet and tangy Orange Poppy Seed Vinaigrette for a complete family-friendly meal.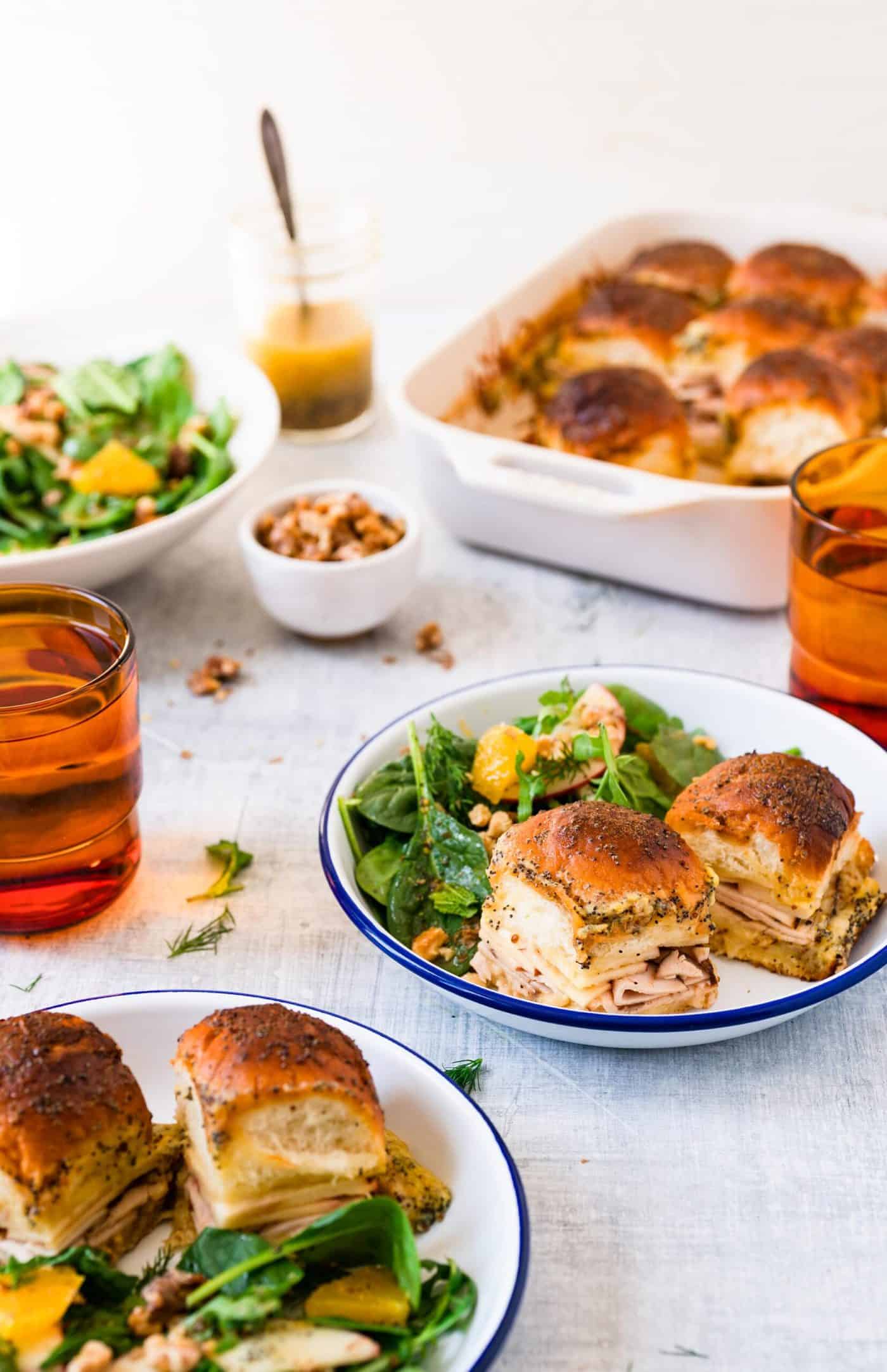 This post has been sponsored by Safeway. All thoughts and opinions are my own.
I love everything about a baked slider. The ease with which they come together. The melty filling, sandwiched between buttery, toasty rolls — crisply topped and nutty brown from the oven. In typical years, they're a favorite party food, but this past year, they've become a favorite weeknight meal, as well. And these Baked Cheddar, Apple & Smoked Turkey sliders, made with easy-to-find ingredients from Safeway stores as part of our ongoing seasonal partnership, are no exception.
Once you know the method for making baked sliders, you can doctor them up a myriad of ways. Our go-to, which we've talked about before, is usually a riff on a spicy Monte Cristo sandwich, featuring turkey and ham, two cheeses, pickled jalapenos and a dusting of powdered sugar — and friends, they are some of the best tasting things I've ever sampled. But in an attempt to streamline things just a little — and spring-ify them a bit — we've paired these down to just a handful of seriously delicious ingredients that we almost always have around: O Organics shredded white cheddar (it's our go-to for quesadillas, so we always have it on hand); tangy honey dijon mustard; crisp slices of sweet, refreshing JazzTM apples; and deli-sliced Boar's Head PitCraftTM Slow Smoked Turkey — the latter two of which are totally the stars here.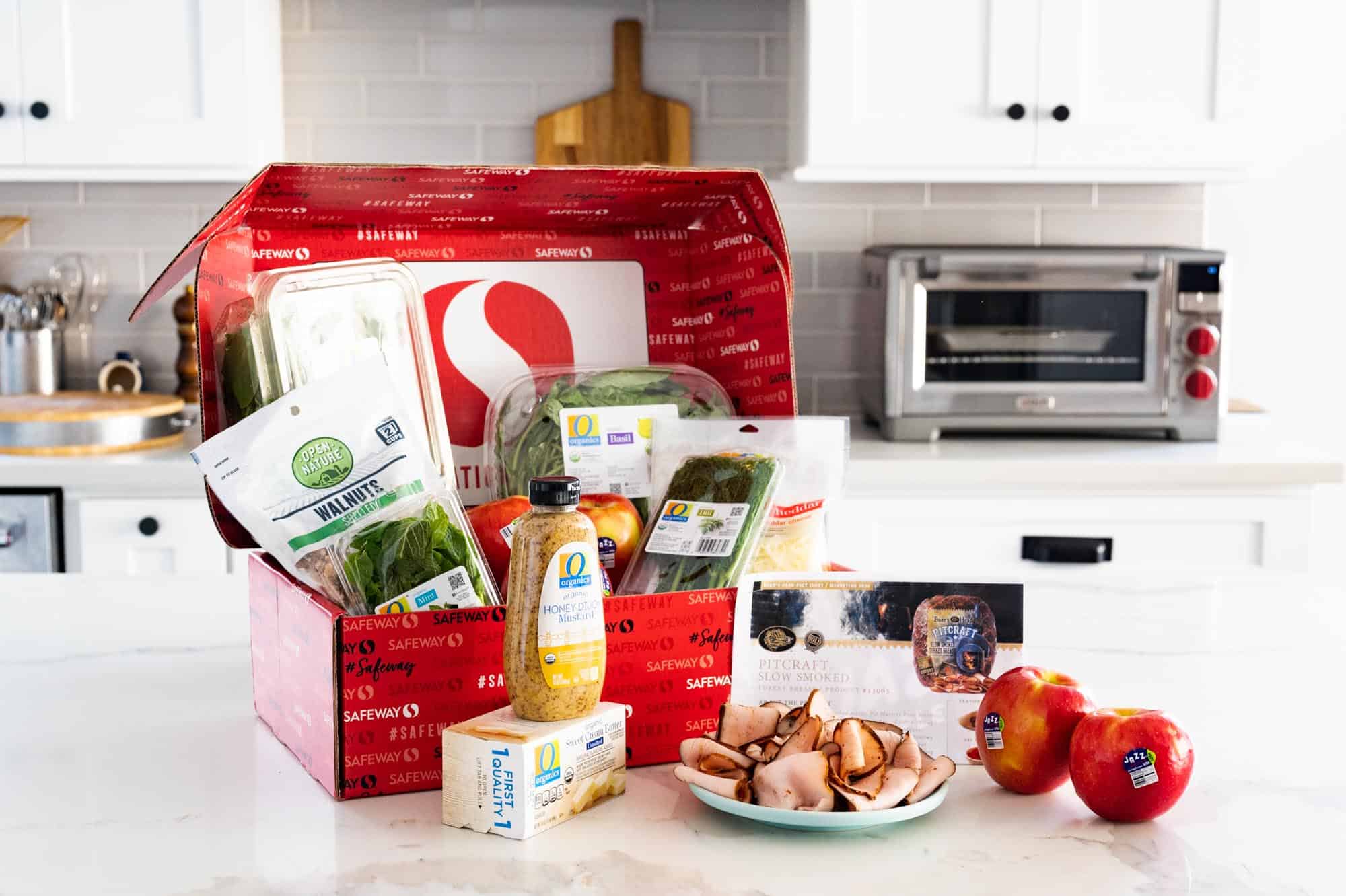 What Is A JazzTM Apple?
We're very familiar with JazzTM apples in this house. A fusion between a Royal Gala and a Braeburn apple, they're just the right size for snacking, and their sweet-tangy flavor and juicy crunch makes them so refreshing. We like eating them super cold out of the fridge, but turns out they hold up beautifully in this baked sliders recipe, too, retaining a little crunch and adding a delicate sweetness to the little sandwiches. Apple and cheddar is as classic a combo as they come, and JazzTM apples were the perfect choice for the pairing in these sliders.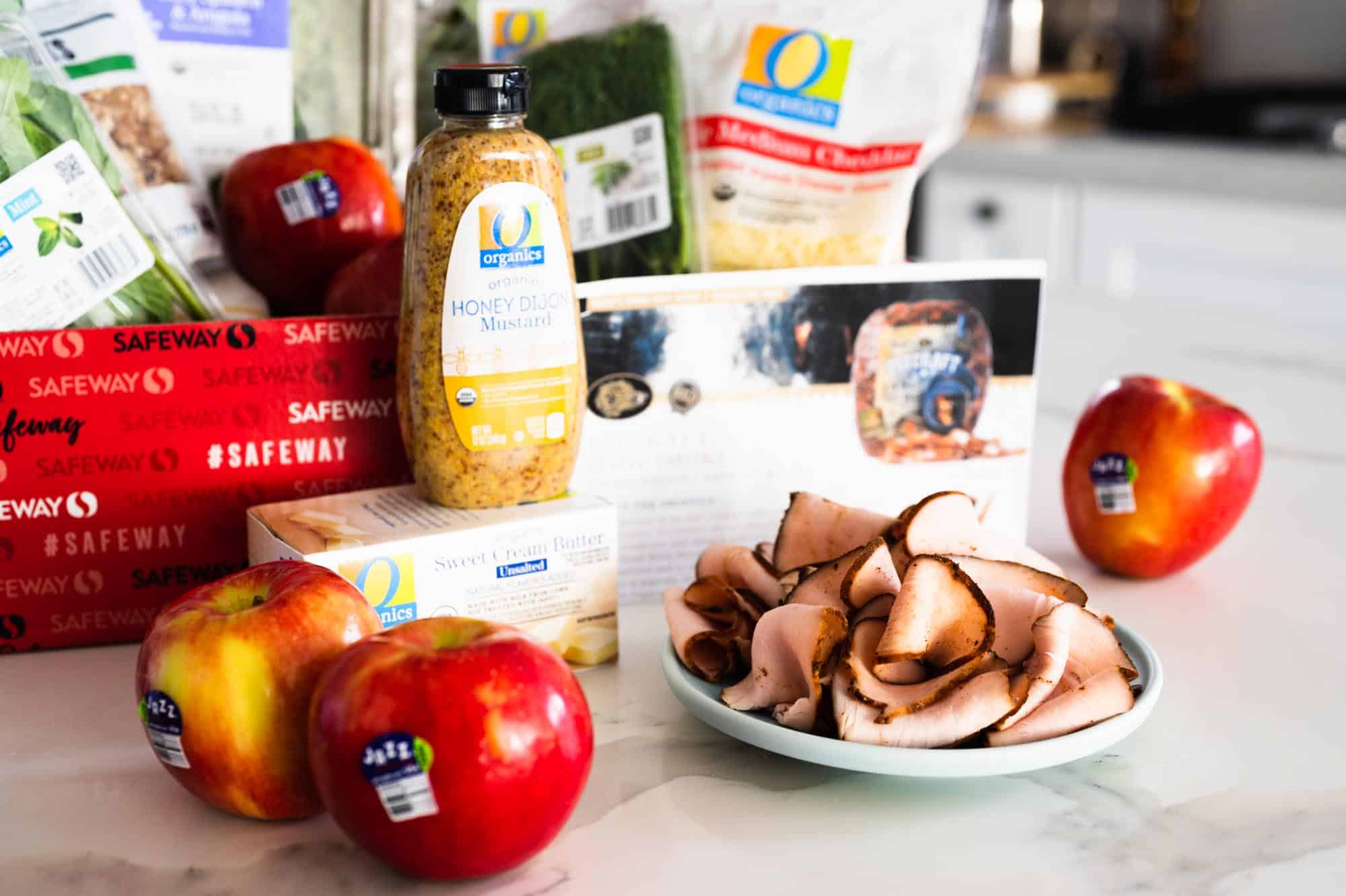 The Best Deli Turkey for Baked Sliders
And as for the Boar's Head PitCraftTM Slow Smoked Turkey — well, confession time. Since this is a hand-sliced product from the deli counter, I set foot in my local Safeway for the first time in many months. Typically we rely on Safeway's drive-up or delivery services, so I was actually a little anxious entering the store for the first time (apparently, the pandemic has turned me into a bit of a socially defunct hermit), but after sampling this turkey? So totally worth it. It's slow smoked with mesquite wood chips and seasoned with an authentic dry rub with paprika, brown sugar, and Mexican chilies. And it's delicious. Literally the best deli turkey I've had. Mouthwatering and incredibly savory, with a light smokiness and the texture of a home-cooked turkey breast. I found myself snacking on it while I took these photos and again when I assembled the sandwiches. Even Lana (age 5), who is typically not that into deli meat, kept poaching pieces off the plate. It'll be part of the regular grocery rotation from here on out.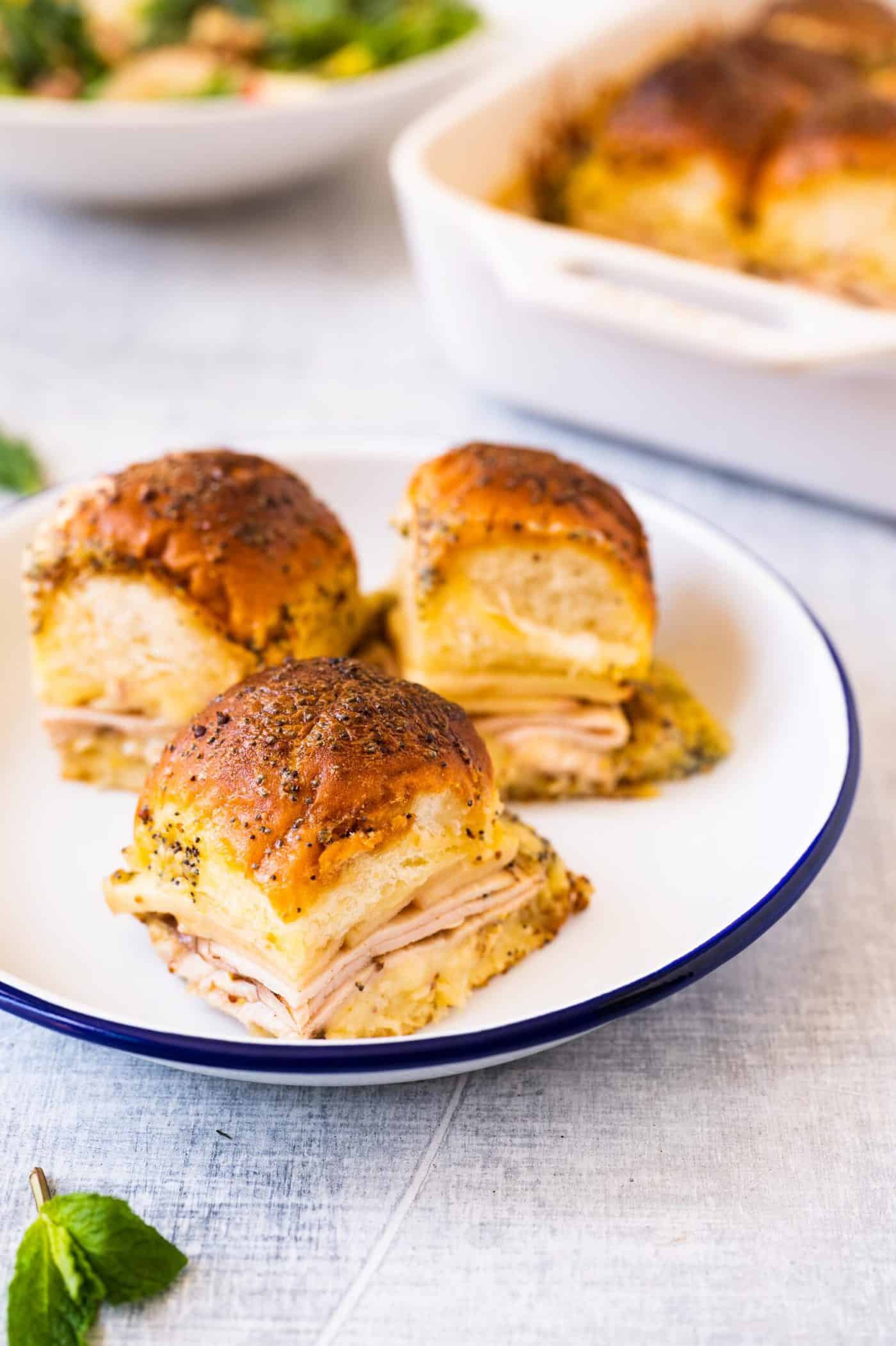 How To Make Baked Sliders
No matter what ingredients you're using, the method for baked sliders is the same: split a sheet of dinner rolls or Hawaiian rolls through the middle, keeping the sheet intact. Set the bottom half into a greased baking dish, and pile it up with your favorite ingredients (cheese is usually involved in this step, which ensures a properly decadent, melty slider — highly recommended). Once the top half of the rolls are set back on top, the whole shebang is drenched with seasoned melted butter before being baked until golden brown and gooey. Best of all, most baked sliders — these Baked Cheddar, Apple & Smoked Turkey Sliders, included — come together with about 10 minutes of hands-on time, making them an excellent last-min brunch or weeknight supper. Especially paired with a zippy, bistro-inspired salad.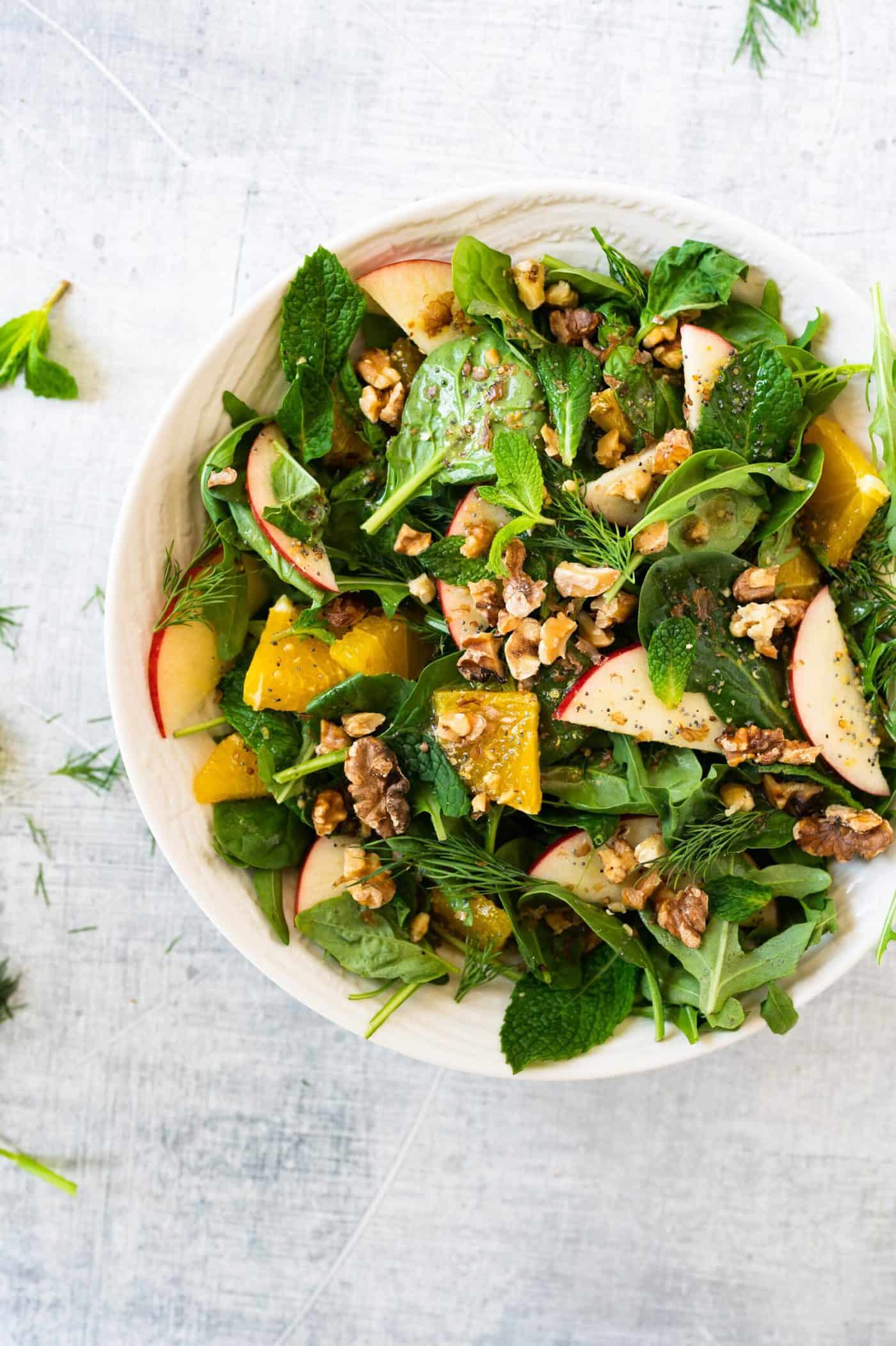 How To Make Restaurant Salads At Home
I'm always hesitant to order salad in a restaurant, and that's because after years of making A LOT of salads, Chris and I can throw together a pretty legit, bistro-inspired salad at home with little-to-no planning. I like my salads to be generously topped, with lots of varied textures and flavors — bright, bitter, tart, salty, tangy, nutty, sweet. I want it all, pals. And this Spring Herb Salad with Orange Poppy Seed Dressing delivers. I'm convinced it's almost solely due to the generous inclusion of herbs. Something about the refreshing combo of mint, basil and dill (we used O Organics packaged fresh herbs) makes even the simplest of accompaniments feel far fancier than the ingredient list would lead you to believe. More of those exceptionally crisp Jazz apples lend sweet-tart juiciness. And that dressing? It's tangy, sweet, fruity and…discernibly poppy-seedy? (No, seriously — the taste and texture of the seeds don't seem particularly notable, but you would miss them if they were gone.) It's worth making a double batch and using it to dress any of your favorite salads all week long — and it'd be ideal tossed with a simple mixture of chopped romaine, grated carrots, sliced scallions and shredded chicken for a simplified version of an Asian Chicken Salad.
Baked Sliders Tips & FAQs
Can the baked sliders be assembled ahead of time? Because these take only minutes to assemble, I like doing it right before baking. And the egg + butter mixture tends to thicken up if it sits for too long, so I really recommend assembling the sandwiches and making the melted butter mixture right before baking. It's only 10 mins!
What can I substitute for the egg? I love the addition of egg in the butter mixture because it gives the rolls an almost French toast-like creaminess when it bakes together. I haven't tried it with an egg replacement, but if I did, I would first try a packaged egg replacement rather than a chia or flax egg. You could also omit the egg altogether and just use the butter/dijon/poppy seeds. The rolls will still end up crisp and beautifully brown but without the creamy element that the egg adds.
Can these be made vegetarian or vegan? You can amend the filling for these sliders until the cows come home, so yes — in theory they could be vegan or vegetarian, but I say that with some reservations. You could use a plant-based meat alternative for the turkey and a plant-based cheese alternative for the cheddar, and you could omit or replace the egg, as suggested above — and use a good quality plant-based butter. You'd also have to be sure you're choosing a vegan roll. (Whew, that's a lot of substituting!) That said, the turkey really shines in this recipe, so replacing it will sacrifice some of what makes this particular combo of turkey/apples/cheddar so good. When it comes down to it, there are so many tasty vegan and vegetarian sandwich recipes out there, this one might be better left unadulterated.
Can you reheat baked sliders? Yes, and so easily! They make great leftovers. You can either pop them into the microwave for a few seconds (which is what we do) or warm them in the oven until heated through, covering them with foil to ensure they don't get too brown or dried out.
And that's that, friends. An easy-to-make meal that feels special occasion-worthy, delightfully springy, and evocative of something you might find in a bistro — all with seriously minimal effort.
Hope you enjoy these Baked Cheddar, Apple & Smoked Turkey Sliders and Springy Herb Salad with Orange Poppy Seed Dressing recipes as much as we do!
Cheers,
Em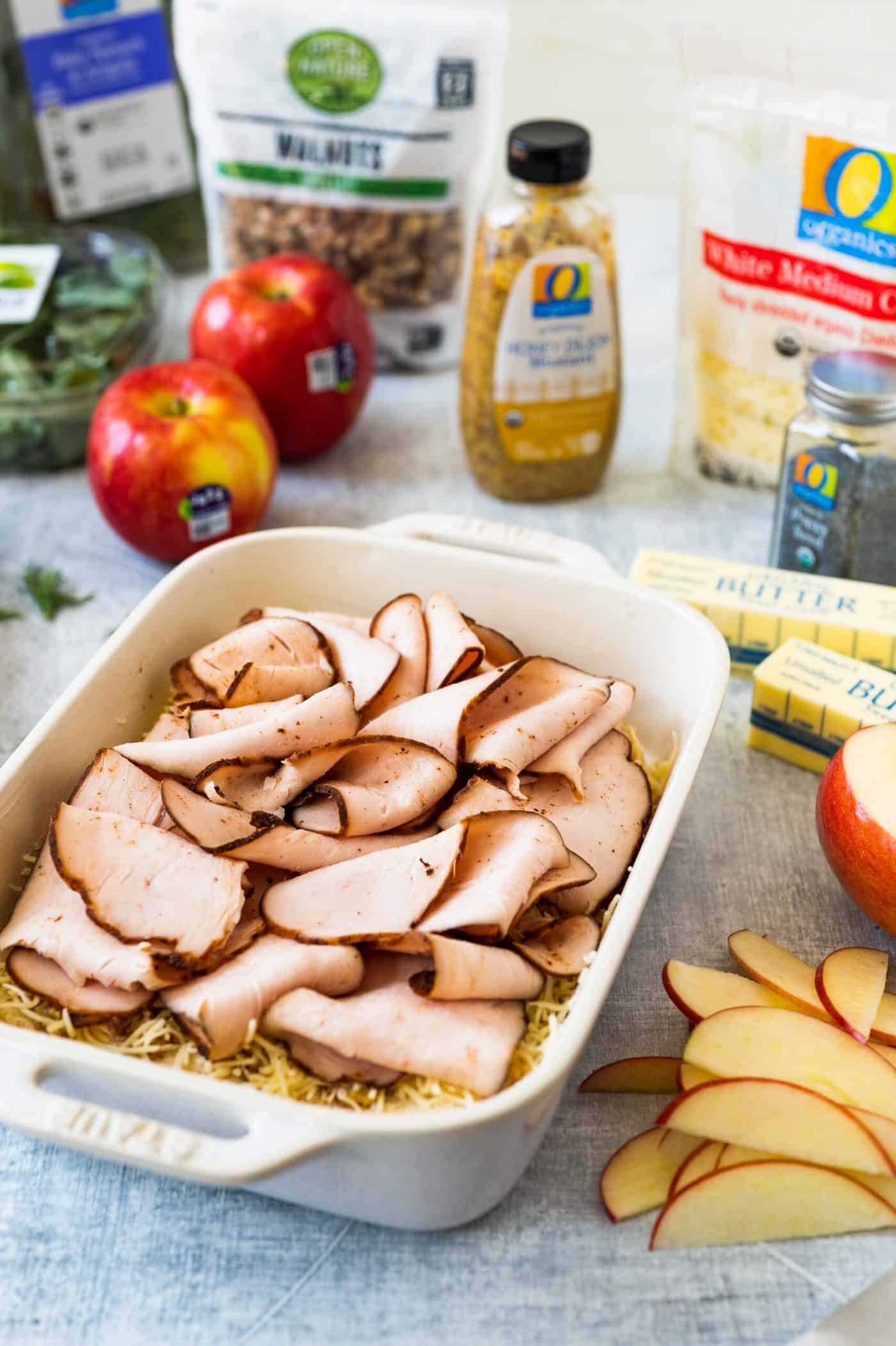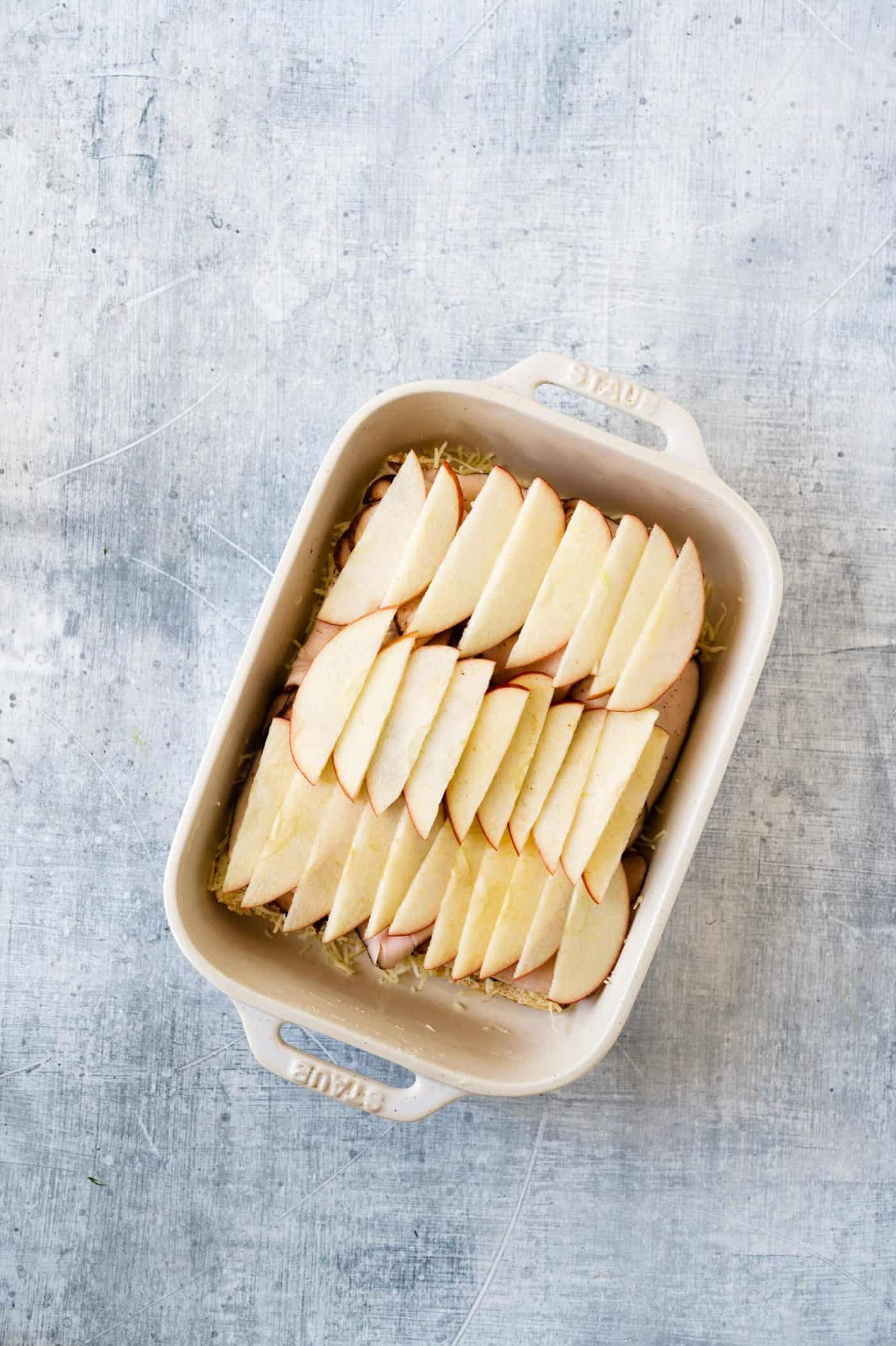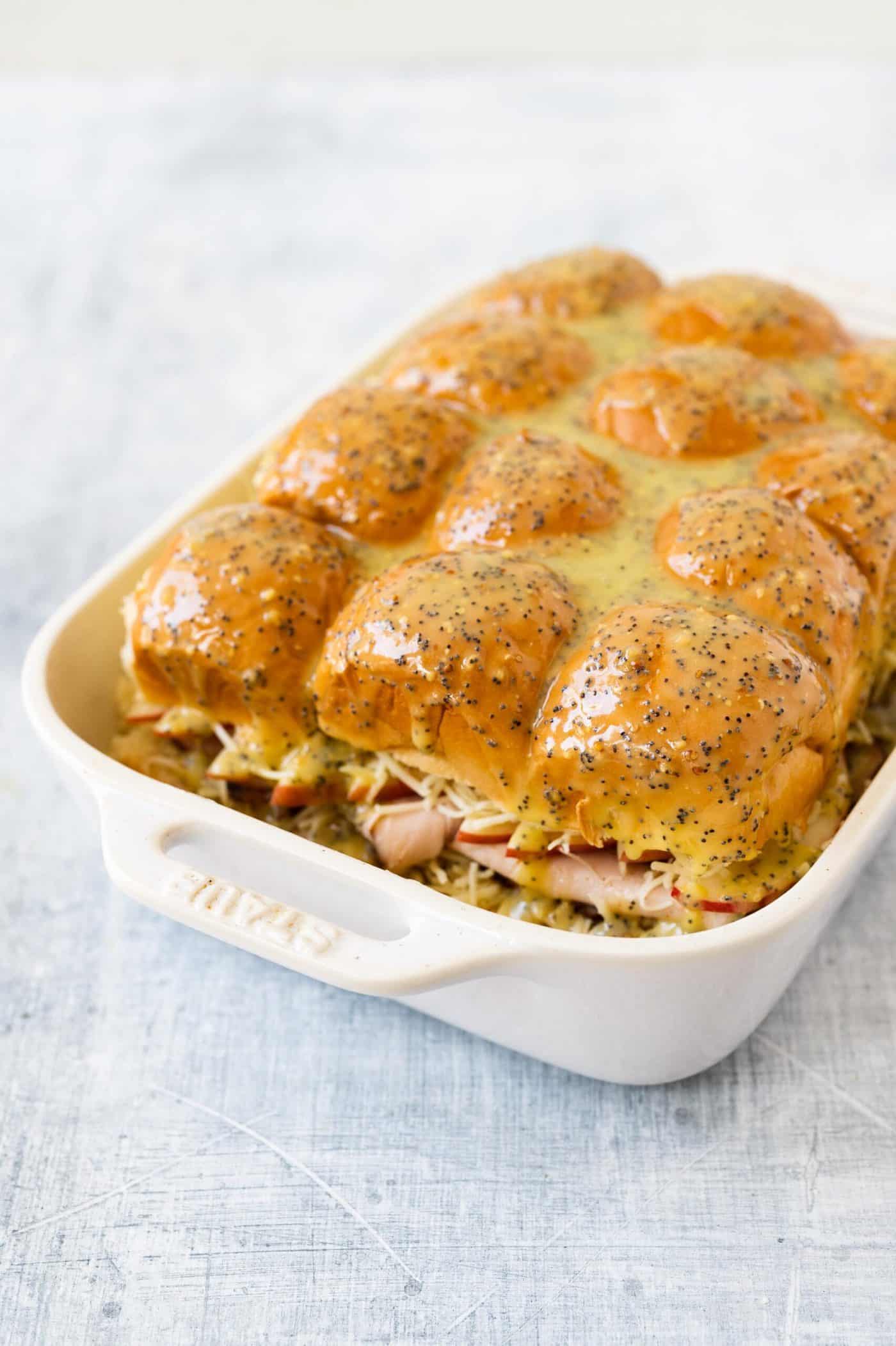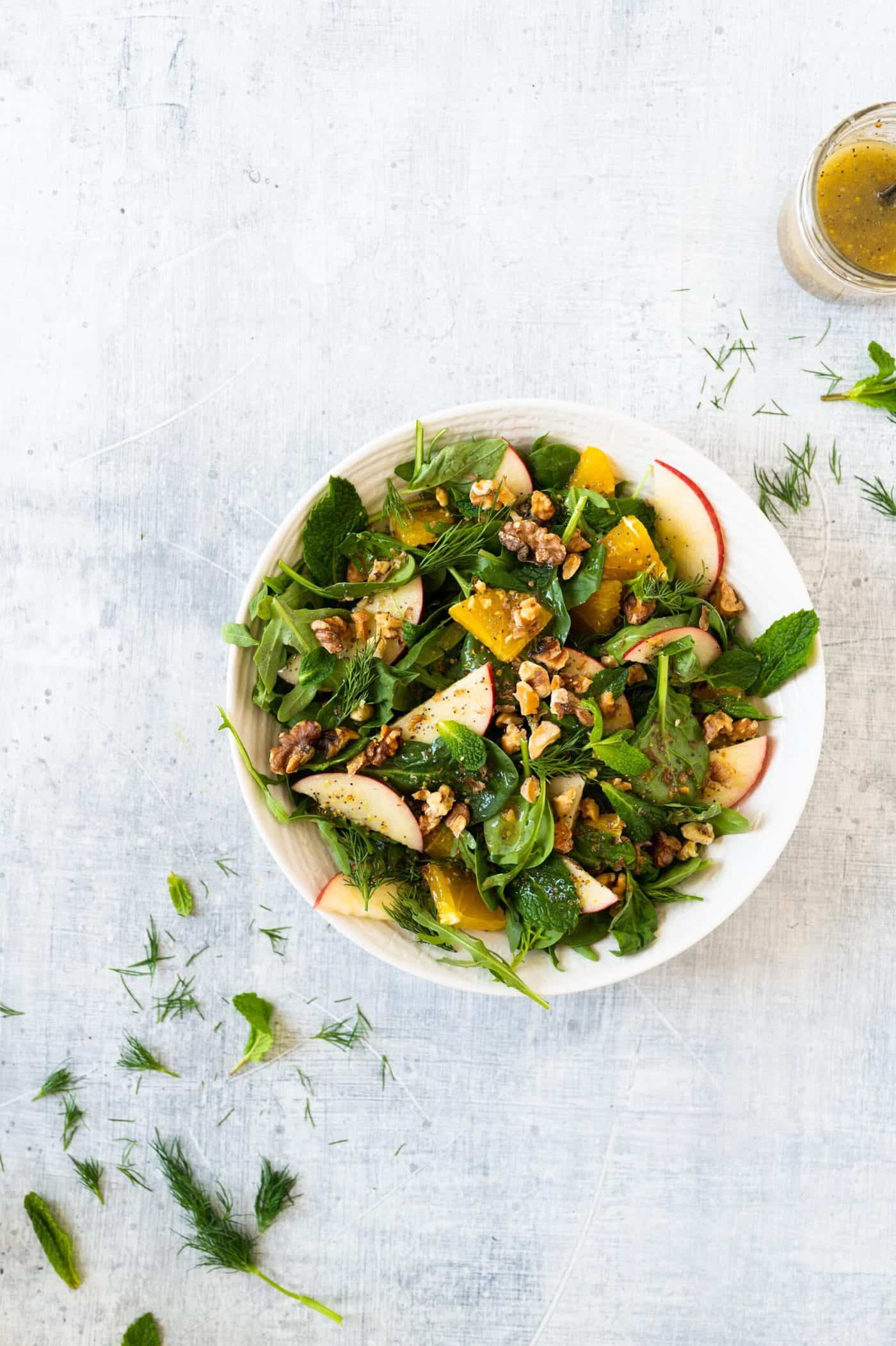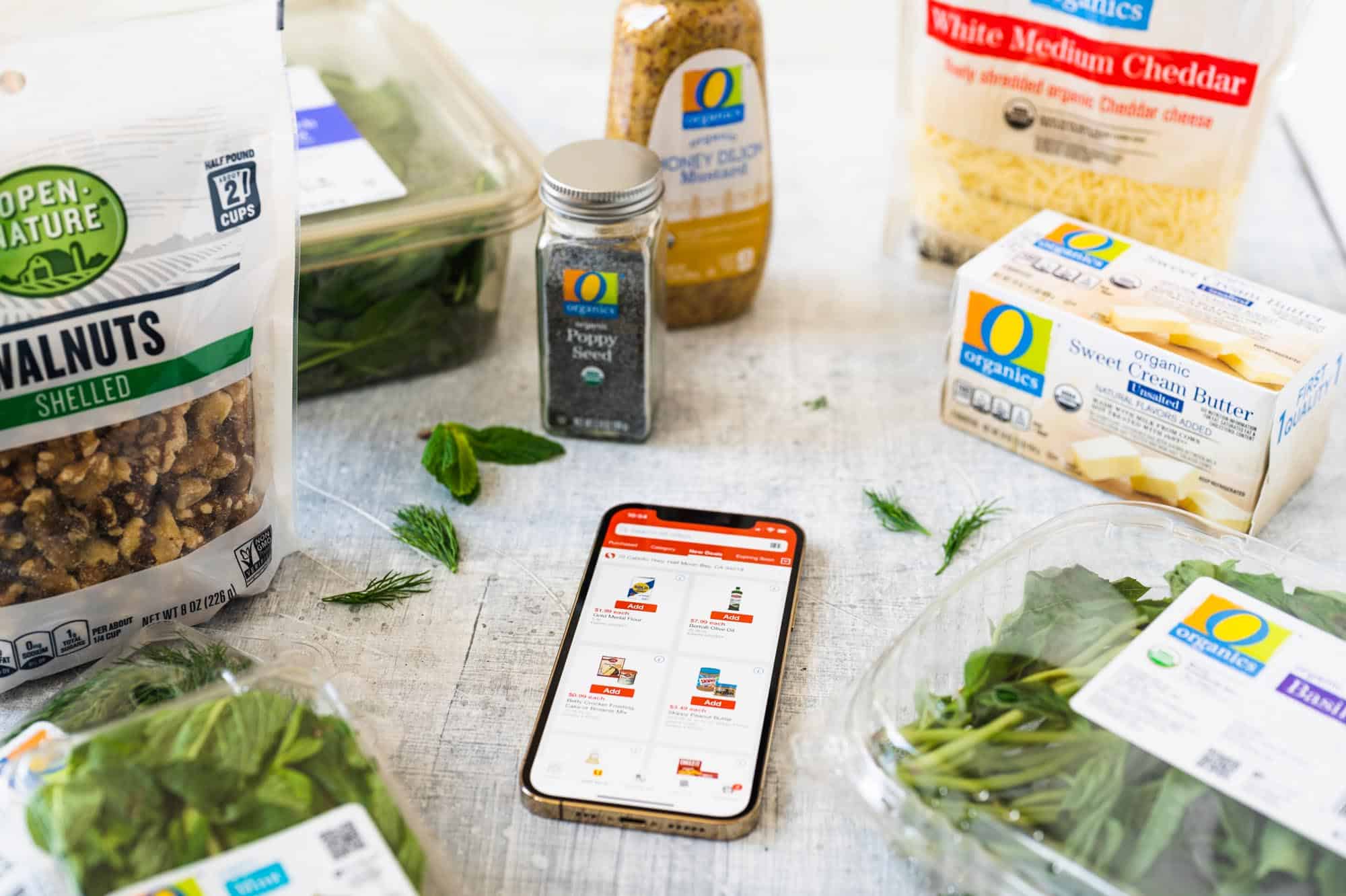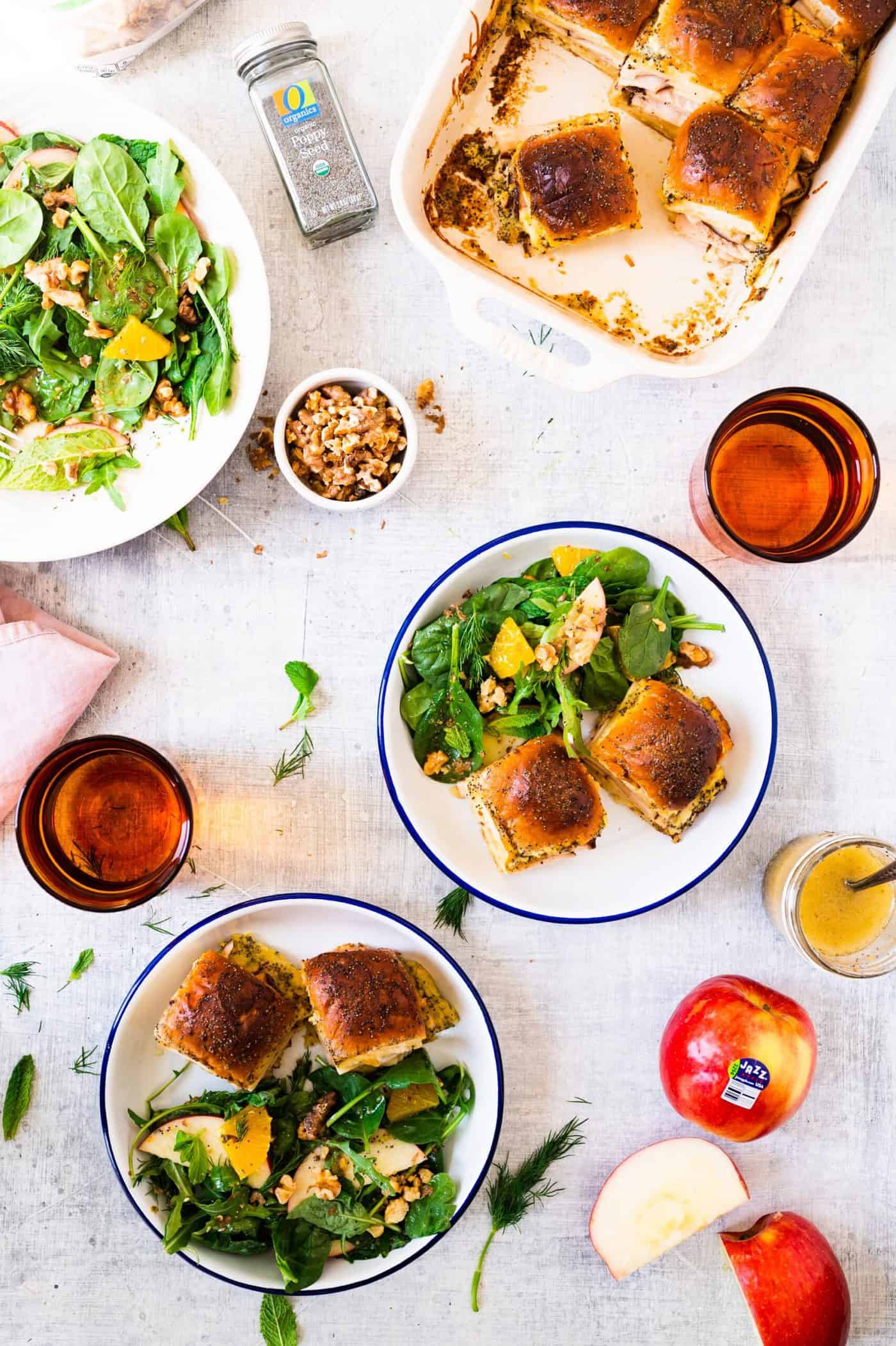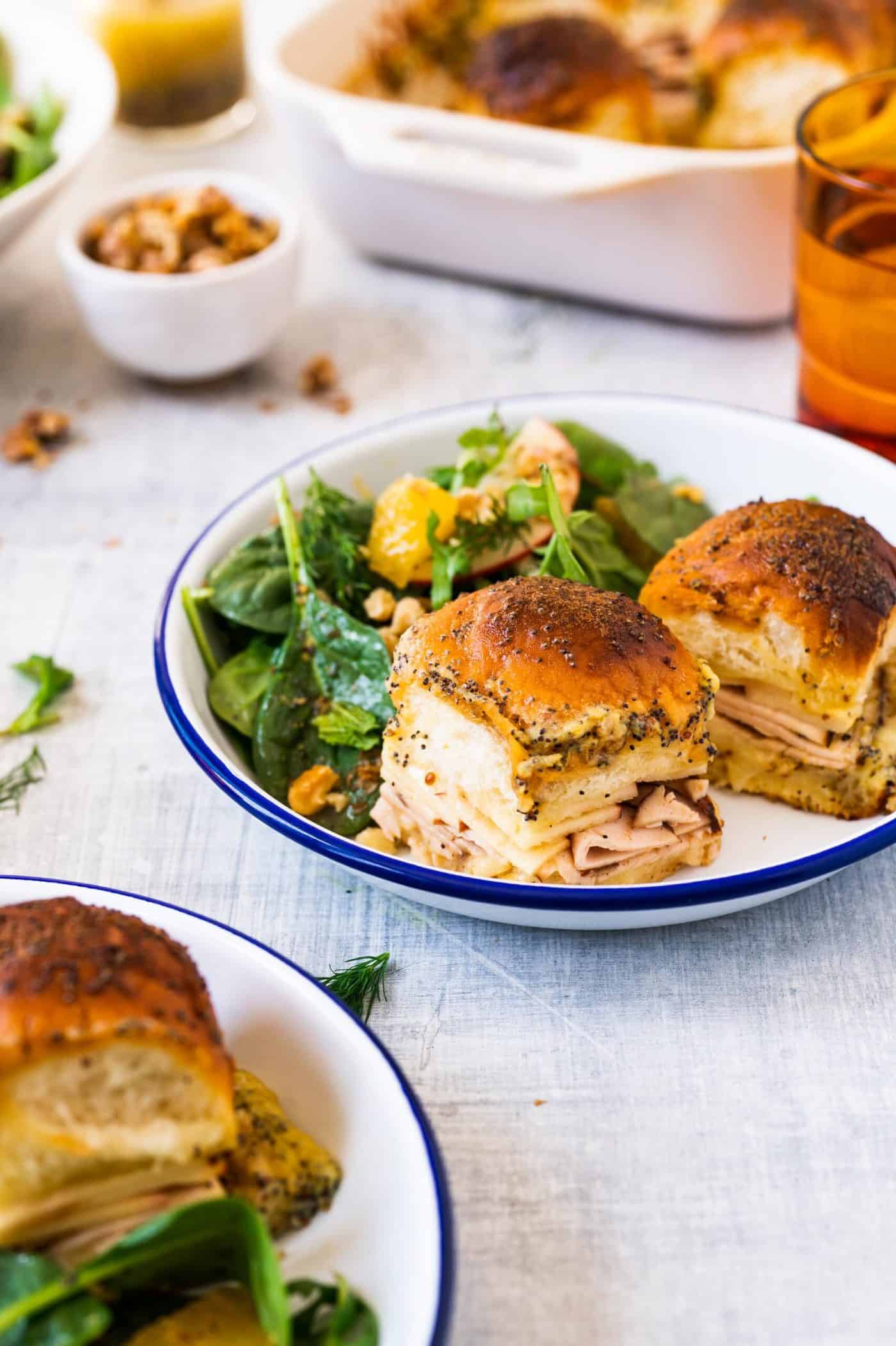 Baked Cheddar, Apple & Smoked Turkey Sliders
Baked Cheddar, Apple & Smoked Turkey Sliders -- these easy baked sliders come together quickly and are perfect for a spring brunch or lunch. Pair them with a bistro-inspired Springy Herb Salad dressed with a sweet and tangy Orange Poppy Seed Vinaigrette for a complete family-friendly meal.
Ingredients
1 package 12 Hawaiian rolls, kept intact
4 Tablespoons O Organics Honey Dijon, divided
8 oz Boar's Head PitCraftTM Slow Smoked Turkey, thinly sliced (available at the deli counter)
1 large JazzTM apple, thinly sliced
6 oz O Organics Shredded White Cheddar Cheese
1 stick (1/2 cup) O Organics Unsalted Butter (save the paper for the dish)
1 large egg
1 T O Organics Poppy Seeds
Instructions
Preheat oven to 350F and arrange the baking rack in the middle of the oven. Grease a large baking dish (mine is 10.75" x 7.75") with butter. (The wrapper from the butter you'll use later is perfect for this!)
Halve the rolls, leaving the sheet intact. Place the bottom half of the rolls in the baking dish. Spread generously with 3 tablespoons of the honey dijon mustard (or more, to taste); then layer with half the shredded cheese, followed by all of the smoked turkey, the thinly sliced apple and the remaining shredded cheese. Place top half of the sheet of rolls atop.
In a small glass bowl or large microwave-safe measuring cup, heat butter in microwave until just melted, about 20-30 seconds. (Alternatively, you can do this on the stove in a small saucepan.) Whisk in remaining 1 tablespoon mustard and poppy seeds. When butter is slightly cooled, whisk in egg. Pour mixture evenly over the assembled sliders.
Cover sliders very loosely with foil (it should not touch the top) and bake for 20 mins. Remove foil and bake for an additional 15 mins, or until all butter mixture is absorbed and rolls are deeply golden.
Allow to cool slightly before cutting into sliders and serving. Enjoy!
Spring Herb Salad with Orange Poppy Seed Dressing
Ingredients
For the Salad:
5 oz O Organics Spinach/Arugula salad mix
large handful sprigs dill, picked off the stem into small pieces
large handful mint leaves
large handful basil leaves
1 orange, peel cut off, quartered and sliced
1 large JazzTM apple, thinly sliced
½ cup Open Nature Walnuts, toasted and roughly chopped
Orange Poppy Seed Dressing (recipe follows)
For the Dressing:
6 T avocado oil
¼ cup fresh squeezed orange juice
1 T O Organics Honey Dijon
1 T rice vinegar
1 T maple syrup
½ T O Organics Poppy Seeds
¼ tsp salt
black pepper to taste
Instructions
Whisk together all dressing ingredients (or combine in a mason jar and shake).
In a large bowl, combine greens, herbs, orange, apple, and walnuts. Toss with dressing (to taste, you may have extra) just before serving. Enjoy!
Like the sound of these Baked Cheddar, Apple + Smoked Turkey Sliders?
Be sure to check out:
————————————————–
OH! before you go…
Like whatcha see here — or have a question, feedback, or recipe hack to share? Join The Pig & Quill convo by commenting below and hanging out with me on Facebook, Twitter, Instagram and Pinterest. And don't forget to subscribe to P&Q emails or add me to your RSS reader with Feedly or Bloglovin' so you never miss a post. x's & o's!