Baked Cheddar, Apple & Smoked Turkey Sliders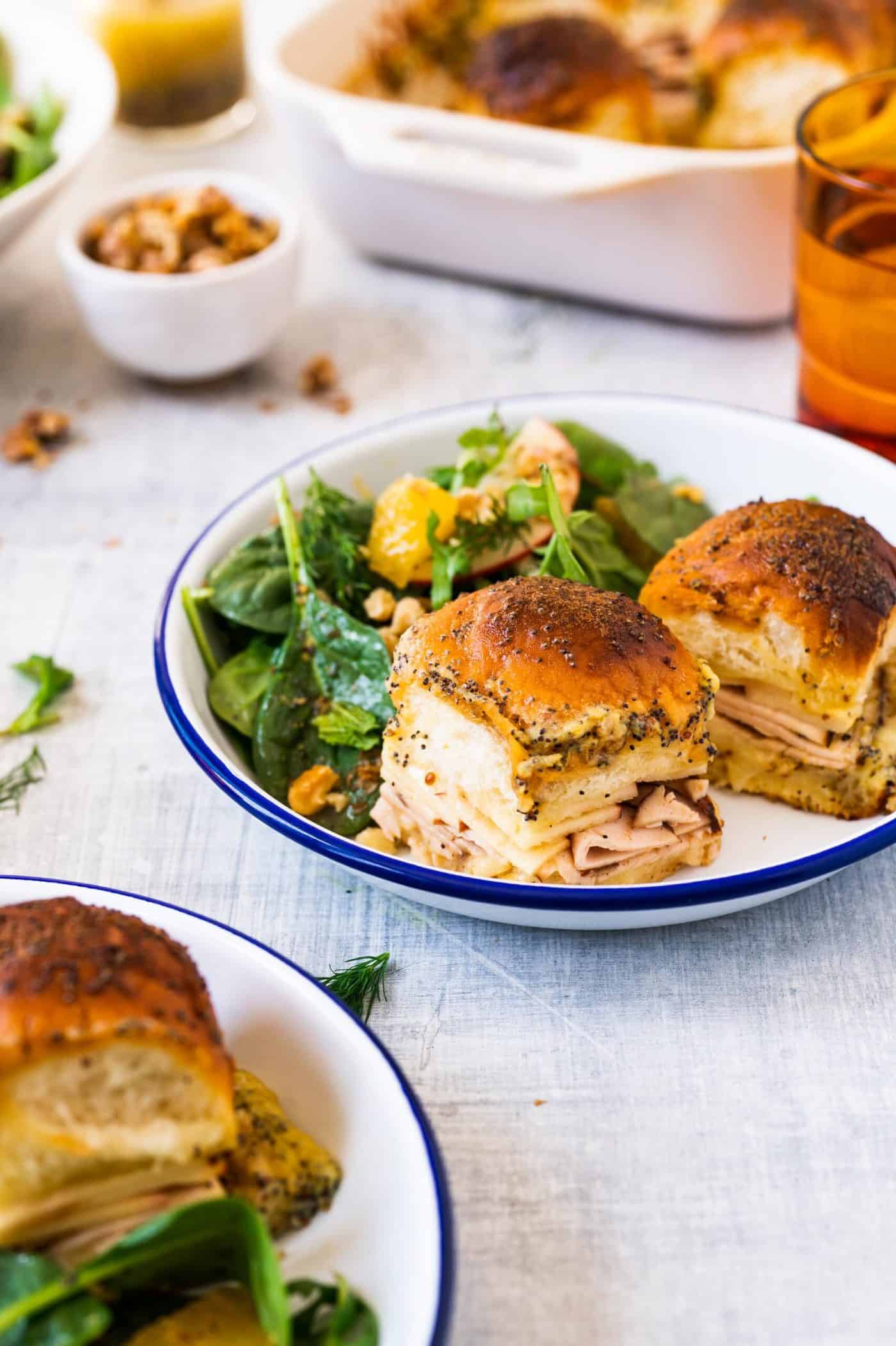 1 package 12 Hawaiian rolls, kept intact
4 Tablespoons O Organics Honey Dijon, divided
8 oz Boar's Head PitCraftTM Slow Smoked Turkey, thinly sliced (available at the deli counter)
1 large JazzTM apple, thinly sliced
6 oz O Organics Shredded White Cheddar Cheese
1 stick (1/2 cup) O Organics Unsalted Butter (save the paper for the dish)
1 large egg
1 T O Organics Poppy Seeds
Preheat oven to 350F and arrange the baking rack in the middle of the oven. Grease a large baking dish (mine is 10.75" x 7.75") with butter. (The wrapper from the butter you'll use later is perfect for this!)
Halve the rolls, leaving the sheet intact. Place the bottom half of the rolls in the baking dish. Spread generously with 3 tablespoons of the honey dijon mustard (or more, to taste); then layer with half the shredded cheese, followed by all of the smoked turkey, the thinly sliced apple and the remaining shredded cheese. Place top half of the sheet of rolls atop.
In a small glass bowl or large microwave-safe measuring cup, heat butter in microwave until just melted, about 20-30 seconds. (Alternatively, you can do this on the stove in a small saucepan.) Whisk in remaining 1 tablespoon mustard and poppy seeds. When butter is slightly cooled, whisk in egg. Pour mixture evenly over the assembled sliders.
Cover sliders very loosely with foil (it should not touch the top) and bake for 20 mins. Remove foil and bake for an additional 15 mins, or until all butter mixture is absorbed and rolls are deeply golden.
Allow to cool slightly before cutting into sliders and serving. Enjoy!
Recipe by
the pig & quill
at https://thepigandquill.com/baked-cheddar-apple-smoked-turkey-sliders/