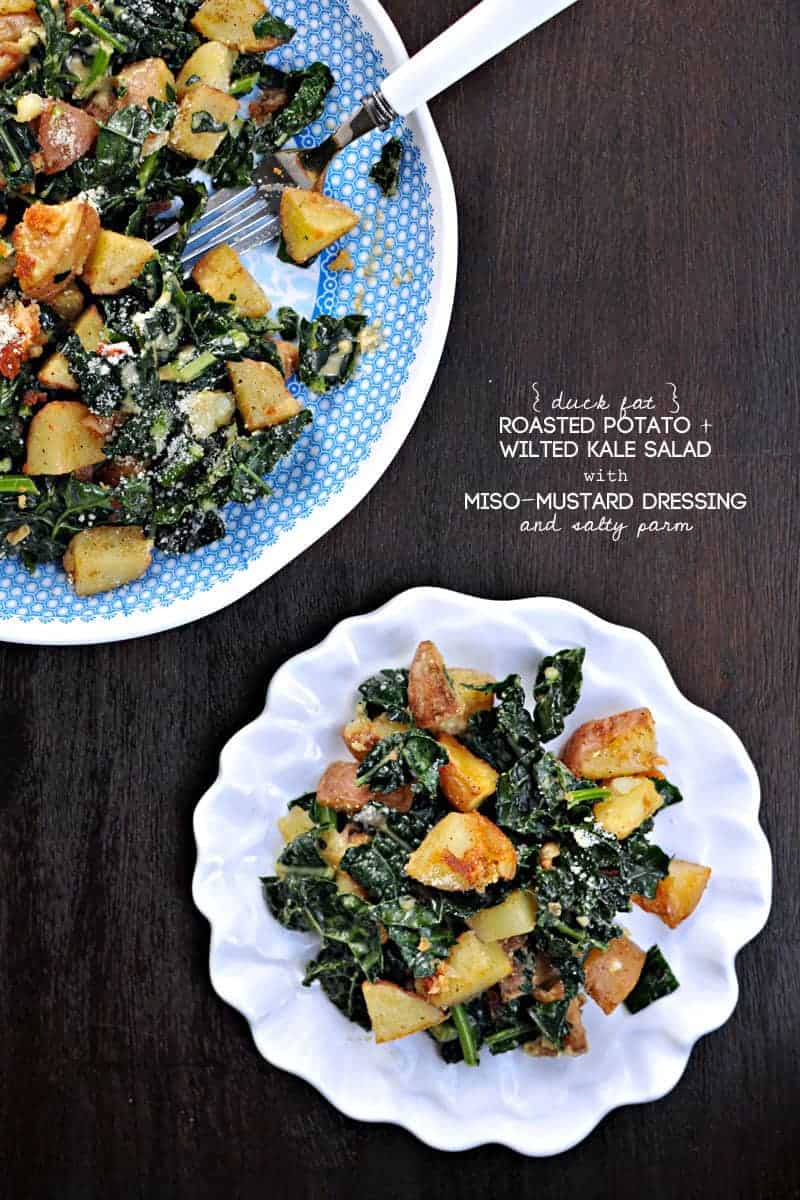 I can already tell that this winter is going to be about DUCK FAT IN ALL THE THINGS. If you're a veggie-terry-an or a vegan or a fish-a-whateveran, feel free to read that as OLIVE OIL IN ALL THE THINGS. Just know your tastebuds are getting royally ripped off. Because le fat of le duck is le bombdiggidamndamn.
(Would you believe I almost considered going into technical writing in college? True story. Something about wanting a paycheck.)
Per the usj, for this Thanksgiving's brunch we ditched the turkey (figuring everyone heads off to a turkey household for dinner) and opted to cook up the whole rest of the barnyard instead. Thassright, lerdies and gernts: we cassoulet'd till the cows came home. To live. In our stomachs.
We followed every critically outlined step of this Serious Eats cassoulet recipe, save for swapping the garlic pork sausage for a garlicky beef kielbasa, and were rewarded with one of the most purely satisfying comfort meals I've ever sat down to enjoy. Duck fat, dark meat chicken (yep, chicken, not duck — read the whole background article, it gets right into the who's and why's), salted pork belly, those smoky beef sausages and tender creamy beans — all suspended in a heavily caramelized, velvety broth. Our tradition of screwing tradition may have, in turn, birthed a new…custom, let's call it.
Aside from getting up at 5 so we could sit down to eat by 12:30, I have no complaints.
What I do have, however, is a margarine-sized tub o' leftover duck fat. (EARMUFFS, VEGGIES! That's olive oil to you!)
And in a world where things like potatoes exist for human consumption, that, my fair and lovely readers, is no big thang.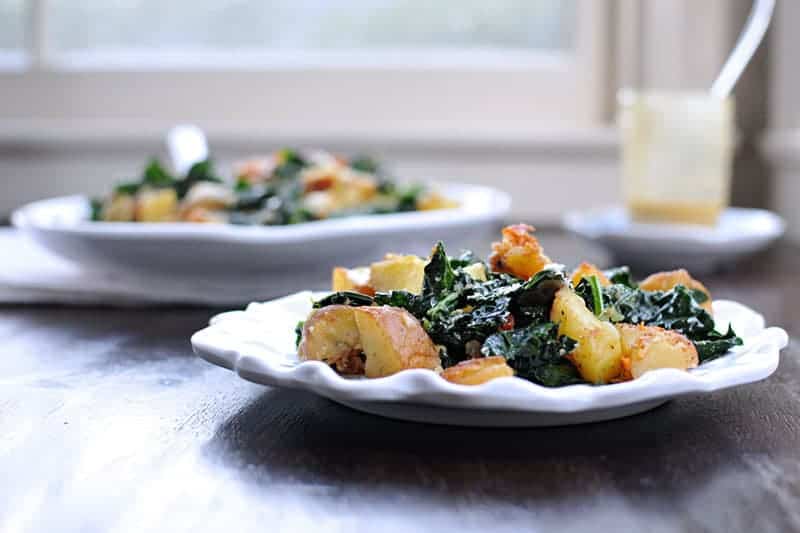 Maybe it's the babes talking, but there is not a potato in this world that I wouldn't eat these days. You know that weird chip at the bottom of the bag with a green edge and a dark spot that was maybe an eye but what if it was something else so you keep putting it back in the bag until its the only one left and then you throw it away?
I'd eat it.
So a potato — or better yet, a whole pile of potatoes — roasted in duck fat until they're stupid creamy inside, crispy-crunchy outside and smattered with tiny bits of toasty, melted parm…?
Oh hai, Veggie Dreamboat. Give it a shaggy beard and a man bun and Chris should be scared.
Note: this is "Get Chris to Grow a Man Bun" Formal Attempt No. 1. He's SO CLOSE, you guys, I can't even stand it. All I want for Christmas, amirite?
I feel like I just revealed a lot about myself.
But really, let's take a close look at what's happening here ↓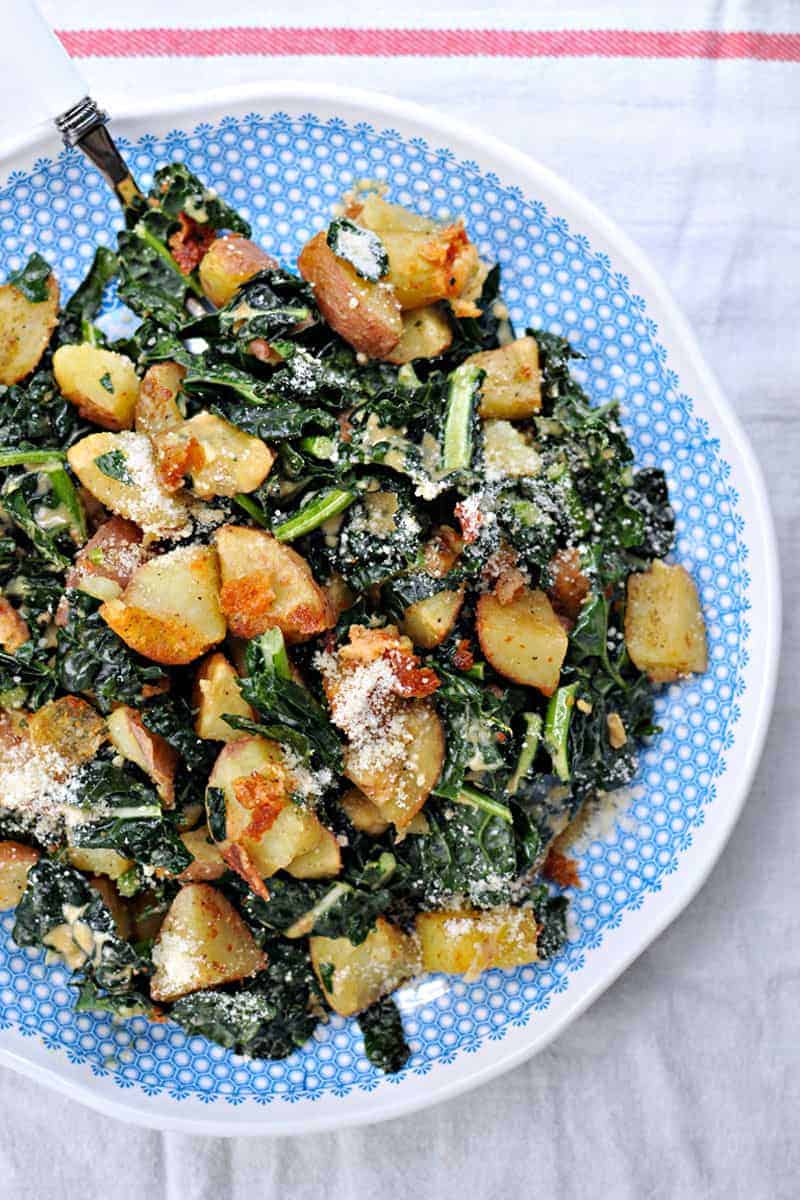 ↑ Seriously!? I mean, who doesn't want to eat that?
The kale is there, of course, so that your arteries don't hate me too, too much — but it's also pretty critical to how this whole deal comes together. You've eaten kale — you've probably even eaten a salad with wilted kale (duh, Emily, that's so 2012) — so you get how it works out. It just — does. 
And whatever. Kale is still totally relevant.
This is one salad I'll definitely be bringing out for the holidays, primarily because it tastes fancy but is almost embarrassingly easy when you see how it all comes together. But also because I'm a girl of my word and DUCK FAT IN ALL THE THINGS.
Quackquack, peebles! <3
Em
p.s. — If the serveware in this post looks familiar, it's because it's some of my fave from Q Squared NYC. Even with a bunch of new samples to choose from (thanks, Eva!) I can't leave the Heritage Collection well enough alone. And that little Peony plate! Kiiinda perfect for the holidays since it's all made from super durable (read: drunk dinner guest-resistant), dishwasher-safe melamine. Just sayin…
p.p.s.  — The new edition of the Foodie App is out this week. Forty bangin' recipes for holiday sweets, all right thurr on yer smartphone. You can download it for free here. 🙂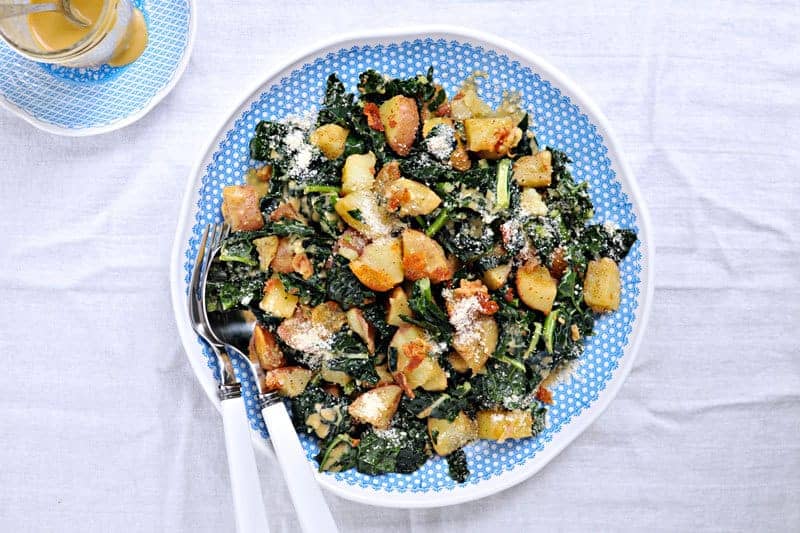 This post is sponsored by Q Squared NYC. As always, I support only those partners whose products and practices complement those employed in The Pig & Quill kitchen. Thanks for supporting the brands that help keep this piggy cooking!
Receive 20% off your entire Q Squared order when you shop online and enter code PIGANDQUILL at checkout.

duck fat-roasted potato + wilted kale salad with miso-mustard dressing (gluten-free)
Makes:
4-6 (rich!) servings
Ingredients
For the Roasted Potato + Wilted Kale Salad
2 lbs red-skinned potatoes, cut into about ¾" pieces
4 T duck fat, melted (I found ours at Whole Foods for around $9/tub)
½ tsp sea salt
½ tsp freshly cracked black pepper
3 cloves garlic, thinly sliced
⅓ cup grated parmesan (plus extra for sprinkling)
10 oz kale, tough stems removed and roughly torn or chopped into bite-sized pieces
For the Miso-Mustard Dressing
2 T extra virgin olive oil
2 T rice vinegar
3 T water
1 T dijon mustard
2 heaping tsp white miso paste
1 heaping tsp agave
1 clove garlic, finely minced
Instructions
Preheat oven to 450F. Toss potatoes with melted duck fat, salt and pepper.
Roast potatoes on a rimmed baking sheet for 10 mins; stir in sliced garlic and roast 10 more mins; finally, sprinkle parm over top of potatoes and roast until cheese is melted and browning in places, about 3-5 mins.
While potatoes roast, combine dressing ingredients in a medium bowl or jar and whisk or shake until thoroughly combined.
Toss roasted potatoes (and any drippings and brown bits from pan) with kale until greens wilt slightly. Add dressing and toss again. Serve warm with extra parm sprinkled over top. Enjoy!
Notes
At once decadent and homey (and SIMPLE), this is the perfect salad for entertaining company at the holidays or snuggling up with in front of the tube. I love the method for roasting the potatoes with garlic and parm, which is borrowed from an old issue of
Gourmet Magazine
(except for the duck fat part -- that's all me, whoops...) and crazy foolproof. And making a double batch of the dressing -- which I've been eating on pretty much every salad of late -- is always a good idea. 🙂
Modifications:
For a vegetarian version, you can swap the duck fat for olive oil. You'll still have a super tasty -- albeit far more ordinary -- salad. 😉
————————————————–
 Oh hey, before you go…
Like whatcha see here — or have a question, feedback, or recipe hack to share? Join The Pig & Quill convo by commenting below (I love, luv, 
lurve 
comments) and hang out with me on
Facebook, Twitter, Instagram
and
Pinterest
. And don't forget to
subscribe to P&Q emails
 or add me to your RSS reader with 
Feedly
 or 
Bloglovin'
so you never miss a post. x's & o's!