Crispy Pan-Roasted Chicken Breasts with Lemon Scallion Drippings and Vegan Braised Beluga Lentils – the quickest and most foolproof way to cook bone-in chicken breasts. Elegant enough for company, easy enough for any night of the week.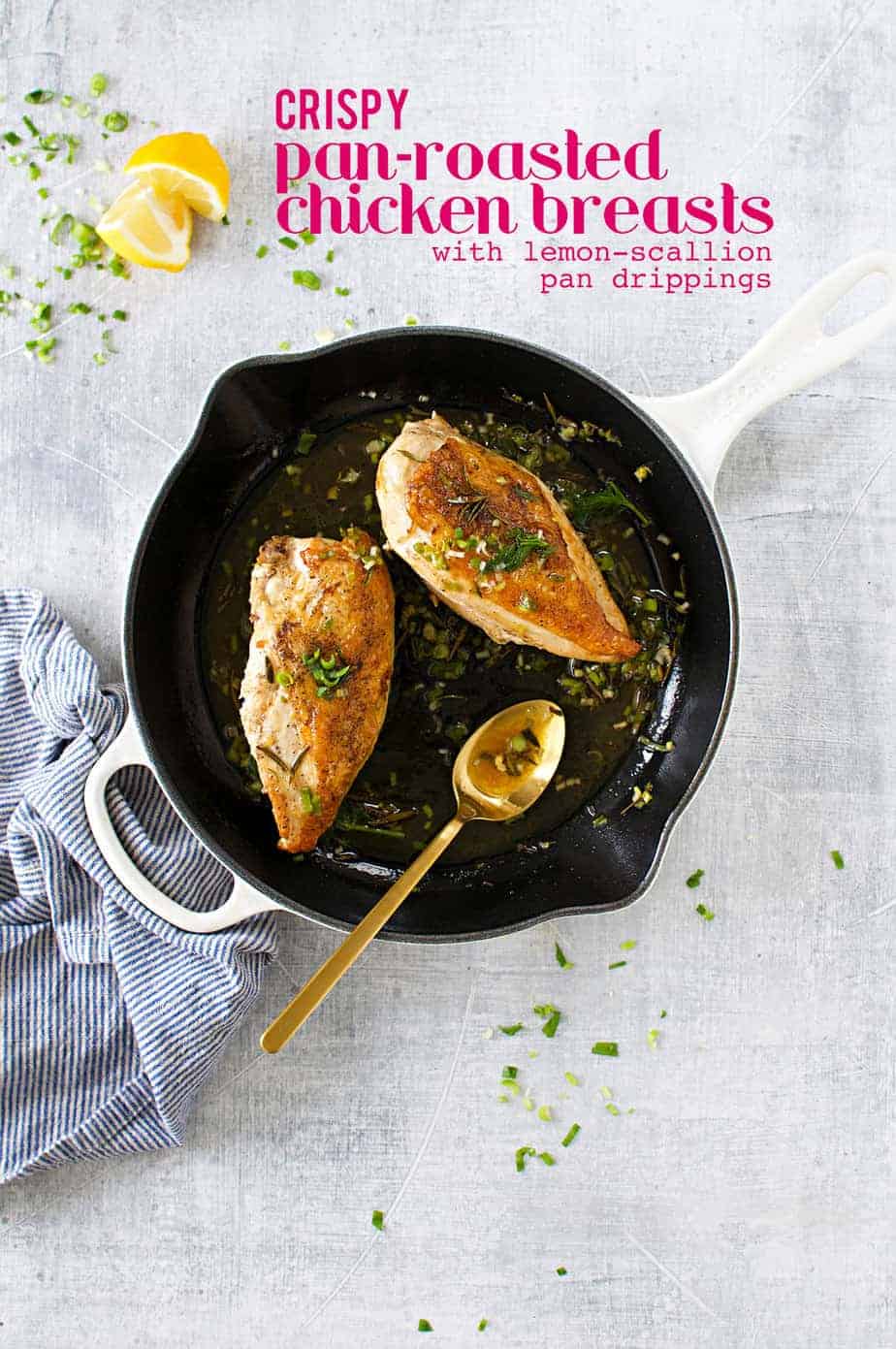 *GIVEAWAY ALERT! I'm giving away one Le Creuset 5.5 qt Dutch Oven in the beautiful toasted ivory color you see here. Visit Instagram for details! Contest closes 3/3/19 at 11:59pm PST.*
It's been a busy few weeks around here, and things are only going to get busier. Doctors appointments and travel for me, a couple of long evenings for Chris. A few days exploring the Central Coast's wine country as a family. House guests every weekend.
Now, don't misunderstand me: I love houseguests and would rather our house be bustling and disastrously messy than quiet and sparkling clean. It just means being more on top of things, like grocery shopping. And, on top of things is not exactly my forté. (We both know there's a dirty joke in there somewhere, and the fact that I'm not unpacking it should speak volumes about my current state of mind.)
Life is taking place around here, guys, and that's exactly where this chicken comes in.
How to Cook Bone-In Chicken Breasts
Once upon a time I read somewhere that the key to preparing the best chicken of your life is to cook it like a steak. And that's what we've been doing for the better part of three? — maybe five, even, dang! — years. A good, heavy skillet. A simple, un-screwed-around-with sear. (JUST. LEAVE. IT. BE.) A hot oven. Done.
Oh, and let's not forget: bone-in, skin-on chicken.

My favorite chicken to cook and eat, hands down, boasts both the skin and the bones. It's cheaper. It's more forgiving (that skin gives you a little bit of a buffer to prevent overcooking). And it's a whole lot more flavorful. If you've picked up a package of bone-in chicken breasts because they were on sale, good on you. This is about the most foolproof way to cook bone-in chicken breasts that exists. It works with thighs, too — and, in fact, I usually prefer thighs — so if you've got those on hand, all the better. But bone-in chicken breasts present a little more elegantly, and if you're serving this to company, they slice up nicely on the plate.  We've rounded out this recipe with an EASY pan sauce made from the chicken drippings, a handful of scallion confetti and a squeeze of lemon and it's Lick the Pan Good.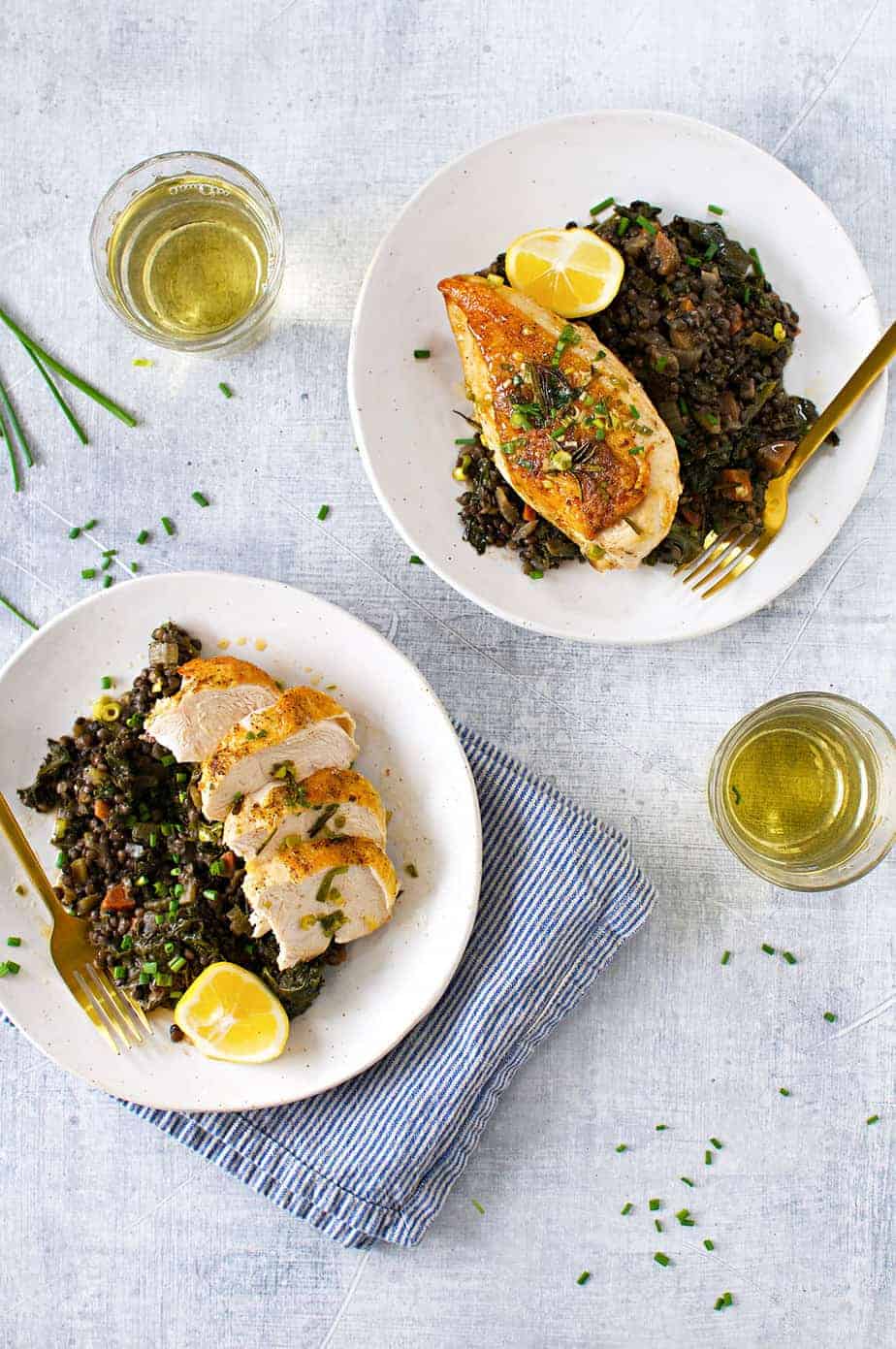 (Crispy Pan-Roasted Chicken Breasts with Vegan Braised Beluga Lentils)
Want to take it one step further? My favorite wintry thing to serve with simple chicken of any sort is lentils — warm and savory, slicked with good olive oil and accented with the subtle acidic tang of vinegar (a trick I learned from my friend who spent time abroad in Greece). These Vegan Braised Beluga Lentils have been on rotation since we embarked on the Clean Program a couple of months ago, and they couldn't be simpler. Loaded with veggies, comforting — and exponentially more flavorful than their name belies thanks to miso, black vinegar and aromatic fresh fennel. I just posted the recipe to Instagram, and they're one of the staples we keep in the fridge to round out meals all week long (not to mention a stellar meal on their own).
(In case that was too subtle, you can get the recipe for Vegan Braised Beluga Lentils here.)
There's a very real chance we'll be making this exact meal for friends who are coming to stay the weekend. And an even greater chance the lentils will carry me and Lana through lunches for the rest of the week, rounded out with a little griddled bread and buttah.
And honestly, as far as meals go in the midst of a busy month, we could do a lot worse.
xo!
Em
Like the sound of these Crispy Pan-Roasted Chicken Breasts with Lemon-Scallion Drippings?
Be sure to check out: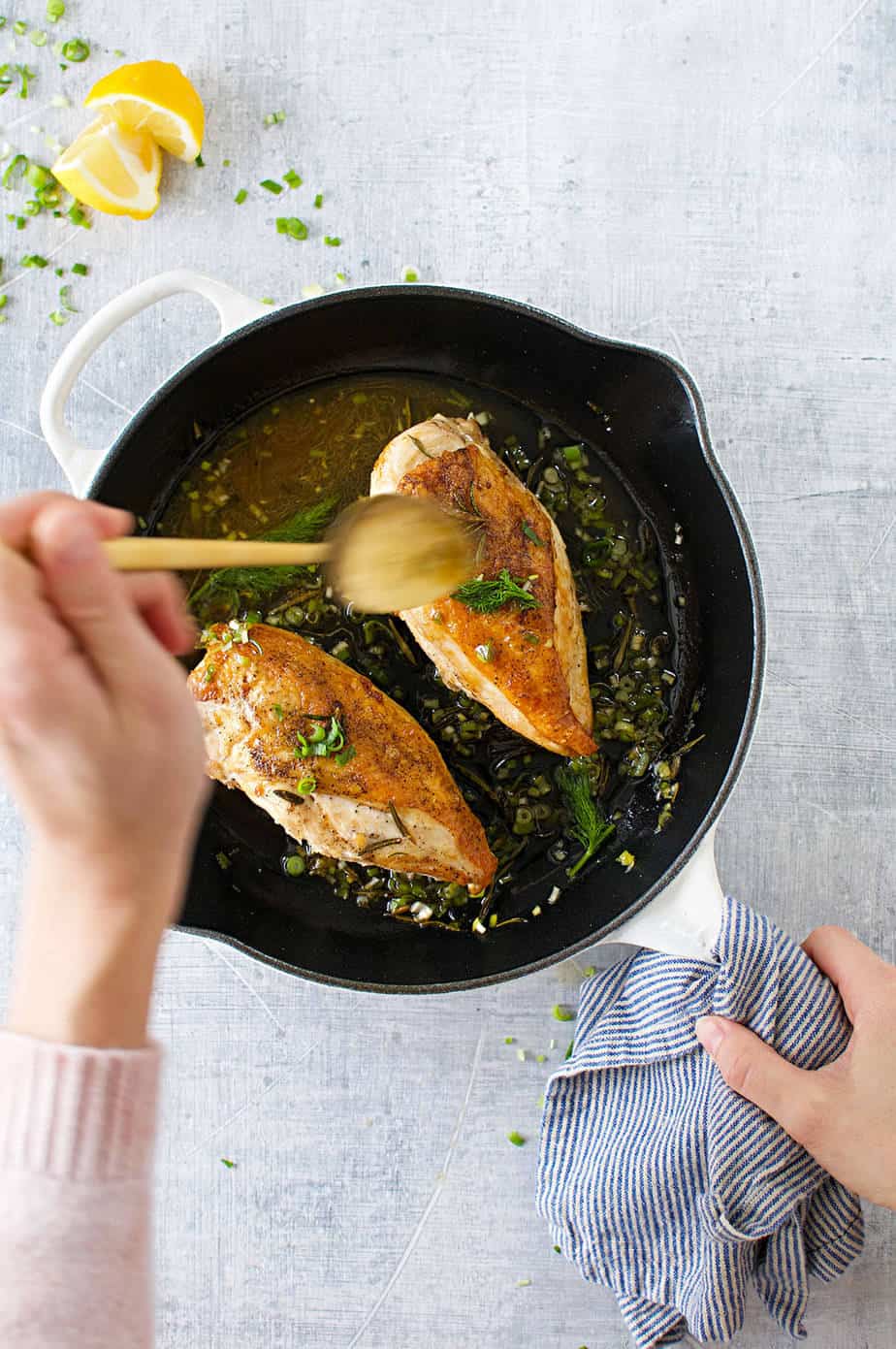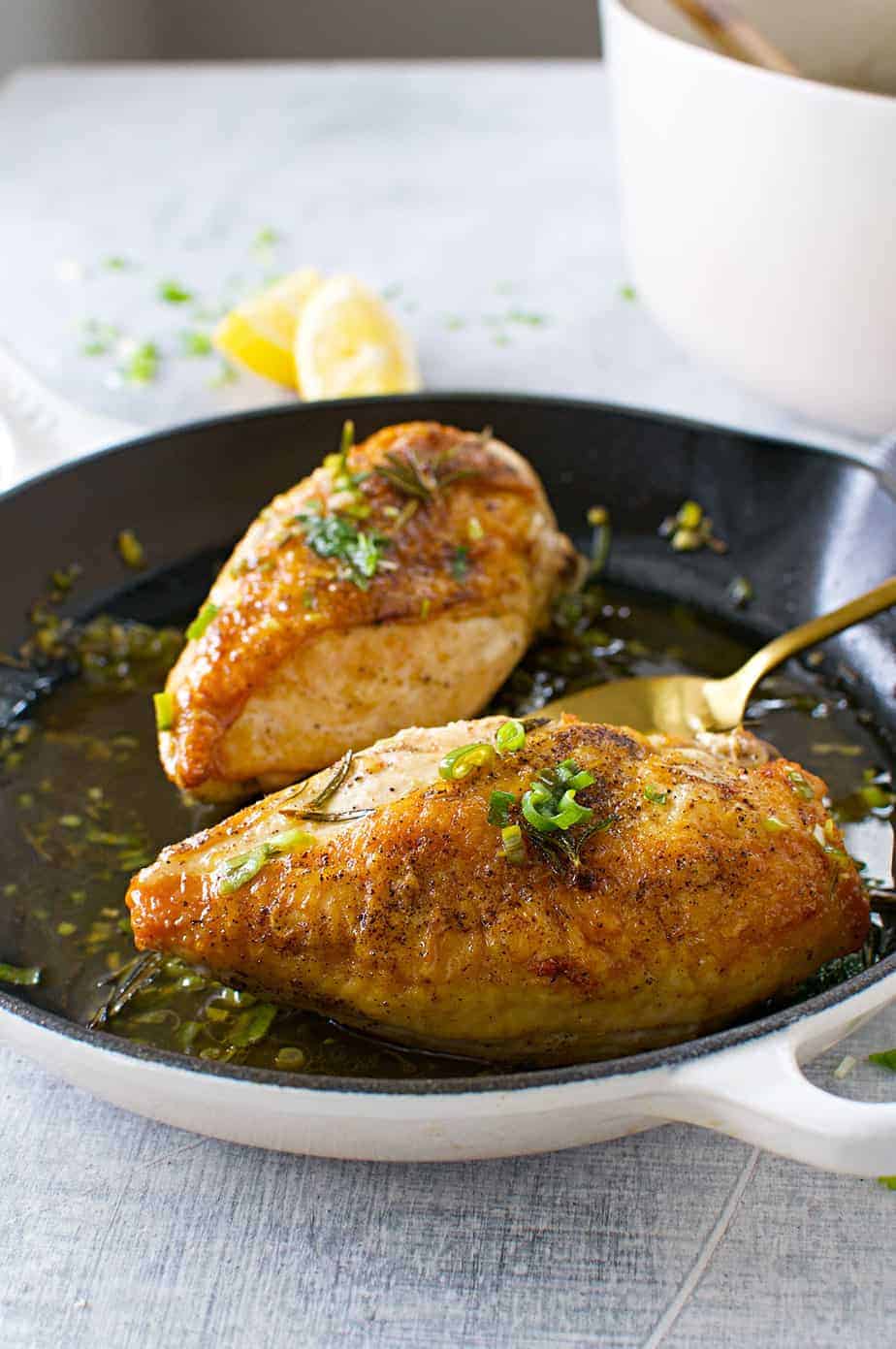 Crispy Pan-Roasted Chicken Breasts with Lemon-Scallion Drippings
Makes:
2-4 servings (see note)
Ingredients
2 large skin-on, bone-in chicken breasts (about 1.5 lbs total)
2 T olive oil
few sprigs fresh rosemary (optional)
salt + pepper
1 T butter
1 large scallion, finely chopped
juice of 1 lemon
Instructions
Preheat oven to 425F. Preheat a cast-iron pan over a medium flame.
Season chicken liberally on both sides with salt and pepper.
Add olive oil to hot pan, swirl to coat. (All stoves are different. If your oil is immediately smoking, turn back heat to med-low.) Add chicken to pan, skin-side down. Do not move for 6 mins. Gently lift chicken to check for brownness — you want the deepest golden you can achieve without burning. If it's still pale, continue searing for up to 2 mins.
Flip chicken, tuck in a few sprigs of rosemary (if using) and transfer pan to preheated oven for 20 mins. Remove pan from oven, add butter, and immediately spoon melted butter and pan drippings over chicken for about 1 min.
Remove chicken from pan and set aside to rest for 10 mins. To hot pan with drippings, add scallions + lemon juice, scraping up brown bits to combine into a "sauce." Carve chicken and serve with pan sauce drizzled over. Enjoy!
Notes
I find that two large chicken breasts serve up to 4 people when carved, especially when accompanied by a heartier side like these
Vegan Beluga Lentils
-- but if you're serving more voracious eaters, plan for one chicken breast per person.
————————————————–
OH! before you go…
Like whatcha see here — or have a question, feedback, or recipe hack to share? Join The Pig & Quill convo by commenting below and hanging out with me on Facebook, Twitter, Instagram and Pinterest. And don't forget to subscribe to P&Q emails or add me to your RSS reader with Feedly or Bloglovin' so you never miss a post. x's & o's!