Easy Eggplant Parmesan Pasta — silky eggplant, savory O Organics Sundried Tomato Pesto and toasty, O Organics Seasoned Croutons come together with minimal effort in this light, easy eggplant parm pasta featuring O Organics Penne Rigate Pasta. Plus, my very favorite trick for roasting eggplant with Best Foods Mayo. (Yes, mayo!! Trust me…)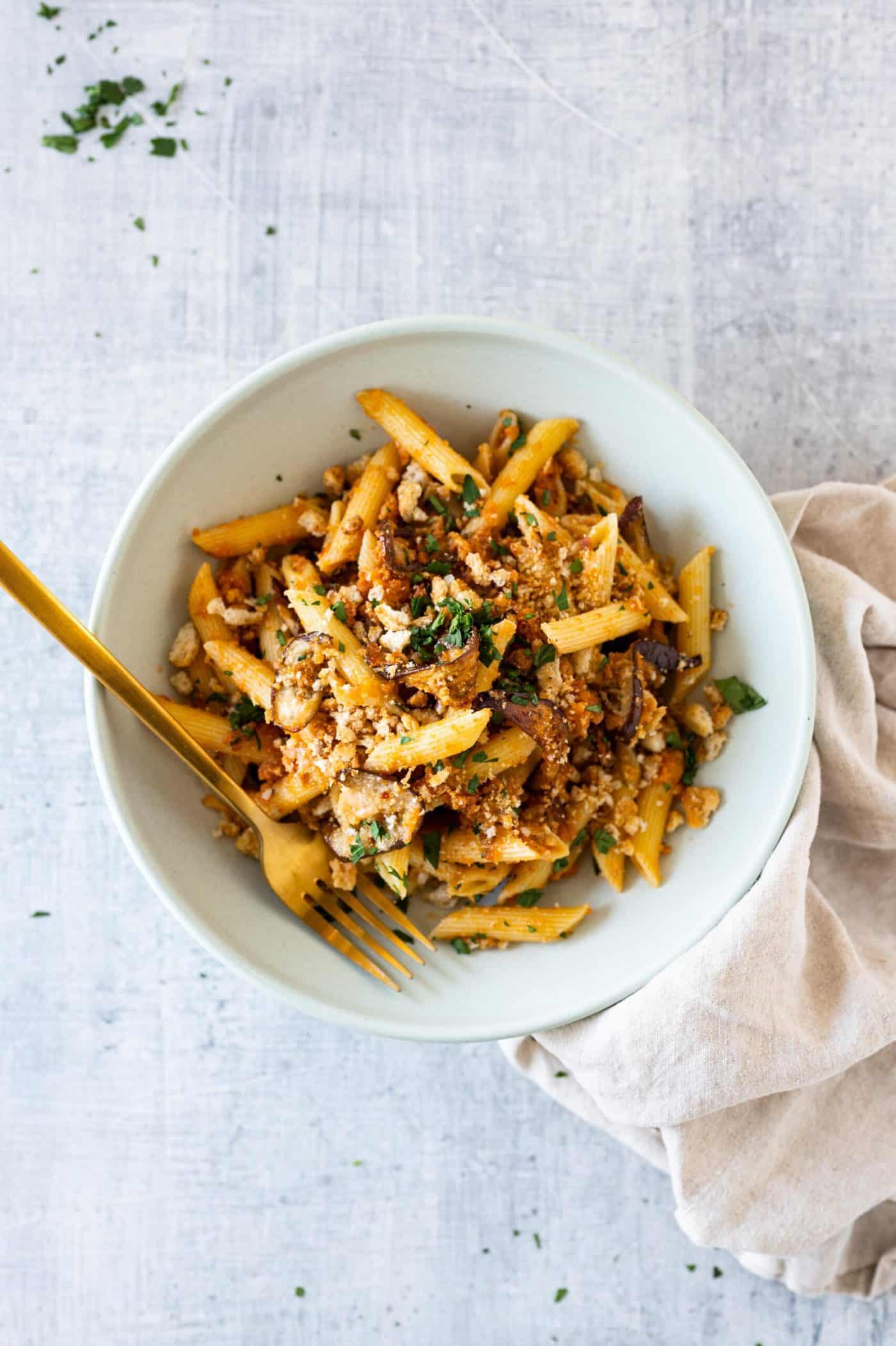 This post has been sponsored by Safeway. All thoughts and opinions are my own.
Eggplant parmesan has always been a meal near and dear to my heart, and I know I'm not alone here. As a kid, it was my go-to order at the popular Italian chain restaurant in my hometown (you know the one), and in college, it became a beast I attempted to tackle (several times) in my own kitchen. Turns out, as much as I love eating eggplant parmesan, I don't have the patience to be the one making eggplant parmesan. And even if I did, it sure as heck wouldn't be a weeknight affair.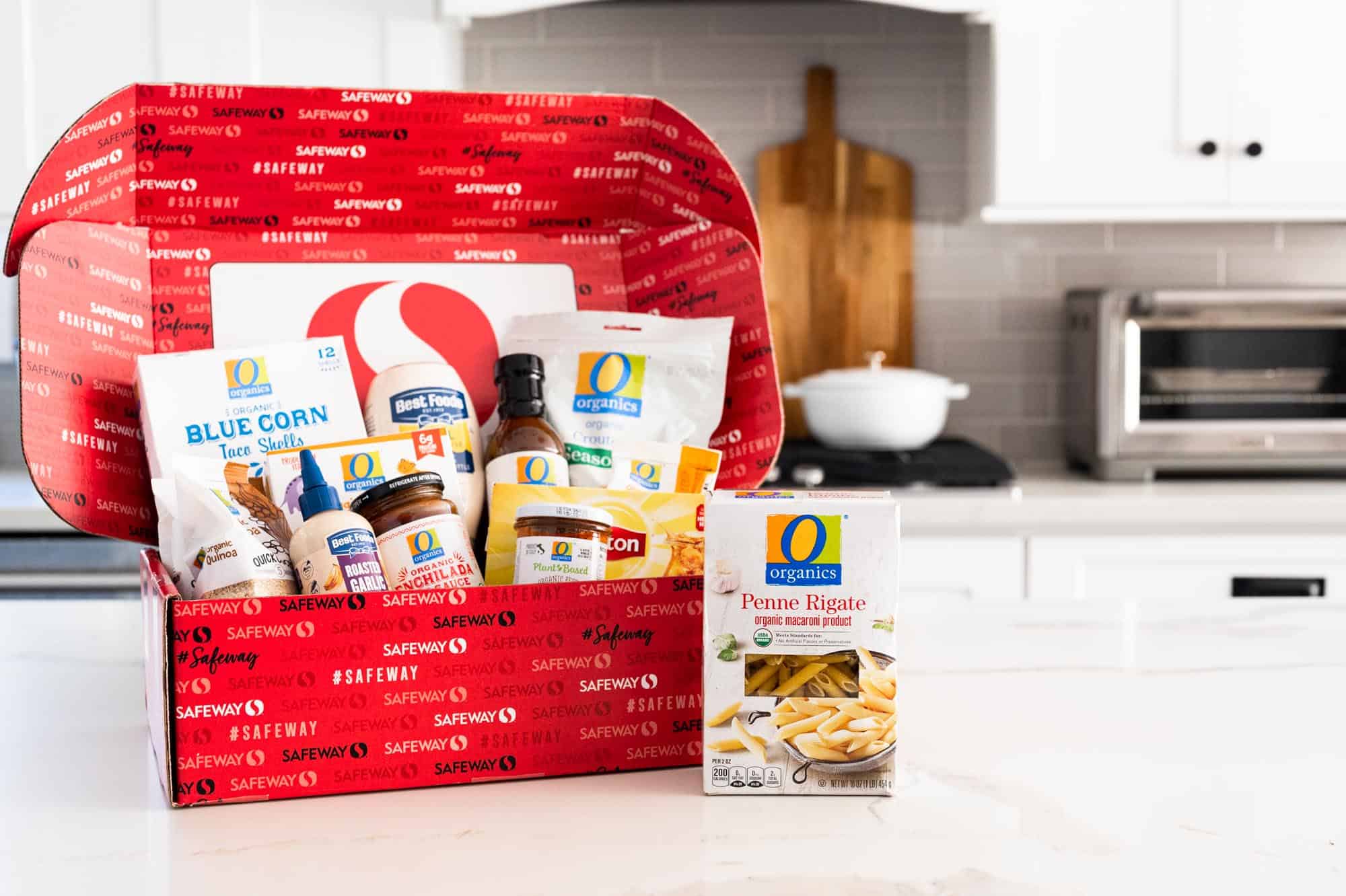 This month, in an ongoing partnership with Safeway stores, we're changing all that. Safeway sent me a box full of weeknight meal-friendly ingredients, and thanks to a couple of clever shortcuts, we're combining a few of them into an eggplant parm pasta that genuinely requires only 30ish minutes and minimal effort. If you can slice an eggplant and boil water, you're golden. The rest is as simple as, well, stirring. Which makes it the perfect recipe for this between-holiday period where meal planning and mindful eating seem very un-glamorous compared to cookie baking and holiday movie marathons. 
Speaking of simple, I've mentioned it before, but Safeway's curbside pickup and grocery delivery services are the epitome of convenience during these strange times. As someone who named "the grocery store!" as my favorite place to go as a child (all the other kids shouted out theme parks and exotic islands, but not 5-year-old Emily!), I really miss the experience of unhurried shopping trips, leisurely scanning the aisles for inspiration. It was a therapy, of sorts. But this new way of shopping in which all the leisurely perusing happens via the Safeway app from the comfort of my own home? I have to admit: it's undeniably convenient.
How to Roast Eggplant
The highlight of this Easy Eggplant Parmesan Pasta recipe is, no surprise here, the eggplant — and we're going to employ my very favorite trick for silky roasted eggplant. Ready? It's a little obscure, but…we're coating it in mayo. Best Foods Mayo, because it really is the gold standard in the mayo game.
I've been roasting eggplant in mayo for a few years now, ever since Lana started being able to tolerate eggs again. She will literally gobble up trays of simply roasted eggplant "fries," and as we've been moving more and more toward plant-based meals, roasted eggplant is always an easy addition to bowls or veggie sandwiches — even quesadillas. The magic in using mayo is that is isn't instantly absorbed by eggplant the way oil is, so every piece gets evenly coated. Then, as the eggplant cooks, the mayo slowly seeps in, giving the eggplant that silky, melt-in-your-mouth texture that eggplant lovers, well, love — while the eggs in the mayo allow for some gorgeous browning. In this recipe, we even go too far as to sprinkle a little parm directly over our eggplant in its last few minutes in the oven. It's a beautiful thing.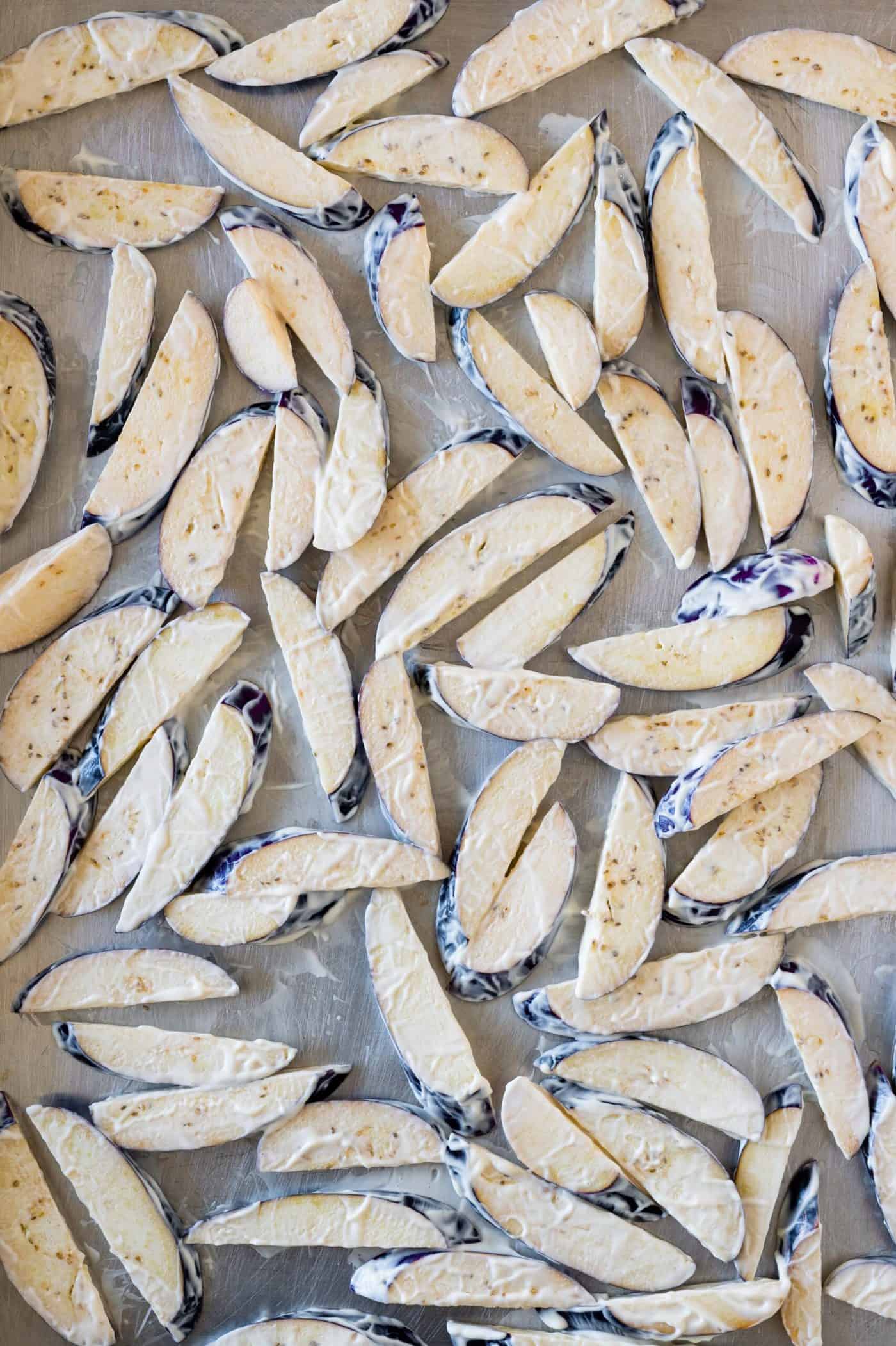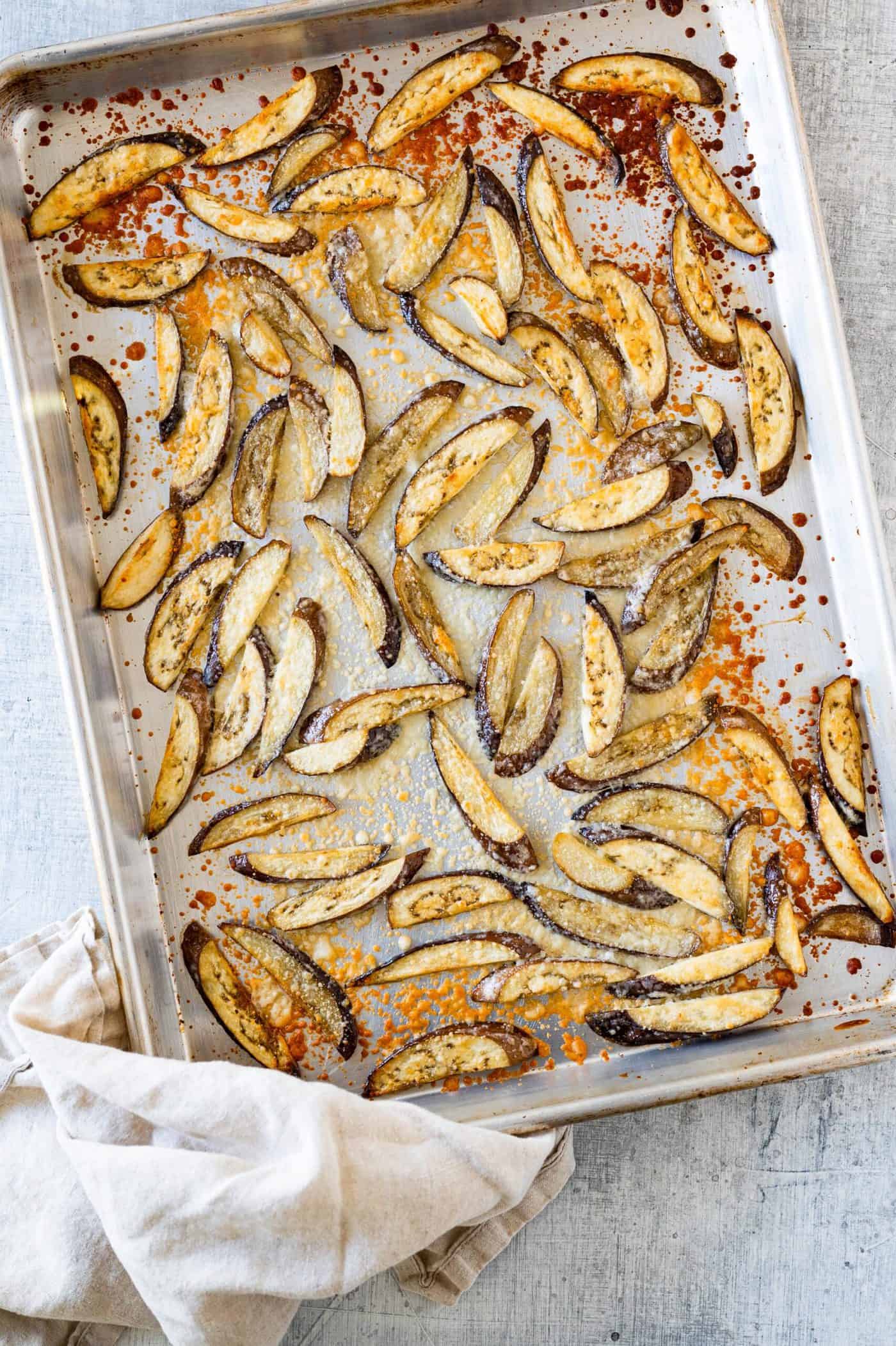 For this recipe, I decided to use Chinese eggplant. It was what happened to be available when I placed my Safeway curbside pickup order that day, but I do typically prefer slimmer Chinese or Japanese eggplants in almost every recipe, if you can find them. They're a little milder with fewer seeds — and they're rarely bitter. That said, you can absolutely use a conventional eggplant for this recipe. If you're worried it might be bitter, you can always slice it, sprinkle it with salt, let it sit 15ish mins, rinse it and pat it dry — but honesty, I can't remember the last time I went to the trouble. Maybe my palate is off, but eggplant just doesn't seem all that bitter to me.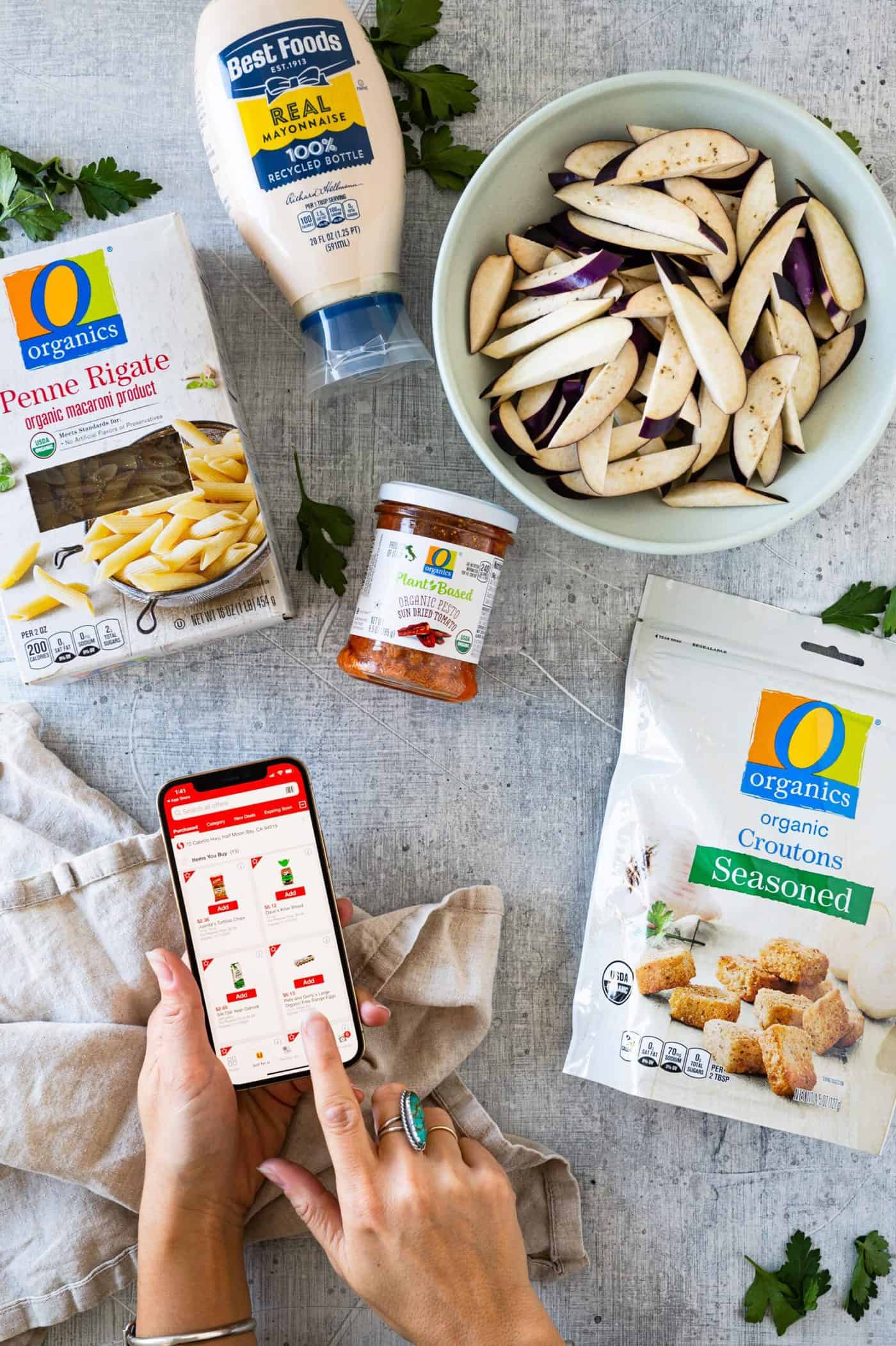 How To Make Easy Eggplant Parm Pasta
So, we've sliced our eggplant, smothered it in Best Foods Mayo, and now we're roasting it off. Twenty mins or so at 425F will do, which gives us the perfect pocket of time to assemble the rest of the ingredients. Boil some pasta (we used O Organics Penne Rigate — it's the ideal size and shape for this application), and then pull out that sack of O Organics Seasoned Croutons and get to bashing. I cut the bag open, press the air out, reseal it and then give it a few whacks with a wooden rolling pin or a mini cast-iron skillet. Boom — the toasted, bread-crumby element in our easy eggplant parm pasta? Done.
Beyond that, it's just tossing the roasted eggplant with the hot pasta, those happily bashed croutons, and a jar of O Organics' Plant-Based Sundried Tomato pesto. (Yes, plant-based — no cheese in the jar! — and still super flavorful, so if you wanted to make this recipe vegan, you'd be one step closer; keep reading for more on that.) Finish it all off with more parm and fresh herbs, and dinner is done.
Like I said, friends: if you can slice an eggplant and boil water, this one's in the bag.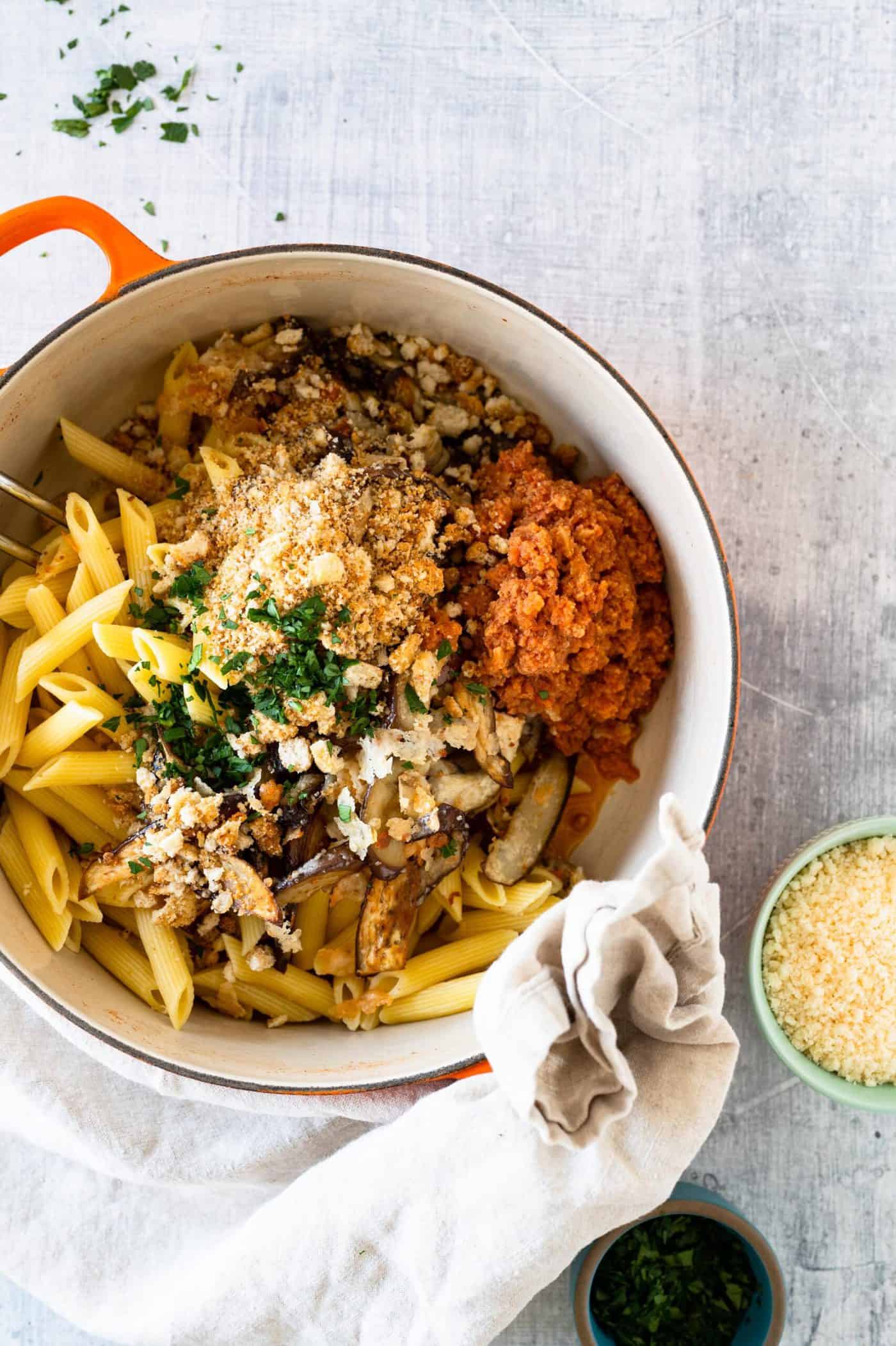 What About Vegan Eggplant Parm Pasta?
And More Tips
So, we've got the basics down. Here are some mods you could make, if you feel so inclined:
Vegan Eggplant Parm Pasta: Just for giggles, I tried going the route of Vegan Eggplant Parm Pasta by using vegan mayo and omitting the parm, and guess what? Still totally tasty.
Want it saucier? I actually love that this recipe really lets the eggplant shine, and the croutons get along really well with the pesto. It's just enough to bring everything together without turning sog city. But if you want a more classic marinara vibe, swap in your fave O Organics pasta sauce for the pesto and reserve the crushed croutons for topping only.
Need to feed more folks? This Easy Eggplant Parmesan Pasta recipe is SUPER easily doubled. Just be sure you roast the eggplant in a single layer on two sheet pans rather than overly crowding one.
So that's that, pals. An easy eggplant parm pasta that neither ties you to a chain restaurant — nor the fry pan.
No patience necessary.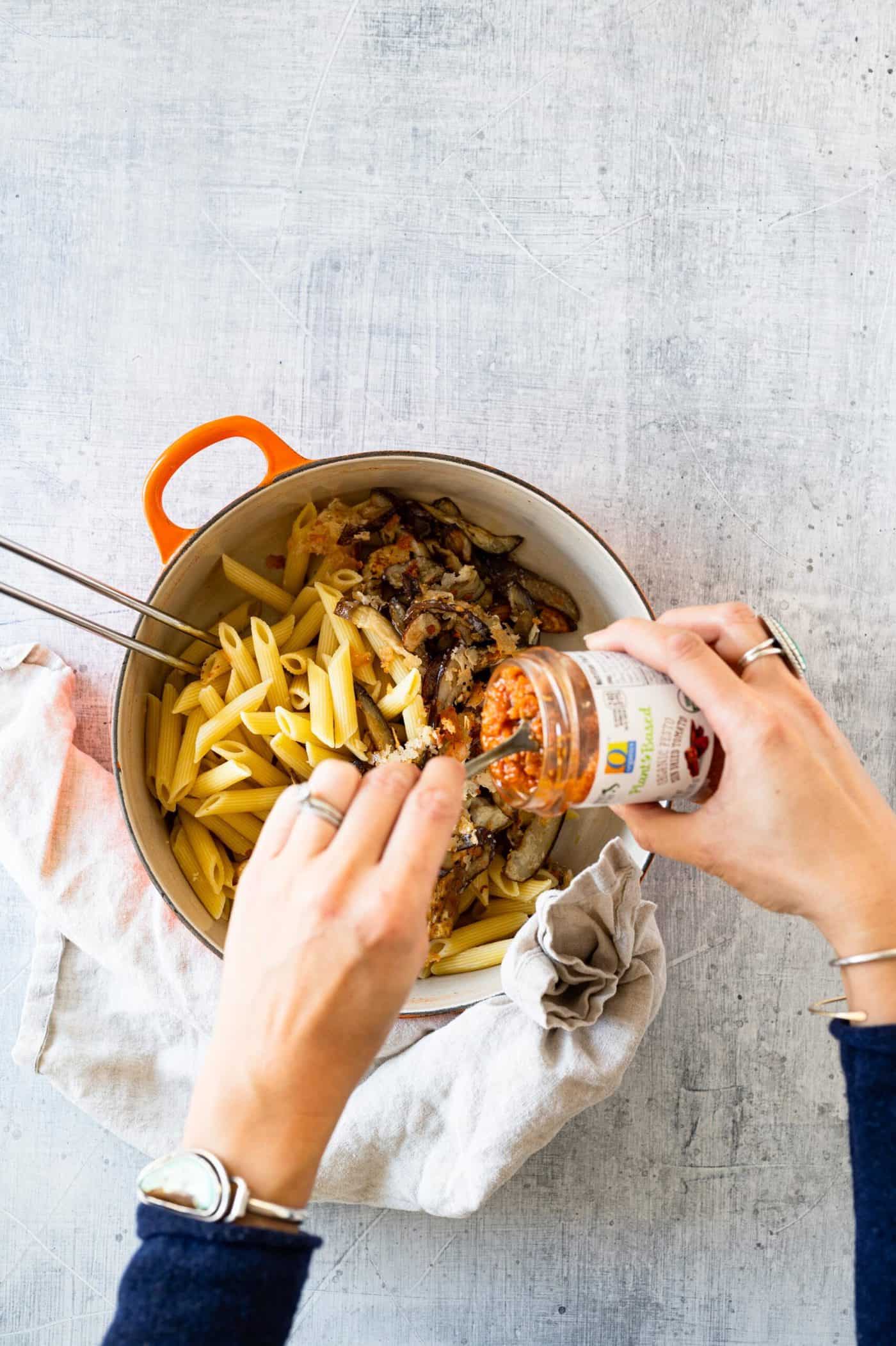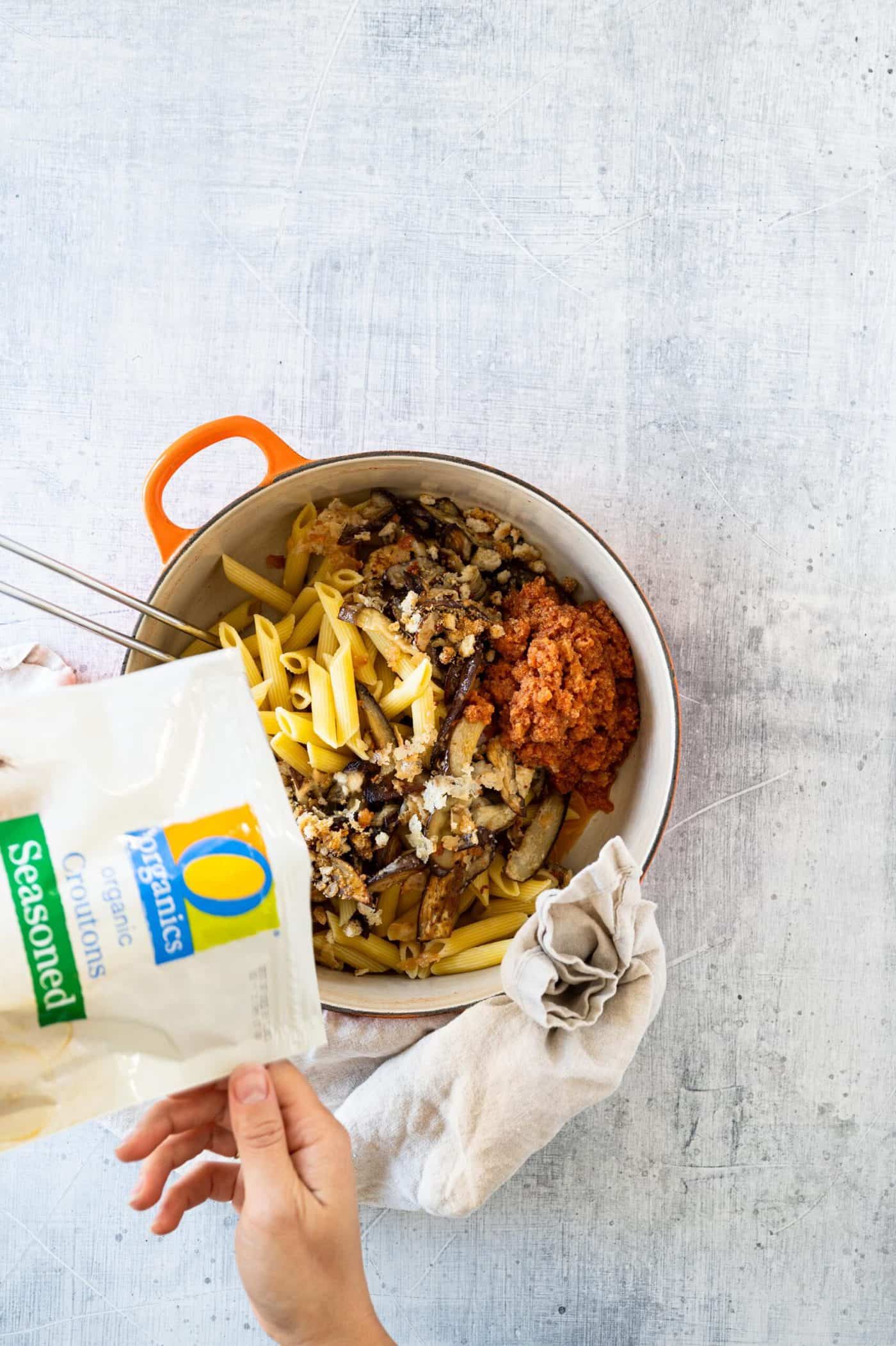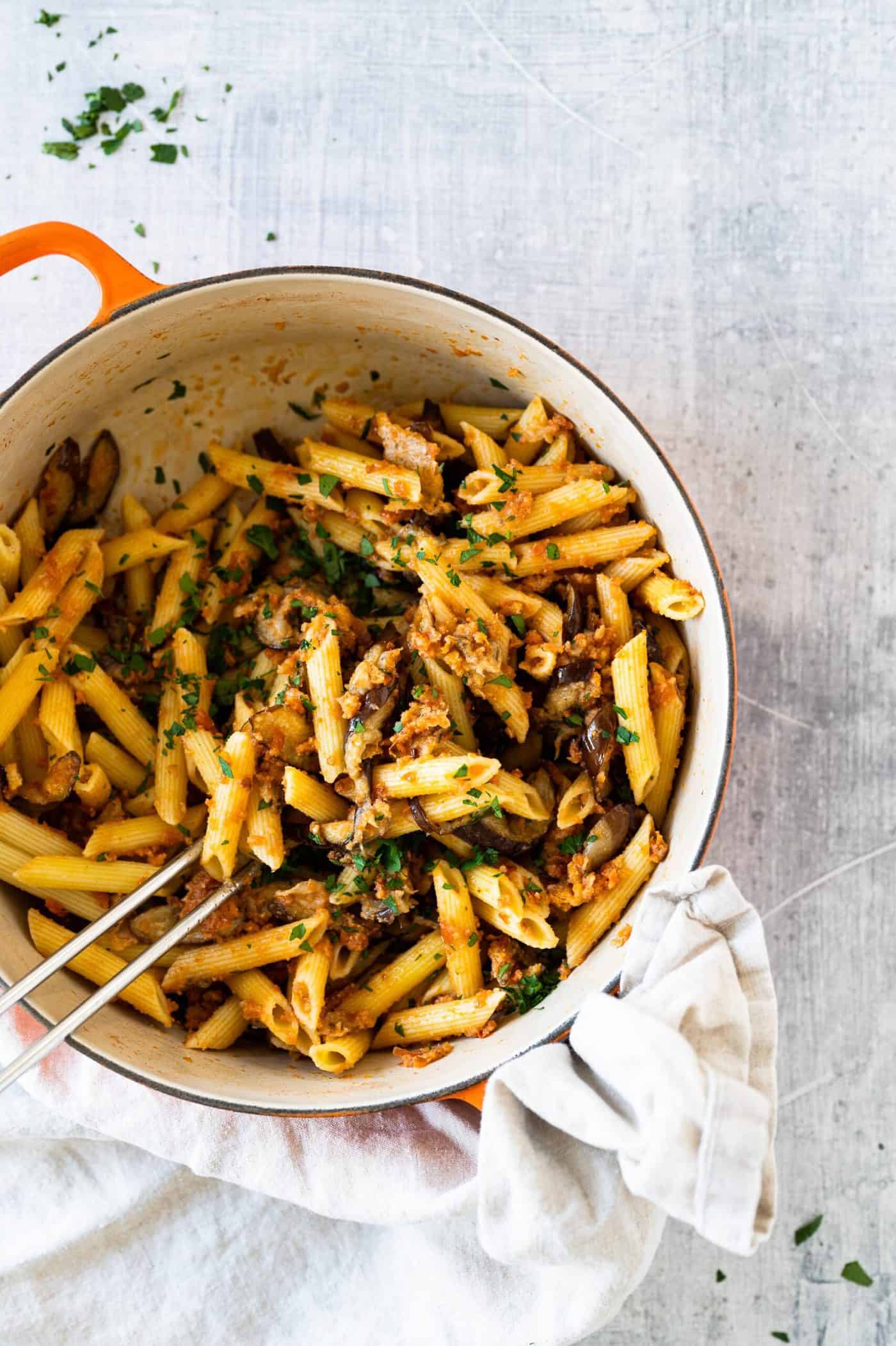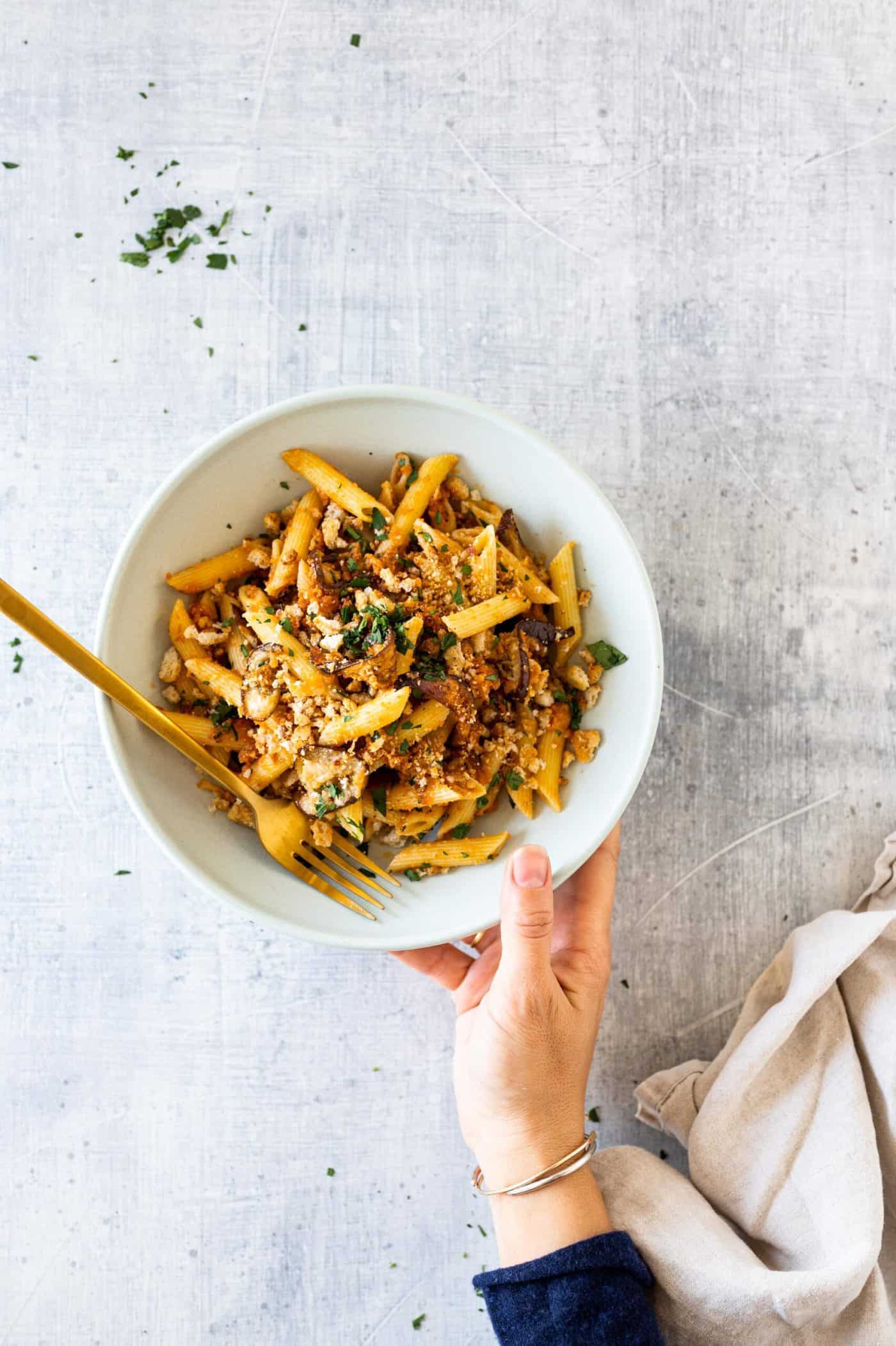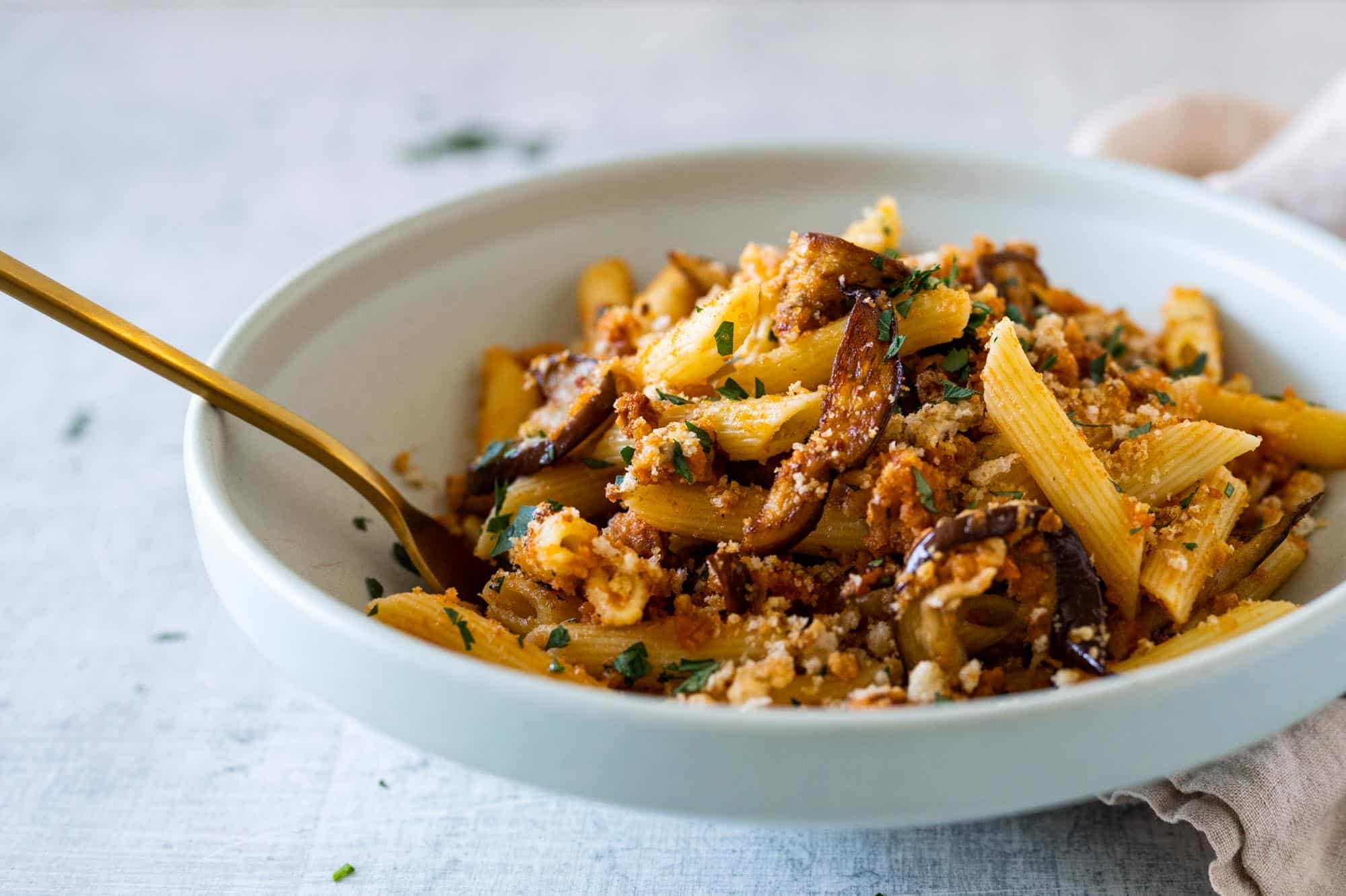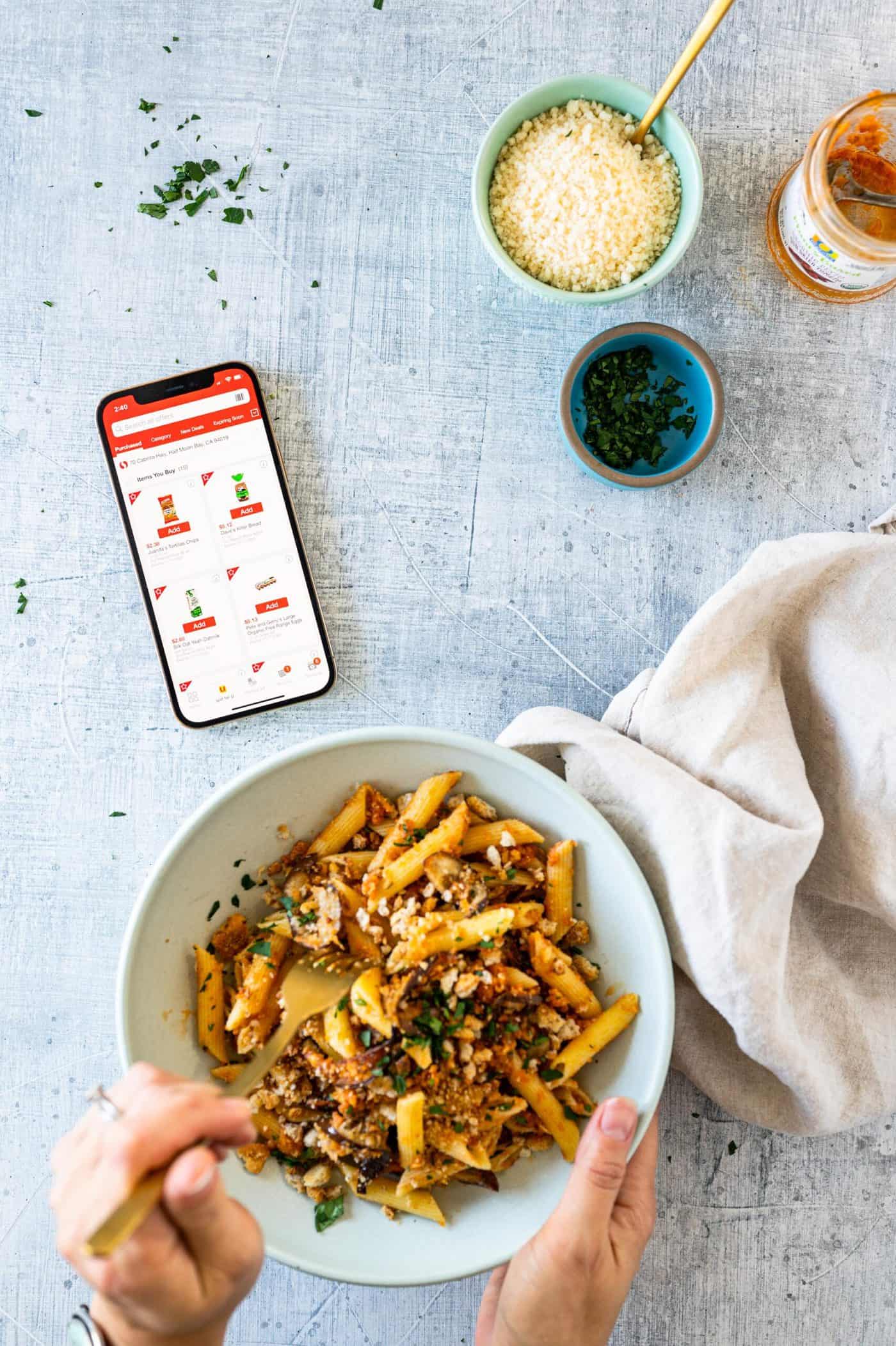 Give me a shout if you make this, guys! I know we could all use a few shortcuts this year…
xo,
Em
Easy Eggplant Parmesan Pasta
Easy Eggplant Parmesan Pasta -- silky eggplant, savory tomato pesto and toasty seasoned breadcrumbs come together with minimal effort in this light, easy eggplant parm pasta. Plus, my very favorite trick for roasting eggplant.
Ingredients
2 Chinese eggplant (or 1 large eggplant)
¼ cup Best Foods Mayonnaise
3 T finely grated parmesan cheese, plus more for serving
8 oz O Organics Penne Pasta
½ cup crushed O Organics Seasoned Croutons, plus more for serving
1 jar O Organics Plant-Based Sundried Tomato Pesto
finely chopped parsley and/or basil, for serving
Instructions
Preheat oven to 425F. While oven heats, slice Chinese eggplants in half lengthwise, then crosswise on an angle. (If using a standard eggplant, we're just trying to end up with slices that are approximately the same size as the penne.) In a large bowl, toss sliced eggplant with the mayo. Arrange in a single layer on a rimmed baking sheet.
When oven is hot, roast eggplant for 20-25 mins, or until very soft and beginning to brown in places. Sprinkle eggplant with parmesan and return to the oven for 3-5 more mins, or until cheese is melted and browning.
While eggplant cooks, bring a large pot of water to boil, salt it liberally and cook pasta according to package directions. Drain pasta and return to pasta cooking pot, off the heat.
Gently toss pasta with the sundried tomato pesto, crushed croutons, roasted eggplant (be sure to scrape off all the little cheesy bits!) and plenty of fresh herbs. Serve scattered with more crouton crumbs, grated parm and herbs. Enjoy!
Notes
Notes: This recipe could be made vegan by omitting the cheese and using a vegan mayonnaise. We tried that rendition the other day, and it was still excellent.
Like the sound of this Easy Eggplant Parmesan Pasta? 
Be sure to check out:
————————————————–
OH! before you go…
Like whatcha see here — or have a question, feedback, or recipe hack to share? Join The Pig & Quill convo by commenting below and hanging out with me on Facebook, Twitter, Instagram and Pinterest. And don't forget to subscribe to P&Q emails or add me to your RSS reader with Feedly or Bloglovin' so you never miss a post. x's & o's!