Caramelized Red Kuri Squash Pasta Recipe: A savory and surprisingly hearty vegan/vegetarian pasta ready in about 30 minutes (with GF variation).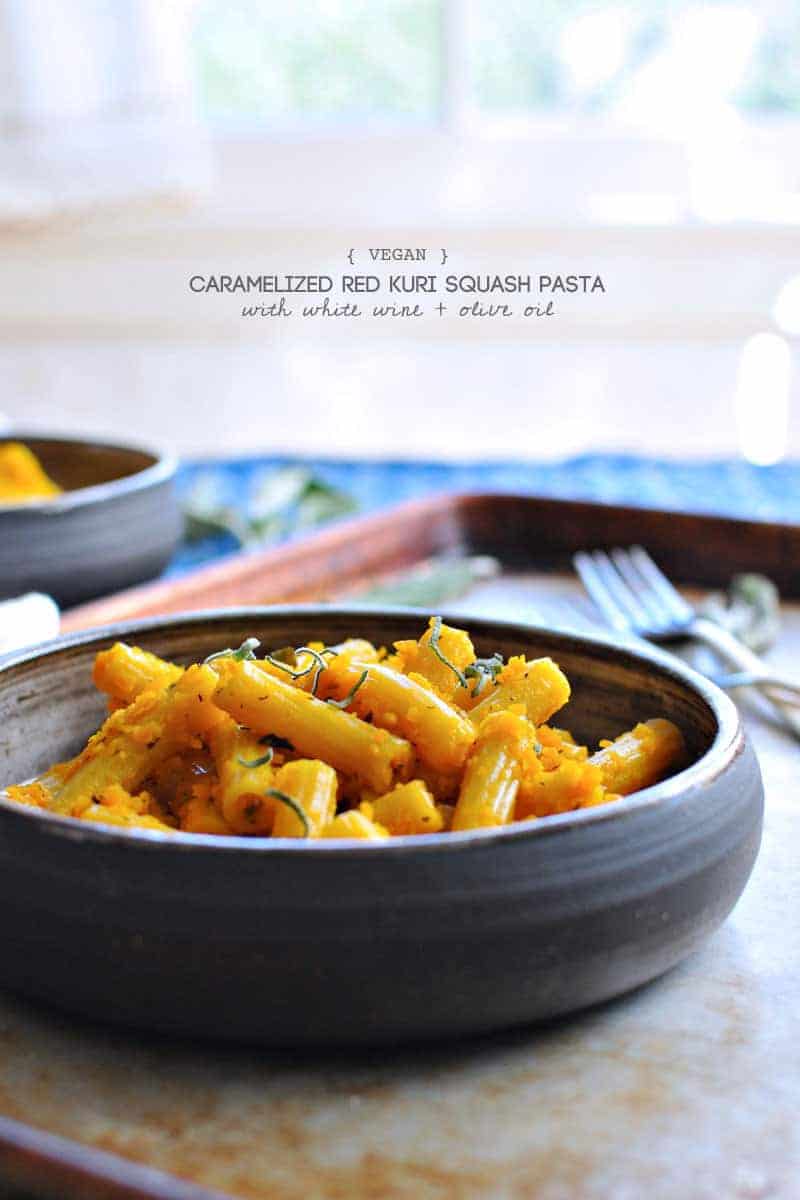 Pasta first — or news first? Let's do pasta. Because, hello, it's pasta. Or in Giada speak: PAHSS-teh. Luvluvluvluvluv.
This one has been in the queue for only way too long. Back before I tricked you into making Thanksgiving in under an hour (you guys — it's tomorrow. If you don't have a game plan, you might want to click that link). Before I turned your delicata into a beautiful mess of garlicky stickyness that is anything but delicate. And waaay before I left the country to eat all the ham products ever made. (I'm losing track of these attempts to shove my Instagram feed down your throats, so maybe just do us both a favor and follow me already, please/thanks.)
Caramelized Red Kuri Squash Pasta – An Obsession
And in that time, I've probably made this dish thrice more. Because 1) I'm more than slightly winter-squash obsessed. And 2) it's just THAT good. Savory squash and earthy sage and that background of sweet-salty nuttiness that comes from cooking down veggies to the point of caramelization — in wine and brown sugar, no less. Add in a heap of my favorite short-cut pasta (not to be mistaken with shortcut pasta, for which there is also a time and place), and an almost-too-generous glug of sharp, grassy olive oil and I am content as can be.
Sliding my fork tines through each little tube of this Caramelized Red Kuri Squash Pasta (I like three to a fork — it's cozy without being cramped) just boosts the merriment, OCD style. You might think I'm exaggerating, but this falls among things I genuinely classify as "fun" around here. You know, like setting a timer for 5 minutes and trying to vacuum the whole house before it goes off. Or adding "read magazines" to my daily to-do list so I know I'll accomplish at least something before noon.
You're looking at me like it's time I found a hobby.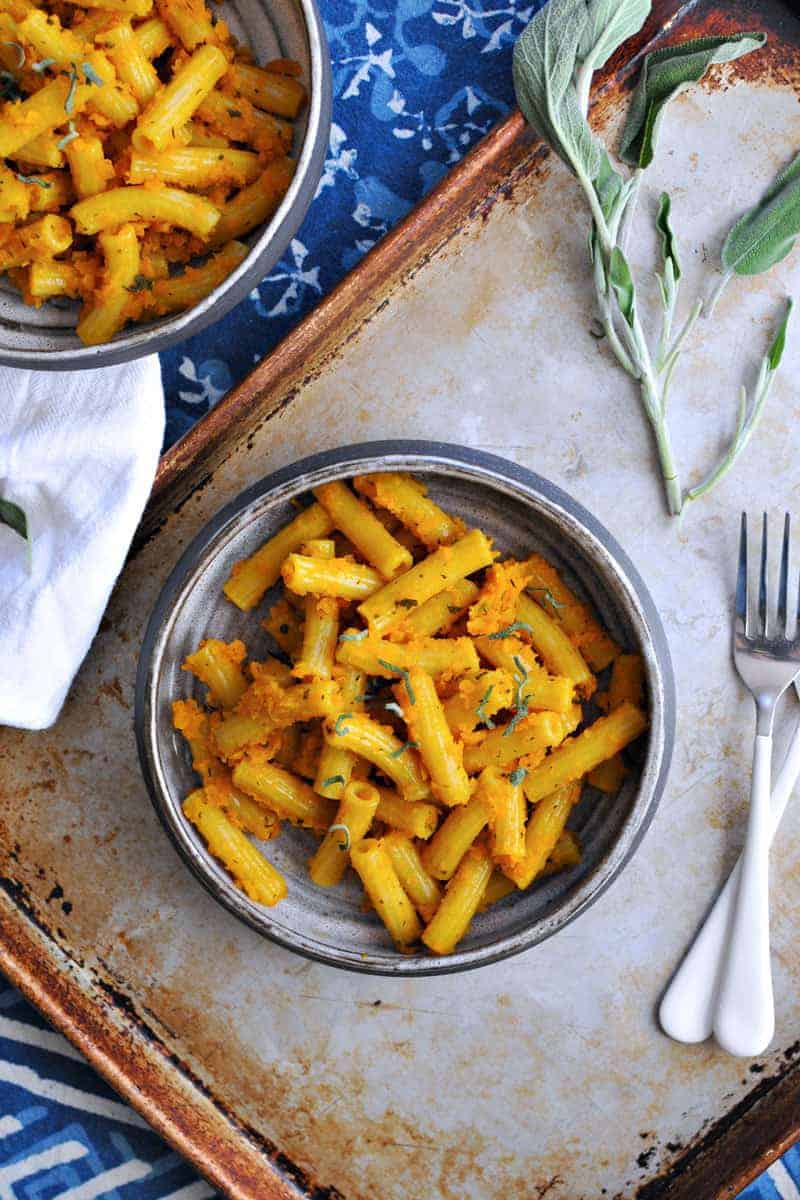 I'll do you one better.
I, um, kinda started growing a baby. IN MY BODY.
BAZINGA!
Maybe no bazinga? You all knew that was coming. It's all anyone ever expects when one of us says something like NEWS! in the post title. That or, I suppose, cookbook. But if you're reading the words I'm putting on this page, it's probably clear just how much sooner I'd be trusted with a baby than a publishing deal.
So. Baby it is!!!
I'm thinking of doing a separate post with a few more details of the whole preggers thing to-date (or would that just be totally annoying?) but the very basic details are this:
Chris and I are weepy, trembly lipped, little-nothing-glances-that-light-up-each-others-eyes (ew, gross, I know) — over the moon — happy. We've both been wanting a bambino for a while, and despite the fact that I am the least natural person around children/babies/small growing things ever, we're more excited than we are nervous about the little he or she that will soon be making our teensy, cozy home that much cozier. (In related news, the basil plant I brought home this summer is kinda-sorta still alive, so things are looking hopeful.)
Within a couple of weeks, we'll be at the halfway mark, so even though I feel like I've been pregnant for about the length of a sneeze — and we've been taking it pretty easy on the baby prep, just enjoying this experience and our time together as a twosome — all the shit-gets-real baby planning will be here before I know it. Good thing procrastination is not at all my thing.
*Nervous glances all around.*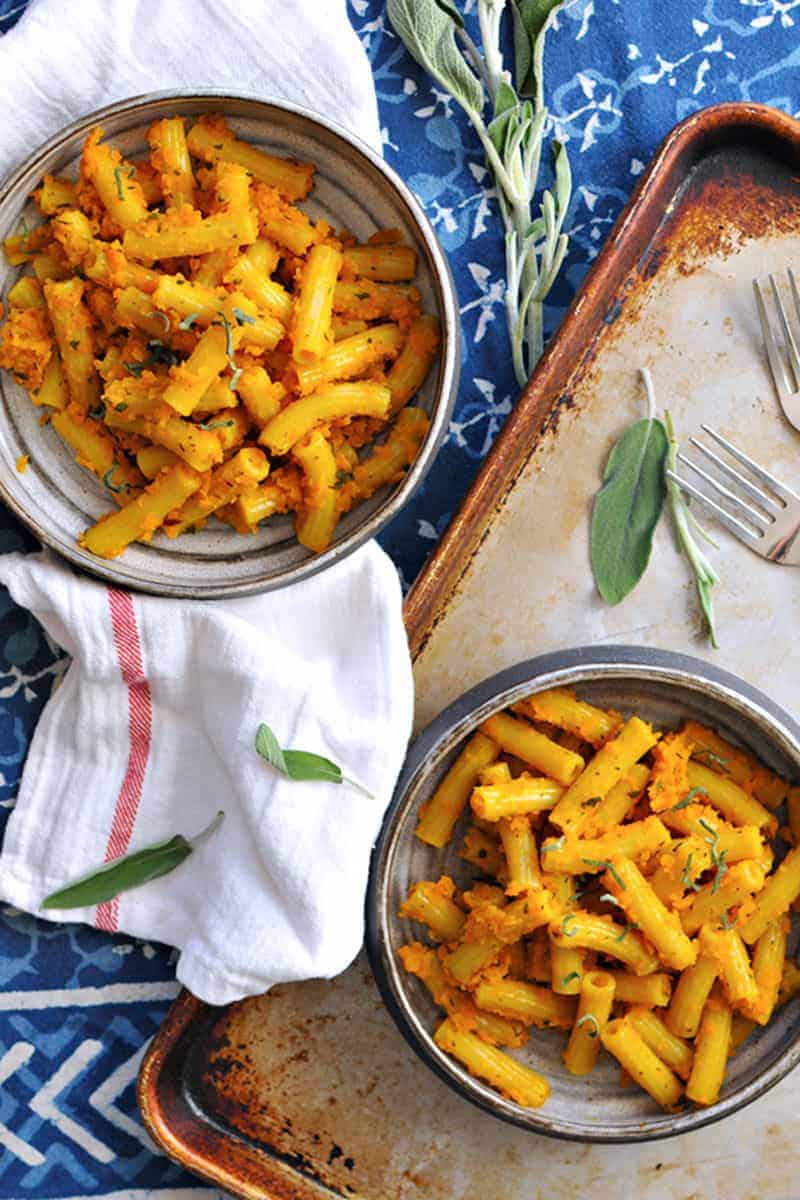 So that's the haps in Chez Pig these days, which is kind of a biggie in a household of two only children. (The grandmas-to-be are doing their best to contain their enthusiasm so as not to overwhelm, BUT WE CAN READ BETWEEN THE LINES, LADIES.)
I suppose it goes without saying that I have only too much to be thankful for this year — and, as always, that a large part of what fulfills my day (and week, and whole dang year) is the unfailing community, camaraderie and general goodness gleaned from all of you guys. *CLAPPING HANDS EMOJISSSSSS*
Plus pasta.
And forthcoming babies.
And all the wine I wish I were drinking.
Happy happy Thanksgiving to everyone celebrating this week and warm hugs and holiday wishes all around!
Cheersies,
Em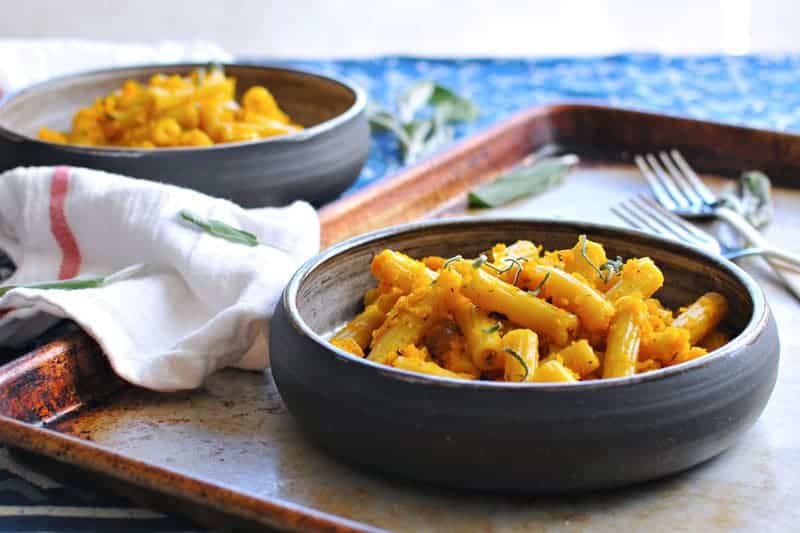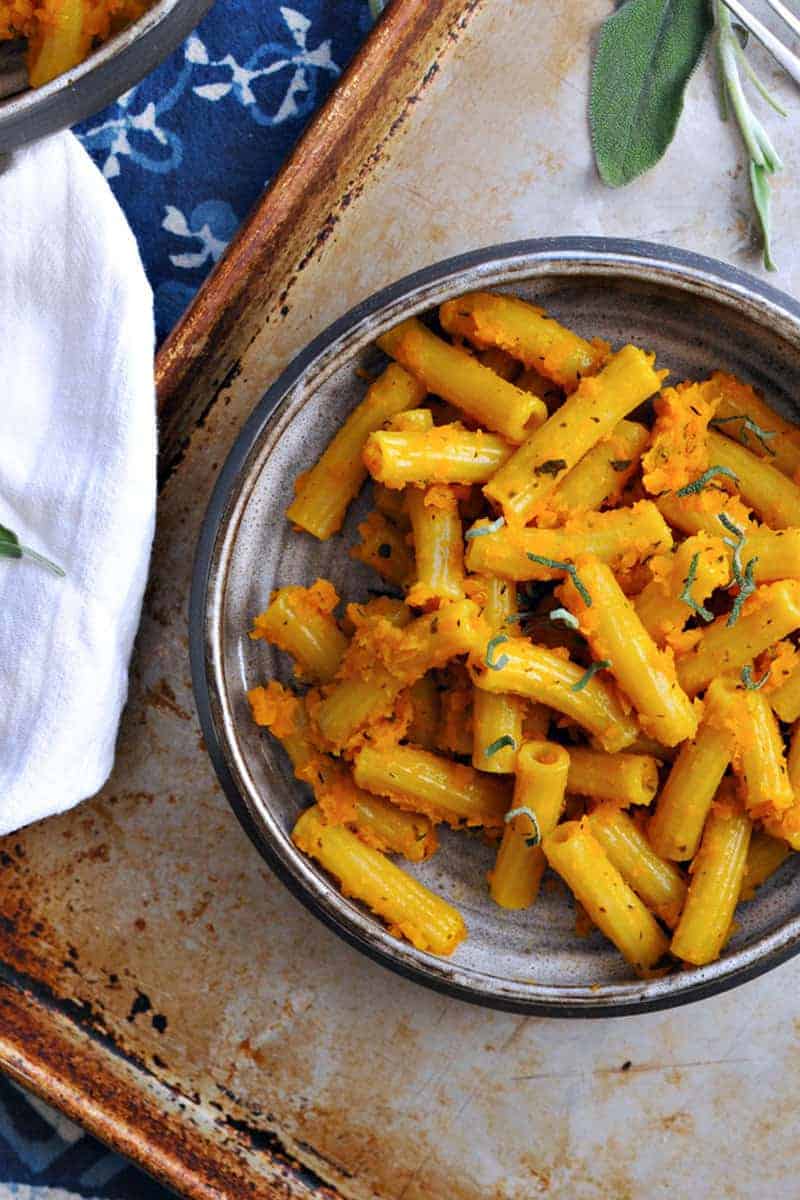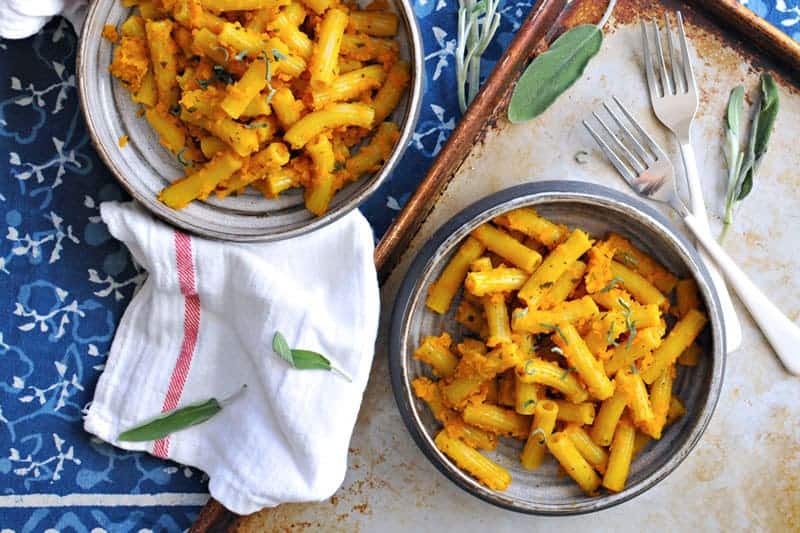 (vegan) caramelized red kuri pasta with white wine and olive oil
Caramelized Red Kuri Squash Pasta Recipe: A savory and surprisingly hearty vegan/vegetarian pasta ready in about 30 minutes (with GF variation).
Makes:
2 very generous (or 4 side) servings
Ingredients
1 T avocado oil
2 T fresh sage, finely chopped
½ tsp dried thyme
¼ tsp crushed red chile flakes
¼ tsp sea salt
cracked black pepper
½ cup white wine
½ red kuri squash, shredded (about 3 cups)
2 heaping T dark brown sugar
2 T good (green and grassy is great here!) extra virgin olive oil
8 oz short cut pasta, such as rigatoni (feel free to use a brown rice pasta for a GF variation)
Instructions
Peel, seed and shred squash with a box grater (preferred) or a food processor fitted with a shredding blade.
Heat avocado or other light cooking oil in a large skillet over medium-high heat. Add sage, thyme and chile flakes and toast until sage is crisp, about 30 seconds.
Add squash, salt, a few good grinds pepper and wine and continue cooking over med-high until liquid is almost gone and squash is tender and beginning to brown in places, about 10-15 mins.
Meanwhile, boil pasta in lightly salted water until just shy of al dente. Drain and set aside, reserving about 1.5 cups pasta cooking water.
Add brown sugar and ½ cup pasta water to squash mixture. Cook down once more until water is reduced and squash is thoroughly cooked and threatening to turn into mush, about 10 mins.
Add pasta to skillet with another ½ cup pasta water and cook until sauce and pasta come together and pasta is al dente, about 5 mins, adding more pasta water a splash at a time if necessary. (If dish is becoming salty, use regular water.) Taste and adjust for salt and pepper, if needed.
Turn off heat and gently stir through olive oil. Serve immediately.
Notes
Inspired by
Lindsay
! Leftovers are great heated in a flattish layer in the toaster oven, where the pasta and the squash are encouraged to caramelize even more -- or, as Lindsay suggested to me, crisped in a pan with a little more (cheese and) olive oil. 😉
Modifications:
If you're not vegan, follow Lindsay's lead and add in half a cup of grated parm or other Italian cheese with the first round of water (before you add the pasta). Super tasty.
For a gluten-free variation, feel free to sub in brown rice or other
GF pasta
.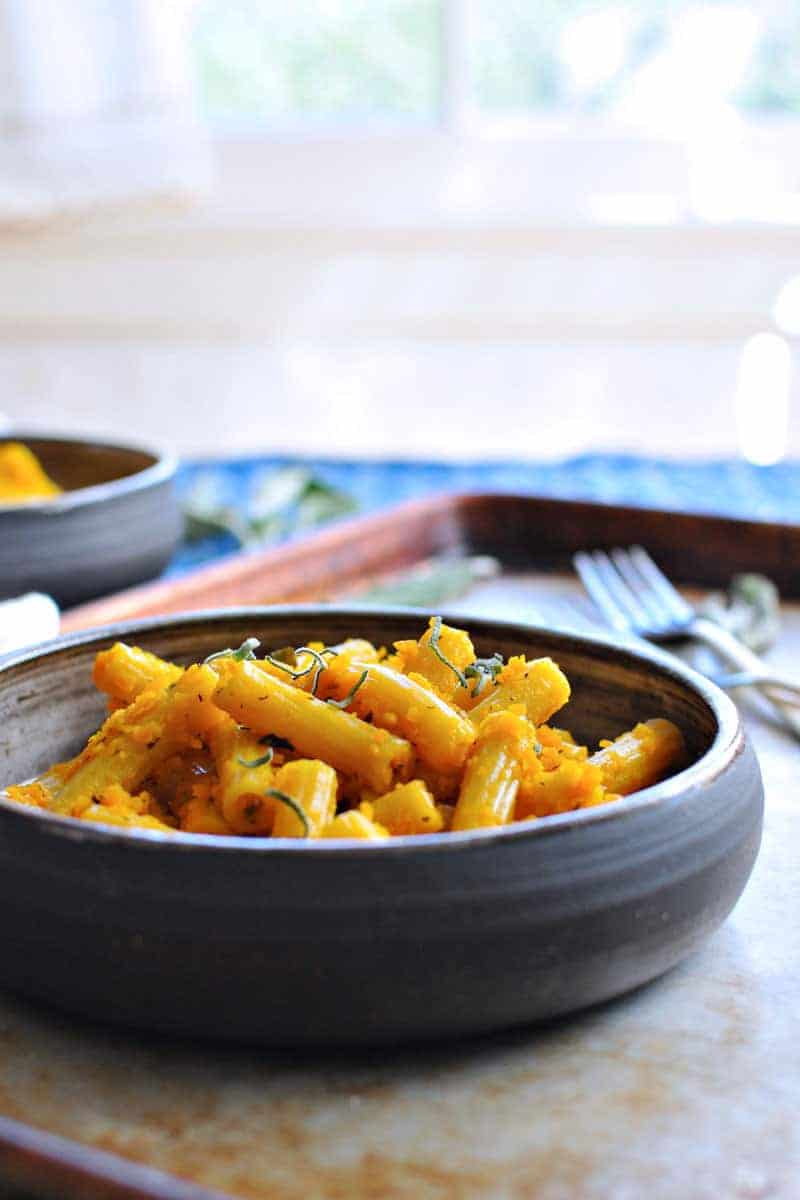 ————————————————–

 Oh hey, before you go…
Like whatcha see here — or have a question, feedback, or recipe hack to share? Join The Pig & Quill convo by commenting below (I love, luv, 
lurve 
comments) and hang out with me on
Facebook, Twitter, Instagram
and
Pinterest
. And don't forget to
subscribe to P&Q emails
 or add me to your RSS reader with 
Feedly
 or 
Bloglovin'
so you never miss a post. x's & o's!