Easy Eggplant Parmesan Pasta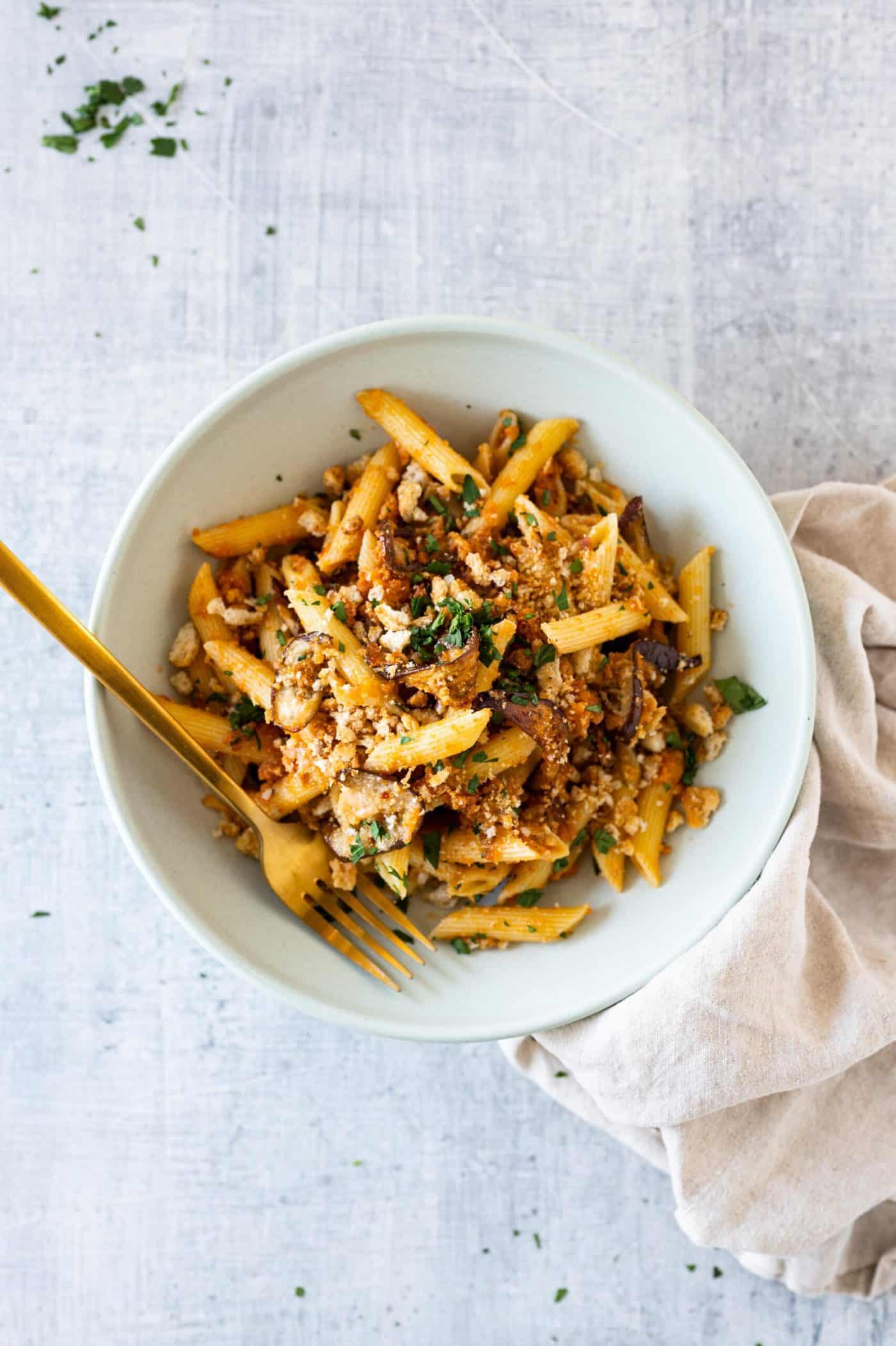 2 Chinese eggplant (or 1 large eggplant)
¼ cup Best Foods Mayonnaise
3 T finely grated parmesan cheese, plus more for serving
8 oz O Organics Penne Pasta
½ cup crushed O Organics Seasoned Croutons, plus more for serving
1 jar O Organics Plant-Based Sundried Tomato Pesto
finely chopped parsley and/or basil, for serving
Preheat oven to 425F. While oven heats, slice Chinese eggplants in half lengthwise, then crosswise on an angle. (If using a standard eggplant, we're just trying to end up with slices that are approximately the same size as the penne.) In a large bowl, toss sliced eggplant with the mayo. Arrange in a single layer on a rimmed baking sheet.
When oven is hot, roast eggplant for 20-25 mins, or until very soft and beginning to brown in places. Sprinkle eggplant with parmesan and return to the oven for 3-5 more mins, or until cheese is melted and browning.
While eggplant cooks, bring a large pot of water to boil, salt it liberally and cook pasta according to package directions. Drain pasta and return to pasta cooking pot, off the heat.
Gently toss pasta with the sundried tomato pesto, crushed croutons, roasted eggplant (be sure to scrape off all the little cheesy bits!) and plenty of fresh herbs. Serve scattered with more crouton crumbs, grated parm and herbs. Enjoy!
Notes: This recipe could be made vegan by omitting the cheese and using a vegan mayonnaise. We tried that rendition the other day, and it was still excellent.
Recipe by
the pig & quill
at https://thepigandquill.com/easy-eggplant-parmesan-pasta/