Some weeks ago I saw a Tasting Table video on Facebook I couldn't resist. Jumbo shells, stuffed with roasted butternut squash and ricotta, topped with burrata and baked. It was undeniably appealing, instantly evocative of the frozen, cheese-stuffed jumbo shells my bestie Whitney and I used to heat up for summer lunches back when Costco was Price Club and we still owned more cassette tapes than CD's.
Looking in my fridge, I was heartbroken to remember using the last of our ricotta on that morning's toast (with sliced pears and honey — never a bad idea) — but was blasted with hope in the form of plenty of parmesan and at least a cup's worth of aged sharp cheddar, otherwise known fondly around here as "orange cheese" (and exponentially more appealing to a rapidly-approaching 2-year-old whose entire world seems to hang on the texture of her dinner).
Taking the same tiny being into mind, I got the squash roasting and browned up a heap of quartered criminis — we've had weeks of late where they're one of only things we're certain she'll devour — then wilted down a massive bunch of chard we'd just received in our CSA (in the same pan, no worries) and crossed my fingers we'd get somewhere close to the comfy, stretchy, cheesy casserole I had envisioned.
And praise baby Jesus.
That shit was good.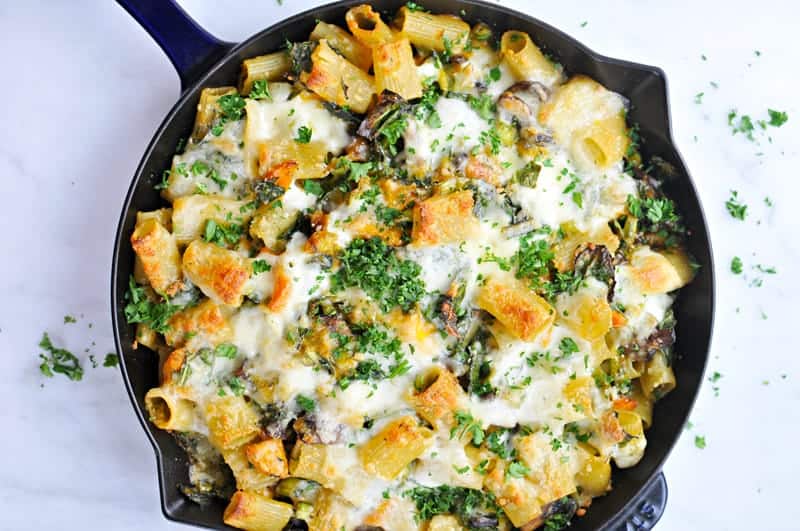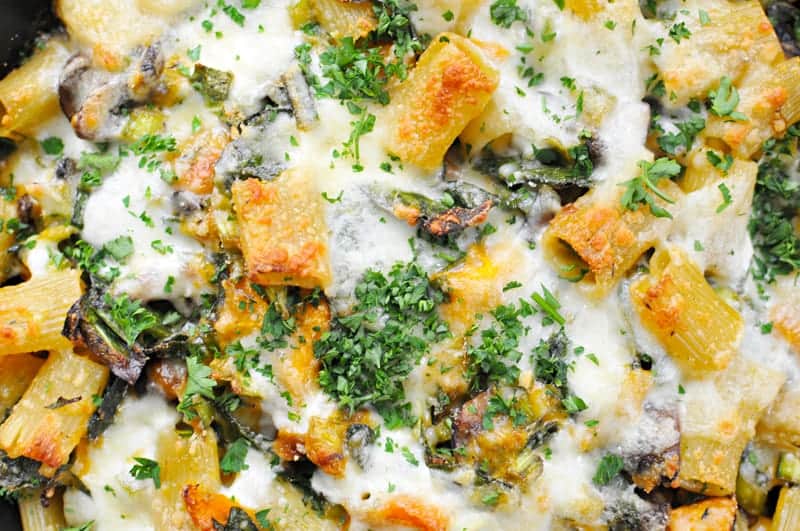 Loaded with veggies (and, yes, unapologetically, cheese — including the blanket of burrata that melts down ceremoniously through a lattice of rigatoni), this is the pasta bake against which all future pasta bakes might be compared. Bubbling and gooey, with plenty of little browned, peaked pasta tops (my fave!) and an interior that's one part hot spinach dip, one part stuffed mushroom and one part silky butternut squash ravioli.
If the spinach was chard.
And the ravioli was just…silky, thyme-roasted squash and pasta. But the vibes are there.
THE VIBES ARE THERE. And we've made it thrice since, with plans for it to share a place on our Easter table in the weeks to come, so make of that what you will.
Simple, veggieful, surprisingly springy and pleasing enough for the "orange cheese" preferring babe.
Who, I'm afraid to admit, is fast-becoming her momma's toughest critic.
Happy Spring, friends!
xo,
Em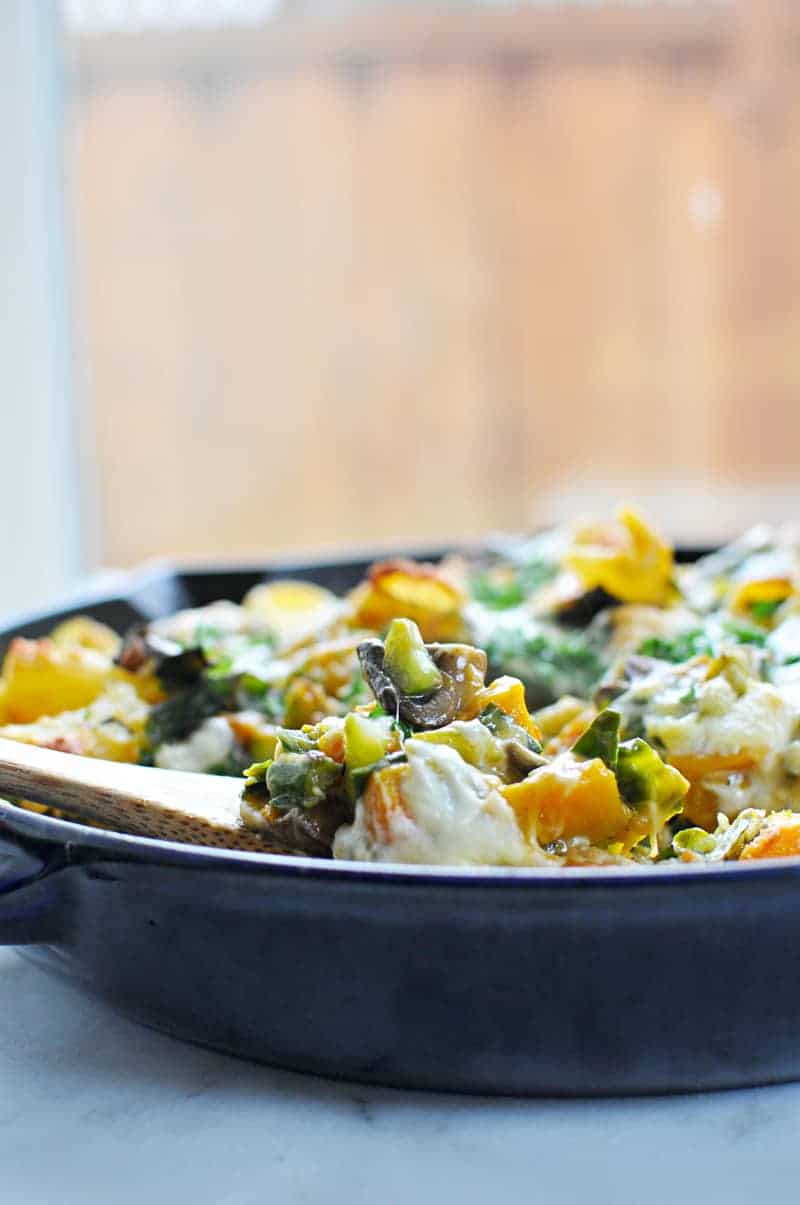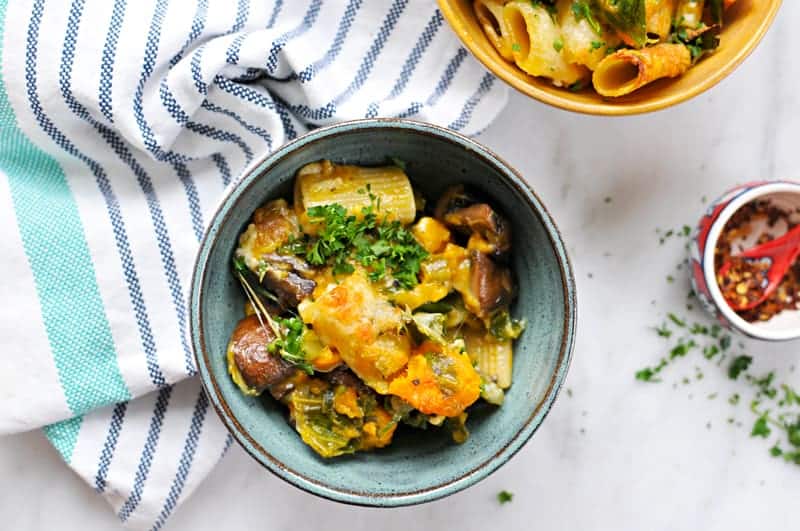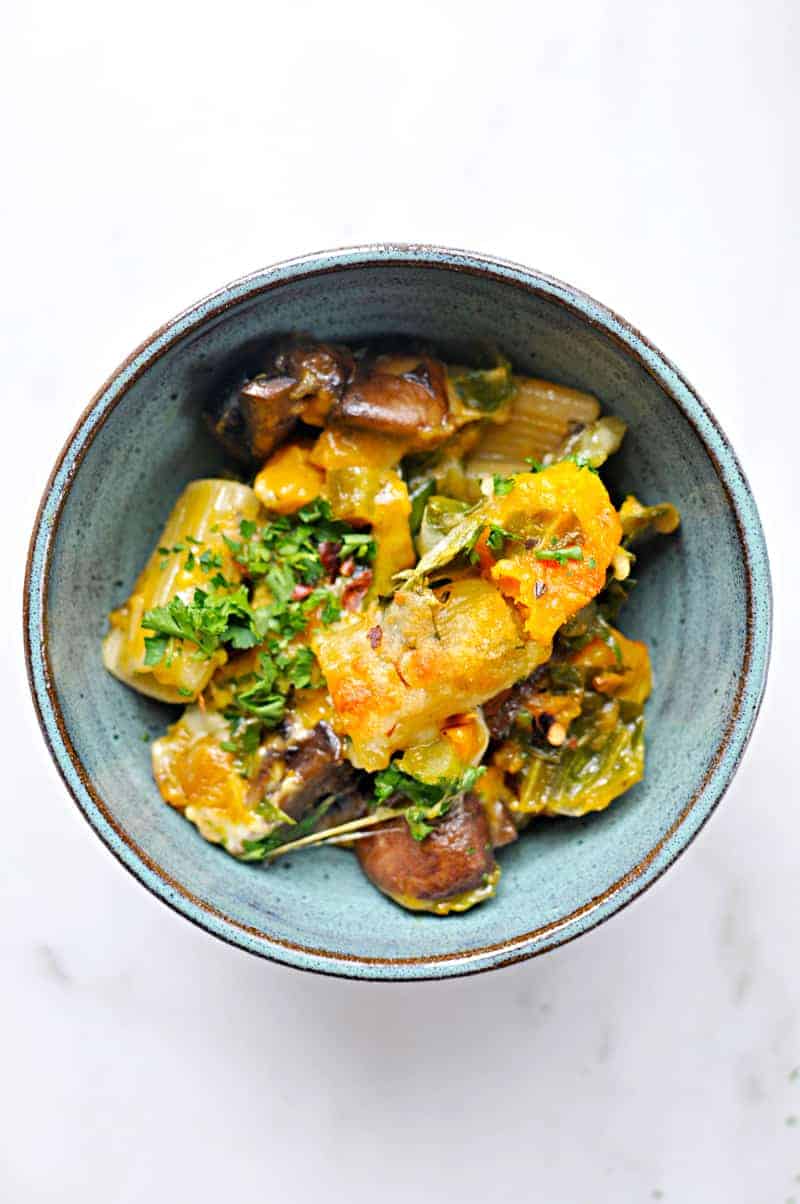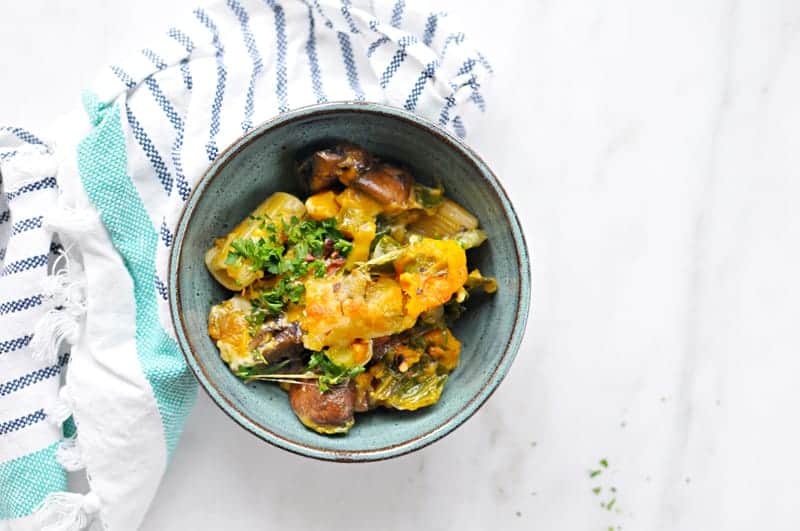 Three Cheese Butternut Pasta Bake with Mushrooms + Chard
Ingredients
1 large butternut squash, peeled, seeded and cubed (about 4 heaping cups)
olive oil
1 tsp dried thyme
8 oz. rigatoni
1 lb crimini mushrooms, quartered
3 cloves garlic, minced or crushed
1 large bunch chard or other sturdy leafy green, stems and leaves separated and chopped
1 cup shredded sharp cheddar (or other good melting) cheese
1¼ cup shredded or grated parmesan cheese
8 oz burrata cheese, drained (about 2 balls)
salt
pepper
Instructions
Preheat oven to 425F. Toss cubed butternut squash with plenty of olive oil, 1 tsp dried thyme and salt and pepper to taste. Arrange on a rimmed baking sheet and bake for 30-35 mins, until tender and golden in places. (This step can be done up to 3 days ahead. If doing so, refrigerate squash until needed.)
Reduce oven to 375F.
While squash cooks, bring a large pot of water to a boil, salt generously and cook pasta according to package directions, pulling it out just shy of al dente. Drain. Reserve 1 cup cooking water.
Meanwhile, heat 2 T olive oil in a deep skillet or large Dutch oven over med-high heat. Add mushrooms and sauté until brown, about 5-7 mins. Salt to taste, then add garlic and saute until fragrant, about 1 min. Add chard stems and continue cooking until bright green and just tender, about 3 mins. Finally, add chard leaves and a splash of pasta cooking water and cook until leaves are bright green and just wilted (adding more cooking water, if necessary, to adequately wilt leaves). Scrape up any brown bits from the pan. Salt and pepper to taste.
Add roasted squash, drained pasta, cheddar cheese and ¾ cup parmesan cheese to pot with mushrooms and chard and stir until just combined.
Turn mixture out into a large baking dish and tear burrata over the top, scattering it across the pasta evenly. Sprinkle ½ cup reserved parmesan cheese over top.
Bake in preheated oven for 30 mins or until cheese is bubbling and brown in places.
Allow to rest 10 mins before serving. Enjoy!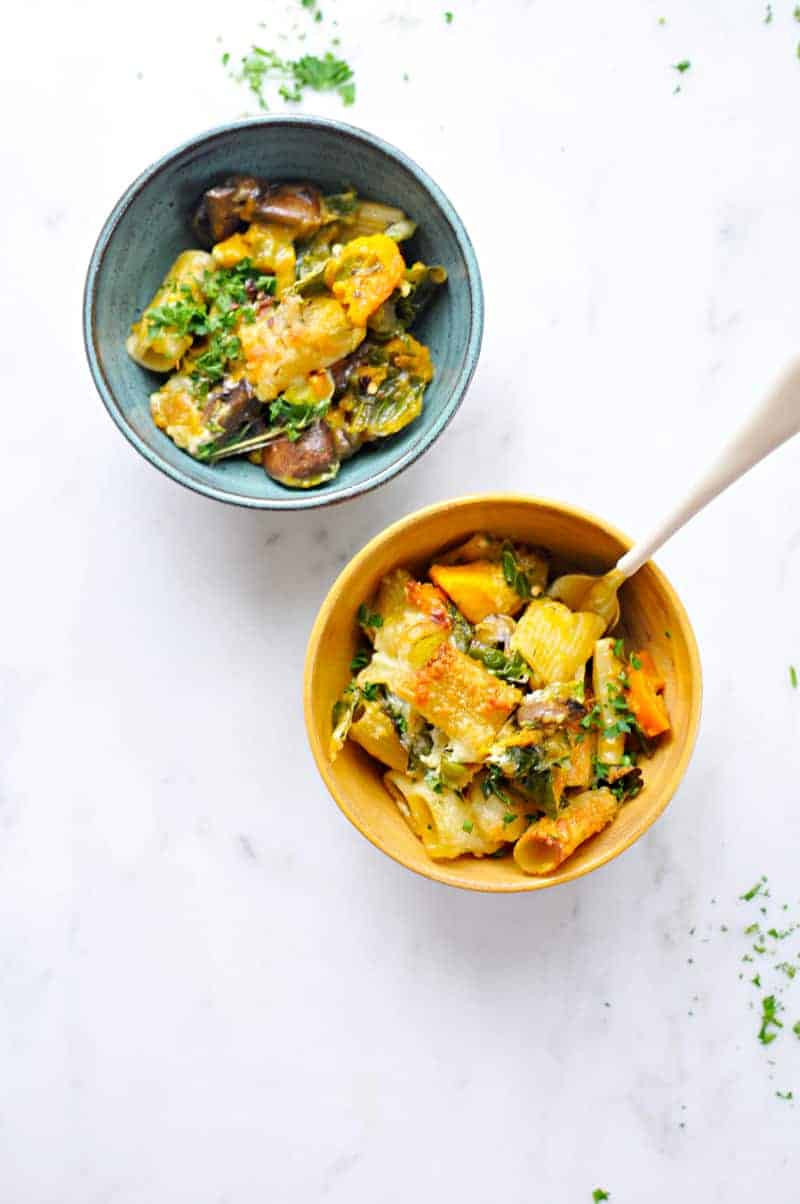 ————————————————–
OH! before you go…
Like whatcha see here — or have a question, feedback, or recipe hack to share? Join The Pig & Quill convo by commenting below (I love, luv, lurve comments) and hang out with me on Facebook, Twitter, Instagram and Pinterest. And don't forget to subscribe to P&Q emails or add me to your RSS reader with Feedly or Bloglovin' so you never miss a post. x's & o's!