Chili Butter Braised Pan Crispy Roasted Potatoes — Tiny potatoes cooked with herbs, chili spices and a full stick of butter make for a surprisingly easy but impressively indulgent holiday side dish.
This post has been sponsored by Plugrá® Butter. All thoughts and opinions are my own. We find Plugrá Butter at our local Safeway store, where Lana and I make a thrilling game of grocery shopping wherein I show her a picture of the specific product we're seeking on the Safeway Mobile App and she hunts it down with the unmatched speed of a professional preschooler. (You're mocking me, but it's actually pretty entertaining.) To learn more about what makes Plugrá butter so dang tasty—and to save $1 off during your next Safeway trip—click below.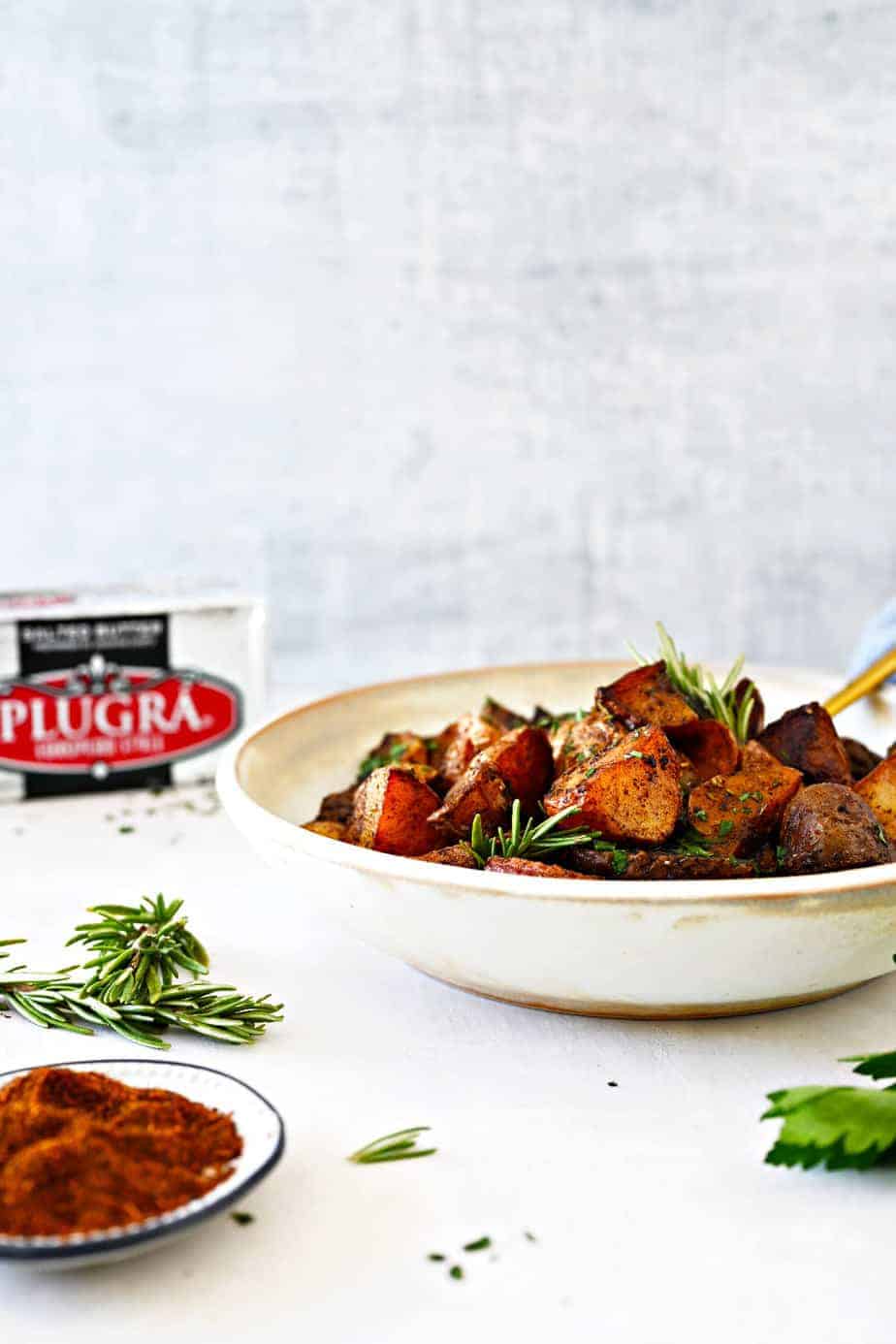 My love for this dish can't be communicated enough. Even from its inception, when it was but a wee tinkle in my eye (errr, tastebud?), I knew that, if executed as well I hoped, it'd become the star of—nay! the excuse for—many a dinner party to come.
And now, here we are, on the cinnamon-scented threshold of the true, blue holiday season, and I'm here to report that the recipe did, indeed, execute beautifully. If you are a guest of the Stoffel household at any point in, ohhhh, the next six months, let's say, these potatoes made with the extra creamy Plugrá® Butter, will greet you upon arrival. Following the ways of my favorite roadside motels, I may even have an oversized marquis installed out front:
Pool.
Pay-Per-View.
Potatoes.
It'd be a downright scandal in our sleepy little Coastside neighborhood—made all the more so by the fact that we have neither a pool nor cable TV. But the potatoes, I promise you, would soften the blow. Spuds are a little bit magic in that way.

HOW TO MAKE THE BEST CRISPY PAN-ROASTED POTATOES
I'm know I'm selling you hard on these guys, which is a little out of character for me (I'm all about the pleasant surprise that accompanies setting an exceptionally low bar at all times), so let's break down what makes these potatoes so special.
They're a cinch to make. If you've been here for a while, you know that real, accessible recipes are kinda my bread and butter. (Errrr, spuds and butter, in this case…) And these Chili Butter Braised Crispy Pan Roasted Potatoes are no different. Start with a not-too-hot skillet, add a full stick of Plugrá® Butter (see also: #3), a pinch of salt, and a tumble of bite-sized potatoes spread into a single layer. Let them cook in the bubbling fat for a good 12-15 mins, turning them every 4 minutes or so, and you'll find yourself rewarded with a luscious pan of gold that would give even the most discerning numismatist pause. Add the chili powder and herbs and give everything a final toss in the frothy, burnished butter. Victory is yours.
They're made start-to-finish on the stovetop. Any other time of year, this wouldn't be much of a selling point, but with the holidays approaching, we all start getting antsy about oven space. Oh, hi June—just checking. The dressing you're bringing…will that need to be heated in the oven when you arrive? Uh, huh…oh no that's fine, we can just bake the pies in the kids' solar ovens out back, I wouldn't want you to go to any extra trouble at home… *click* Don't act like you don't know, guys. Any dish that can be completed (or, at the very least, reheated) on the stove will win all the awards, whether you're hosting or just contributing a dish.
Better Butter Matters. Especially in this case, where the butter is not only a major contributor to the flavor of the dish but the means via which the potatoes will become both delightfully crisp and silkily tender. For this recipe in particular, we used Plugrá® Butter, which has an even higher butterfat percentage than most butter and is slow-churned for creamier flavor. (It's also made from real milk from American dairy farms, is always fresh, and is crafted without any artificial ingredients or added hormones—yay!) Because the butter is responsible for not only browning the outside of the potatoes but also permeating their starchy little interiors with flavor, we went the route of salted butter, too. The result is crazy delicious.
Within two week's time, we made these Crispy Pan Roasted Potatoes twice for dinner and once for brunch—topped with a couple of poached eggs and served alongside some lightly dressed greens, highly recommend—and I don't foresee us slowing our proverbial roll any time in the near future. Plus, what's a good roadside motel without a little Free Breakfast on offer? I'll have Chris update the marquis first thing.
xo,
Em
Be sure to download the Safeway app and save $1 off of Plugrá® Butter.
Like these Chili Butter Braised Crispy Pan Roasted Potatoes?
Be sure to check out: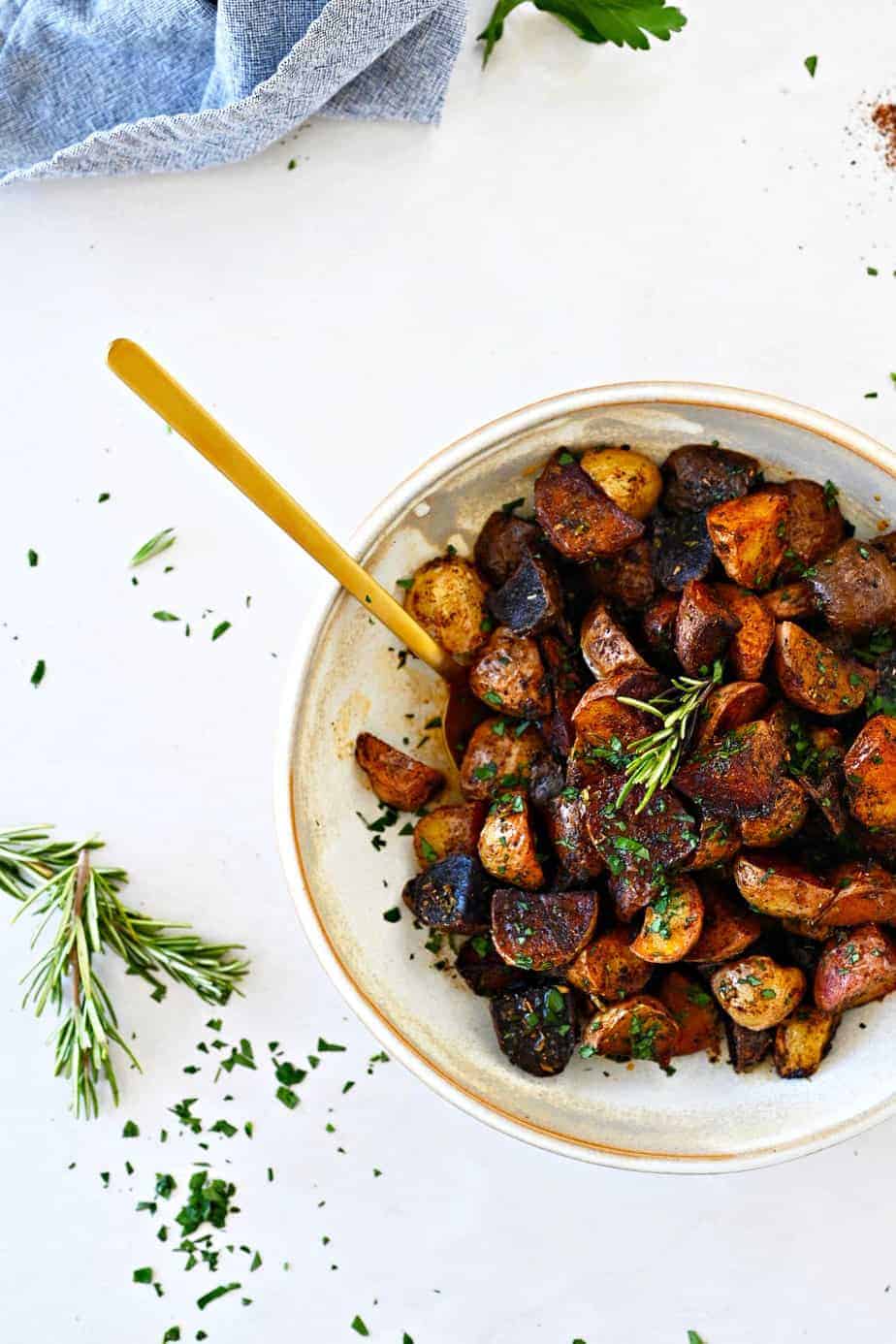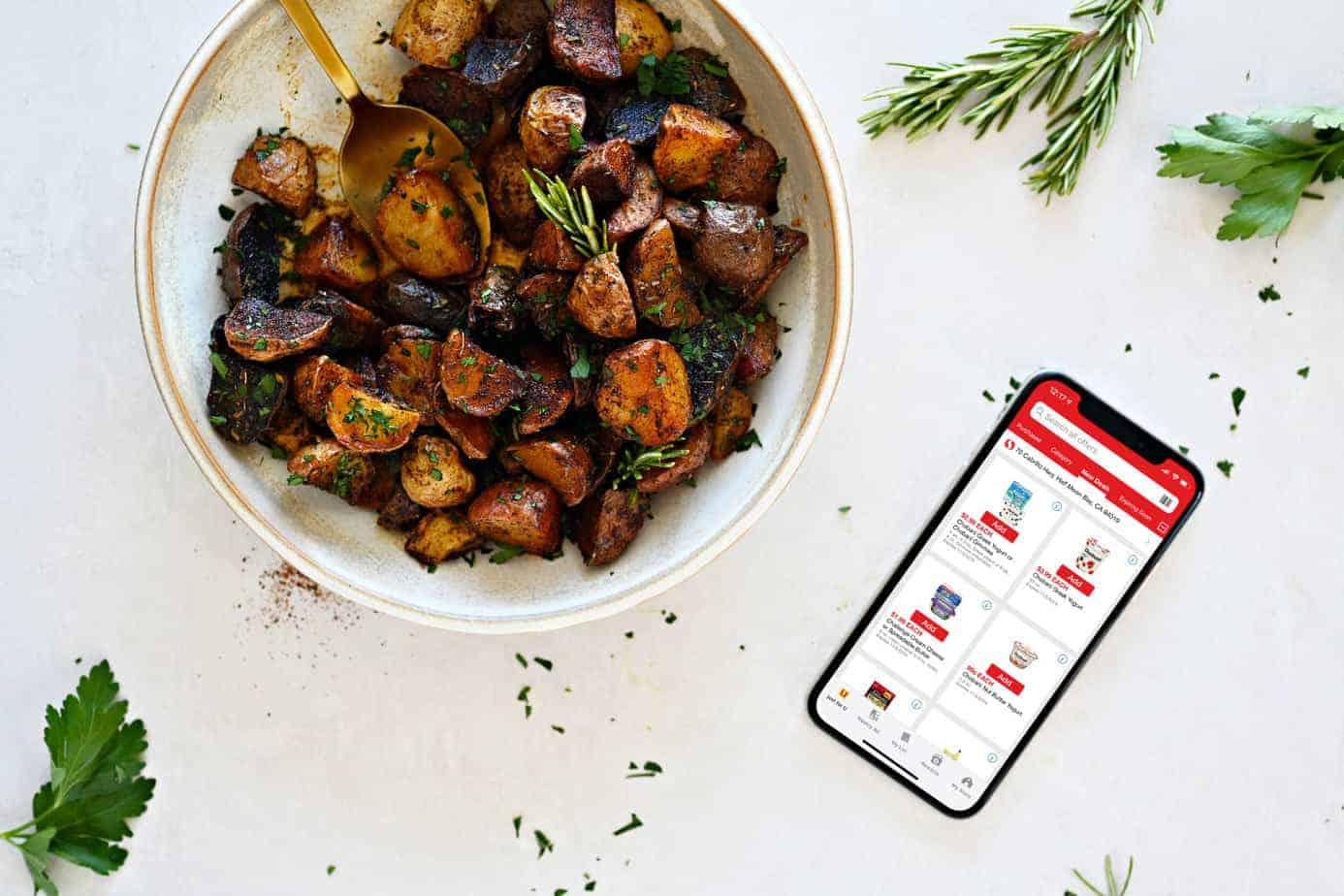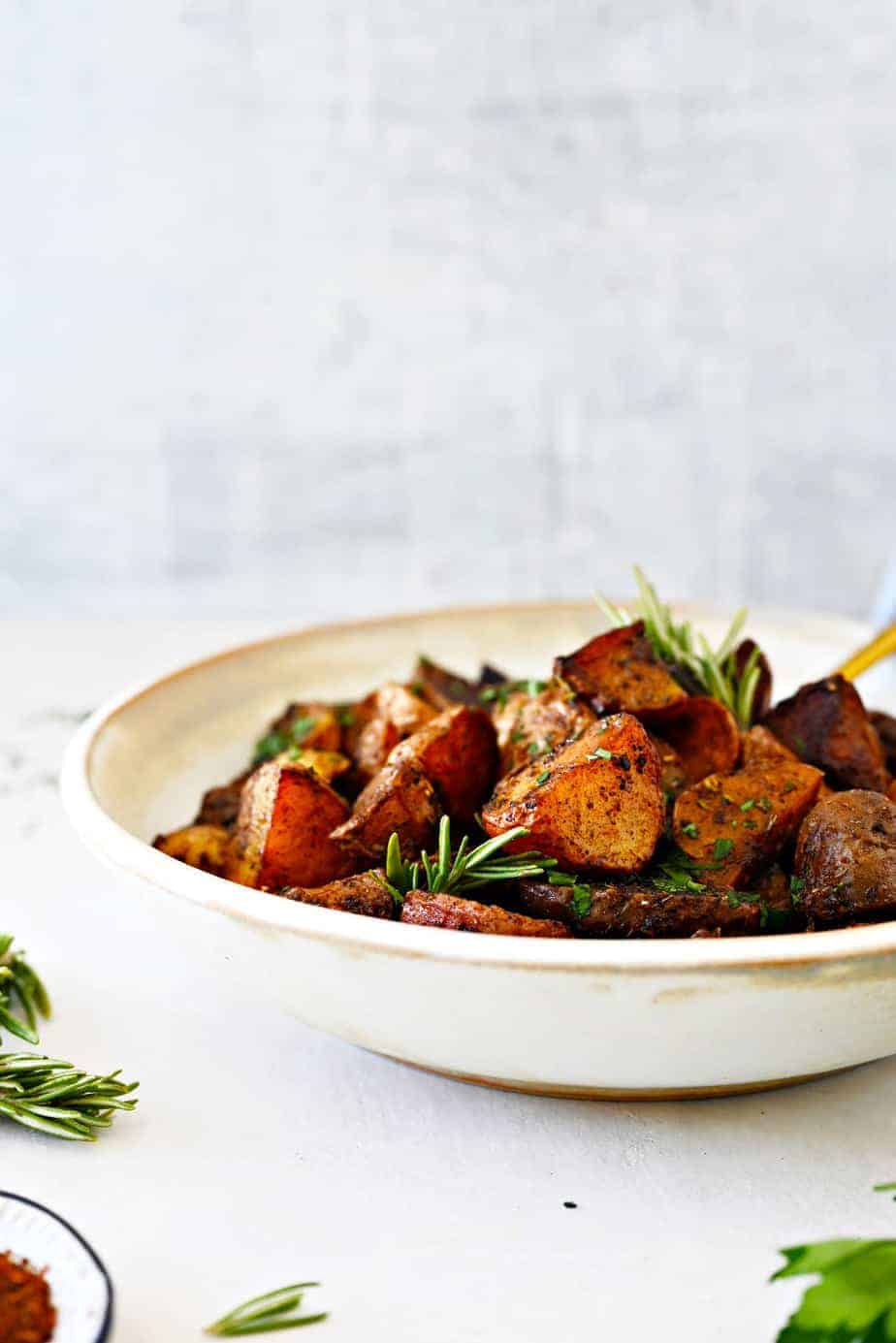 Chili Butter Braised Crispy Pan Roasted Potatoes
Chili Butter Braised Pan Roasted Potatoes -- Tiny potatoes cooked with herbs, chili spices and a full stick of butter make for a surprisingly easy but impressively indulgent holiday side dish.
Ingredients
1½ pounds baby potatoes, cut into about 1" pieces
4 oz (1/2 cup) salted Plugrá® Butter, cut into rough cubes
¾ teaspoon Himalayan pink salt
freshly ground black pepper
1½ T chili powder
1½ T fresh rosemary leaves, finely chopped
½ T dried oregano
small handful chopped parsley, for serving
Instructions
Heat a large (10"-12") cast iron skillet over a medium flame. When pan is preheated, add butter all at once. (It'll brown and spatter right away -- that's ok!) Add potatoes, pink salt and pepper (to taste), arranging potatoes in as close to a single layer as possible, and cook, undisturbed for 4 mins; then toss, turning potatoes individually, if needed, to evenly brown all sides, and cook another 4 mins. Toss one more time, cooking for a final 4 mins. (Following this last turn, potatoes should be well-browned on all sides.)
Reduce heat to low; add chili powder, oregano and rosemary and toss to coat. Cook another 1-2 mins, until chili powder is fragrant.
Remove from heat and serve with a slotted spoon, draining excess butter. (Here is an excellent opportunity for bread, though the drippings will be quite salty.) Scatter generously with parsley. Enjoy.
————————————————–
OH! before you go…
Like whatcha see here — or have a question, feedback, or recipe hack to share? Join The Pig & Quill convo by commenting below and hanging out with me on Facebook, Twitter, Instagram and Pinterest. And don't forget to subscribe to P&Q emails or add me to your RSS reader with Feedly or Bloglovin' so you never miss a post. x's & o's!