Gnocchi with Easy Romesco Sauce — a super quick, weeknight meal that comes together in minutes thanks to store-bought gnocchi and a 5-minute romesco sauce made super savory with white miso and rice vinegar.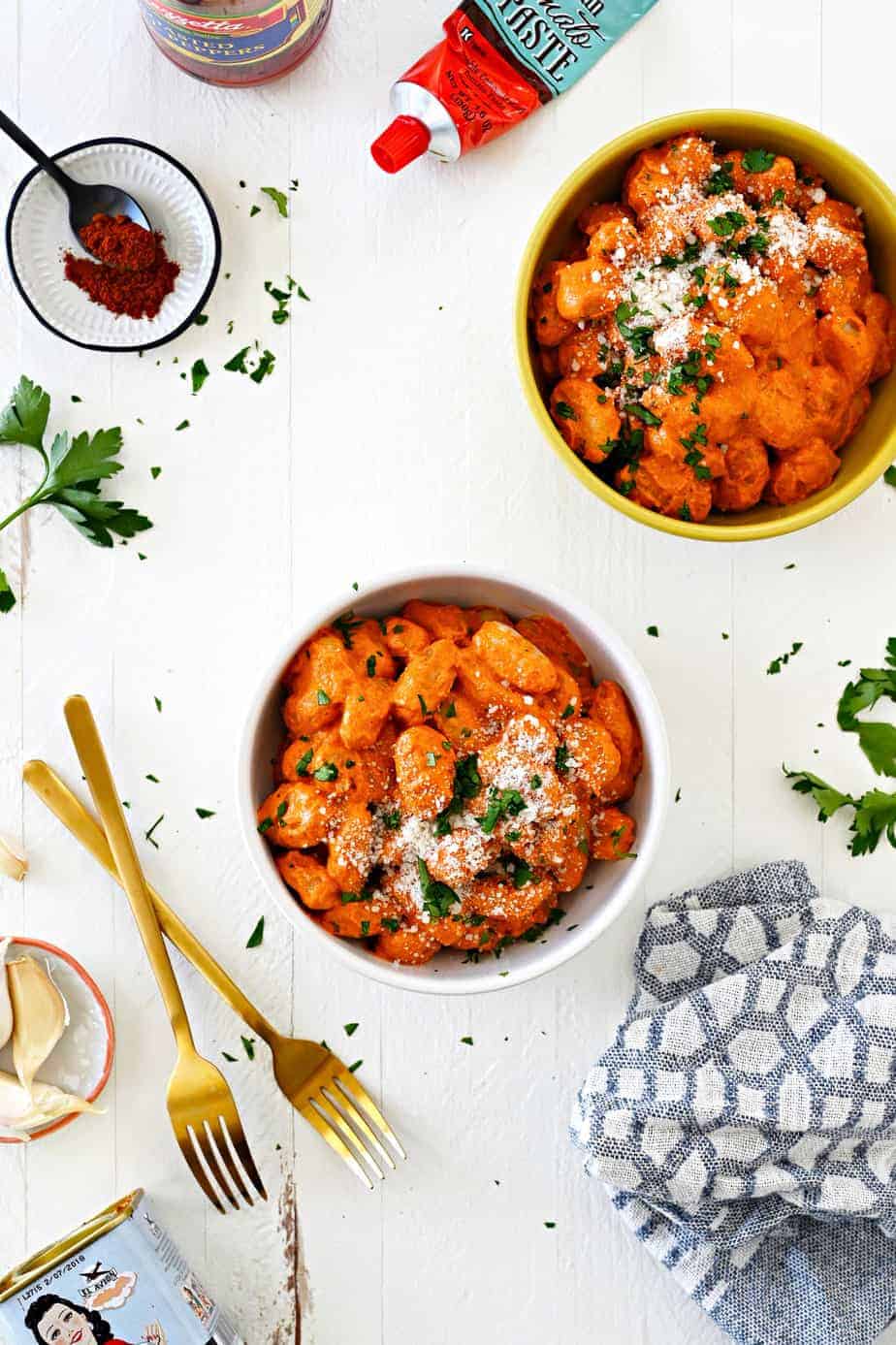 Hey guys! I'm in Sonoma this weekend, clinking glasses with high school friends as we celebrate one of our finest getting married. Bachelorette parties as a true blue adult, it turns out, can be quite posh — full of fancy picnic fixins, fine dining and nary a weiner in sight. Perfect.
In the meantime, the recipe for this Gnocchi with Easy Romesco Sauce is new over on Kelly's blog — my latest #TeamNosh contribution — and friends: it couldn't be simpler or more delicious. This Gnocchi with Easy Romesco Sauce is perfect for the back-to-school season because it comes together as a weeknight meal in maaaaaybe 15 minutes and it reheats like a dream for lunch the next day. Inexpensive, store-bought gnocchi (we used plain potato gnocchi, but sweet potato gnocchi would be awesome here, too) is bathed in a quick blender sauce of jarred roasted peppers, toasted almonds, smoked paprika, olive oil, garlic and parsley — with a hit of bright rice vinegar and mild, savory miso, because, well, it's tasty as frick. Blend up the romesco sauce in 5 minutes flat while the pillowy dumplings get their Jacuzzi on in a pot 'o watta and be amazed when they collide in creamy, vegan harmony. Not vegan, you say? Then I highly recommend a scattering of pecorino romano over the top. (A little fresh parm wouldn't kill ya, either — just please none of the stuff in the green canister.)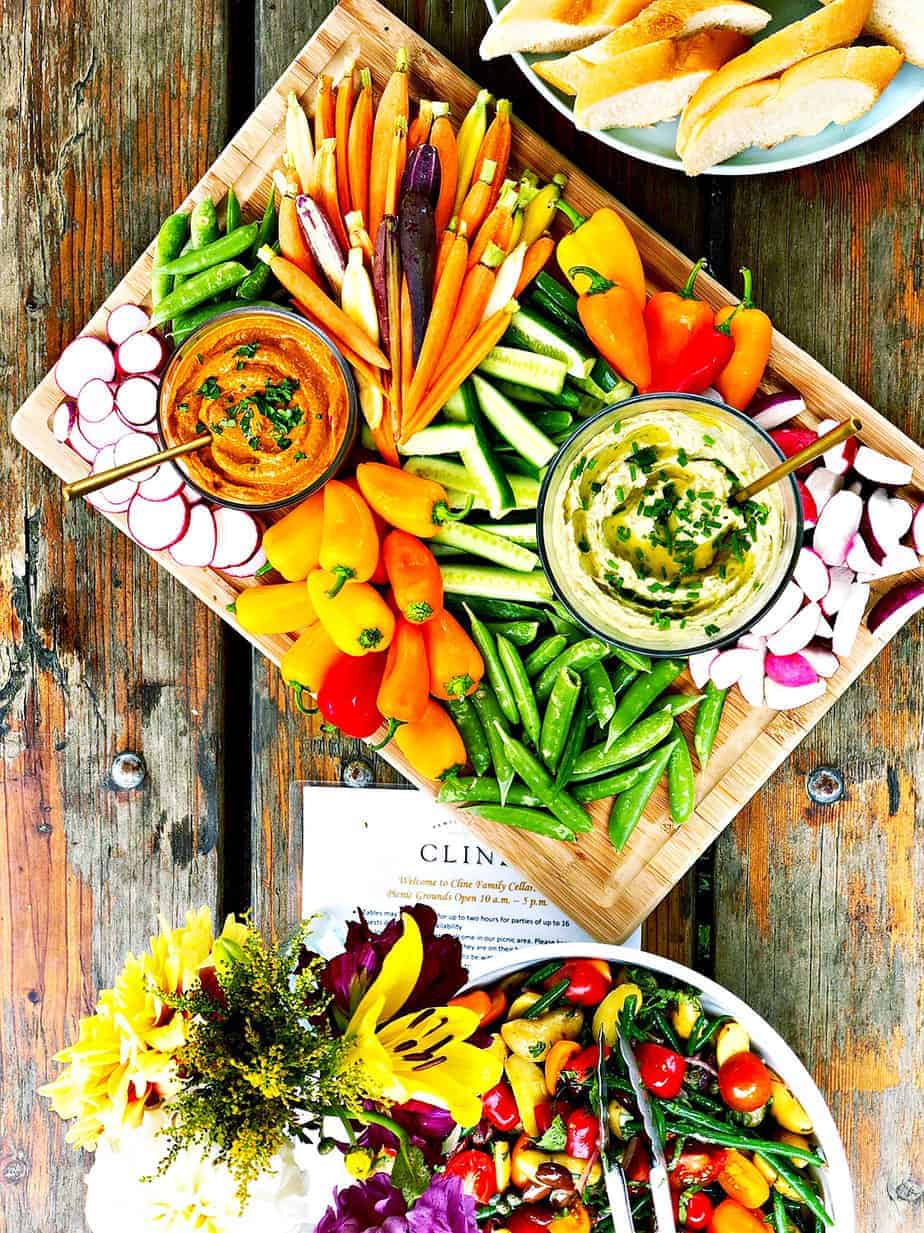 We even whirled up a double batch of this romesco sauce and reserved half of it as a dip for crudites at the aforementioned fancy bachelorette picnic and it was a mega hit. (We also made up a version of Sarah's gluten-free Hazelnut Dark Chocolate Brownies, accented with a cheesecake swirl, that were beyond tasty.)
Check out the full recipe over on Nosh & Nourish.
Happy weekend!
xo,
Em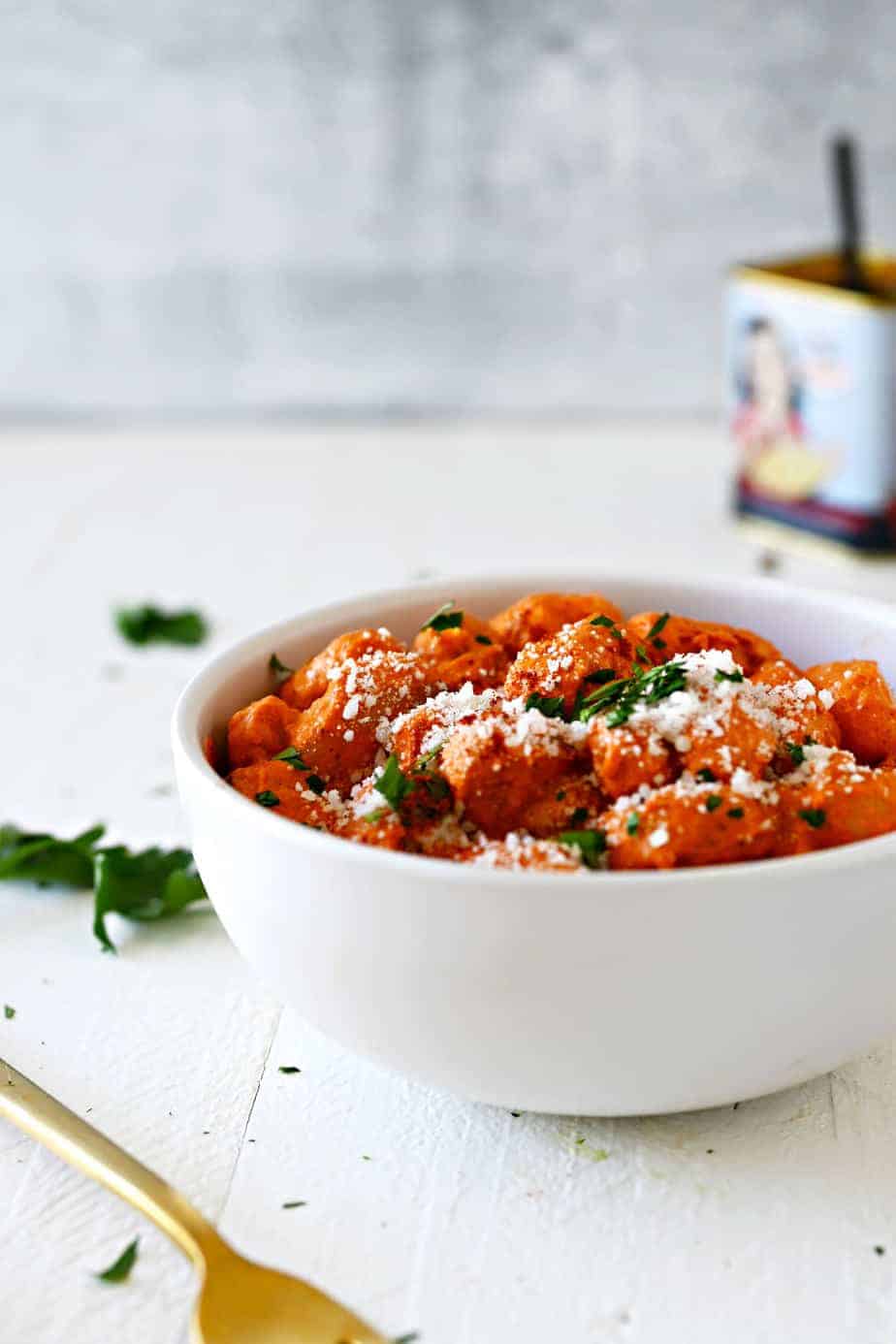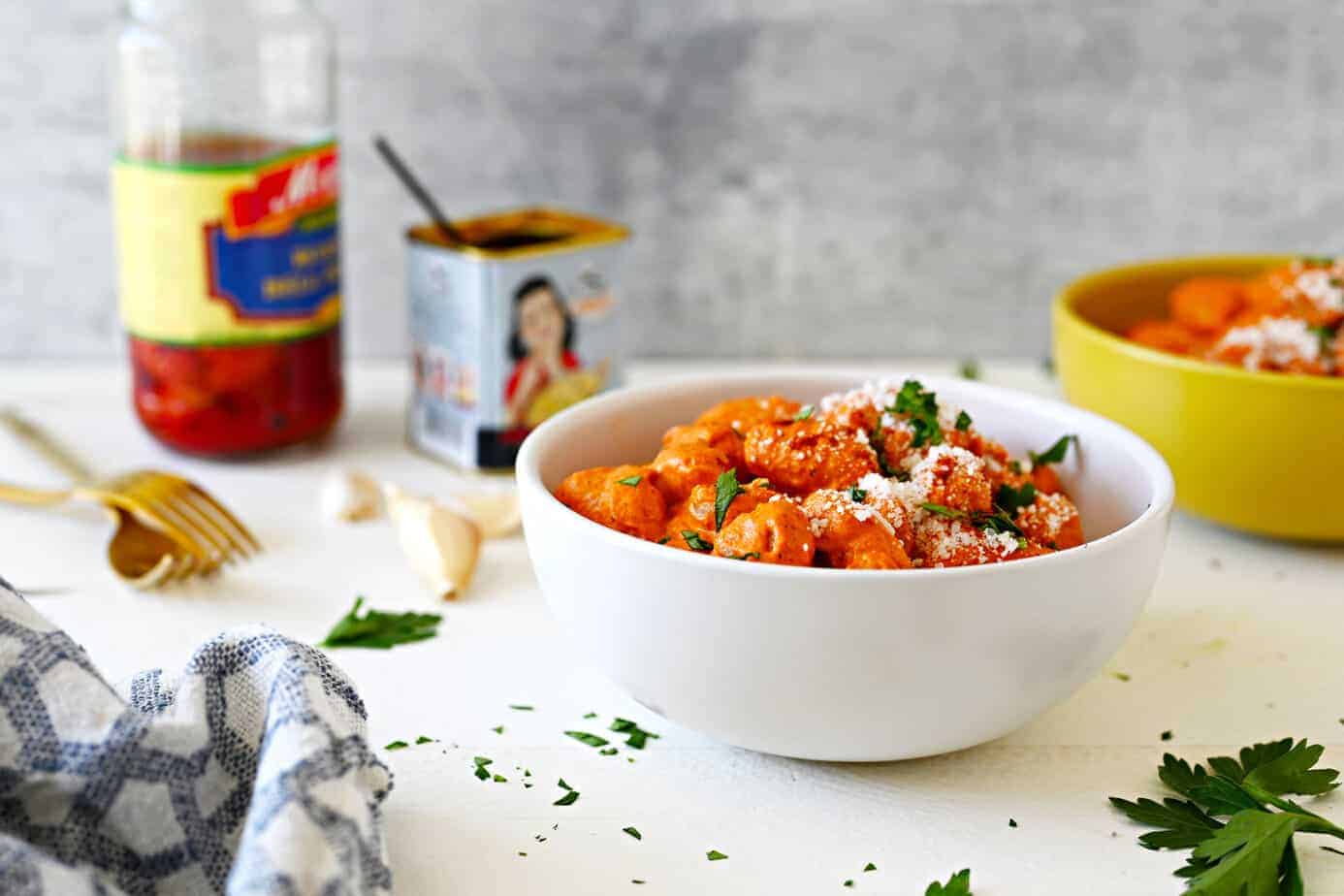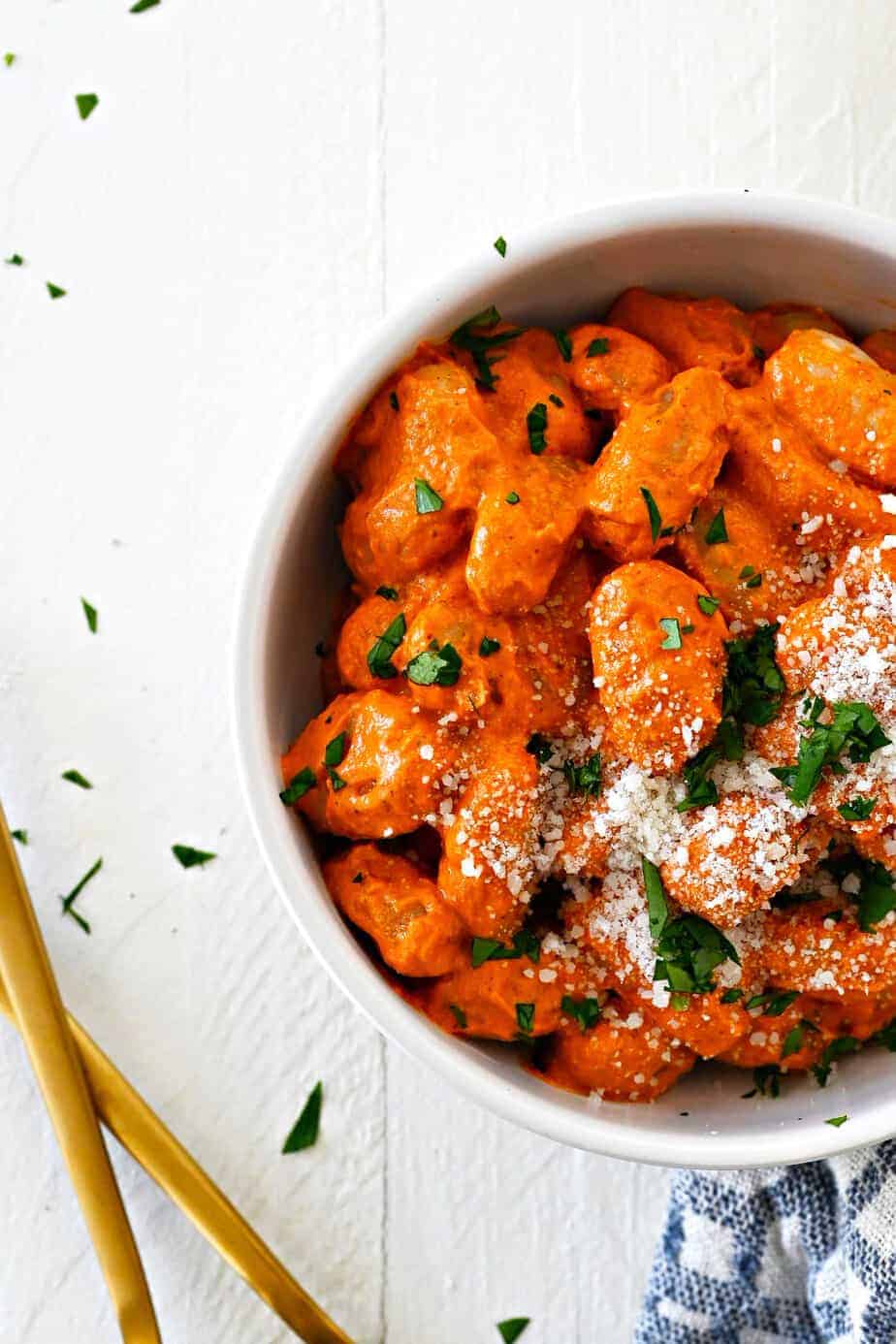 Like the sound of this Gnocchi with Easy Romesco Sauce?
Be sure to check out:
————————————————–
OH! before you go…
Like whatcha see here — or have a question, feedback, or recipe hack to share? Join The Pig & Quill convo by commenting below and hanging out with me on Facebook, Twitter, Instagram and Pinterest. And don't forget to subscribe to P&Q emails or add me to your RSS reader with Feedly or Bloglovin' so you never miss a post. x's & o's!