Gnocchi is therapy.
The mashing. The rolling. The shaping. It's a quiet, process-oriented little task that requires just enough focus to clear the mind of its remaining clutter. Should I be throwing another load of laundry in the wash? Nope – gnocchi. If I get into work early two days next week, will it make up for a Monday out of the office? Shuttup — gnocchi. Really, does no one find it odd that all this airing of dirty laundry just happens to coincide with Emily Thorne's arrival in the Hamp—gnocchi.
See? It purges the crap, I promise you. And yet it doesn't take the whole darn afternoon.
I won't claim that this gnocchi is authentic or even the best you've ever had, but it's simple, reliable and satisfying. To make it even easier, I baked off a tray of sweet potatoes for lunch earlier this week and just threw an extra in the mix knowing I'd want to make gnocchi this weekend. (Check out my new favorite potato baking method here. It's a piece of cake, and I swear the potatoes come out more flavorful and evenly cooked than doing them the old fashioned way.)
Add an egg, a dash of salt and a few handfuls of flour and you're more than halfway there. The apple, bacon and syrupy balsamic is really just the crowning glory.
Ok, well, no — that's not entirely true. Had I thought to serve a silky poached egg atop this, that would have been the crowning glory. GDI.
But I digress. The next time you've got a sweet potato to spare, spend a little time in therapy. Take the opportunity to reset, channel your inner Giada, and roll some gno.
Then, when your head is clear, smother that muther in bacon fat and call it day.
Done and — what? Oh yeah: done.
.
.
.
But really. Who's watching Revenge?
 (Who the frick knows if I even use this thing right, but isn't it cool? And it's like $5 at most cooking stores.)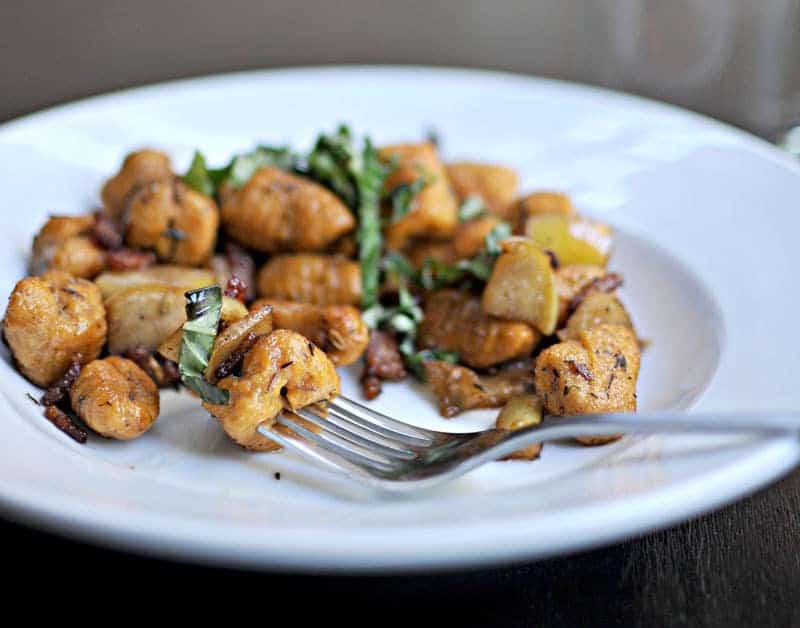 Sweet Potato Gnocchi with Apples, Bacon & Balsamic
By Emily Stoffel
Cook time: 40 mins (including gnocchi) | Serves: 3-4
Note: If you're not feeling the bacon and apples, feel free to extract the gnocchi portion of this recipe and dress it up as you wish. A quick cream sauce and a scattering of fried sage would be lovely. So, too, would a little browned butter and cinnamon. It's tough to go wrong, really. But c'mon — bacon and apples? Why wouldn't you.
Ingredients:
1 recipe sweet potato gnocchi, cooked (see recipe below) – about 60 dumplings
3 oz (about 3 slices) good quality bacon, diced
1 small apple, thinly sliced into 1/2″ pieces
1 tsp dried thyme
1/2 tsp fennel seed
2 T aged balsamic
salt and pepper
fresh basil or sage, for serving
Add bacon to a cold skillet or high-sided fry pan and turn heat to med-high. When fat begins to render, add thyme and fennel seed. Cook bacon with spices until just starting to crisp, about 3-5 minutes. Add apple and saute until crisp-tender, 2 mins. Add balsamic and salt and pepper and reduce heat to low.
Add cooked gnocchi, stir to combine and taste for salt. Serve in shallow bowls topped with fresh herbs and more black pepper.
Sweet Potato Gnocchi
1 large sweet potato, baked and cooled
1 egg
3/4 cup whole wheat flour
1 tsp sea salt
Instructions
In a large bowl, mash sweet potato. Add egg and beat until well combined. Add salt. Gradually add flour, stirring after every 1/4 cup, until mixture begins to come together into a sticky dough. Turn out onto floured surface.
With floured hands, pat mixture into a ball and cut into quarters with a floured knife or pastry cutter. Form one quarter into a short log, then roll into a rope about 1/2″ thick. Cut rope into 12-15 pillow shaped dumplings. Using a floured gnocchi board (or the back of a fork), drag each dumpling along the ridges to form grooves. Set gnocchi aside in a single layer on a floured cookie sheet. Repeat with all 4 quarters of dough to create about 60 gnocchi dumplings.
TO FREEZE GNOCCHI: At this point, the gnocchi may be frozen. Just par-freeze gnocchi on the baking sheet until firm, then transfer to a zip-top bag and freeze for up to 2 months. When ready to eat, cook from frozen as directed below.
To cook gnocchi, bring a large pot of water to a boil. Generously salt water, then gently add fresh (or frozen) gnocchi, stirring to ensure they don't clump together. Cook until gnocchi float fully to the surface, about 3-5 minutes. (You can begin testing as soon as the first dumpling floats. Dumpling should be cooked through without a "raw" flour taste.)
Drain gnocchi and serve as desired.