Quiet night here at P&Q headquarters.
Leftovers.
An obscenely large hunk of brie — and the requisite water crackers.
And Revenge. 
I'm late to the party with this one, I realize. It's also thoroughly possible that I'm addicted. This is what happens when I'm left alone with the remote control and many lifetimes' worth of streaming television at my fingertips. What's a girl to do?
Just to keep things somewhat productive this evening, perhaps now's a good time to post the recipe for the little frittata that was easily the star of the show when Cristin dropped by. For once, I'll actually keep the words to a minimum so you can enjoy the beauty of these snapshots that I did not take. (Let's plug Cristin one more time…)
With a crisp, fruity salad and a brunchy cocktail? Perfection.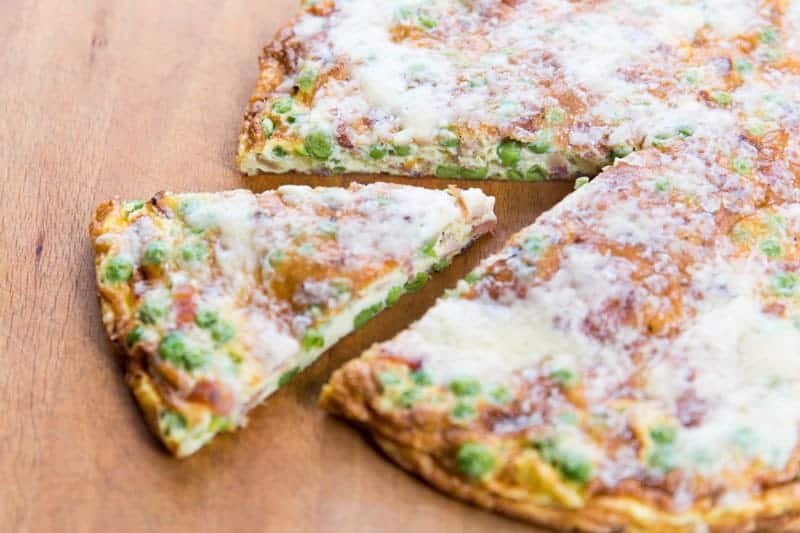 Spring Pea, Bacon & White Cheddar Frittata
By Emily Stoffel
Cooking time: 20 mins | Serves: 4
Note: Fancy folks will tell you not to allow the eggs to brown under the broiler in this dish. I say go with your gut. As with many baked egg dishes, broiling this dish for just a few extra seconds can result in a delightfully puffed frittata. Yes, it may brown a bit, and yes, it will deflate as it cools, but I find quite a lot of joy in the goofy little moment where the eggs stand tall. Up to you. 
Ingredients:
8 large eggs
¼ cup half and half
5 oz (about 5 strips) good, thick cut bacon, such as Niman Ranch, diced
1 cup frozen spring peas
1.5 cups aged white cheddar cheese, separated (I'm bonkers for Trader Joe's Unexpected Cheddar)
¼ tsp crushed red chile flakes (plus more, for serving)
salt and pepper
2 scallions, sliced
Instructions
Preheat broiler. In a small bowl, thoroughly whisk together eggs and milk. Stir in 3/4 cups cheese. Set aside.
To a cold, ovenproof skillet (10-12" in size), add bacon and chile flakes and render over medium to med-high heat until just crisp, 5 minutes. Reserve bacon and drain off all but 1-2 T fat. Add frozen peas. Stir to coat in fat and cook until peas are heated through and bright green, 3-5 minutes. Season to taste with salt and pepper.
Return bacon to pan. Shake pan to distribute mixture in an even layer and pour over egg mixture, tilting pan to distribute over ingredients. Cook over medium flame 3-5 minutes or until edges are set and can be easily lifted away from sides of pan.
Top with remaining 3/4 cup cheese. Place entire skillet under broiler and cook until center is set, another 3-5 minutes, watching closely. Allow frittata to cool slightly before sliding from pan and cutting into wedges. Top with sliced scallions and additional chile flakes, if desired.