Incredibly simple, this Oat-Free Coconut Almond Granola is also oil-free and refined sugar-free, and it's delicious over yogurt, as a salad topping, atop your favorite frosted cake, or just for snacking.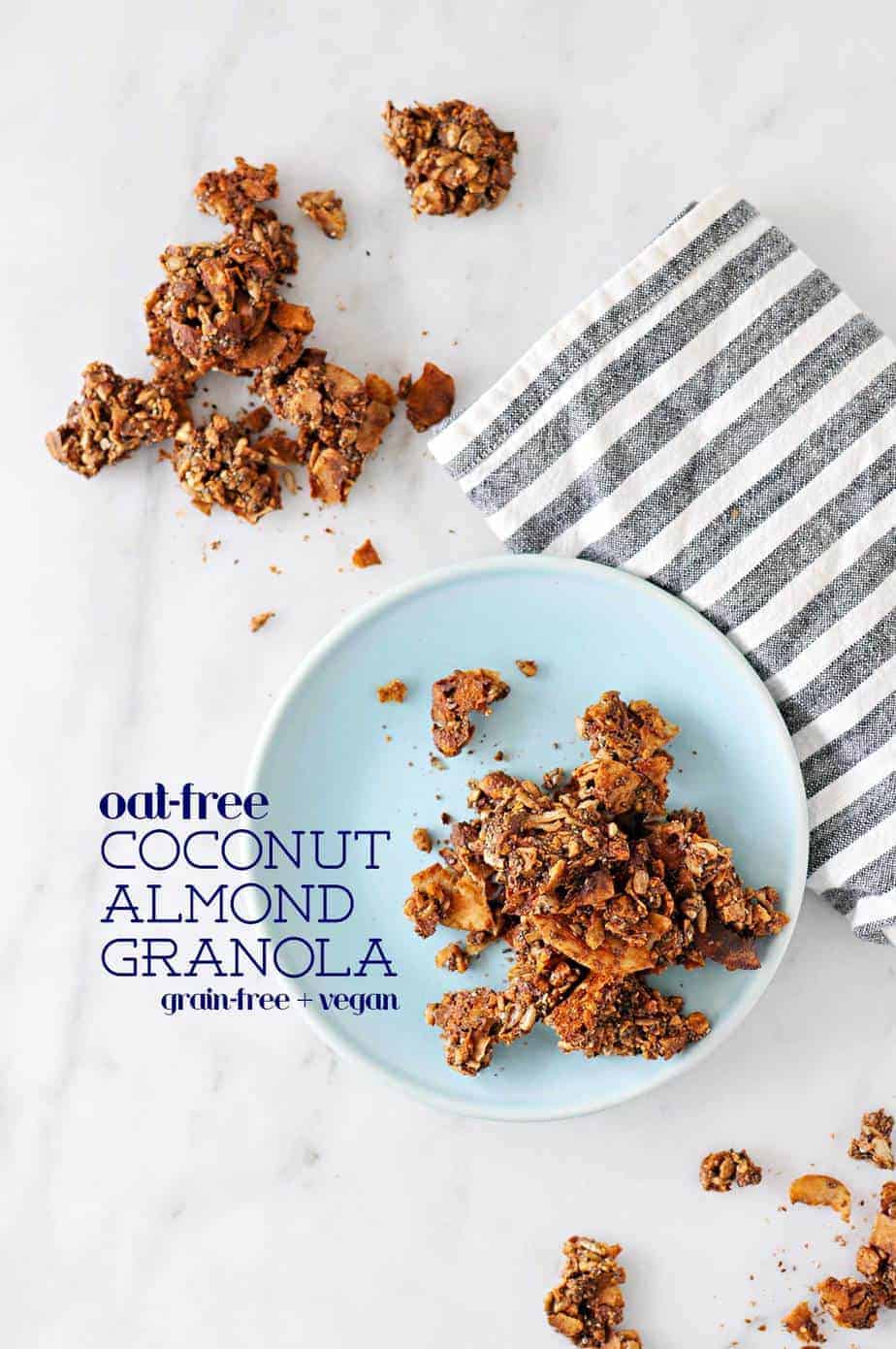 We've got friends driving down from the city tomorrow for the Pumpkin Festival — our first as residents here — so I'm just quickly popping in to share with you a recipe for a grain-free paleo granola that we've been making almost nonstop for the past few weeks. A recipe that's so quintessentially fall, I dare you not to make it part of your autumnal traditions. Apple picking with the fam. Pumpkins piled upon the porch. Oat-Free Coconut Almond Granola bringing caramelized, baking-spiced crispness to all the things. Try it once, and you'll see: you can't keep your hands off it!
How to make Oat-Free Coconut Almond Granola
You guys know me. (Or maybe you don't, in which case, hey there!) I'm not going to make something on repeat unless it's simple. Accessible. Easily committed to memory. This Oat-Free Coconut Almond Granola ticks all those boxes. It's as easy as tossing the nuts and seeds with a healthy glug (or three) of maple syrup, spreading the whole lot on a parchment-lined sheet, and then baking it until the coconut becomes toasty and your entire house smells like a Yankee Candle. The hardest part of this recipe, by far, is waiting the full 20 minutes for the granola to cool before you crumble it into nubby shards for topping/snacking to your heart's content.
Uses for Grain-Free Paleo Granola
Oh, and did I mention that, as it's only sweetened with maple syrup, this Oat-Free Coconut Almond Granola could also moonlight as Grain-Free Paleo Granola? Regardless of what you call it, it's versatile as heck. Aside from eating it by the spoonful, we love it on these Classic Acai Bowls, or crumbled over our favorite Ultimate Fall Chopped Salad, and it's an even more seasonal swap-in for the crunchy walnuts atop this Savory Pumpkin Cannelloni or the pecans on these Cider Poached Pears with Apple Cider Caramel. Next week, I'll be posting a Chocolate Pumpkin Spice Cake with Cream Cheese Frosting that is the perfect winter-white slate for a generous scattering of this stuff.  What I'm getting at, folks, is: you really can't go wrong.
Cheers to a new seasonal tradition, friends.
Happy weekend!
Em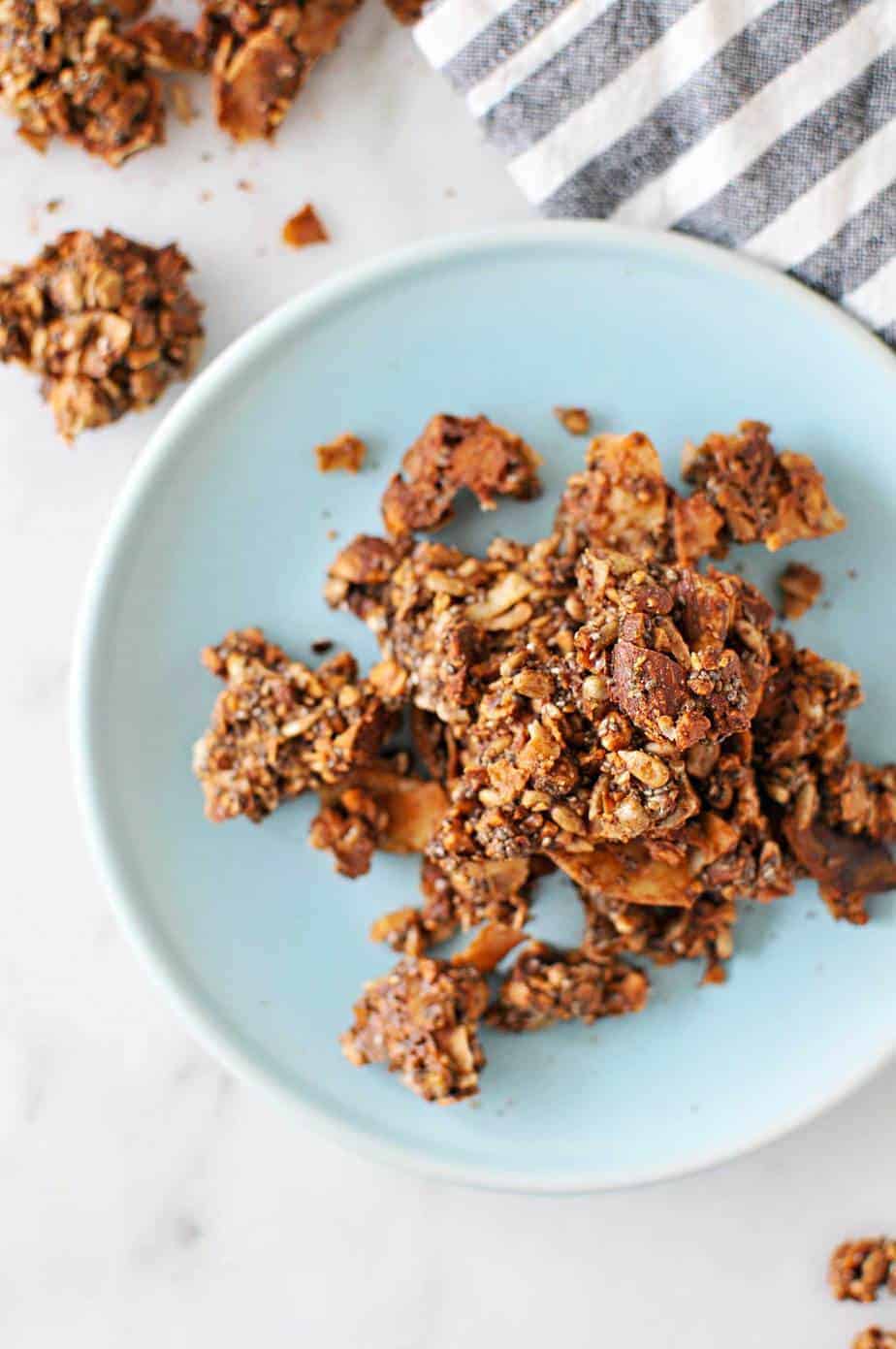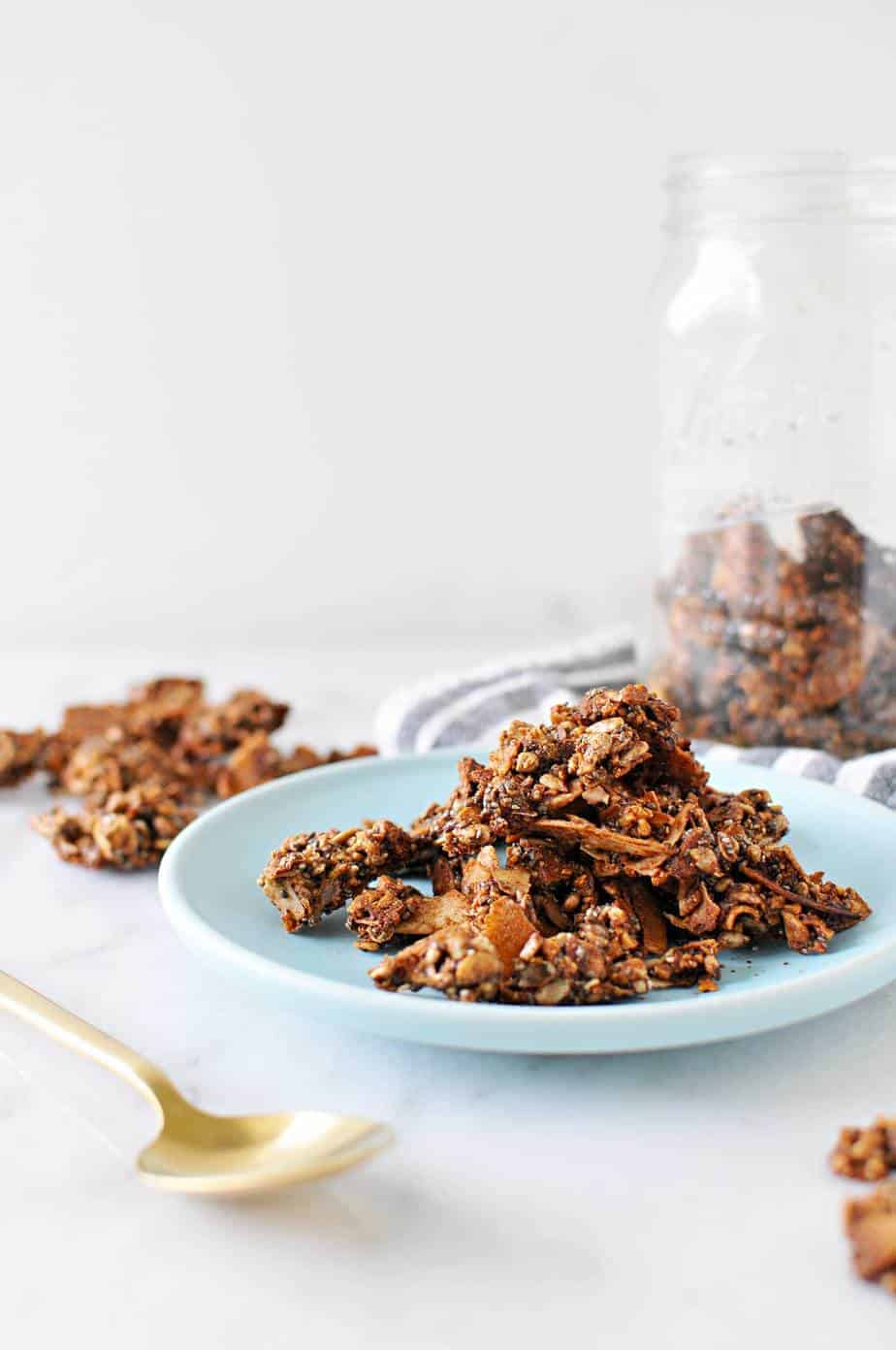 Oat-Free Coconut Almond Granola | Grain-Free + Vegan
Incredibly simple, this oat-free, grain-free granola is also oil-free and refined sugar-free, and it's delicious over yogurt, as a salad topping, atop your favorite frosted cake, or just for snacking. You'll make it on repeat. I know we do.
Makes:
~ 4 cups granola crumbles
Ingredients
1 cup roasted salted almonds, roughly chopped
1 cup flaked unsweetened coconut (I used this brand)
½ cup roasted salted sunflower seeds
¼ cup chia seeds
⅓ cup maple syrup
1 tsp cinnamon
Instructions
Preheat oven to 375F. Line a rimmed baking sheet with parchment paper.
In a large bowl, combine all ingredients, stirring until well-coated with maple syrup. Turn mixture out onto prepared baking sheet and distribute into a single layer.
Bake 15-18 mins, until a toasty, golden-brown and very fragrant.
Allow granola to cool 20 mins before breaking into clusters. Store at room temperature in a tightly sealed container (we use large mason jars) for up to 2 weeks. Enjoy!
Notes
This is the nut/seed combo that we come back to over and over again, but feel free to change things up based on your preferences -- pepitas, hemp hearts and pecans would be another awesome combo. Note that, if you choose nuts and seeds that are not salted, you may have to add a sprinkle of pink or sea salt to taste.
————————————————–
OH! before you go…
Like whatcha see here — or have a question, feedback, or recipe hack to share? Join The Pig & Quill convo by commenting below and hanging out with me on Facebook, Twitter, Instagram and Pinterest. And don't forget to subscribe to P&Q emails or add me to your RSS reader with Feedly or Bloglovin' so you never miss a post. x's & o's!