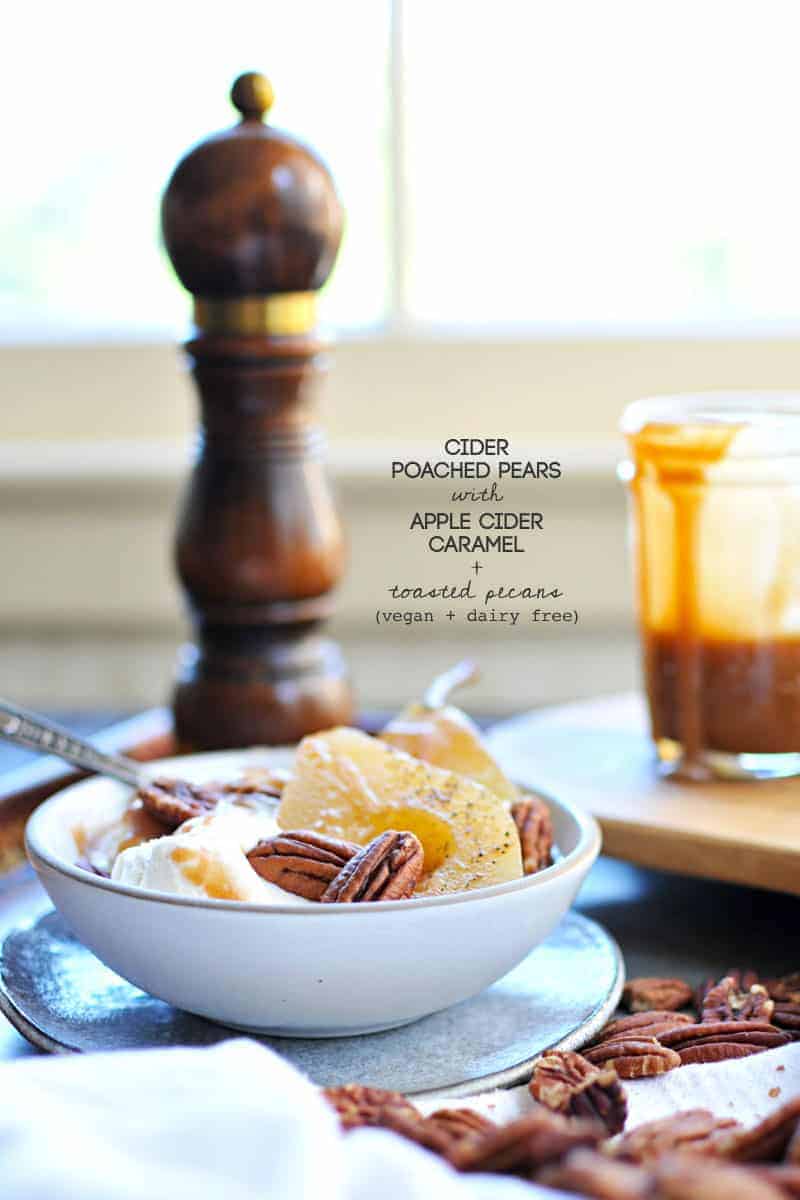 First, a disclaimer: I am writing this in a haze of post-Daylight Saving Time exhaustion. If you have children — particularly small children on whom the concept of "sleeping in" is completely lost, you feel my pain. Add in teething and a sudden desire to skip a third nap (despite offering every indication that a third nap is, indeed, just what the doctor ordered), and you end up somewhere close to here. Welcome to my semi-functioning, yoga-pants-as-real-pants, peanut-butter-pretzels-for-breakfast-lunch-and-dinner reality.
THANK GOD FOR CARAMEL SAUCE.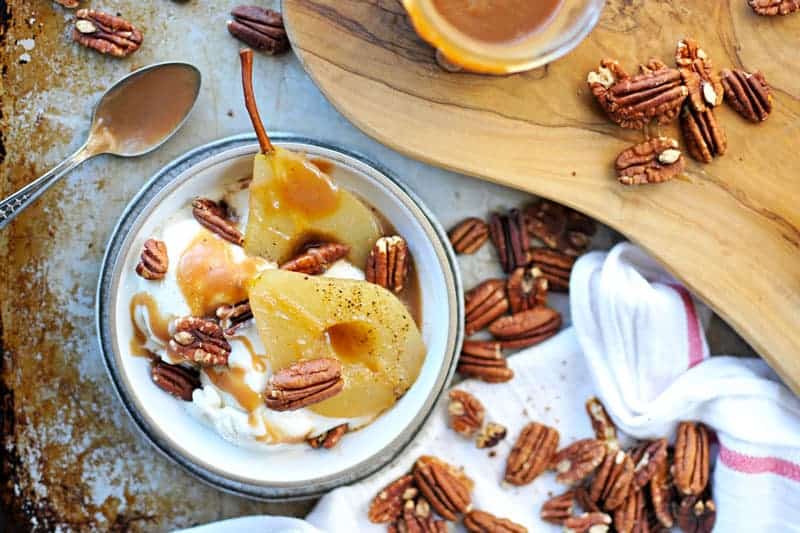 Caramel sauce, I have recently discovered, can be the antidote to a myriad of woes.
I say this as if I didn't know so already, but I think somewhere in the giving-up-of-dairy, I forgot. Those thick, lustrous ribbons of creamy amber syrup. That lingering note of nutty, candied sugar sharply complemented by mouth-watering sea salt. Just go ahead and put it on all the things. And while you're at it, I'll take my own personal vat, please. Maybe, like, a keg. A little mini caramel keg. You know, for emergencies.
Backed out of the garage without closing the hatch? Just add caramel!
Split the seam of your jeans while doing squats* with your little one? Just add caramel!
Buoyantly respond, "Thanks, you too!" when the Trader Joe's checker guy comments that "she's a cutie"?
FACE PALM MONKEY JUST ADD CARAMEL.
(Note this is the same checker I caught belting out The Freshman while stocking the sample station one slow morning, so I guess we're even?)
I guess my point is: baby getting up with the sun? You bet your bum we're gonna add some freaking caramel. Preferably with a hefty serving of simply poached fruit, a handful of heart-healthy nuts, and several drippy scoops of ice cream.
And then we're gonna call it breakfast, too, because if we've already split our pants up the butt, why. the heck. not. And also, caramel > pb pretzels. (Actually, caramel ON pb pretzels, now there's an idea…)
I love the combo of autumnal fruits in this decadent little getup, but it's the cider-turned-caramel sauce that's the real star of the show. Much like that Pumpkin Spice Caramel put those Pumpkin Pie Shakes over the top, this (similarly vegan!!) Apple Cider Caramel takes the humble poached pear right into fancy-ass dessert (errrr, breakfast…) territory. I'm particularly fond of adding crunchy whole pecans, toasty warm from the oven — and any turtle lover will tell you that caramel + pecans = total duh — but I could see hazelnuts or even pepitas being pretty tasty here, as well. Seasonally appropriate, too.
Happiest FRIDAY to you, pals!
#justaddcaramel,
Em
* Picking up my keys. Ugh.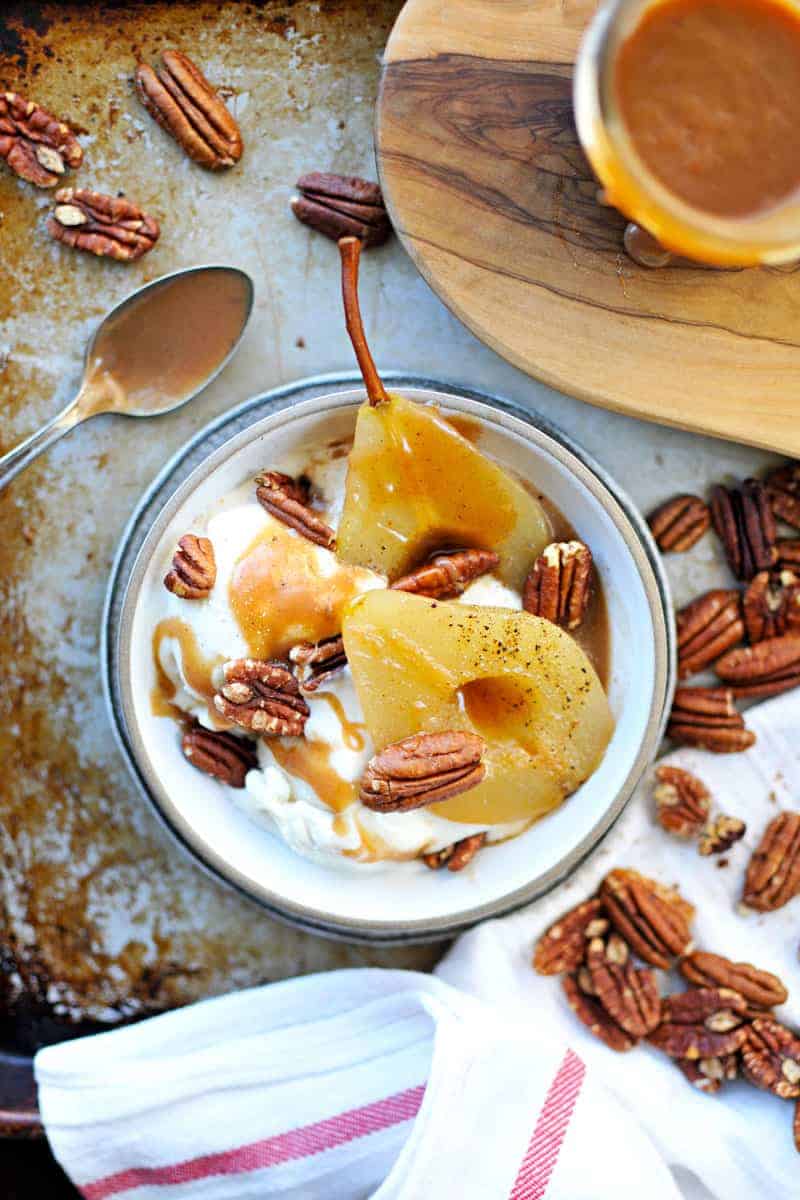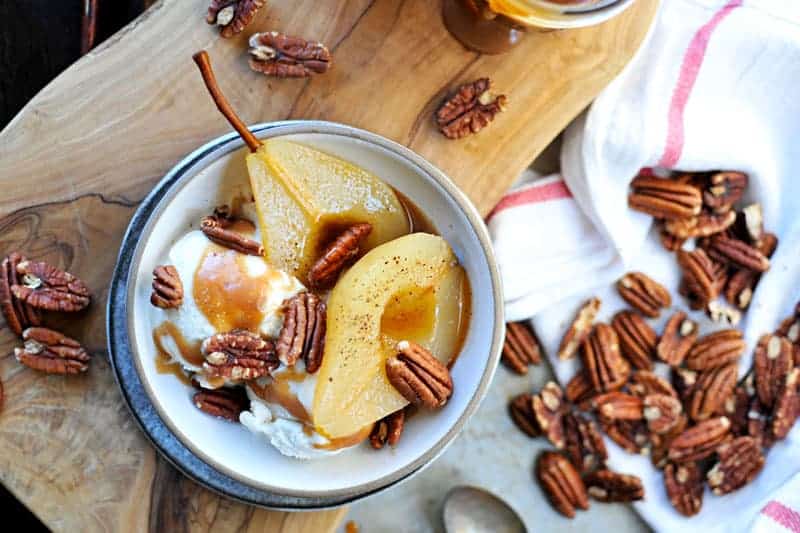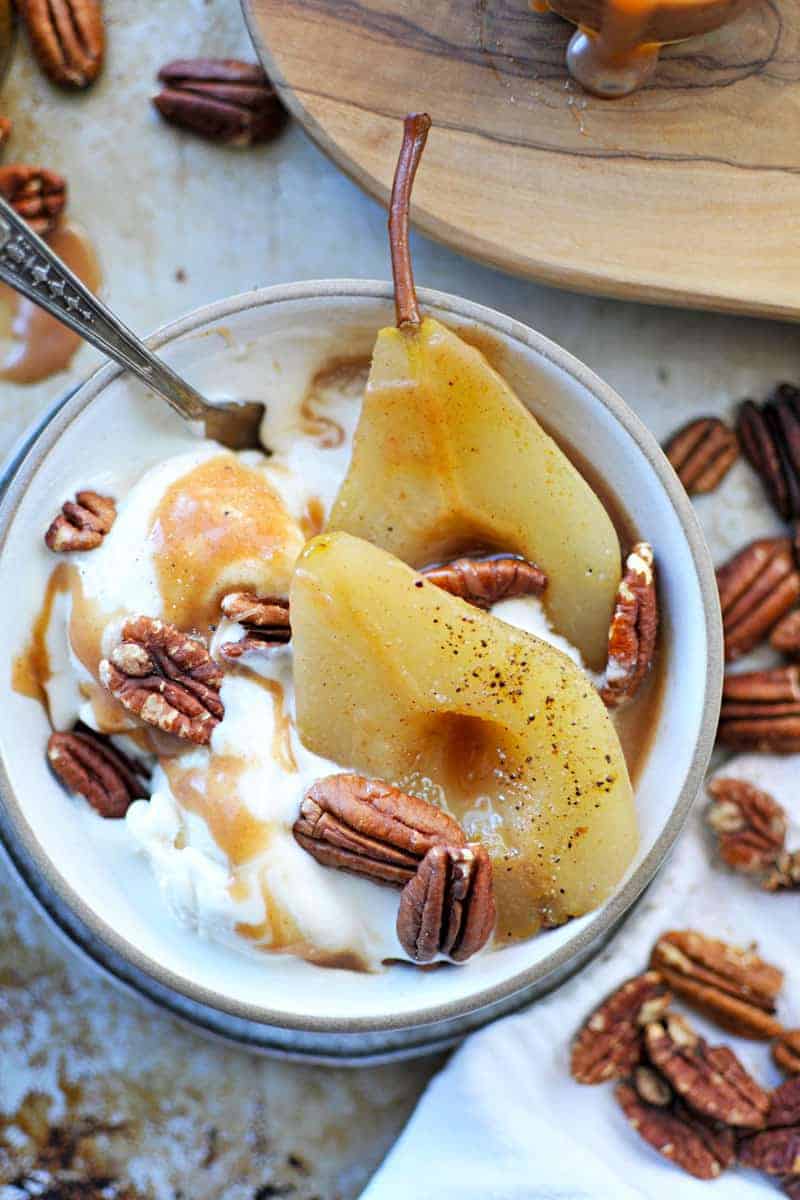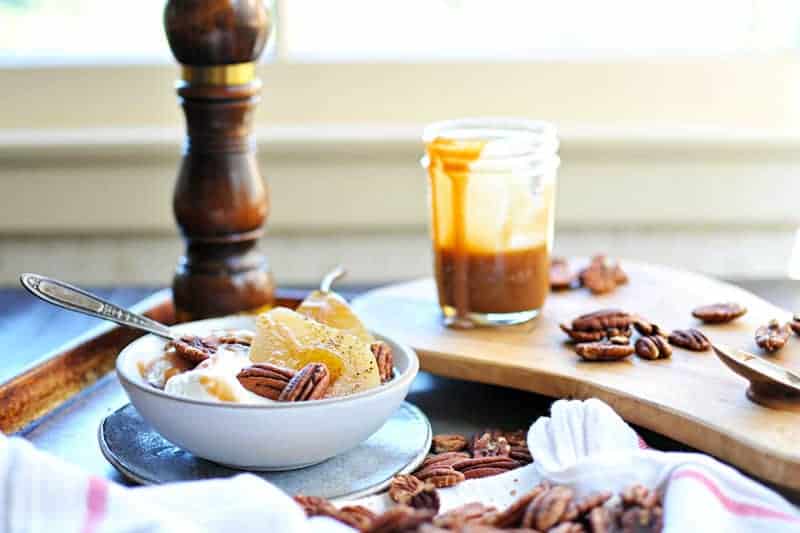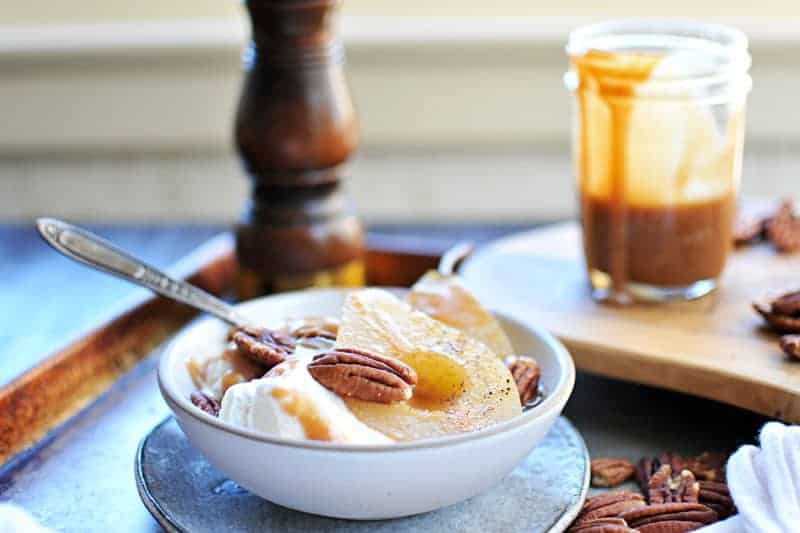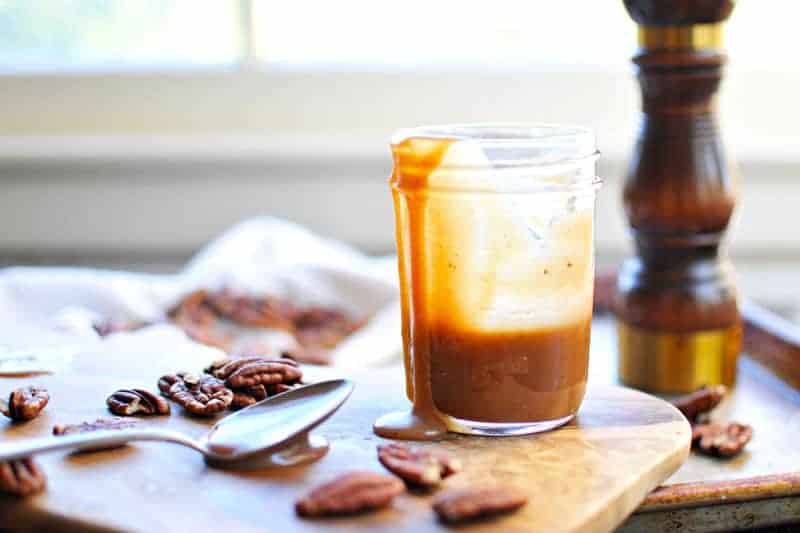 cider poached pears with apple cider caramel + toasted pecans
Ingredients
3-4 medium ripe but firm pears, peeled, halved and cored (see note)
3 cups apple cider, plus more as needed (the cloudier, the better!)
1 cinnamon stick
1 tsp (about 20) whole cloves
2" strip lemon peel
ice cream, for serving (dairy-free, if you choose)
apple cider caramel sauce (see recipe below)
heaping handful (or two!) pecan halves
freshly cracked black pepper
Instructions
In a small to medium saucepan, combine pears, cider, cinnamon stick, cloves and lemon peel, adding additional cider (or water) to cover fruit. Bring mixture to a boil.
Meanwhile, cut a circle of parchment to fit your saucepan with a hole in the middle (see picture a la David Lebovitz), which helps to keep the fruit submerged while allowing steam to escape). Place parchment "lid" over pears, reduce heat, and simmer for 25-30 mins or until an inserted knife meets no resistance. Remove pears with a slotted spoon and allow to cool slightly.
While pears are cooling, toast pecans lightly in a dry skillet or in a single layer on a baking sheet in a 350F oven until nutty (nuttier?) smelling.
Serve warm pears over vanilla ice cream (I like this as a dairy-free option) drizzled with caramel sauce and scattered with toasted pecans and a few grinds of black pepper. Enjoy!
Notes
Typically, poached pears are cooked in a mixture of wine, water or fruit juice and sugar, but due to the high sugar content of the cider -- not to mention the decadent caramel topping -- these little guys don't require any extra sweetness. For a simpler, sans-caramel option (what fun is that!?) you could add a cup of sugar to the poaching liquid and reduce the liquid, itself, down to a sauce once the pears are removed.
Regarding the type of pears chosen: most recipes will recommend Bosc pears, which hold their shape nicely, while Bartlett have kind of a bad rap for falling apart. I've made this with both and didn't find the Bartlett to be exceedingly difficult or mushy. Good ol'
DL
isn't a fan of Anjou, so I'll take his word for it. 🙂 Regardless, the fruit should be ripe but firm, erring more to the side of underripe than overripe, if you're questioning it.
apple cider caramel sauce (vegan)
Ingredients
4 cups apple cider
1 can full-fat coconut milk
½ cup brown sugar
½ cup sugar
¼ cup coconut oil
1 tsp cinnamon
¼ tsp sea salt
few grinds freshly cracked black pepper
Instructions
In a large saucepan, bring cider to a low boil until reduced to about ⅔ cup (about 30-35 mins).
Add coconut milk, sugars, coconut oil, cinnamon and salt and whisk to combine. Return to a low boil and cook until sauce is dark brown, thick and syrupy and reduced by half, about 20-25 mins. Season with several grinds black pepper, to taste. (Taste carefully as sauce will be very hot!)
Allow sauce to cool slightly before using. Stores for up to a week in the fridge.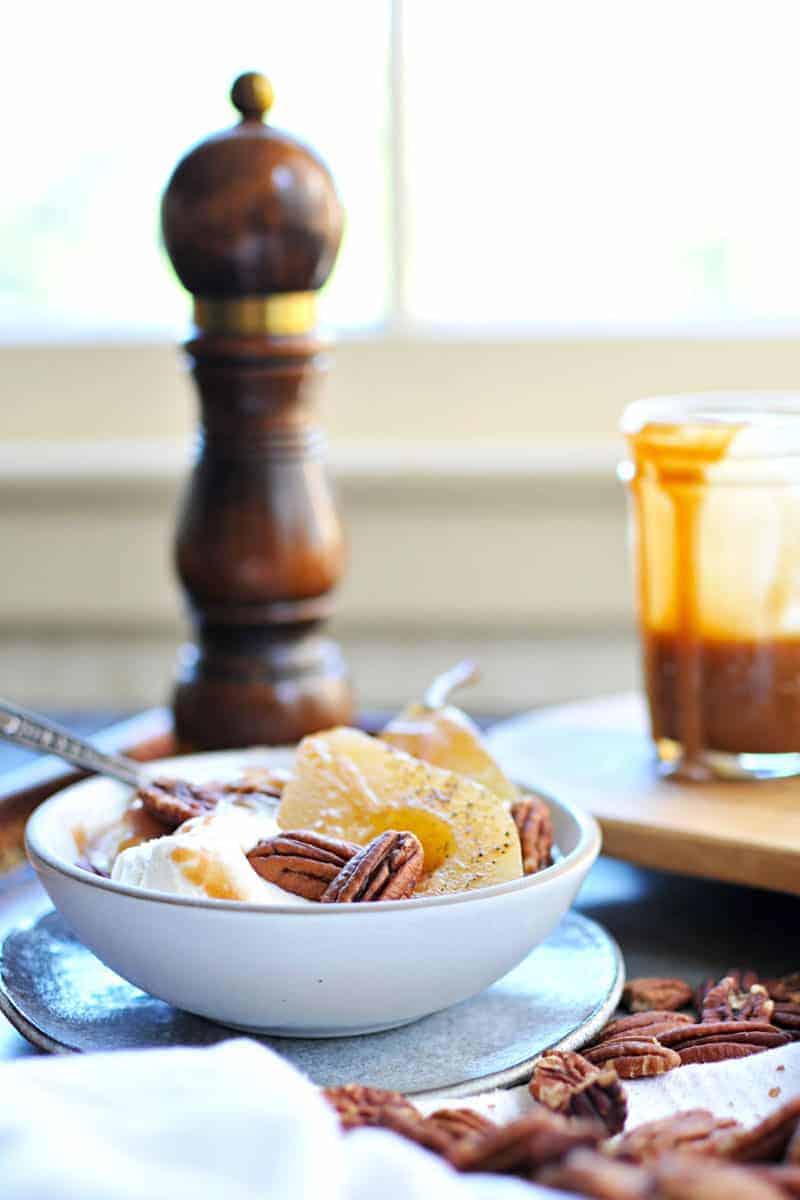 ————————————————–
OH! before you go…
Like whatcha see here — or have a question, feedback, or recipe hack to share? Join The Pig & Quill convo by commenting below (I love, luv, lurve comments) and hang out with me on Facebook, Twitter, Instagram and Pinterest. And don't forget to subscribe to P&Q emails or add me to your RSS reader with Feedly or Bloglovin' so you never miss a post. x's & o's!