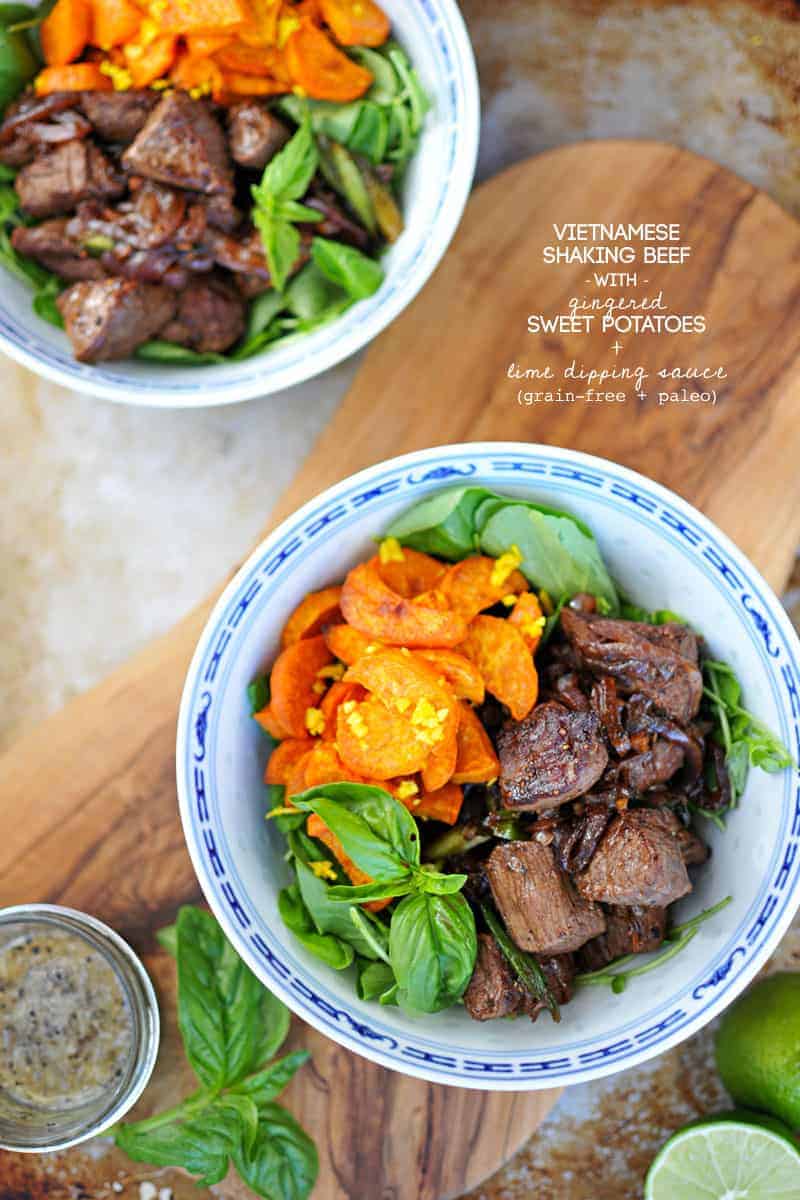 In case you didn't notice, it's almost the holidays. I swear just yesterday I was sitting on a wintry beach in Maui shoving my little Lana-belly full of fish tacos and shave ice and now she's here chilling with us on the outside cutting her Third Freaking Tooth and outgrowing her footie PJs like she's getting paid for it. WHAT. THE. HEDDLE.
I don't know about you guys, but when the holidays are this close in sight, I become decidedly torn about what and how to eat. On the one hand, it's only too easy to daydream about things like chestnutty stuffing and potatoes and PIE. But at the same time, knowing those things are in my future, I find myself unnaturally drawn to cleaner, healthier foods that boast big, vibrant flavors. I crave them now — before the holidaying really gets going — and, more predictably, I'll crave them later, once I've gorged myself into a carby, beige oblivion.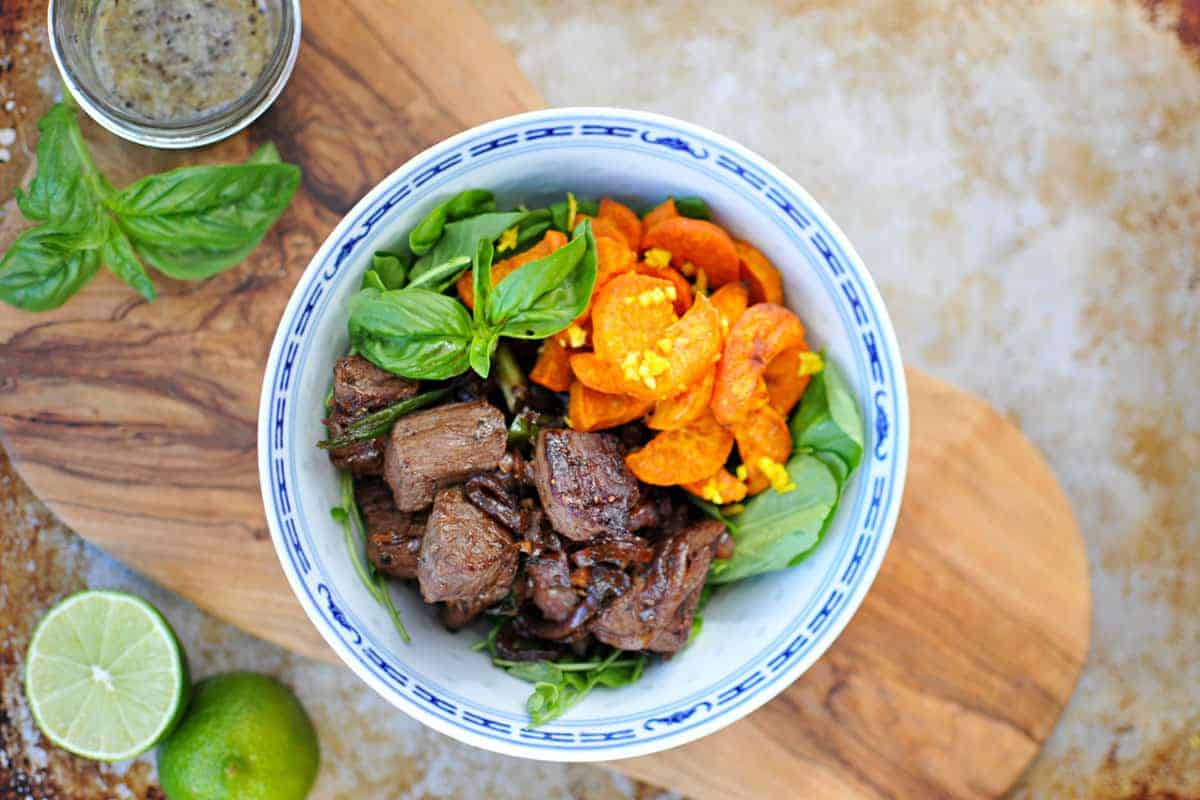 Today, I'm super excited because, in addition to sharing a recipe that totally fits the bill when it comes to that whole clean(er) eating concept, I'm also giving you guys the opportunity to win a free organic meal delivery from Sun Basket that makes pulling together a supper similar to this one ridiculously convenient.
If you're unfamiliar with Sun Basket, they've got such a cool thing going, you guys. Like many meal delivery services out there, Sun Basket ships all the groceries required to make three recipes of your choice right to your door — but the thing I appreciate most about Sun Basket is their conscious approach to not only the food they deliver but the way that food is selected and packaged:
The produce is local and organic.
Meat and seafood are responsibly sourced.
And everything is brilliantly packaged by little Sun Basket elves that are clearly at least half as OCD as I am about their grocery game. That is: produce and pantry ingredients neatly packed into sacks by recipe and (most importantly, to me) distinctly separated from meats and proteins that, themselves, are securely stashed on plenty of ice.
Perhaps best of all, all that packaging is recyclable or compostable — and Sun Basket even encourages you to return your packing components for reuse (a shipping label is provided). Oh hai, easy pants. I can totally handle that.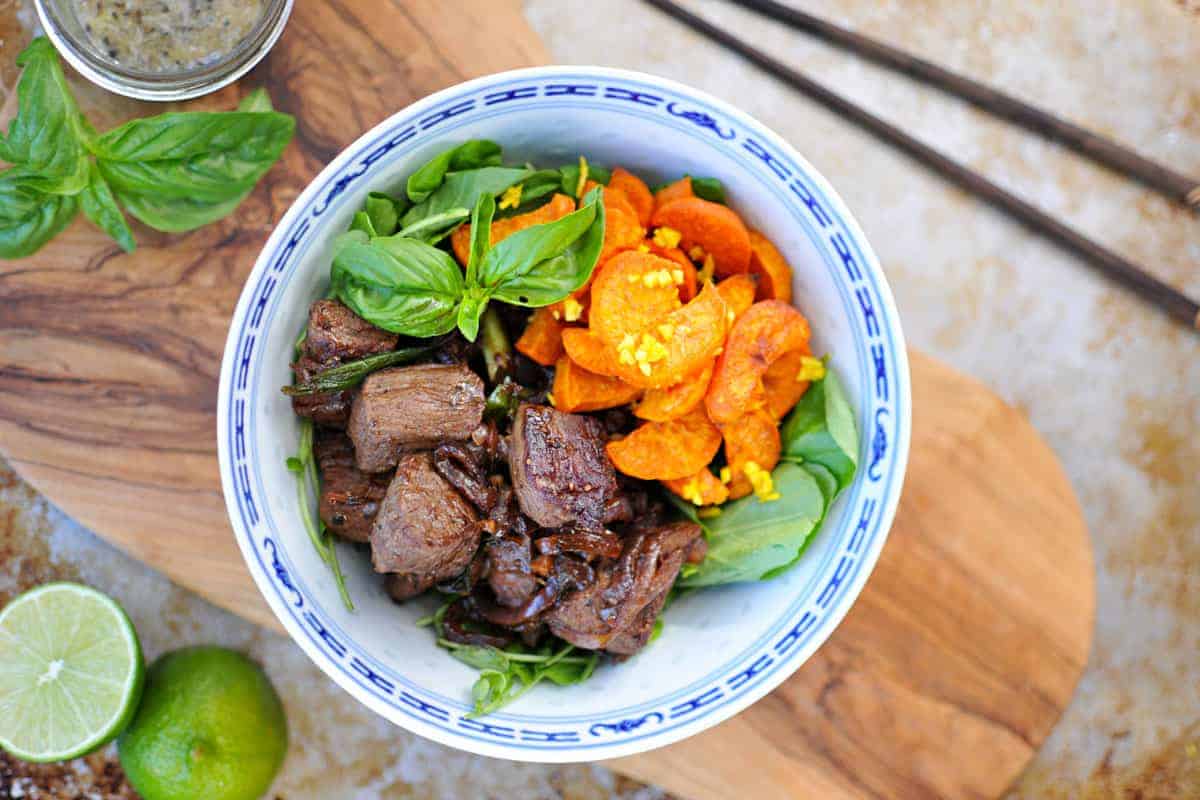 As for the recipes (which, let's be real, if you're paying $11/serving, should taste at least as good as takeout), I've made this shaking beef recipe twice now, and it'll likely be added to our small rotation of go-to weeknight meals even when we don't have a Sun Basket delivery on hand. It's as simple as quickly seared steak seasoned with mirin, tamari and fish sauce — but paired with warm, gingery sweets and mildly peppery watercress, it's savory and satisfying and everything I want to be eating before the Season of Overeating is officially underway.
Also, look how purty. ♥
To enter for your chance to win a free week of Sun Basket's organic meal delivery service: scroll down to the widget below the recipe and join Sun Basket's mailing list so you can learn more about each week's tasty offerings, new recipes, local producers and more. (You can also get bonus entries for doing the Facebook thang, too.) Giveaway is open through Friday, November 20, 2015. Note that entries are limited to folks in Sun Basket's current delivery area of CA, AZ, CO, ID, OR, UT, WA, and NV. Sorry rest of the world'ers! No free food for you, but I still got mad luuuuv…
Happy ALMOST holidays, friends. Here's to getting our greens in before it's all things gravy. 😉
Good luck!
Em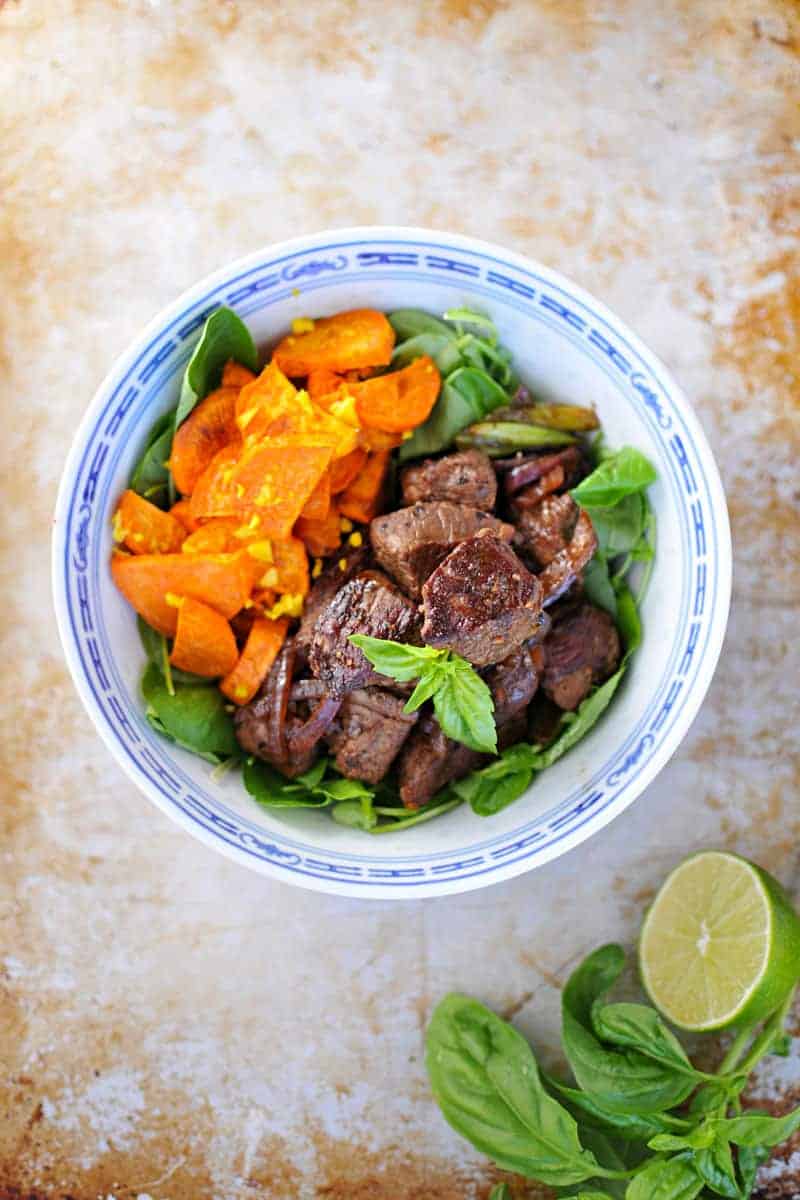 vietnamese shaking beef with gingered sweet potatoes
Ingredients
1-2 sweet potatoes, sliced into ¼" thick half-moons
2-3 T light cooking oil, divided
1" piece fresh ginger, finely minced
12 ounces sirloin steak, cut into 1" cubes
1 small red onion, thinly sliced
2 garlic cloves, finely chopped
4 scallions, sliced into 1" pieces

3 tablespoons tamari

splash mirin
dash fish sauce
juice of 1 lime
sea salt + black pepper
several handfuls fresh watercress
thai basil for serving (optional)
Instructions
Preheat oven to 400°F. Toss sweet potatoes with 1 T oil and sprinkle with salt. Arrange potatoes in an even layer on a rimmed baking sheet and roast until just tender and browned, about 20 mins. Remove from heat and toss with ginger.

While potatoes roast, season steak pieces liberally with salt and pepper. In a skillet over high heat, warm 1 T oil until hot but not smoking. Sear meat, shaking pan to brown all sides, until well-browned and slightly pink in the center, 5-6 mins. Transfer meat to a plate and set aside.

If frying pan looks dry, warm additional 1 T oil until hot but not smoking. Add onions, season with salt, and cook until soft and translucent, about 4 mins. Stir in garlic and scallions and cook until scallions soften, about 2 mins. Return beef to pan and add mirin, tamari and fish sauce. Stir to coat and cook for 1 min more.

Meanwhile, combine lime juice with (plenty of!!!) salt and pepper to taste to create a simple dipping sauce. Divide watercress between two plates and top with beef mixture and potatoes with dipping sauce on the side and basil scattered over the top, if using. Enjoy!
This post was written in partnership with Sun Basket; as usual, all opinions are my own, and I recommend only those products that I'd purchase for my own kitchen and home. Thanks for supporting the partners that allow The Pig & Quill to keep cooking!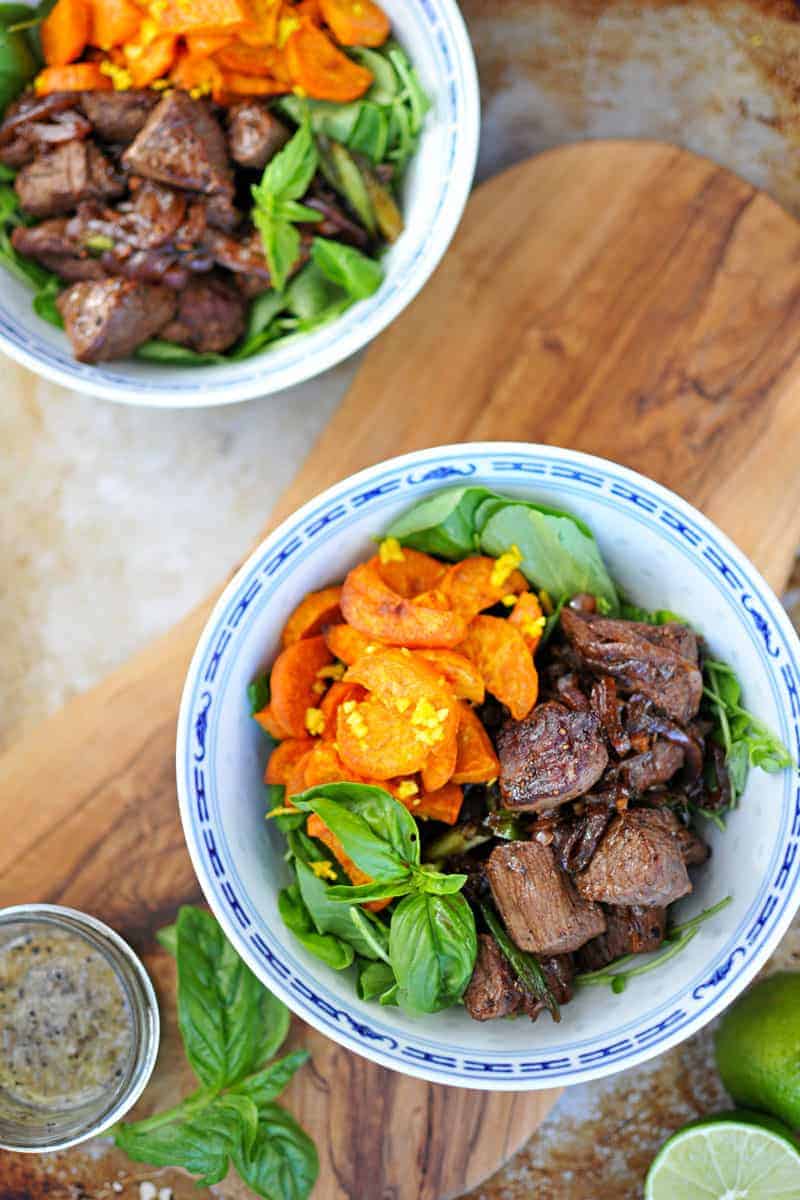 ————————————————–
OH! before you go…
Like whatcha see here — or have a question, feedback, or recipe hack to share? Join The Pig & Quill convo by commenting below (I love, luv, lurve comments) and hang out with me on Facebook, Twitter, Instagram and Pinterest. And don't forget to subscribe to P&Q emails or add me to your RSS reader with Feedly or Bloglovin' so you never miss a post. x's & o's!