Hola mis amigos, and welcome to Trading Spaces — the food blog edition! I'm over on Sprouted Routes today sharing the recipe for my (dairy-free, grain-free, refined sugar-free) Mini Sweet Potato Soufflés with Pecan Pie Streusel — so naturally, the lady behind Sprouted Routes, herself, Miss Liz Moody, is hanging out here and talking 'bout stuffing stuffs just in time for Thanksgiving – yay!
Like many modern friendships, Liz and I met on the interwebs, and it was love at first 'gram. In addition to being pretty dang talented with a camera, she's a pro at eating well on the road (hello, homie has an app!), a fellow Bay Area Bae (← sorry?…) and engaged to be mawwwhied — hooray! She's also kind of spectacular at taking ridiculously indulgent eats — pumpkin chai waffles! caramel pecan tarts! creme brulee french toast! — and making them totally sinless without tasting like hamster bedding, w00t w00t. (Also, anyone who can rationalize sourdough bread as a gut-boosting superfood is a pal in my book…)
Thanks for giving Liz a warm welcome today, guys — and be sure to check her out on Instagram, Facebook, Twitter and Pinterest, too. You won't regret it. 🙂
See ya over in soufflé land!
Em 
PS – If you haven't already, don't forget to enter to win a week of organic meals from Sun Basket! 🙂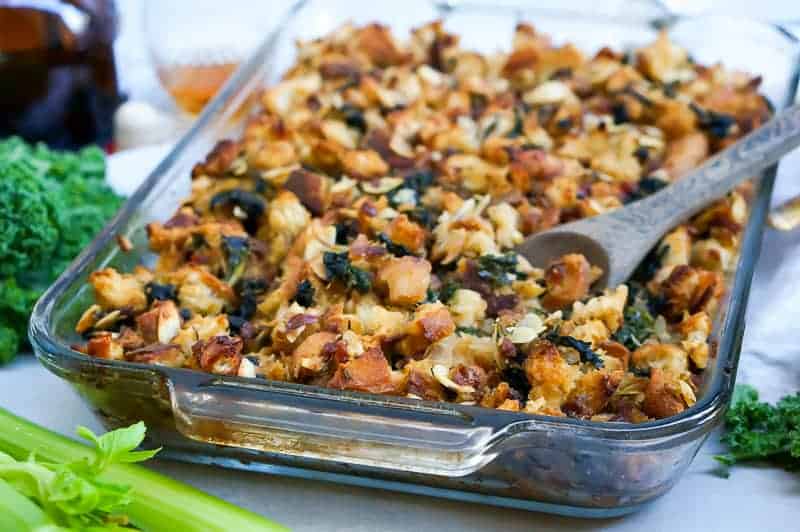 My name's Liz, and I'm the woman behind Sprouted Routes, where I post insanely delicious, decadent recipes for things like Caramel Apple Crisp and Pumpkin Pie Chia Pudding and Creme Brulee French Toast – except it's all totally healthy.  I'm all about both nourishing and indulging yourself and I get a huge kick out of tricking my friends and family into those "wait – this is GOOD for me??" moments (insert evil laugh here).  When I'm not testing recipes for the blog, interviewing healthy influencers or trying on twenty organic lipsticks to find the best one to recommend to you beautiful people, I'm working on my first cookbook (due out Spring 2017! I'm so excited!) and planning my wedding, which will have waaaay too much food and a few cute goats.  I'm excited.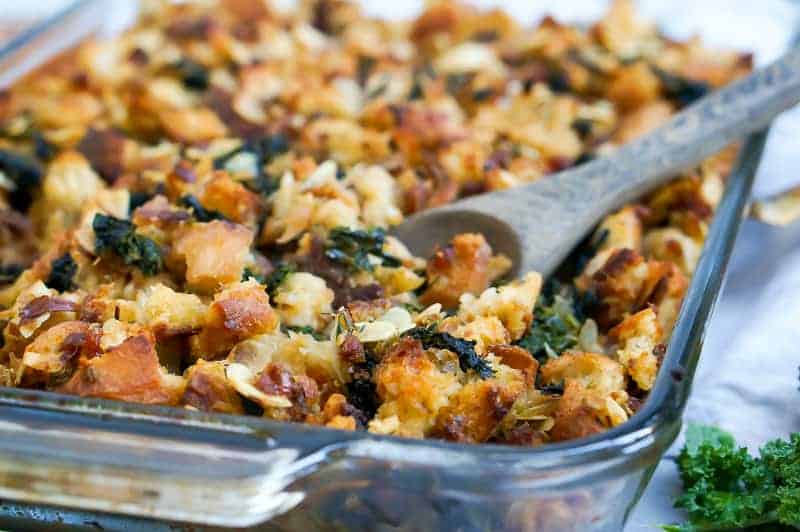 This little number here is a riff on my absolute favorite Thanksgiving dish: stuffing. I've always been one to eschew mains and go straight to the sides, and stuffing is the ultimate side, full of sweet and savory deliciousness. This one uses sourdough bread, which, in addition to having a lovely texture and tang, is pre-digested by friendly bacteria, and thus much easier for your body to process than non-fermented or sprouted bread (which helps to get rid of that heavy, bloated feeling). While kale has gone from the star new kid superfood to played out status, I still love the old staple, and here, it adds a necessary green earthiness and some fiber and Vitamin K to the mix. Almonds bring in crunch and protein, and the Grand Marnier soaked apricots add a beautiful sweetness. Yes, I said Grand Marnier. Is it totally healthy? No. Is it perfect for a special occasion holiday dish? Absolutely. It's has a rich orange flavor that will wow your tastebuds and add a depth to the entire dish (you can sub orange juice if you must. I'll only be a little sad). Drizzling the vegetable stock over the croutons right before baking ensures you get a perfectly textured result and a crispy top without any of the sad, homogenous mush-balls that grace so many Thanksgiving tables. This recipe is optionally vegan and always a show-stopper.
Thanks again to Em for continuing to stoke my love for all things sides-related with her insane Sweet Potato Souffles.  And happy Thanksgiving to you lovely folk that Em's allowed me to meet!  May your week be full (let's be real: likely a little too full) of delicious food and family time.
xx!
Liz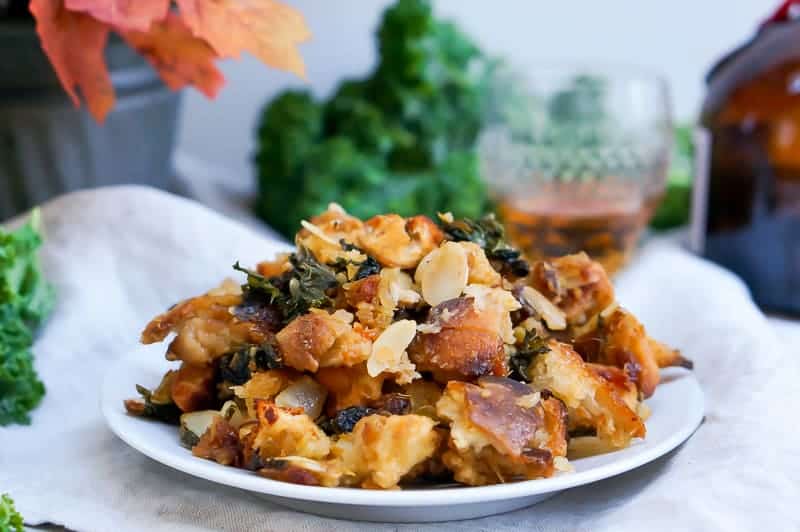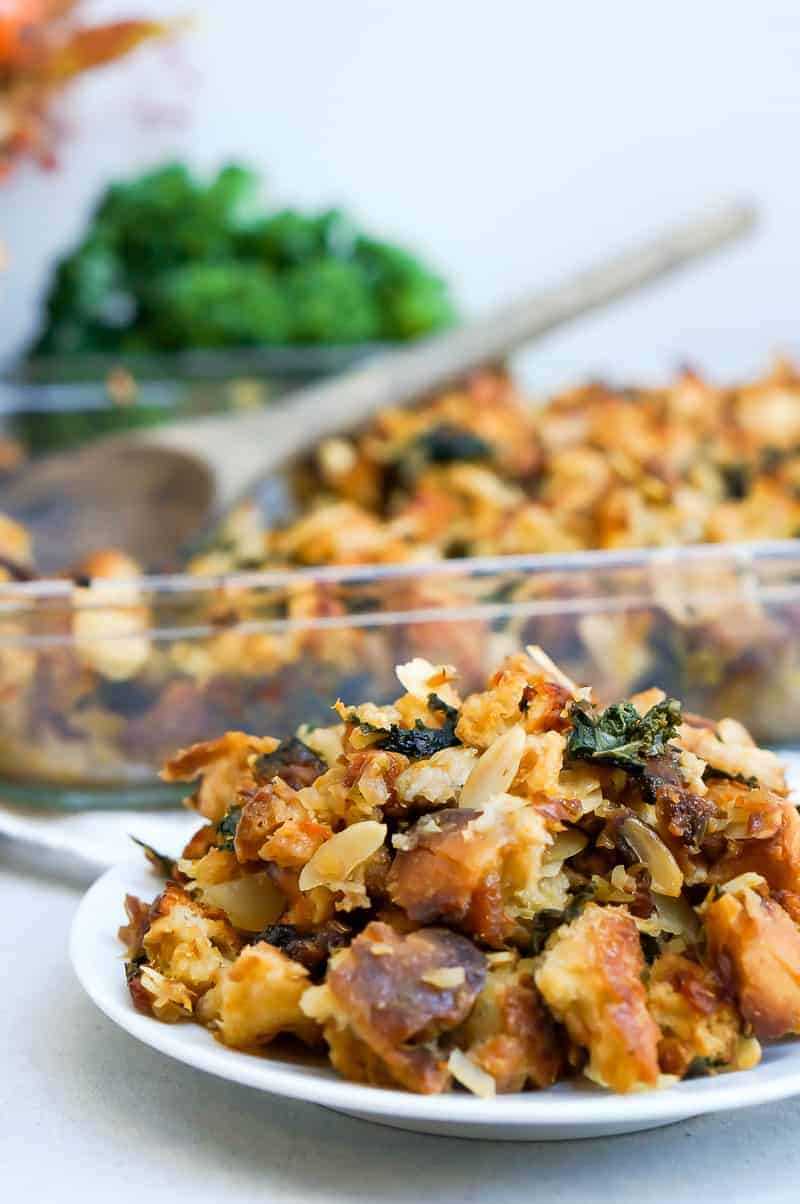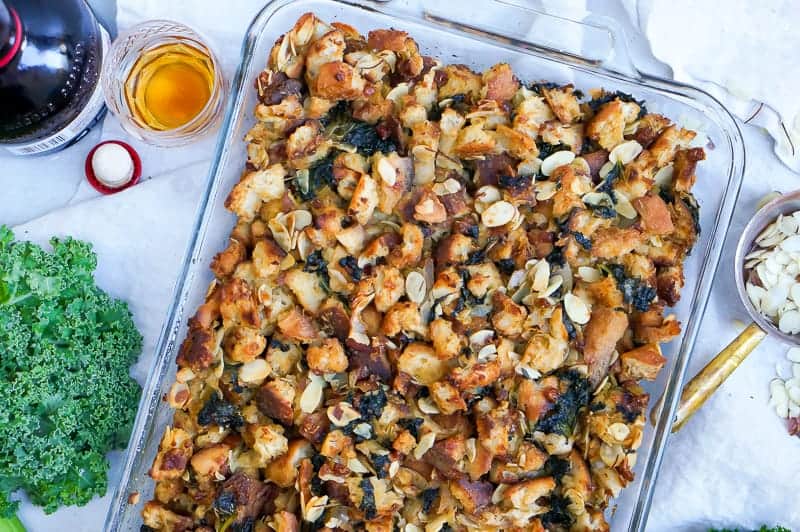 Sourdough Stuffing w/ Kale, Sliced Almonds + Grand Marnier-Soaked Apricots
Makes:
8 generous servings
Ingredients
2 sourdough baguettes, roughly torn into 1" chunks (about 8 cups)
1 cup chopped celery
1 large onion, chopped
1 cup diced apricots (try to get the unsulphured kind, if possible)
1 cup Grand Marnier
1 tbsp fresh thyme
1 cup sliced almonds
1 ½ cups vegetable broth
1 bunch kale, stems removed and roughly torn into small pieces (about 8 cups)
5 T grassfed butter, coconut oil or ghee
generous glug high heat oil (coconut or avocado work great)
sea salt
Instructions
Preheat oven to 450 degrees. In a large bowl, drizzle bread with high heat oil of choice and a generous pinch of sea salt. Toss to evenly coat, then spread in single layer on a parchment lined pan and place in oven for 10 minutes, or until just beginning to brown at edges, stirring halfway through. Remove from oven and set aside; reduce oven heat to 325 degrees.
In a small pot, stir together Grand Marnier and apricots. Bring just to a boil, then remove from heat and set aside.
In a large pot over medium heat, melt butter then add onions, celery, and kale. Cook for 10 minutes, stirring occasionally, then remove from heat and stir in the almonds and the Grand Marnier and apricot mixture. Toss with toasted bread until all ingredients are evenly distributed, then spread in an even layer in a 9" x 13" lightly greased pan. Drizzle vegetable stock over the stuffing, then cook for 30 - 45 minutes, or until top is light brown and crispy. Fluff with a fork before serving.
————————————————–
OH! before you go…
Like whatcha see here — or have a question, feedback, or recipe hack to share? Join The Pig & Quill convo by commenting below (I love, luv, lurve comments) and hang out with me on Facebook, Twitter, Instagram and Pinterest. And don't forget to subscribe to P&Q emails or add me to your RSS reader with Feedly or Bloglovin' so you never miss a post. x's & o's!