Hey luvvvvvs! SUPER quick post today to wish you all a wonderful Thanksgiving week and to quickly share just how thankful I am for everything this year has delivered (heh) — but also for this little space and the friends I've made hanging out here. I've said it before, and I'll say it again (and again): I so love the exchanges that take place both here on the blog and across social media and am truly tickled to know that folks actually set aside a few moments of your busy weeks to hear what I've got to say (particularly since it's most often a lot of hullabaloo). I wish I had the opportunity to personally give anyone who's ever laid eyes on this site a cozy little IRL snuggle of thanks…so if you're reading this, maybe pretend we're hugging? Unless that seems weird to you, in which case we can maybe just do a pretend friendly handshake and then awkwardly walk away in the same direction.
I hate it when that happens.
Also, in case you missed it on Instagram, I accidentally roasted the crud out of a bag o' crannies the other day and ended up with a sweet and spicy compote that's sure to make repeat appearances on our holiday table, so I've posted the recipe below. Serve it up alongside some turkey or chops. Add it to a festive cheese platter. Spoon it over ice cream. It's warm and comfy and silly simple to make and takes all of 15 minutes. Maybe best of all, it's got just the right amount of behind-the-ear zingyness to cut through all those rich TDay flaves. You'll be smitz.
Happy happy Thanksgiving, dearest friends! May your hearts (and plates!) be exceptionally full this week. ♥
xo,
Em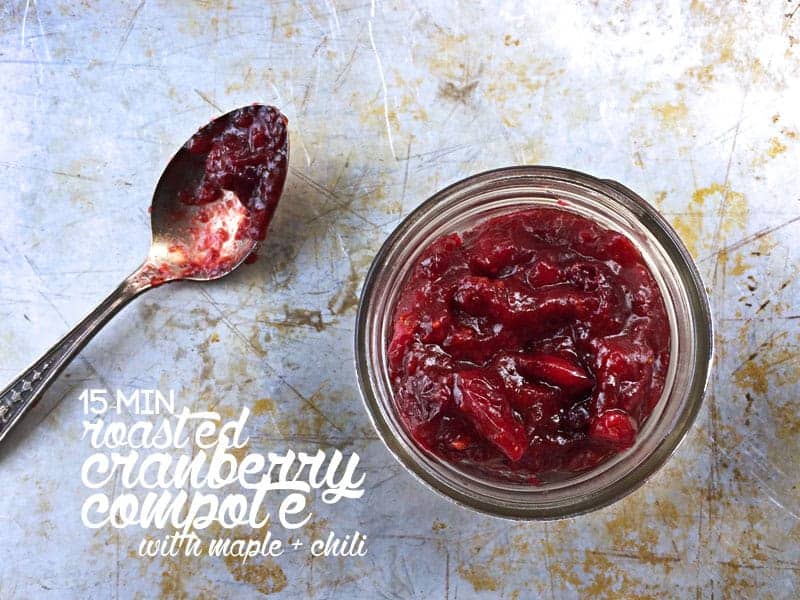 15-min roasted cranberry compote with maple + chili
Ingredients
12 oz fresh cranberries
6 T maple syrup divided
2 T olive oil
1 tsp chili powder
sea salt + black pepper
Instructions
Preheat oven to 450F. Toss cranberries with olive oil, 2T maple syrup, salt and pepper and arrange on a rimmed baking sheet in a single layer.
Roast 15 mins or until the berries are burst and bubbling.
Mix roasted berries with chili powder, more maple syrup (up to 4T, to taste) and another hefty pinch of salt. Enjoy alongside turkey or pork, on your favorite cheese board, over ice cream, etc. Yay!
————————————————–
OH! before you go…
Like whatcha see here — or have a question, feedback, or recipe hack to share? Join The Pig & Quill convo by commenting below (I love, luv, lurve comments) and hang out with me on Facebook, Twitter, Instagram and Pinterest. And don't forget to subscribe to P&Q emails or add me to your RSS reader with Feedly or Bloglovin' so you never miss a post. x's & o's!