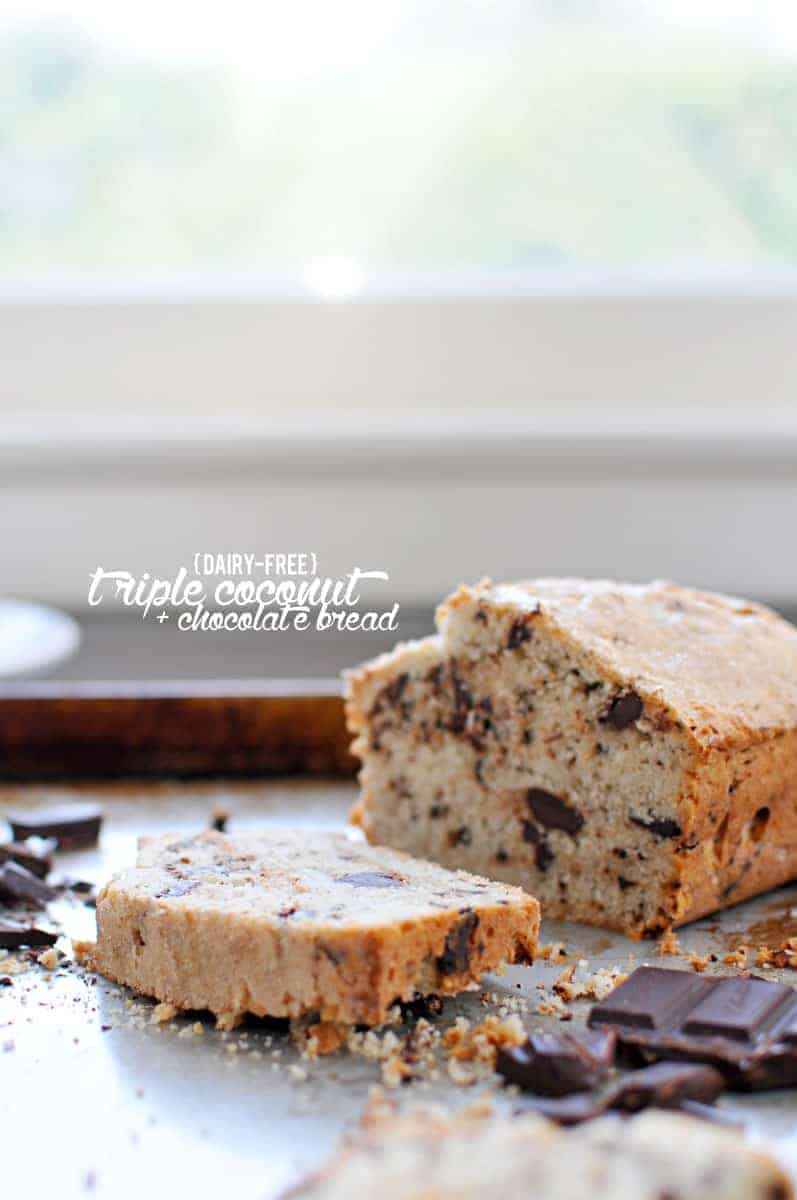 Do you guys ever make up little stories about the people in your neighborhood? Not the people who live next door or across the street, who you presumably actually know a little about — but the people you see every morning on your way to work or every now and then when you walk past the bus stop or queued up in line at Starbucks, all Lululemon'd to the nines, who you truly know nothing about except maybe that they repeatedly order an "Ummm, Hi Short Decaf Nonfat Cap," to which you repeatedly question (internally, uh'course) Ummm, Hi WHAT'S THE FREAKING POINT?
And then you glance at that tidy little Lulu'd bum and totally get it.
Bah.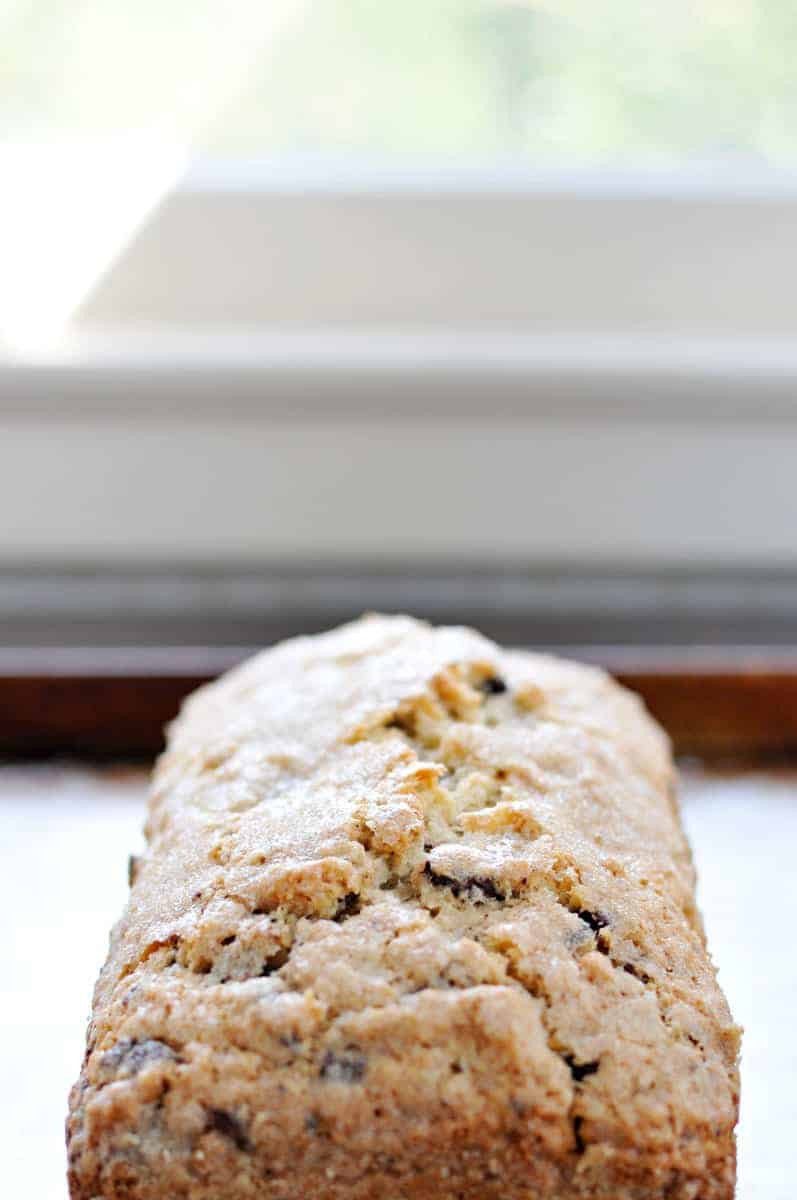 Anyway. I do this on the reggie.
Short Nonfat Cap is most definitely a techie ladyboss turned jewelry party hostess and a mad collector of Southwestern pottery.
Lady Who Runs with Hair Down (seriously, you guys, it's past her butt! why so long! why so…free?! so very intriguing!) totally loves scouting punny souvenir T's and giving out ziploc containers of mac nut cookies every Christmas.
Starbuck's Manager Dude is getting his Masters in Sociology and has a Stanford athlete girlfriend and a weimaraner at home.
It's fun, right?
Until you wonder what story people are telling about you.
Babywearing Bedhead lives for second breakfast, gets all her parenting advice from Connie Britton and typically can't bake for shit.
Oh but heeyyyyyyyy…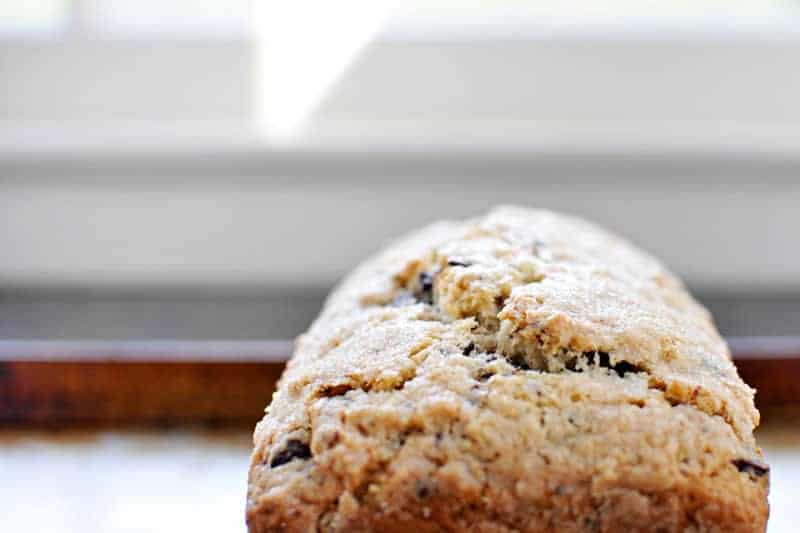 Happy news is that Babywearing Bedhead has gotten some help in the baking department lately — first when I gussied up the gutz to knock off Blum's Coffee Crunch Cake; then when these fudgy numbers came to be; and now, in the form of this surprisingly simple, spectacularly breakfastable coconut bread.
This bread comes to you by way of Amy Guittard's new Guittard Chocolate Cookbook, a veritable trove of stunning (and stunningly doable) recipes that range in chocolateyness from restrained to rampant, which might be the reason I love it so. Rather than every recipe being overtly decadent, a good number of items are decidedly simple — humble, even — this bread included.
Speaking of said bread, it's (pardon the descriptor) moist while still possessing a cakey crumb that begs the company of your morning coffee or tea. Enticingly domed with a sharp, sugary crust. And then there's that distinctively crispy-chewy texture that only comes from shredded coconut. (If you've had a Mounds Bar, you know the one…)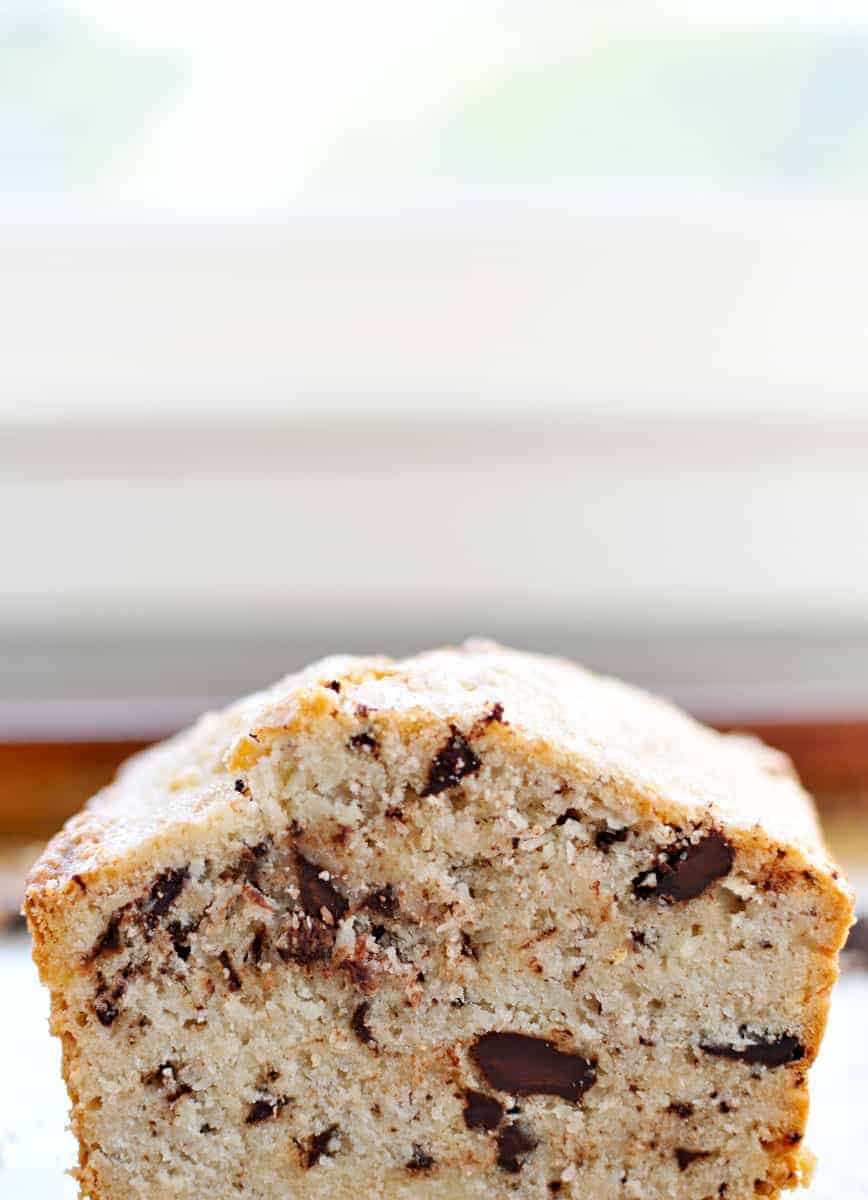 The chocolate here is, of course, excellent, as well — not so sweet as to overpower the tropical, almost creamy flavor of the three coconut iterations running through this loaf (butter, milk and shredded), but substantial enough that you'd miss it if it were omitted. I'd go so far as to suggest that the slight bitter edge of the chocolate actually tames the cake's richness a bit, sharp and lingering and luring as it is.
Admittedly, the original recipe published in Amy's book may be lighter in coconut profile as it calls for a combination of (cow's) milk and coconut water where I've used all full-fat coconut milk and butter where I've subbed coconut oil, but I promise you the end result is irresistible — particularly for second breakfast, and even if you take no issue with dairy whatsoever. 😉
Make a loaf — or three, they're super giftable!! — and you'll see.
Happy weekend everyone!
xo,
Babywearing Bedhead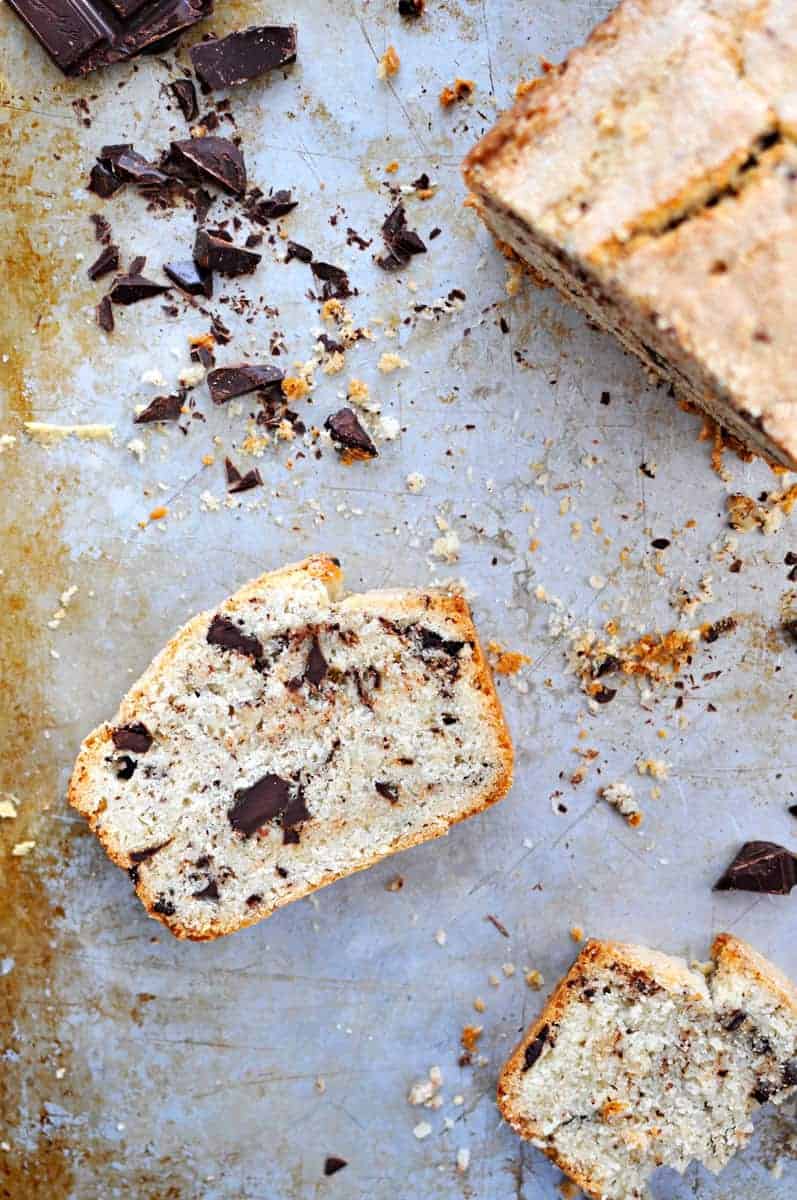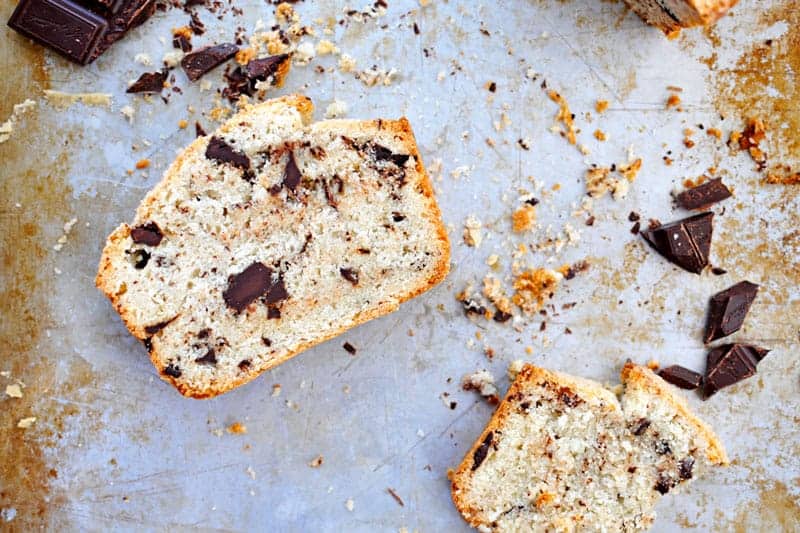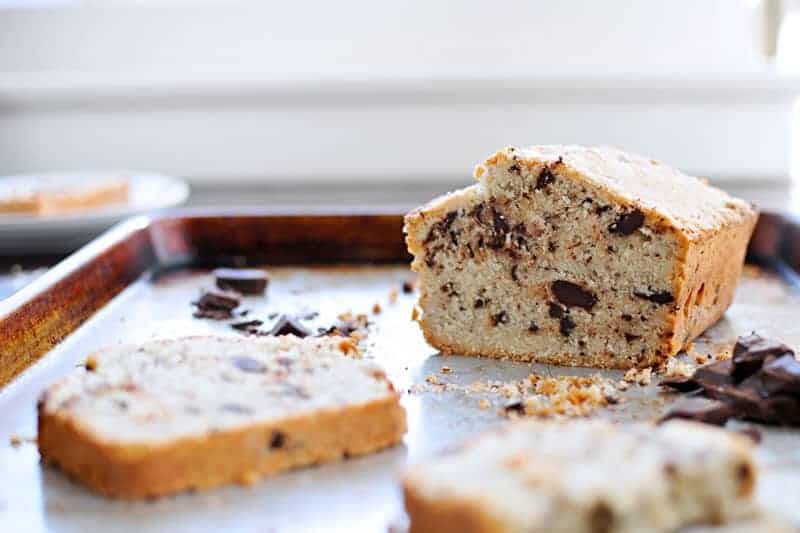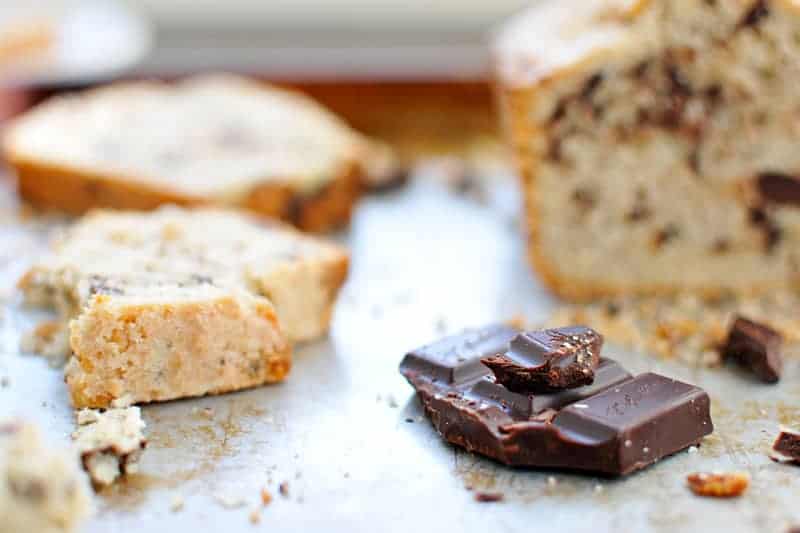 triple coconut chocolate bread (df)
Ingredients
1.5 cups all-purpose flour
1.5 tsp baking powder
½ tsp salt
1 cup unsweetened shredded coconut
⅔ cup full-fat coconut milk
½ cup coconut oil, melted and cooled
½ cup granulated sugar
1 large egg
1 tsp vanilla
3 ounces bittersweet chocolate, chopped
1 T raw or turbinado sugar
Instructions
Preheat oven to 350F. Grease (with coconut oil or spray) and flour a 9x5x3 loaf pan.
In a medium bowl, combine flour, baking powder and salt.
In a large bowl with a hand mixer, blend together melted coconut oil, granulated sugar, egg, coconut milk, vanilla and shredded coconut until well combined. Add flour mixture and mix until just combined. Fold in chocolate. Pour batter (it will be very thick) into prepared pan. Sprinkle raw sugar evenly over top of batter. Bake for 55-60 mins or until an inserted toothpick comes out clean. Allow bread to cool 15 mins in pan, then invert onto a cooling rack and cool completely.
Wrap cooled bread tightly in plastic wrap and store at room temperature overnight or up to five days before serving. Slice and enjoy!
Notes
Like many cakes, this 'bread' is better enjoyed the next day and stores very well for up to 5 days at room temperature. If you plan to enjoy it much later than that, feel free to stash it in the freezer for up to 2 months. Thaw frozen bread in the fridge overnight before reheating in a 350F oven for 5-10 mins or until warmed through.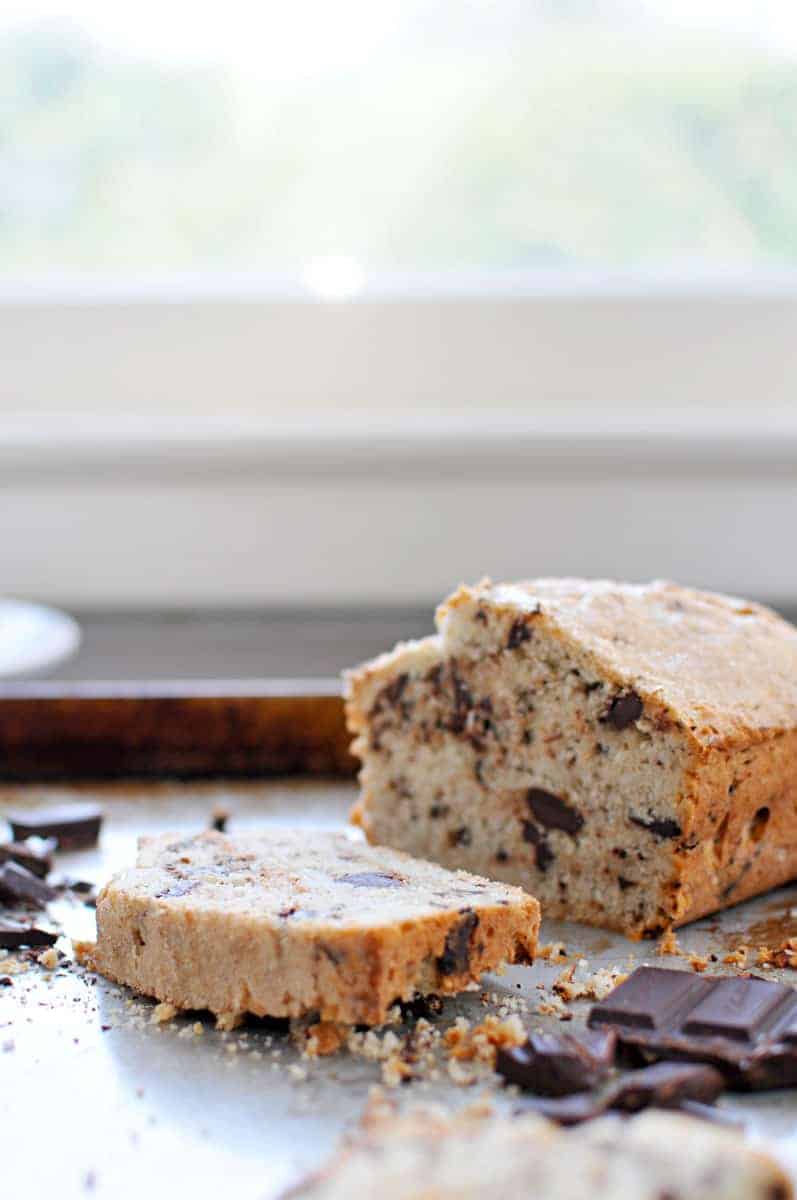 ————————————————–
OH! before you go…
Like whatcha see here — or have a question, feedback, or recipe hack to share? Join The Pig & Quill convo by commenting below (I love, luv, lurve comments) and hang out with me on Facebook, Twitter, Instagram and Pinterest. And don't forget to subscribe to P&Q emails or add me to your RSS reader with Feedly or Bloglovin' so you never miss a post. x's & o's!