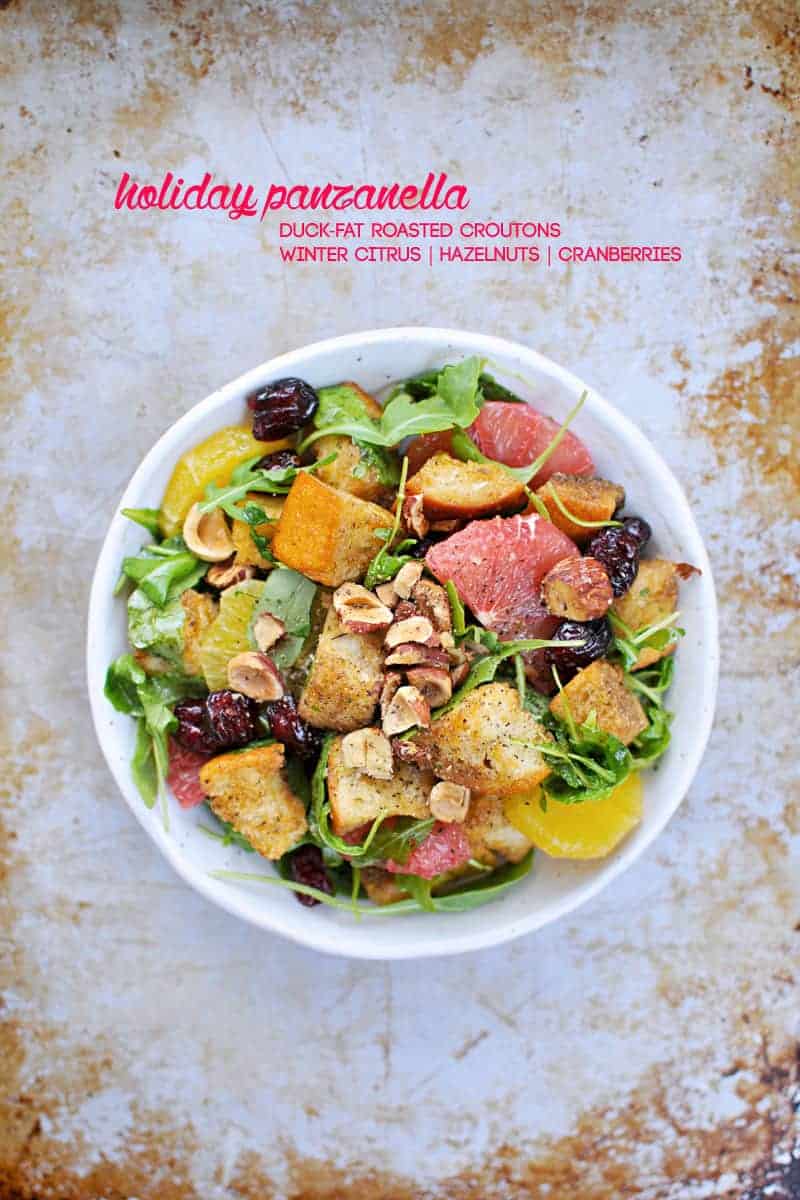 Hiya folks. Sorry it's been a quiet couple of weeks around here. Chris was preparing to go on a business trip last week — his first few nights away from Lana — so we soaked up our evenings together, putting the baby to bed as a duo and then sitting down with takeout and a shameless queue of ABC Family holiday movies on Netflix.
And then earlier this week, when I had every intention of regaling you with the tale of this salad (which I nearly guarantee will become The Salad you're asked to bring to every everything from here on out), Lana had a mild allergic reaction to eggs that escalated into a little baby vom-fest two hours after she went to bed. Everyone tells you that one of the hardest parts of parenting is seeing your child sick or in pain, and I can now vouch for that one hundred percent. No one likes being sick to their stomach, but when it's your little's first time and she has no idea why her body is being wracked so violently and there's very little you can do to ease the discomfort in that moment, it's heart wrenching, you guys. Thank the heavens Poppy (my mom) was here to pinch hit while Chris was away and did-slash-said all the things a seasoned momma should. She calmed me so I could calm Lana; inconspicuously laundered everything in sight; and made a Benedryl run in what had to be record time. (I half expect to see a Poppy-shaped hole in the wall the next time I go to CVS.)
It was one of those defining moments where you fully realize what it means to be a parent. In the smallest, sickest way, there's a tiny high associated with experiencing what it's like to be really, truly needed by someone other than yourself. But mostly it's just calculated worry followed in rapid fire by calculated response and then a slow, apprehensive descent into relief.
So that's where I've been.
And thankfully, Lana has never been better. Just no more eggs for a good while.
Now we can chat about salad.
I can't tell you exactly why or when I decided that wet bread is a good thing. Maybe I stopped thinking of the bread as, uh, bread, and rather as an ingredient on its way to becoming something else. Maybe it was the French toast at Tower Cafe in Sac, where the bread is so crunchy on the edges and creamy-custardy in the center that it shares more in common with a soufflé than a baguette. (It's completely beguiling. If you're ever in the area, an absolute must…) What I do know is this: in my current version — Emily Adult.0, we'll call her — soggy bread can most definitely be a good thing so long as it's done right.
In the instance of this salad — and most bread salads and stuffings I make — doing it right means toasting the bread first, just enough so that it retains some texture once moistened while also picking up extra flavor from the browning process. And if you're going for flavor, you might as well season up that bread a little prior to its trip into the oven. I've used an assortment of comforting herbs and spices enhanced all the more by a quick bath in melted duck fat (you guys know how I feel about duck fat!!!) and olive oil. The resulting croutons are unapologetically delicious on their own with flavors reminiscent of Thanksgiving stuffing — the crispiest bits, mind you — but even more delicious when piled high atop a bed of lightly dressed greens alongside bright winter citrus, chewy dried cranberries and crunchy, kinda fancy-seeming hazelnuts. It's a salad worth celebrating. Or, as the name implies, a salad worthy of celebrations. 😉
We'll be laying low this week and next spending lots of time catching up with family and friends and savoring every moment surrounding Lana's First Christmas, so if it's a bit quiet around here, you know why.
Until next time, happy holidays, sweet friends!
xoxo and BIG Christmas cheers,
Em
p.s. – happy belated birthday to my favorite partner in crime and behbehdahdeh! we're dang lucky to have your fine ass around. love you!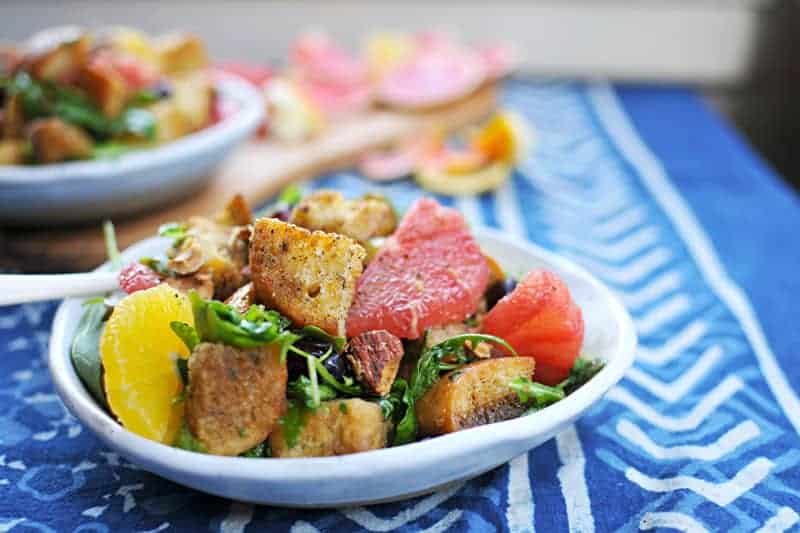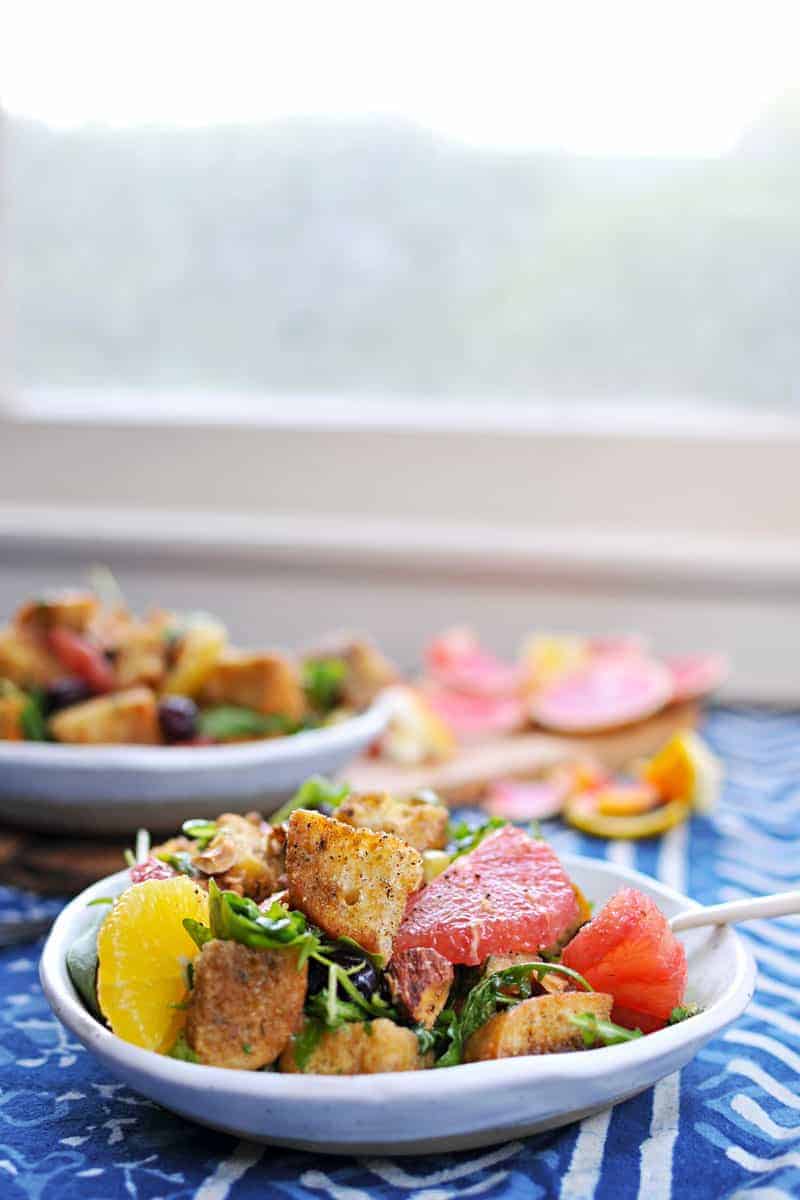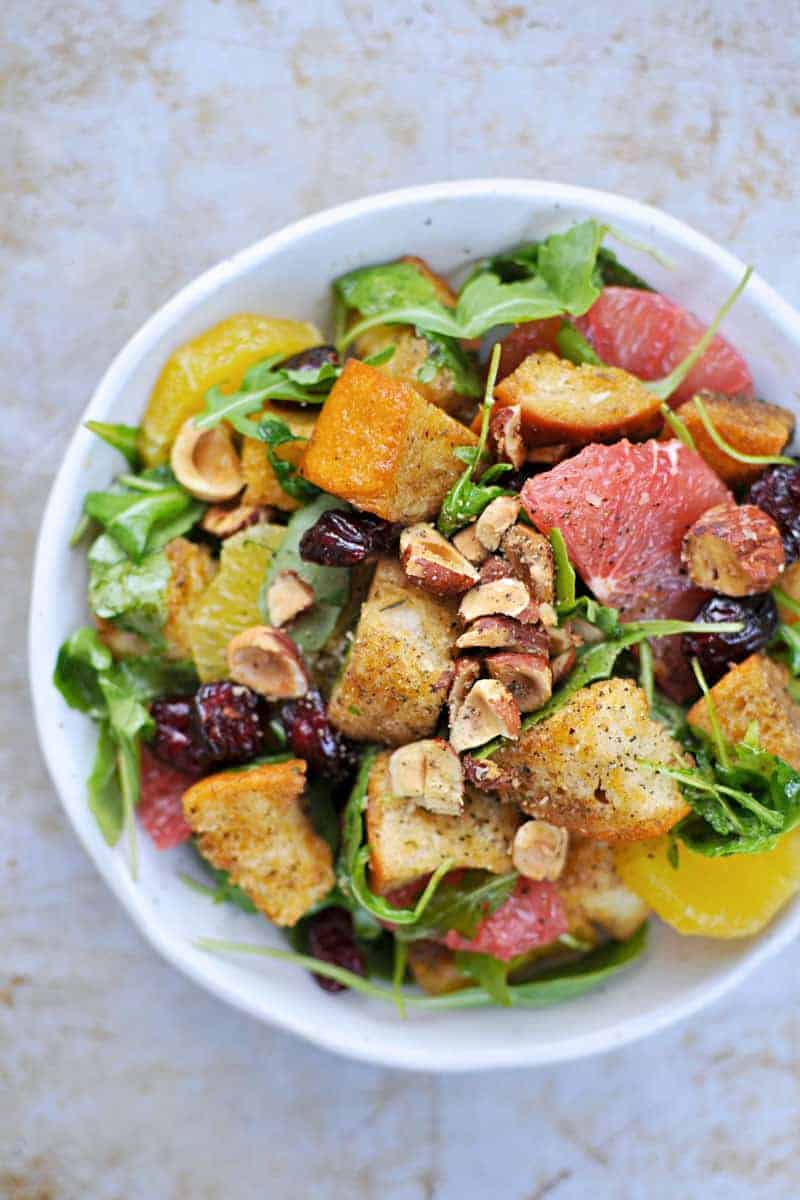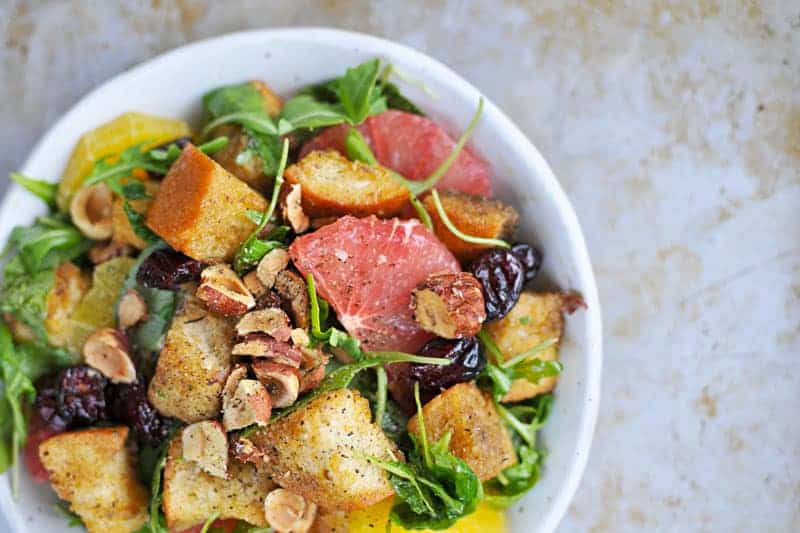 holiday panzanella with duck-fat roasted croutons, winter citrus + hazelnuts
Ingredients
For the Croutons
1 large sourdough baguette, cut into cubes (about 7-8 cups)
3 T duck fat, melted
2 T olive oil
1 tsp dried thyme
1 tsp dried sage
1 tsp sea salt
½ tsp garlic powder
½ tsp dried fennel, ground
½ tsp paprika
black pepper
For the White Balsamic Vinaigrette
¼ cup olive oil
¼ cup white balsamic vinegar
¼ cup freshly squeezed orange juice
2 T dijon mustard
2 T maple syrup
½ tsp salt
freshly ground black pepper
To Compose the Salad
6-8 oz (about one bag) baby arugula, washed and thoroughly dried
2 medium navel oranges
2 ruby red grapefruit
¼ cup dried cranberries
¼ cup dry roasted hazelnuts, roughly chopped
Instructions
Preheat oven to 375F. Toss bread cubes with all crouton ingredients and arrange in a single layer on a rimmed baking sheet. Roast for 10 mins; toss; roast an additional 10 mins or until golden brown and crisp. Set aside to cool slightly.
While croutons bake, whisk (or shake, in a small sealed jar) together all dressing ingredients, adding black pepper to taste.
Cut peel and pith from oranges and grapefruits, then halve and slice into half-moons, removing seeds if necessary.
About 15 mins (and up to an hour) before serving, toss croutons and arugula with dressing, to taste. Gently add citrus, tossing lightly to combine. Scatter cranberries and hazelnuts over the top. Serve topped with a little more black pepper. Enjoy!
Notes
I love the indulgent richness that duck fat lends to the croutons in this dish -- after all, we're talking about bread salad, not health food, so live a little! However, if you're serving vegetarians or vegans -- or you're just adverse to your croutons tasting as if they've been crisped up alongside a roast chicken (aka you're certified bonkers) -- you can always replace the duck fat with more olive oil. Either way. 😉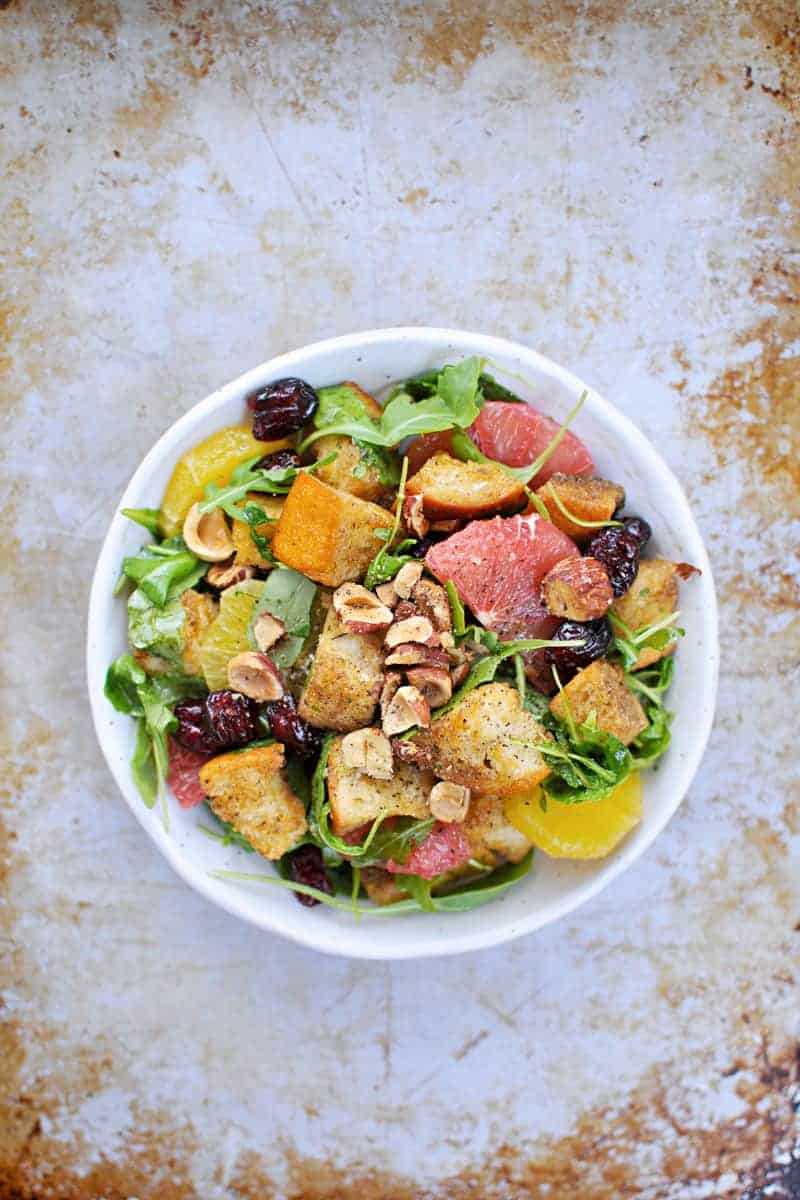 ————————————————–
OH! before you go…
Like whatcha see here — or have a question, feedback, or recipe hack to share? Join The Pig & Quill convo by commenting below (I love, luv, lurve comments) and hang out with me on Facebook, Twitter, Instagram and Pinterest. And don't forget to subscribe to P&Q emails or add me to your RSS reader with Feedly or Bloglovin' so you never miss a post. x's & o's!