holiday panzanella with duck-fat roasted croutons, winter citrus + hazelnuts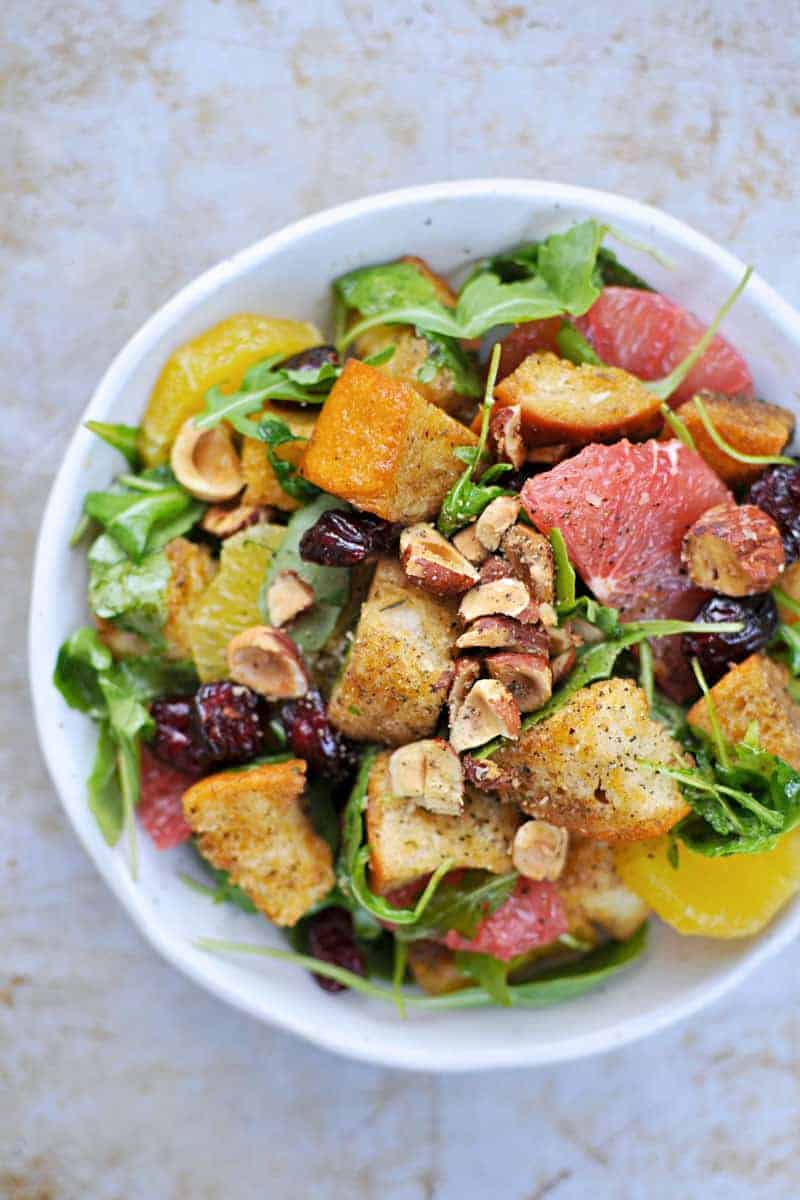 For the Croutons
1 large sourdough baguette, cut into cubes (about 7-8 cups)
3 T duck fat, melted
2 T olive oil
1 tsp dried thyme
1 tsp dried sage
1 tsp sea salt
½ tsp garlic powder
½ tsp dried fennel, ground
½ tsp paprika
black pepper
For the White Balsamic Vinaigrette
¼ cup olive oil
¼ cup white balsamic vinegar
¼ cup freshly squeezed orange juice
2 T dijon mustard
2 T maple syrup
½ tsp salt
freshly ground black pepper
To Compose the Salad
6-8 oz (about one bag) baby arugula, washed and thoroughly dried
2 medium navel oranges
2 ruby red grapefruit
¼ cup dried cranberries
¼ cup dry roasted hazelnuts, roughly chopped
Preheat oven to 375F. Toss bread cubes with all crouton ingredients and arrange in a single layer on a rimmed baking sheet. Roast for 10 mins; toss; roast an additional 10 mins or until golden brown and crisp. Set aside to cool slightly.
While croutons bake, whisk (or shake, in a small sealed jar) together all dressing ingredients, adding black pepper to taste.
Cut peel and pith from oranges and grapefruits, then halve and slice into half-moons, removing seeds if necessary.
About 15 mins (and up to an hour) before serving, toss croutons and arugula with dressing, to taste. Gently add citrus, tossing lightly to combine. Scatter cranberries and hazelnuts over the top. Serve topped with a little more black pepper. Enjoy!
I love the indulgent richness that duck fat lends to the croutons in this dish -- after all, we're talking about bread salad, not health food, so live a little! However, if you're serving vegetarians or vegans -- or you're just adverse to your croutons tasting as if they've been crisped up alongside a roast chicken (aka you're certified bonkers) -- you can always replace the duck fat with more olive oil. Either way. ;)
Recipe by
the pig & quill
at https://thepigandquill.com/holiday-panzanella-with-duck-fat-roasted-croutons-winter-citrus-hazelnuts/