Sourdough Stuffing w/ Kale, Sliced Almonds + Grand Marnier-Soaked Apricots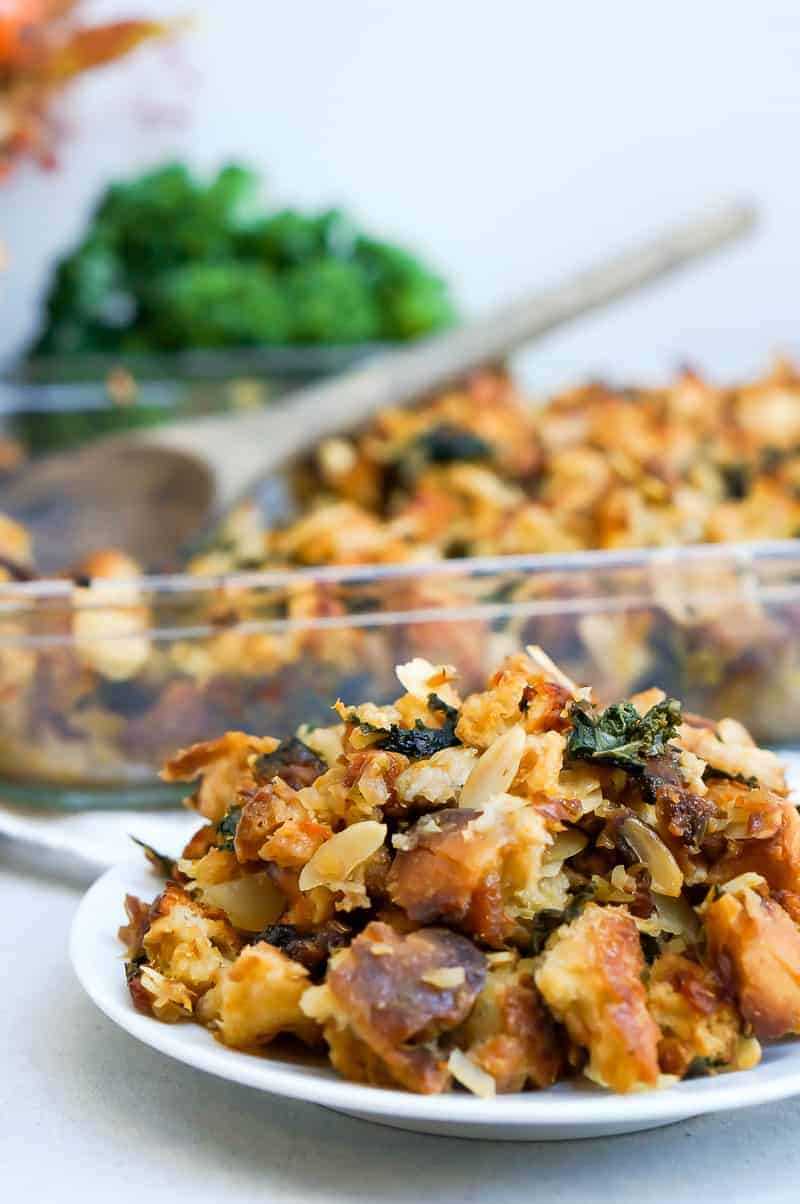 Makes:
8 generous servings
2 sourdough baguettes, roughly torn into 1" chunks (about 8 cups)
1 cup chopped celery
1 large onion, chopped
1 cup diced apricots (try to get the unsulphured kind, if possible)
1 cup Grand Marnier
1 tbsp fresh thyme
1 cup sliced almonds
1 ½ cups vegetable broth
1 bunch kale, stems removed and roughly torn into small pieces (about 8 cups)
5 T grassfed butter, coconut oil or ghee
generous glug high heat oil (coconut or avocado work great)
sea salt
Preheat oven to 450 degrees. In a large bowl, drizzle bread with high heat oil of choice and a generous pinch of sea salt. Toss to evenly coat, then spread in single layer on a parchment lined pan and place in oven for 10 minutes, or until just beginning to brown at edges, stirring halfway through. Remove from oven and set aside; reduce oven heat to 325 degrees.
In a small pot, stir together Grand Marnier and apricots. Bring just to a boil, then remove from heat and set aside.
In a large pot over medium heat, melt butter then add onions, celery, and kale. Cook for 10 minutes, stirring occasionally, then remove from heat and stir in the almonds and the Grand Marnier and apricot mixture. Toss with toasted bread until all ingredients are evenly distributed, then spread in an even layer in a 9" x 13" lightly greased pan. Drizzle vegetable stock over the stuffing, then cook for 30 - 45 minutes, or until top is light brown and crispy. Fluff with a fork before serving.
Recipe by
the pig & quill
at https://thepigandquill.com/sourdough-stuffing-with-kale-almonds-grand-marnier-apricots-sprouted-routes-guest-post/