vietnamese shaking beef with gingered sweet potatoes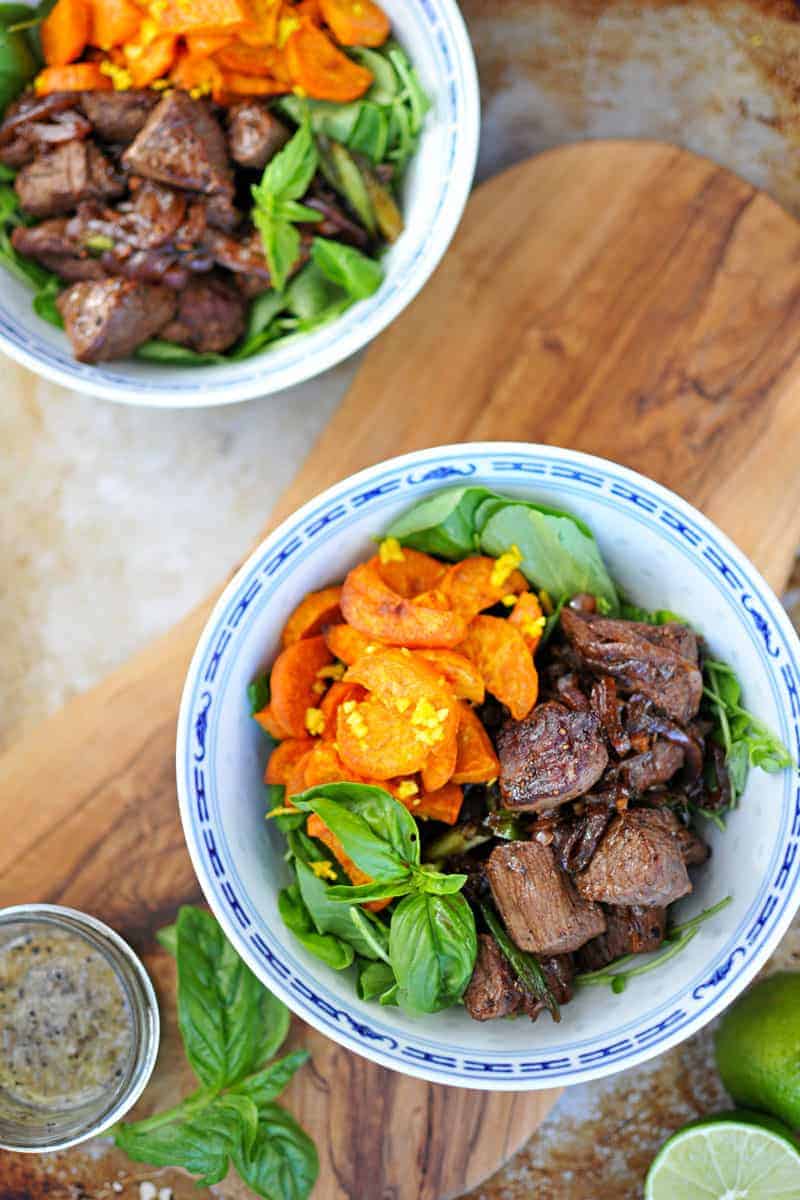 1-2 sweet potatoes, sliced into ¼" thick half-moons
2-3 T light cooking oil, divided
1" piece fresh ginger, finely minced
12 ounces sirloin steak, cut into 1" cubes
1 small red onion, thinly sliced
2 garlic cloves, finely chopped
4 scallions, sliced into 1" pieces

3 tablespoons tamari

splash mirin
dash fish sauce
juice of 1 lime
sea salt + black pepper
several handfuls fresh watercress
thai basil for serving (optional)
Preheat oven to 400°F. Toss sweet potatoes with 1 T oil and sprinkle with salt. Arrange potatoes in an even layer on a rimmed baking sheet and roast until just tender and browned, about 20 mins. Remove from heat and toss with ginger.

While potatoes roast, season steak pieces liberally with salt and pepper. In a skillet over high heat, warm 1 T oil until hot but not smoking. Sear meat, shaking pan to brown all sides, until well-browned and slightly pink in the center, 5-6 mins. Transfer meat to a plate and set aside.

If frying pan looks dry, warm additional 1 T oil until hot but not smoking. Add onions, season with salt, and cook until soft and translucent, about 4 mins. Stir in garlic and scallions and cook until scallions soften, about 2 mins. Return beef to pan and add mirin, tamari and fish sauce. Stir to coat and cook for 1 min more.

Meanwhile, combine lime juice with (plenty of!!!) salt and pepper to taste to create a simple dipping sauce. Divide watercress between two plates and top with beef mixture and potatoes with dipping sauce on the side and basil scattered over the top, if using. Enjoy!
Recipe by
the pig & quill
at https://thepigandquill.com/vietnamese-shaking-beef-with-gingered-sweet-potatoes-a-giveaway/