Sweet and Salty Energy Bars — these crunchy, gluten-free cereal bars are the perfect balanced snack or a quick, make-ahead breakfast.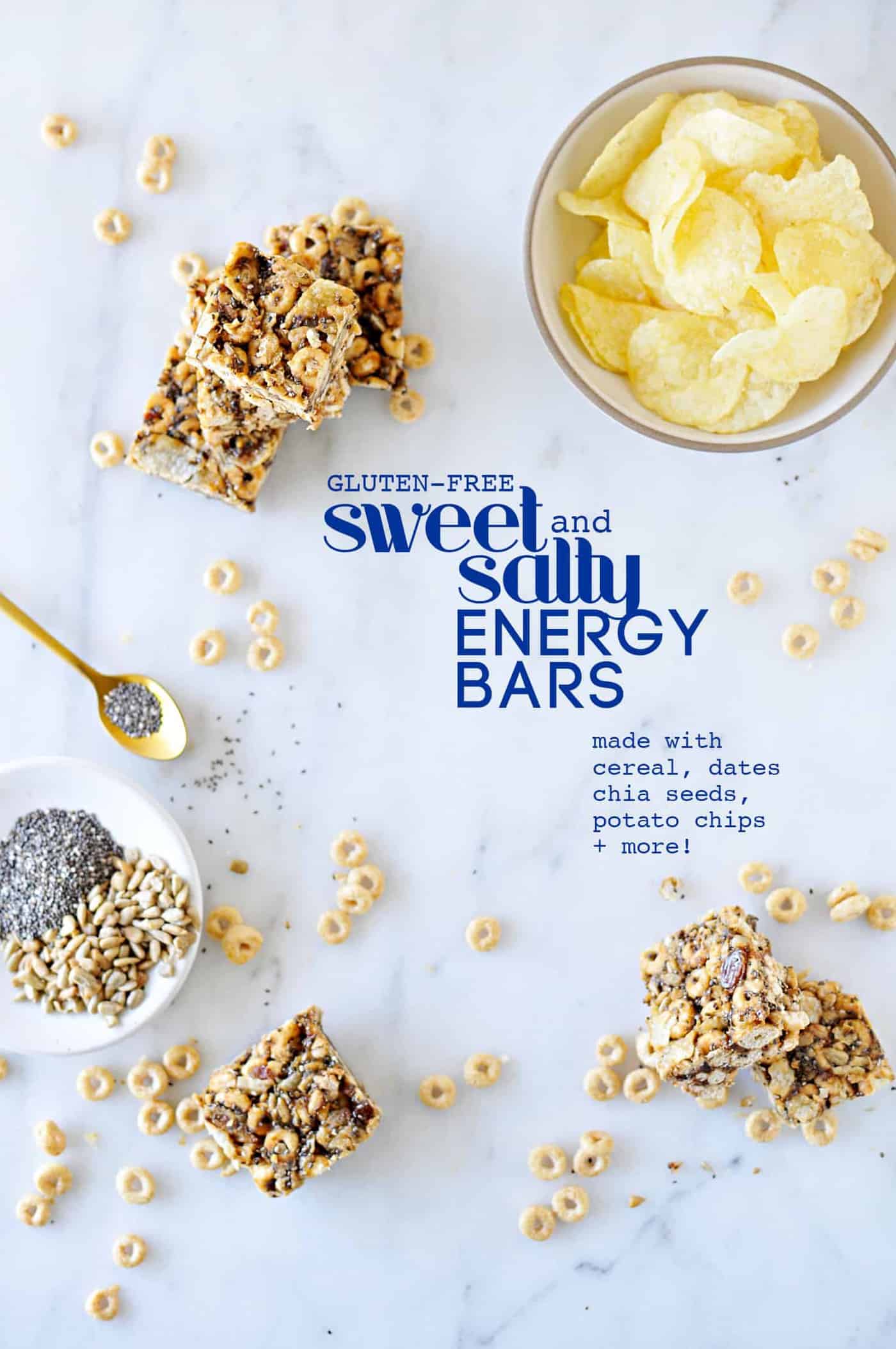 This post has been sponsored by Safeway. All thoughts and opinions are my own.
I've recently become exceptionally practiced at make-ahead meals for quick mornings. Maybe it's because Lana routinely sleeps in on school days (go figure). Maybe it's because I still insist on making the beds before breakfast. Either way, most school mornings we've got about 15 minutes to get breakfast in our bellies before we're out the door. So when Safeway asked me to put together a post featuring some of my favorite items from their annual Stock Up Sale, I jumped at the chance to share these Sweet and Salty Energy Bars — gluten-free cereal bars made with snacky Lay's Original and Honey Nut Cheerios — plus some of our most-requested make-ahead breakfast ideas to keep things simple on busy weekdays.
But first: these bars.
Homemade gluten-free cereal bars you can feel good about.
I resisted buying any kind of "bar" food for so long, but it wasn't until we moved to the coast and found ourselves in the car for longer stretches of time that I realized just how friggin' handy they can be. These Sweet and Salty Energy Bars combine two of my favorite indulgences — crisp O's cereal and salty potato chips — into a gluten-free cereal bar you can actually feel good about packing in your kiddo's snack box or lunch. Make no mistake: despite the fact that these are (more) responsibly sweetened with maple syrup and dates, we still bill them as a "treat" — but thanks to creamy almond butter and a blend of seeds, they actually pack a decent nutritional punch, too. Pretty and smart? You don't say!
Since we've been baking more, we also used the Safeway Stock-Up Sale as an excuse to pick up Gold Medal Enriched Flour (true story about my recent pantry purge + new bread-making obsession: I purged myself out of almost 15 lbs of flour. Fifteen!!), plus a bale of Bounty Select-A-Size Paper Towels that Lana quickly appropriated as her seat for movie night. (Legitimate question: in a world of Select-A-Size, does anyone still buy standard-sized paper towels?)
Here's a quick snap of our real-life Stock-Up Sale mini-haul. Seriously, guys – I can't recommend shopping this sale enough if you need pantry or household staples.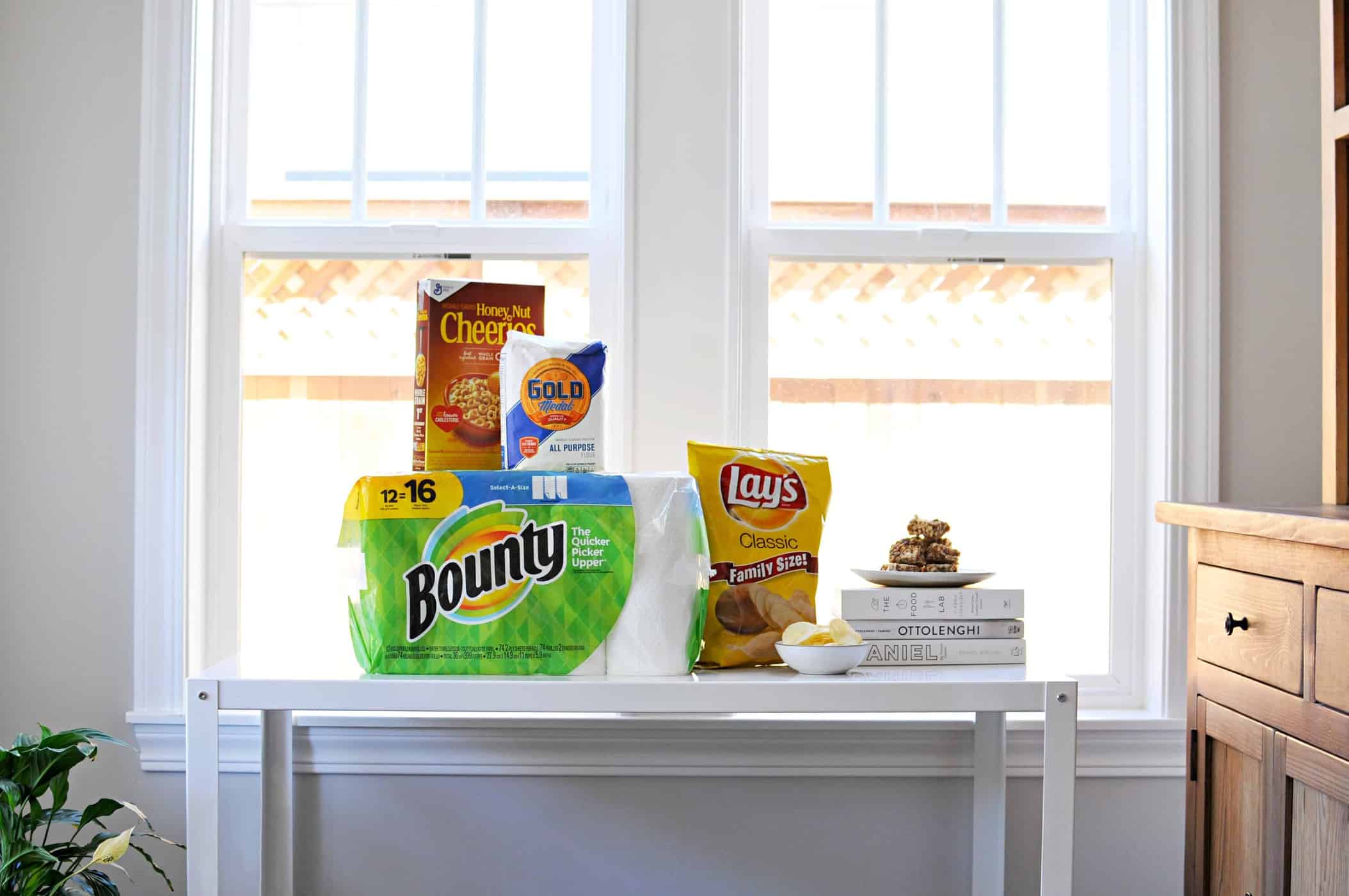 In addition to these Sweet and Salty Energy Bars, I oven-baked a pound of bacon (see my foolproof method, below) and punched out a batch of tender Chorizo + Scallion Sour Cream Biscuits, which we'll split/toast/smear with more sour cream and tuck full of fluffy eggs right before serving. All told we'll have breakfast, and a good one at that, in hand in maybe 5 minutes. Seriously easy stuff.
If you need a few other ideas for quick breakfasts, I've rounded up seven other recipes for a total of 10 make-ahead breakfast recipes below.
Please note: The products mentioned in this post are on sale at the Albertsons Companies family of stores from 10/3/18 to 10/9/18, and new products will be on sale from 10/10/18 to 10/16/18. Products on sale at United retailers may differ.
I purchased these products and more at my local Safeway, but you can also stock up and save at any of the Albertsons Companies family of stores including Albertsons, ACME Markets, Jewel-Osco, Vons, Pavilions, Randalls, Tom Thumb, Shaw's, Star Market, and Carrs/Safeway. Visit the Safeway website to find a store near you and discover some fun meal prep tips and recipe ideas!
10 Make-Ahead Breakfast Recipes
Sweet and Salty Energy Bars — recipe below. These gluten-free cereal bars are an easy, on-the-go snack — or if we're really in a jam, a rather indulgent breakfast "treat." If Lana is munching on one of these on the way to school, chances are there's a fistful of carrot sticks in the other hand.
Chorizo + Scallion Sour Cream Biscuits + Eggs — a single recipe makes about 8 biscuits — enough for a week of breakfast sandwiches for two (oh ok, four days — because, math) but you can also freeze and reheat them individually as needed. (A toaster oven is great for this.)
Foolproof Crispy Oven-Baked Bacon — my favorite method: line a rimmed baking sheet with parchment. Arrange bacon in a single layer and pop into a cold oven. Preheat to 425F, then continue cooking until desired doneness. Usually another 10 mins past preheat will do it, depending on the thickness of your bacon. Drain to paper towels and freeze until ready to use. (Reheat in the toaster oven or for a few seconds per slice in the microwave.)
Fennel Spiced Turkey + Bacon Breakfast Sausage — bacon + sausage in one! Another make-ahead that's easily re-warmed in the oven or microwave.
Cheesy Sweet Potato Waffles — more than 2 full sweet potatoes in 4 large waffles. Hidden veggies for breakfast – always a good thing. I quarter the waffles before freezing them to make them into kid-friendly, toastable portions.
Chocolate Banana Muffins (GF) — Lana continues to rave about these accidentally gluten-free muffins. Sometimes I'll nix the chocolate chips if I know they will be enjoyed solely for breakfast. #buzzkill
Cheesy Corn + Scallion Cakes — so worth making in advance, freezing, and heating quickly in the toaster or toaster oven. I love that these are relatively easy to take along as snacks in the car, too.
Rice Cooker Tamagoyaki — made the night before and served cold straight out of the fridge. Juicy, sweet, savory little egg bites. (Obvi on rushed mornings, we skip the fancy shapes.)
Classic Açaí Bowls — these might require just a bit more than 5 mins (in the original recipe, I wrote 10), but if you've taken the time to wash and slice the toppings ahead of time, it's really as simple as blending up a smoothie.
Spiced Summer Squash Quickbread (GF) — basically our go-to version of zucchini bread, made with gluten-free, more nutrient dense flours and coconut sugar. I'll take mine toasted and buttered, please.
Enjoy, guys! And here's to a week of efficient mornings!
xo,
Em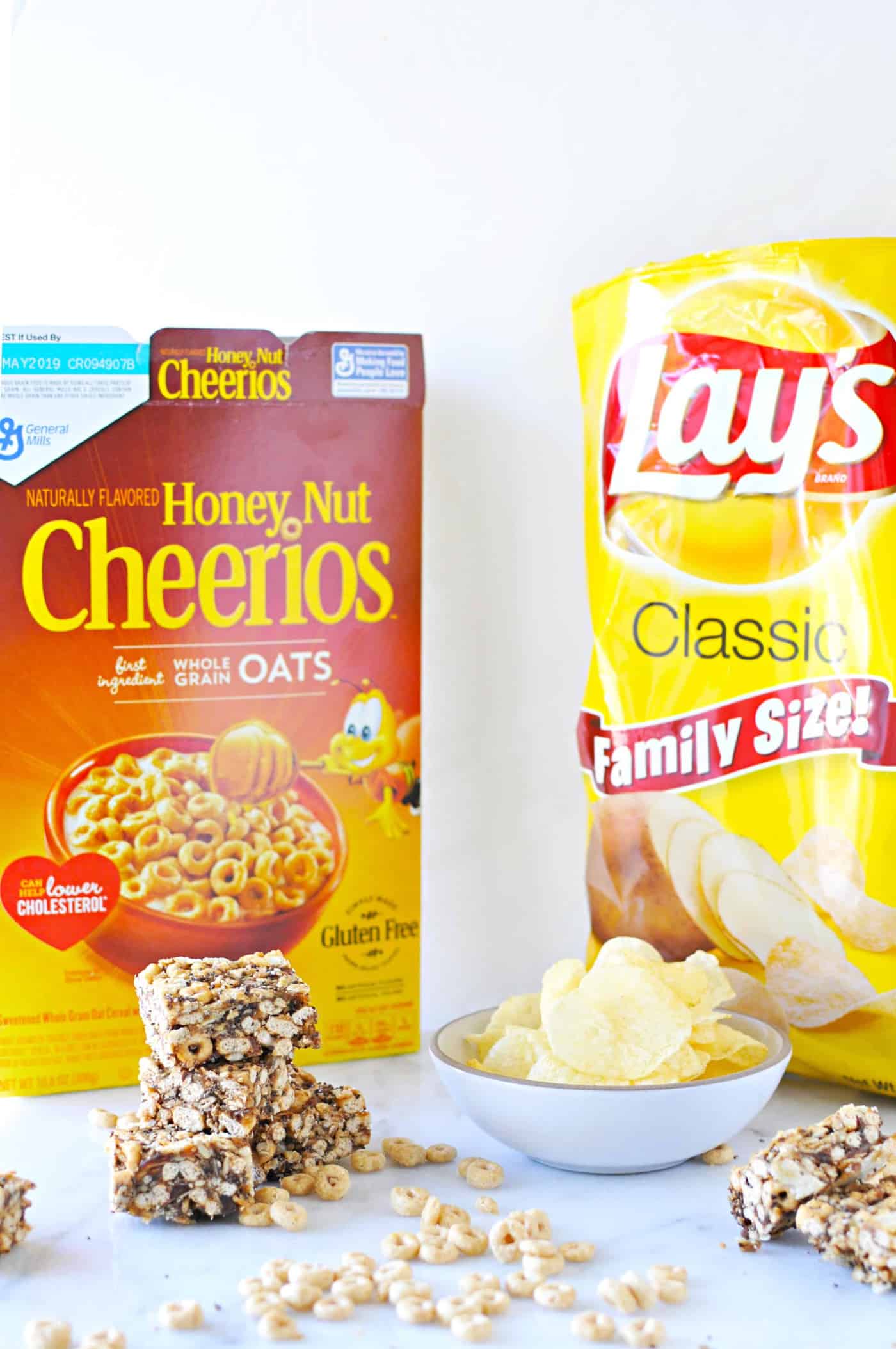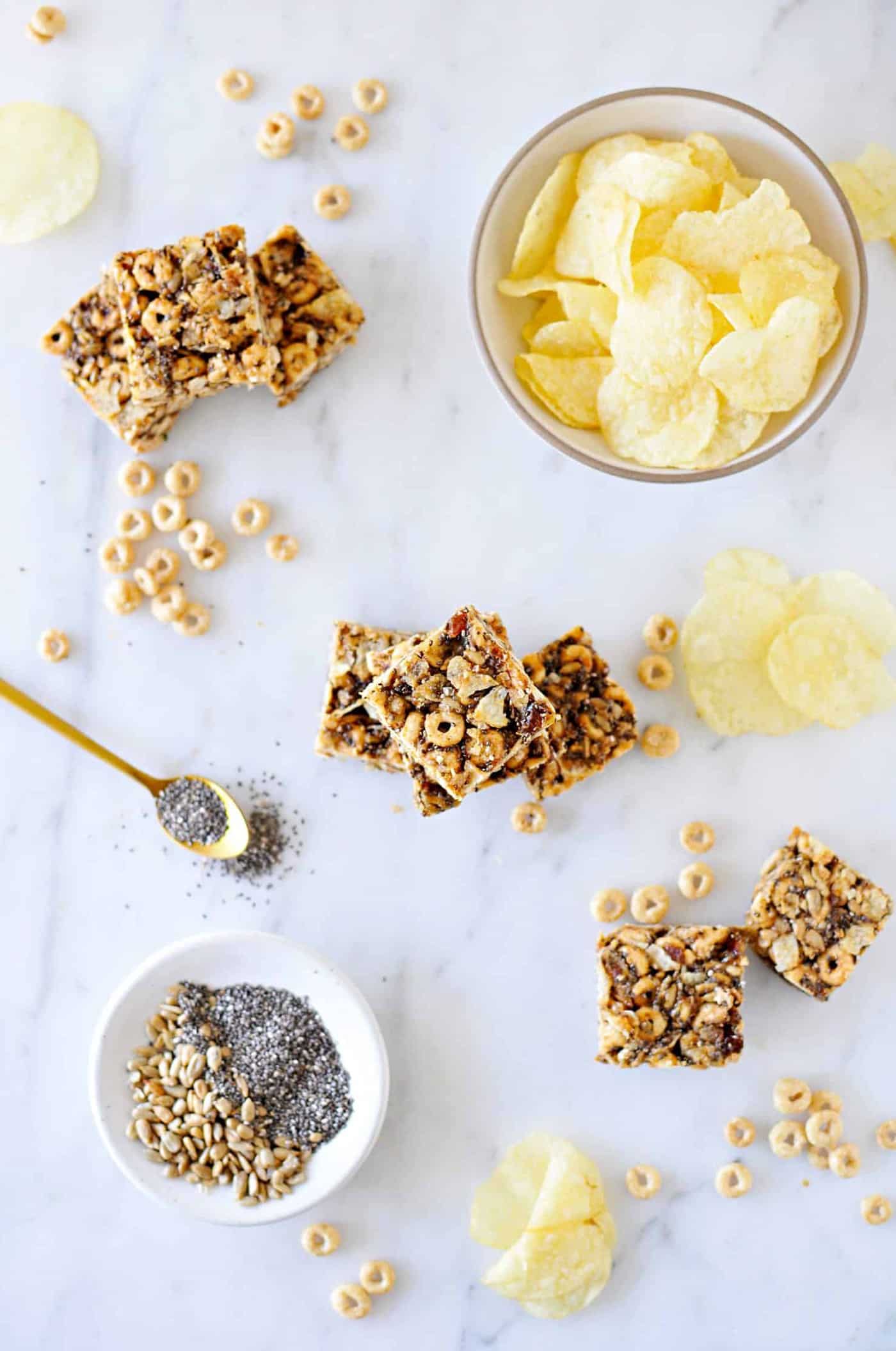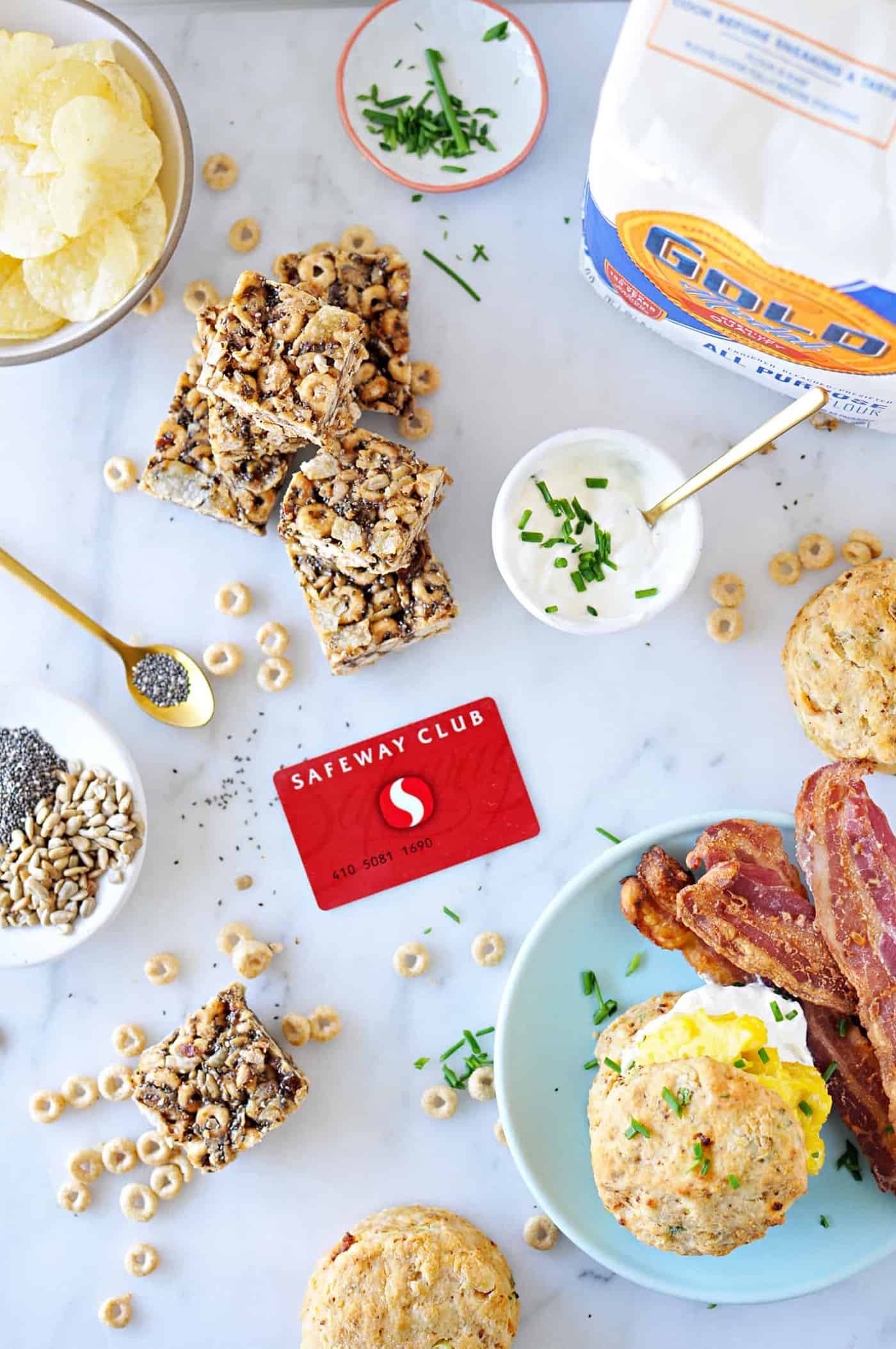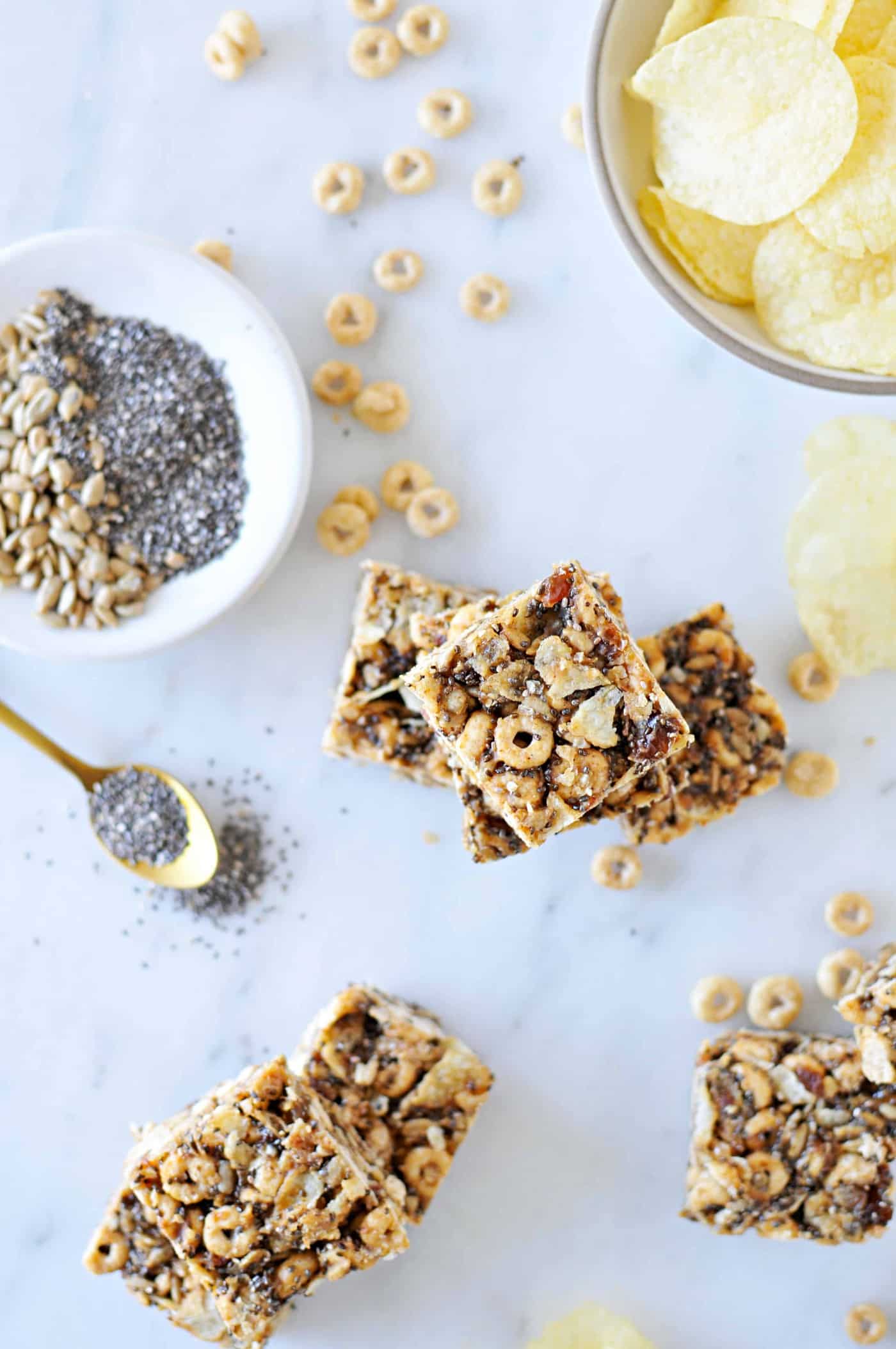 Sweet and Salty Energy Bars
Sweet, crunchy, gluten-free cereal bars for a balanced snack or a quick, make-ahead breakfast.
Ingredients
½ cup maple syrup
⅓ cup almond butter
10 dates, pitted and finely chopped
1½ cups Honey Nut Cheerios
1 heaping cup crushed Lay's Original potato chips
¼ cup chia seeds
½ cup roasted/salted sunflower seeds
¼ tsp sea salt or pink salt
Instructions
Line an 8" cake pan with parchment.
In a large bowl, combine cereal, crushed chips, chia seeds, sunflower seeds and salt. Stir to combine.
Combine maple syrup, almond butter and dates in a small saucepan and bring to a bubble. Keep at a simmer while stirring constantly for 2 mins.
Pour maple mixture over cereal mixture, and mix using a folding motion until well combined. Pour mixture into prepared baking dish, pressing mixture out to all sides and packing it down tightly using the bottom of a drinking glass. Allow to set at room temperature for 2 hours; then, carefully lift out bars using the parchment and cut into 9 (medium) or 16 (small) equal squares. (See note.) Store bars covered on the counter for up to one week. Enjoy!
Notes
1) I've suggested Honey Nut Cheerios in this recipe, but you can also use original Cheerios for a less-sweet version.
2) I make these bars in an 8" round cake pan and save the scraps away for my own snacking (when crumbled up, they're an excellent topping for a scoop of ice cream), and I still end up with 9 (or 16, if you want them more petite) perfect little squares for the week.
————————————————–
OH! before you go…
Like whatcha see here — or have a question, feedback, or recipe hack to share? Join The Pig & Quill convo by commenting below and hanging out with me on Facebook, Twitter, Instagram and Pinterest. And don't forget to subscribe to P&Q emails or add me to your RSS reader with Feedly or Bloglovin' so you never miss a post. x's & o's!