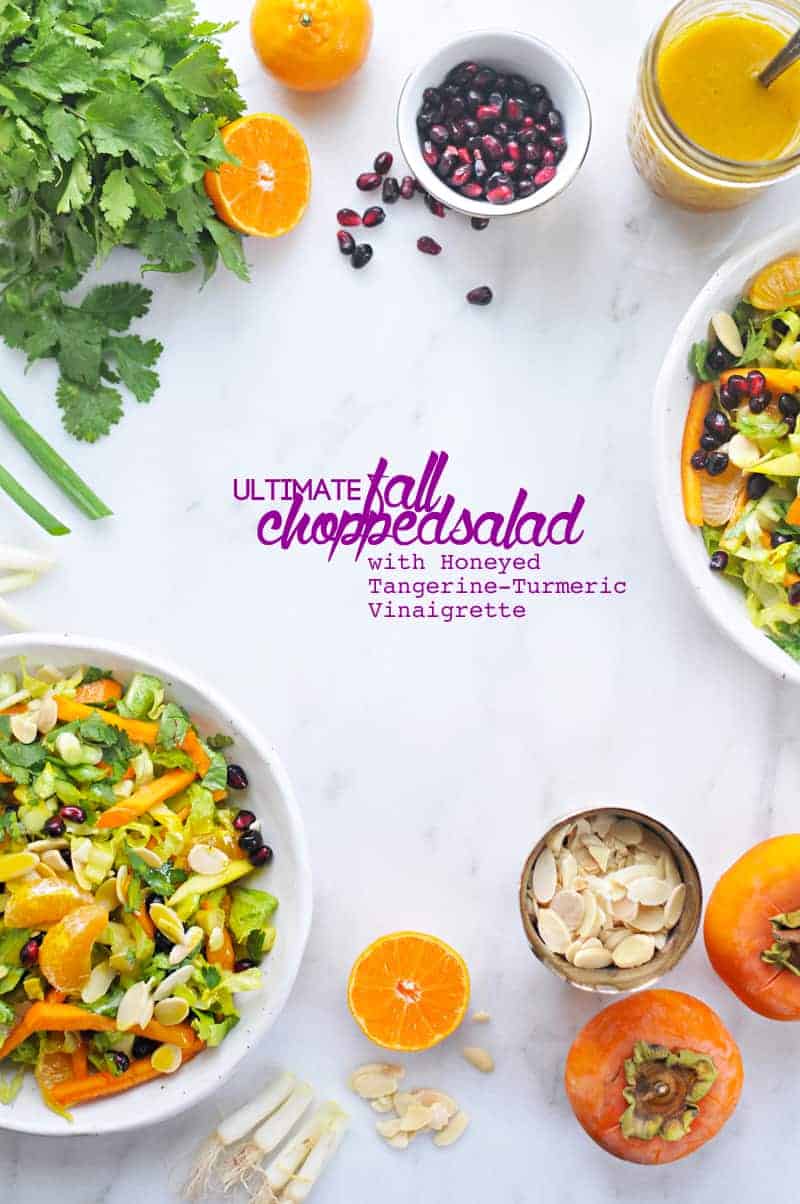 There are no new words to communicate how quickly this holiday season came upon us. There are even fewer words to relay how unprepared I am for the coming days of packing, travel and stretchy pants. And the internet knows far more than me about how to put your best bird forward, so I'll spare you my attempt.
Instead, as has become habit of late, I'll keep things on the short side (I'm actually working on a new pigtales piece that will exhaust whatever vocabulary I leave on the table in this post) and just drop this most colorful salad into your laps. Something to brighten what can often be an otherwise beige holiday table. Or something to greet you on the other side of decidedly beige weekend. (To be clear: beige in these references is not necessarily a bad thing. Gravy knows no bounds, and rightly so.)
I've so named this salad ultimate fall based on the foundation components, alone, but the dressing is truly something to behold, so I'll start there. A hefty dose of turmeric, given away by the dressing's beckoning golden hue, meets honey (or maple syrup), freshly squeezed tangerine juice, plenty of black pepper and just enough apple cider vinegar to impart discernible tang. It's at once bright and refreshing, earthy and warm. Draped luxuriously over a bed of finely chopped romaine; a bounty of fall fruit (matchstick'd persimmons and apples + more tangerine); sharp, grassy herbs; and a confetti rainstorm of toasted almonds and tiny pom arils, it makes for Skittles' famous mantra manifested in salad form.
Another way of looking at it — what with the cilantro, scallions, almonds, citrus and cold, crispy ribbons of romaine — is as a quasi-autumnal Chinese Chicken Salad. Minus the chicken, of course. Though I can only imagine how suitable a little leftover turkey topping would be. (Read: OH SO VERY.)
I hope to be back later this week with a few more holiday thoughts, but in case I'm tardy (and let's face it, that's all too possible), warm hugs and cheers for sharing this space. Happy Thanksgiving, friends.
xo,
Em
p.s. the best and simplest spicy, roasted cranberry compote from last year!
p.p.s. My fave mini-Thanksgiving in 60 from the P&Q archives!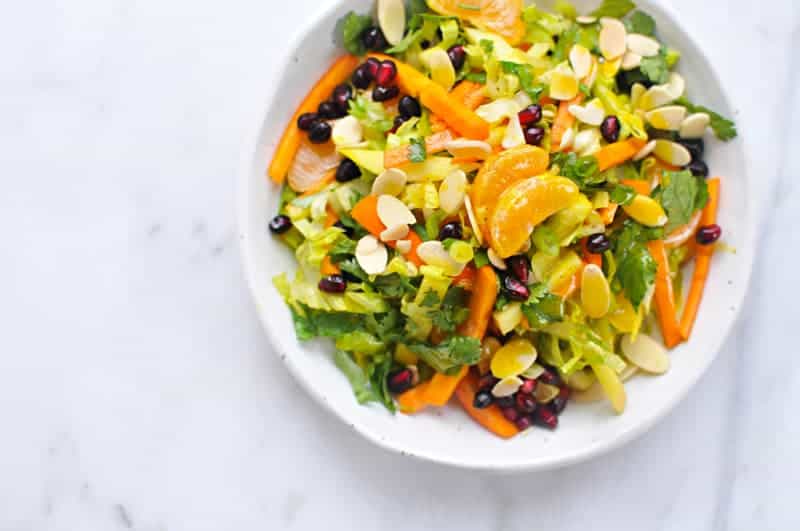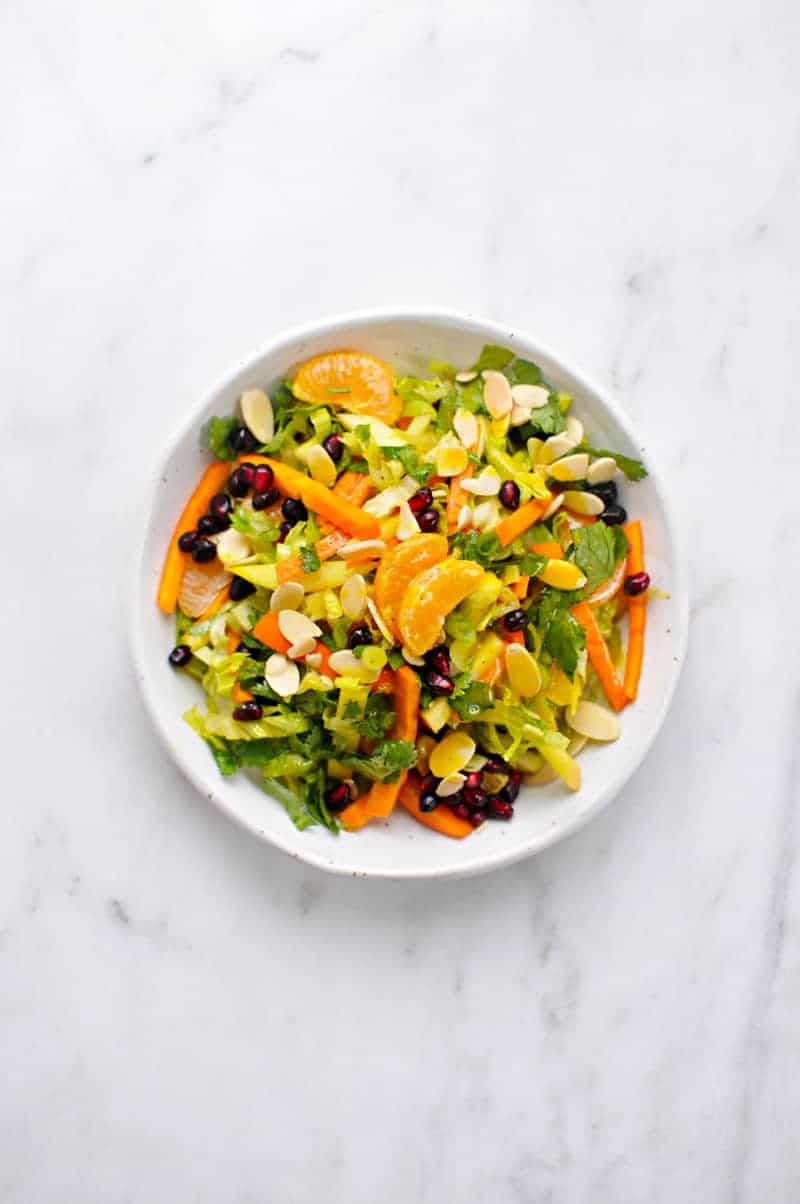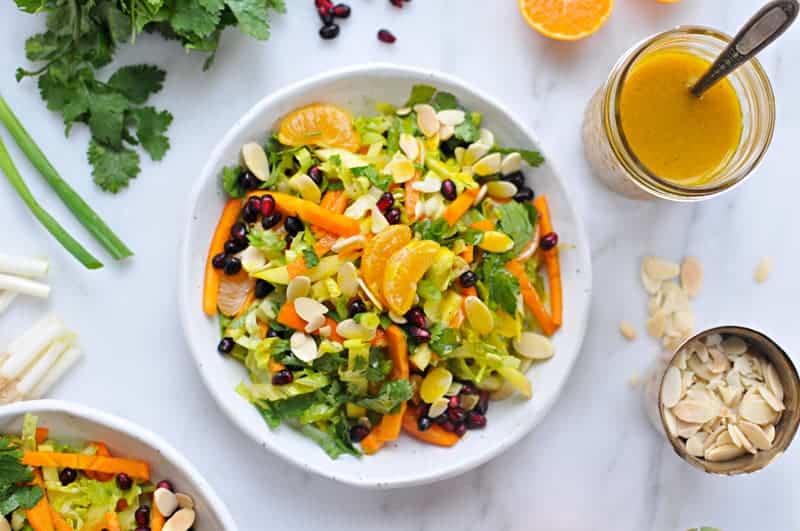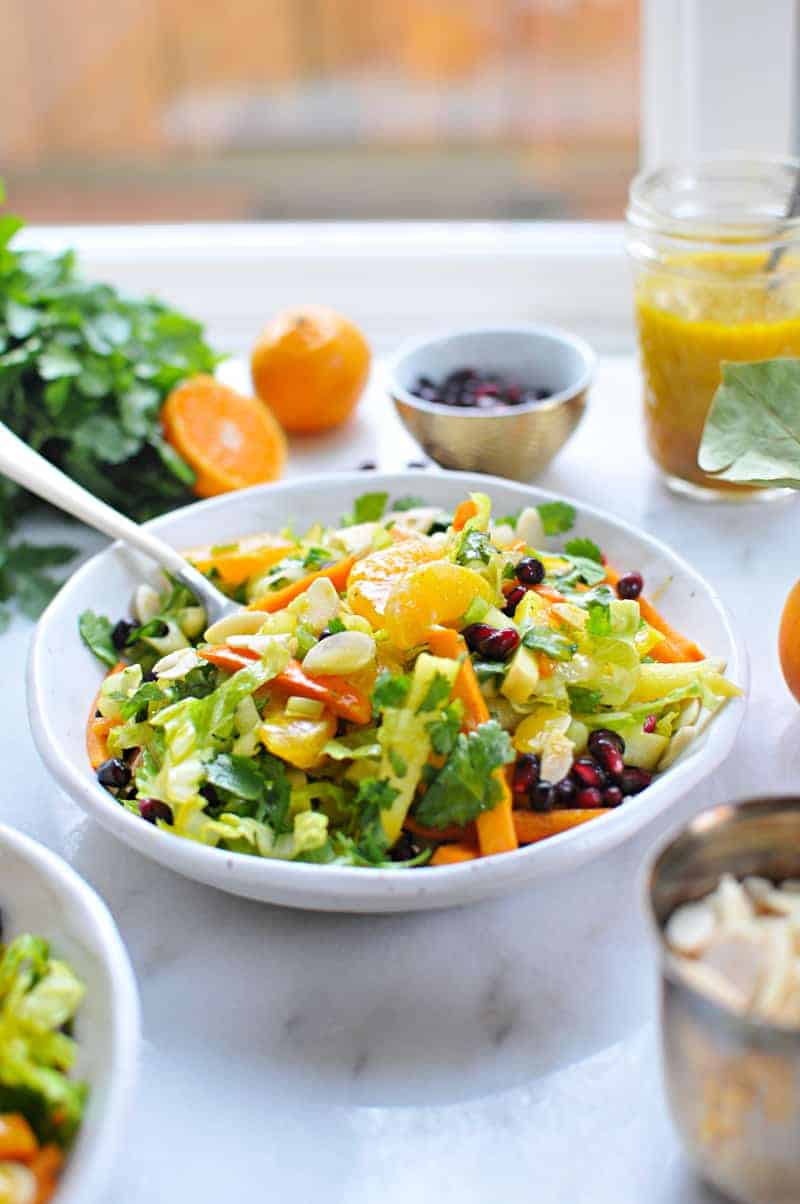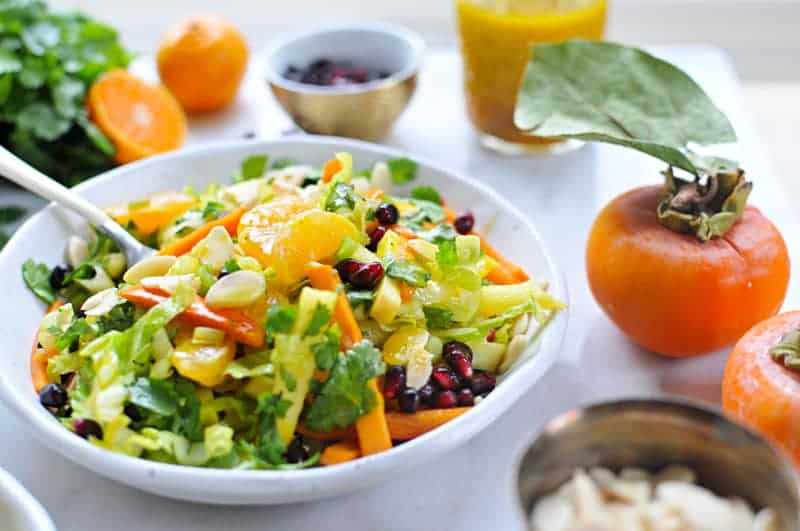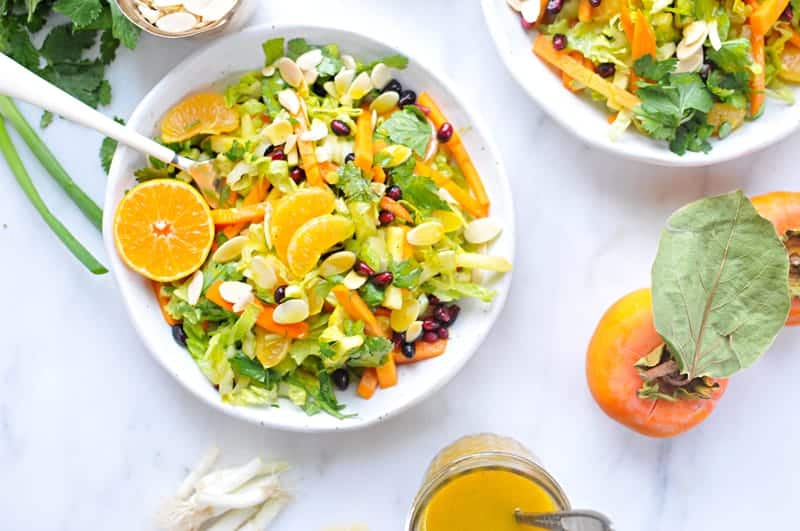 Ultimate Fall Chopped Salad with Honeyed Tangerine-Turmeric Vinaigrette
Ingredients
For the Salad
2 romaine hearts, chopped into ribbons
4 small tangerines, peeled and segmented
2 persimmons, sliced into matchsticks
1 large apple, sliced into matchsticks
2 large handfuls cilantro, roughly chopped
2-3 scallions, finely sliced (green and white parts)
¼ cup sliced, toasted almonds
¼ cup pomegranate arils
For the Honeyed Tangerine-Turmeric Dressing
2 oz tangerine juice
¼ cup extra virgin olive oil
1 T apple cider
1 T raw honey or maple syrup
1 tsp turmeric
½ tsp black pepper
pinch salt
Instructions
Combine all dressing ingredients in a large glass jar and shake vigorously.
Combine all salad ingredients and toss lightly with desired amount of dressing. (Basically, uh, assemble and dress salad.) Enjoy!
————————————————–
OH! before you go…
Like whatcha see here — or have a question, feedback, or recipe hack to share? Join The Pig & Quill convo by commenting below (I love, luv, lurve comments) and hang out with me on Facebook, Twitter, Instagram and Pinterest. And don't forget to subscribe to P&Q emails or add me to your RSS reader with Feedly or Bloglovin' so you never miss a post. x's & o's!