Phew. What a weird week, huh? Chances are, if you live in the US, the past couple of days have been a trip. An SNL sketch that has gone on and on, until you're starting to feel more than just a little uncomfortable for the actors. And I say this not as a woman or a parent or a proponent of preserving love and withholding judgement — though I am all of those things. I say this an American. And I think that, regardless of which way you voted, you probably feel the same. Things got a little circus-y. Or more fittingly, we let things get a little circus-y. And now it's time to take down the tent, shovel up the elephant shit, and act like grown-ups.
To the best of our ability.
Also, pretty sure elephants aren't allowed in the circus anymore, but you get me.
It was that or a Tim McGraw reference.
Let's talk about soup.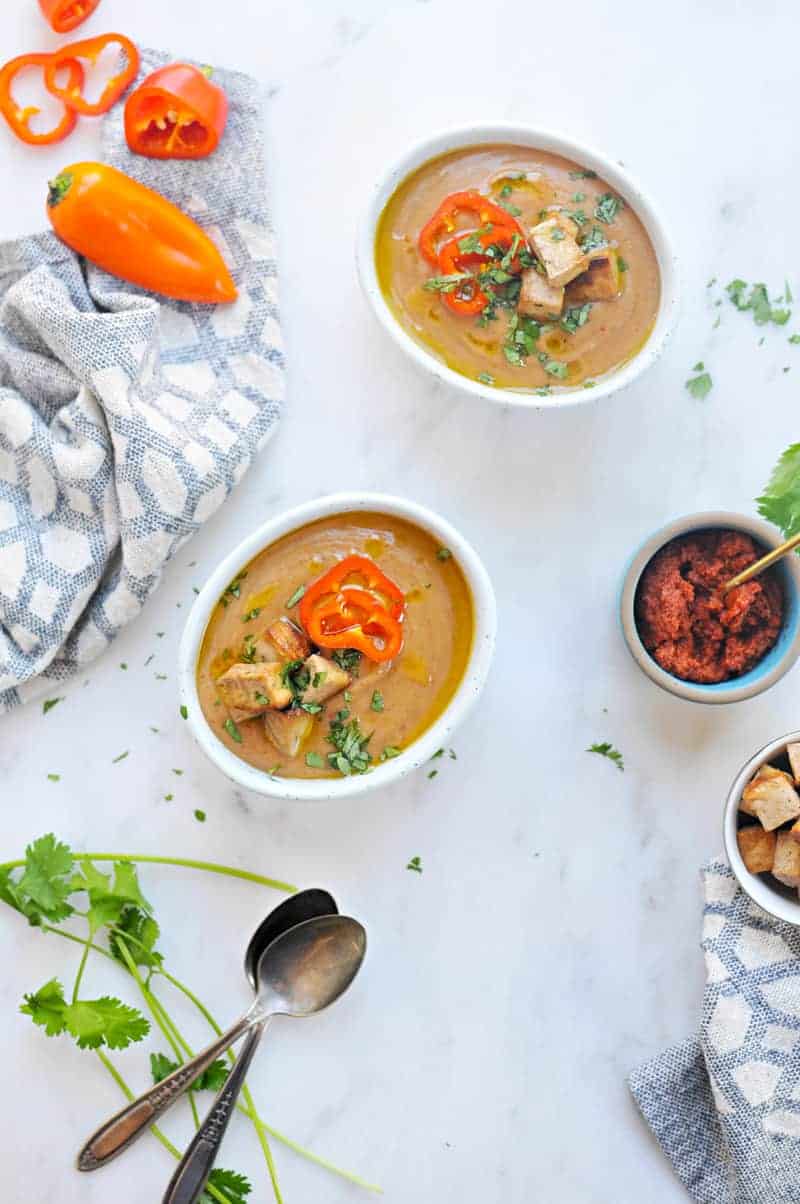 Soup is, for me (as I'm sure it is for many of you) the very near epitome of comfort food — bested only, perhaps, by potatoes in any iteration. It makes sense, then, that soup largely comprised of potatoes is as close as I may come to engineering an edible hug. Warm and soul-soothing, flecked through with chile spice and redolent of the sweet and coconutty red curry (that you're already drinking like soup) at your fave Thai restaurant, I've deemed this soup the antidote to many a malaise, political or otherwise.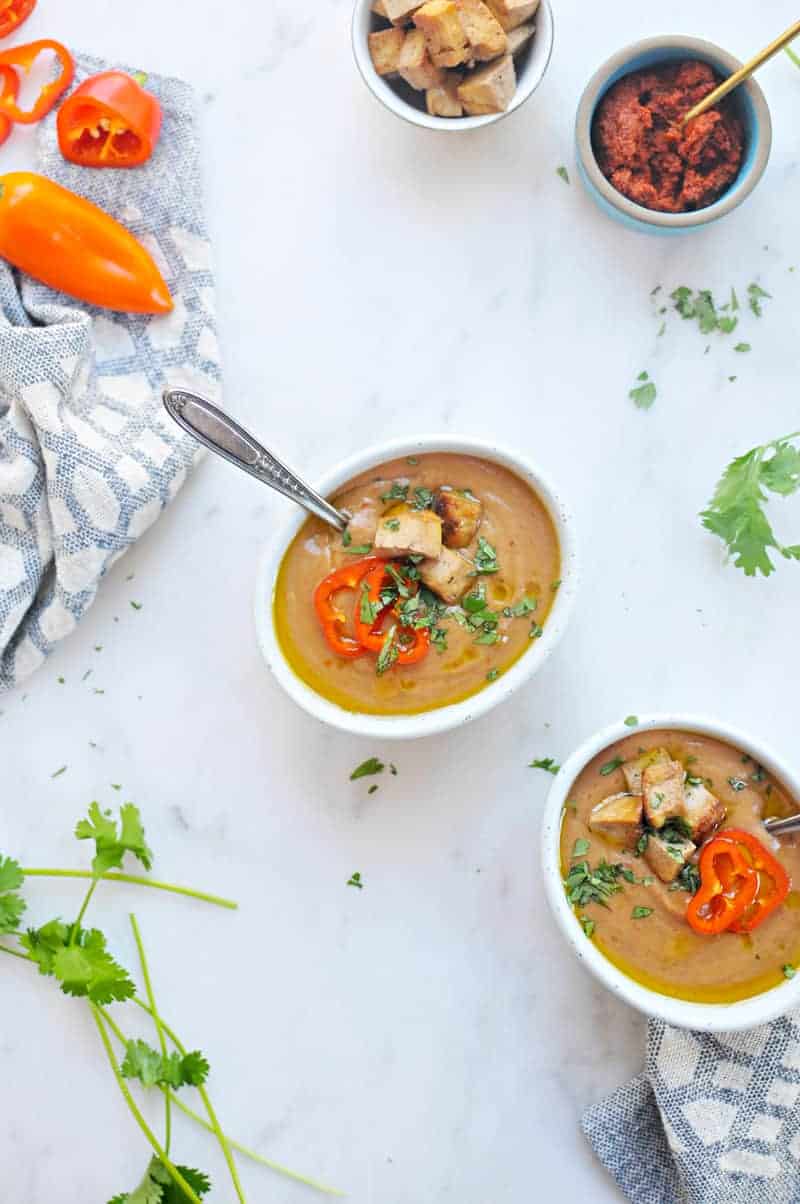 It's also worth noting that, if you have young'uns or a seriously spice-averse spouse or (sadface for you) IBS or the like: this soup is spectacularly tasty even without the curry paste, at which point it shines as a deceivingly simple cream of sweet potato soup, albeit with a distinctively coconut profile that screams FANCY. Lana ate plenty of the soup in this form right from the pot, and plenty more for first lunch and second lunch and dinner.
We eat a lot of meals around here.
She's also a fan of the tofu topper, which is completely optional but equally simple, and I always love a little texture with my creamy soups. If you're not a fan of tofu (*cough* allow me to introduce you to this recipe *cough*), shredded poached or rotisserie chicken or a trio of sautéed prawns set atop each bowl would fill out the meal nicely.
Happy Thursday, guys.
Soup hugs.
xo,
Em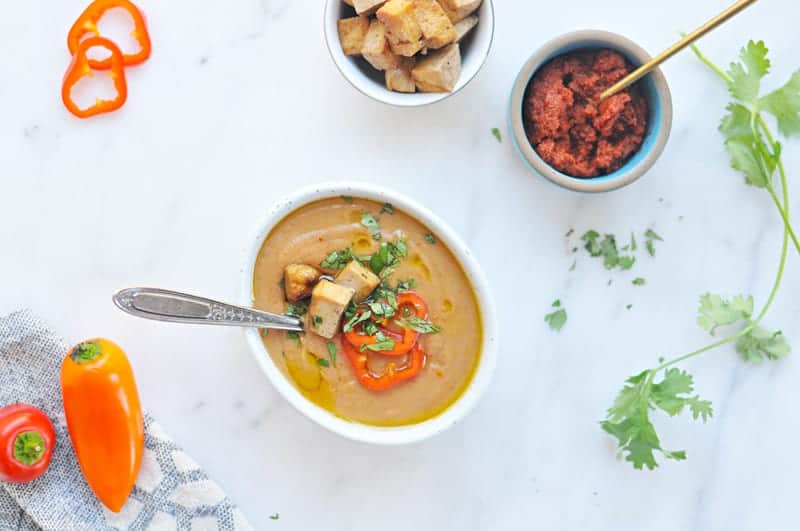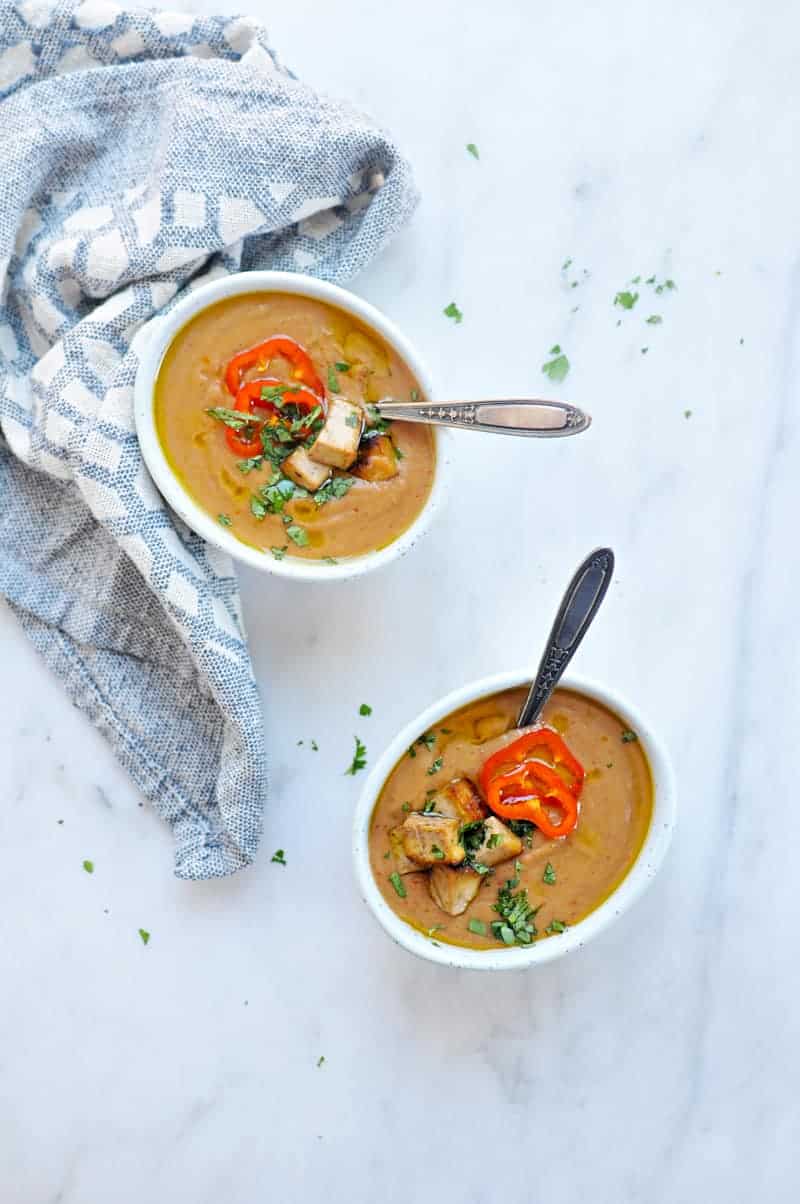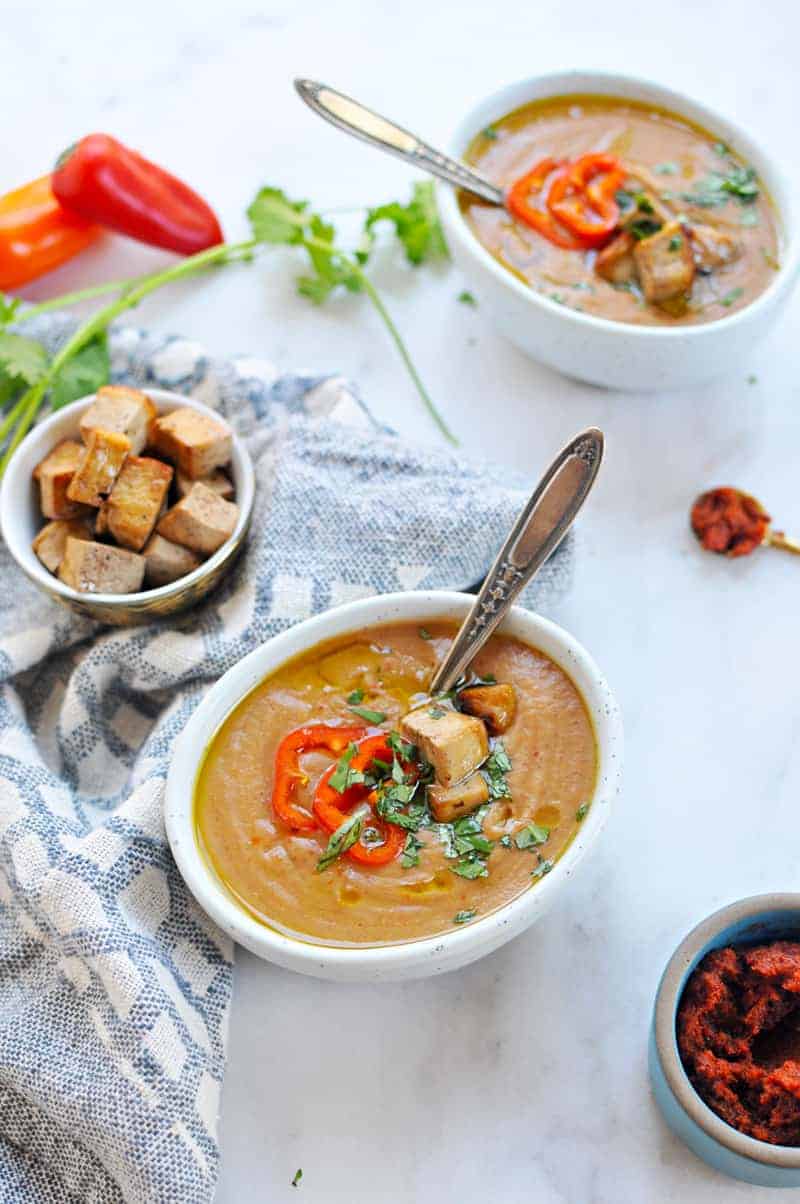 Coconut Red Curry Sweet Potato Bisque (Dairy-Free)
Ingredients
For the Soup
¼ cup olive oil
half white onion, chopped
5 med japanese white sweet potatoes, sliced (skin-on)
3-4 cloves garlic, chopped
1 tsp salt, divided
1 15-oz can full fat coconut milk
1 can (use the coconut milk can to measure!) beef or veggie stock
black pepper
3-4T red curry paste (I use this one - no MSG!)
water as needed
For Serving
Sesame-Soy Tofu (see recipe, below)
cilantro
olive oil
Instructions
In a large pot or Dutch oven over med-high flame, sauté onions in olive oil and ½ tsp salt until translucent, about 3-5 mins.
Add sweet potato, garlic, remaining ½ tsp salt and black pepper to taste. Sauté until potatoes take on a little color, 10 mins.
Add coconut milk and stock, bring to boil. Reduce heat to low and simmer 10 mins or until potatoes are tender.
Carefully transfer soup and broth to a high speed blender and process until smooth, working in batches if necessary. (Note: whenever blending hot liquids, remove blender lid insert and loosely cover with a towel, allowing steam to escape, to avoid a soupsplosion.)
Return soup to pot and stir through red curry paste to taste, beginning with 3 T and adding more as desired. If soup is too thick for your liking, thin with a little water. Serve warm topped with tofu, cilantro and drizzle of olive oil. Enjoy!
Notes
I love the savoriness and depth of using good quality beef stock in this soup, but for a vegan variation, veggie broth is super tasty, too. 🙂
Sesame-Soy Tofu
Ingredients
1 lb super firm tofu (I love Hodo Soy brand), cut into ½" pieces
2 T soy sauce
2 T coconut sugar
2 T olive oil
1 tsp sesame oil
Instructions
Combine all ingredients in a zip-top bag and marinate several hours or up to overnight.
Preheat broiler. Prepare rimmed baking sheet with parchment or silpat.
Arrange marinated tofu on baking sheet in a single layer and broil until well browned, about 6-8 mins. Flip and broil on second side, another 6 mins. Serve on soup, as a salad topping, over rice or just as a snack. Enjoy!
————————————————–
OH! before you go…
Like whatcha see here — or have a question, feedback, or recipe hack to share? Join The Pig & Quill convo by commenting below (I love, luv, lurve comments) and hang out with me on Facebook, Twitter, Instagram and Pinterest. And don't forget to subscribe to P&Q emails or add me to your RSS reader with Feedly or Bloglovin' so you never miss a post. x's & o's!