As I write this, Lana is on the baby cam arranging her bed buddies around the perimeter of her crib, and her baby doll just won't sit up the way she wants. It's fascinating to me the way she'll prop her up, watch her slouch forward, frown, prop her up again, etc., without so much as peep — when I know that, if I were in the room with her, she'd be whining almost instantly for my help. It's moments like this — little, stalkery episodes where I stand back and admire her persistence or strength (she deadlifted a compost pail full of rocks and carried it across the backyard when I was just out of sight) — that I wonder if my constant presence isn't a hindrance of sorts.
When she comes up against a step and reaches for my hand.
When she shoots her arms skyward the moment I walk into her room. (Ut! Ut!)
When she pushes her spoon toward me, followed by the oatmeal. Like, you scoop it, mom, not me.
I question if all my help is actually hurting her a little, or if she's just an opportunist. And if it's the latter, shouldn't I take advantage? My mom once reminded me of a time when, as a kiddo, I took her hand while walking through a parking lot, and when she looked at me curiously, I told her to enjoy it while it lasts.
Ay, if the snark is genetic, I'm gonna need a more frequent wine club subscription.
But also —
I was kinda right.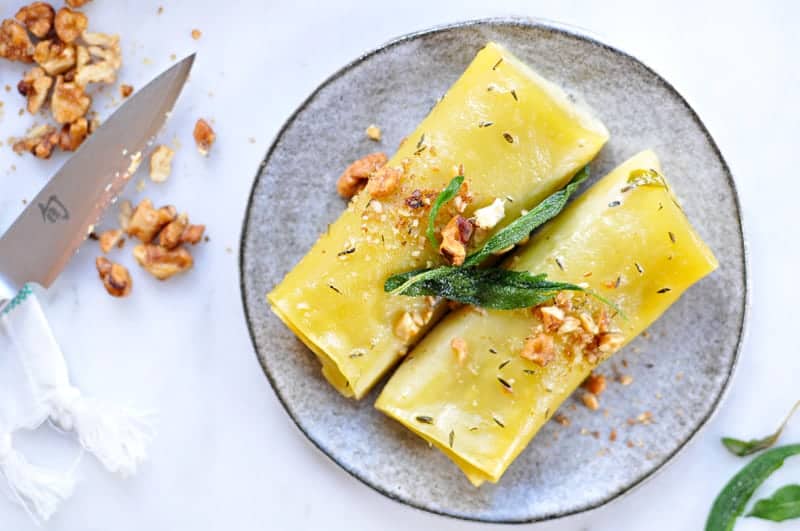 So for now, I'll probably stay close (and sometimes a little too close), savoring the times she needs me and appreciating the independence she's demonstrating every time she grunts and scuttles away from my unsolicited embrace.
And in between those moments, I'll shovel my face full of pasta. Or more specifically, tender sheets of lasagne wrapped around a filling of caramelized pumpkin, bathed in thyme-infused coconut milk (which comes through as more silky than coconutty, I promise) and dressed with candied walnuts and crispy, fried sage.
Because if there's one thing I can't resist, it's pumpkin + sage.
And pasta.
Oh, and creepin' on my offspring.
Who, by the way, has just successfully wedged baby's head between the crib bars to hold her in place.
Atta babe. I knew you could do it. 😉
xo!
Em
p.s. This post is part of today's #virtualpumpkinparty hosted by one of the sweetest, most original bloggers I've ever had the chance to "meet," Sara (Cake Over Steak) and a new-to-me blogging friend, Aimee (Twigg Studios), whose photography will leave you weak in the knees. To browse the entire collection of pumpkin party recipes — there are more than 100! — visit Sara's post here or Aimee's post here. Happy Pumpkin Party!
p.p.s. Last year's pumpkin party contribution: Vegan Pumpkin Pie Shakes! and another fave squash + sage combo: Parmesan-Ricotta Spaghetti Squash Fritters!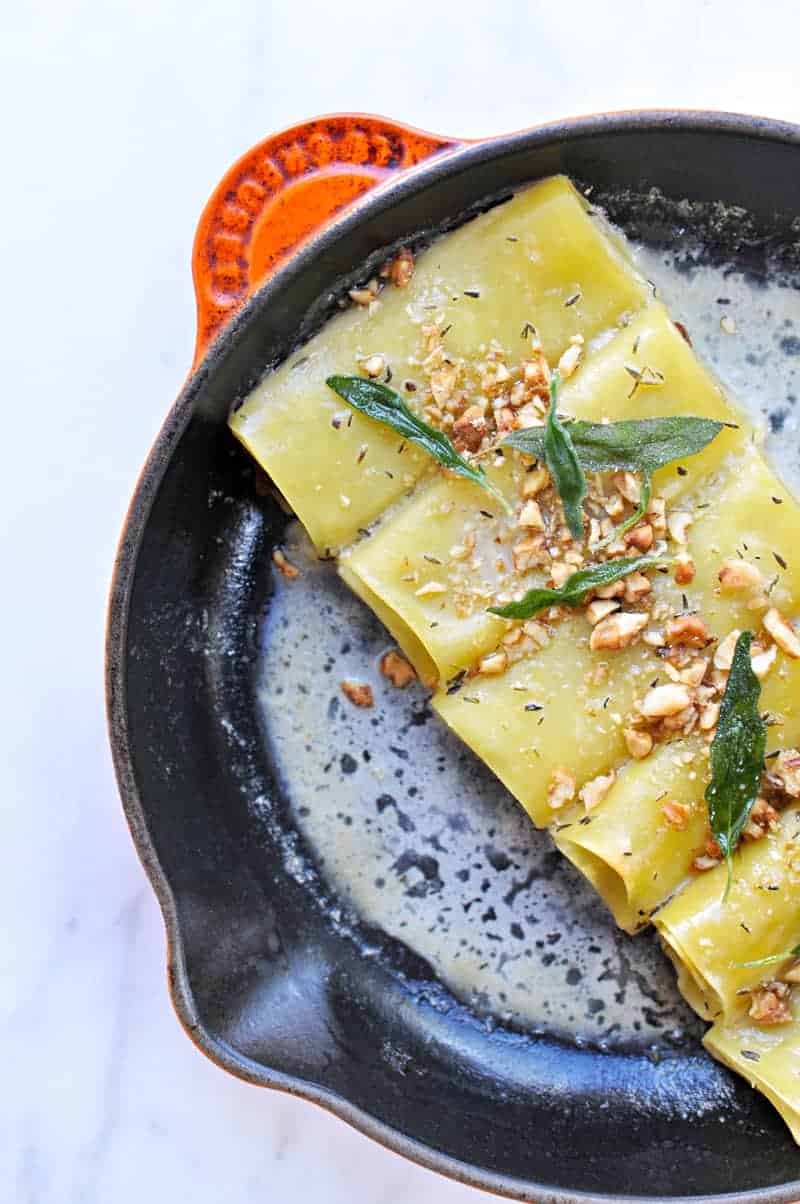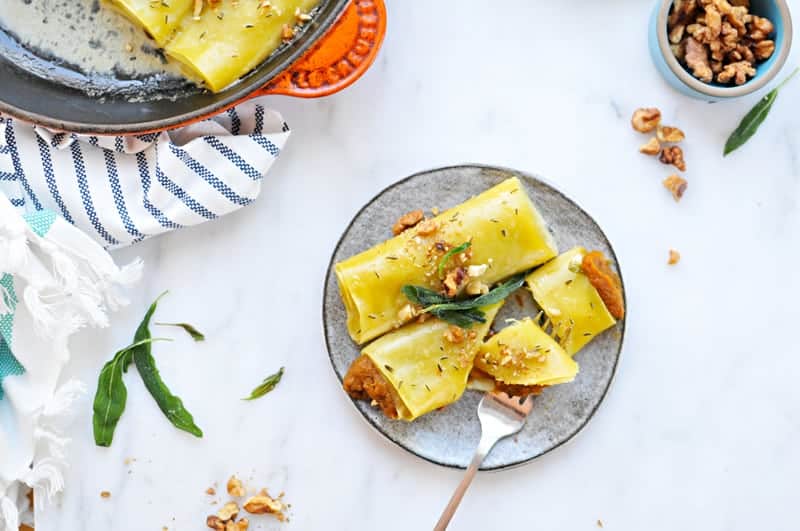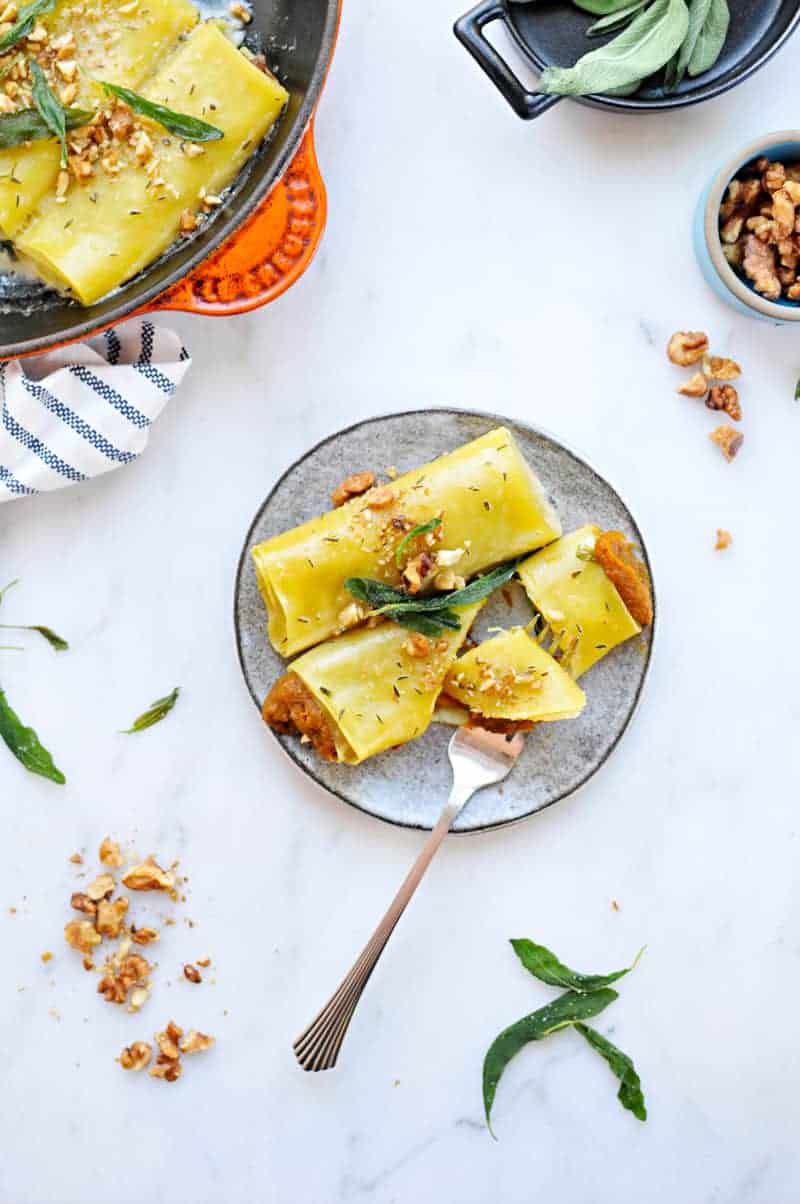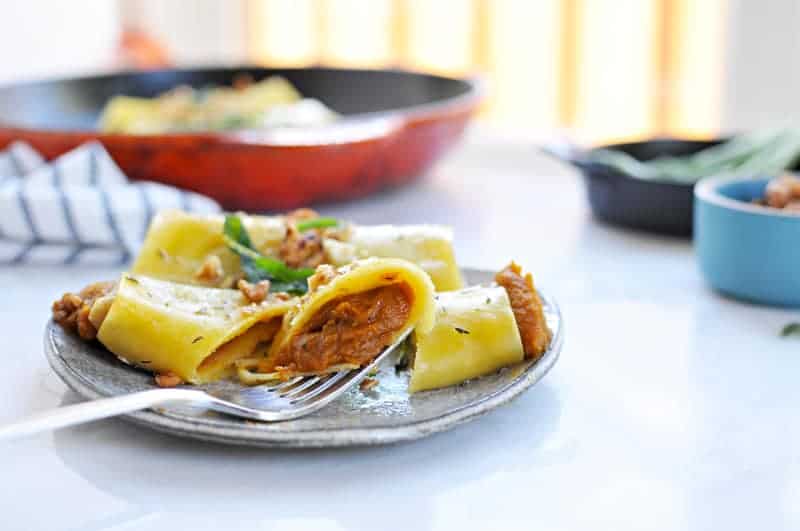 Savory Pumpkin Cannelloni with Candied Walnuts + Crispy Sage (Dairy-Free)
Ingredients
1 cup full-fat coconut milk
½ tsp dried thyme
1 15-oz can organic pumpkin, drained
2 T coconut sugar
2 T coconut oil
generous ¼ tsp salt
lots of black pepper
7 oven-ready flat lasagne sheets
For serving:
generous T coconut oil
generous T olive oil
handful of whole, fresh sage leaves (about 12)
candied walnuts (I buy mine at TJ's, if you make your own at home, so much the better!)
Instructions
Combine coconut milk and thyme in a small saucepan until mixture just begins to bubble. Turn off heat, cover and let infuse while you prepare the pumpkin.
While coconut milk steeps, combine pumpkin, coconut sugar, coconut oil, salt and pepper in a nonstick saute pan over med-high heat. Cook until mixture begins to deepen in color and caramelize, about 10 mins, stirring frequently. Add ⅓ of the thyme-infused coconut milk and stir, keeping the pan over the heat, until combined. Allow mixture to cool (can be done ahead of time).
Boil lasagne noodles until just al-dente, 8-10 mins, stirring frequently to prevent sticking (this is where the seventh noodle comes in -- as a tester!). Drain and rinse noodles under cold water until cool enough to handle.
Spread a spoonful of coconut milk in the bottom of a baking dish or skillet. Arrange six noodles on a cutting board, dollop pumpkin filling at one end of each, using all filling, and roll up. Arrange in the prepared baking dish seam-side down and pour over remaining coconut milk. Bake for 20-25 mins, basting with the coconut milk once or twice, until cannelloni are heated through and noodles are tender.
While pasta bakes, heat a generous tablespoon each of coconut oil and olive oil in a small sauce or frypan until shimmering (but not smoking) and add sage. Quickly fry until a bright, deep green color, 30-60 secs (note: the leaves will crisp as they cool); remove to paper towels to drain and immediately sprinkle with salt.
Serve cannelloni topped with fried sage and chopped candied nuts. Enjoy!
Notes
Don't be dismayed by the cook time on this one - it's honestly one of the simplest recipes you can make considering the restaurant-quality flavor payoff. For a weeknight meal, the coconut milk, the pumpkin filling and the noodles can all be prepared ahead of time, leaving you only with assembly, baking and a quick fry of the sage. For feeding a larger crowd (think: holidays!), this also takes well to doubling. Just adjust the size of your baking vessel accordingly.
————————————————–
OH! before you go…
Like whatcha see here — or have a question, feedback, or recipe hack to share? Join The Pig & Quill convo by commenting below (I love, luv, lurve comments) and hang out with me on Facebook, Twitter, Instagram and Pinterest. And don't forget to subscribe to P&Q emails or add me to your RSS reader with Feedly or Bloglovin' so you never miss a post. x's & o's!