Savory Pumpkin Cannelloni with Candied Walnuts + Crispy Sage (Dairy-Free)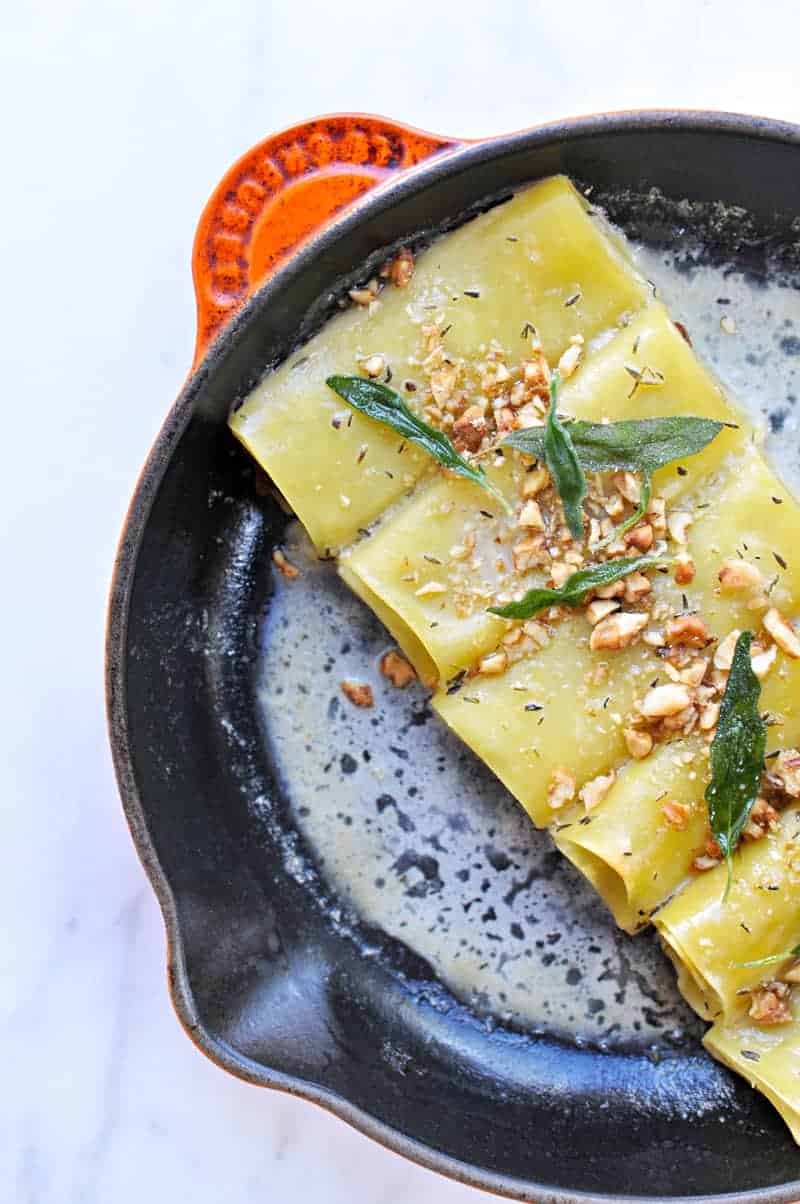 1 cup full-fat coconut milk
½ tsp dried thyme
1 15-oz can organic pumpkin, drained
2 T coconut sugar
2 T coconut oil
generous ¼ tsp salt
lots of black pepper
7 oven-ready flat lasagne sheets
For serving:
generous T coconut oil
generous T olive oil
handful of whole, fresh sage leaves (about 12)
candied walnuts (I buy mine at TJ's, if you make your own at home, so much the better!)
Combine coconut milk and thyme in a small saucepan until mixture just begins to bubble. Turn off heat, cover and let infuse while you prepare the pumpkin.
While coconut milk steeps, combine pumpkin, coconut sugar, coconut oil, salt and pepper in a nonstick saute pan over med-high heat. Cook until mixture begins to deepen in color and caramelize, about 10 mins, stirring frequently. Add ⅓ of the thyme-infused coconut milk and stir, keeping the pan over the heat, until combined. Allow mixture to cool (can be done ahead of time).
Boil lasagne noodles until just al-dente, 8-10 mins, stirring frequently to prevent sticking (this is where the seventh noodle comes in -- as a tester!). Drain and rinse noodles under cold water until cool enough to handle.
Spread a spoonful of coconut milk in the bottom of a baking dish or skillet. Arrange six noodles on a cutting board, dollop pumpkin filling at one end of each, using all filling, and roll up. Arrange in the prepared baking dish seam-side down and pour over remaining coconut milk. Bake for 20-25 mins, basting with the coconut milk once or twice, until cannelloni are heated through and noodles are tender.
While pasta bakes, heat a generous tablespoon each of coconut oil and olive oil in a small sauce or frypan until shimmering (but not smoking) and add sage. Quickly fry until a bright, deep green color, 30-60 secs (note: the leaves will crisp as they cool); remove to paper towels to drain and immediately sprinkle with salt.
Serve cannelloni topped with fried sage and chopped candied nuts. Enjoy!
Don't be dismayed by the cook time on this one - it's honestly one of the simplest recipes you can make considering the restaurant-quality flavor payoff. For a weeknight meal, the coconut milk, the pumpkin filling and the noodles can all be prepared ahead of time, leaving you only with assembly, baking and a quick fry of the sage. For feeding a larger crowd (think: holidays!), this also takes well to doubling. Just adjust the size of your baking vessel accordingly.
Recipe by
the pig & quill
at https://thepigandquill.com/savory-pumpkin-cannelloni-with-candied-walnuts-crispy-sage-dairy-free/