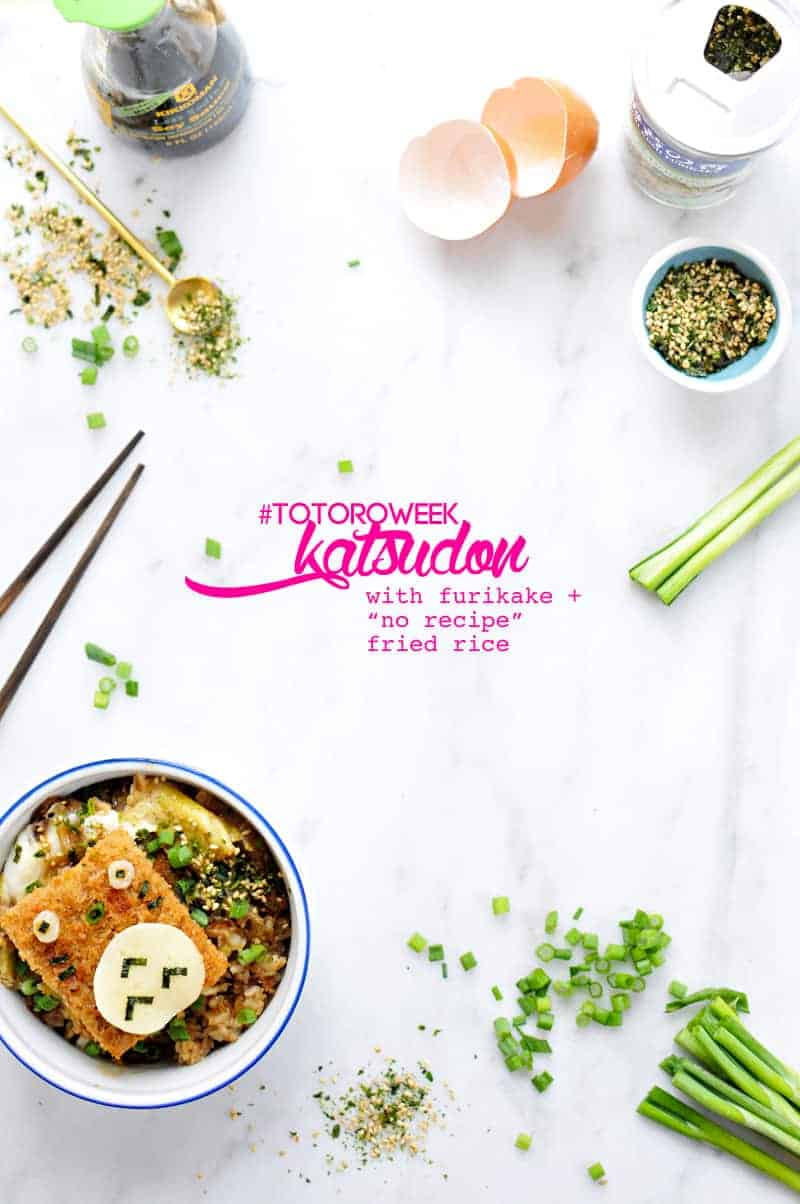 Oh haiiiii twice in one week mah peebles!
(Sorry.)
Just checking in quickly today to bring you the (quasi-non) recipe for these little dudes. Typically, katsudon entails a breaded and fried pork cutlet simmered with sautéed onions, soft-set eggs and a simple little sweet-salty sauce over hot rice — and that's basically what's going on here, sub baked tonkatsu for fried and garlicky fried rice for plain steamed. I didn't do it to be confusing, guys. It just turned out that way.
OH. And in honor of Steph's #totoroweek, the katsu cutlets have been stylized into (some admittedly pretty abstract, because #lazy) little totoros – yay! With cheese bellies and nori features borrowed from the hostess, herself. Thanks, girl!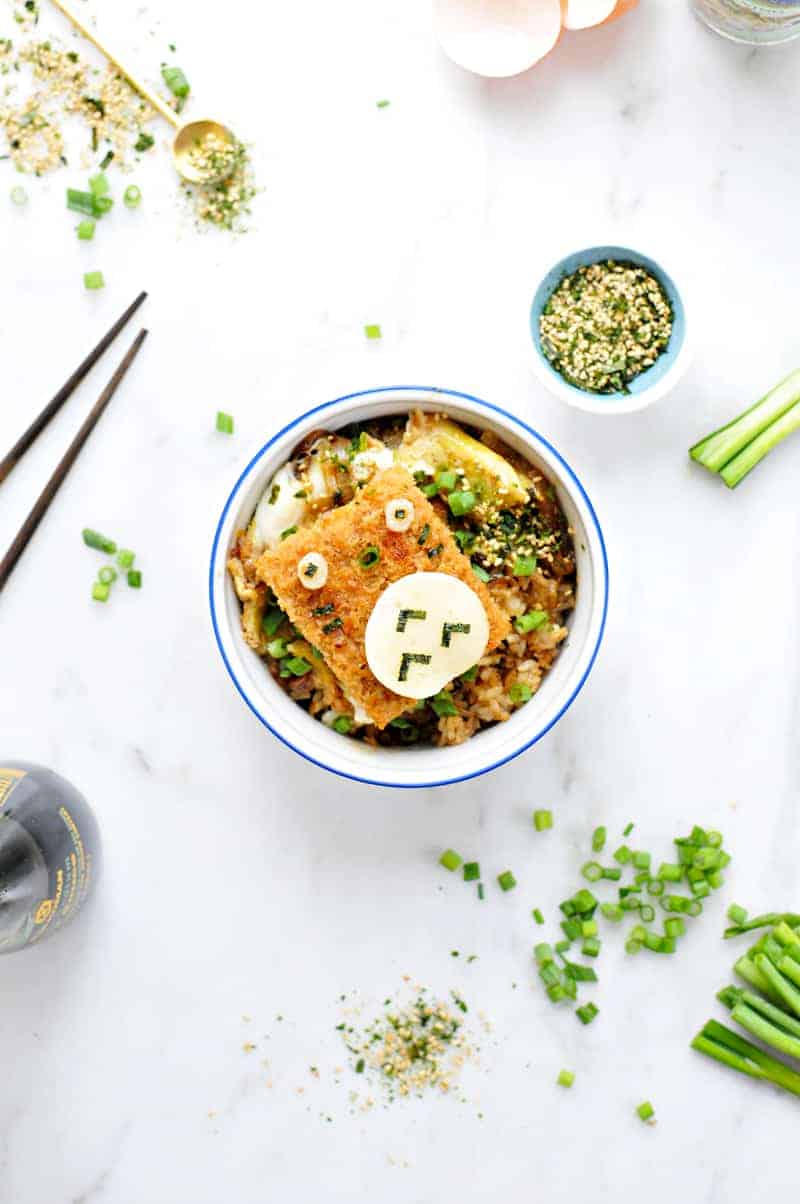 There's rain in the forecast this weekend, so we're staying in with friends to carve pumpkins, snuggle up with scary movies and brunch on all the things. The perfect little pre-Halloween weekend without the pressure of getting dressed up all slutty or donning a costume that cleverly ties into the presidential election. I'm not saying those are the only two options, but they're basically the only two options. Unless you count the inevitable #NastyWoman getup, which is kind of a "best of both worlds" situation.
Hope you guys have an awesome weekend, dudes.
Happy Halloween!
xo,
Em
p.s. Be sure to check out #totoroweek on Instagram and visit I am a Food Blog's round-up of this year's totoro creations!
p.p.s. ICYMI, Savory Pumpkin Cannelloni with Candied Walnuts + Crispy Sage!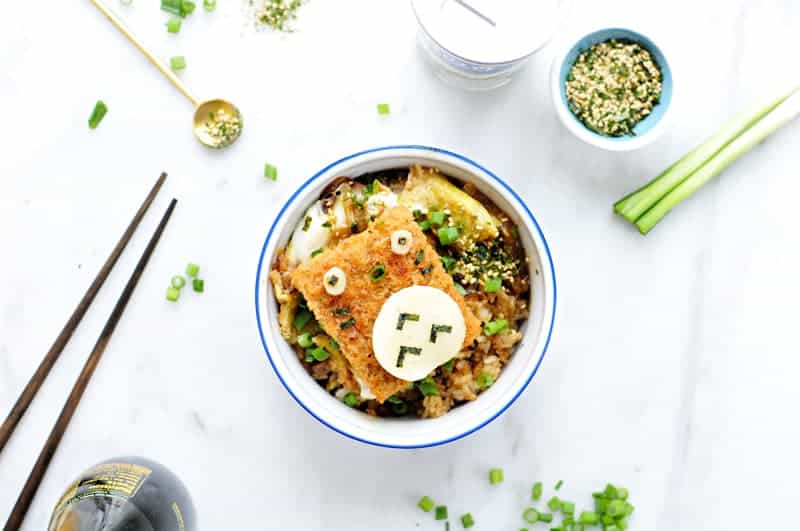 Katsudon with Furikake + "No Recipe" Fried Rice
Ingredients
2 tonkatsu cutlets, sliced into strips (I use this recipe for Baked Tonkatsu from Just One Cookbook)
2 eggs
½ cup beef stock
2 tsp sugar
1 T soy sauce
1 T sake or sherry wine
½ tsp tapioca flour
1 T olive oil
½ white onion, thinly sliced
2 bowls No Recipe Fried Rice (see below)
green onions + furikake for serving
Instructions
For the Katsudon: Lightly scramble eggs. Whisk together beef stock, sugar, soy sauce, sake or wine and tapioca flour.
Heat oil in a large saute pan over med-high flame and add onion, cooking until just tender and beginning to brown. Push onion to sides of pan and place tonkatsu pieces in the middle.
Pour over stock mixture, cover and simmer until sauce has thickened slightly and katsu is warmed through, about 1 min.
Flip katsu pieces and pour egg into the pan around katsu. Reduce heat to medium, cover again, and allow eggs to steam until they are just set.
Divide fried rice between two bowls. Top each bowl with half of the tonkatsu pieces and the egg/onions. Garnish with additional green onions and plenty of furikake. Enjoy!
Notes
For the Totoro Katsu: Trim katsu cutlets into little rectangles, adding scraps to pan to cook alongside, too! Decorate each rectangle with a cheese belly and eyes and nori strips (the larger flecks from the furikake will work great!).
"No Recipe" Fried Rice
Ingredients
drizzle each avocado + sesame oil
1 cup white rice (uncooked volume), cooked and refrigerated overnight
1 T soy sauce, or more to taste
1 T oyster sauce, or more to taste
green onions or chives, chopped
dash garlic powder
black pepper
Instructions
Heat oils in a large skillet over med-high flame and add rice, crumbling it into the pan.
Stir-fry until rice is heated through, well-coated with fat and beginning to dry out a bit, 5 mins.
Season with soy sauce, oyster sauce, garlic powder and black pepper to taste; cook for another minute or two for flavors to absorb. Finish with plenty of green onions. Enjoy!
Notes
This is fried rice in its most basic form, relying only on pantry ingredients. Feel free to doctor it up to your heart's content using fresh garlic, a little ginger, any number of veggies (frozen peas are my fave!), leftover tidbits of meat, etc. Just be sure to allow yourself enough room in the pan so the rice can cook without steaming.
————————————————–
OH! before you go…
Like whatcha see here — or have a question, feedback, or recipe hack to share? Join The Pig & Quill convo by commenting below (I love, luv, lurve comments) and hang out with me on Facebook, Twitter, Instagram and Pinterest. And don't forget to subscribe to P&Q emails or add me to your RSS reader with Feedly or Bloglovin' so you never miss a post. x's & o's!