Katsudon with Furikake + "No Recipe" Fried Rice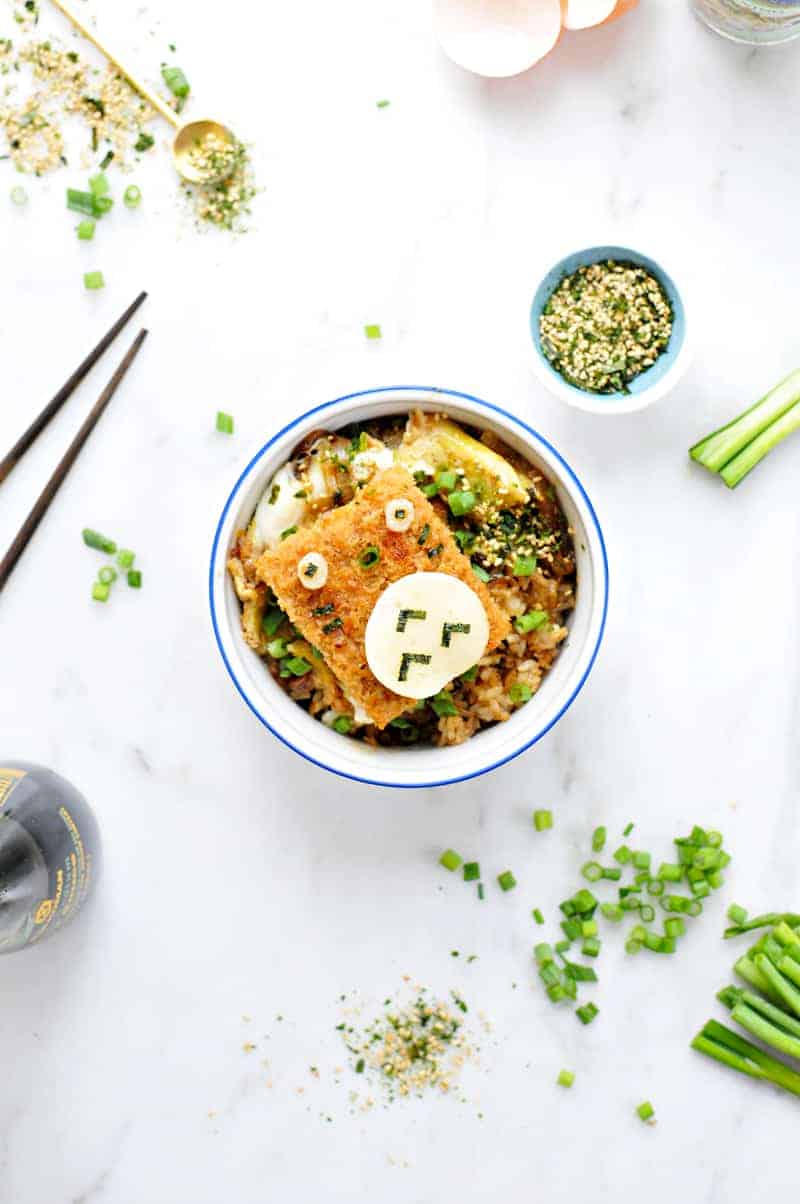 2 tonkatsu cutlets, sliced into strips (I use this recipe for Baked Tonkatsu from Just One Cookbook)
2 eggs
½ cup beef stock
2 tsp sugar
1 T soy sauce
1 T sake or sherry wine
½ tsp tapioca flour
1 T olive oil
½ white onion, thinly sliced
2 bowls No Recipe Fried Rice (see below)
green onions + furikake for serving
For the Katsudon: Lightly scramble eggs. Whisk together beef stock, sugar, soy sauce, sake or wine and tapioca flour.
Heat oil in a large saute pan over med-high flame and add onion, cooking until just tender and beginning to brown. Push onion to sides of pan and place tonkatsu pieces in the middle.
Pour over stock mixture, cover and simmer until sauce has thickened slightly and katsu is warmed through, about 1 min.
Flip katsu pieces and pour egg into the pan around katsu. Reduce heat to medium, cover again, and allow eggs to steam until they are just set.
Divide fried rice between two bowls. Top each bowl with half of the tonkatsu pieces and the egg/onions. Garnish with additional green onions and plenty of furikake. Enjoy!
For the Totoro Katsu: Trim katsu cutlets into little rectangles, adding scraps to pan to cook alongside, too! Decorate each rectangle with a cheese belly and eyes and nori strips (the larger flecks from the furikake will work great!).
Recipe by
the pig & quill
at https://thepigandquill.com/totoroweek-katsudon-with-furikake-no-recipe-fried-rice/