Chocolate Pumpkin Spice Cake with Cream Cheese Frosting — a rich, not-too-sweet autumn cake topped with a classic cream cheese frosting and nutty, coconut-almond granola. Gluten-free.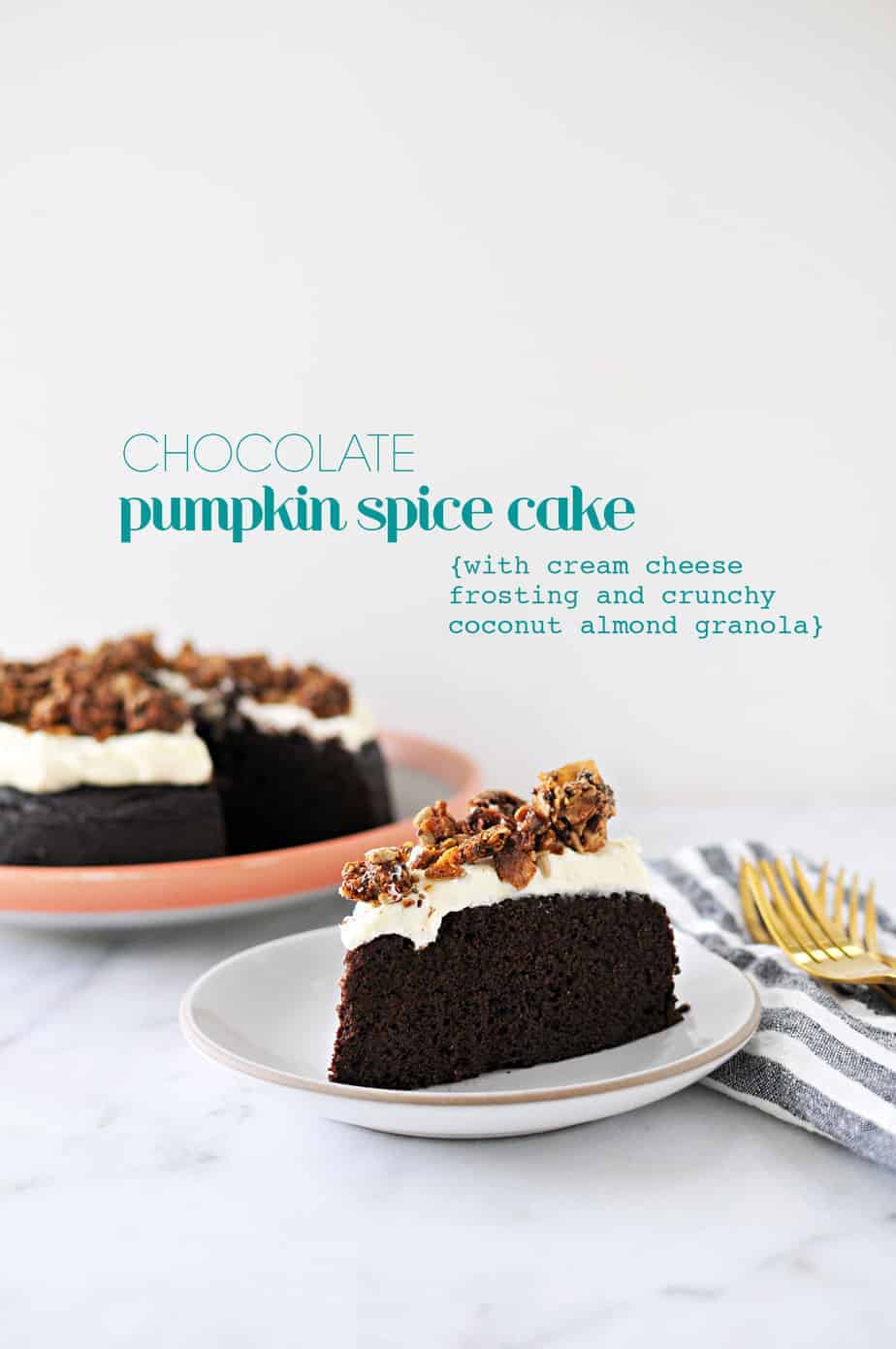 Monday! Hope you had a good weekend, friends. We had friends in town for the Half Moon Bay Pumpkin Festival, after which we carved pumpkins for our own front porch and filled our bellies with crusty, grilled cheese sandwiches dunked in big bowls of my favorite Buttered Miso-Tomato Soup. This week I prep for an upcoming trip to Hong Kong (HK! I'm immensely excited for dumplings/toast/high tea/Hello Kitty cafes – please send recs for any/all!), so I'll be spending lots of time snuggling Lana extra close and planning a few fun adventures for the two of us before I leave.
But before I do that, there's cake to be had! A gluten-free pumpkin spice cake! Or, more specifically, a Chocolate Pumpkin Spice Cake with Cream Cheese Frosting, adapted from the Chocolate Zucchini Cake in Alanna's Alternative Baker cookbook, and easily our new go-to dessert for fall. It's rich but not overly sweet, warmly spiced, and the perfect complement to a big harvest meal or a morning cup of coffee.
A Gluten-Free Pumpkin Spice Cake!
Thanks to Alanna's (The Bojon Gourmet) expertise with gluten-free flours, this Chocolate Pumpkin Spice Cake with Cream Cheese Frosting is completely gluten-free, made with sorghum and sweet rice flours that, together, offer a substantial texture and a tender crumb. In lieu of zucchini, I've used a full cup of pumpkin puree here, accented with warm cinnamon, nutmeg, clove and even a tiny hit of black pepper. And as for sweeteners, coconut sugar and molasses impart a subtle nuttiness that make the flavor profile of this particular gluten-free pumpkin spice cake seem decidedly sophisticated. A classic cream cheese frosting up top (the Alternative Baker recipe employs a Matcha Cream Cheese Frosting that is addictive and the perfect companion for the cake in its original form) and a crunchy scattering of our go-to Oat-Free Coconut Almond Granola and you've got the ultimate fall dessert.
Chocolate Pumpkin Spice Cake with Cream Cheese Frosting for a #VirtualPumpkinParty
Following the theme of our pumpkin-filled weekend, today, I'm "bringing" this gluten-free pumpkin spice cake to Sara's #virtualpumpkinparty. Be sure to check out the full page of pumpkin (and fall squash)-themed recipes here, and follow the #virtualpumpkinparty on IG for seasonal eye candy/inspiration. Oh, and in case you missed it, here are The Pig & Quill's recipes from previous years' celebrations:
Too much pumpkin? Never! 🙂
Hope you all had a lovely, autumnal weekend, friends.
xo,
Em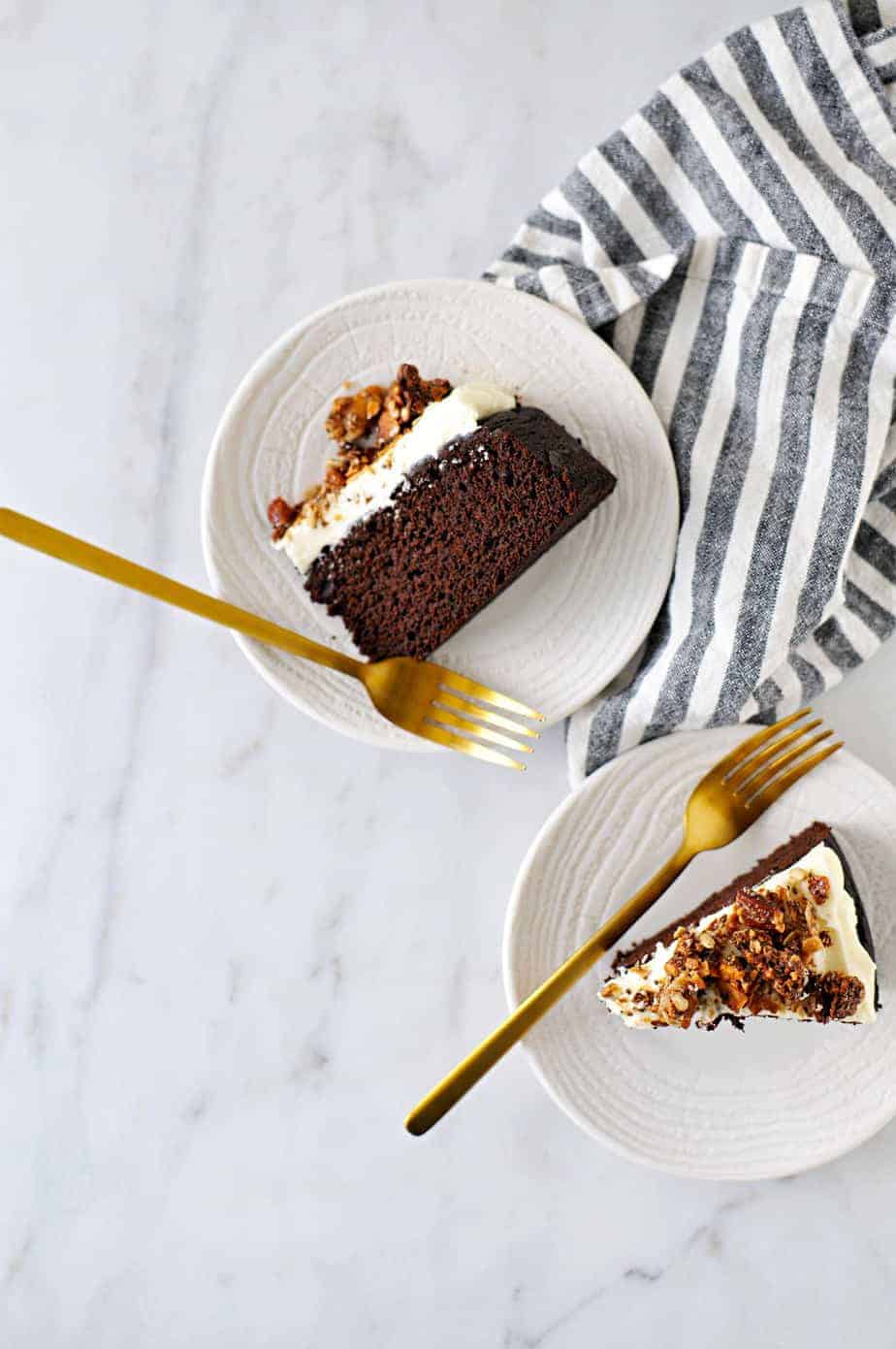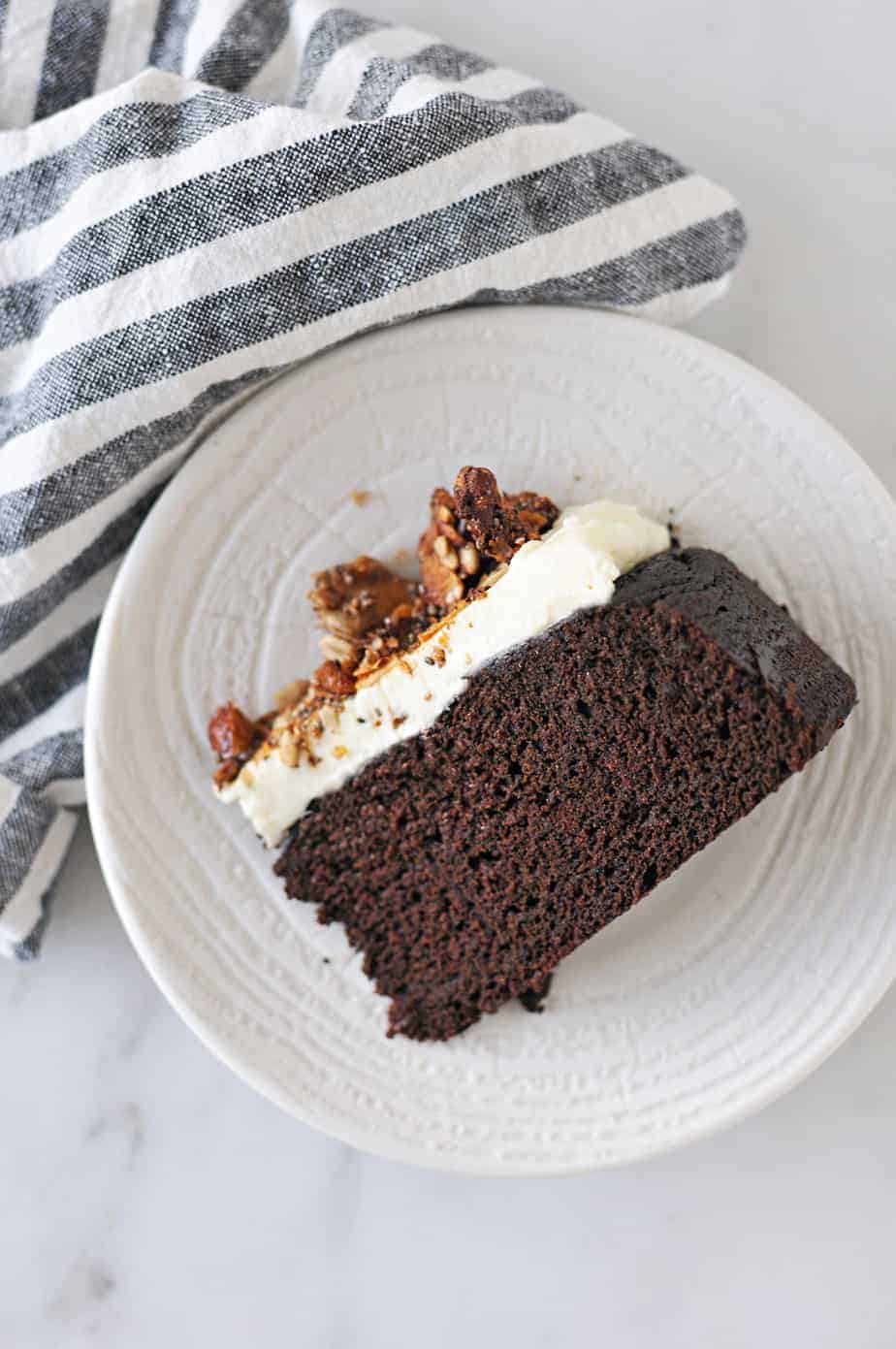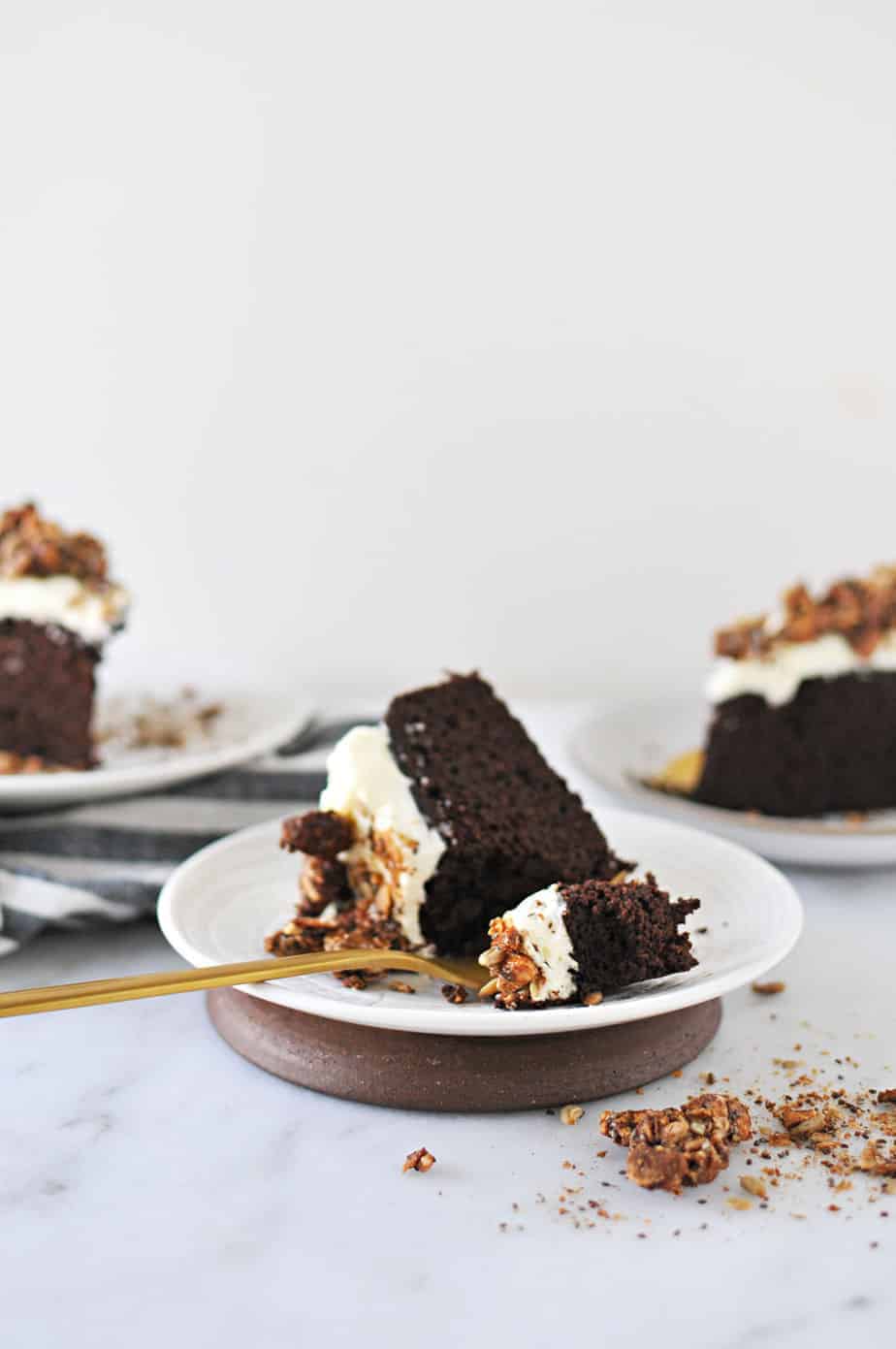 Chocolate Pumpkin Spice Cake with Cream Cheese Frosting | Gluten-Free
Chocolate Pumpkin Spice Cake with Cream Cheese Frosting -- a rich, not-too-sweet autumn cake topped with a classic cream cheese frosting and nutty, coconut-almond granola. Gluten-free.
Ingredients
For the Cake
1 cup pumpkin puree (canned is fine)
1 cup coconut sugar
1 T molasses
2 large eggs
¼ cup olive oil
¼ cup whole milk (non-dairy will work; I used homemade cashew milk)
1 tsp vanilla
¾ cup cacao powder*
¾ cup plus 2 T sorghum flour
¼ cup sweet white rice flour
2 tsp baking powder
2 tsp ground cinnamon
½ tsp ground clove
¼ tsp ground black pepper
¼ tsp freshly grated nutmeg
½ tsp sea salt or pink salt
For the Frosting
8 oz cream cheese, softened
3 T salted butter, softened
¾ cup powdered sugar
For Topping
Instructions
Preheat oven to 350F. Grease an 8" round cake pan and coat with cacao powder. (Using one of the flours will work, as well, but the cacao eliminates any telltale white dust on the edge of the cake.)
In a large bowl, combine pumpkin puree, coconut sugar molasses, eggs, oil, milk + vanilla. Whisk until well combined.
To same bowl, add cacao powder, sorghum flour, rice flour, baking powder, salt, cinnamon, clove, black pepper and nutmeg. Stir well to combine.
Pour batter into prepared pan and bake until a toothpick inserted near the center of the cake comes out with moist crumbs, 35-40 mins. Let cake cool until it's comfortable enough to handle; then remove to a cooling rack and cool completely.
To make the frosting, combine the cream cheese, butter, and powdered sugar in the bowl of a stand mixer with a paddle attachment. Beat on medium-low speed until light and fluffy, scraping down the sides as needed, 2-3 mins.
Place cake on a platter or serving surface and dollop frosting atop cake. Using a small offset spatula, spread frosting just to the edges of the cake, leaving sides bare.
Top cake generously with granola. Serve immediately, or refrigerate for up to 1 day, bringing cake to room temperature at least an hour before serving. Enjoy!
Notes
* The original recipe calls for Dutch process cocoa powder, which I imagine you could also use here.
————————————————–
OH! before you go…
Like whatcha see here — or have a question, feedback, or recipe hack to share? Join The Pig & Quill convo by commenting below and hanging out with me on Facebook, Twitter, Instagram and Pinterest. And don't forget to subscribe to P&Q emails or add me to your RSS reader with Feedly or Bloglovin' so you never miss a post. x's & o's!