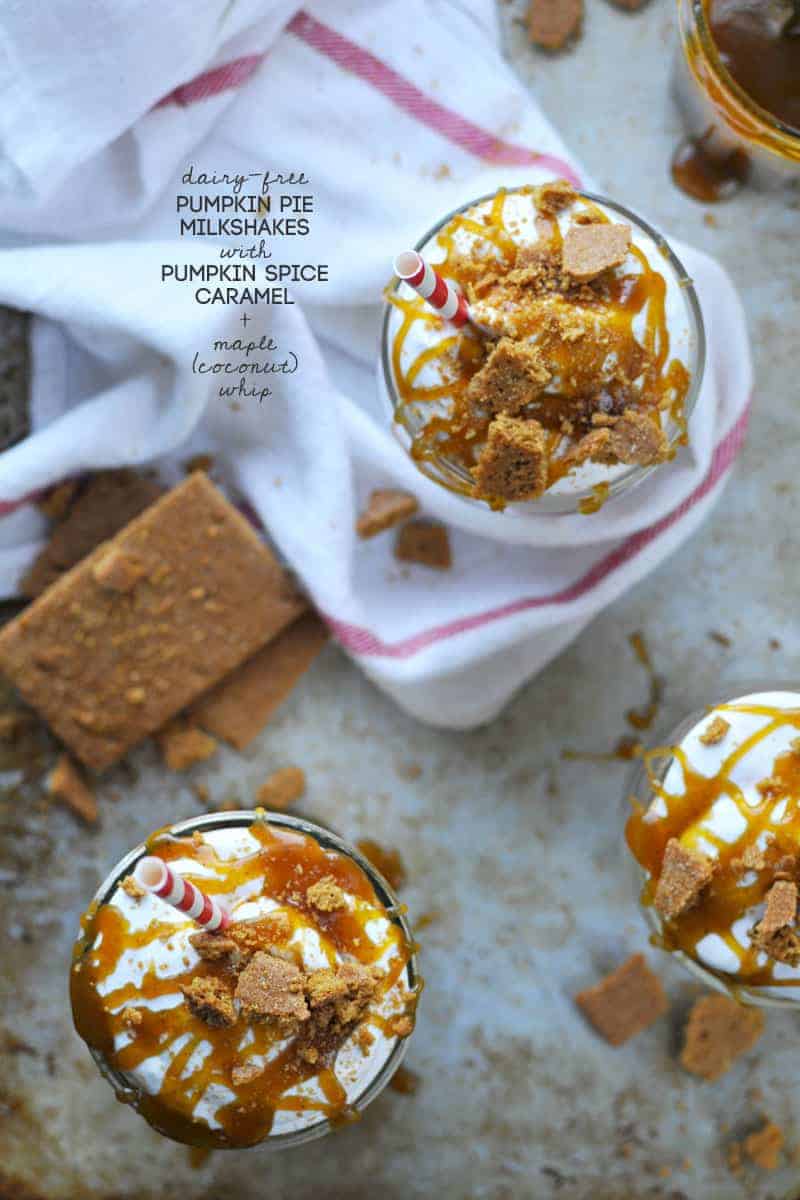 Let me first address the obvious here, because I bet someone out there is just itching to say it: a milkshake without dairy is not a true milkshake. I know this is the popular opinion, and even in my own heart, I know it to be true. But there's something to be said for getting really, really, really close. And then taking some titular liberties.
Ha. Titular.
If you've been around this blog for any part of the autumn season before, you know it becomes kind of a squash and pumpkin show. I mean, I wouldn't say I'm the biggest pumpkin (or even pumpkin spice) fiend out there, but when the leaves do their thing and the air crisps up and Trader Joe's starts cramming pumpkin into damn near everything and only succeeding at about half the things but still suckering you into buying pretty much all.of.them.hello.pumpkin.bagels.yes., you can't help but become at least a little bit of a bandwagon fan. If only for the fact that pumpkin season is really just the first gastronomic clue that turkey-pie-and-cookie season is ever near. And I'm really keen on turkey-pie-and-cookie season.
We're reading that as three things, right? Because while I do love me some turkey pie — and cookies — and I'm even more partial to turkey. Pie. And cookies.
K, good, I feel like that was getting confusing.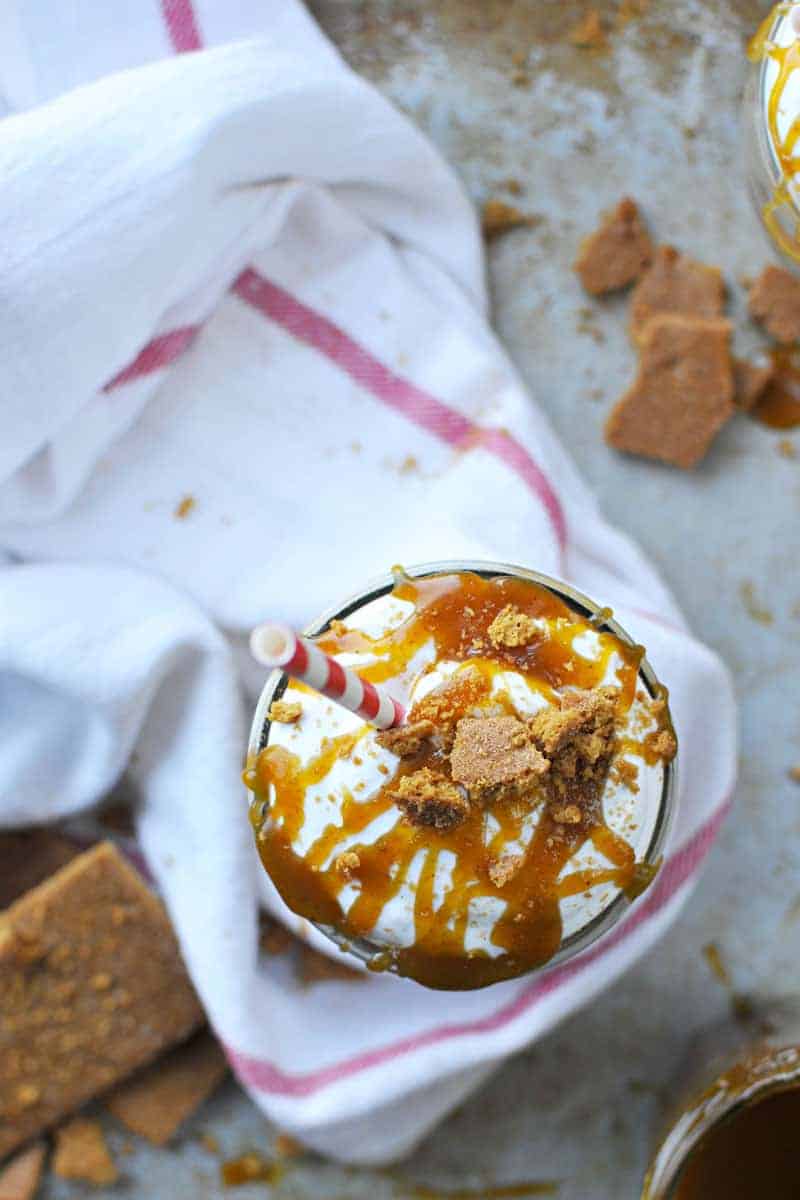 Aside from tasting like you crammed a slice of pie into your ice cream shake (and we know how I feel about pie — see: turkey-pie-and-cookie, above), my most faves thing about this take on a pumpkin milkshake is that it's actually packed with kind of a lot of real pumpkin. There's no pumpkin- or pumpkin spice-flavored anything here, guys. Instead, there is pumpkin. There are spices. And, then there's, like, a super fatty ribbon of homespun pumpkin spice caramel sauce, which you may be shocked to learn is also made from pumpkin. And, um, spices.
I also snuck a few cinnamon graham crackers into and onto the shake, the former because the toasty graham flavor is a fair representation of crust and the latter because crunch and texture and piling toppings high on top of milkshakes is pretty and indulgent and if you're going to set about constructing something as improper as a pie shake you might as well do it…properly.
Wink.
Cheers, all! Have a great HumpDizz.
xo,
Em
p.s. I'm so pump'd (heh) that this recipe is part of today's #virtualpumpkinparty hosted the by the enviably talented Sara of Cake Over Steak. (If you've not checked out Sara's corner of the web before, you should really get over there. She pairs every recipe with ridiculously pretty illustrations of each tasty eat, so it's like half food blog, half art blog and completely fun and unique.) Today, thanks to Sara, more than 70 folks have gathered to celebrate all things pumpkin — sweet, savory and everything in between. (Also: boozy! Yay!) Scroll past the recipe below to see the complete list of partygoers and their contributions — there's too much good stuff!
p.p.s. This precious goober is a whopping 6 months old today and is already so full of charm and personality, it almost gets my ovaries itching again. We love you dearly, Lana bug. More than fat kids love cake. More than momma loves pie shakes. More than, when it really comes down to it, we ever could have imagined. ♥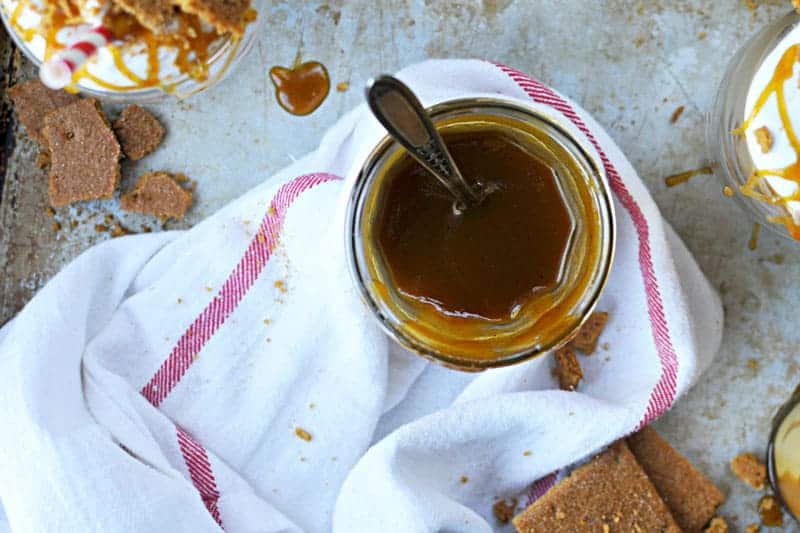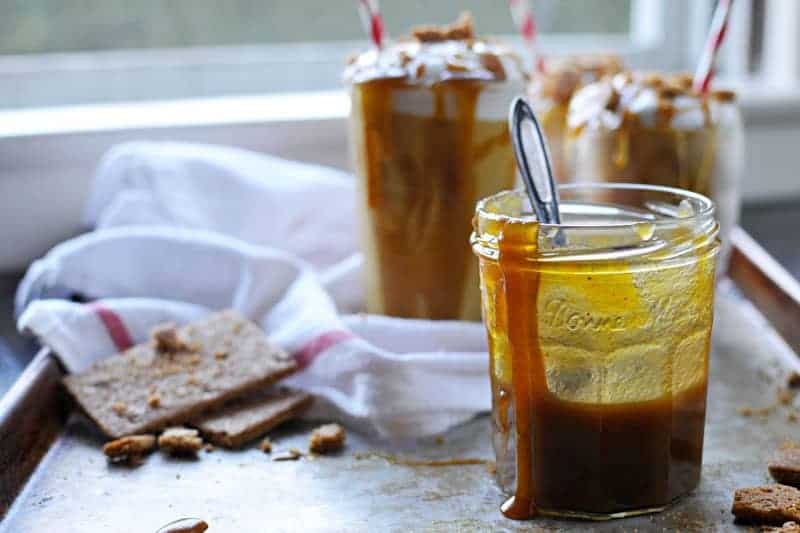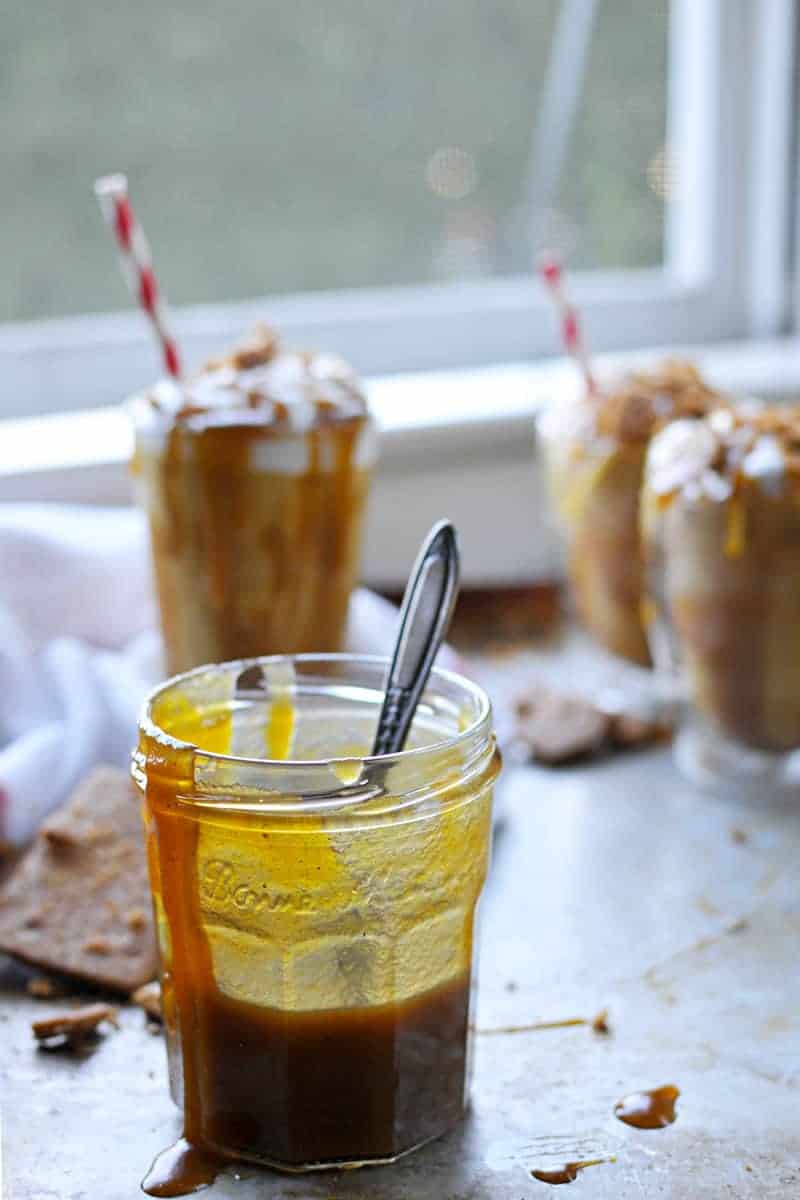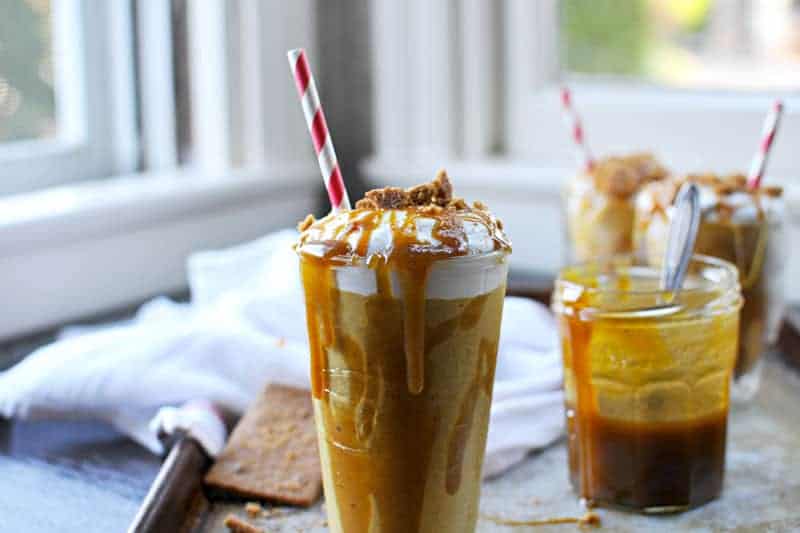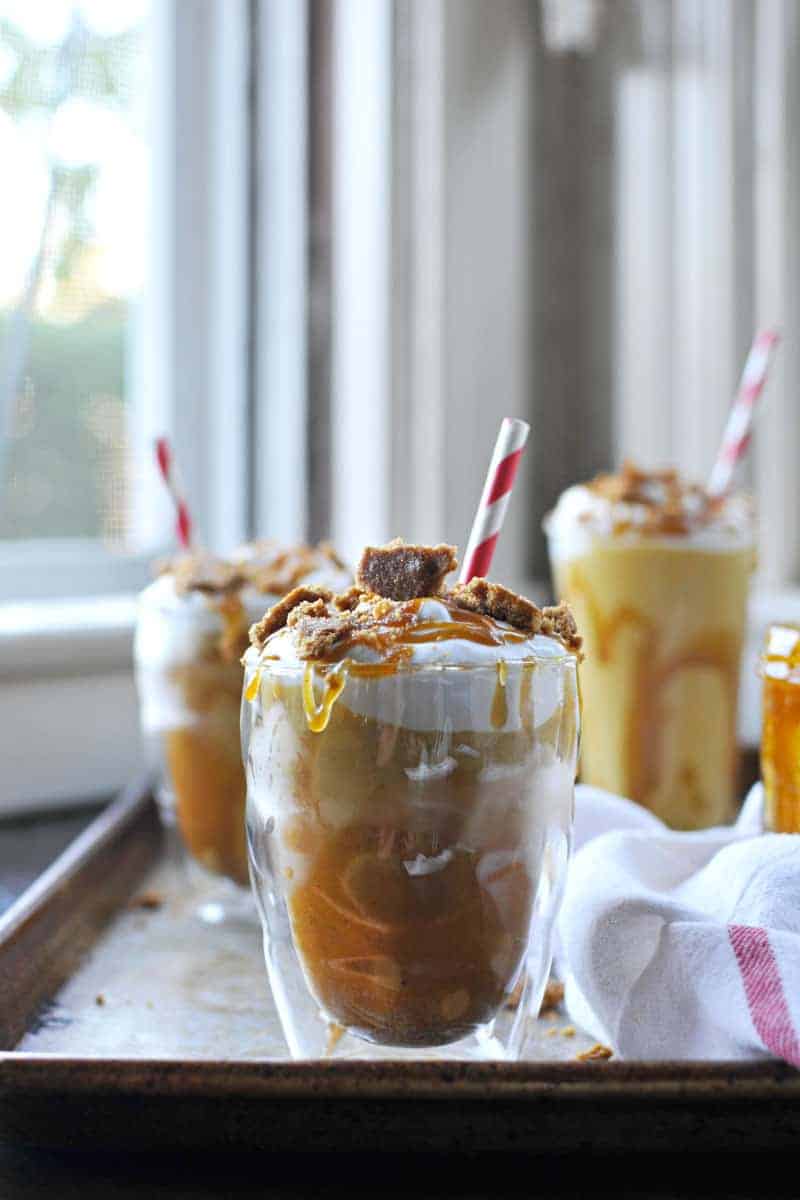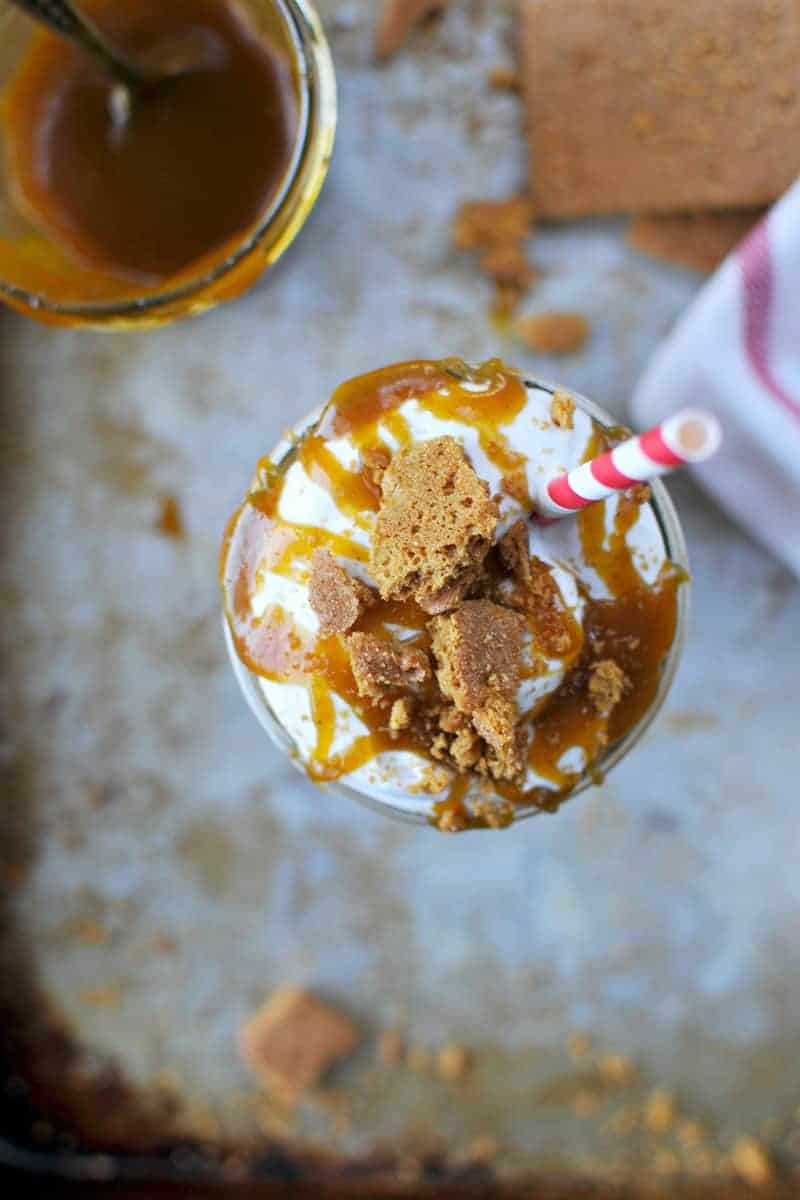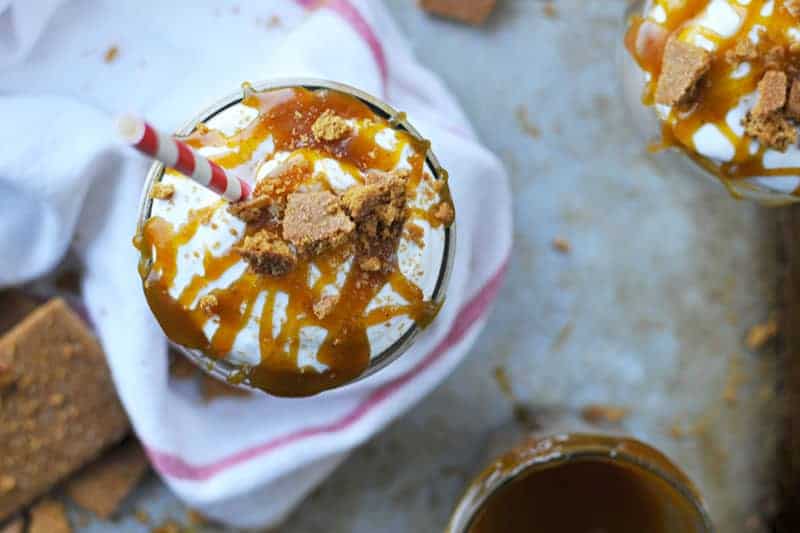 PUMPKIN PIE MILKSHAKES WITH PUMPKIN SPICE CARAMEL AND MAPLE WHIP (DF)
Makes:
2 piggy (me) or 3 normal people milkshakes
Ingredients
1 pint dairy-free ice cream (see note)
1 cup canned pumpkin
½ cup Pumpkin Spice Coconut Caramel Sauce, plus more for serving (recipe below)
½ cup crumbled cinnamon graham crackers, plus extra for topping (optional)
heaping ½ tsp cinnamon
heaping ¼ tsp allspice
⅛ tsp nutmeg
pinch sea salt
handful ice (3-4 cubes)
maple coconut whip for serving (see note)
Instructions
Combine all ingredients except ice to blender and blend until smooth.
Add ice and blend again until smooth.
Top with coconut cream, more caramel sauce and crushed graham crackers. Enjoy!
Notes
I used
Double Rainbow's Vanilla Bean Soy Cream
for these shakes because it's super creamy and pretty dang close to a traditional (read: dairy-full) vanilla bean, but if you're anti soy, I've also recently checked out the So Delicious brand of
Cashew Milk Ice Creams
and they're also really, really good -- and with a relatively short ingredient list. (The Snickerdoodle, my goodness...) And of course, you can always hock your fave regular ice cream in there if you don't take issue with dairy. You kinda can't go wrong...
For the coconut whip: Chill a can of full-fat coconut milk
upside-down
in the fridge overnight. Flip the can right-side up, open it up, pour off the watery portion (reserve for another use!) and whip the creamy portion with a tablespoon or two of real maple syrup until stiff peaks form. Easy.
pumpkin spice coconut caramel sauce
Ingredients
1 14 oz can full fat coconut milk
½ cup canned pumpkin
1 cup sugar
2 T coconut oil
1" piece of fresh ginger, peeled and quartered
½ tsp cinnamon
¼ tsp nutmeg
generous pinch sea salt
Instructions
Combine coconut milk and pumpkin in a blender and whirl until very smooth.
Add coconut milk mixture, sugar, coconut oil, ginger pieces, spices and salt to a medium saucepan and bring to a boil.
Simmer until dark and syrupy and reduced by half, stirring occasionally, about 20 mins. Remove ginger pieces (and, if you're me, eat them). Allow to cool slightly before serving. Store refrigerated in an airtight container for up to a week.
————————————————–
It's a #virtualpumpkinparty! Here's who's bringing what:
sweet
Cake Over Steak • Pumpkin Ginger Cookies with a Vanilla Glaze
A Couple Cooks • Pumpkin Spice Almond Butter
Girl Versus Dough • Pumpkin Challah
Snixy Kitchen • Black Sesame Pumpkin Mochi Cake
Hungry Girl por Vida • Pumpkin Chocolate Crumb Cake
Donuts, Dresses and Dirt • Pumpkin Spice Latte Truffles
The Frosted Vegan • Dark Chocolate Pumpkin Gingersnaps
Warm Vanilla Sugar • Dulce de Leche Pumpkin Ice Cream + Affogato
An Edible Mosaic • Pumpkin Spice Latte Snack Cake with Brown Butter Buttercream
Kitchen Konfidence • Yeasted Pumpkin Waffles with Candied Ginger
Chocolate + Marrow • Pumpkin Scones with Cinnamon Butter Swirl
The Pig & Quill • Pumpkin Pie Milkshakes with Pumpkin Spice Caramel + Maple Whip
Salt & Wind • Apple Cinnamon Pumpkin Muffins with Pepita Streusel
A Cookie Named Desire • Pumpkin Crepes with Cinnamon Ginger Cheesecake
Nommable • Pumpkin Moon Pies
The Crepes of Wrath • Pumpkin Pie Cake
The Swirling Spoon • Pumpkin Hand Pies
Erin Made This • Pumpkin Rye Waffles with Coconut Caramel
Beard and Bonnet • Pumpkin Spice Pizzelle Ice Cream Sandwiches
My Name is Yeh • Pumpkin Slice and Bake Cookies
Broma Bakery • Pumpkin Pie White Chocolate Brownies
Sprinkled with Jules • Pumpkin Spice French Macarons
Feast + West • Dark Chocolate Pumpkin Seed Toffee Bark
Jojotastic • Pumpkin Cinnamon Rimming Sugar
Fix Feast Flair • Pumpkin Spice Japanese Cheesecake
Appeasing a Food Geek • Pumpkin Ale Cake
Long Distance Baking • Pumpkin Pie Ice Cream + Pumpkin Pancakes
Fork Vs. Spoon • Pumpkin Buttermilk Pudding
Alyssa & Carla • Pumpkin Tea Bread (in a Coffee Can!)
Twin Stripe • Pumpkin Spice Toffee
Brewing Happiness • Caramelized Apple Pumpkin Muffins
Blogging Over Thyme • Homemade Candied Pecan Pumpkin Ice Cream Drumsticks
The Speckled Palate • Pumpkin Brown Butter Streusel Muffins with Maple Cream Cheese Glaze
Cookie Dough and Oven Mitt • Pumpkin Gingersnap Pie
Style Sweet CA • Chocolate Stout and Pumpkin Checkerboard Cake
Fork to Belly • Pumpkin Orange Brulee Pie
Tasty Yummies • Grain-Free Pumpkin Spice Pancakes
Påte á Chew • Pumpkin Almond Cake with Almond Butter Frosting
Southern Soufflé • Sorghum Pumpkin Soufflés
The Little Epicurean • Maple Pumpkin Butter Brioche Toast
Tried and Tasty • Whole Wheat Pumpkin Sugar Cookies
The Fauxmartha • Baked Pumpkin Donuts
So… Let's Hang Out • Grain-Free Apple Crumble Pumpkin Pie
Dunk & Crumble • Pumpkin Roundup
Biscuits and Such • Pumpkin Pound Cake
SugarHero! • Cinnamon Swirl Pumpkin Pound Cake
A Little Saffron • Spiced Pepita Brittle
Farmette • "Tis Different" Pumpkin Pie
savory
B. Britnell • Pumpkin & Goat Cheese Macaroni
I Am a Food Blog • Roasted Pumpkin and Pork Stuffed Shells
Well and Full • Harissa-Spiced Pumpkin Gnocchi
Loves Food, Loves to Eat • Pumpkin Pork Burrito Bowls
Two Red Bowls • Pumpkin & Caramelized Onion Galette
With Food + Love • Creamy Pumpkin Polenta with Balsamic Roasted Beets
Feed Me Phoebe • Thai Pumpkin Curry with Shrimp and Bok Choy
The Yellow Table • Coconut-Curry Pumpkin Soup
Ginger & Toasted Sesame • Pumpkin Ricotta Gnudi
Earthy Feast • Pumpkin-Stuffed Turnip-Ravioli with Pepita Pesto
The Sugar Hit • Pumpkin Everything Bagels
The Bojon Gourmet • Pumpkin Flatbread with Gruyére and Crispy Sage (gluten-free)
Tending the Table • Roasted Pumpkin with Tamarind and Coriander Chutney
My Blue & White Kitchen • Roasted Pumpkin Risotto with Crispy Prosciutto
Le Jus d'Orange • Lentil-Stuffed Acorn Squash, Crispy King Oyster Bacon + Aged Goat Cheese
The Scratch Artist • Japanese Pumpkin Temaki with Ginger Kale Chips
Heartbeet Kitchen • Pumpkin Swirled Mashed Potatoes
Okie Dokie Artichokie • Creamy Pumpkin and Chorizo Pasta Bake, Cheese Tortellini, Sage-Mascarpone Sauce, Toasted Hazelnuts
Kale & Caramel • Pumpkin Goat Cheese Polenta with Brown Butter Thyme Mushrooms & Kale
Sprouted Routes • Creamy Vegan Pumpkin Risotto with Sweet & Spicy Roasted Pepitas (gluten free)
Wit & Vinegar • Pumpkin Flaxseed Dog Treats
bevvies
The Pig & Quill • Pumpkin Pie Milkshakes with Pumpkin Spice Caramel + Maple Whip
Floating Kitchen • Pumpkin Beertail with Tequila and Spiced Rum
Jojotastic • Pumpkin Cinnamon Rimming Sugar
Vigor and Sage • Maple Pumpkin Harvest Smoothie
Holly & Flora • Pumpkin Pie Martini with Coconut Cream + Homemade Pumpkin Spice Syrup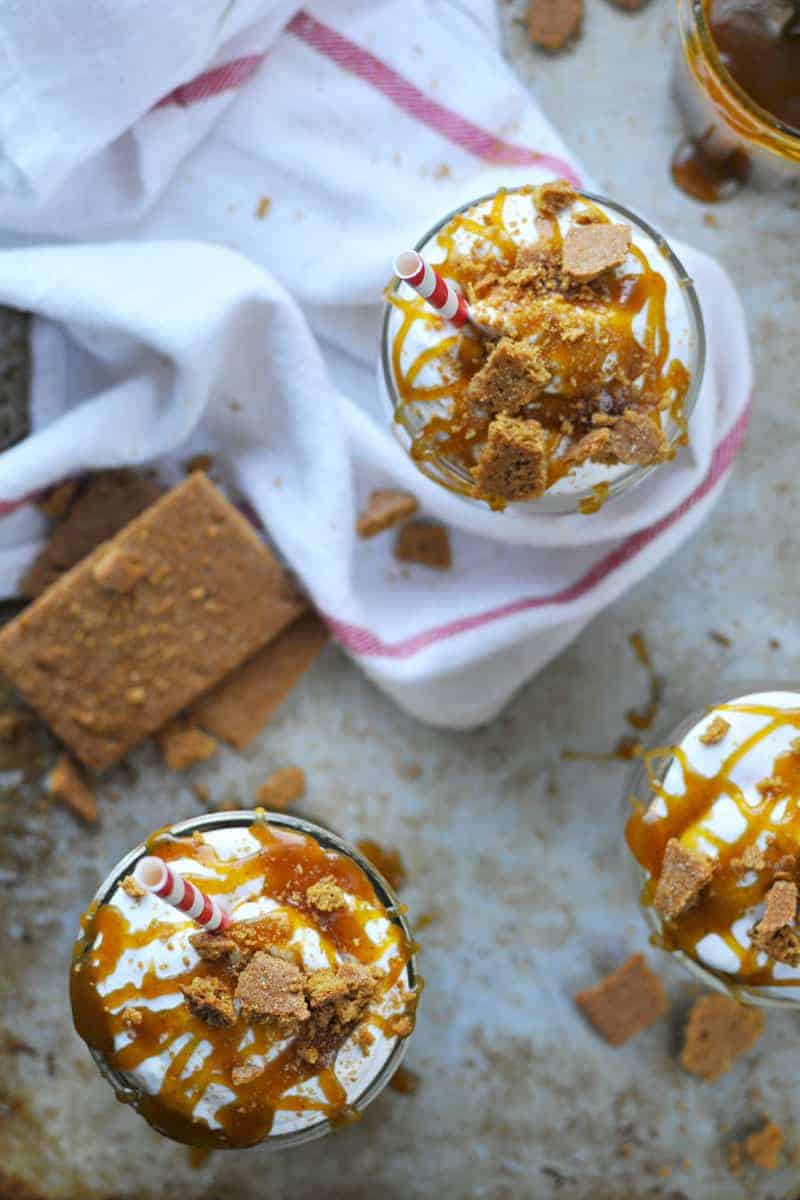 ————————————————–
OH! before you go…
Like whatcha see here — or have a question, feedback, or recipe hack to share? Join The Pig & Quill convo by commenting below (I love, luv, lurve comments) and hang out with me on Facebook, Twitter, Instagram and Pinterest. And don't forget to subscribe to P&Q emails or add me to your RSS reader with Feedly or Bloglovin' so you never miss a post. x's & o's!