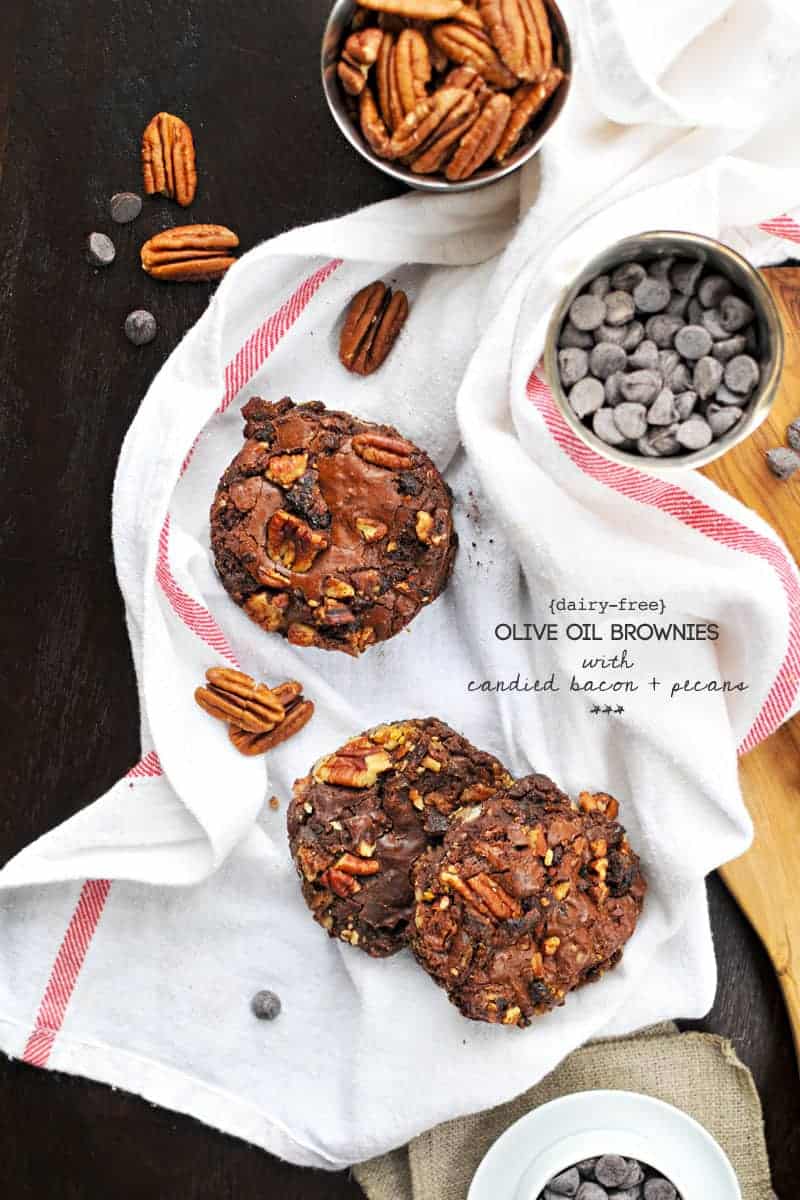 Hold on to yer hats, everybody. I've been baking again. And somehow I always choose to do so on days when it's sweatstache weather. Or maybe it's just always going to be sweatstache weather from here on out. Is this just how we're going to roll for, like, always? Seriously, I feel like how The Rock looks in pretty much every F&F franchise movie (or, more accurately, every movie ever). That is: dripping with perspiration to the point where you just assume there's a tiny person off camera whose entire job consists of soaking him down with a tiny mister of baby oil. Or I guess it could be an average size person with an average size mister. But regardless, that has been me. The Rock, not the Mister.
Ugh. (← bad sigh)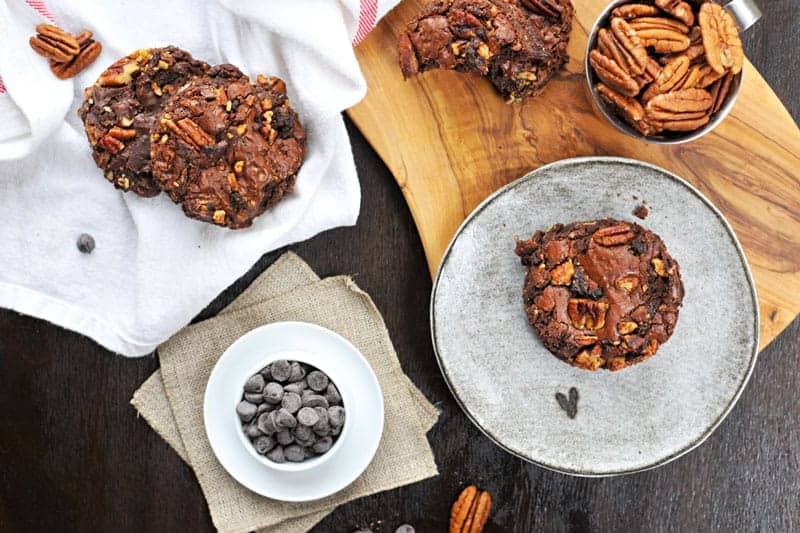 I think what I'm trying to say is just: I'm ready for it to feel like fall — but if it's not gonna feel like fall, I'm at least gonna eat like it's fall. And that means trading that sweatstache for sweatpants. And then filling out those sweatpants with things like sticky, candied bacon and dark, fudgy chocolate and sticky, candied bacon embedded in dark, fudgy chocolate.
And nuts.
And olive oil.
For heart health.
Because sticky candied bacon and dark, fudgy chocolate.
Ugghhh. (← good sigh! )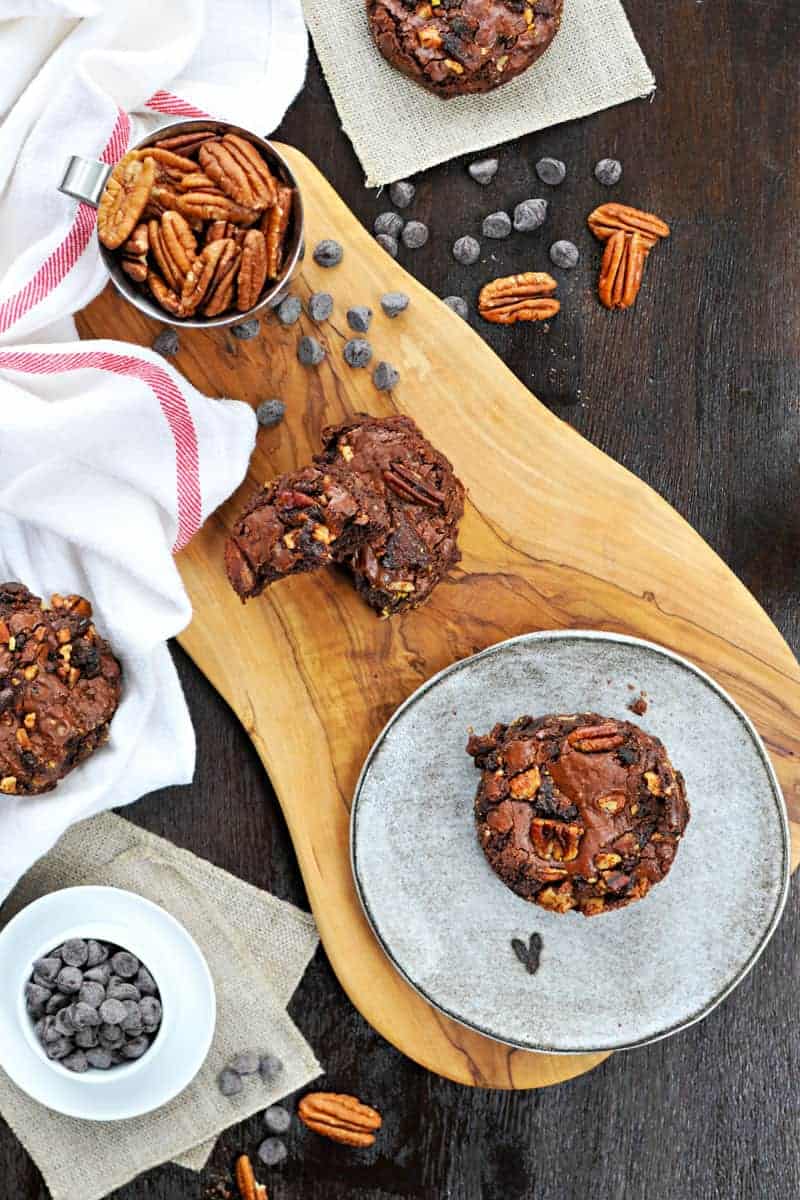 I recently made these brownies for the annual Autumn Festival at the gorgeous historic Filoli estate and gardens and, yeah, they were pretty dang well received — but the real reason I mention that is this recipe is super conducive to multiplying if you need to feed a crowd. Punched out with a simple little 3″ biscuit cutter, these pack up nicely for holiday gifts (try stacking 3 or 5 in a tall treat bag), or cut into simple squares, you can easily get two dozen pieces from a half-sheet pan for all your upscale bake sale needs.
And then there's always the option of just hoarding the whole triple batch in the freezer for yourself and warming a brownie or two on demand. Just pop 'em in the toaster oven for a few mins and you're golden. Ice cream optional but highly recommended.
Uggghhhhh. (← frustrated-by-not-eating-dairy sigh)
I digress.
Ok, brownies, sweatpants and hugs you guys! Hope you're having a great week!
xo,
Em
p.s. juss a reminder that healthier fall things happened last week in the form of this pumpkin curry!
p.p.s. and, then (sneak preview!) more pun'kin stuff is headed your way next week! (also: thanks to Food & Wine for the shoutout — blushing!!)
p.p.p.s. remember that time I made tasty brownie-like things that wouldn't scare away your cardiologist? here ya go! ♥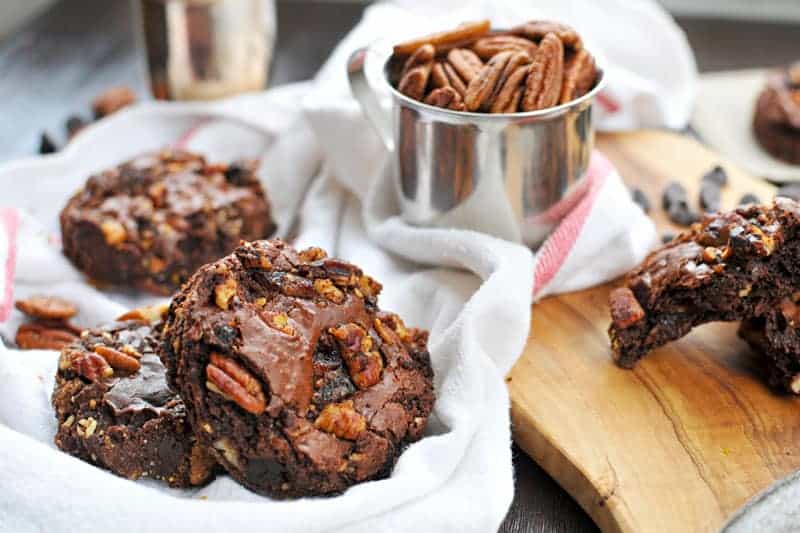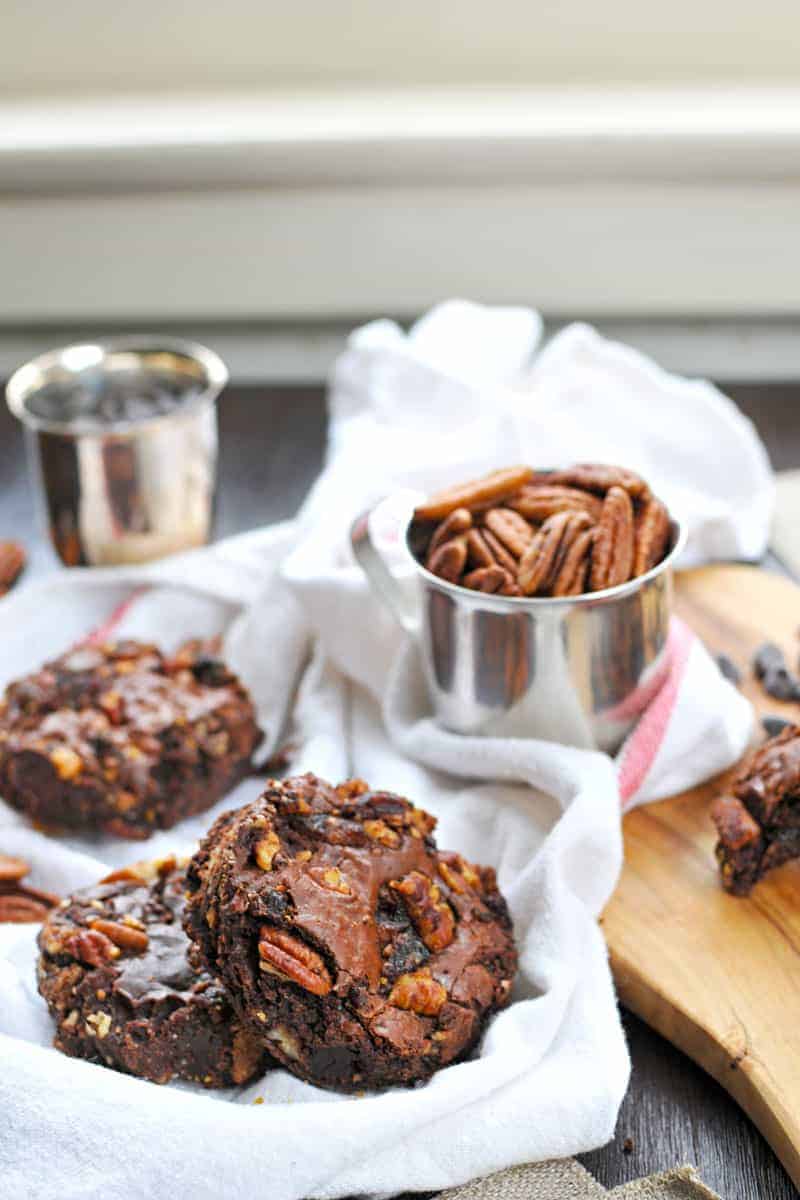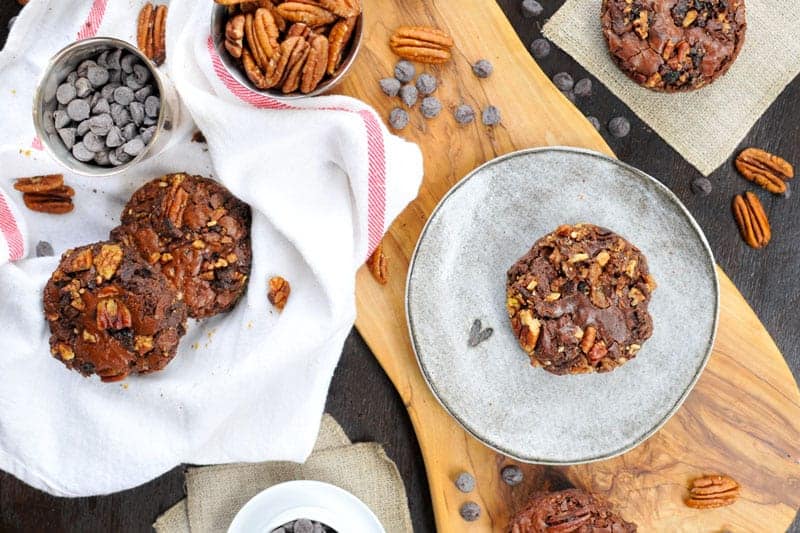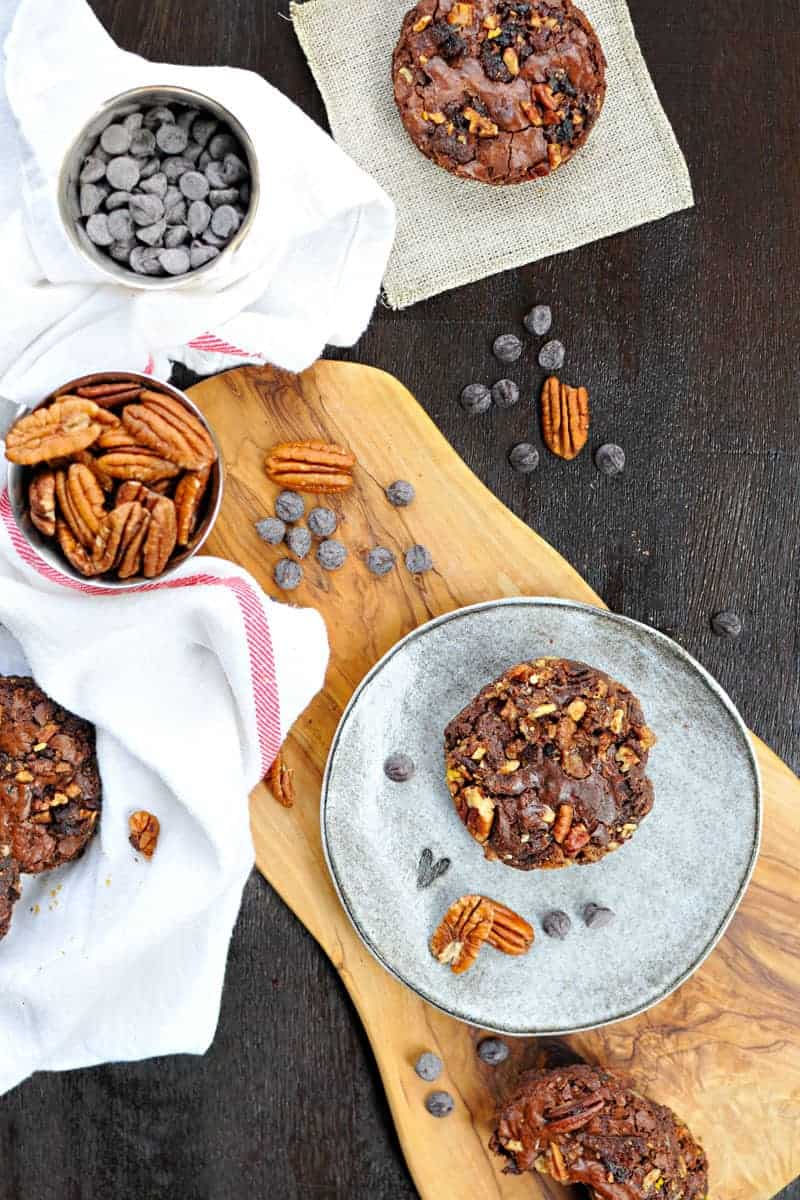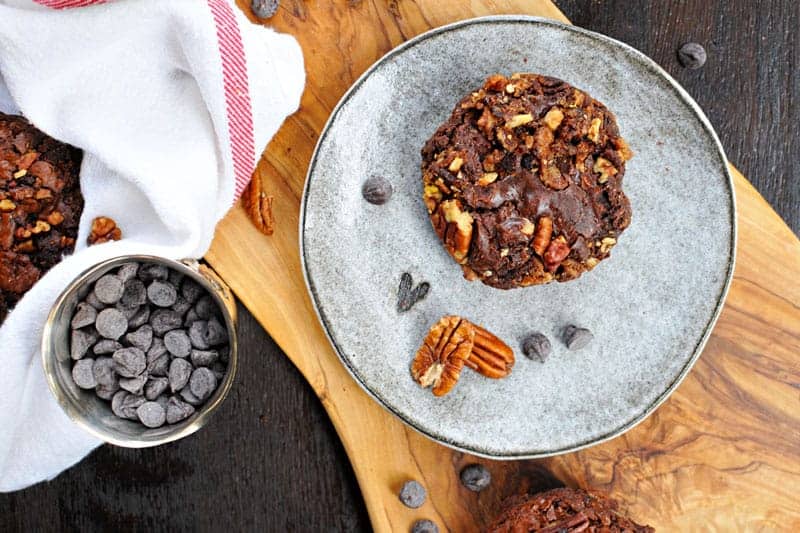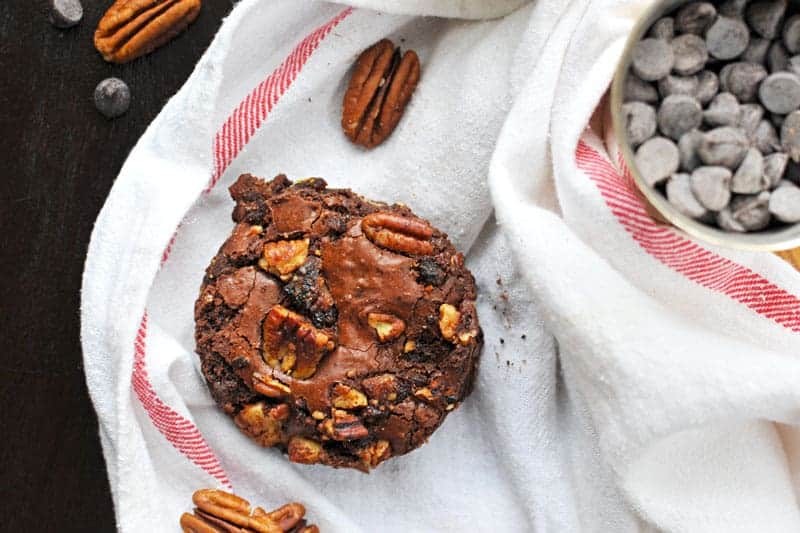 olive oil brownies with candied bacon + pecans
Makes:
about 9 hefty brownies
Ingredients
For the Olive Oil Brownies
¼ cup olive oil
8 ounces bittersweet chocolate, finely chopped
¾ cup brown sugar
2 large eggs
1 teaspoon pure vanilla extract
¼ cup AP flour + 1 T, separated
2 teaspoons espresso powder
¼ teaspoon baking powder
¼ teaspoon fine sea salt
¾ cup coarsely chopped pecans (optional)
1 recipe candied bacon (see below)
nonstick cooking spray or olive oil
For the Candied Bacon
½ lb bacon slices, halved lengthwise
2 T olive oil
¼ cup brown sugar
2 tsp chili powder
1 tsp cinnamon
Instructions
Make the Bacon: Preheat oven to 400F. Combine olive oil, brown sugar, chili powder and cinnamon in a medium bowl. Add bacon pieces and toss to coat thoroughly. Arrange bacon on rimmed baking sheet. Bake 20-25 mins or until bubbling and caramelized. Allow to cool slightly on baking sheet, then remove to wire rack set over paper towels to cool completely. Roughly chop bacon into small pieces.
Make the Brownies: Turn oven down to 350F. Prepare a 9" square baking dish with nonstick cooking spray or olive oil.
In a medium, heat-proof bowl set over a pot of simmering water, warm olive oil and bittersweet chocolate together over low heat, stirring until chocolate is completely melted and smooth.
Remove from heat and stir in the sugar. Beat eggs in one at a time. Add vanilla and beat until sugar is mostly dissolved and mixture is smooth and glossy. Add flour, espresso powder, baking powder and salt and whisk until batter again becomes smooth and shiny.
In a medium bowl, combine about ½ chopped candied bacon and pecans. Toss with 1 tablespoon flour. Fold floured bacon and nuts into brownie batter.
Scrape the batter into the prepared brownie pan and sprinkle with remaining bacon + pecans. Place in the oven and bake for approximately 25-30 minutes or until edges are set and top is crackly in places but center is still slightly gooey.
Remove from the oven and allow to rest in the pan for 30 minutes before cutting into squares (or use a 3" biscuit cutter to punch out circles, like I did here). Enjoy!
Notes
Baking for a crowd? I've tripled this recipe and baked it in a 13" x 18" rimmed half-sheet pan with great success (don't forget to triple the bacon, too!). Oh yeah, and if you're careful in selecting the chocolate, these brownies are dairy-free, yay!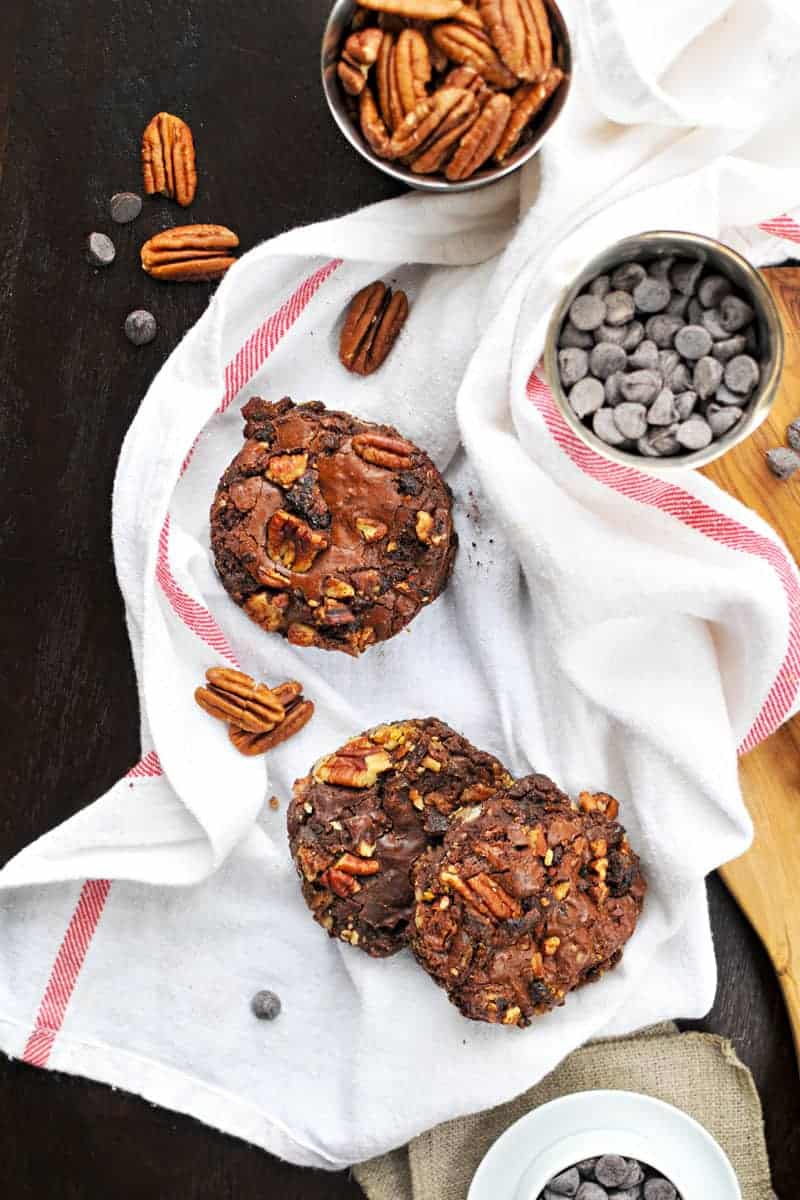 ————————————————–
OH! before you go…
Like whatcha see here — or have a question, feedback, or recipe hack to share? Join The Pig & Quill convo by commenting below (I love, luv, lurve comments) and hang out with me on Facebook, Twitter, Instagram and Pinterest. And don't forget to subscribe to P&Q emails or add me to your RSS reader with Feedly or Bloglovin' so you never miss a post. x's & o's!