Can we talk a minute about things I'm feeling these days?
One: Pistachios. I bought this huge bag of them in the shell because we have these friends that always put out pistachios when we go to their house for dinner, and it's super fun because it's, like, both a snack and an activity and something to do with your hands when you're not quite ready for that second pre-dinner beer — except for I'm currently in my own house on my zero-th beer trying to write this blog post and snack at the same time and all I want is to be able to slam handfuls of pistachios into my face between paragraphs but THE FREAKING SHELLS ARE IN THE WAY and who has time for activity-snack hybrids anyway what was I thinking omfg. Seriously though. If someone wants to come over here and feed me shelled pistachios, I'd be ever so grateful. I'll pay you one-thousand pistachio shells, which just may be the current form of currency in the year 2097 when this tangent is done.
Two: Lana + vintage duds = I'm dead. Feelsie-feels times a million.
Tres — currrrrrrry! I'm aboust it, you guys. Of late I've been puttin' it in popsicles and macaroni salad — and, oh snap, this week, I'm even putting it in curry.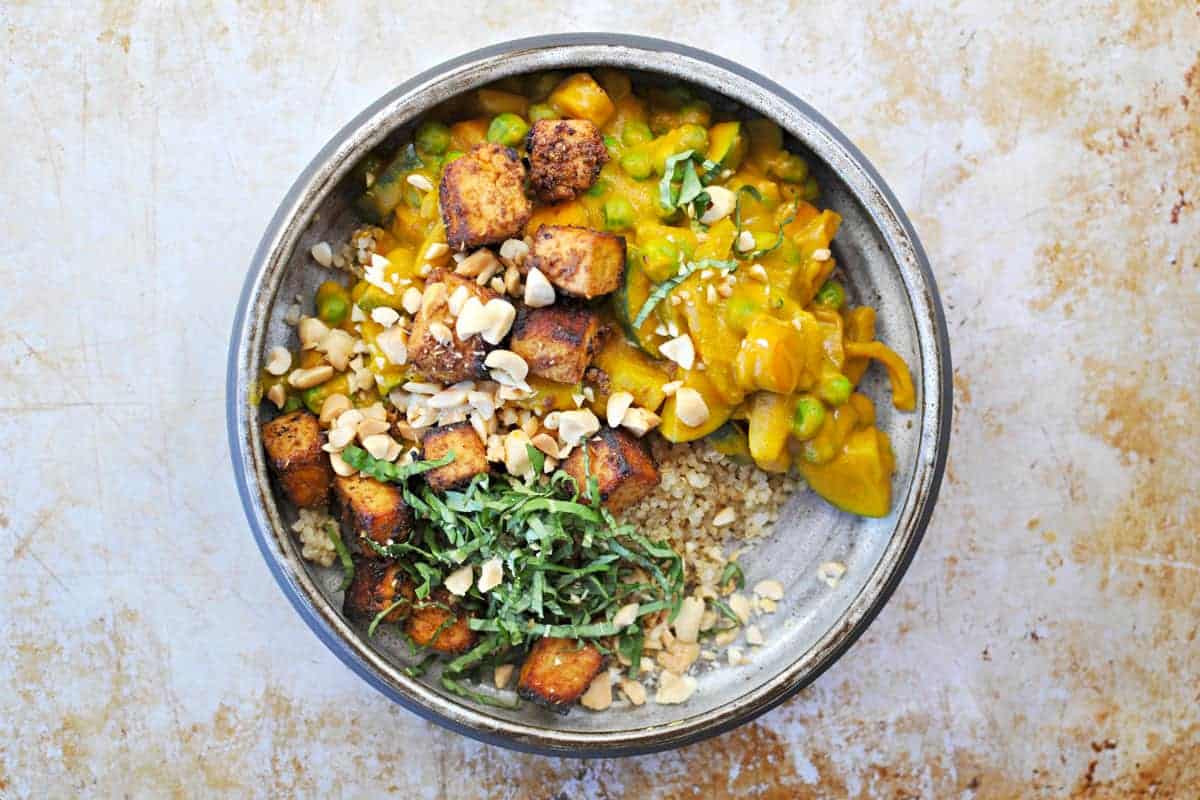 Imagine that, putting curry in curry. Along with a buncha peas. A vat o' veg. And then, like, a whole shiggy-ton of peanuts and a big ol' tumble of the crispiest, snackiest toaf I've ever eaten.
Siiiidebar how are we feeling about the word toaf? Are we all following me, here? Are you still stuck back on vat o' veg? I'm sorry about that. I realize now it's but one vowel sound away from being a vat of…something else entirely. Let's pretend that didn't happen. Let's pretend I'm one of those bloggers who doesn't talk about dinner thangs and words that are super close to veg (but not) in the same breath. Let's pretend this isn't the most distracted blog post ever.
If you guys are still reading, you're super good at pretending. Merit badge status. Whoop.
Back to toaf.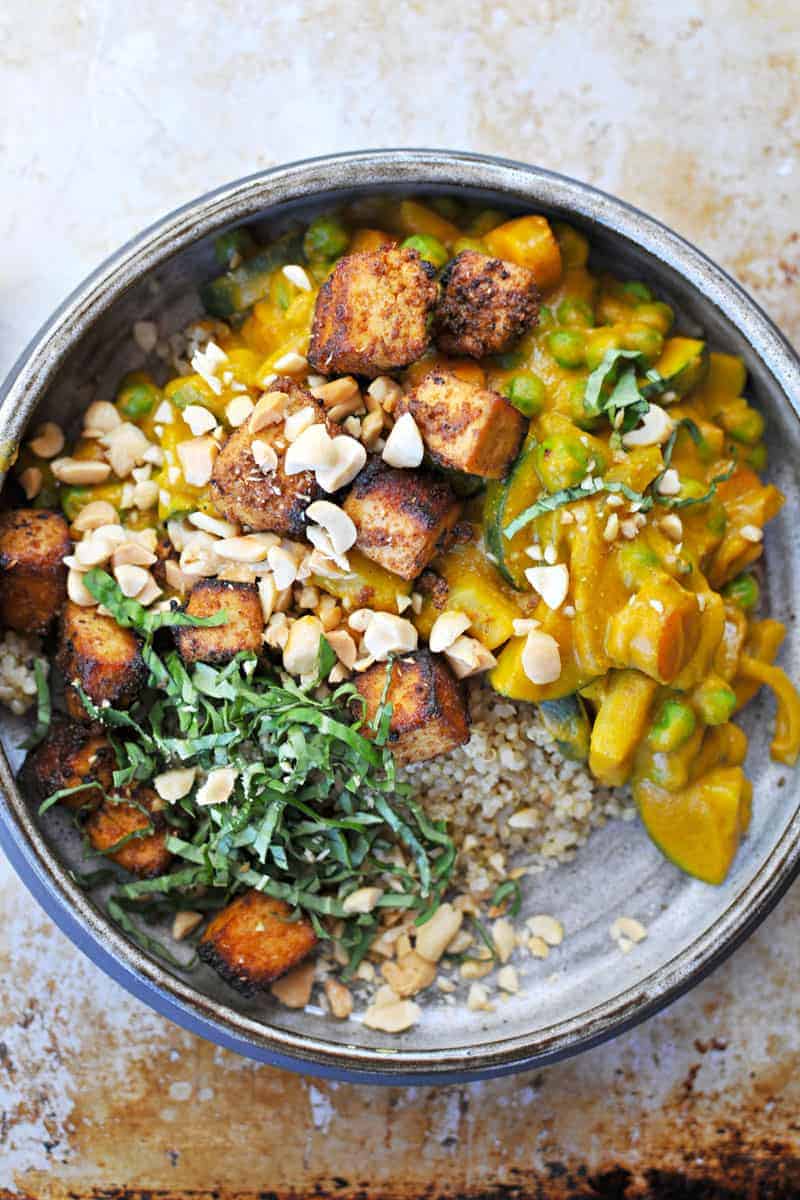 This crispy, super flavorful tofu, kinda like that chicken we talked about last week, has been so clutch since Lana's arrival. I'll season it up during her afternoon nap and then Chris pops it under the broiler while I do the bedtime feeding routine and by the time it's lights out for the little one, we're all set with a super tasty protein that instantly turns a quick salad or, in this case, a quick-curried veggie stir-fry into a satisfying supper.
Paired with a second topper of crunchy roasted peanuts, it's the ideal textural complement to the silky pumpkin curry in all its not-quite-Indian-not-quite-Thai autumnal splendor. There's pumpkin (duhsies) — but also: maple syrup, a splash of apple cider and so many warm, aromatic spices.
You can't go wrong, guys. It's kind of fall in a bowl.
Or is it…inFalliBowl?
Because…fall…in a bowl. You. Can't….Fail.
INFALLIBLE.
Get it?
Shut up and shell your nuts, you say. I hear you.
Happy Friday!
xo,
Em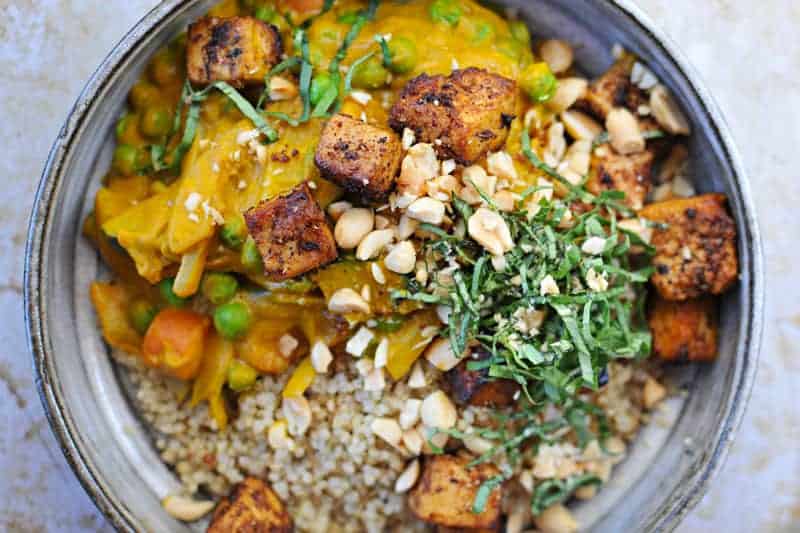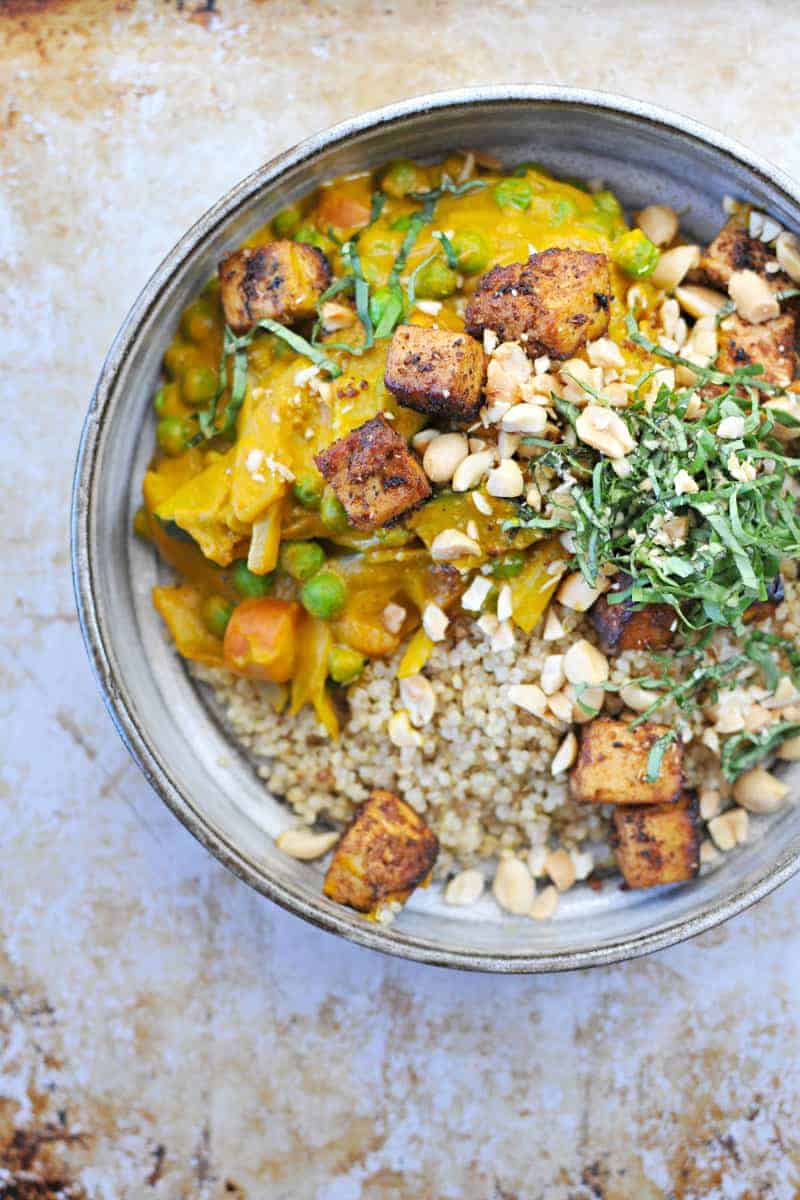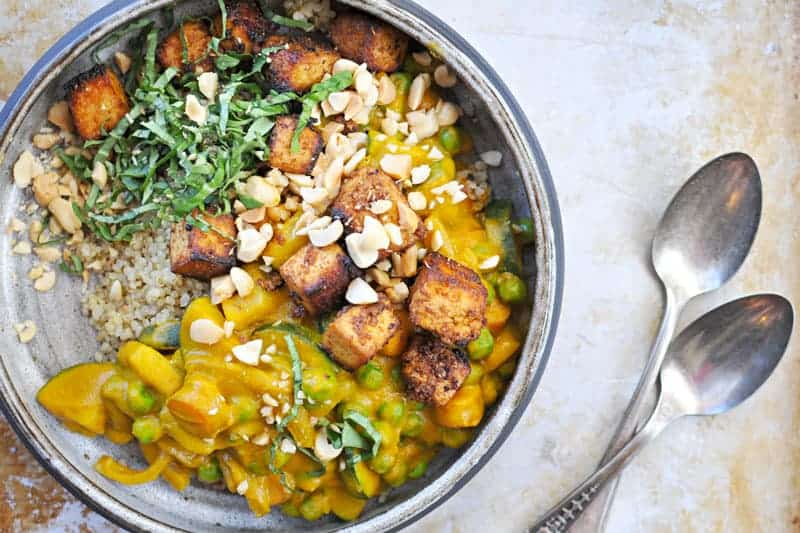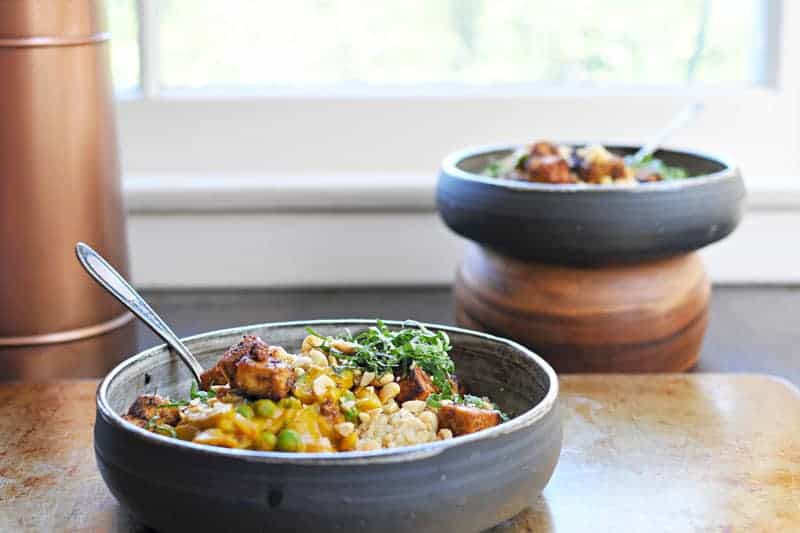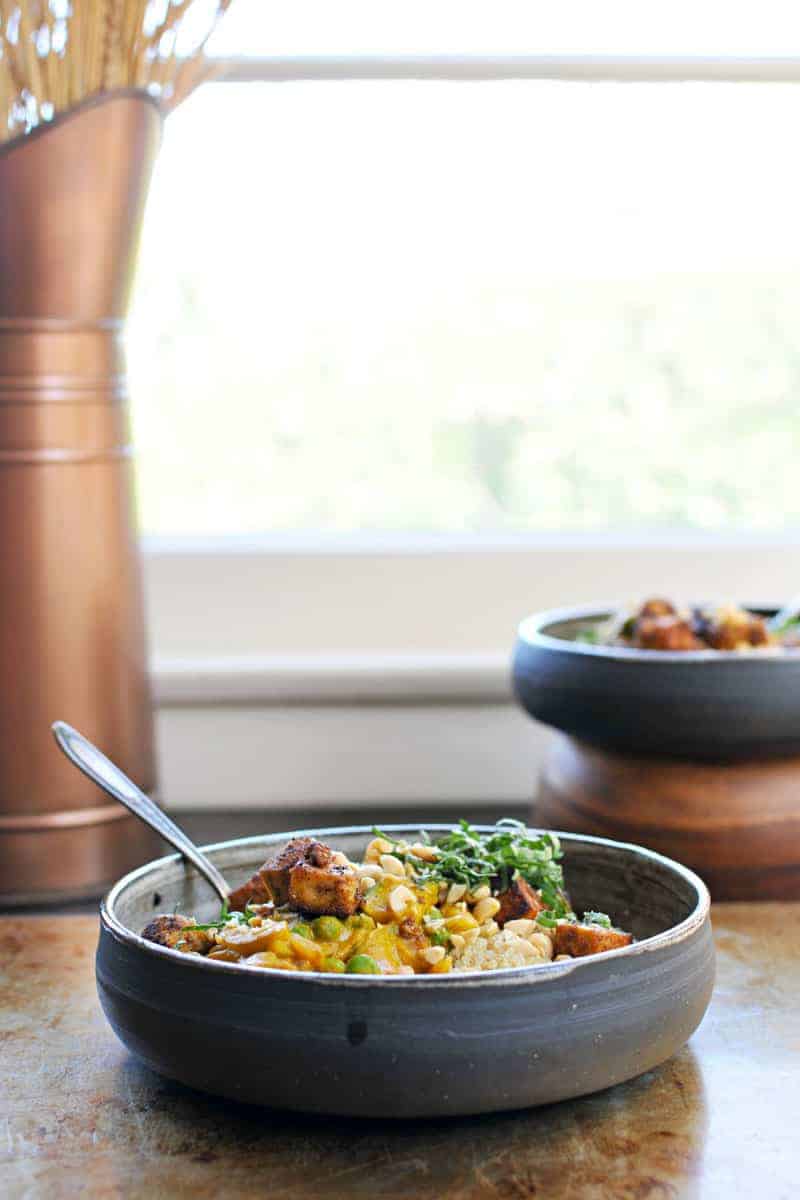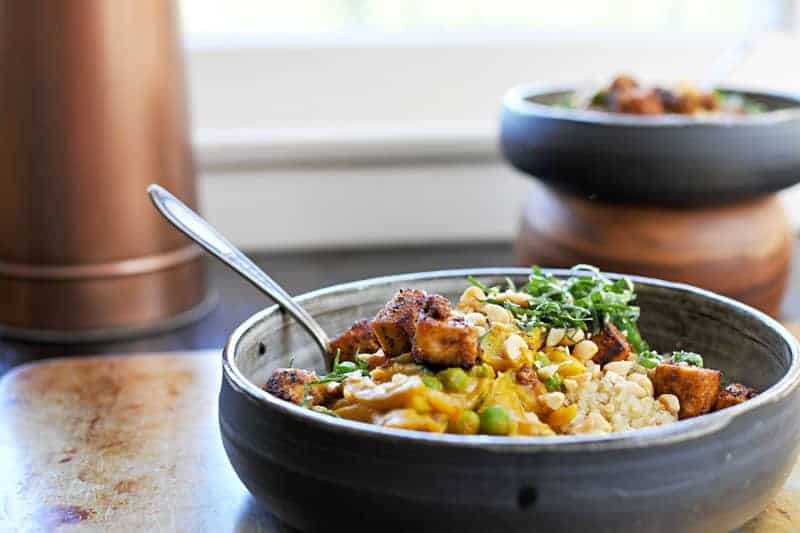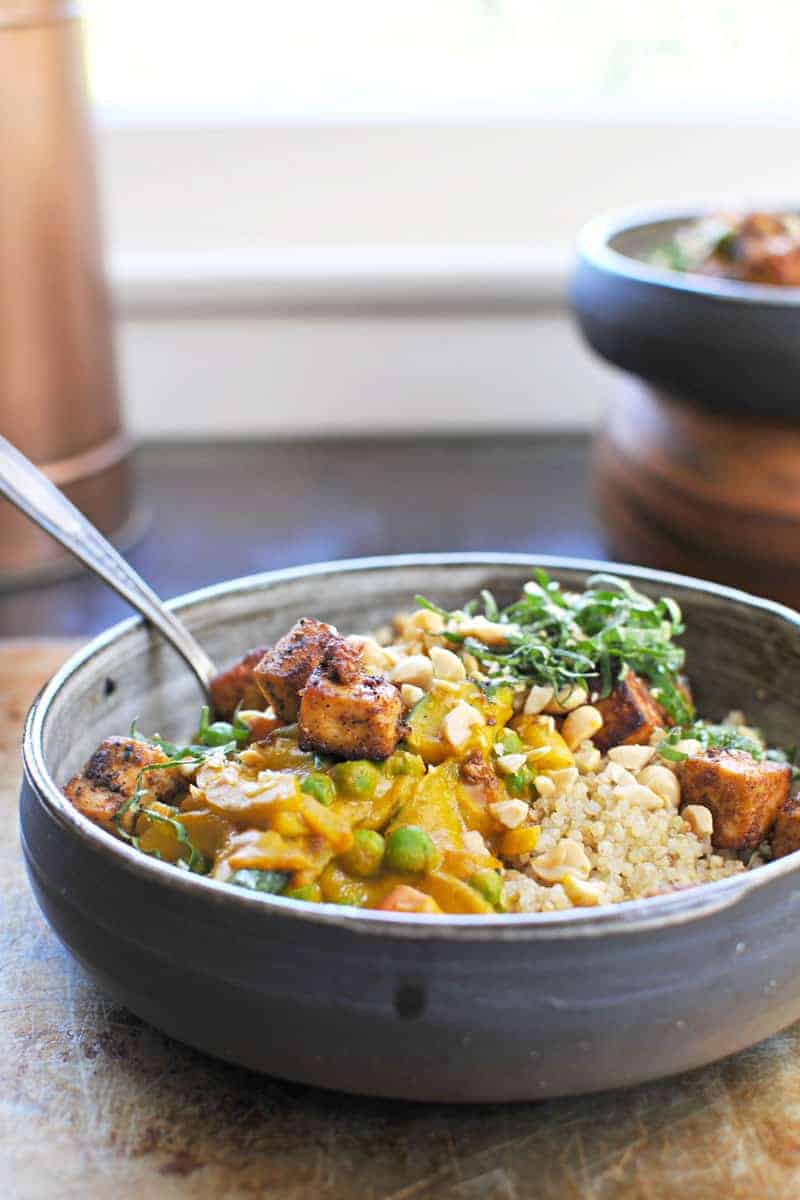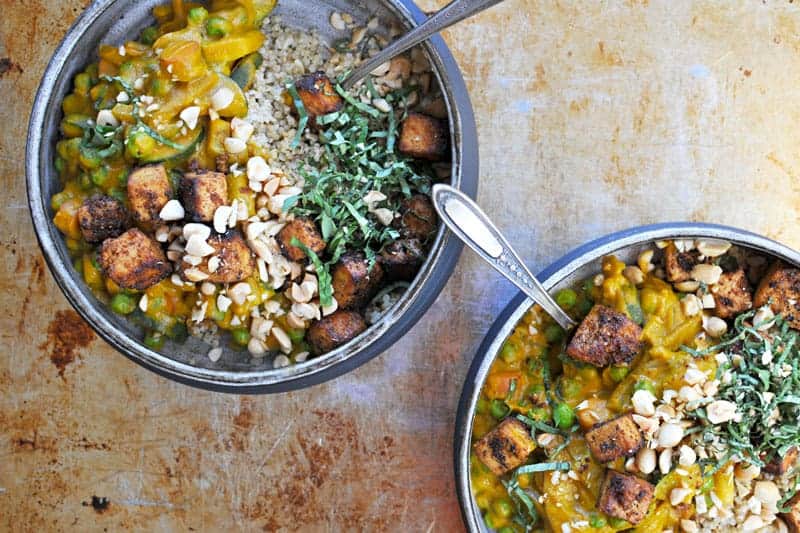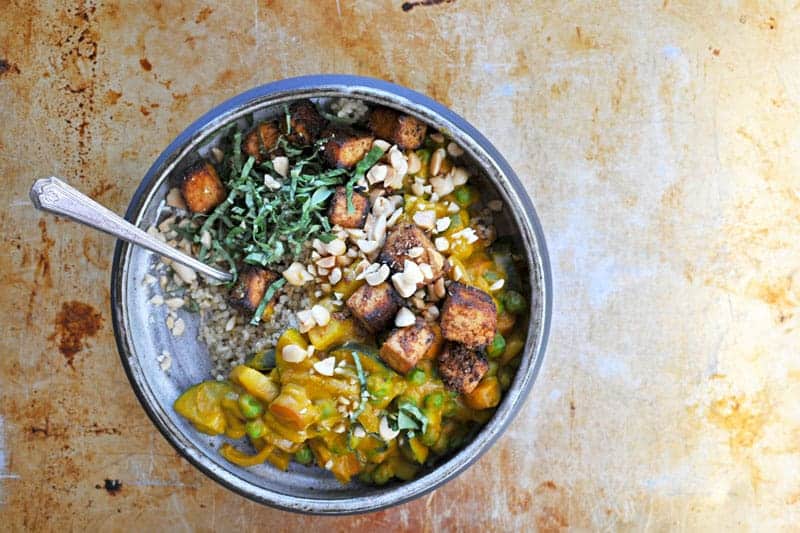 pumpkin curry with peanuts, peas + crispy spice-crusted tofu
Ingredients
For the Tofu
1 block (14-16 oz) super firm tofu, cut into 1" cubes
4 T olive oil
1 T honey or maple syrup
1.5 tsp ground coriander
1 tsp garlic powder
1 tsp smoked paprika
1 tsp sea salt
1 tsp cumin
½ tsp cinnamon
For the Curry
2 tsp ground cumin
2 tsp curry powder
1 tsp ground coriander
1 tsp fennel seed
1 tsp onion powder
¼ tsp red chili flakes
½ tsp ground cinnamon

1 heaping cup canned or pureed pumpkin

1 can full fat coconut milk
3 cloves garlic, roughly chopped
½ cup apple cider (or veggie stock)
1.5 T maple syrup
½ tsp salt
2 T light cooking oil, such as avocado oil
2 carrots, chopped
1 bulb fennel, quartered, cored and very thinly sliced
1 medium zucchini, halved lengthwise and sliced into half-moons
1 cup frozen peas
handful basil, torn or finely shredded
crushed peanuts, for serving
cooked rice or quinoa, for serving
Instructions
To make the tofu: Preheat broiler. Line a rimmed baking sheet with foil. In a large bowl, combine olive oil with honey or maple syrup and all spices. Add cubed tofu and gently toss to combine. Arrange tofu in a single layer on baking sheet and broil for 10 mins or until tofu is browned and crispy on top. Gently toss and broil an additional 10 mins. Allow to cool slightly.
To make curry: While tofu broils, add all curry spices (cumin through cinnamon) to a large, dry skillet and toast until fragrant and slightly nutty.
Add toasted spices to a blender and add pumpkin, coconut milk, garlic, apple cider, maple syrup and salt and blend until smooth. Set aside.
To same skillet used to toast the spices, add cooking oil and heat over med-high flame. Add carrots, fennel and zucchini and stir-fry until crisp-tender, 3-5 mins. Add blended curry mixture and peas and cook until heated through, about 5 mins.
Serve curried veggies over rice or quinoa topped with broiled tofu, basil and peanuts. Enjoy!
Notes
This veggie curry comes together quickly with a flavor that is so much more interesting than jarred curry sauces. Feel free to make it your own with whatever veggies you have on hand. And don't fret if you don't happen to have apple cider. Veggie stock works just as well, though the curry will lean ever so slightly toward the savory side.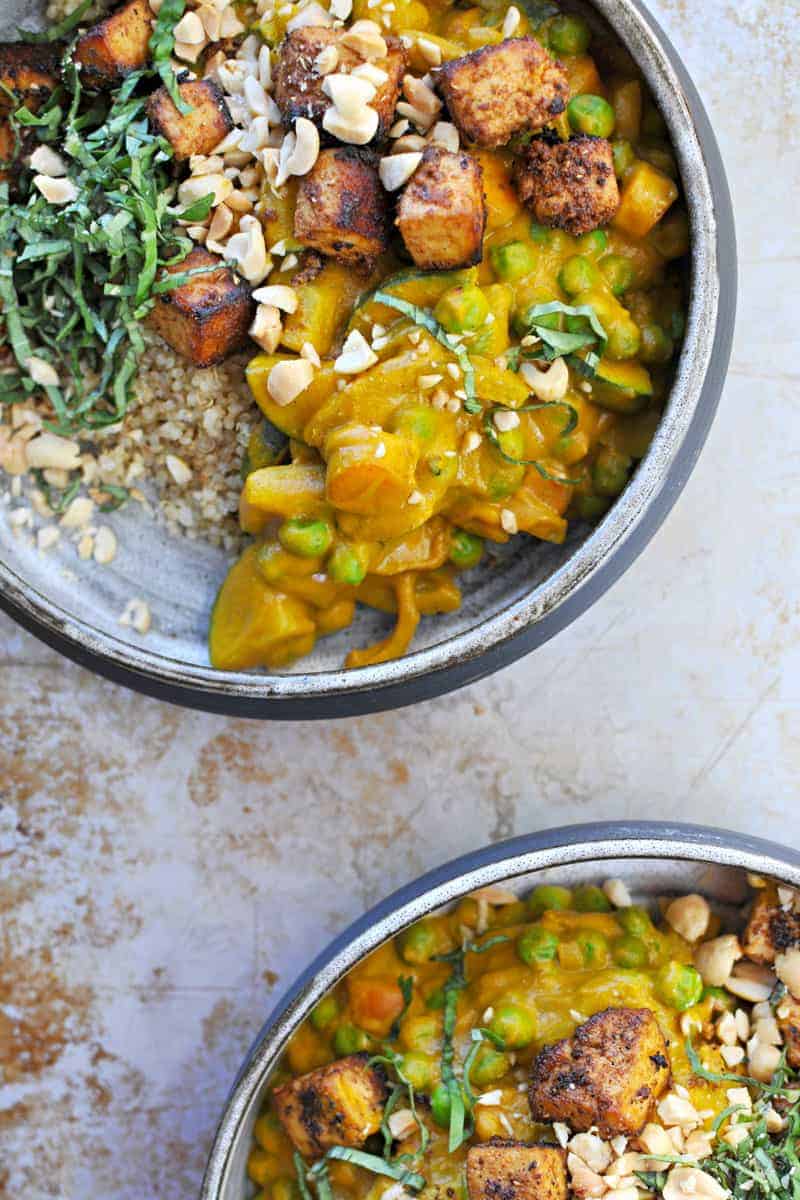 ————————————————–
OH! before you go…
Like whatcha see here — or have a question, feedback, or recipe hack to share? Join The Pig & Quill convo by commenting below (I love, luv, lurve comments) and hang out with me on Facebook, Twitter, Instagram and Pinterest. And don't forget to subscribe to P&Q emails or add me to your RSS reader with Feedly or Bloglovin' so you never miss a post. x's & o's!