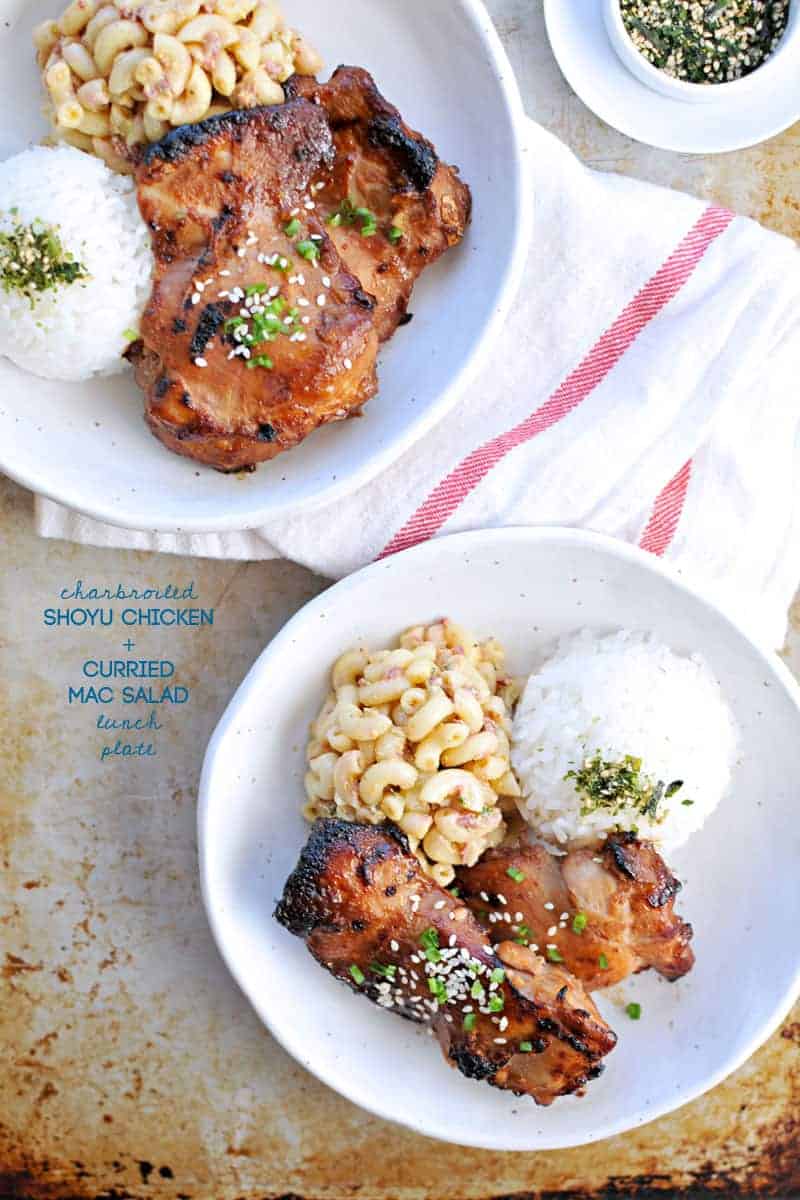 You guys, I have a confession to make.
I'm hoarding chicken thighs like it's the apocalypse. That is, if the post-apocalyptic world has bigass freezers for stockpiling things like warehouse store-sized packages of organic poultry, which it probably won't since all those cable shows depict more of, like, a bunker-fulla-pantry-goods situation, and that seems way more on point. Unless those cable show guys are just suckers, because while they'll be farting up their bunkers with space-dried beans and peas, I'll be feeding my fellow zombie escapees these moist and juicy vittles all while using phrases like "moist and juicy vittles" to ensure my place in the pack as Official User of Awful Words.
Yer welcome.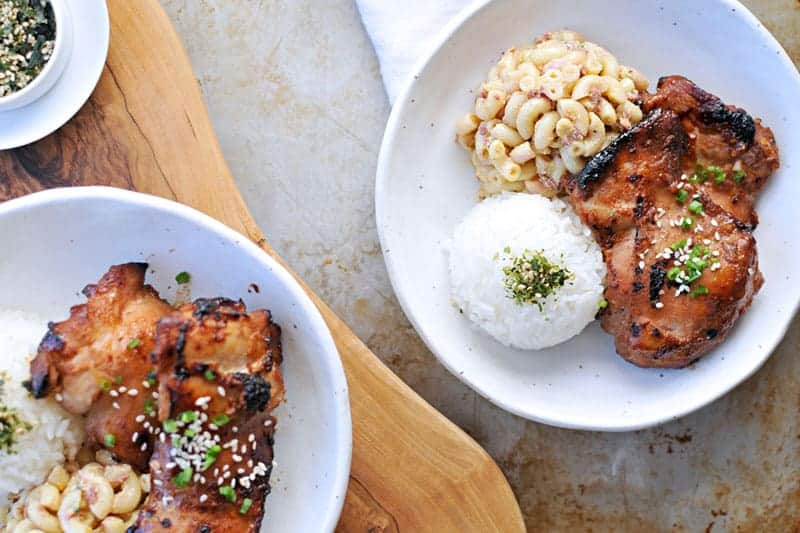 Ok, but really — chicken thighs are on repeat around here these days, and for good reason. They're cheap, relatively lean, and about a hunny times more flavorful than their pricey white meat buddies. Just toss 'em in a zip top bag with any number of marinades or seasonings and you're but a 10-min broil or grill away from a fine meal full of craggy, crispy little odd bits. Also, they're way more forgiving. I mean, it's not like you can't overcook them — you can. But if you let them go a minute too long under the broiler because you're making up a bottle or changing a dipe or Googling food bloggers who don't talk about chicken and diapers in the same sentence, you're not gonna ruin lunch.
For the past few weeks, we've had a bag or two of sauced up thighs (sorry…) in the fridge at almost all times because it's just too easy to throw them under the broiler while we pick up the house or run the little one's bath or bake off 500 candied bacon brownies (recipe coming soooon!) — but this iteration has got to be my fave. One, because you all know how I feel about Island-inspired food — oh heeeey tacos/corn/pasta — and two, because shoyu chicken almost always commands the traditional Hawaiian lunch plate sides of rice and mac salad, and I'm not mad at that in the least.
Sticky chicky + carbs + mayo'd carbs?
I'll ride that pony! *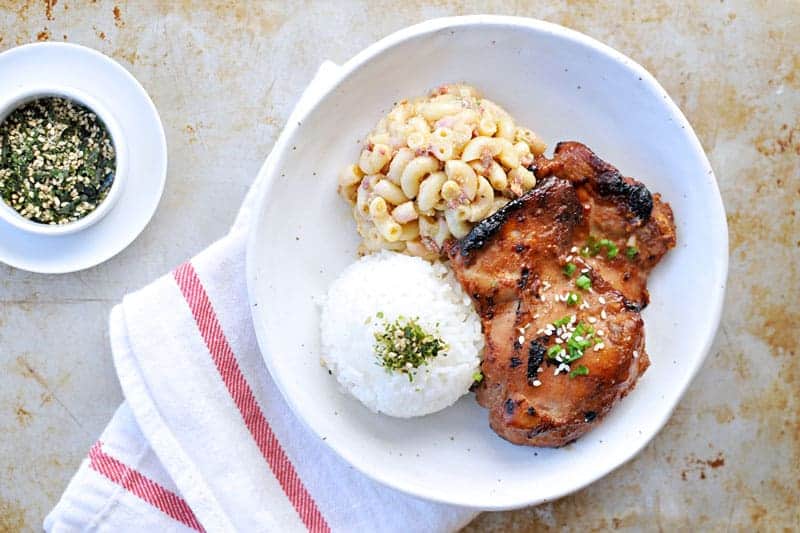 The mac salad here is what I would call a purist's mac salad, even with the curry spice. You'll find no tricky celery or persnickety red onions hiding among these elbows, oh no. Just pasta, good mayo, tangy pickles and, if you're feeling fancy, a smattering of carrot confetti for crunch n' color. (I used a purple carrot for these pics, because neato.) In short, it's everything I love about mac salad, nothing I don't — and I dare you not to eat at least a serving or two before the pasta's even had a chance to cool down.
Add a scoop — or, let's be real, two scoops — of good ol' hot, steamed rice alongside, and that's it. Probably one of the tastiest lunches (or suppers) I can imagine, and it takes all of maybe 10 mins of hands-on time, total. So you have more time to lop off zombie heads or farm kale to prevent scurvy or binge watch the entire first season of How to Get Away with Murder. ** You know, normal post-apocky stuff.
Happy Friday, friends!
xo,
Em
* I mean…I don't even know. Is that a saying?
** Ok, I know I threw this into the post kinda late but HELLO/WHAT/ARE YOU GUYS WATCHING THIS/OMG/SO GOOD.
p.s. Yahoo did the sweetest little write-up when I was their Blogger of the Week a while back and somehow I completely neglected to mention it here. It's all about me and Chris and our first date and my hangry toddler years (no one is surprised). Such an honor! ♥ Check it out!
p.p.s. I'm doing a fun little series with Amazing Grass where I basically make weird faces and convince you to try their superfood stuffs for freedle-dee (um, freee….) because it's super tasty and totally makes it ok to stand in front of the fridge eating mac salad straight from the bowl like 19 times a day. 😀 Get yours!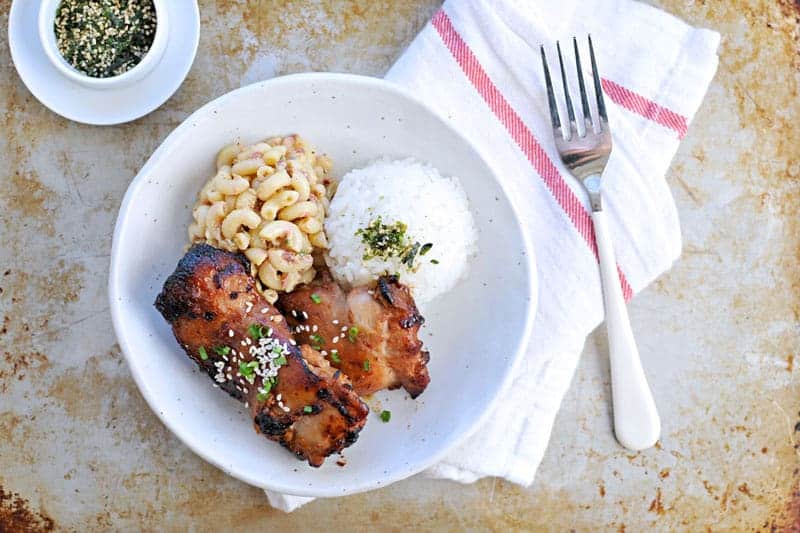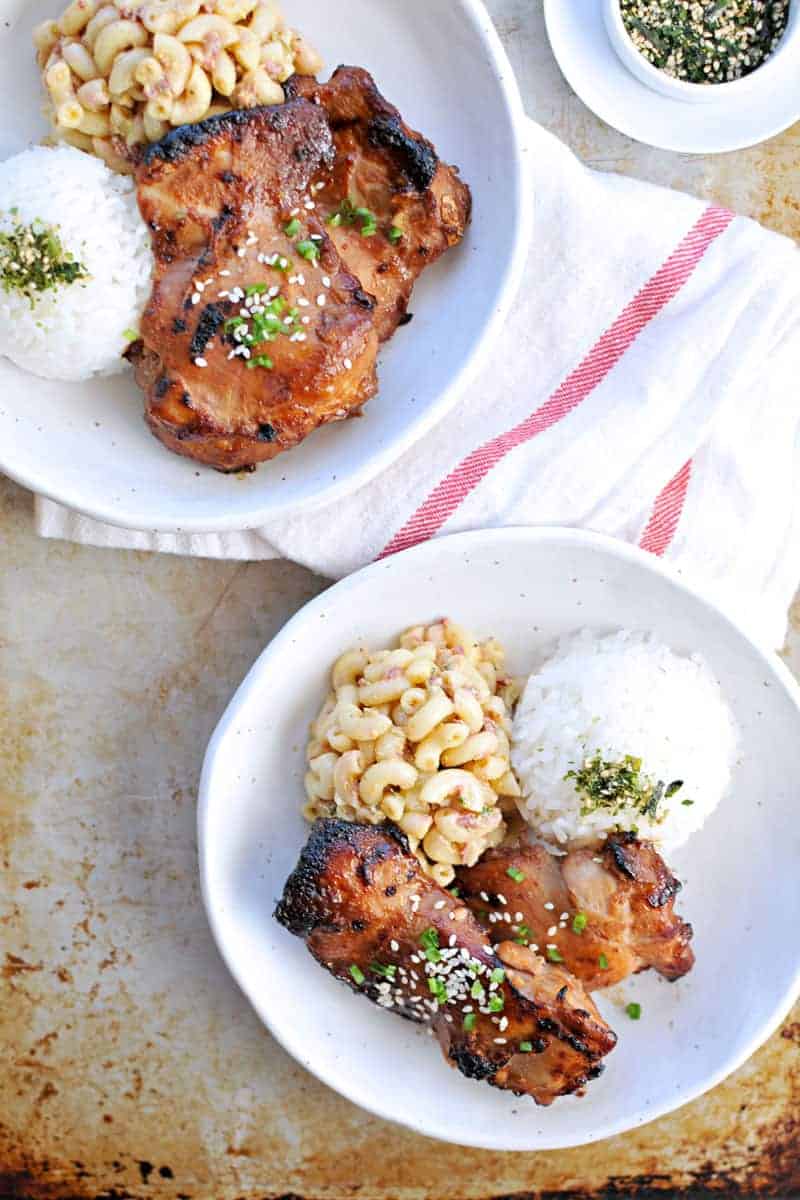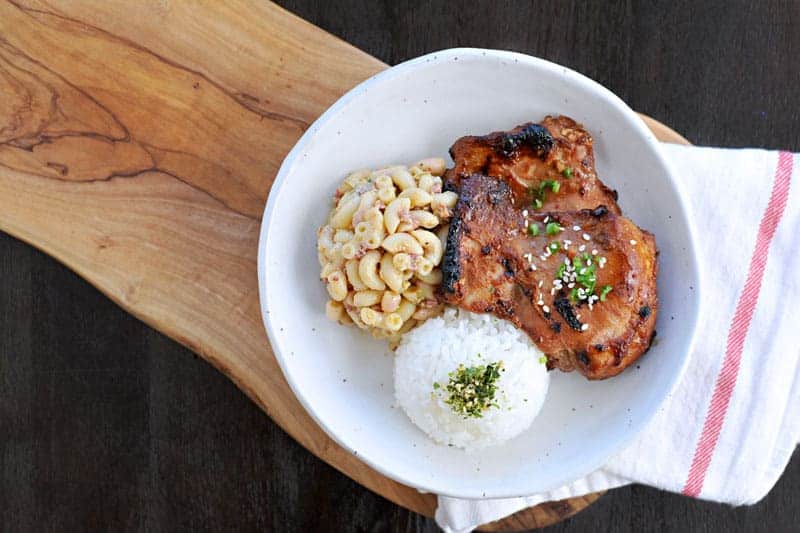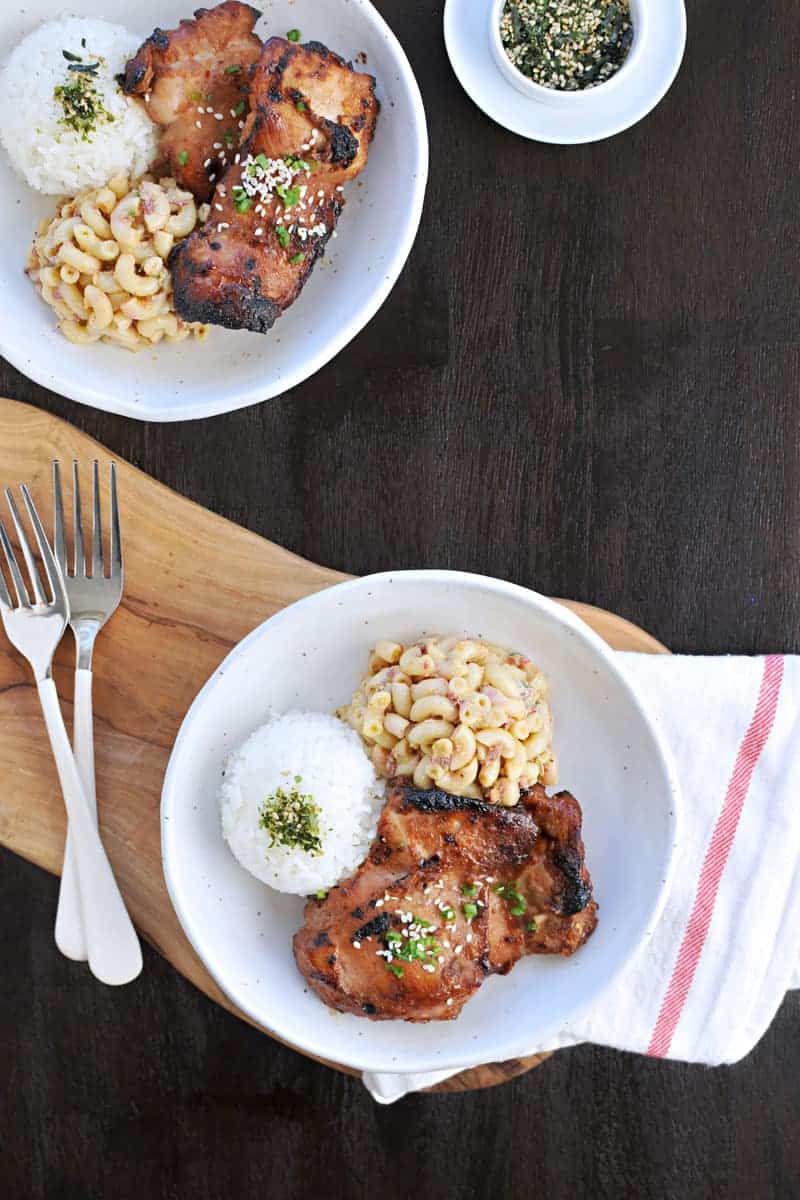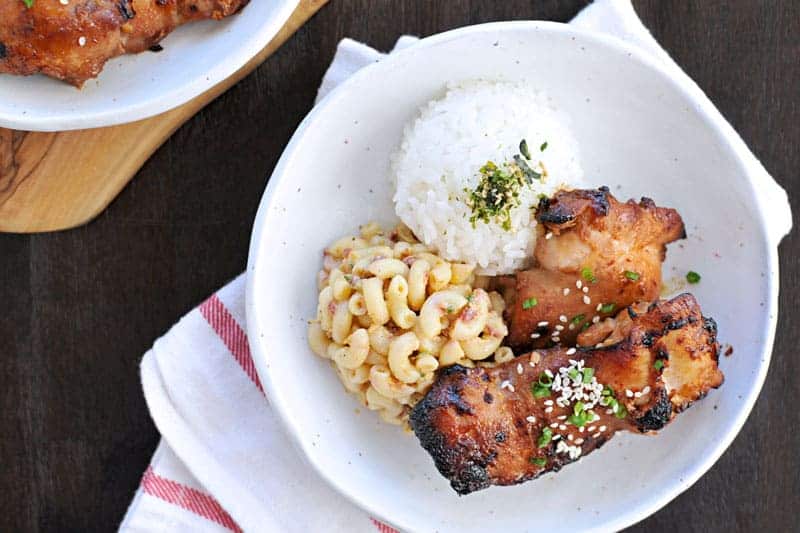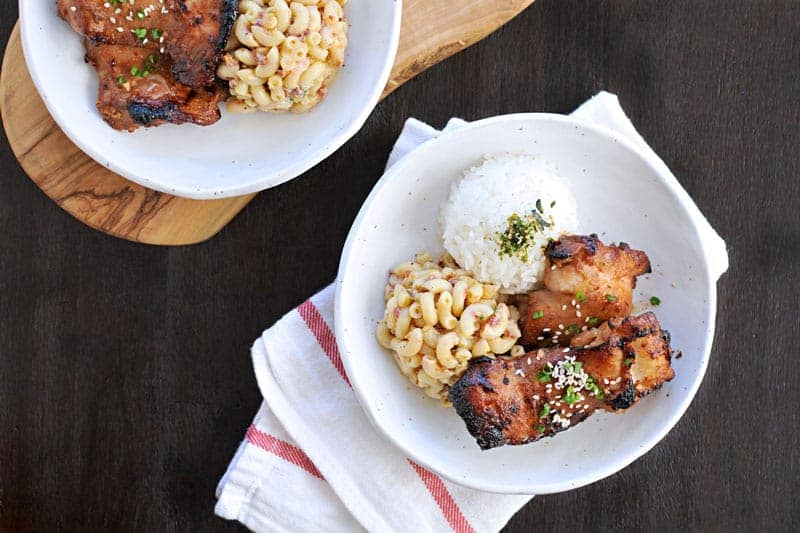 charbroiled shoyu chicken
Ingredients
1 lb boneless skinless chicken thighs
2 T honey
¼ cup shoyu (soy sauce)
2 T ketchup
1" grated fresh ginger root
3 cloves garlic, minced
¼ tsp aleppo peper (or crushed red chile flakes)
Instructions
Combine all ingredients in a large bowl or zip top bag and marinate at least 4 hours or overnight.
When ready to cook, preheat broiler. Line a rimmed baking sheet with foil.
Lift chicken from marinade (discard any remaining marinade) and arrange thighs in a single layer on prepared baking sheet, unrolling them a bit to lay flat. Broil for 5-6 mins, until chicken is just starting to brown and char in places; then flip and broil another 2-3 mins or until chicken is cooked through. Flip chicken once more to further develop char on the first side, about 1 minute.
Allow to rest 10 mins before serving with hot white rice and curried mac salad (recipe below). Enjoy!
Notes
This broiled chicken is super tasty hot, but it's just as great served cold the next day, so if you're itching for leftovers -- or you just want to serve a larger crowd -- you can double or even triple the recipe without issue.
curried mac salad
Ingredients
2 cups uncooked macaroni or other small-cut pasta
1 cup mayo
¼ cup dill pickles, finely chopped
2 T pickle juice
2 T sweet-hot mustard, such as Beaver brand
1 tsp curry powder
½ tsp garlic powder
2-3 scallions, white + green parts finely sliced
1 carrot, processed or very finely minced (see note; also, I used one of those nifty purple carrots for the pictures here -- fancy!)
lots of freshly ground black pepper
Instructions
Cook macaroni according to package directions; drain.
Meanwhile, in a large bowl, combine mayo, pickles, pickle juice, mustard, curry and garlic powder.
Toss hot pasta with mayo mixture, stirring well to combine. Stir through scallions and carrot. Serve at room temperate or chilled. Enjoy!
Notes
I love the subtle crunch and pop of color from the carrot in this recipe, but to prevent the texture from being too wieldy (think more along the lines of carrot confetti), take care to either mince the carrot super finely -- or simply give it a rough chop before throwing it into the food processor for a few pulses. Easy!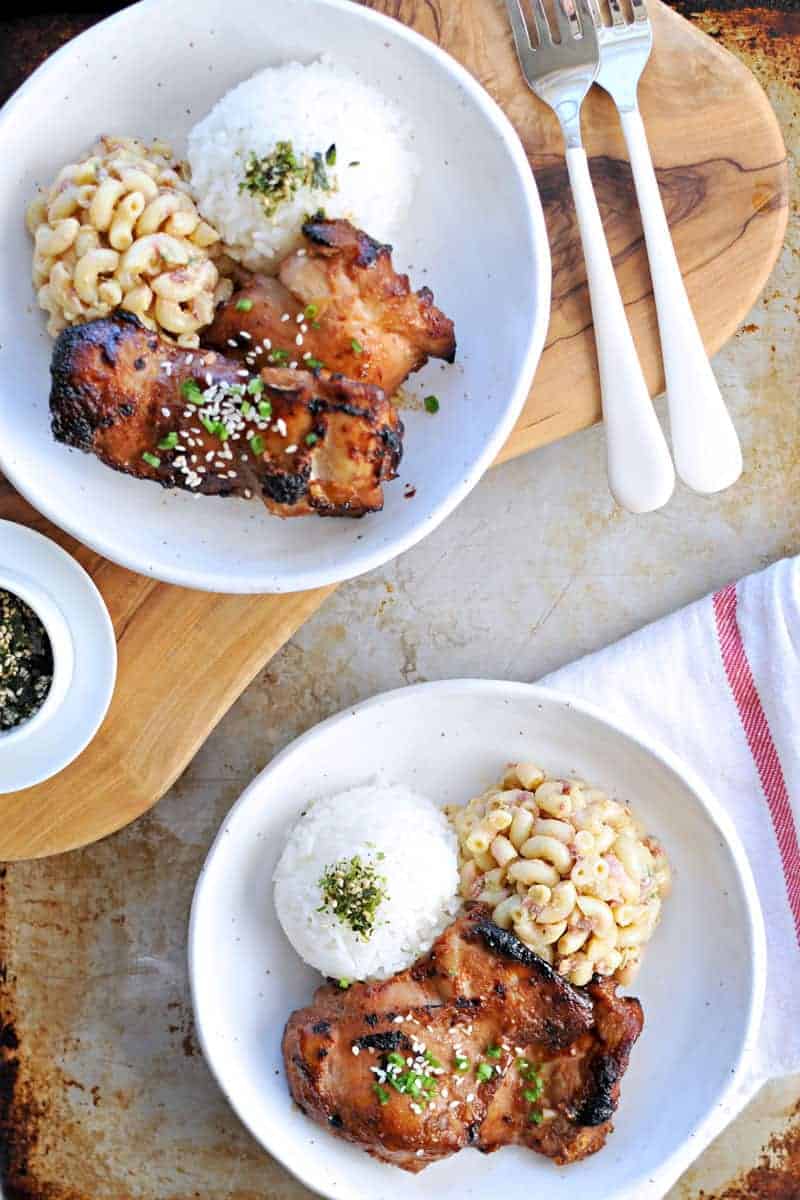 ————————————————–
OH! before you go…
Like whatcha see here — or have a question, feedback, or recipe hack to share? Join The Pig & Quill convo by commenting below (I love, luv, lurve comments) and hang out with me on Facebook, Twitter, Instagram and Pinterest. And don't forget to subscribe to P&Q emails or add me to your RSS reader with Feedly or Bloglovin' so you never miss a post. x's & o's!