Oh haaaaaay there. Did you miss me? I took last week off to try my hand at being a Professional Boob Sweat Wiper Offer. And guess what? I nailed it. I'd go into detail, but I have a feeling you've already got a pretty rockin' image going on. Plus, my fellow California gals Lily and Gina waxed far more poetic about the recent heat wave than I could ever hope, so I'll encourage you to head in their direction(s) if you've not already. Bottom line: shit's been hot.
This week, however, we've seen a slight respite. As in, Lana even wore pants on Tuesday. And on Wednesday, we took a little jaunt to the city and it was brisk enough that I busted out the baby knitwear. The baby head knitwear, to be exact.
A baby hat, you guys. I busted out a baby hat.
Did you click that link? Did you die? I'm sure I'm Like Totally The Most Biased, but dat gurl straight melts my heart.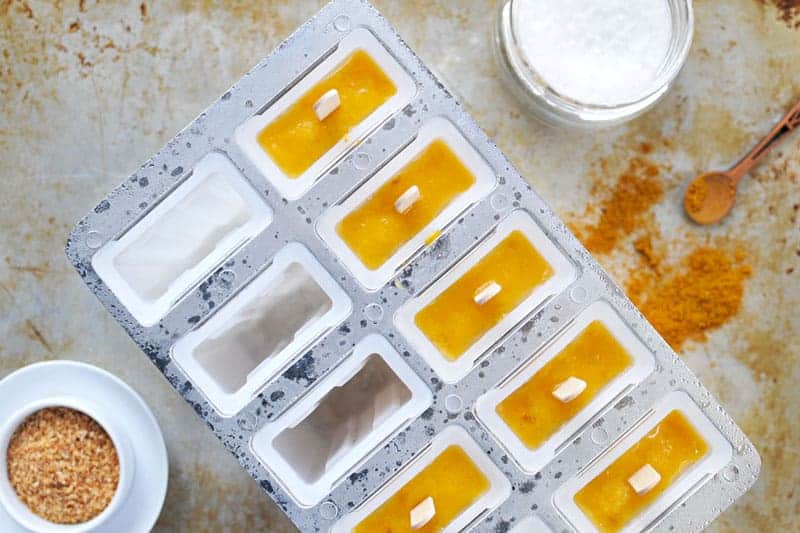 Speaking of melting, I suppose I should address these ice pops already.
This is what happens when you're attempting to ride out the last days of summer while secretly jonesing for the cozy flavors of fall. You know the flaves to which I am referring. All things pumpkin spice, to be sure (there's no denying we're all at least a little Basic), but in this case: the enchanting perfume of complex curry — floral, hot and subtly sweet — complemented by the warm nuttiness of oven-toasted coconut. A drizzle of honey brings forth the syrupy sweetness of late-summer melon. And sea salt.
Always sea salt — in part because of the fond childhood memories I have of scooping liberally salted spoonfuls of cantaloupe straight from the rind (a frothy, melting orb of rainbow sherbet optional) — and in part because everything sweet is made better with salt. Simple as that.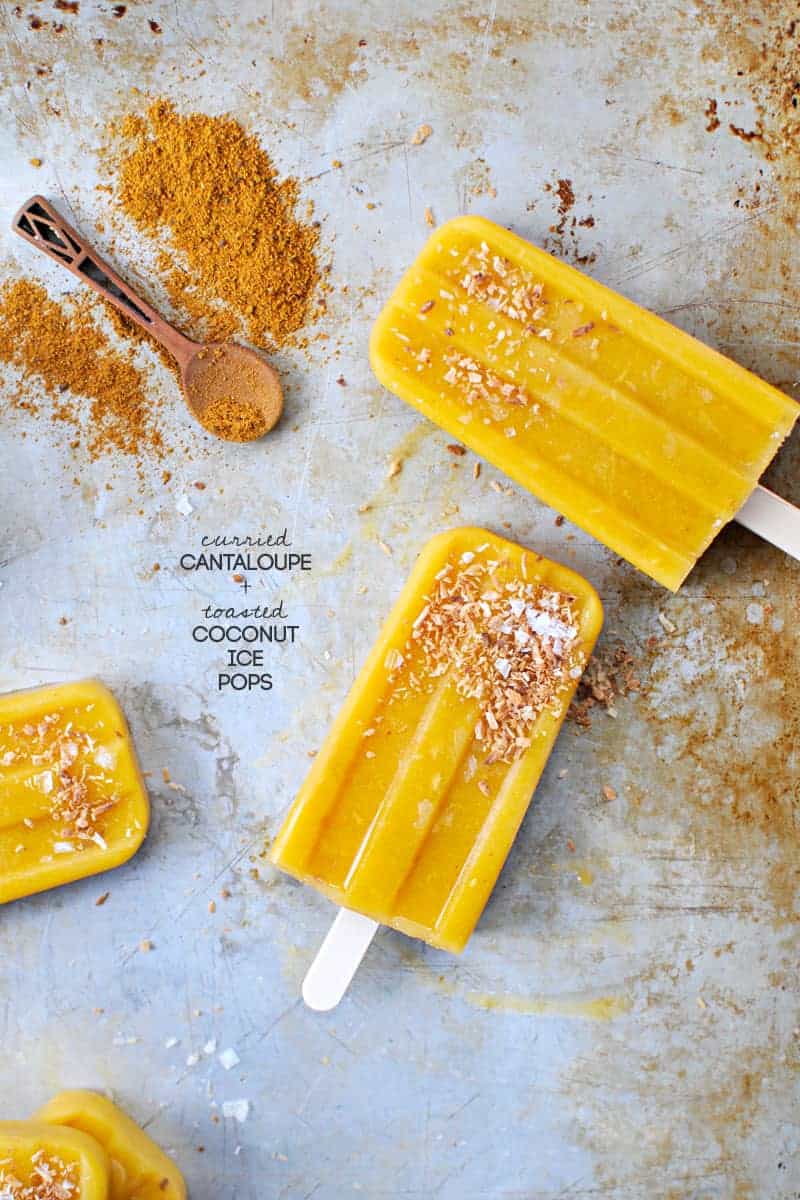 If you're the chilled soup type, the blended fruit mixture (unfrozen, of course) would be an elegant and memorable first course for a late-summer luncheon. I'd probably add the tiniest sprig of mint and a drizzle of olive oil, with perhaps a topping of larger toasted coconut flakes for added texture and crunch. But in the pop iteration, the contrast of smooth, lingering heat delivered in each icy-cold bite is kind of unbeatable.
Especially since, if the weather dude is to be believed, another wave of pit-stained sunshine is headed our way.
(Hear that, tatas? Ready the wet naps.)
Wishing you all a happy Friday — and a *fingers crossed* temperate weekend — friends!
(Oh, and to my baby daddy's lovely Momma — happy happy birthday! ♥ )
xoxo,
Em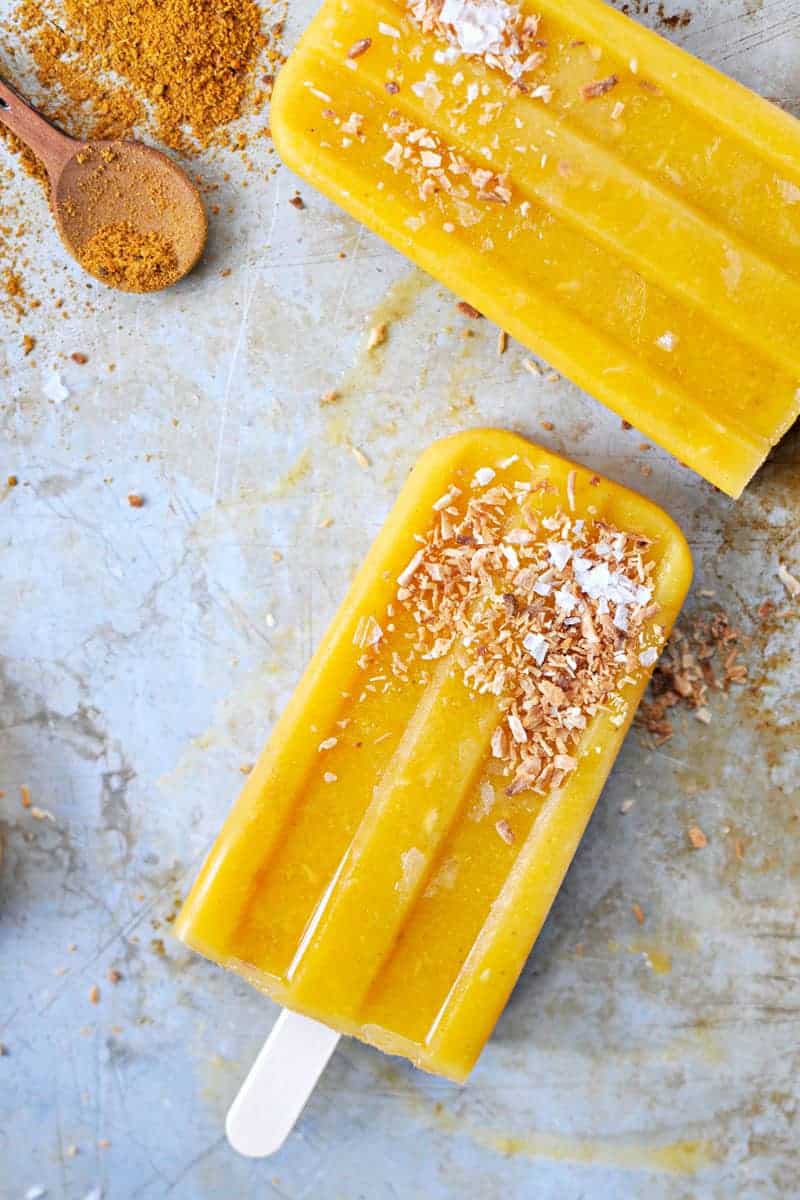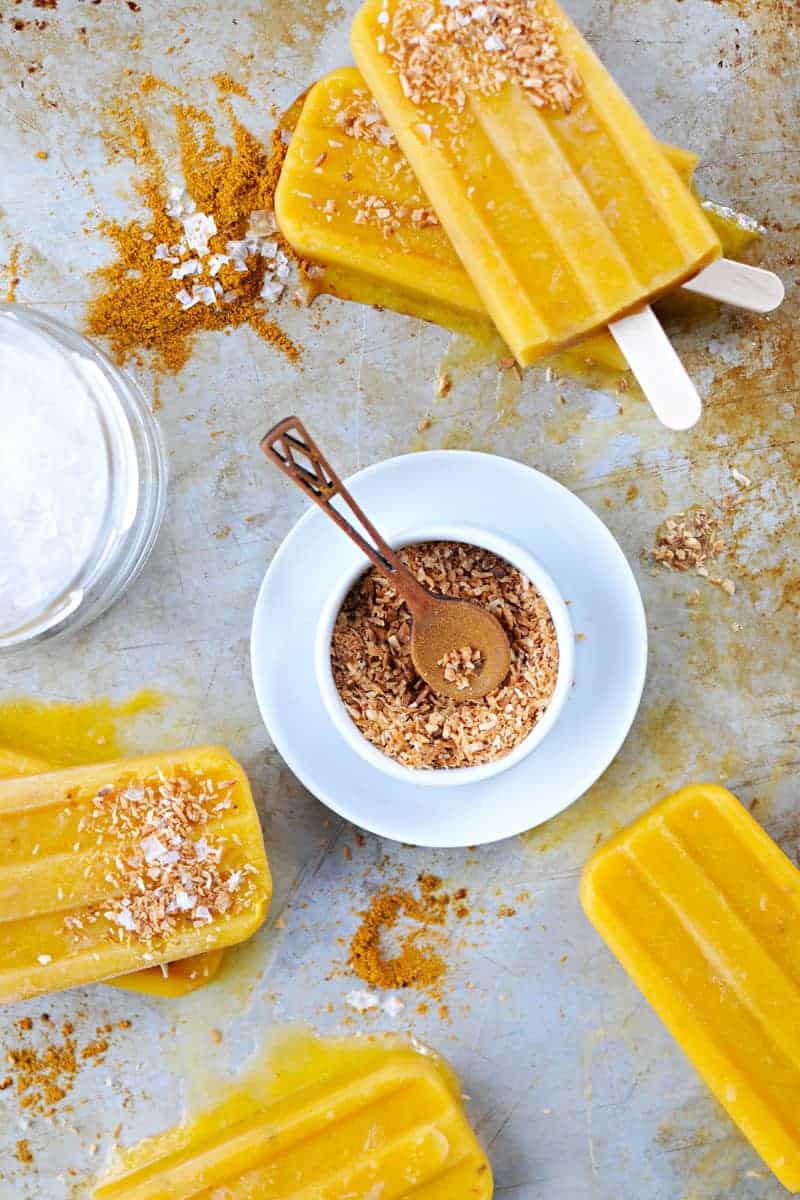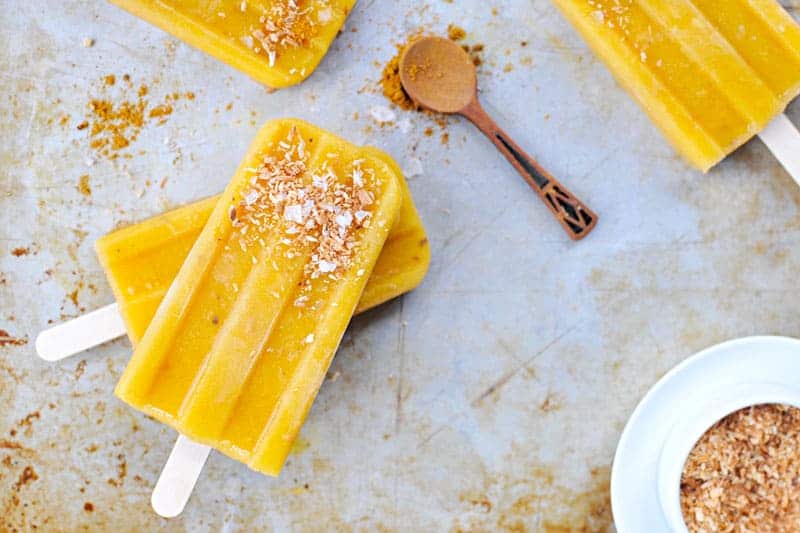 curried cantaloupe + toasted coconut ice pops
Ingredients
3 cups cantaloupe, cubed
¾ cup light coconut milk
generous ¼ cup honey
¾ tsp hot curry powder, such as vindaloo (I always use this one)
pinch sea salt, plus extra for sprinkling
¼ cup unsweetened shredded coconut
Instructions
Spread shredded coconut in a thin layer on a rimmed baking sheet and toast in a 300F oven (or toaster oven!) until just golden -- just a couple of mins. (Keep a close eye on it as it can go from nada to blackened ash in a moment's time!) Allow to cool.
Meanwhile, add cantaloupe, coconut milk, honey, curry powder and a pinch of sea salt to a blender and blend until smooth.
Add 3 T of cooled toasted coconut (reserve remaining 1 T) to cantaloupe mixture and stir (or blend on lowest setting) to combine.
Pour pop mixture into molds (I used this one) and freeze for 30-45 mins, then insert sticks and continue to freeze until firm, at least 6 hours or overnight.
To serve, dip pop mold in warm water for 30 seconds and remove pops. Sprinkle with reserved toasted coconut and sea salt. Enjoy!
Notes
I like using a hot curry powder, such as
Penzey's Vindaloo
, for this recipe because it contrasts so interestingly with the cool, summery melon, but feel free to use your favorite sweet or more savory curry blend if you prefer. And I can't get enough of
this simple ice pop mold
-- though I usually ditch the lid since it can be tricky to remove if (or should I say
when
) the sticks don't freeze completely straight.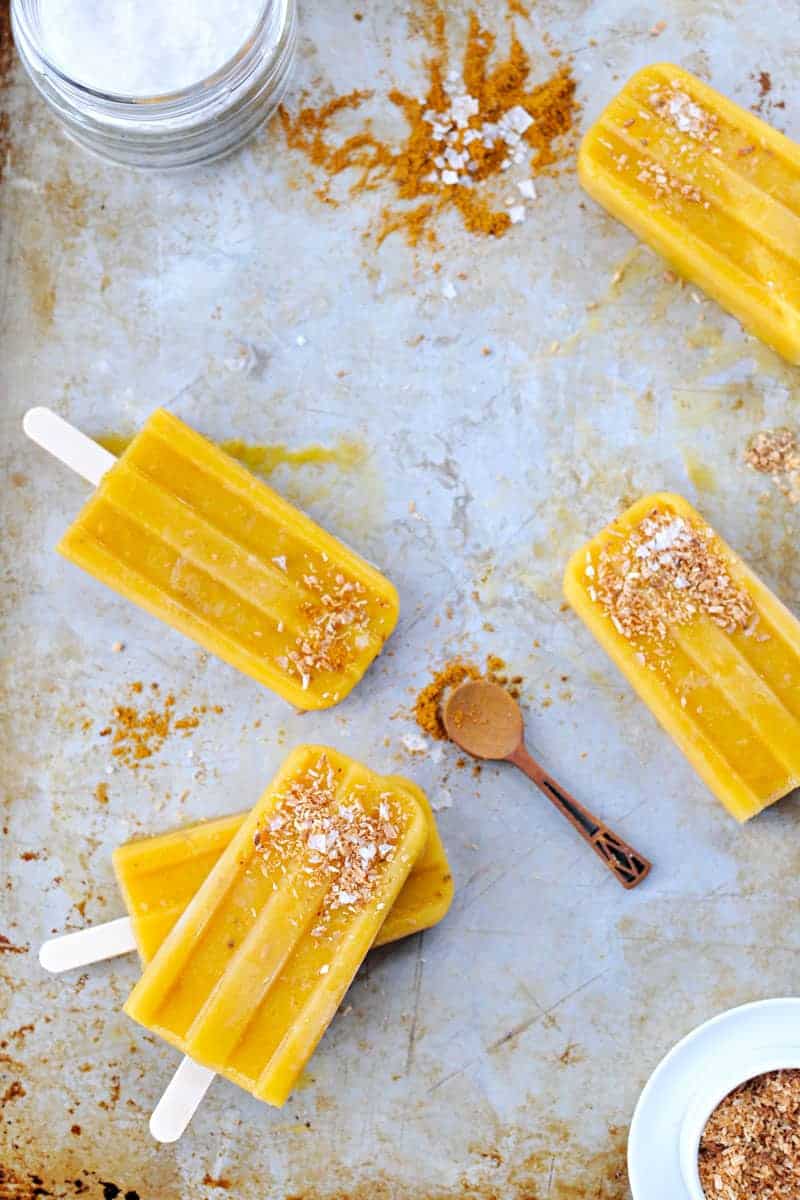 ————————————————–
OH! before you go…
Like whatcha see here — or have a question, feedback, or recipe hack to share? Join The Pig & Quill convo by commenting below (I love, luv, lurve comments) and hang out with me on Facebook, Twitter, Instagram and Pinterest. And don't forget to subscribe to P&Q emails or add me to your RSS reader with Feedly or Bloglovin' so you never miss a post. x's & o's!