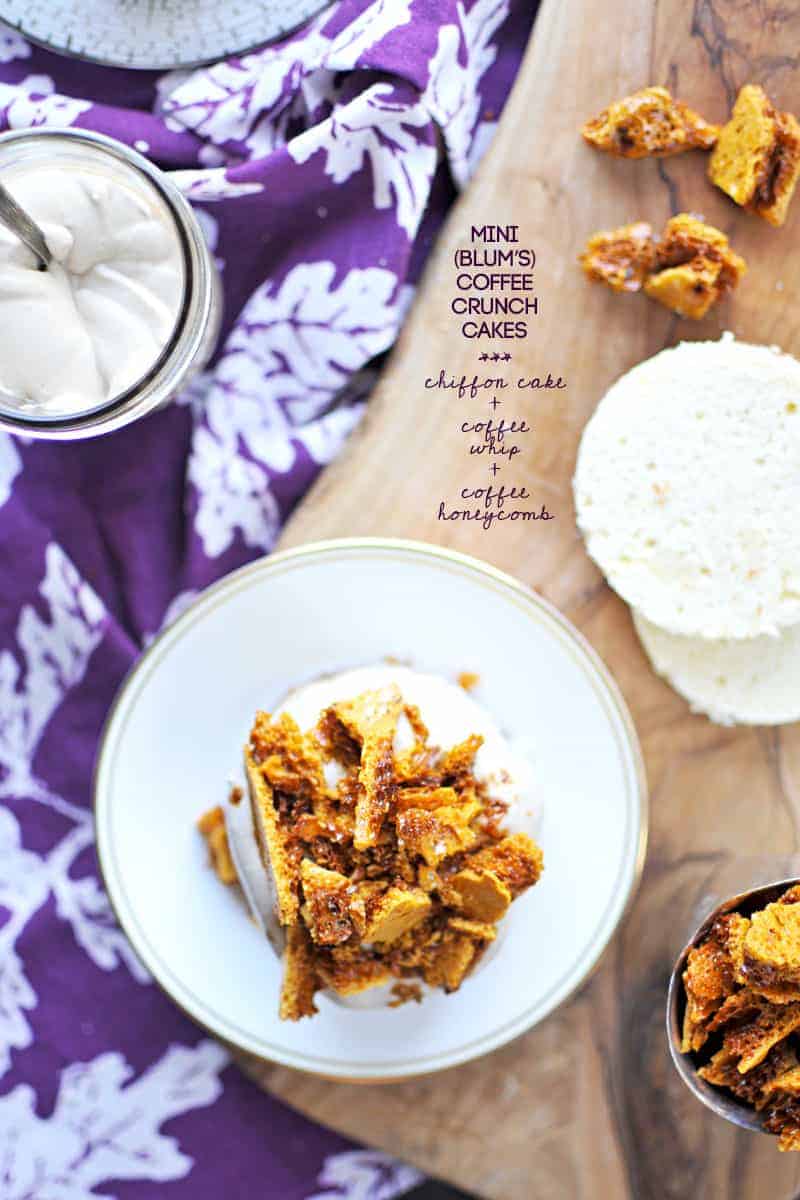 Babies, I have determined, are perhaps the best drug on Earth.
In their presence — with just one whiff of sticky-milk cheeks, a gentle raking of fingers through downy soft hair, the trill of a new voice finding new volumes — time both stands still and speeds up, a pinwheel turning wildly in the wind. Your own future becomes both vastly clear and deliriously blurred. Those newborn nights you were certain would never end; the physical pain of complete and total exhaustion that you thought you were prepared for, you silly goose now hardly more than a "remember when…" in the wake of even more sticky-milk cheeks and downy soft hair and a too-rapidly maturing voice that has found not only new volumes but baaaaahs and goooohs and even multisyllabic, sing-song coos that I swear resemble the words "let's get french fries." (No lie. Chris heard it, too.)
It's all you can do to stop and ponder — aloud, perhaps, in the middle of a grocery aisle — how the past day or week or month has possibly fallen underfoot when you can hardly recount how you passed the last 60 minutes.
It's a wonder they let new mothers operate heavy machinery.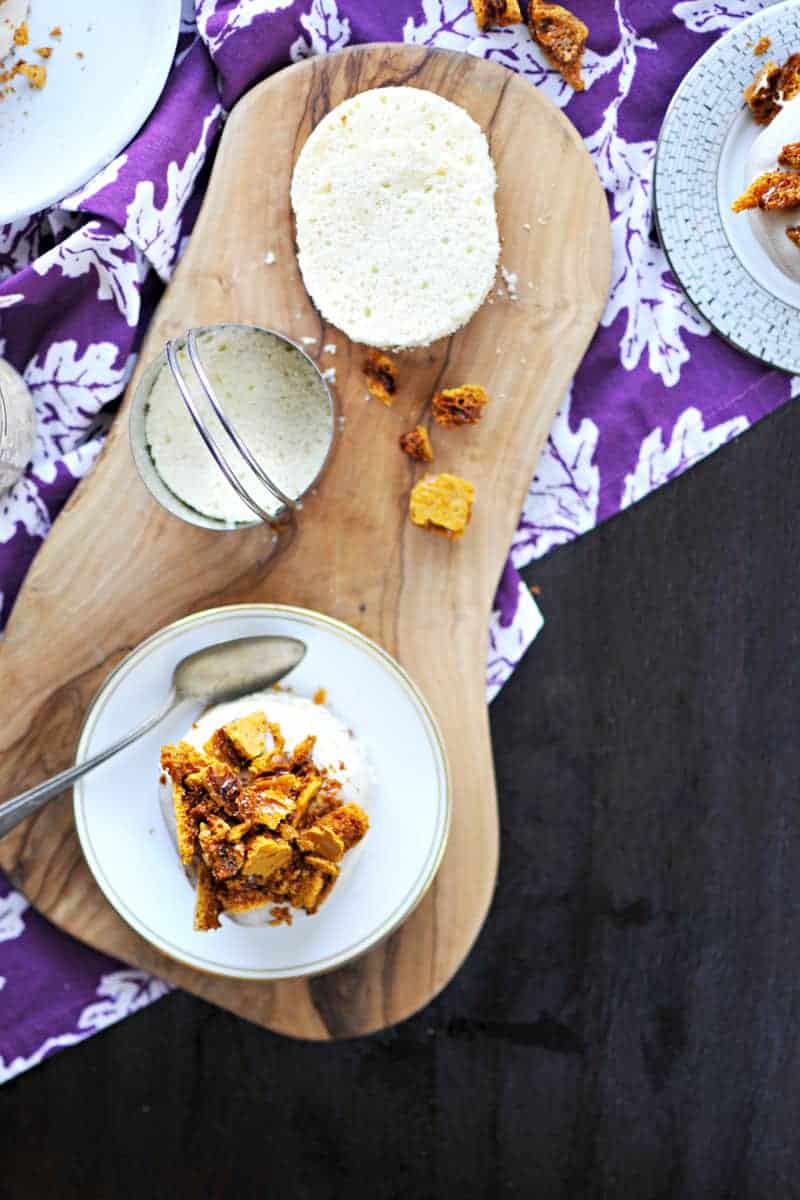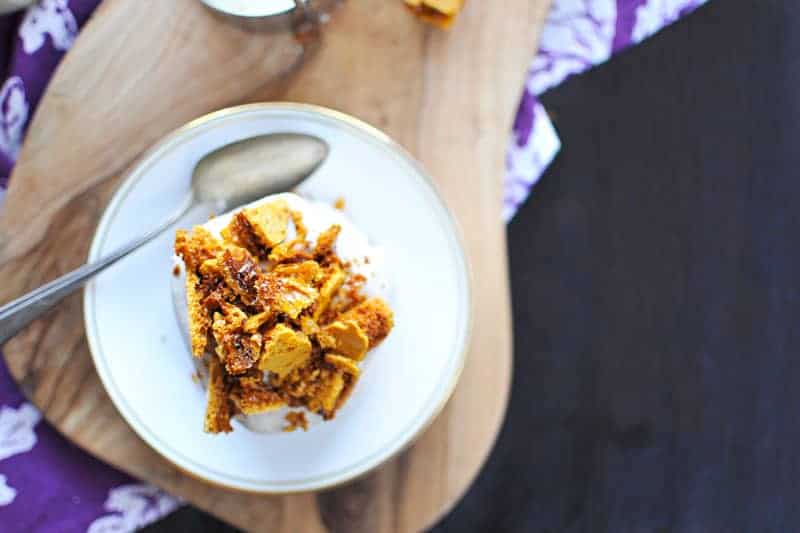 Clearly, the sweet behbes my world turns for these days is our little Lana, but the rate at which time has lapsed these past several years of blogging is similarly intoxicating. Which is why, as this quaint little space — my first baby, of sorts — came upon its third birthday earlier this week, I put on my big-mom pants and baked some damn cake.
Grown-up cake, too, with stuff like sifted flours and separated eggs and the always-mysterious cream of tartar that I can't help but think is going to make my cake taste like fish and chips. (It doesn't.) It was scary at first. But then, kinda like those long first nights, it was over, and before me sat not one or two but 10 little cakes(!!!), all hugged with espresso-laden coconut whip; crowned with the sweet sharpness of fluffy, toasted sugar; and saying sweet things like "eat me" and "let's get french fries."
Blackout baking, we'll call it.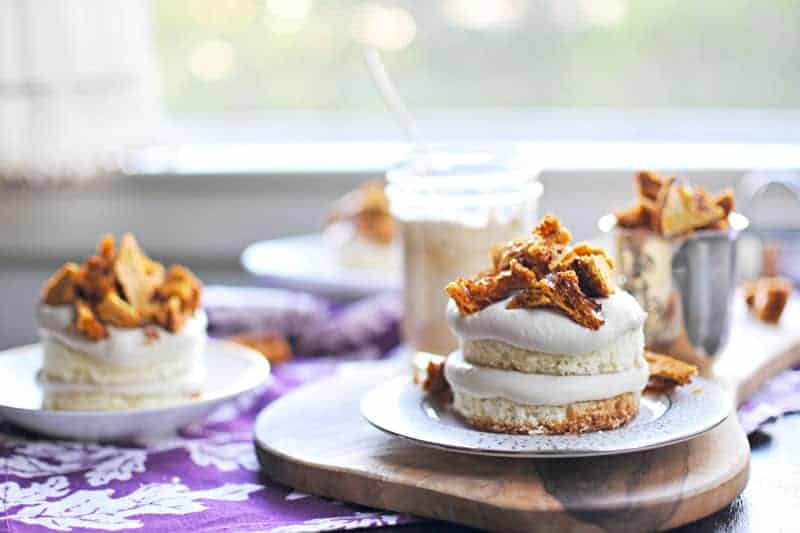 These little cakes are a very close iteration of Blum's famous Coffee Crunch Cake, a close cousin of which was served for dessert at Lana's Red Egg Party (a traditional Chinese coming-out party, of sorts, for new babes) last month. In the original version, chiffon cake is generously layered with a coffee-spiked whipped cream and then tiled with a mosaic of crunchy honeycomb coffee candy — and the play of spongy cake, fluffy whip and crisp candy is nothing short of spectacular.
This version is hardly any different. The cake is the same. The crunch is the same. But since I've been on the wagon (or rather off the cow's milk) for the better part of three months, the whipped cream portion — which I was so hesitant to eff with since it's such a major component of the whole dang thing — is replaced with an espresso-accented coconut whip that actually holds up pretty well in the fridge while remaining ethereally whhhhippy and not at all as coconutty as you might expect. (In fact, Chris couldn't pick out the coconut flavor at all, and we all know he's the kinda guy who's always lookin' for the hook, if ya feel me…)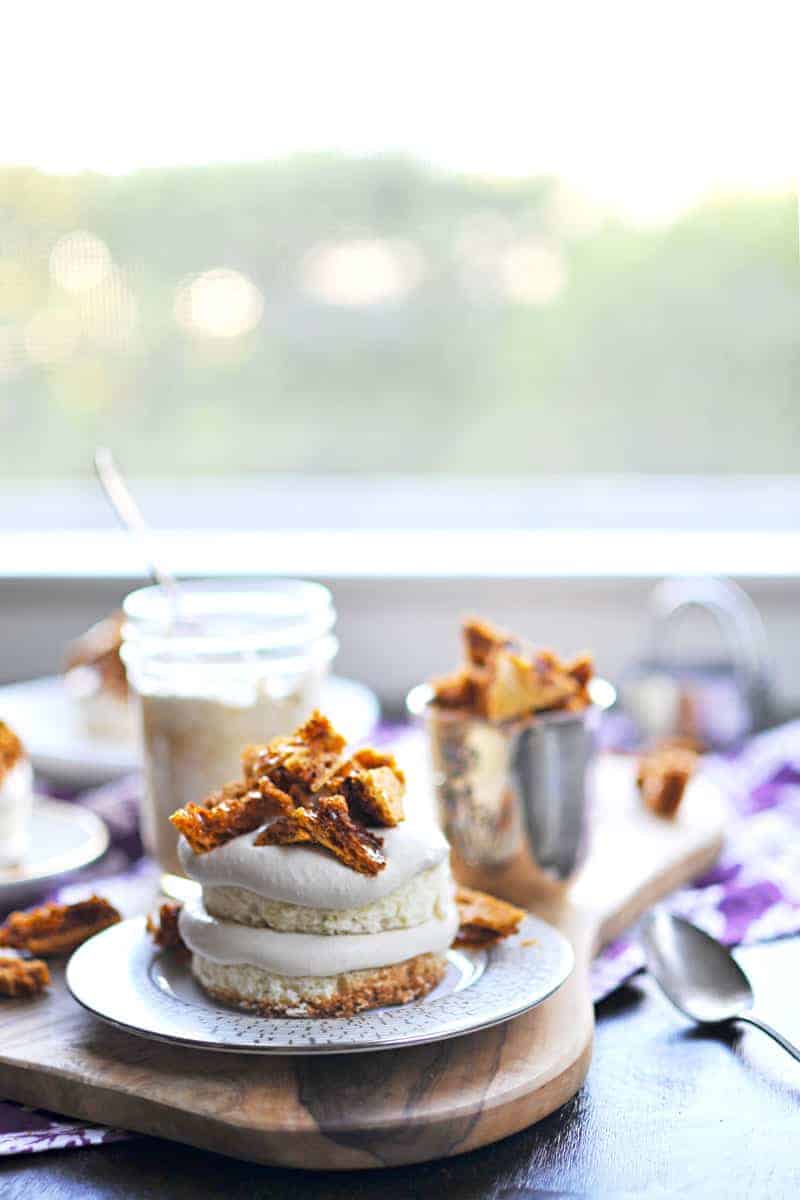 You can, of course, assemble the cake per its original design: that is, halved with cream and crunch sandwiched between the layers, frosted with more cream and then coated with crunch. But knowing that the delicate crunch begins melting almost as soon as it hits the cream, I rather liked the idea of punching out a bunch of mini-cakes and assembling them to order. It preserves the crispness of the topping. It totally dodges the whole frosting an entire cake thing. And most importantly, it's just really flipping cute. (It also leaves you with a bounty of cake scraps that are ideal for turning into little Coffee Crunch Trifles per the recipe note below. Yay!)
So. Thank you, dear friends, for tagging along for three years of what has truly been a greater adventure than I ever imagined. It's true, I'd probably keep plugging away at this even if no one read along (and who's to say you do?!), but it wouldn't be nearly as fun. Plus, I do enough talking to myself these days as it is.
A side effect of the drugs, I'm sure. 😉
Hugs and cake to everyone this post reaches, now or later, for taking a moment to spend time with me here in this space. Happy Birthday, P&Q!
xoxo,
Em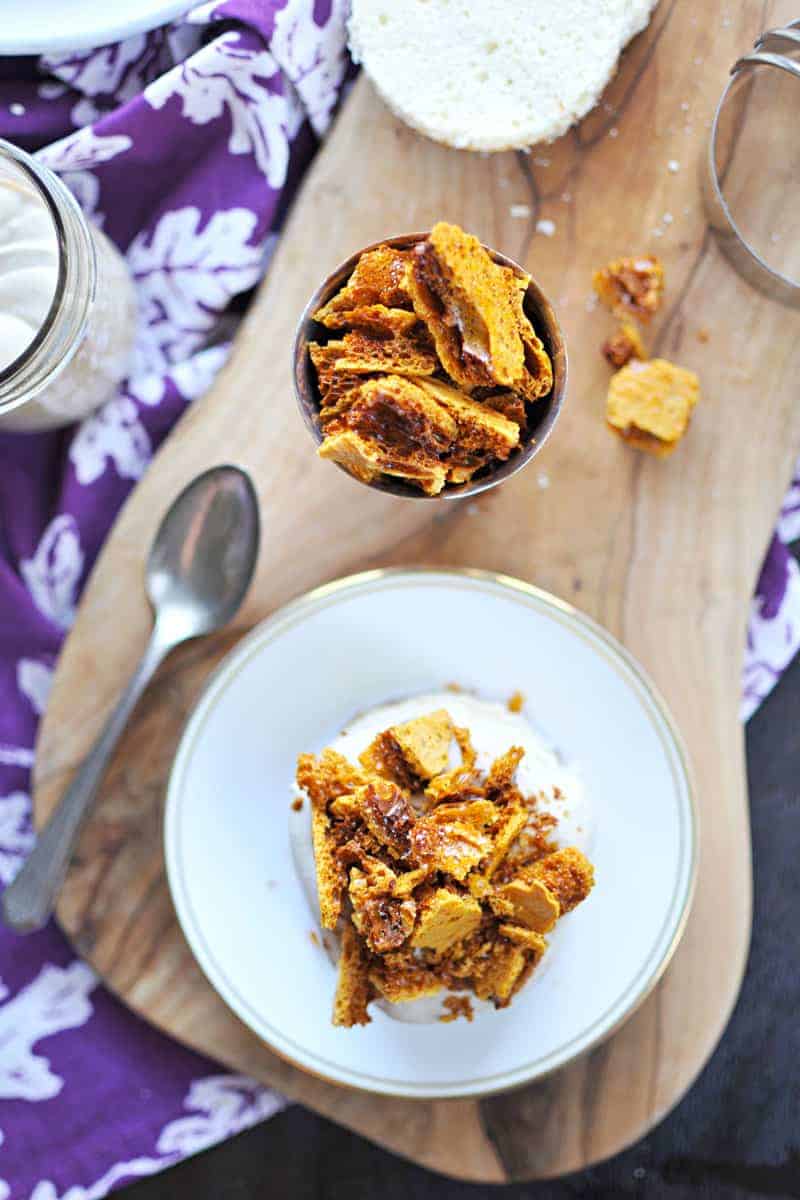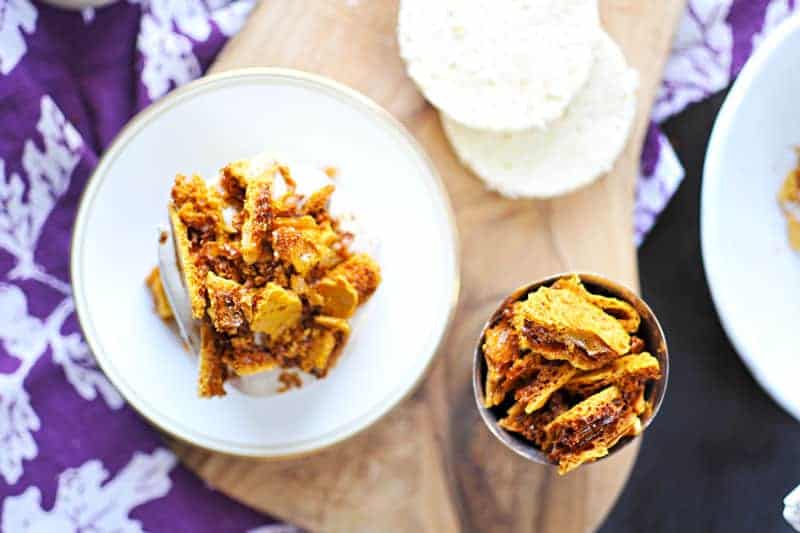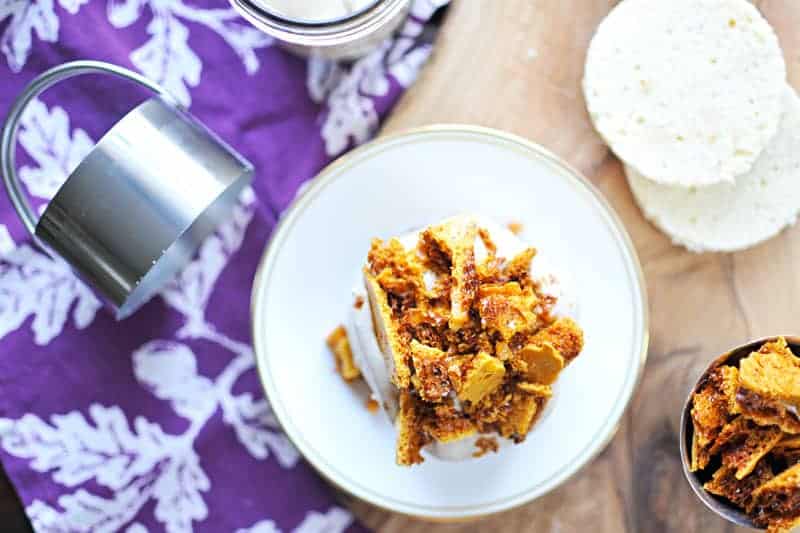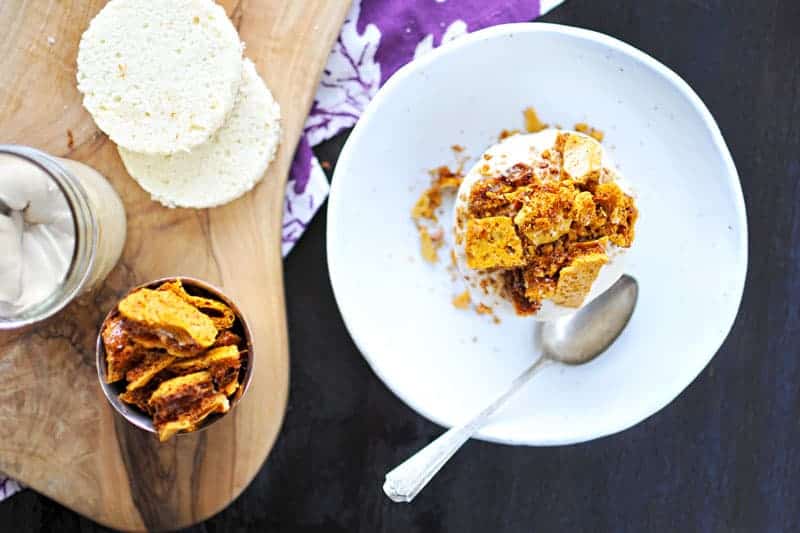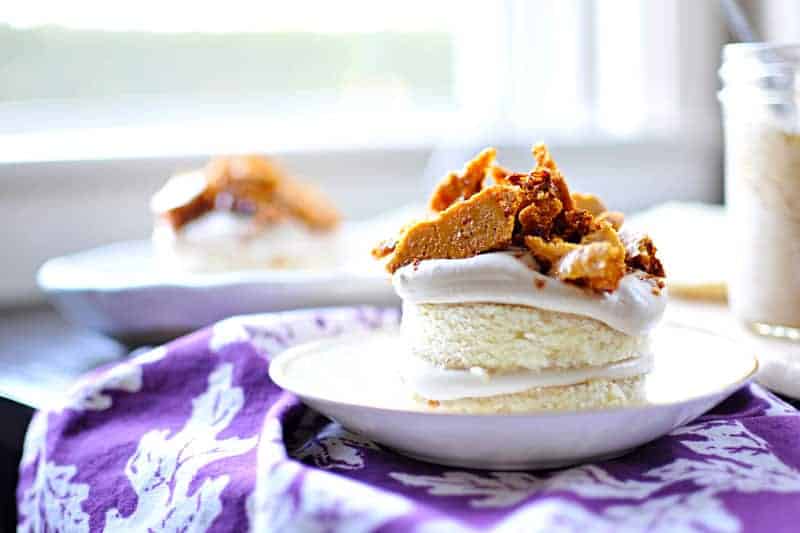 mini blum's(ish) coffee crunch cakes
By:
Emily Stoffel (Cake + Coffee Crunch borrowed from Serious Eats)
Makes:
10 mini cakes, plus scraps
Ingredients
For the Chiffon Cake
1¼ cups (6.25 ounces) all-purpose flour
1½ cups (10.5 ounces) sugar
½ tsp kosher salt
5 large eggs, separated, plus 2 large egg whites
2 T water
¼ cup (2 ounces) canola oil
1 tsp vanilla extract
1 tsp cream of tartar
1 tsp grated lemon zest
1 T lemon juice
For the Coffee Crunch Honeycomb
2¼ cups (15.75 ounces) sugar
⅓ cup (2.66 ounces) strong brewed coffee
⅓ cup (3.75 ounces) light corn syrup
1½ T baking soda
For the Coffee Coconut Cream
4 cups well-chilled coconut milk (about 3 cans, refrigerated overnight to separate milk from water -- do not shake!)
5 T sugar
5 tsp vanilla extract
4 tsp instant espresso granules (I use these)
Instructions
Make the Chiffon Cake: Position a rack in the center of the oven and preheat oven to 350F. Coat the bottom and sides of a 9-inch round Springform cake pan with nonstick baking spray (I used a sprayable coconut oil).
Sift together the flour, ¾ cup of the sugar and the salt into a medium bowl.
In the bowl of a stand mixer fitted with the whisk attachment (or in a large bowl, using a handheld mixer), whip the yolks and ¼ cup sugar on medium speed until thick and pale yellow, about 4 minutes. Gradually add the water, oil, and vanilla, mixing well. If using a stand mixer, transfer the mixture to a large bowl and wash and dry the mixer bowl and whisk (or wash the beaters).
Add the egg whites to the large mixer bowl (or another bowl) and beat until frothy. Add the cream of tartar and continue beating until the egg whites form soft peaks. Add the remaining ½ cup sugar and beat until stiff, glossy peaks form. Add the lemon zest and juice and beat just until incorporated, about 15 seconds.
Using a rubber spatula, fold the yolk mixture into the egg whites. Gradually fold in the dry ingredients, approximately 1 cup at a time, until fully incorporated.
Pour the batter into the prepared cake pan and smooth the top with a spatula. Bake cake for 55 minutes to 1 hour until golden brown and a toothpick inserted in the center comes out clean (note: in my oven it only required 45 mins).
Let the cake cool completely on a cooling rack, about 45 minutes. (Caution: removing the cake when it is still warm will cause it to deflate and likely tear).
Run an offset spatula around the sides of the cake to loosen it from the pan. Holding the rim of the pan with one hand, press the bottom of the pan up and out. Run an offset spatula between the cake and the bottom to release it. Wrap the cake in plastic wrap and refrigerate until you are ready to assemble the mini cakes -- for best results, at least several hours or overnight.
Make the Coffee Crunch Honeycomb: Attach a candy thermometer to the side of a 4- to 6-quart heavy pot. Add the sugar, coffee, and corn syrup to the pot and cook over medium-high heat, stirring occasionally with a heatproof silicone spatula until the mixture reaches 270F, about 10 minutes.
Meanwhile, heavily coat a 13-by-18-by-1-inch baking sheet with nonstick baking spray. Measure the baking soda into a ramekin or cup and place near the stovetop, along with a large whisk.
(This next part happens very quickly -- see note.) When the crunch reaches 270F, increase the heat to high and stir constantly until the crunch reaches 305F. Remove from the heat and quickly whisk the baking soda into the crunch; the mixture will expand and aerate very quickly, in a matter of seconds. Carefully pour the crunch onto the baking sheet -- don't be alarmed; it will likely continue to expand even on the sheet, though it should fit with maybe only a trace of overflow. Allow the crunch to cool, undisturbed, for at least 30 minutes.
Using a cleaver or other heavy knife, chop the crunch into quarter-sized pieces. (The crunch can be made ahead and stored in an airtight container at room temperature for up to 2 weeks.)
Make the Coffee Coconut Whip: Open chilled cans of coconut milk and measure out 4 cups of the heavy cream portion only (it will likely be about the first ⅔ of each can; the rest will be a syrupy, clear "water" that you can reserve for smoothies!). Using an electric or stand mixer fitted with the whisk attachment, beat the coconut milk on high until soft peaks form; then add sugar, vanilla, and instant espresso and whip again until medium-stiff peaks form. Refrigerate until ready to use.
Assemble the Mini-Cakes (for trifle variation, see note): Place the cake on a turntable or cake stand and, using a long serrated knife, slice the cake horizontally in half. Using a 3" biscuit cutter, punch five (5) circles from each half of the cake (resulting in 10 total discs of cake), reserving scraps. Then, carefully slice each mini cake in half horizontally.
To prepare each two-layer mini cake, arrange the first layer of cake on a plate and top with Coffee Coconut Cream to taste, about two heaping spoonfuls. Top with a second layer of cake and top again with Coffee Coconut Cream. (If prepping the cakes in advance, stop here until ready to serve.)
Just before serving, top each mini cake with a generous mound of Coffee Crunch Honeycomb. Enjoy!!
Notes
I can't take credit for the perfection that is the Chiffon Cake portion of this recipe, nor for the crisp, airy Coffee Crunch Honeycomb topping. Both of those are inherently dairy-free and come straight from
Serious Eats' adaptation
of Blum's original (which apparently comes from
Valerie Gordon's book Sweet
) -- and they are solidly developed and
very tasty
. My main contribution is the Coffee Coconut Cream, which is a dairy-free stand-in for the traditional Coffee Whipped Cream and surprisingly satisfying and subtle in its coconuttyness. It's creamy, silky and practically foolproof (I've yet to overwhip coconut milk). I might even prefer it to the original!
Regarding the candy temperature for the Crunch: I could not for the life of me get the candy to escalate from 270F-305F in the pan without it scorching by the time the baking soda was whisked in, even off the heat. After several attempts (and the house and my hair reeking of burnt sugar), I pulled the pan from the heat right when it reached 270F anticipating that it would keep rising while I quickly whisked in the baking soda, and it worked like a dream. Could just be my limited experience with candy making or my candy thermometer (though we did check the calibration right before starting!), but go with your gut. Candy that is smoking is too hot!
Trifle Variation: The cake scraps from this recipe lend themselves beautifully to individual trifles boasting all of the same features and flavors of the cake but with a much more casual assembly. Just tear the scraps into bite-sized pieces and layer them in tiny trifle (or wine!) glasses with the Coconut Coffee Cream and plenty of Coffee Crunch Honeycomb between and over the top. (If you're feeling particularly...rustic, we'll say...you can even skip the mini cakes altogether and trifle the whole dang thing!)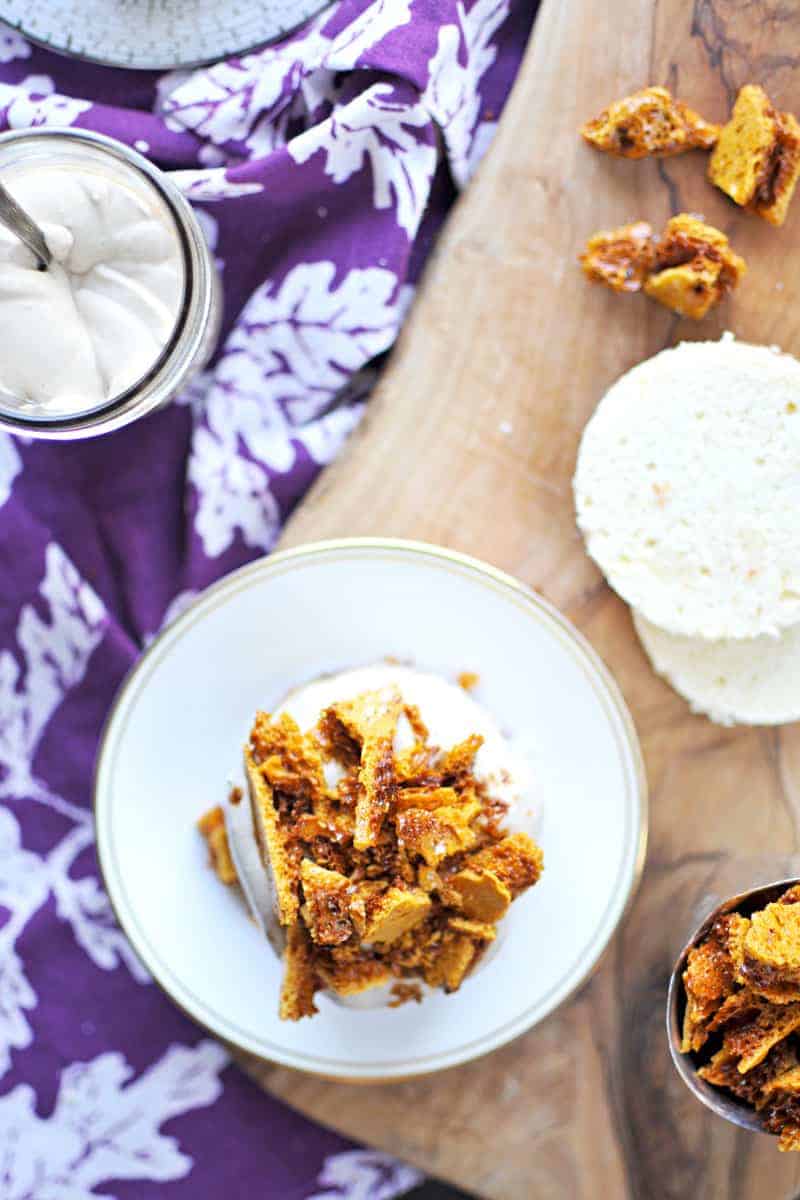 ————————————————–
OH! before you go…
Like whatcha see here — or have a question, feedback, or recipe hack to share? Join The Pig & Quill convo by commenting below (I love, luv, lurve comments) and hang out with me on Facebook, Twitter, Instagram and Pinterest. And don't forget to subscribe to P&Q emails or add me to your RSS reader with Feedly or Bloglovin' so you never miss a post. x's & o's!