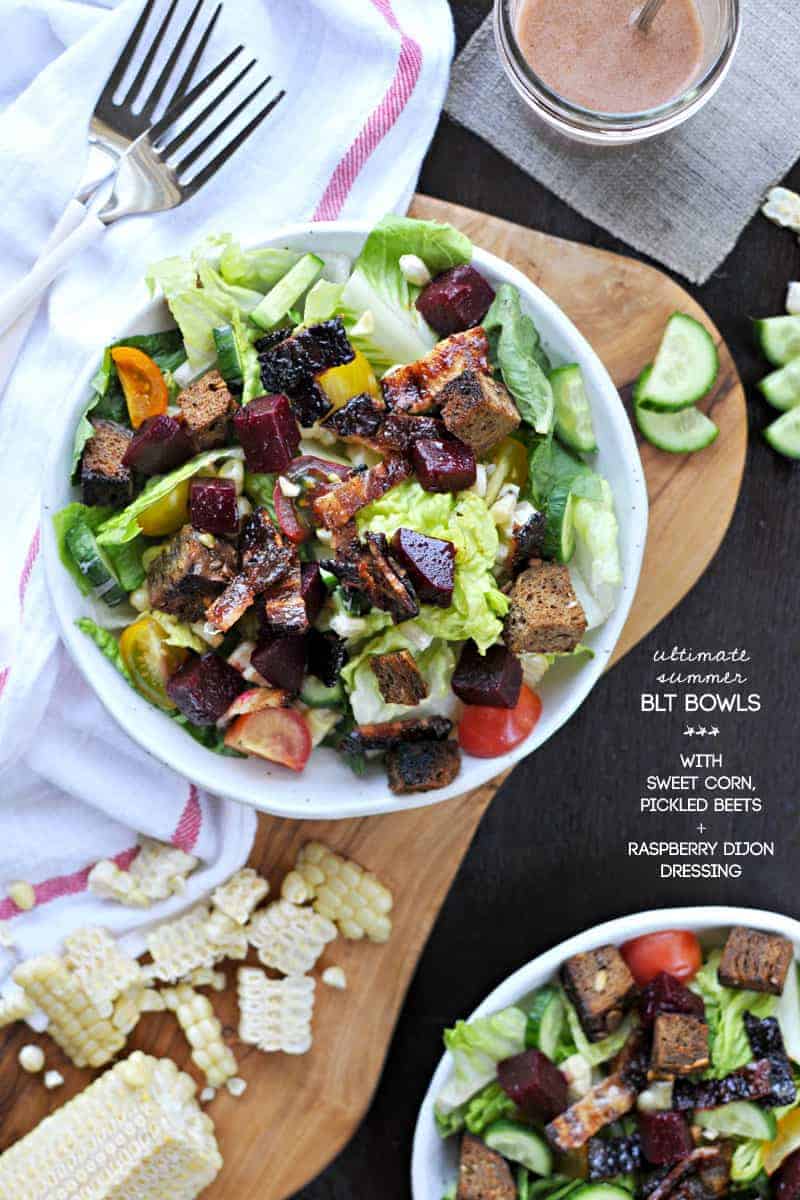 Hey guys! Happy Friday!
This week has been so much fun. On Monday, I stepped in front of the camera for a change in the name of a new gig that's probably going to elicit aaaallll the face-palm monkeys ever. (Yes, I know they're not really face-palming…)
On Tuesday, the Bestie from Sac came to spend some time with little Lana before she's suddenly bigger than the both of us and all sassy pants all the time. We shopped and sipped and inhaled Whole Foods' vegan donuts, which I think might be the only items worth their weight in the entire prepared foods section of the store. The chocolate-banana? Is well…you knowwww. I could eat a dozen.
Wednesday and Thursday found me recipe testing for Alanna's forthcoming baby — her cookbook debut, that is — and, spoiler alert: that lovely being is at least 87% evil genius because I somehow pulled off baking a (freaking dairy-free!!!) cake in 90 degree weather without breaking a sweat. I cannot wait to see her finished product and lick its black-magic pages. So exciting, friend!
Which brings me to today, when we're translating one of my favorite — nay, one of The Favorite — sandwiches of all time into bowl form so that you can voraciously shovel its finely curated flavors into your face kinda classy-like. It also makes feeding a crowd ever so simple, and it packs up swell for lunches. Even better, I'd say, than a sandwich, which seems contrary as shit because sandwiches are kinda the foundation of the Great American Lunch, but trust me on this. If for no other reason than croutons > plain ol' sandwich bread, trust me.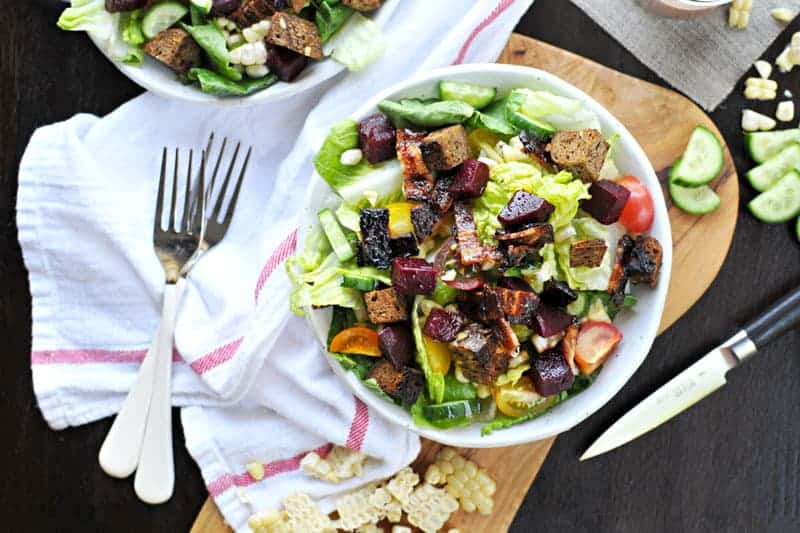 Let me first acknowledge the marketing hoohoo that is "BLT Bowls," because you know as well as I do: this is a salad. But bowls, you guys. They sound infinitely more satisfying, do they not? And when they're as chocked full of summer's late bounty as these guys, they most definitely are. Simple, too, since we're talking all the basic components of a classic BLT but ratcheted up a skizzle.
The bacon is "candied" with a slick of sticky barbecue sauce that encourages the perfect ratio of porky, salty chew and nearly blackened, crispy bits reminiscent of burnt ends.
The lettuce and tomatoes are at the peak of their seasons.
And the bread is reimagined as croutons — crunchy and savory and dripping (literally) with bacon fat.
(See, "salad" just doesn't do it justice.)
And then, because all my favorite summer produce fraternizes so well together, we witness the indulgent addition of tart, pickled beets, sugar-sweet corn and peppy cukes. Should we dress them with a fruity dijon number? I mean, honestly, I don't think we have a choice. 😉
Ultimate Summer BLT Bowls, guys. Get 'em while the gettin's good.
TGIF!
xo,
Em
p.s. – remember that other time I turned one of my favorite sandwiches on its head in the form of mac n' cheese? That was fun. 🙂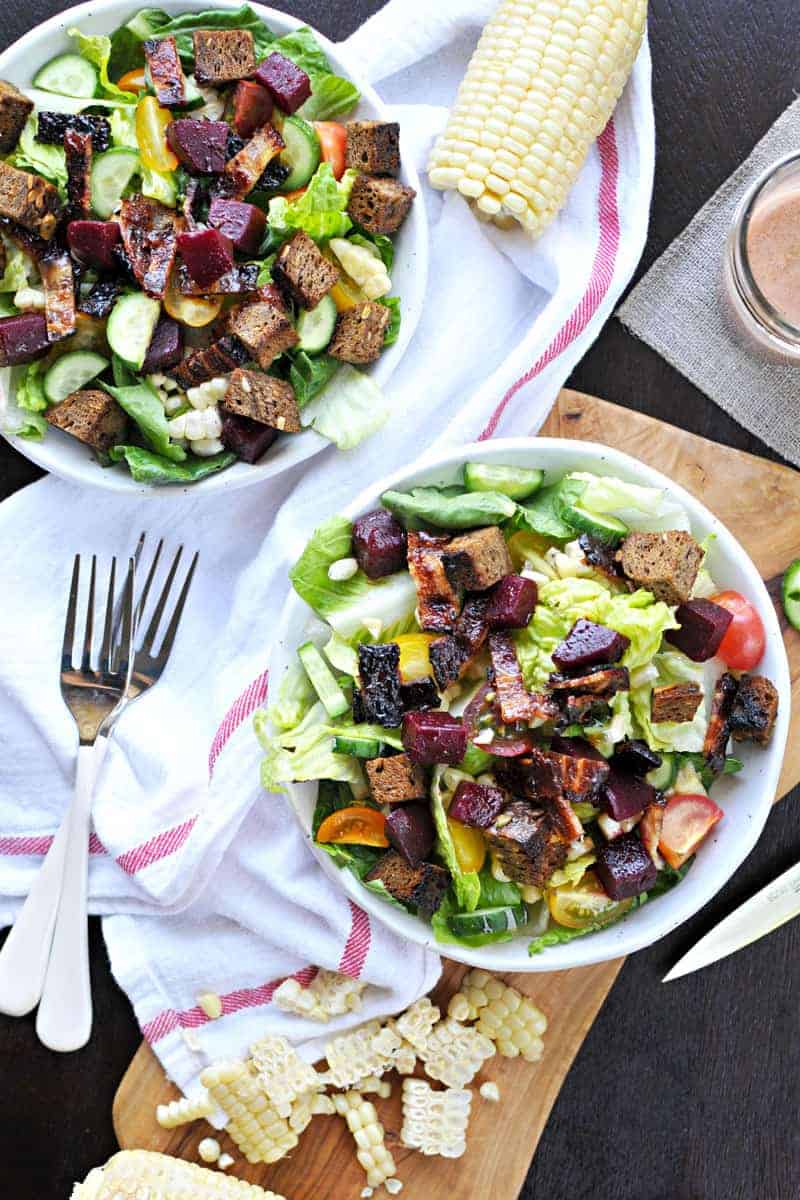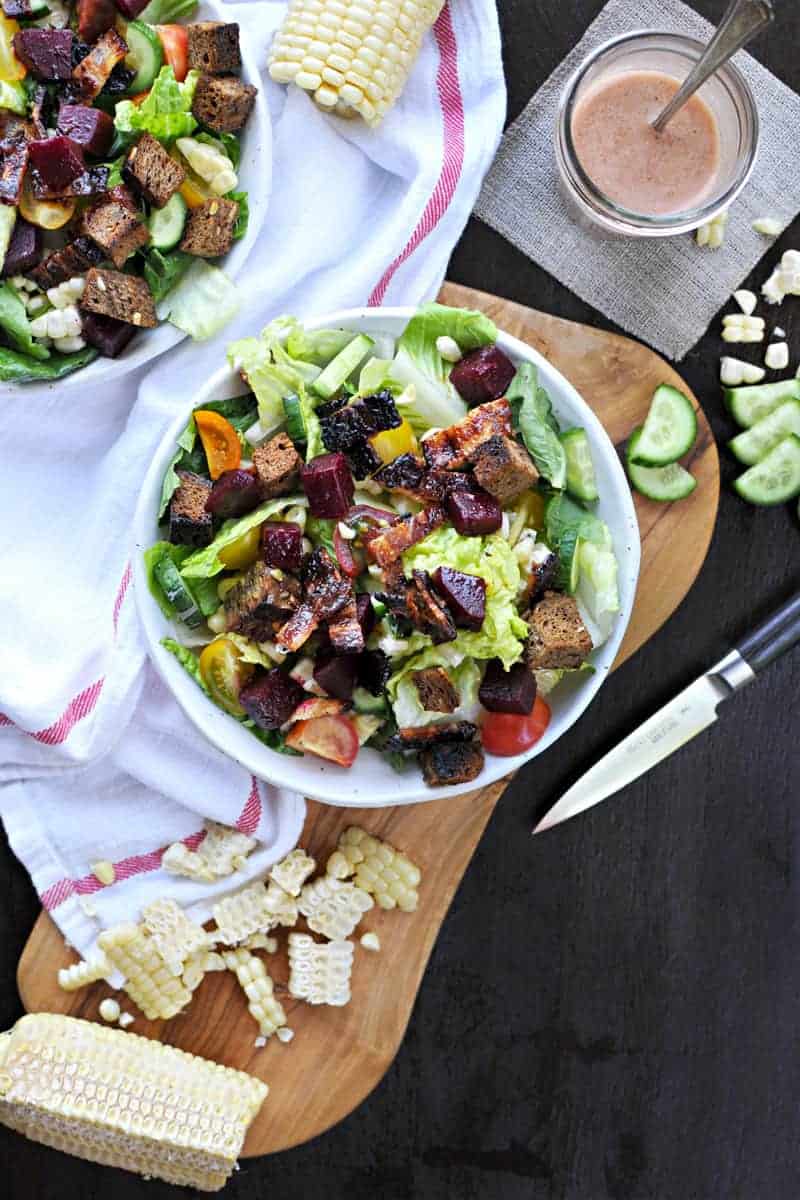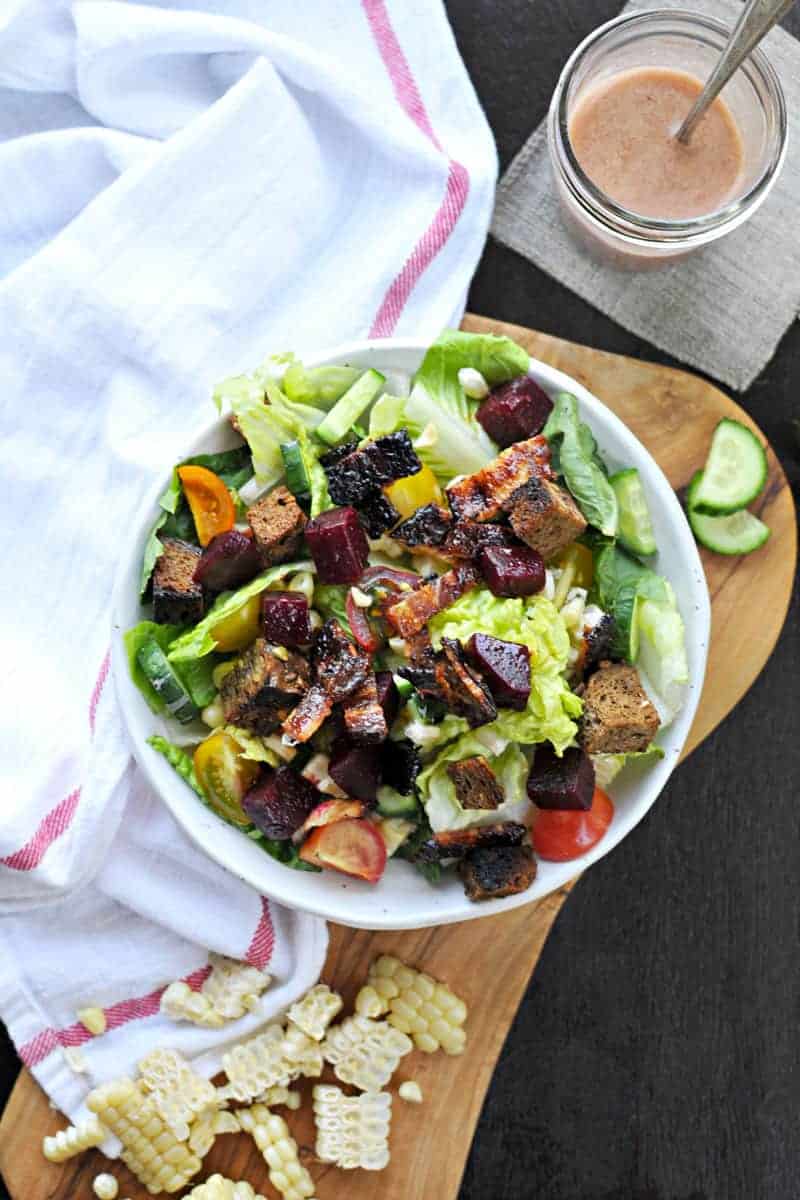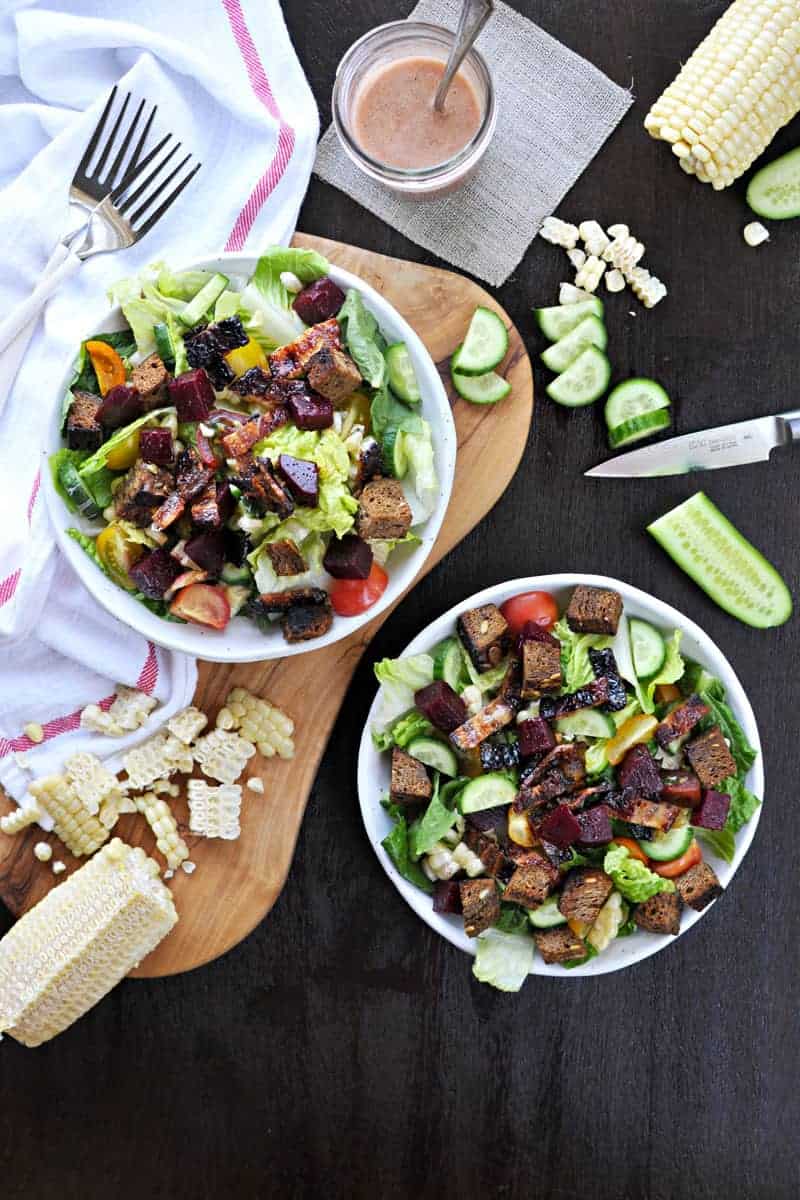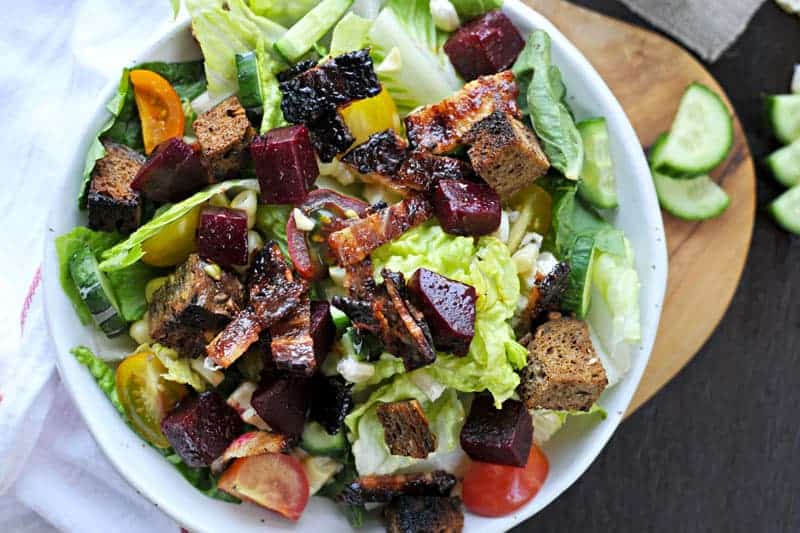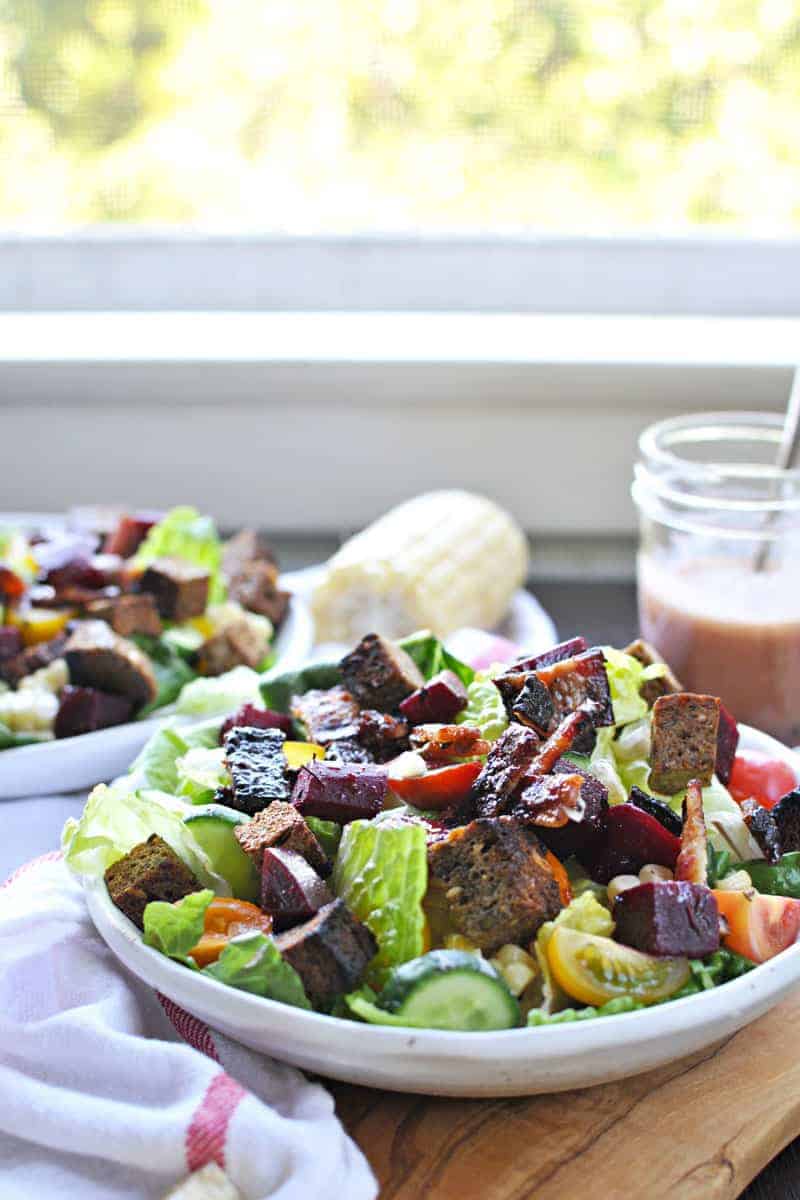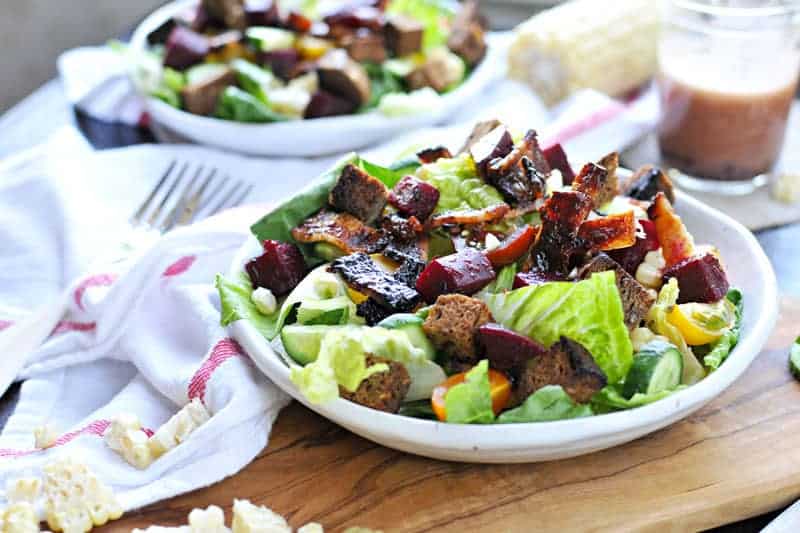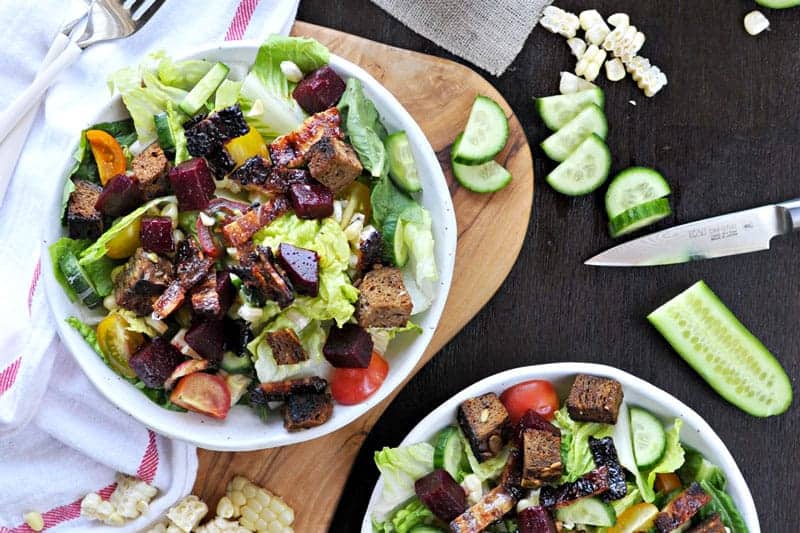 ultimate summer blt bowls
Makes:
2 (or more) hefty salads
Ingredients
For the Salad
4-6 slices thick-cut bacon
¼ cup good BBQ sauce (we liked this one from Williams Sonoma)
1 head crisp lettuce, torn or cut into bite-sized pieces (I like butter lettuce and/or romaine hearts)
½ pint cherry or mini heirloom tomatoes, halved (see note)
1 large ear fresh sweet corn, blanched and cut from cob
1-2 small Persian cucumbers, sliced in half-moons
For the 'Pickled' Beets
3 medium beets, peeled and cut into about ½" dice
½ cup olive oil
¼ cup apple cider vinegar
1 tsp crushed dried thyme
½ tsp garlic powder
½ tsp salt
½ tsp paprika
For the Rye Croutons
about ½ loaf stale rye or pumpernickel bread, cut into ½" cubes
salt, pepper, garlic powder + paprika to taste
For the Raspberry-Dijon Dressing
¼ cup extra virgin olive oil
2 T apple cider vinegar
2 T water
2 T raspberry preserves
1 T dijon mustard
1 clove garlic, finely minced
salt + pepper
Instructions
Make the beets (can be done ahead of time): Cut beets into bite-sized pieces and steam (I use a veggie steamer insert set over simmering water) until just tender, 10 mins. Meanwhile, whisk together apple cider vinegar, olive oil and all beet spices in a large bowl (or heat-proof glass jar). Add steamed beets to marinade and stir to coat. Can be stored in the fridge for up to 2 weeks.
Make the dressing: In a large bowl or jar, whisk or shake together all dressing ingredients tasting for salt and pepper and adjusting as needed. Store for up to 1 week in the fridge.
Make the salad: Preheat oven to 400F. Arrange bacon slices on a foil-lined baking sheet and brush liberally with BBQ sauce. Bake until dark and caramelized in places, 20-25 mins. Remove to parchment to cool slightly before cutting. Reserve sticky bacon drippings on pan.
While bacon is cooling, add bread cubes to bacon drippings on pan and turn around with tongs to coat liberally. (If more fat is needed, add a drizzle of olive oil.) Season to taste with salt, pepper, garlic powder and paprika. Pop into oven until crisp all over, tossing frequently, no more than 10 mins.
Combine lettuce(s), tomatoes, corn, cucumbers and croutons (as many as you prefer) in a large bowl and toss with dressing to taste. Dish out to serving bowls. Top generously with the candied bacon, a scattering of beets and plenty of salt and pepper. Serve additional dressing on the side, if desired. Enjoy!
Notes
This bowl is all about highlighting the flavors of summer, but the rest of the year, feel free to substitute goodies accordingly based on what's in season. Mini heirloom tomatoes are candy sweet and the perfect (read: adorable) size for a salad like this, but use whatever tomatoes beckon at the market. I'd also highly advocate for taking things over the top with the addition of avocado and a few creamy-sweet crumbles of gorgonzola. Yum!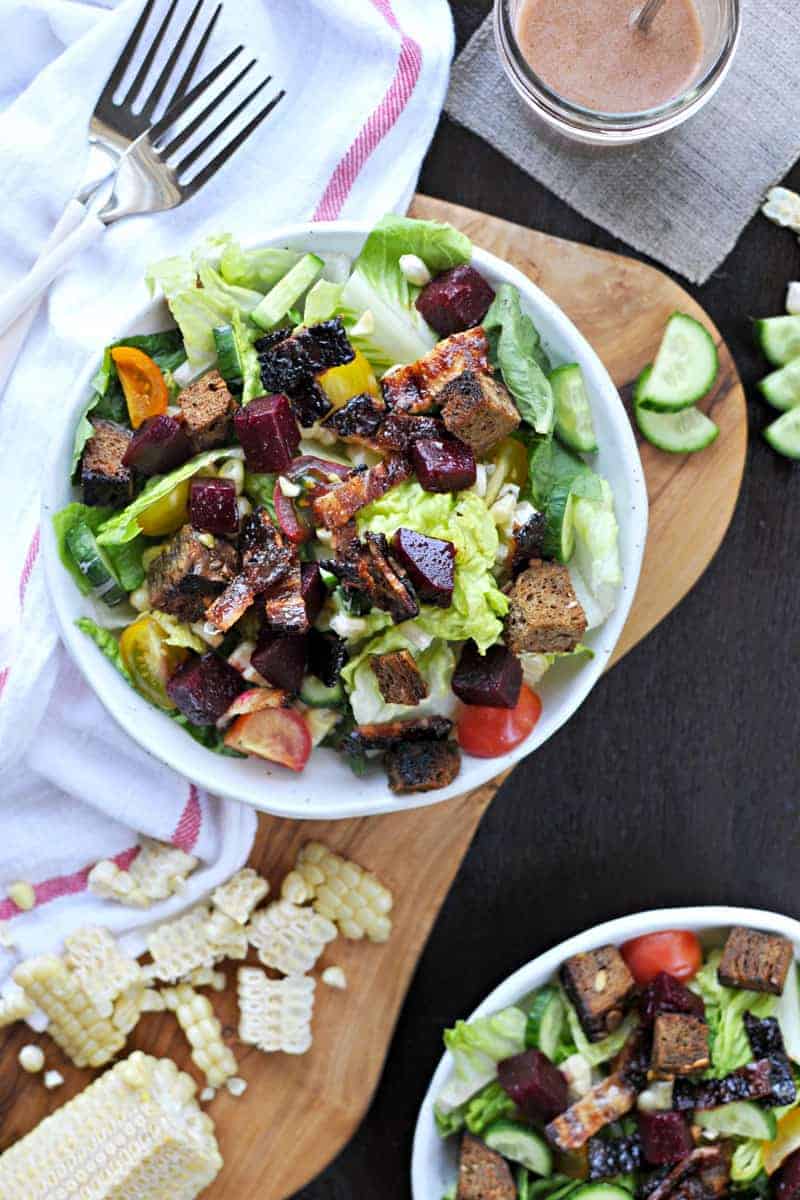 ————————————————–
OH! before you go…
Like whatcha see here — or have a question, feedback, or recipe hack to share? Join The Pig & Quill convo by commenting below (I love, luv, lurve comments) and hang out with me on Facebook, Twitter, Instagram and Pinterest. And don't forget to subscribe to P&Q emails or add me to your RSS reader with Feedly or Bloglovin' so you never miss a post. x's & o's!