pumpkin curry with peanuts, peas + crispy spice-crusted tofu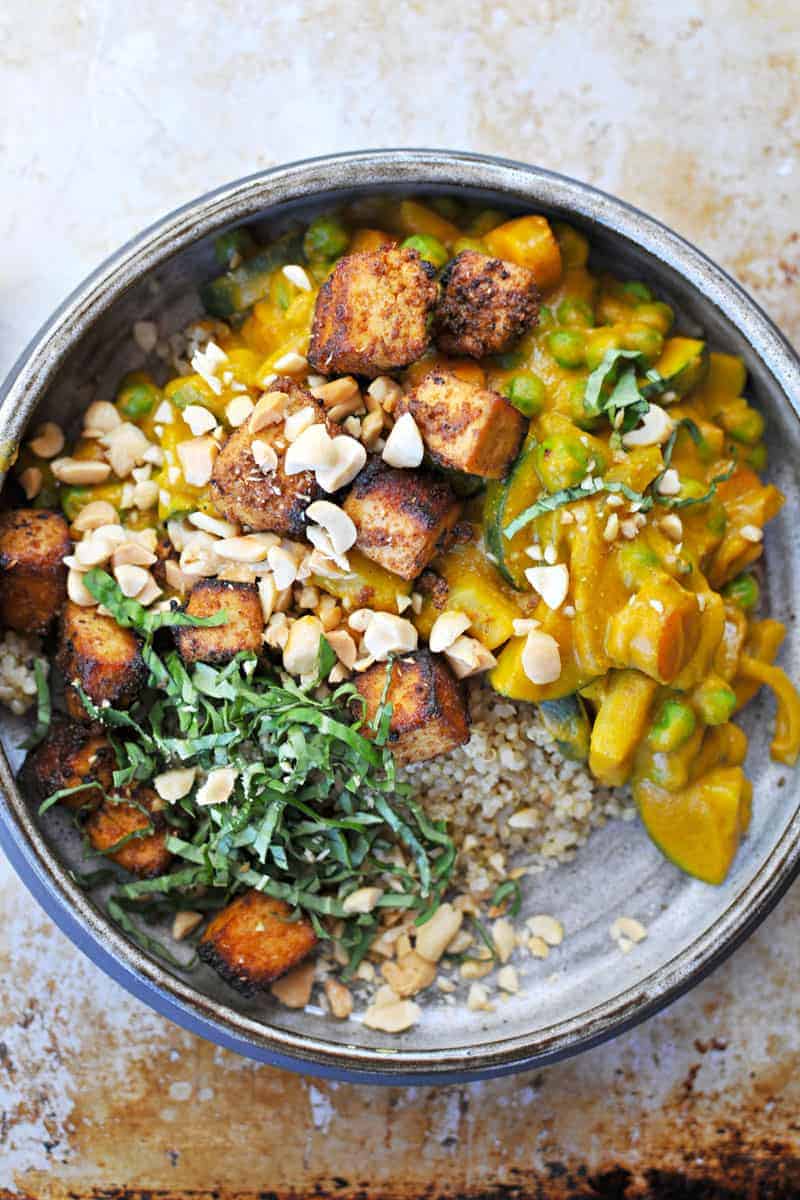 To make the tofu: Preheat broiler. Line a rimmed baking sheet with foil. In a large bowl, combine olive oil with honey or maple syrup and all spices. Add cubed tofu and gently toss to combine. Arrange tofu in a single layer on baking sheet and broil for 10 mins or until tofu is browned and crispy on top. Gently toss and broil an additional 10 mins. Allow to cool slightly.
To make curry: While tofu broils, add all curry spices (cumin through cinnamon) to a large, dry skillet and toast until fragrant and slightly nutty.
Add toasted spices to a blender and add pumpkin, coconut milk, garlic, apple cider, maple syrup and salt and blend until smooth. Set aside.
To same skillet used to toast the spices, add cooking oil and heat over med-high flame. Add carrots, fennel and zucchini and stir-fry until crisp-tender, 3-5 mins. Add blended curry mixture and peas and cook until heated through, about 5 mins.
Serve curried veggies over rice or quinoa topped with broiled tofu, basil and peanuts. Enjoy!
This veggie curry comes together quickly with a flavor that is so much more interesting than jarred curry sauces. Feel free to make it your own with whatever veggies you have on hand. And don't fret if you don't happen to have apple cider. Veggie stock works just as well, though the curry will lean ever so slightly toward the savory side.
Recipe by
the pig & quill
at https://thepigandquill.com/pumpkin-curry-with-peanuts-peas-crispy-spice-crusted-tofu/