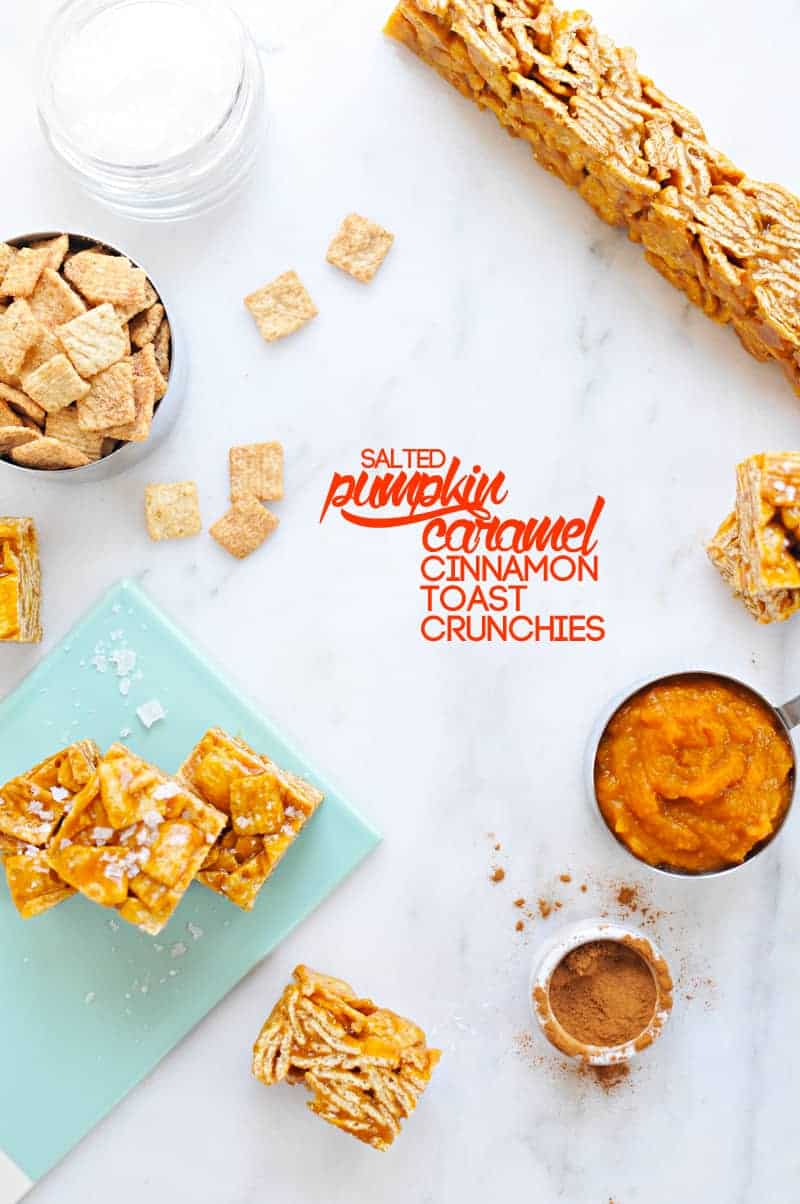 Hello hello! Quick one, today. In fact, I'm going to take exactly 30 seconds to tell you, via one extraordinarily long (though mostly grammatically correct) sentence, that tomorrow is the anniversary of my breast cancer diagnosis and that, if you asked me six months ago whether I'd give two shits about pumpkin treats come fall, I would have answered with a resounding "I'd give anything to give two shits about anything…" before retreating somberly back to bed — so I'm feeling particularly amp'd to report the biggest issues I faced this week concerned 1) ripping through The Handmaid's Tale too quickly and 2) a toddler who refuses to wear shoes at the park.
Grateful doesn't even begin to scratch the surface.
And now we can talk about pumpkin.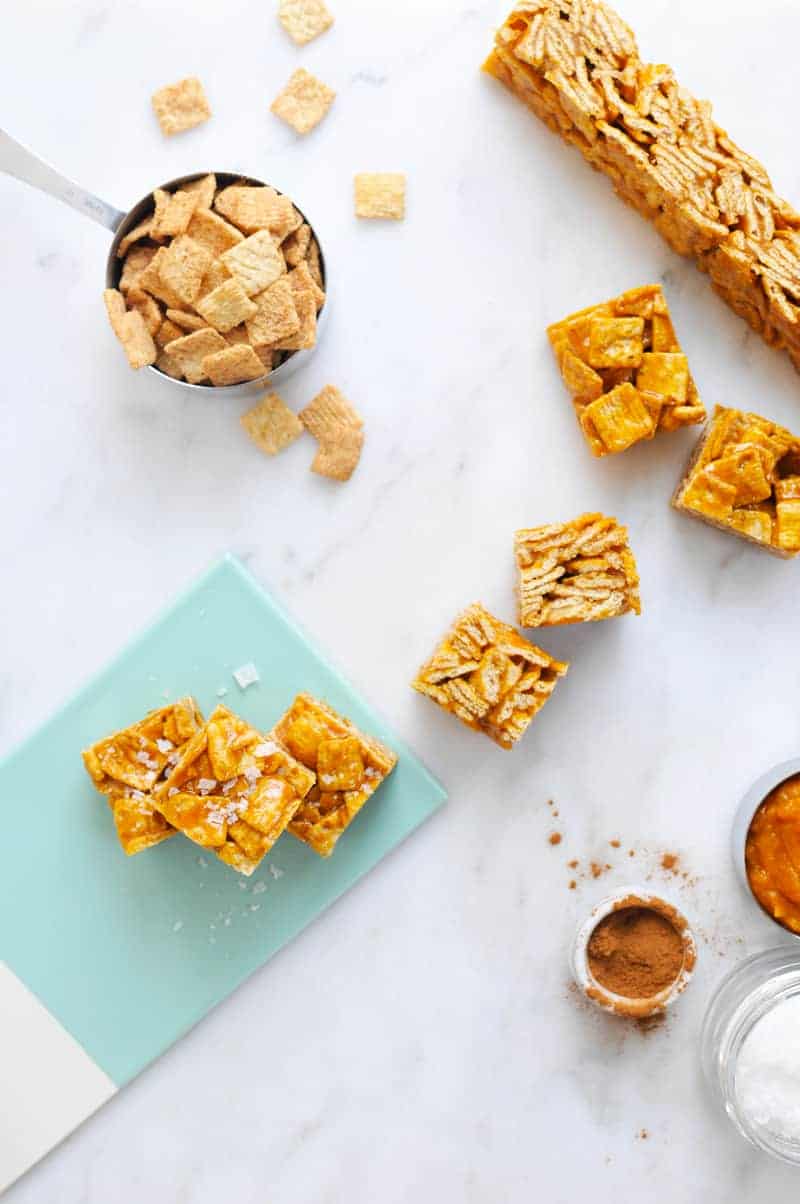 Earlier this year, at Lana's birthday party, I made the executive decision to set out rice krispie treats in lieu of cake. And then to swap said rice krispies out for cinnamon toast crunch — and I haven't look back since. Why this idea never crossed my mind before, I'll never know. It's no big secret that CTC is the most favorable dry-snacking cereal ever (ok, super closely tied with PB Crunch, but I mean, who sits down in front of the TV with a box of rice. freaking. krispies!?), so who knows why it's not THE prevalent cereal for treat'ing, but it's too good to ignore. Cinnamon-sugary. Browned-buttery. Ooey gooey. I can't tell if the kiddo or the college student in me is more excited.
For fall, I toyed with a couple of ways to play up the autumnal C in CTC with a pumpkin pairing that's as tasty as it is cliché, and this — a sticky, toothsome pumpkin caramel generously flecked with sea salt — is the clear winner. No more complicated than your average cereal treat (save for a quick blot of the canned pumpkin and a few more minutes on the stovetop), these are the only cereal treats you need this season. (If you hoard canned pumpkin like me, they might be the only cereal treats you need for the foreseeable future.) And though I make no claims about the health of these guys, I went outta my way to cram half a damn cup of pumpkin in the caramel, so they're about as close to a vegetable as they're going to get. Lana's obsessed. (Shocking.) And so am I.
Here's to a life as sweet as these babes, friends.
What a fucking year.
xo,
Em
p.s. These treats were created in celebration of Sara's annual #VirtualPumpkinParty, featuring seasonal pumpkin recipes (sweet AND savory!!) from almost 100 bloggers (more exclamations!!!). Pop over to the official Virtual Pumpkin Party page to peruse all the recipes. Happy Virtual Pumpkin Party!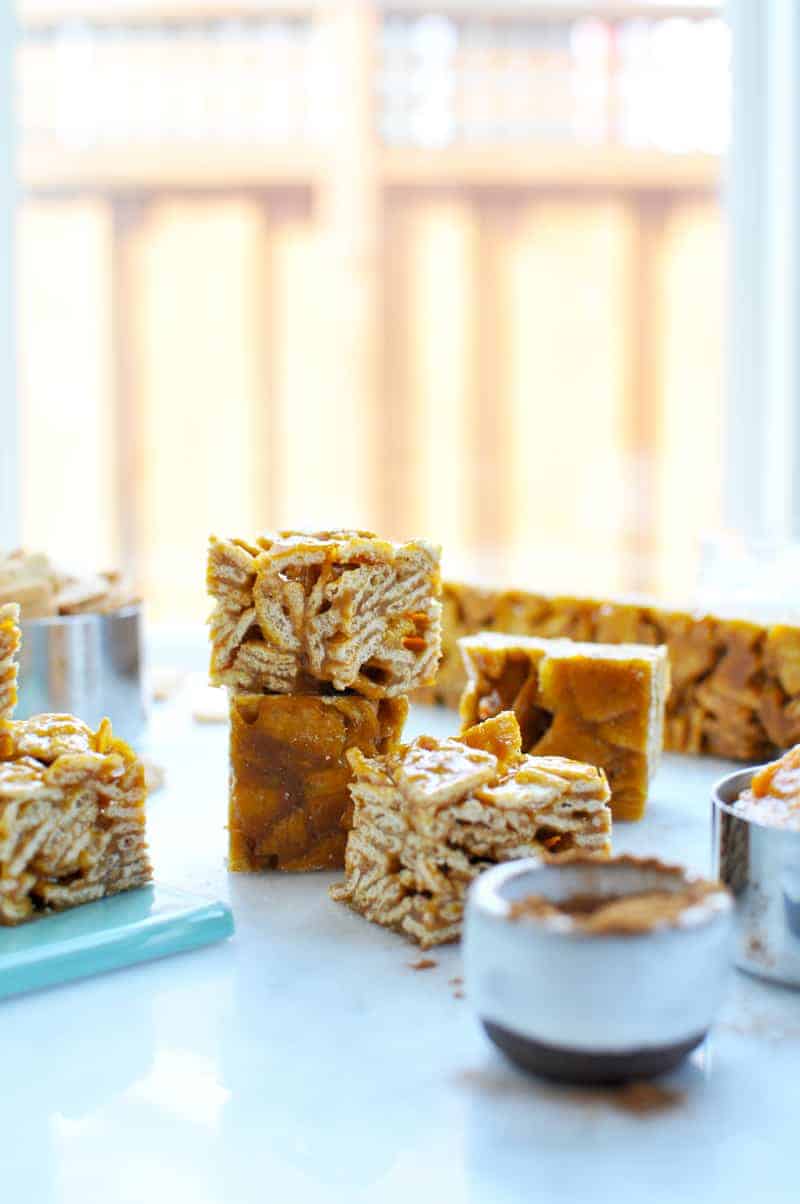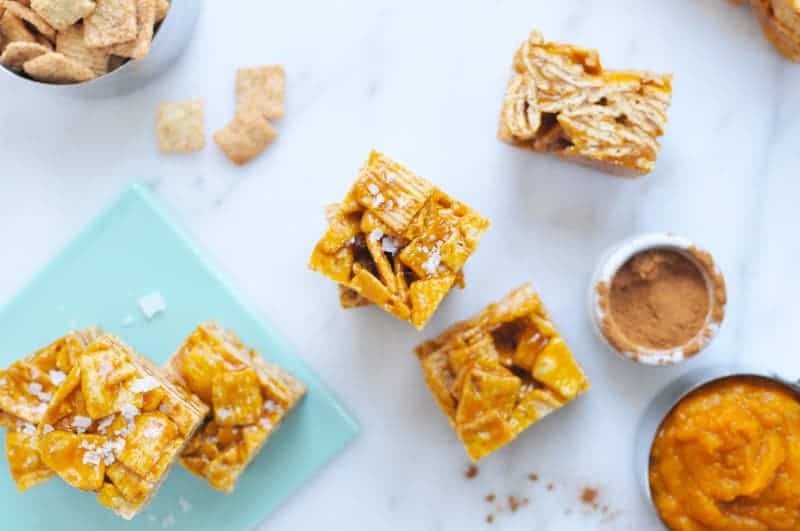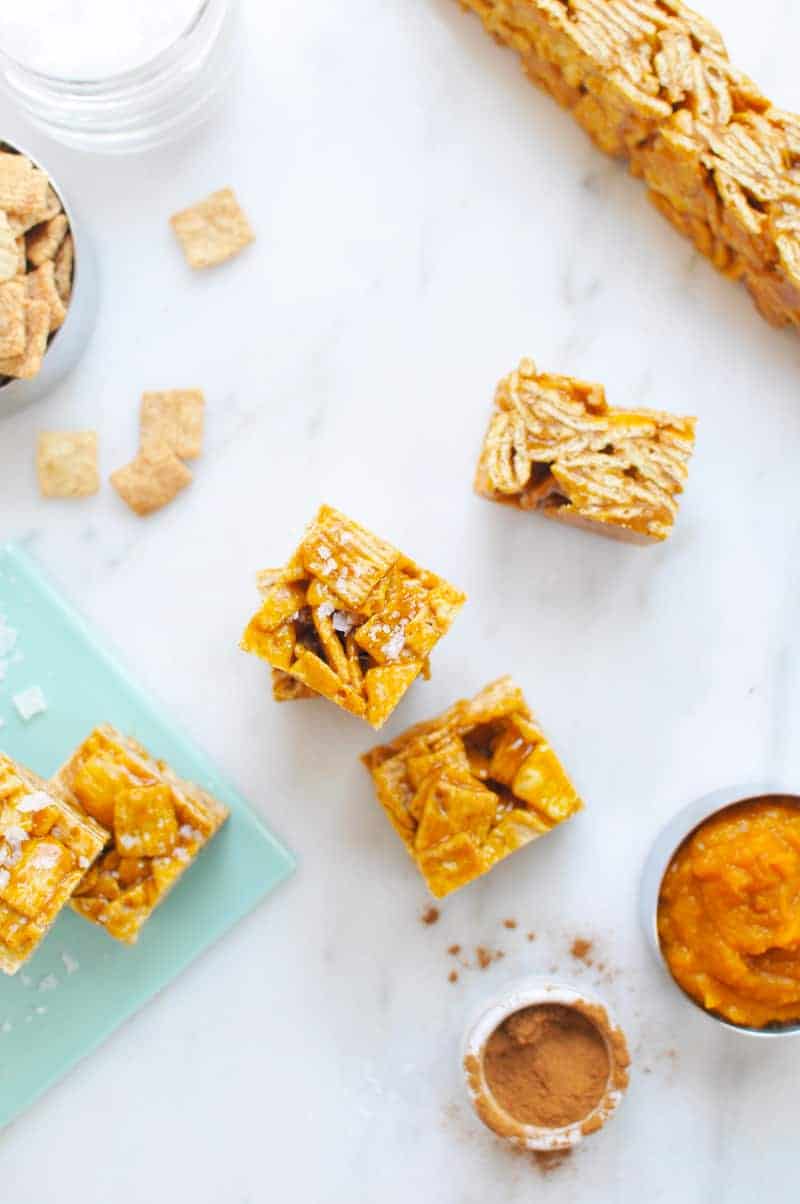 Salted Pumpkin Caramel Cinnamon Toast Crunchies
Ingredients
6 T grassfed butter
½ cup canned pumpkin, moisture blotted (see instructions)
1 bag marshmallows (10 oz)
7 cups Cinnamon Toast Crunch cereal
flaked sea salt, for serving
coconut oil spray or non-stick cooking spray
Instructions
Spray a square baking dish or loaf pan (see note) with cooking spray and set aside.
In a large stock pot or Dutch oven, melt butter over med-high heat until just browned.
While butter melts, arrange a stack of 3-4 paper towels on a counter and spread pumpkin over top (don't be precise, just glop it on). Cover with another 3-4 paper towels and press gently, allowing moisture from pumpkin to absorb into paper towels. Re-arrange pumpkin and paper towels to take advantage of max absorption (you'll be amazed it doesn't stick!). When the puree is dry enough that you can gently handle it without falling apart, you're good to go.
Add pumpkin to browned butter, stir until completely incorporated and smooth, and cook for 2 minutes.
Reduce heat to medium, add marshmallows and stir until completely melted; then allow mixture to bubble for another 3-5 minutes, stirring occasionally, until deep orange-brown.
Remove from heat and immediately fold in cereal, coating cereal completely.
Press cereal mixture into prepared pan, using greased parchment paper, if necessary, to pack it tightly. Allow to cool slightly, then refrigerate for 30 mins or until set.
Using a serrated or bread knife, cut chilled treats into 16 squares or portions, sprinkle generously with flaked salt, and serve immediately or keep stored, tightly covered, at room temperature for up to three days. Enjoy!
Notes
This recipe is written for either a square baking dish (about 8x8) or a standard loaf pan. The baking dish will produce 16 more traditional, shallow treats; the loaf pan will allow you to slice the treats into 8 pretty, slender slabs that you can then halve into 16 petite bars. I've also made this (and other cereal treats) in a larger, 9x13 pan, pressing the mixture toward one side of the pan to create the exact size and depth that I'm after.
————————————————–
OH! before you go…
Like whatcha see here — or have a question, feedback, or recipe hack to share? Join The Pig & Quill convo by commenting below (I love, luv, lurve comments) and hang out with me on Facebook, Twitter, Instagram and Pinterest. And don't forget to subscribe to P&Q emails or add me to your RSS reader with Feedly or Bloglovin' so you never miss a post. x's & o's!