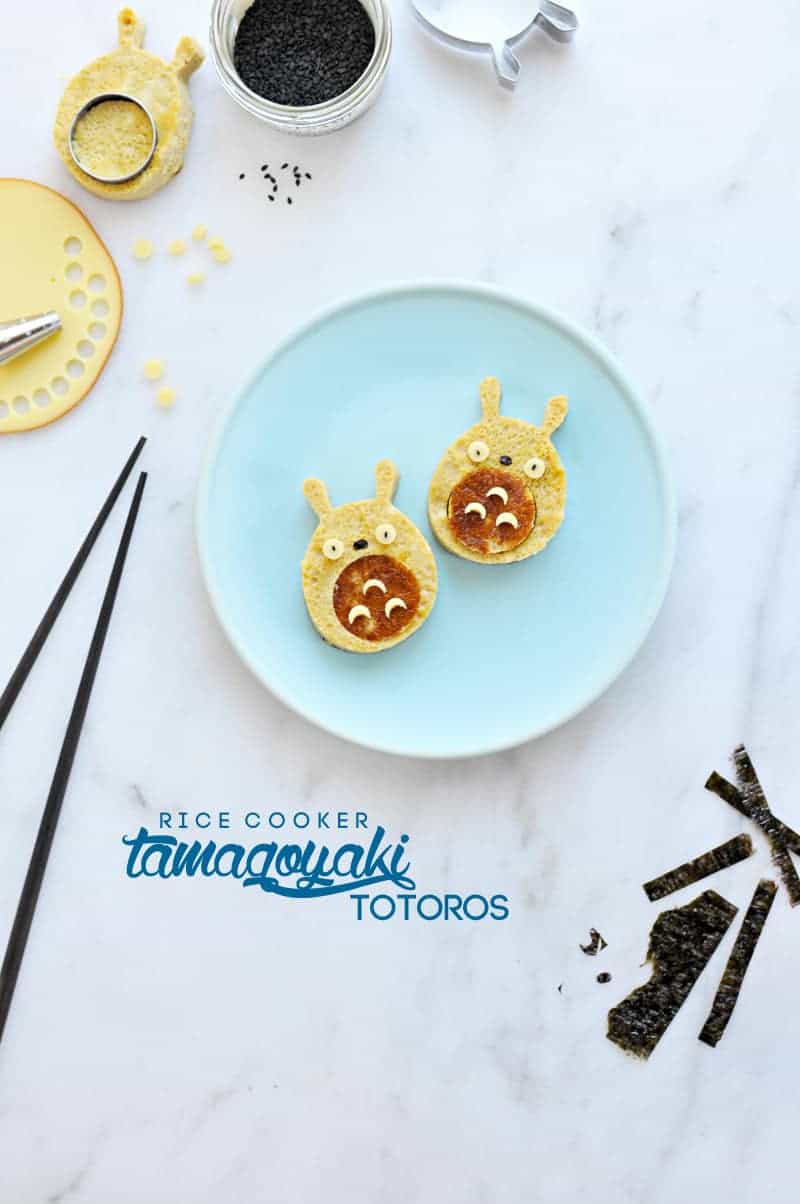 A week that begins with pumpkin and ends with Totoro — must be October!
Steph is hosting #totoroweek again this year — IMHO, the internet's most undercelebrated food-party-slash-hashtag-thing — and in classic me style I'm coming in just under the deadline. But these little guys are worth the wait, and I'ma tell you why.
They basically cook themselves.
Ok, so not in the "one little Totoro stirs the pot while the other climbs in" sense, though that paints an adorably sick picture, but in the "chuck surprisingly few ingredients in a rice cooker and press the little lever thingy" kind of way that instantly doubles any snack's appeal because shortcuts are delightful.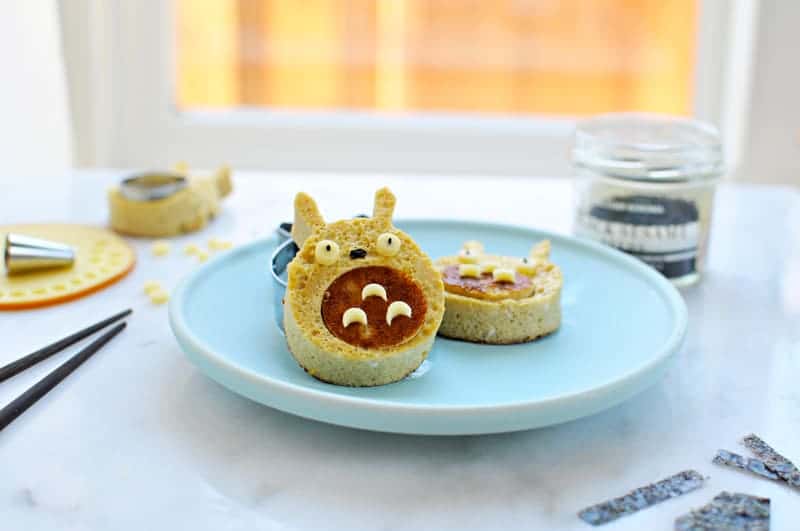 If you're unfamiliar with tamagoyaki, it's a simply seasoned mixture of eggs, sugar, mirin and shoyu or dashi (or both) that's cooked in a special little omelette pan and then rolled into a fat, spongy, eggy cigar that's sliced into almost-juicy medallions. It's a little sweet, a little salty, a lot squishy. Over rice with a side of pickled cukes or steamed veggies, it's a meal. But more often than not, it's tucked into Lana's favorite yumbox as a go-anywhere snack.
In this rendition, there's no special omelette pan, no rolling. Instead, eggs are whisked with sugar, mirin, lite shoyu and a splash of water in the rice cooker insert and then set to cook completely unattended. When it's done (it'll get puffy before collapsing into a relatively even omelette with curled, browned edges) just invert it onto a plate, chill it, and — if you're as taken with food with faces as I am — Totoro it!
Fair warning: If you're the parent of a wee one, be prepared for them to be, first, smitten AF with the "little tamago bunny" (file "i'm gonna eat your head now, little bunny!!! *squeal*" under the cutest of questionably sadistic toddler moves ever) and then violently, inconsolably upset when the belly falls out en route to their mouth. #worthit? I think so.
Happy #torotoweek, friends! And be sure to head over to I Am A Food Blog for more #totoroweek fun!
xo,
Em
p.s. In case ya missed it, last year's #totoroweek post: Totoro Katsudons with No-Recipe Fried Rice!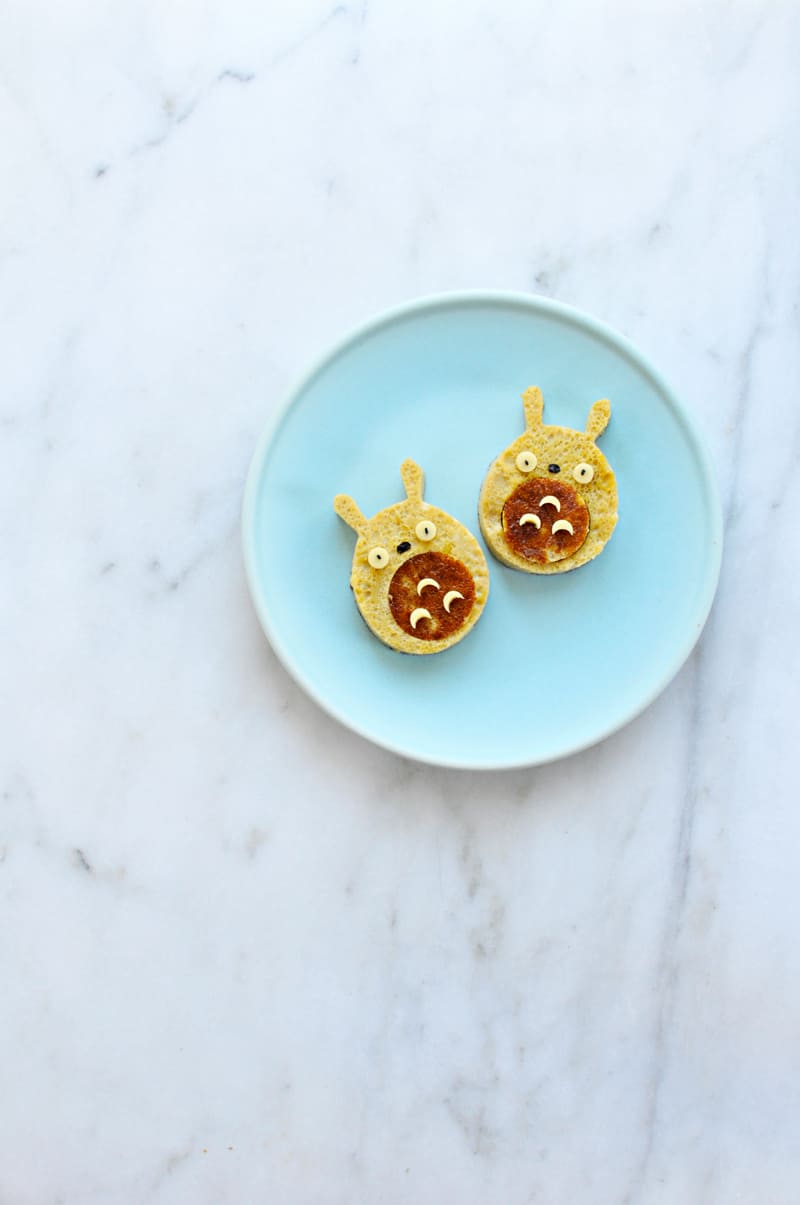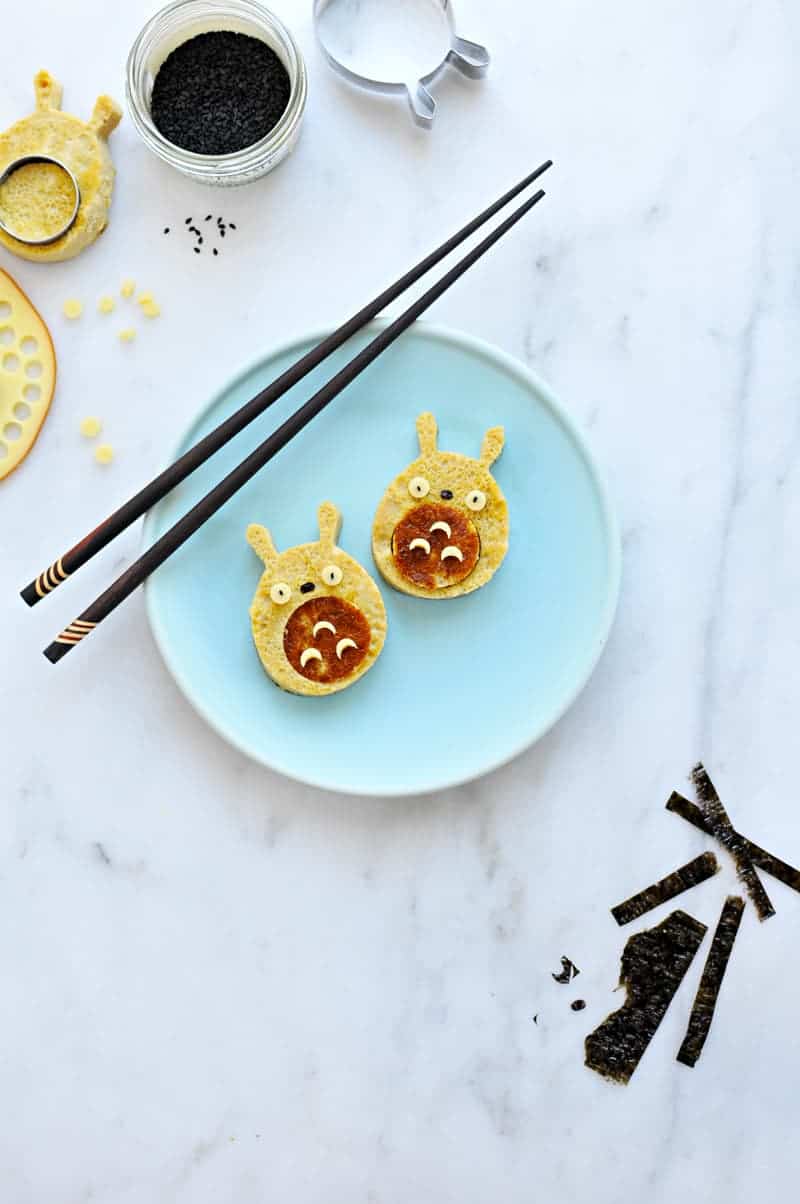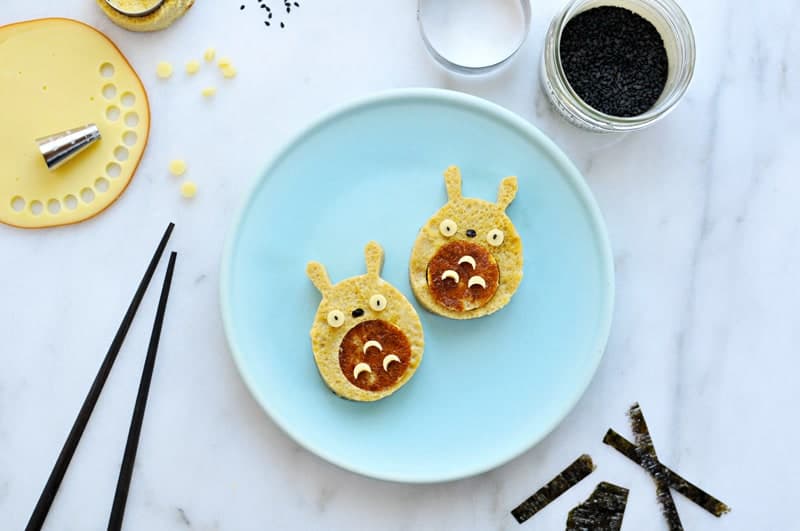 Rice Cooker "Tamagoyaki" Totoros
Makes:
3 totoros (with plenty of snacking scraps!)
Ingredients
For the Tamagoyaki:
4 eggs
3 T water
1 T lite soy sauce
1 T sugar
1 tsp mirin
For the Totoro'ing:
white cheese eyes and belly lines (we used smoked gouda)
nori noses
sesame seed eyeballs
Instructions
In the insert of your rice cooker, whisk together all ingredients. Cook until rice cooker "pops" — then, if eggs are still liquid or wobbly in the center, set a timer for 10 mins and allow to continue cooking on warm setting. Remove cover and allow to cool. (Eggs will collapse onto themselves some.)
Loosen from cooker with a silicone spatula, remove to a plate, and refrigerate, covered, until chilled through. Cut into desired shapes (simple wedges and cubes are also just dandy!) and enjoy!
To make a Totoro Tamagoyaki, I used this Totoro cookie cutter to punch out the body, then a small circle punch (it actually came WITH the totoro cutter) to punch out and invert the belly shape. Cheese eyes and belly markings (made with a round decorating tip), sesame seed eyeballs and a nori nose finished 'em off — almost too cute to eat!
————————————————–
OH! before you go…
Like whatcha see here — or have a question, feedback, or recipe hack to share? Join The Pig & Quill convo by commenting below (I love, luv, lurve comments) and hang out with me on Facebook, Twitter, Instagram and Pinterest. And don't forget to subscribe to P&Q emails or add me to your RSS reader with Feedly or Bloglovin' so you never miss a post. x's & o's!