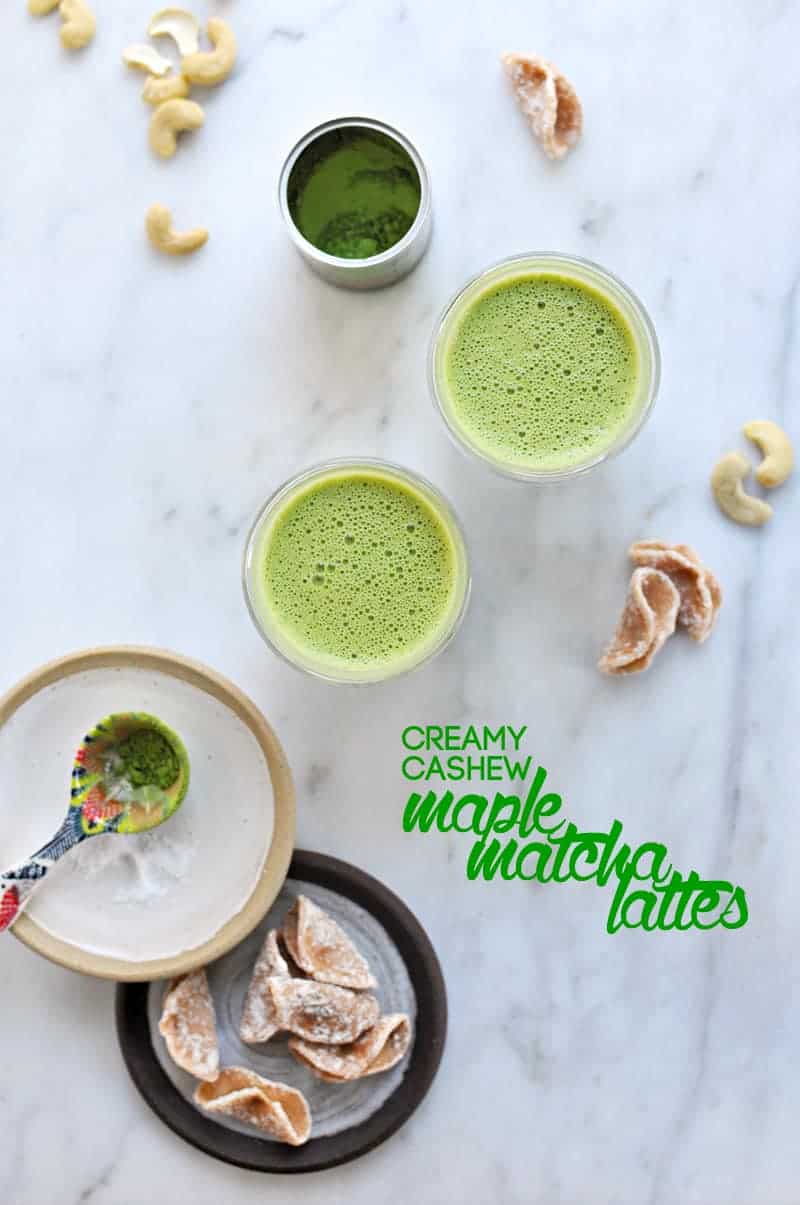 Happy Thanksgiving week, friends! This past year has been so tumultuous — moreso, even, than I anticipated when I was drafting last year's post on thankfulness from under a cozy blanket of blissful ignorance and optimism. But on Thursday, we're hosting Thanksgiving for the first time since we moved back to California, and I'm ready to spoil the family that has kept our spirits afloat despite the leaden cloak of cancer with love in the form I know best: food.
But rather than sharing our holiday dinner plans here (no matter how much I love the word spatchcock, I'm in no position to tell you what to do to your bird), I'm instead gifting you my favorite morning tradition, matcha, dressed up only slightly into an absurdly creamy, subtly sweet bevvie that's quicker to whip up than your morning coffee. With its verdant color and clean, grassy flavor, matcha is a far cry from your standard holiday drink (PSL, I'm looking at you), but the mellow lift from the green tea paired with the sustaining, healthy fats from the cashews makes this the perfect mug to wrap your hands around while you tick off your Turkey Day game plan or join the pre-sunrise shopping crowds Friday morning. (I won't lie, I used to live that life, but then baby made three, and sleep > shopping. I'm only a little sad about it.)
The key to a dairy-free latte that's ultra-silky is a truly rad blender that can milk a nut like no other, and Wolf Gourmet generously sent me a High Performance Blender that gets the job in no more than 30 seconds. (Thanks to the snazzy little digital timer display, that's a precise statement, babes.) I've used it to make this drink every other morning for the past week — I drink the latte daily, but the recipe makes two servings, so the second one gets stashed in the fridge and poured over ice on Day 2 — and it's completely changed my morning beverage routine. It's also noticeably quieter than I would have expected from such a powerhouse, and it's as good looking as you'd expect from a Wolf Gourmet appliance.
Now for the fun part! Just in time to kickoff the season of giving, Wolf Gourmet has offered to gift a blender to one of you, too! To enter to win, browse the details of the Wolf Gourmet High Performance Blender here, and comment below with the color you'd choose if selected — that's it! I'll choose a winner by random on Friday, 11/24 at midnight PDT, and the prize will be sent to a US shipping address only (sorry international peeps!).
Good luck, guys. And, if we don't chat beforehand, cozy hugs to you this holiday. Wishing you a day of full plates and fuller hearts!
xo,
Em
p.s. those little cookies that look like tiny, frosted taco shells are like fortune cookies married frosted flakes married warm, spicy ginger and I'm obsessed! I bought them at our local Japanese market, but I'm trying v hard to figure out where to begin making something similar at home because they're everything you could want in a holiday cookie. If you have any leads, let me know!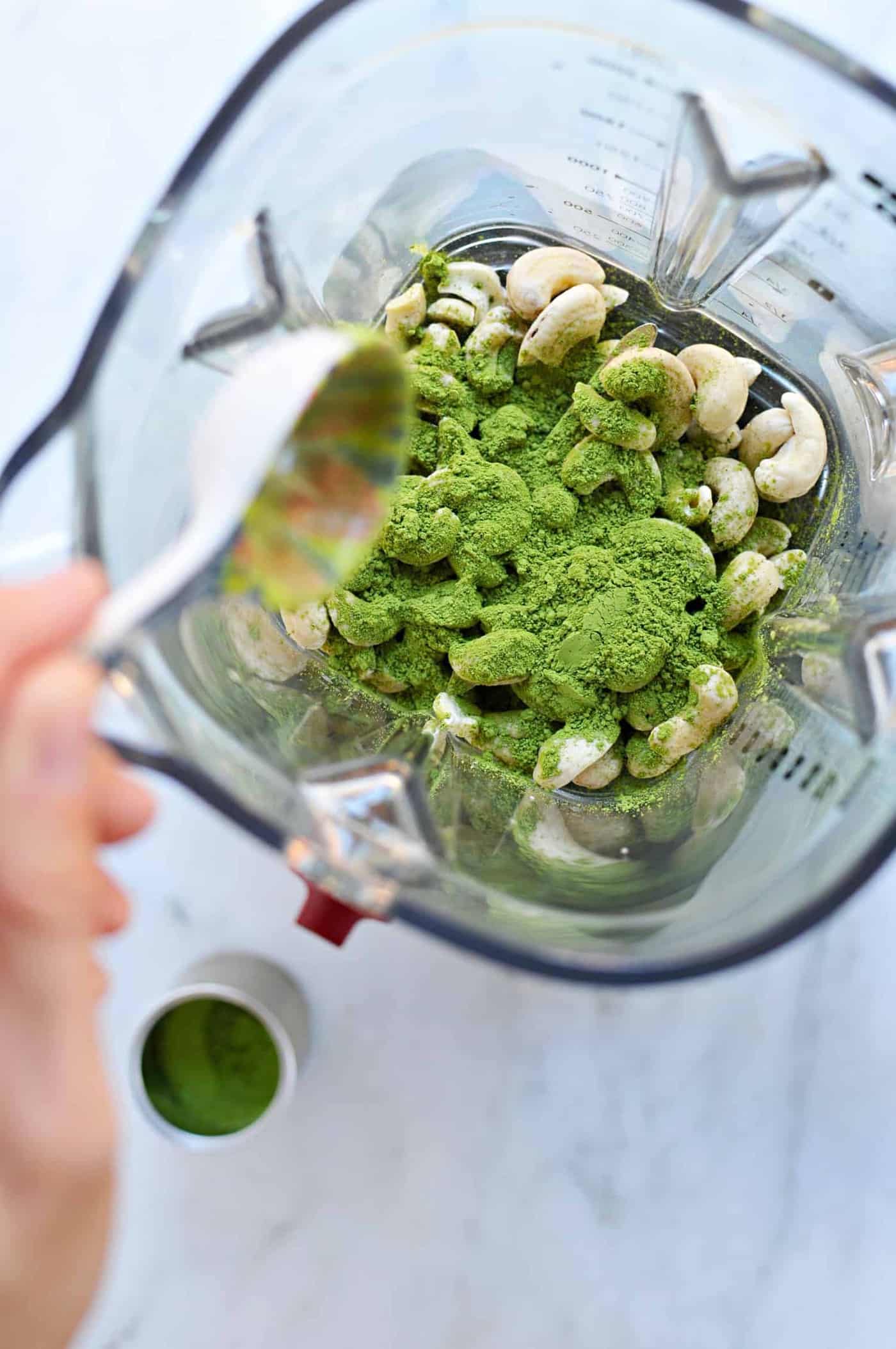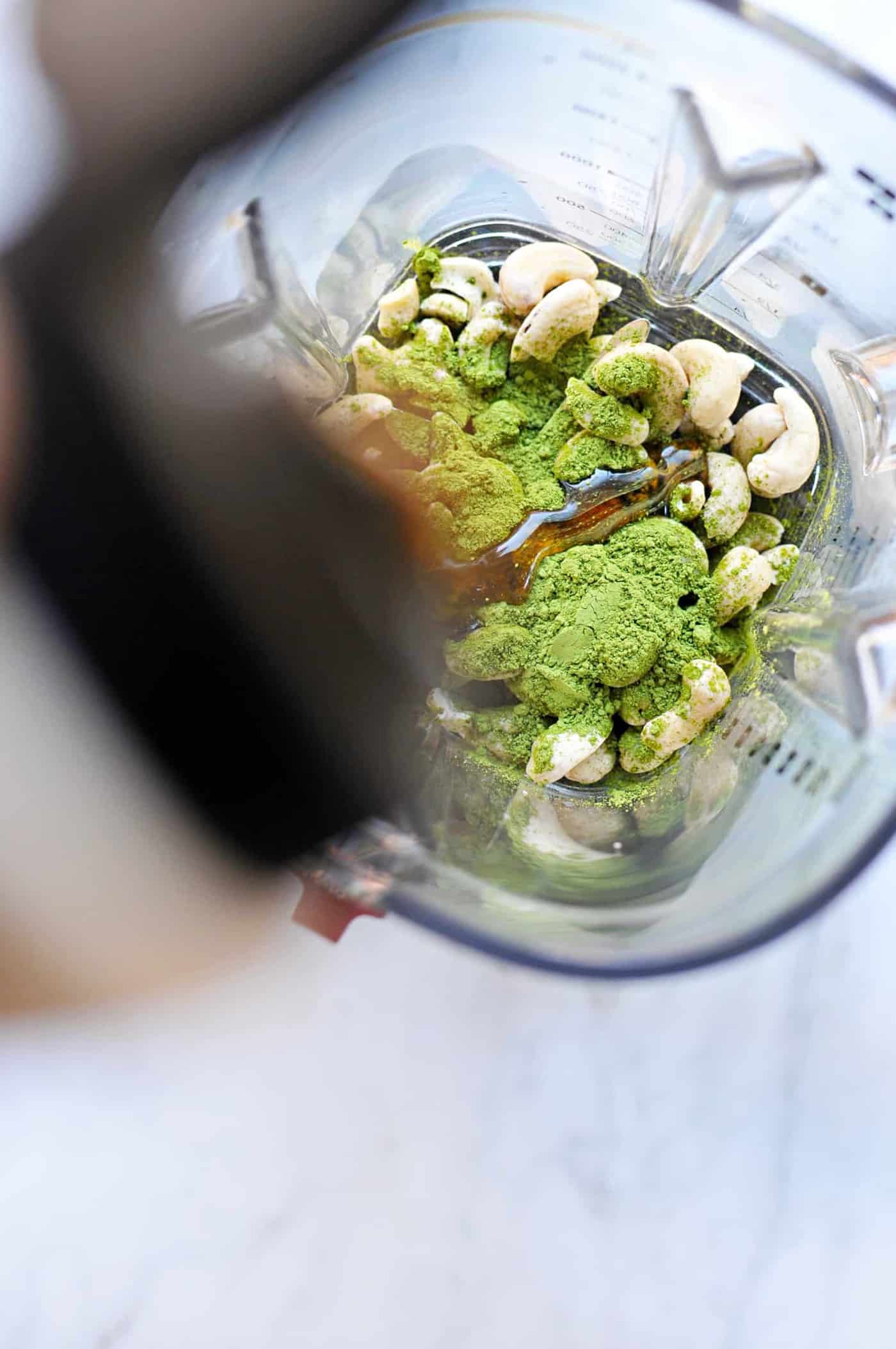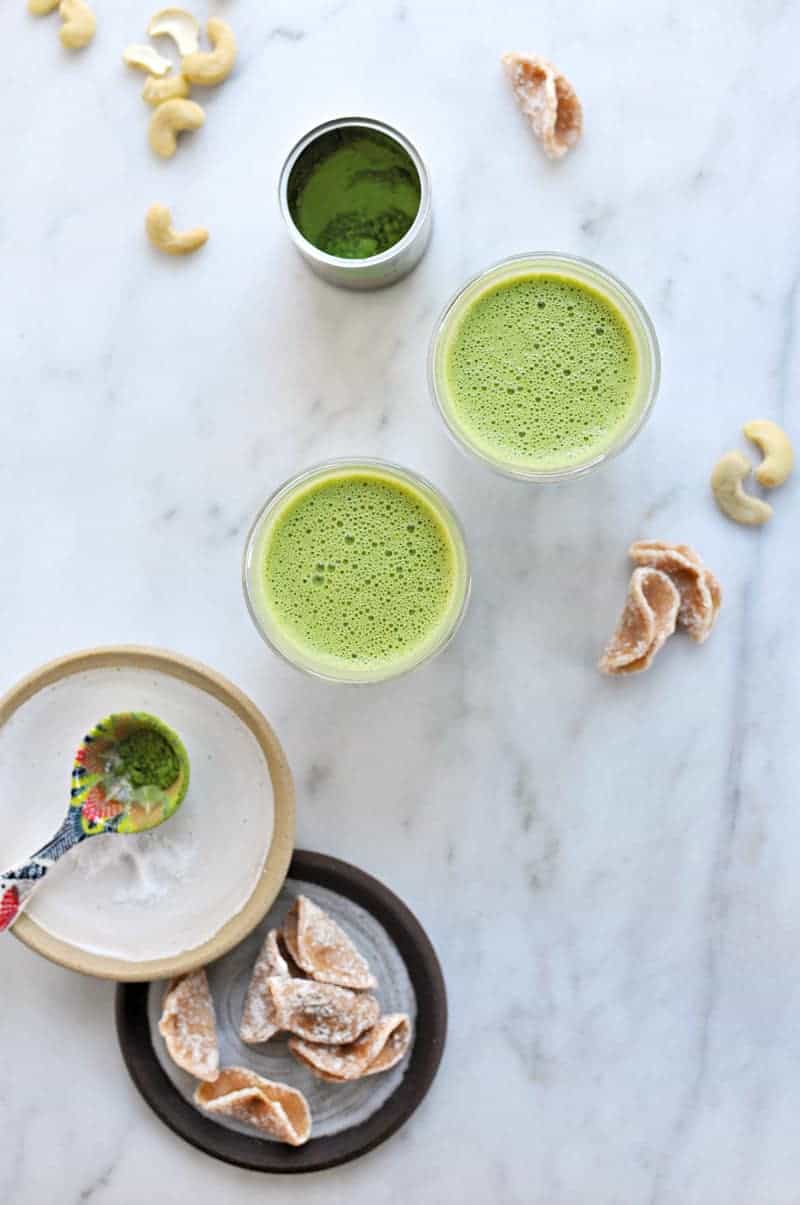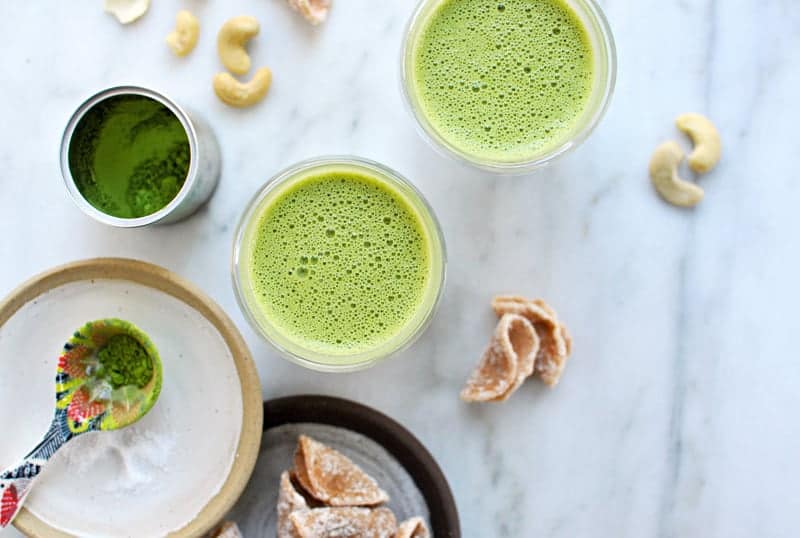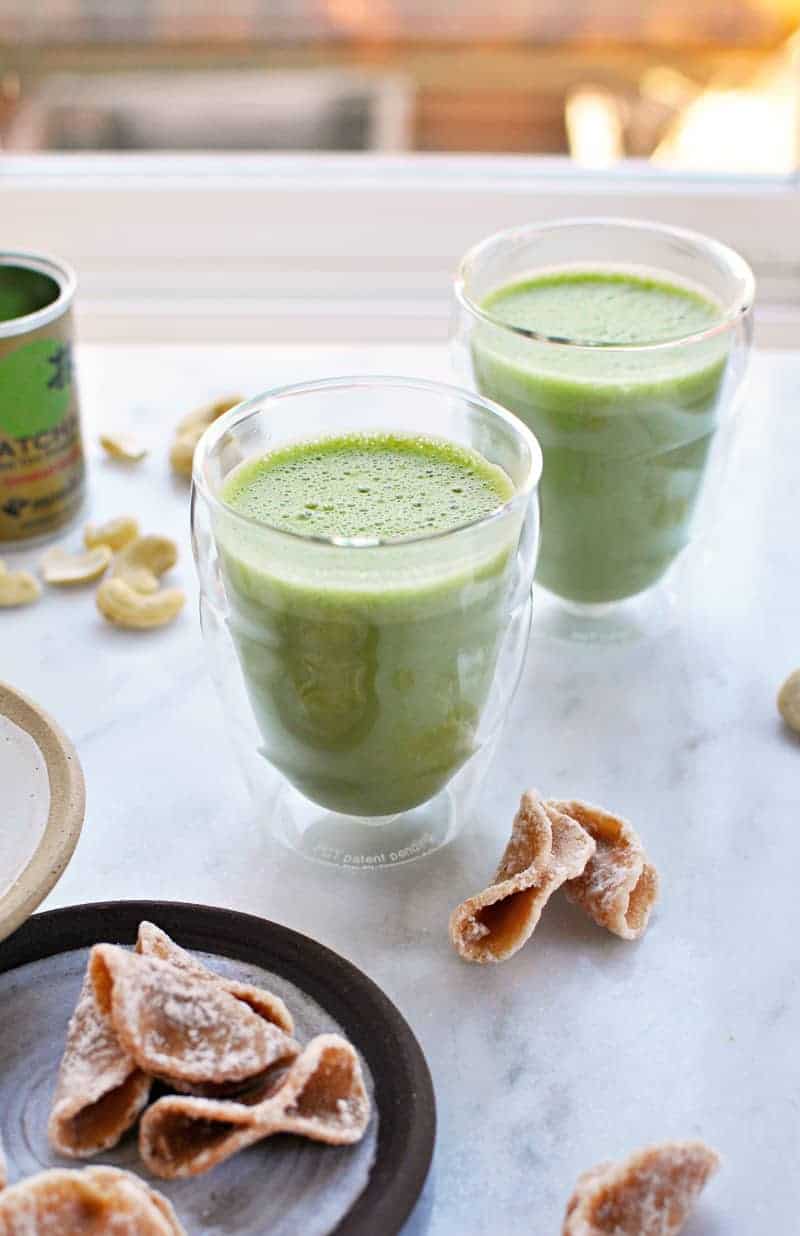 Creamy Cashew-Maple Matcha Lattes (Vegan)
Makes:
2 generous servings
Ingredients
½ cup raw cashews, soaked + drained (see note)
2 cups almost boiling water
2 T real maple syrup
1 T high-quality matcha tea
pinch sea salt
Instructions
Combine all ingredients in a high-performance blender and blend on high speed until completely creamy and slightly frothy, 30 seconds. (Be sure to leave the tamper hole in your blender lid slightly ajar so there's room for steam to escape.) Pour into large mugs and serve immediately, or pour into mason jars, allow to cool slightly, and then cover and chill to enjoy cold.
Notes
To soak the cashews, cover with water and allow to soak, loosely covered, overnight -- or cover with very hot (not boiling) water and allow to soak for one hour. Drain cashews before using.
This post is sponsored by Wolf Gourmet. As always, I only support partners whose products and practices complement those employed in The Pig & Quill kitchen.
————————————————–
OH! before you go…
Like whatcha see here — or have a question, feedback, or recipe hack to share? Join The Pig & Quill convo by commenting below (I love, luv, lurve comments) and hang out with me on Facebook, Twitter, Instagram and Pinterest. And don't forget to subscribe to P&Q emails or add me to your RSS reader with Feedly or Bloglovin' so you never miss a post. x's & o's!