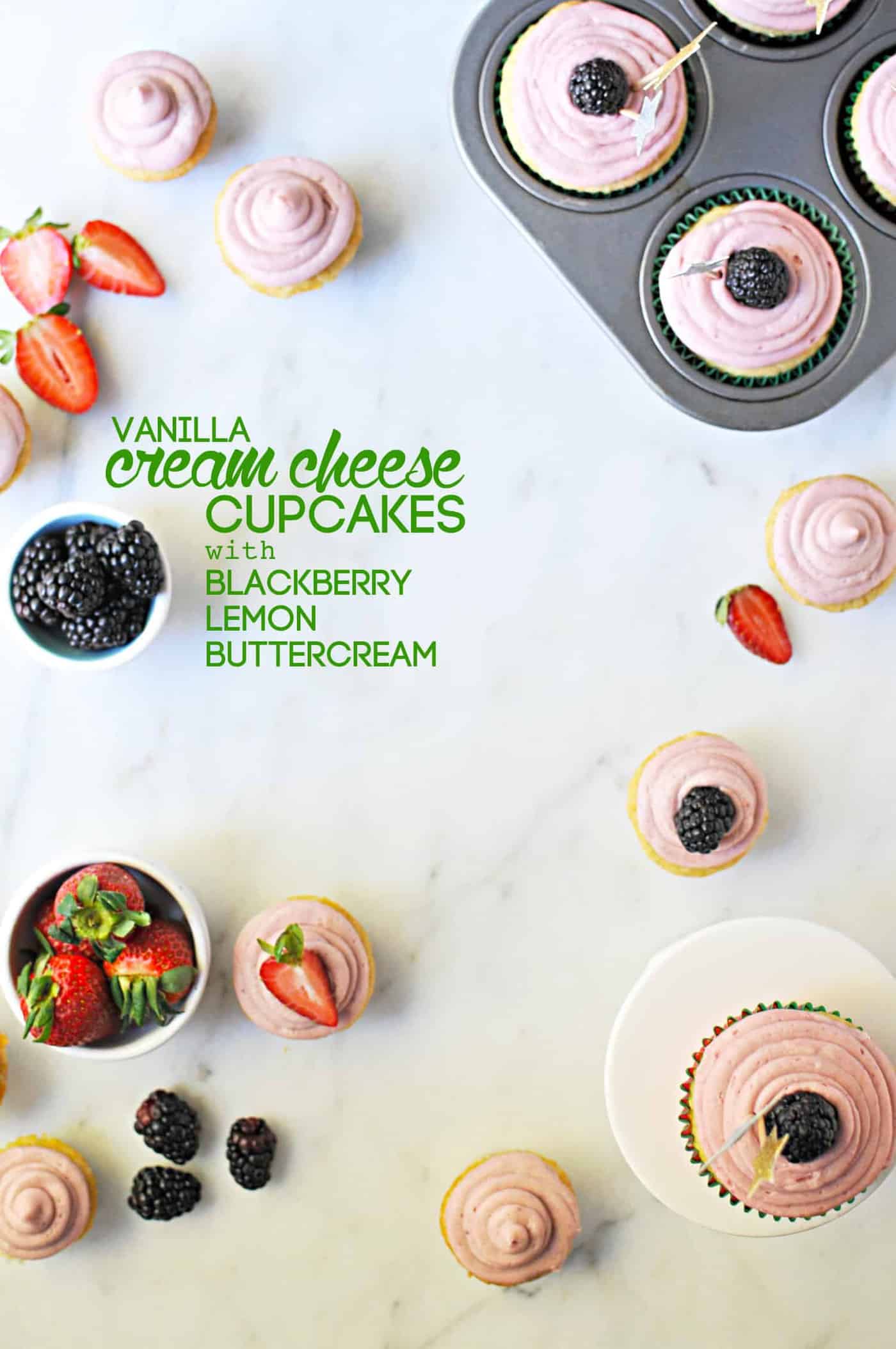 Twenty-seventeen, you guys. Woof. And the holidays. Woof Woof. This year was confusing, to say the least. I spent the first half chemically incapacitated, the second half wholly elated, and the whole lot of it at a loss for words as humanity continues its attempts at devolution.
But in this moment, I am stuffed to the gills with treats and sweets and roasted meats — and plenty of other fine examples of gluttony that don't happen to rhyme. And I am pushing cupcakes on you at the very last minute, begging you to make them happen in your own kitchen because I can imagine nothing better to accompany your NYE bubbly. Except for maybe a Walking Dead marathon, if your evening is looking to be as eventful as ours. We plan to let the kiddo stay up for the East Coast New Years (does that make us, like, so lame? she's 2 — tacking on those extra hours between 9 and the ball drop would be more punishment than privilege, right?), and then Chris and I will likely cap the evening nodding off to ye olde zombie grunts with the crumbs of these cupcakes fresh on our fingers. Everyone's got their own definition of romance.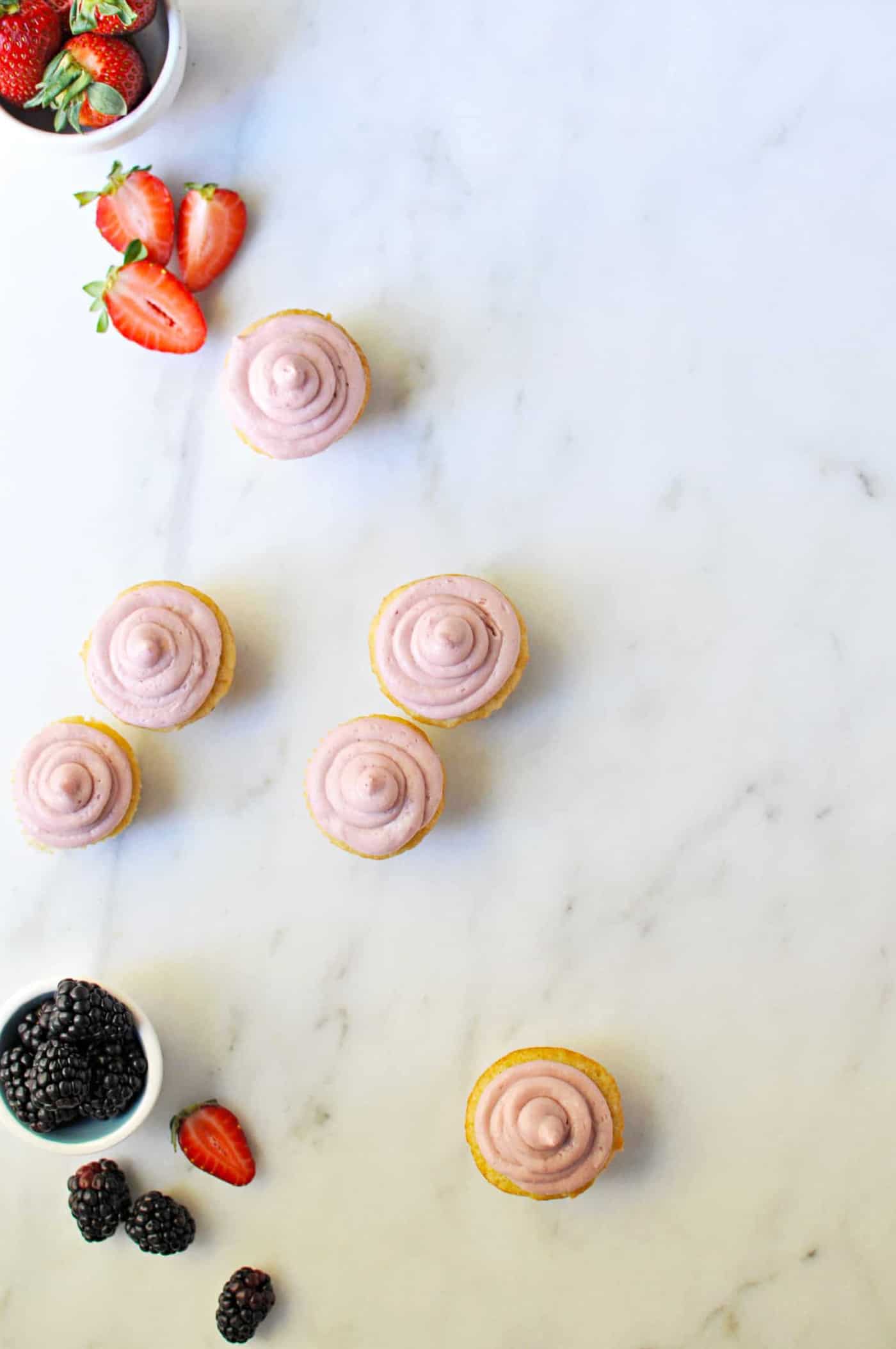 I've said it time and again: a baker I am not. But Serious Eats is one aptly named website, and the folks there more than make up for my naiveté. So when Chris' birthday rolled around last week, and Lana dictated that we should serve "purple cupcakes" (while the brick of almost-forgotten cream cheese in my butter drawer dictated that we should serve, um, something cream…cheesy?) I was too happy to find the recipe for these Vanilla Cream Cheese Cupcakes (a originally printed in Fruitful, by Brian Nicholson and Sarah Huck) — complete with a plenty purple enough blackberry frosting. And they are so, so good. Ridiculously fragrant from a full quarter cup of vanilla, with an almost cheesecake-like richness and a crackly, sugary top that doesn't need the buttercream, but, oh, is it delicious.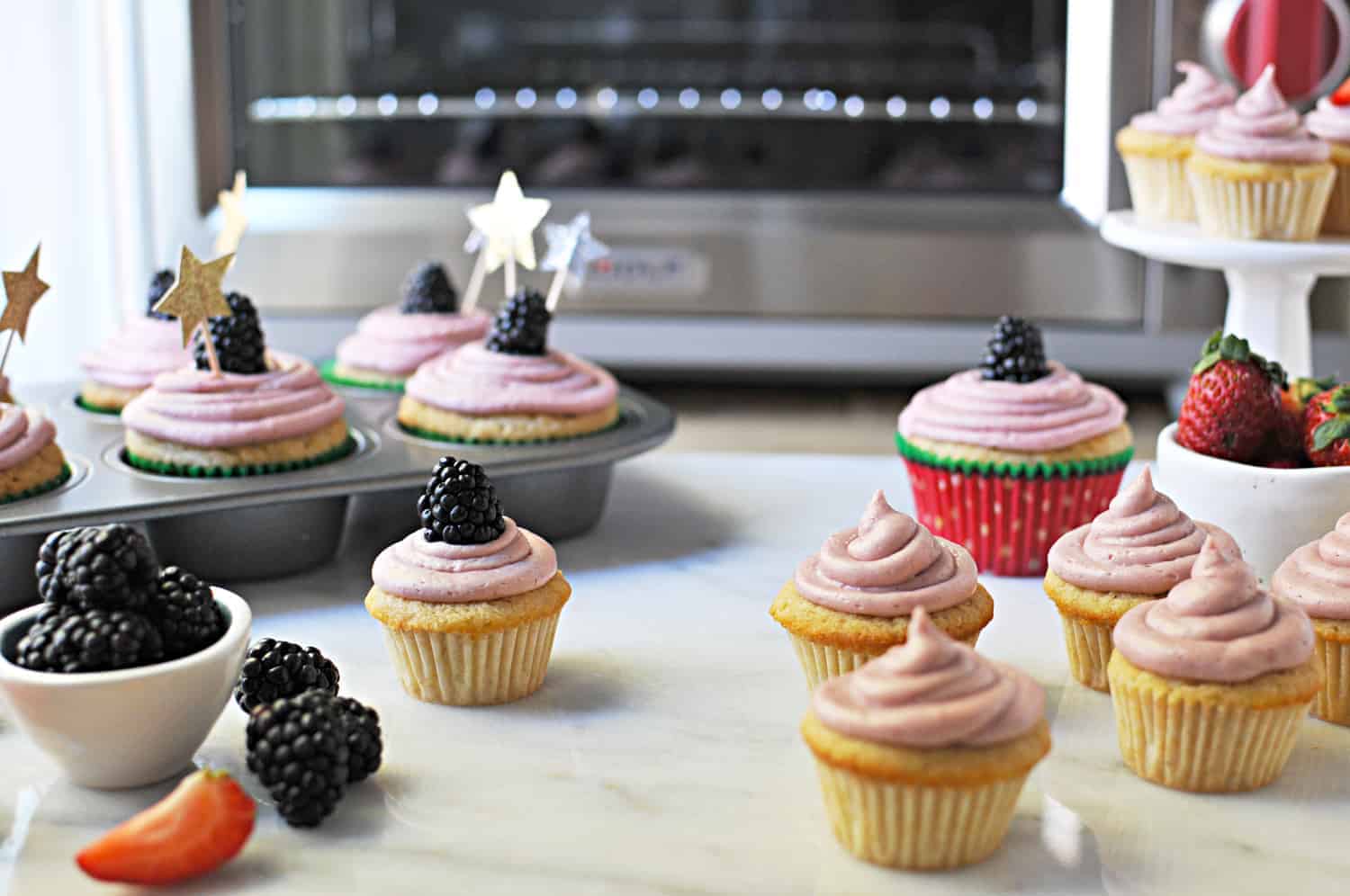 The original recipe makes an approximate butt-ton of cupcakes, many more than the estimated 24 it reports. In fact, I baked up 24 regular cupcakes and another 24 minis from a single recipe, and I did it all in the Wolf Gourmet Countertop Oven that Wolf Gourmet sent our way just before the holiday. To be honest, we've been using this little oven more than we've been using the big one (crispiest dino nuggets ever!! I have less shame in saying that than I should), and it heats evenly and quickly, is super energy efficient and even has a cool little "proof" setting for all the bread my clumsy baking ass will never bake. We evicted our microwave in light of its arrival and haven't regretted it once.
And just in time to rock your New Year, I get to give a Wolf Gourmet Countertop Oven to one of you! To enter to win, comment below with the knob color you'd choose if selected. Comment on this Instagram post for a bonus entry – yay!  I'll choose a winner by random on Thursday, 1/4 at midnight PDT, and the prize will be sent to a US shipping address only (sorry international peeps).
Here's to a sweet, joyous New Year, friends. Full hearts and bellies. And a 2018 that impresses with its relative normalcy.
xo, and good luck!
Em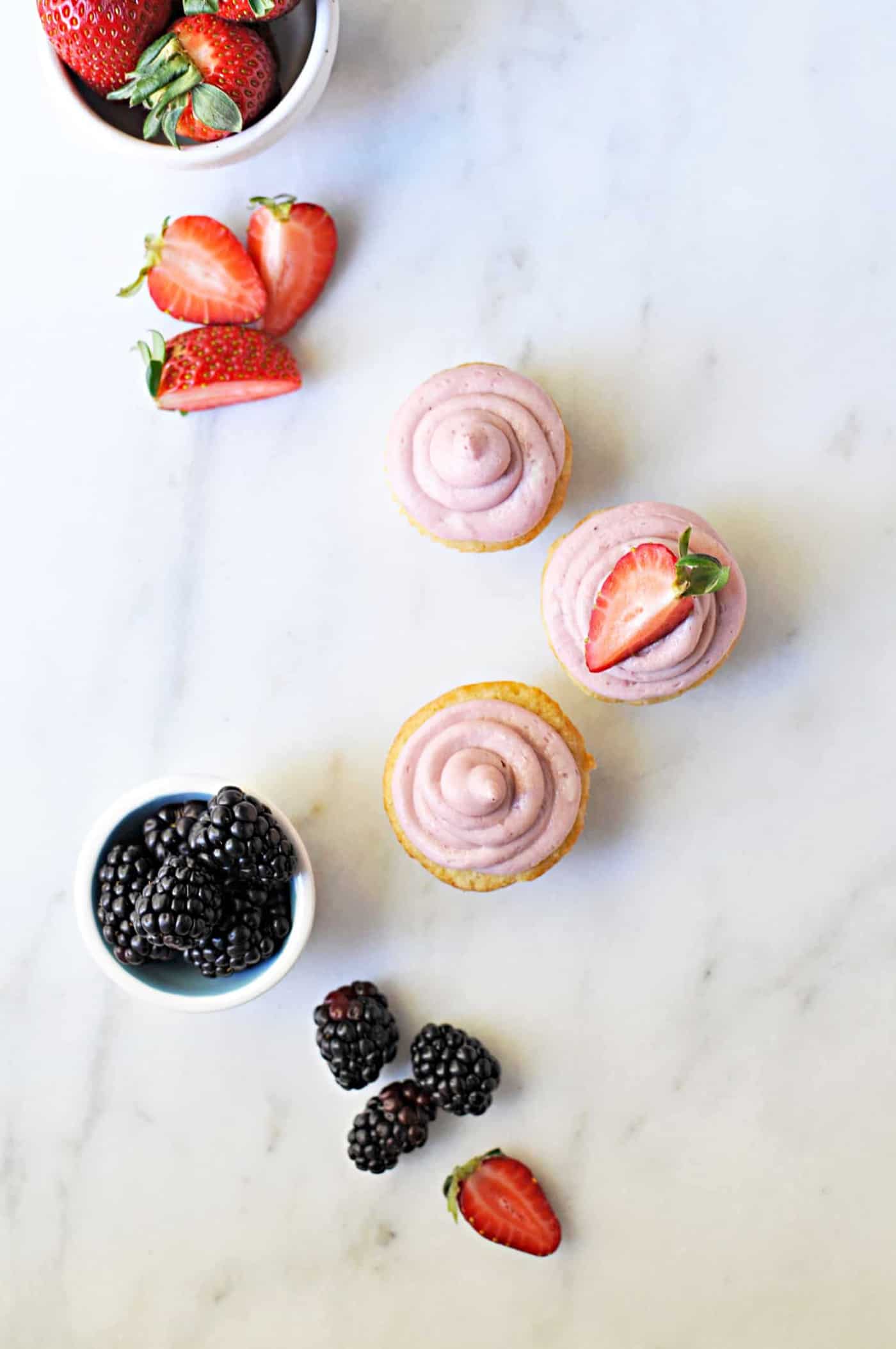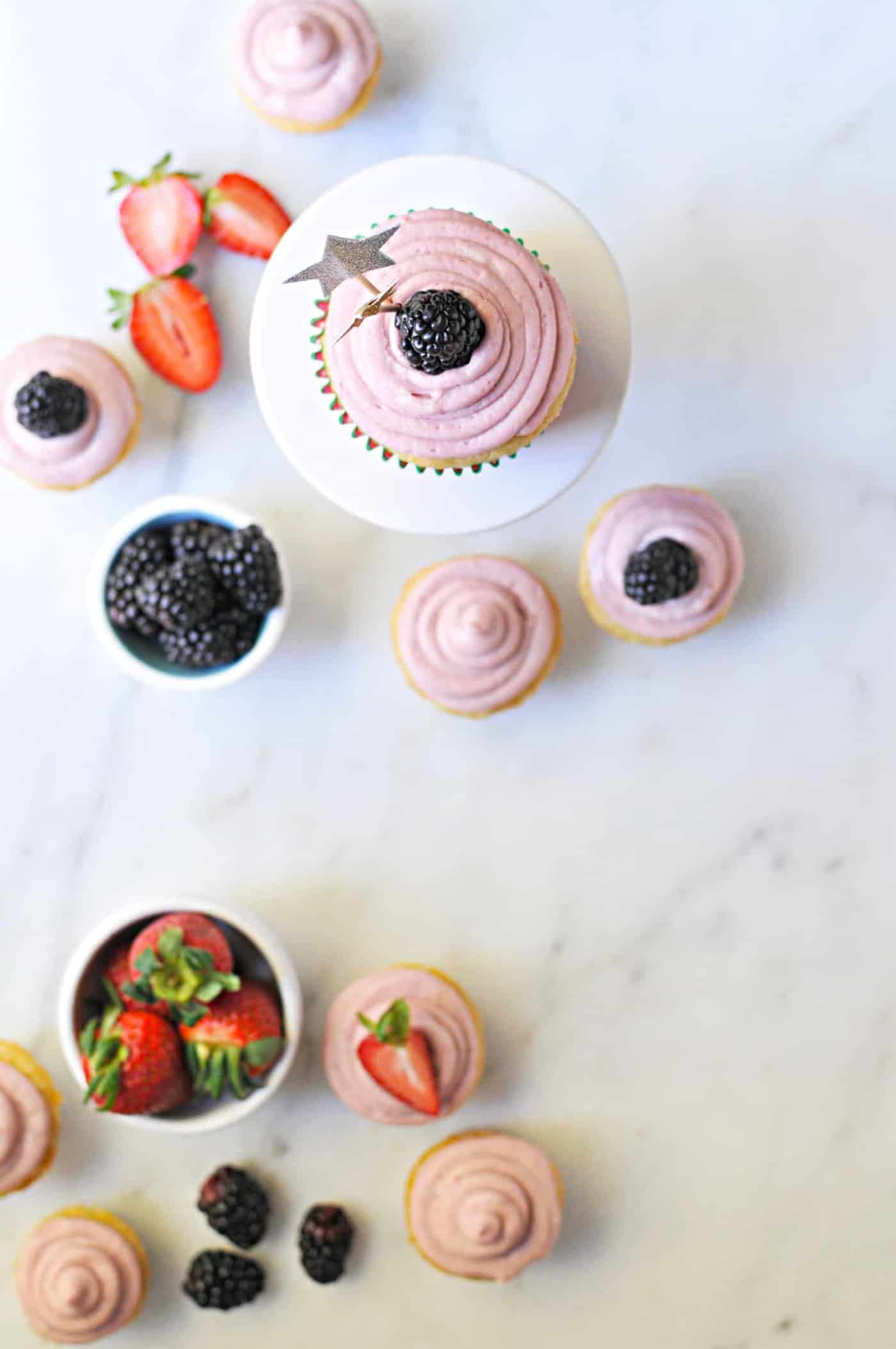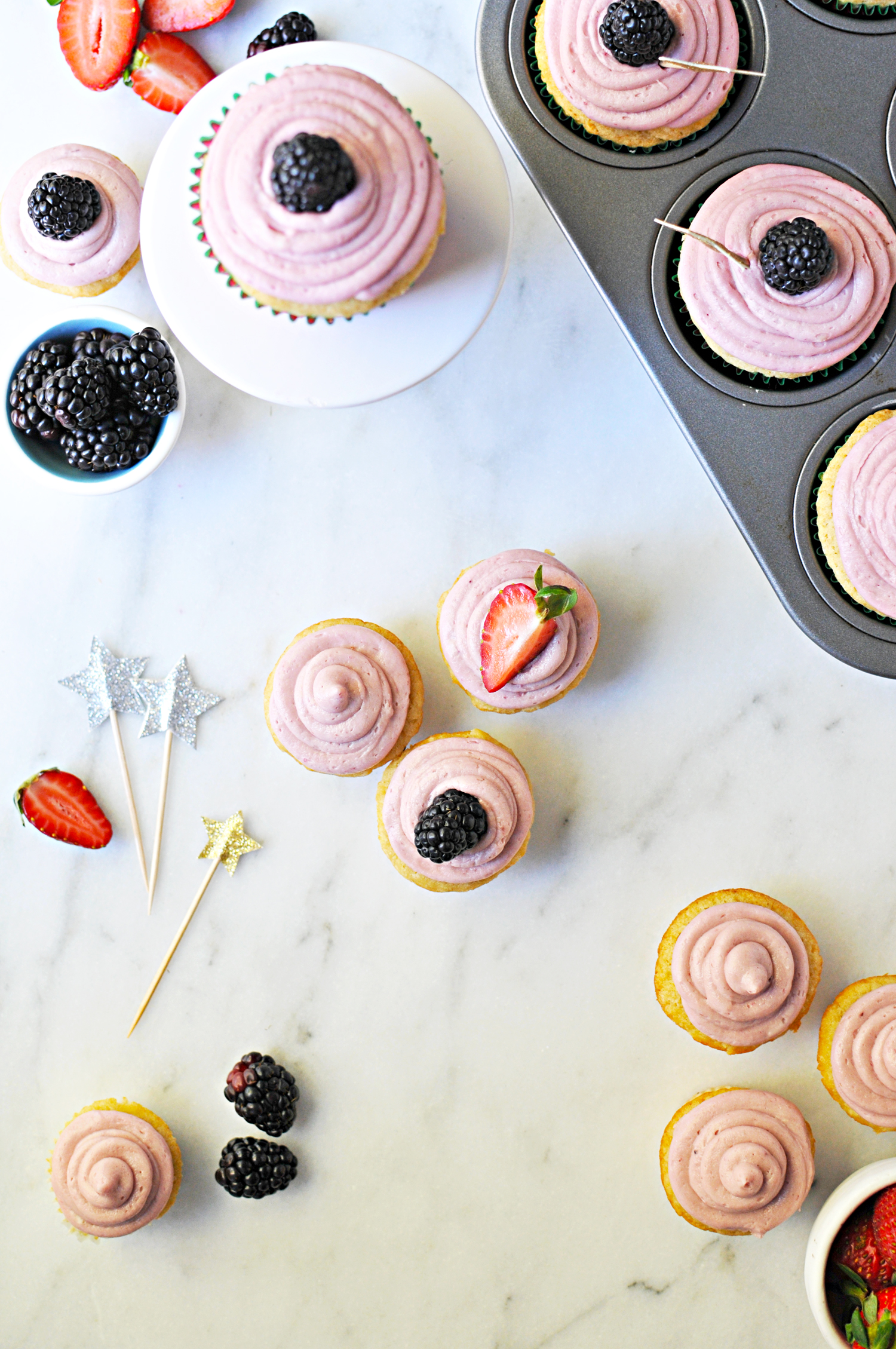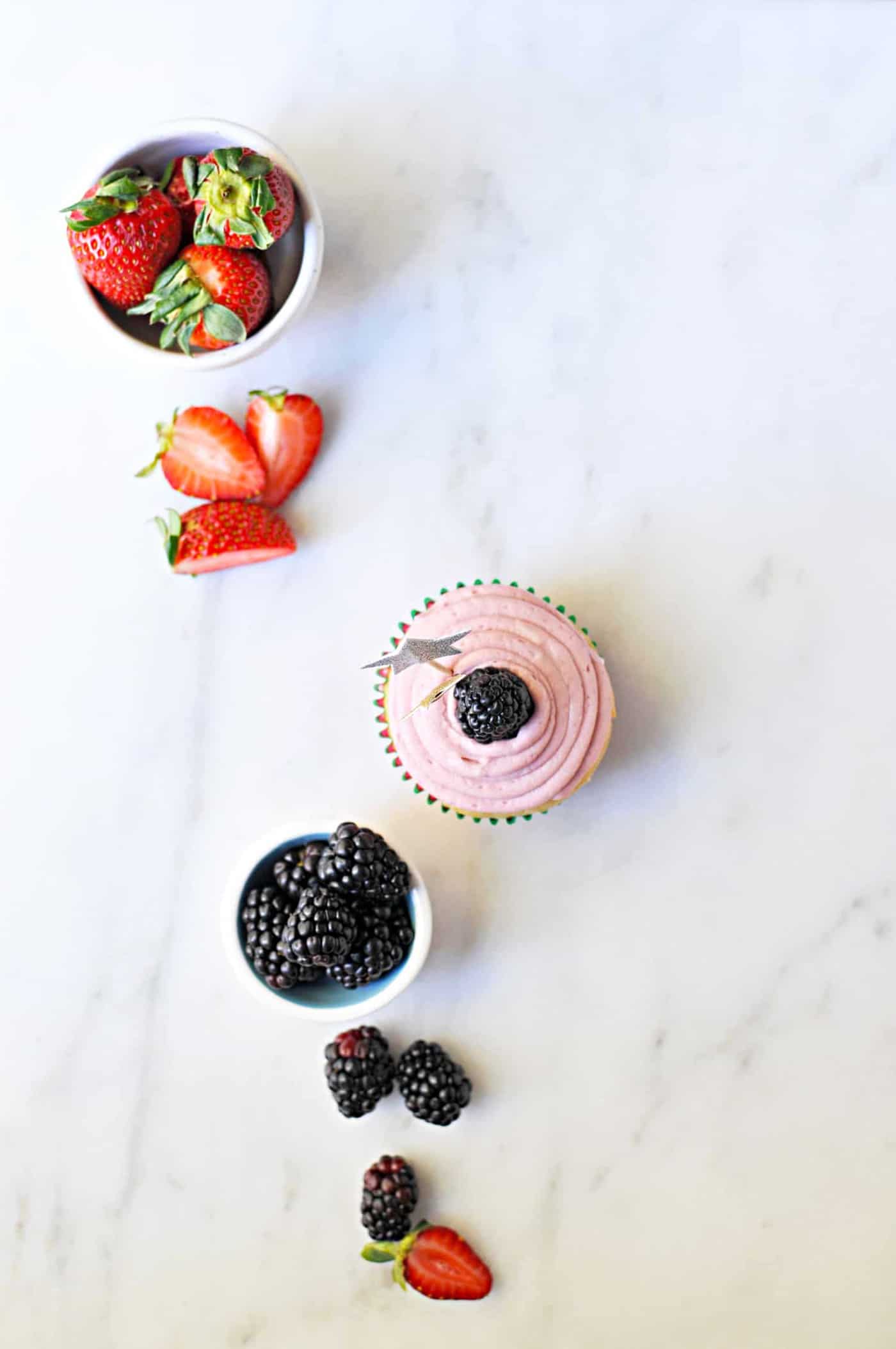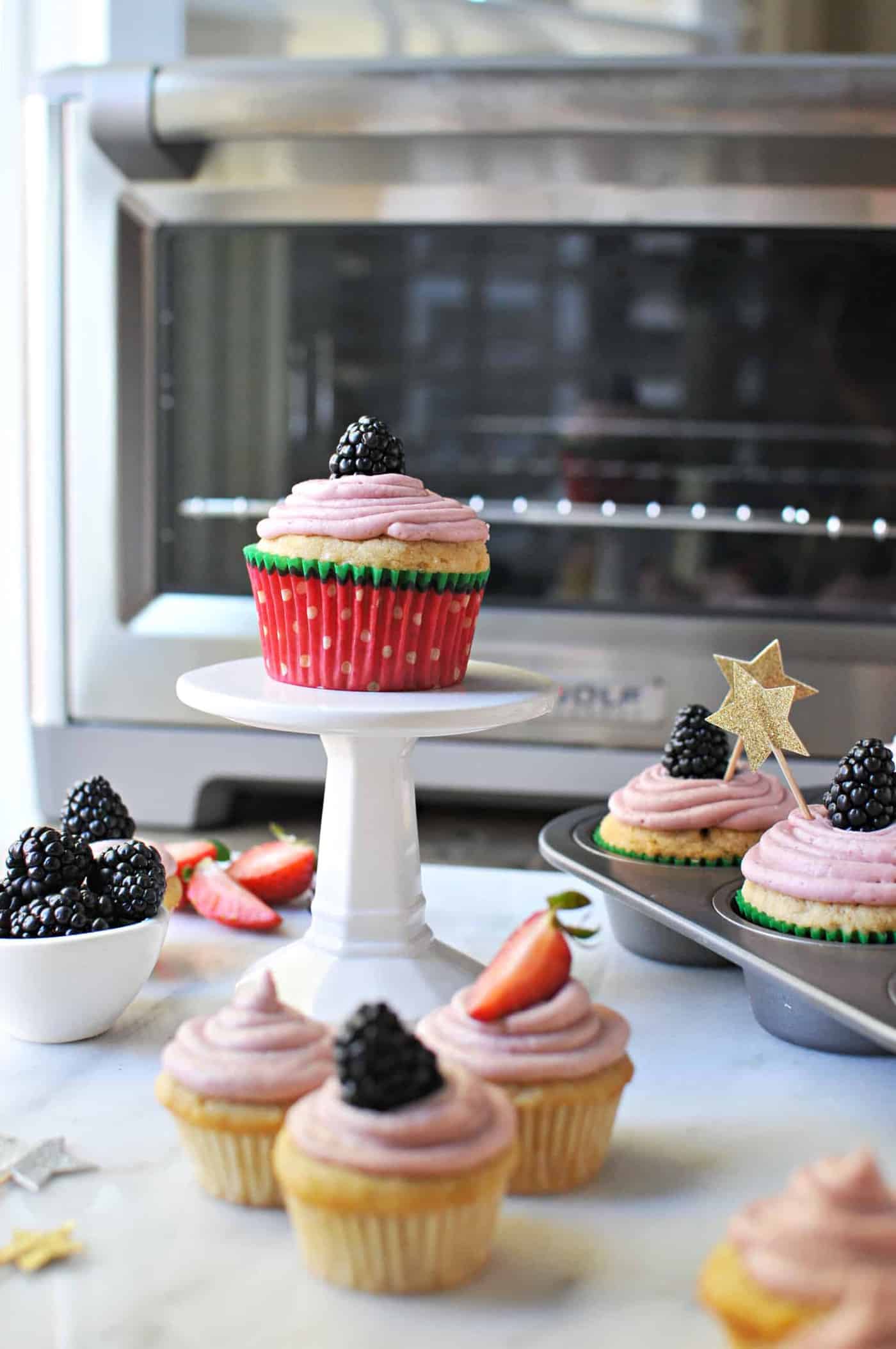 Vanilla Cream Cheese Cupcakes with Blackberry Lemon Buttercream
Makes:
36 full-size or 60 mini cupcakes
Ingredients
4 cups all-purpose flour
4 tsps baking powder
1 tsp kosher salt
1 8-ounce package cream cheese, at room temperature
1 cup unsalted butter, at room temperature
2½ cups granulated sugar
¼ cup Mexican vanilla extract
4 large eggs, at room temperature
½ cup avocado oil (or other light cooking oil)
½ cup whole milk
one recipe Blackberry Lemon Buttercream (below)
fresh berries, for garnish
Instructions
Preheat oven to 350F. Prepare cupcake batter as outlined here.
Pour batter into lined muffin tins. For full-size muffins, bake 20-25 mins, or until an inserted toothpick comes out clean. For mini muffins, bake for 12-15 mins.
Let cool completely before frosting with prepared buttercream and garnishing with fresh berries. Enjoy!
Blackberry Lemon Buttercream
Makes:
Frosting for approx 36 cupcakes
Ingredients
½ cup ripe blackberries, plus extra for garnish
zest of one large lemon
½ cup unsalted butter, cubed and at room temperature
4 cups confectioner's sugar, divided
2 tablespoons whole milk, or more as needed
Instructions
Assemble buttercream following the steps as outlined here, subbing blackberries for the black raspberries (but of course use black raspberries, if you have them!) and erring on the side of more lemon zest, when in doubt.
————————————————–
OH! before you go…
Like whatcha see here — or have a question, feedback, or recipe hack to share? Join The Pig & Quill convo by commenting below (I love, luv, lurve comments) and hang out with me on Facebook, Twitter, Instagram and Pinterest. And don't forget to subscribe to P&Q emails or add me to your RSS reader with Feedly or Bloglovin' so you never miss a post. x's & o's!